Hidden in a 90-acre block of an arid national park is a house unlike any other. It not only boasts an enormous indoor pool, but also offers spectacular views of the Mojave Desert landscape surrounding it. Named the Invisible House, the long mirrored structure is an architectural icon built by American Psycho producer Chris Hanley, and the Joshua Tree home has just hit the market as a rental.
Constructed in 2019, the project was a collaborative effort between Hanley and architect Tomas Osinsk to create what appeared to be a New York skyscraper lying on its side. Using the same steel skeleton and reflective glass as you'd find in an inner city high-rise building, the long thin structure (perhaps inspired by Australia's very own Longhouse) is mounted on concrete cylinders that create a cantilever at one end of the building.
Inside the refractive building, you'll find a residence that is basically one long room built around a 30m indoor pool, with partitions for bedroom privacy. There are three bedrooms in total, with two at one end and a third at the other, while the kitchen and living space exist at the end of the pool. The dining area is next to the pool, so tipping back in your chair has more consequences in Invisible House than usual.
---
---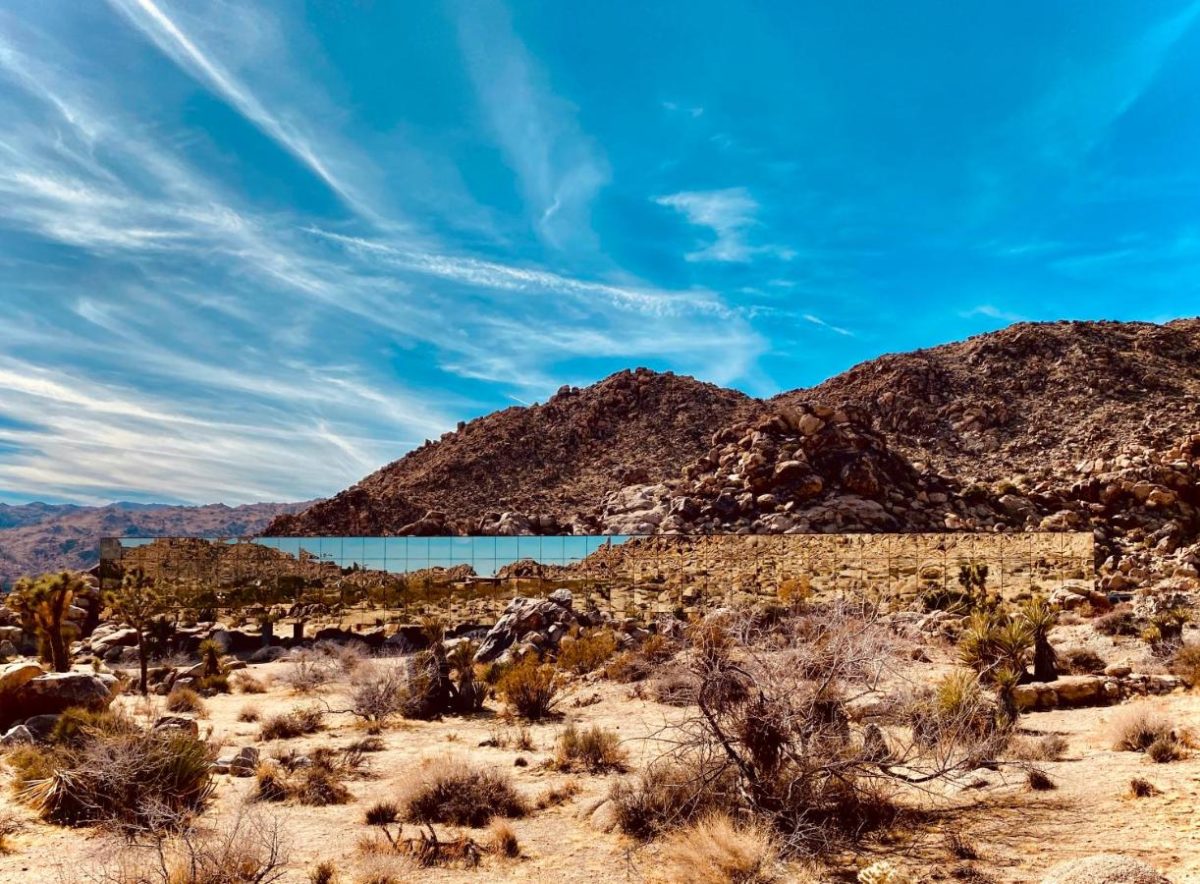 RELATED: Iconic Slim Aarons 'Poolside Gossip' House Sells For Record-Breaking Price
Maintaining the impression that a skyscraper delivers are the polished concrete floors of the 511-square-metre residence, delivering a sense of minimalism that is oddly in line with the sparseness of the landscape around it, while also juxtaposing the implied luxurious excess of the mirrored glass. This restraint can also be seen in the exposed ceiling beams and general lack of adornment around the home.
Such is the growing legend of the instantly recognisable building, that it has been used variously by the likes of Alicia Keys and Demi Lovato, as well as Korn and the Chainsmokers. An animated version of the property was also featured in Ariana Grande's Save Your Tears music video.
The Invisible House in Joshua Tree is currently available as a month-to-month rental via the Engel & Völkers real estate agents, with a price of US$150,000 (AU$220,327) per month. As far as places to relax in the desert go, it honestly doesn't get much better than this.