Become a billionaire… run for US president… release 2021's biggest albums with Donda… fork out eight figures for a sumptuous Malibu beach house / liveable sculpture, it's all in a regular year for Kanye West.
Similar to fellow billionaire, Microsoft Co-Founder Bill Gates, it appears as though Ye has decided to treat himself with some property post-divorce (albeit at a slightly different scale for a drastically different purpose). Designed by renowned Japanese architect Tadao Ando, the 3,665-square feet Puerco Beach abode was acquired in an off-market deal with retired Wall Street financier Richard Sachs for US$57.3 million (AU$78.85 million). Not a bad cop considering it was listed for US$75 million (AU$103 million) last year and stands to be one of the few homes conceptualised by Tadao Ando in the US.
The street view may betray very little, presenting a cold and minimalist concrete facade that resembles something more industrial than residential. A single glance at the ocean-facing aspect, however, will swiftly answer any lingering questions regarding both price justification and appeal. Say what you will about Mr West, but when it comes to aesthetics, the man knows what he's doing.
---
---
RELATED: Kanye West's Yeezy & Gap Jacket Made Almost $10 Million Overnight
"Beginning in the mid-aughts, Sachs spent millions, and seven years of planning and construction, to build [this] hulking three-storey house," writes James McClain of Dirt.
"The structure reportedly required 1,200 tons of poured concrete, 200 tons of steel reinforcement, and 12 pylons driven 60 feet into the ground, supporting the monstrously heavy house from sinking into the sand."
"The vaguely Brutalist-inspired house itself has no yard and nary a single plant, so West will save money on landscaping bills."
As for what a Malibu beach house such as this actually offers Kanye West aside from what he'll undoubtedly chalk up to artistic expression, every level reportedly serves a distinct purpose. The lowest floor, for one, holds a total of three ensuite guest bedrooms, while the middle floor hosts your more public areas (living room, kitchen, powder room, etc.).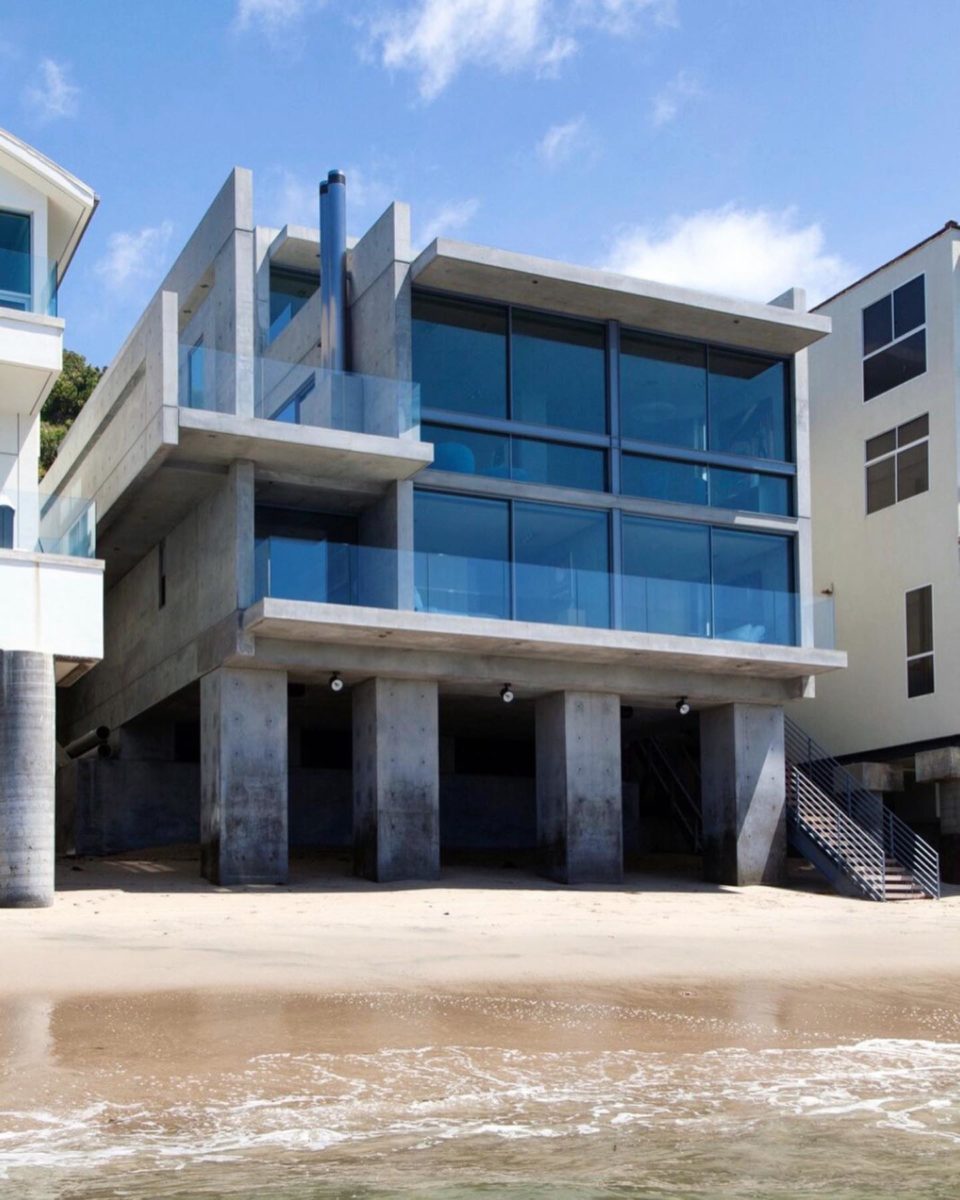 RELATED: Tommy Hilfiger's Lavish Greenwich Estate Can Be Yours For $34 Million
The top floor is apparently reserved for the owner's exclusive use, complete with a penthouse-like master suite, as well as a rooftop terrace that overlooks the Pacific ocean. There are four and a half bathrooms. And while it's probably of no interest to you highbrow readers, many have noted this place is located a short 30-minute drive from the Hidden Hills compound where Ye's kids and ex-wife Kim Kardashian reside.
---
---
This Malibu beach house is simply the latest addition to Kanye West's ever-growing property portfolio. Scattered across the country, the multi-hyphenate talent currently retains over 300 acres of vacant hillside land in Calabasas, a Brutalist-inspired condo in Calabasas, two minimalist condos in New York City, a remote ranch in Wyoming, in addition to the aforementioned Hidden Hills compound.
At the time of this writing, Kanye West has a net worth of US$1.8 billion (AU$2.5 billion).