Despite being a city built on sand, Dubai has some of the most remarkable buildings in the world. From the Burj Khalifa and the Burj Al Arab to Atlantis, The Palm and beyond, when it comes to jaw-dropping architecture, there's a lot to look at in Dubai. The newest feature of the Dubai skyline is Royal Atlantis development, which boasts one of the most impressive penthouse apartments currently on the market, listed for a cool US$48.96 million (AU$68.72 million).
While it's currently the most expensive Dubai apartment on the market, you're getting a lot for your money with this as yet unfinished penthouse. Located on Palm Jumeirah, Dubai's famous man-made, palm-tree-shaped island, the penthouse spans the three levels north of the 35th floor, with each level occupying an offset lego-like brick in the overall structure of the building.
Providing a cavernous 25,000-square-feet, the penthouse is the jewel in the crown, which includes a total of 231 luxury residences. Much of the rest of the building is occupied by the 800-room five-star hotel, all offering rooms looking back over the water of the Persian Gulf at the rest of Dubai city.
---
---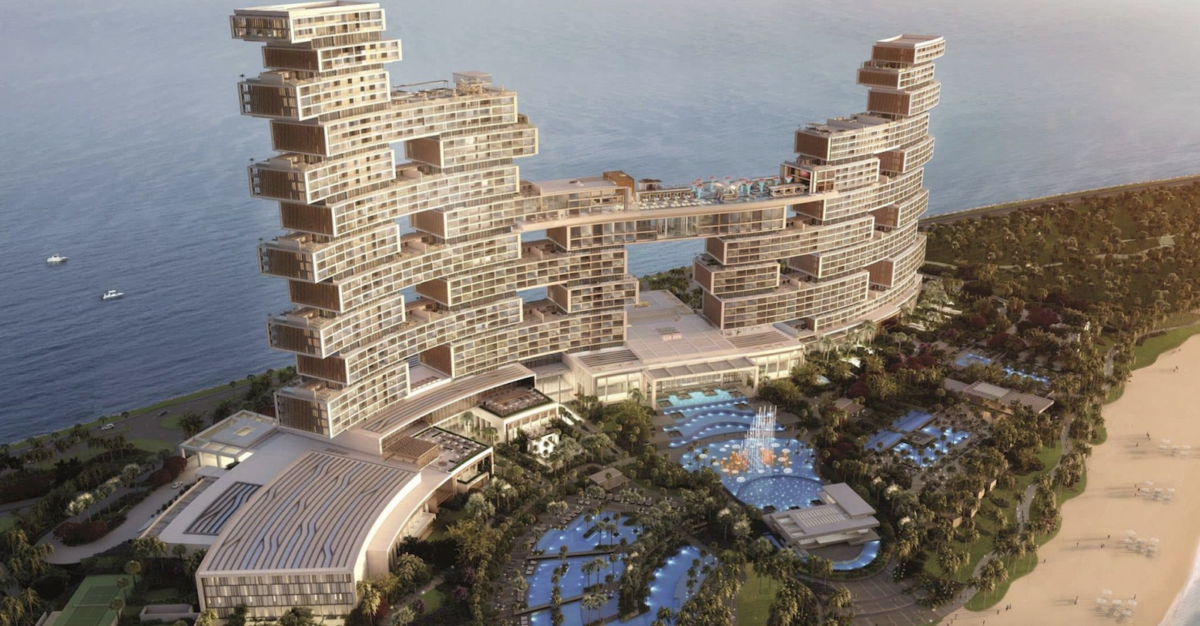 RELATED: Saudi Billionaire To List NYC Penthouse For Over $225 Million
Across the three levels of the penthouse, you'll find 16,500-square-feet of interior space to decorate, with 5,600-square-feet made up by the terraces and another 3,100-square-feet dedicated to the expansive balconies. With such consistently perfect weather in Dubai, so much space dedicated to balconies and terraces just makes sense, especially with the wellness suite, gym, spa, and massage room located on the topmost level.
As much of the interior is not yet finished – the apartment is scheduled for completion by mid-July 2022 – the eventual buyer will be able to effectively design the interior from scratch. In an interview with Robb Report, listing agent Kianoush Darban explained this bespoke element is something his clients value greatly.
"I'd expect a buyer to spend at least $10 million building out the interior and putting in a few 24-karat gold bathrooms. Money tends not to be a concern with buyers here; one recently wanted to use a complete floor of his new penthouse for a tennis court. Another asked for a pool that could accommodate sharks."
So if you're in the market for some seriously hot Dubai property, it doesn't get much more desireable than the Royal Atlantis penthouse. While the price isn't exactly low, its location, the interior tailored to your tastes and the panoramic views more than justify the sticker.