Looking to spruce up that home cinema? No longer is a dedicated movie screening room exclusive to the world's most lavish mansions; home cinemas are becoming increasingly common for the everyday man. And for that, one needs to look to the best soundbars available as one of the first steps to recreating that cinema experience at home.
Though TV manufacturers are getting niftier with their native audio, no amount of onboard TV speakers are ever going to match up to a soundbar and its unique way of bouncing soundwaves around a room. As long as you're making the right choice, that long speaker lounging horizontally beneath (or above) your TV is going to take your living room and flip it into a genuine cinema. There are plenty of options when it comes to the best soundbars in Australia, so make sure you're across the top picks.
First, let's dig into what a soundbar actually does and how it can help recreate an immersive surround sound experience, even without any satellite speakers, rear speakers, or an additional subwoofer – although they certainly help.
---
---
Table of Contents:
What Can A Good Soundbar Do For You?
Soundbar Features To Look Out For
How To Position A Soundbar
A Quick Explainer On Soundbar Channels
The Best Soundbars In Australia For 2022
---
What Can A Good Soundbar Do For You?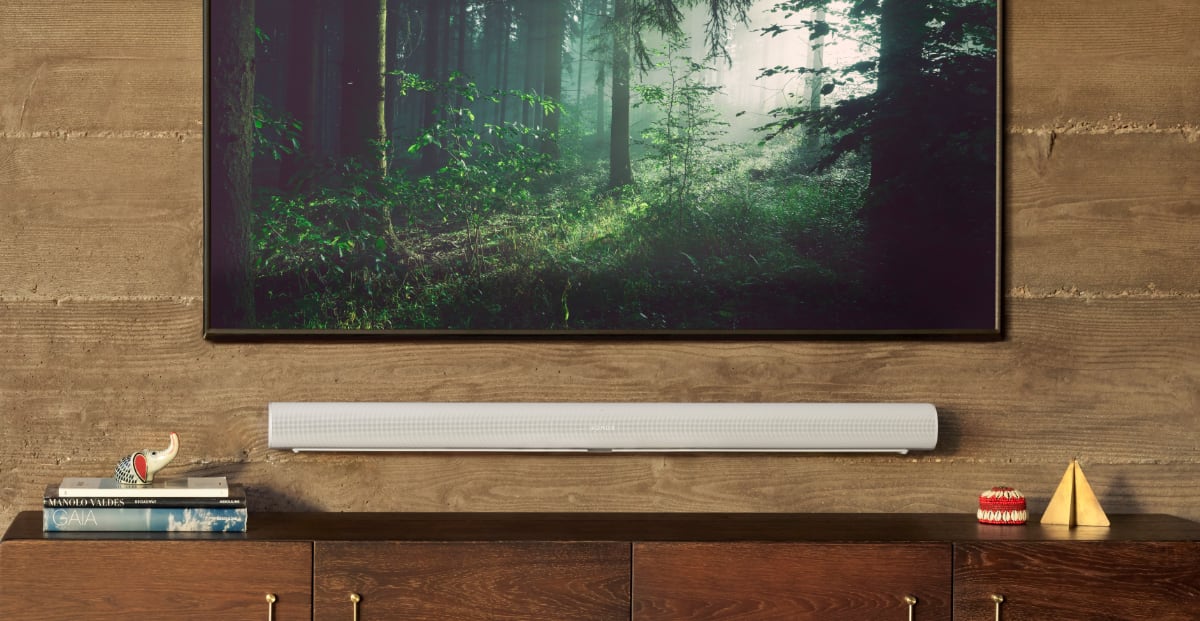 If you're looking for the best soundbars, you'll find that the superior options have multiple speakers inside that are typically configured and engineered differently. This basically means that the speakers are pointing in different directions so they can project surround sound audio and bounce it off nearby walls, ceilings, and floors. In that sense, a soundbar can mimic a true surround sound experience, taking those more nuanced ambient sound effects and soundtracks and really suck you into the visuals with surround sound.
You want those Hans Zimmer notes to hit deep and hard in all their brammy glory, right? That won't happen if you're just relying on some peasant TV speakers. Any soundbar is better than relying on TV speakers – despite how good they've become recently – whether that's a more affordable soundbar, a compact soundbar, or a premium soundbar.
---
Soundbar Features To Look Out For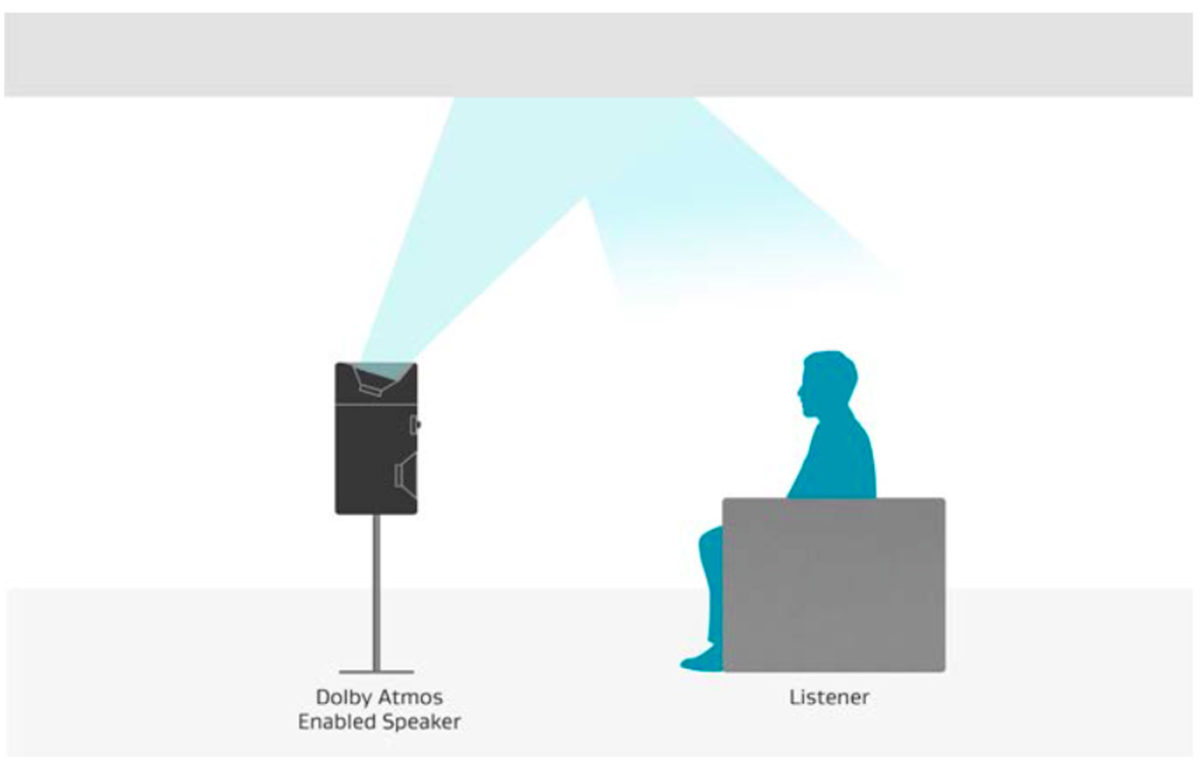 Modern soundbars from brands like Sennheiser, Harman Kardon, JBL, Sonos, Samsung, and Sony are always going to be packed with various features, each year becoming more and more refined to take advantage of new technologies, supported audio formats, Bluetooth formats, sizes, and voice control.
These are the features you should be considering above all when it comes to shopping around for the best soundbar you can buy, from surround sound technology like Dolby Atmos and supporting surround sound speakers, to Wi-Fi and Bluetooth connectivity for playing music.
Subwoofer Options & Satellite Speakers
While the best soundbars are always going to stand on their own two feet, anyone who really wants to maximise the audio experience is going to want external subwoofers, and at least two rear speakers.
Building that kind of full-throttle surround sound system is much easier if you're going with a brand that includes at least one subwoofer with their soundbar. Or has enough range to offer a wireless subwoofer and multi-room speakers that are just as strong.
---
---
Most will require you to buy the other speakers separately. Take Sonos for example. If you're forking out over $1k for the universally acclaimed Sonos Arc, you'll still need to shell out more for a pair of Sonos One speakers or Sonos Sub. It's an expensive ecosystem.
Whereas if you go for something like the Samsung Q870A you can expect an included subwoofer and a pair of rear speakers.
Note that while most are wireless subwoofers, which need a bit of extra setting up to align with the soundbar, there are still plenty of soundbars on the market which require their subwoofers to be connected directly with a wire.
Subwoofers are important because they specialise in reproducing low-frequency audio from your TV shows and movies. Chopper blades, the increasingly loud rumble of an earthquake, city-levelling explosions in disaster films – that kind of stuff. If you're after true 3D sound and full audio quality for action movies and TV shows, you want a subwoofer and a proper speaker system set-up.
If you're buying a third-party subwoofer, you'll need to make sure it's compatible with your subwoofer first. That's why it's always easier to just go with the same brands for all surround speakers.
Soundbars like the aforementioned Sonos Arc, and the Sennheiser Ambeo Soundbar can power through dense, layered low-end without the need for a subwoofer thanks to strong calibrated channels designed specifically to handle bass and sub-bass.
Connectivity
You'll want your soundbar to have plenty of options when it comes to maximising bandwidth and speed, so it can better juice your TV's audio and express it as close to native as possible.
First, check if any one of your TV's HDMI inputs supports HDMI 2.1 – many of the newer TVs, like the gaming specific TVs, are starting to implement this. The benefit here is that HDMI 2.1 features HDMI eARC support (the new generation of HDMI Arc), significantly improving bandwidth and speed to allow your TV to transmit high-quality audio to your soundbar, making it much easier to maximise high bitrate audio formats like Dolby Atmos and DTS:X – the two standards when it comes to advanced surround sound formats right now.
---
---
Most soundbars also include an optical output, which is a healthy alternative to any HDMI input. Compared to your standard HDMI Arc, Optical is typically less flexible with fewer features. But it's still a solid option if your TV doesn't have the latest HDMI specifications.
You'll also want wireless connectivity as well, so look for a smart soundbar that supports Wi-Fi, Bluetooth, and streaming standards like Apple Airplay 2, as well as digital assistants like Google Assistant, and Amazon Alexa. Fortunately, it's hard to find even a mid-range smart soundbar these days that doesn't try to offer all of these options, both so you can control the soundbar remotely and switch it on/off with the TV (as opposed to separately from the TV).
Whole-Home Audio – Wi Fi & Bluetooth Streaming
Following on from the above. Soundbars are traditionally used to help boost the sensory experience of watching movies and TV. Now, plenty are being used as part of larger multi-room speaker ecosystems to fill a house with music, with or without the TV on. Many new Soundbars include Wi-Fi & Bluetooth connectivity for this reason, so you can stream the likes of Spotify and Apple Music. It's worth considering this when shopping around for the best soundbars, as they are often used as the entry-point to larger whole-home wireless music systems.
Dimensions
All soundbars will come in different shapes and sizes, some with sexy rounded edges, others with boxy edges. Most people prefer to get a soundbar that's roughly the same length as their TV since it looks better. This largely depends on whether your TV is going to be on a stand or fixed onto a wall. You've got a bit more freedom if the latter, but if you're going with a stand you're going to want to pay attention to the soundbar's height. You aren't going to want a soundbar that blocks any IR sensor on the TV, for example.
Supported Audio Formats
To make it all a bit easier for you, consider Dolby Atmos and DTS: X as the gold-standard 4K HDR audio formats out right now. Most new streaming content is going to support either one, with Dolby Atmos being the most popular. And for that, you'll need at least a 5-channel soundbar (more on channels below) that features upward-firing speakers that bounce sound off the ceiling to add a dimension of height and width to the sound. This creates a wider soundstage where explosions could sound like they're happening all around you, and helicopters could sound like they've just flown overhead – theoretically, anyway.
That means that if you're going for a soundbar that has only 2 channels (so a 2.1, for example), it won't be compatible with full Dolby Atmos audio quality.
---
How To Position A Soundbar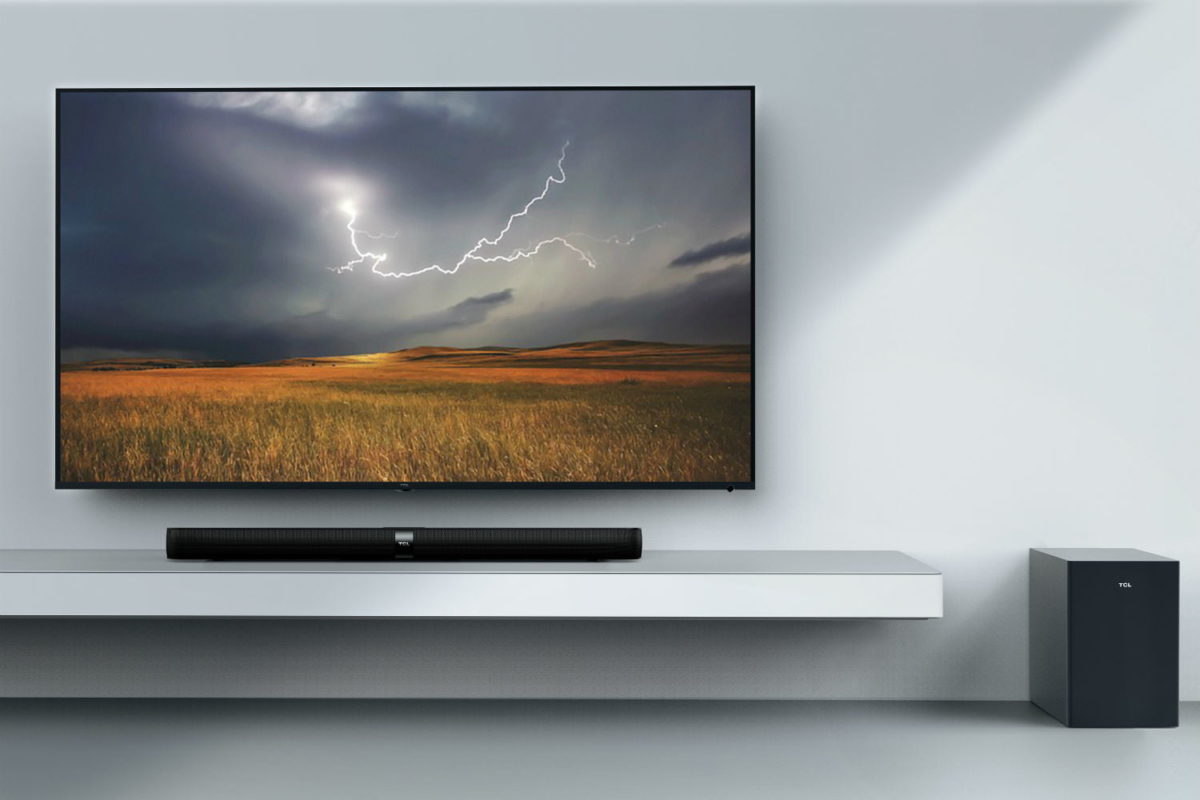 A good soundbar needs the right setting. You'll need to think carefully about how to maximise your room so the soundbar has enough surfaces to work with. Don't just buy a soundbar that matches the width of your television – it may be aesthetically pleasing, but isn't necessarily acting as a function of your room's specific dimensions.
Instead, you'll want to pay more attention to ideal viewing distance, and the size of your room. As a rule of thumb, a larger soundbar is going to work better with a larger space, and the design of the soundbar itself will dictate how best to position it underneath your TV. Be sure to give the soundbar some space, especially if it comes with upward firing or side firing drivers, so they can project audio properly.
---
---
If a soundbar has rear ported or rear speakers, which bounce sound off the back wall, you'll need to think about how to position the bar so the soundwaves aren't hitting anything they aren't supposed to. In other words, don't stuff your soundbar into a cabinet and expect it to perform well.
---
A Quick Explainer On Soundbar Channels
Your soundbar is going to be followed by a bunch of numbers that indicate the speaker set-up specific to that soundbar.
For example, take the high-end Samsung Q950A which has an impressive 11.1.4 channel set up, and compare that with your more standard soundbar 2.1 channel set up.
First number – The 11 in the Samsung example means the soundbar has 11 different channels, which is incredibly advanced. Whereas the 2 in the basic soundbar is a two-channel system, consisting of a stereo with just one left and one right channel. If you were to see a 3 here instead, that'd mean the soundbar would have a left, right, and centre channel – the centre being able to specialise in dialogue audio to make speech more intelligible and clearer.
Second number – The second number is for low-end specialisation. A 0 here would mean that the speaker doesn't include a subwoofer in its ecosystem. You'll usually see a 1, which means there's either a separate subwoofer to play around with, or the soundbar has dedicated low-frequency drivers that do a decent job at handling all that rough, rumbling action.
Third number – If you're looking at the lower end of the price spectrum, you're not going to find a soundbar with a third number. That's for the high-end devices, which basically tell you whether or not the bar supports cutting-edge audio like Dolby Atmos and DTS:X. This final number refers to the number of upward-firing drivers that shoot soundwaves at the ceiling to bounce back down for an immersive 3D effect.
True Dolby Atmos is able to process roughly 118 distinct objects in any given scene, simultaneously. This means that every sound in a scene is its own separate object and can be discerned as if you were part of the scene yourself.
Do note that some soundbars are able to recreate Dolby Atmos digitally, using as few as two channels in a single speaker, with no need for rear channels. The JBL Bar 5.1 is a good example of this. Instead of supporting true Dolby Atmos it uses multibeam technology to virtually recreate the 3D spatial audio format. It won't be as good, but it'll be hard to tell the difference.
---
---
Note that Dolby Atmos speakers will only be able to make full use of the format if you connect them via HDMI ARC or HDMI eARC. Optical can only output Dolby Digital.
To put it simply, if you want a better soundbar, make sure it has three numbers.
---
The Best Soundbars In Australia For 2022
---
Sennheiser Ambeo Soundbar 5.1.4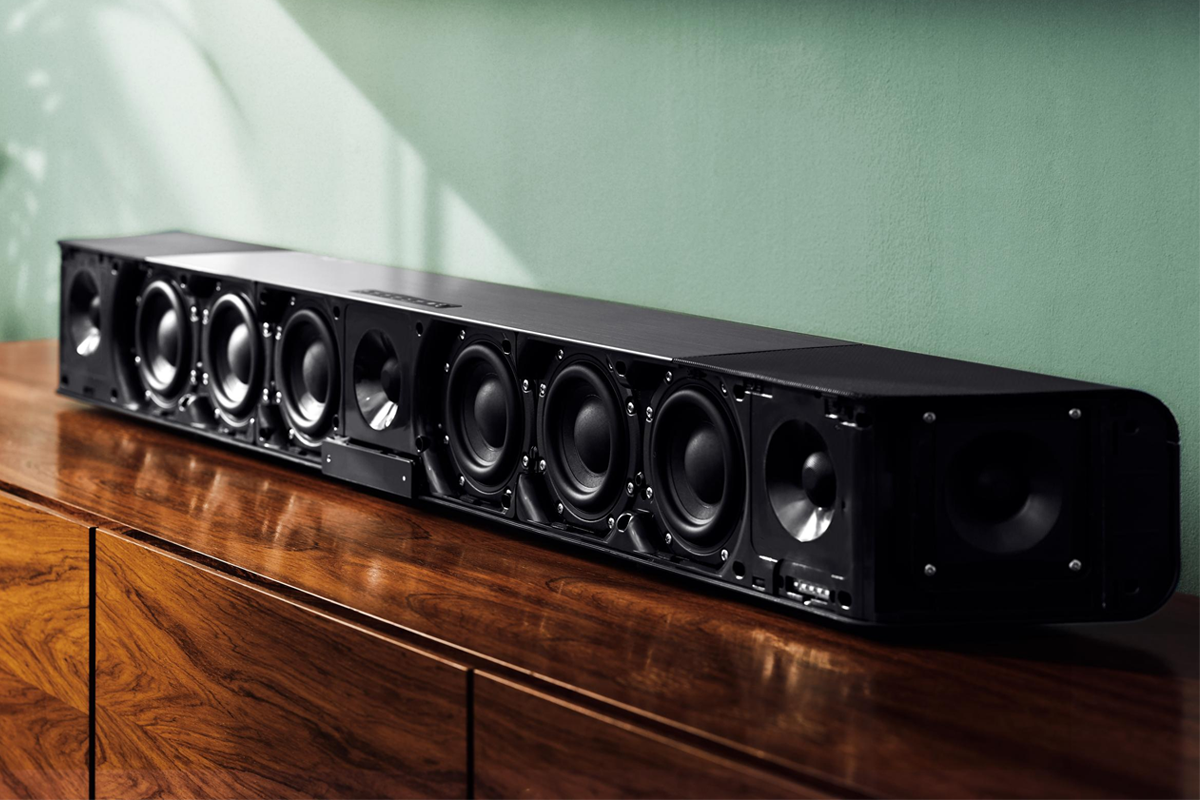 The Sennheiser Ambeo Soundbar is the famed audio brand's first consumer speaker, and it's clear they wanted to move beyond just headphones to offer one of the absolute best on the market. Consider this a success, with the feature-rich Ambeo Soundbar including all the gold-standard audio technologies alongside a sound that's big, crisp, and clear enough that you won't really need anything else.
There are very few reasons to avoid this beast, although the bulky size may throw some off. At 127cm wide and 14cm tall, it's best used with a wall-mounted TV.
The price is quite an ask as well, especially for Apple users; the Ambeo doesn't support Apple Airplay, so Wi-Fi streaming relies on Google Chromecast (which can be finnicky on Apple devices). Considering soundbars drop in price frequently, you might want to wait for a while before searching "today's best deals on Sennheiser soundbars" and get to clicking.
The reasons to buy are much more stacked. Support for Dolby Atmos and DTS:X; an Ambeo "Virtual 3D" sound system feature, which stretches sound around the room and doubles down spatial, object-based audio; solid Wi-Fi connectivity which helps the Ambeo double as a highly capable premium smart speaker. The sound quality is exceptional, even without any additional speakers.
This is a good example of the middle number, 1, not necessarily meaning a separate subwoofer. The Ambeo has more than enough drivers to handle just about every layer of the audio experience, so it's incredibly adept at those nuanced low-frequencies for a sound profile that's rich and balanced no matter the volume.
---
Samsung HW Q950A 11.1.4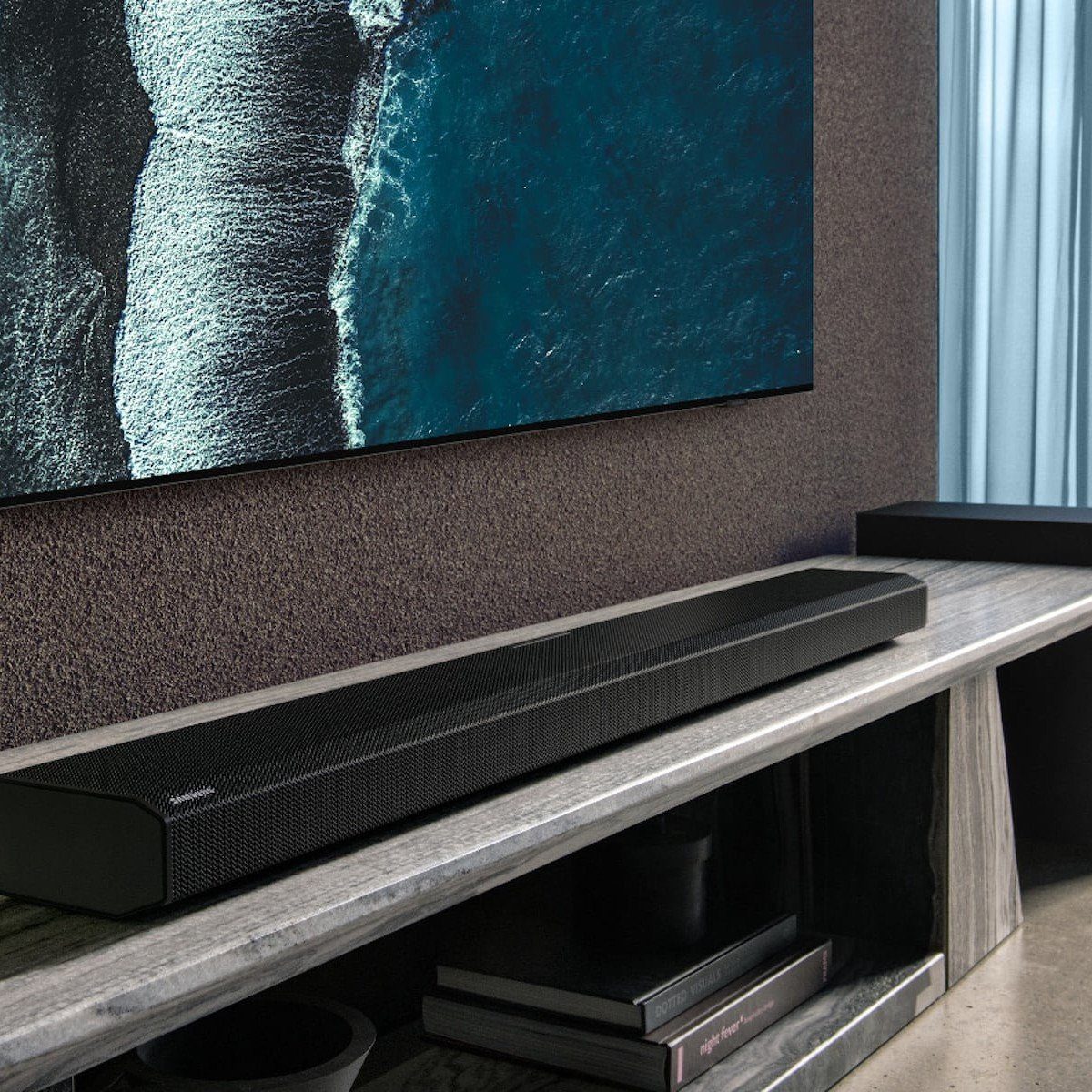 One of the latest and most advanced sound bars on the market, the Samsung HW Q950A is an absolute beast of an achievement, impressively spec'd out with a clear goal to push soundbar technology forward more than just a few steps.
---
---
With support for true Dolby Atmos and DTS:X, the soundbar comes bundled with a wireless subwoofer and two speakers to help build a truly surround sound performance that utilises the entire room. Look for any full review online and the words "cinematic" and "best" fly at your thick and fast, making the Samsung HW A950A one of the few soundbars with this level of ambition that has managed to attract mostly five-star ratings.
There are a number of smart features which make this the ideal soundbar, especially for those who are using it with a Samsung TV. For starters, it supports Samsung's Q-symphony calibration technology, which uses the TV's speakers and their built-in microphones to tune the sound and automatically dial in the ideal settings based on the environment.
The Samsung HW Q950A also uses test tones to fine-tune the wireless subwoofer and better align it into the ecosystem, making it much more than just a high-end Dolby Atmos soundbar.
A third calibration technology is Samsung's Active Voice Amplifier, which when active constantly listens out for ambient noise (eg, a phone ringing, baby crying or a vacuum cleaner) and adjusts the sound profile accordingly to keep the listening experience in-tact and maintain a sense of epic scale.
This is in addition to support for Apple Air 2 and Amazon Alexa, as well as Bluetooth and Wi-Fi. Connectivity includes various HDMI inputs While it may not be as well suited for music streaming as the Sennheiser or Sonos Arc, Samsung has turned in a ridiculously impressive evolution for home cinemas.
---
Sonos Arc 5.0.2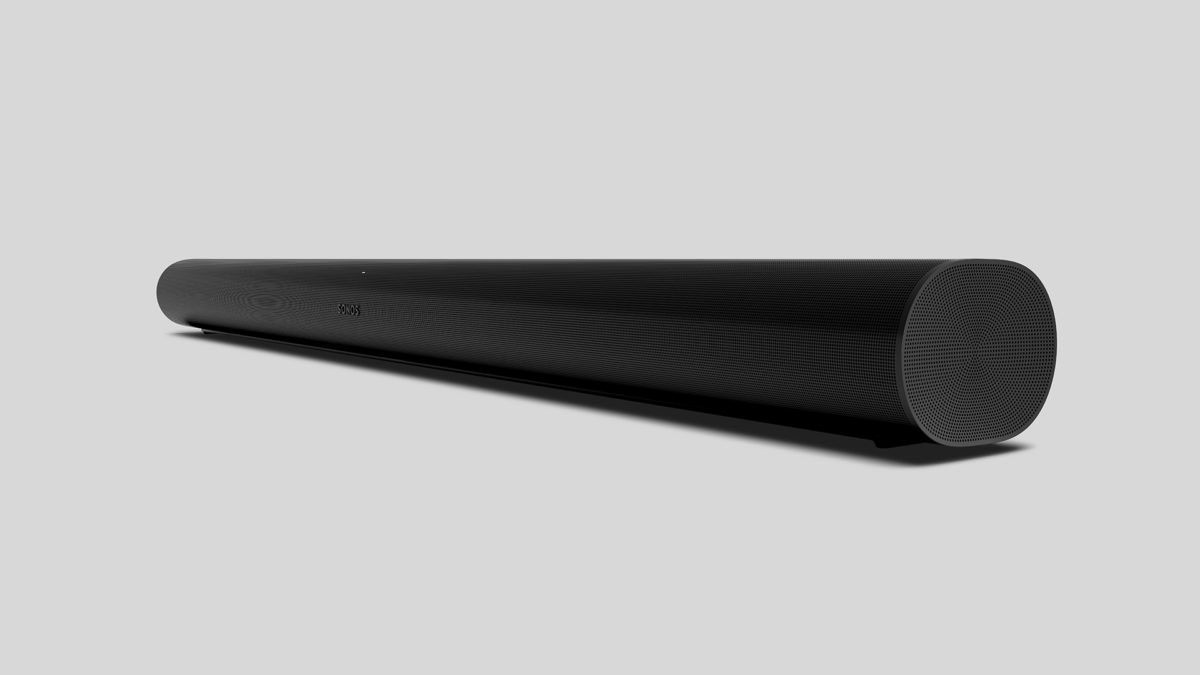 The Sonos Arc is the soundbar I've personally used the most and is easily one of the best balanced on the market if you're looking for a Dolby Atmos soundbar that also focuses on beautiful design, smart calibration, and gold-standard connectivity.
While the price of the Sonos Arc means the impressive Sonos Beam is now more affordable, it's still worth cracking out some stacks for the brand's newest flagship. Even without Sonos' notoriously expensive external speakers, the bar itself does an excellent job at recreating convincing surround sound using Dolby Atmos content.
Like pretty much all of the other devices from Sonos, extra value comes from the sleek monochromatic, design-friendly body that'll look slick in any modern home. It's painfully easy to set up and calibrate using Sonos' TruePlay as well, adjusting to the room and tweaking its detailed, weighty audio profile based on the setting.
Of course the only problem here is that you'll need to fork out for a Sonos Sub if you really want those lower frequencies to bring a bit of crunch to your home cinema set up.
Connections include an HDMI ARC port, the option for optical digital audio to HDMI converter, Bluetooth, Wi-Fi, and Apple AirPlay 2. That's more than enough to help justify the price point, even if the Arc is nowhere near as feature-rich as the Samsung and Sennheiser options on this list of the best soundbars money can buy.
Or you can just save a bit of cash and go for the Sonos Beam or Sonos Playbar instead. That way you'll have some budget left over to get one of those gorgeous Sonos Subs. You just won't get that Dolby Atmos surround sound experience.
---
Harman Kardon Citation Multibeam 700 5.1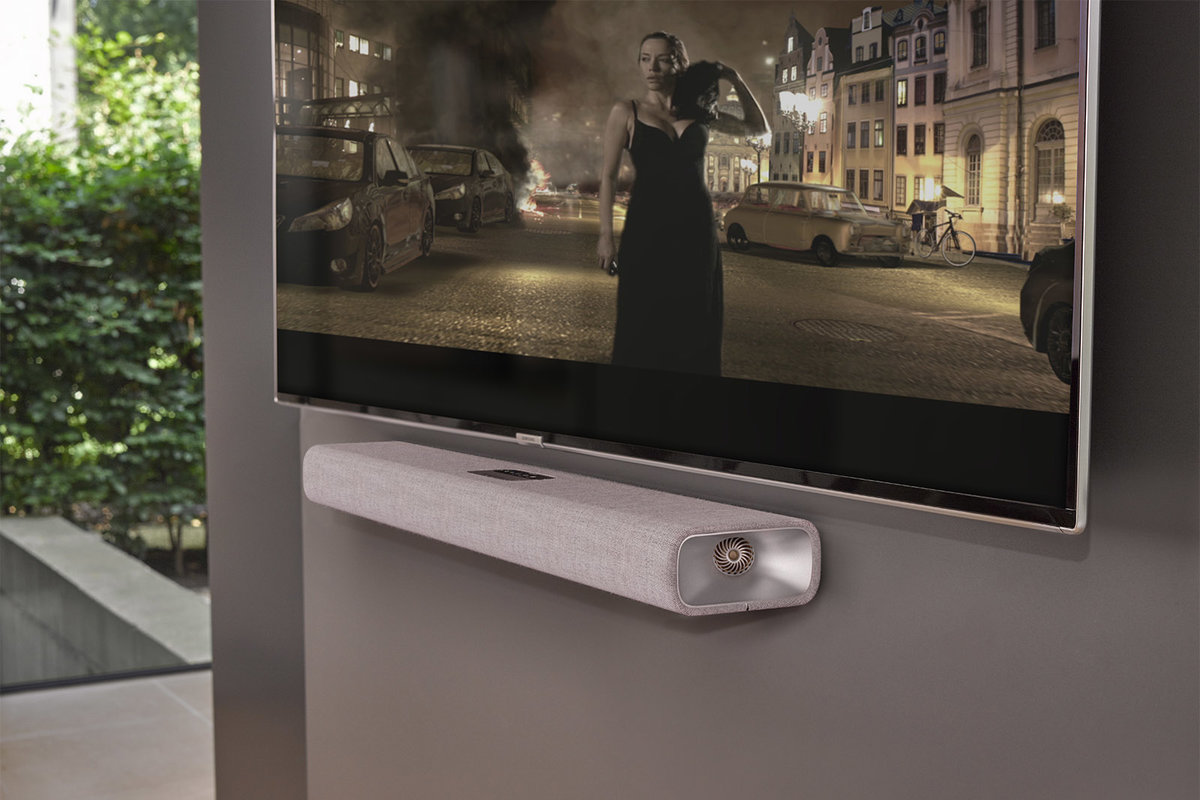 Dipping down into the mid-range but still edging the top of its category is the Harman Kardon Citation Multibeam 700. Priced at $800, the soundbar is one of the less expensive options, and while it doesn't have support for Dolby Atmos, it's powerful enough to provide plenty of punch to your set-up.
Instead, the Harman Kardon Multibeam 700 focuses on effortless, lightweight design, easy set-up, and a 5.1 channel set-up that's more than enough to bring pure power (up to 210W) to your home cinema.
With 2 x 25mm tweeters and 5 x 5cm woofers, the soundbar uses an economical set-up of front and side-firing speakers to help achieve a nice, balanced sound profile. It may not feature the richness and depth of the more expensive soundbars on this list, but it sure as hell will beat any pair of TV speakers.
In terms of smarts, the Harman Kardon Citation Multibeam 700 is generous with wireless connectivity, with Bluetooth, Chromecast and Apple AirPlay over Wi Fi. There's also an HDMI ARC socket, which makes up for the lack of physical connectivity and other HDMI ports.
If you've allocated most of your budget towards the actual TV, the Multibeam 700 won't feel like a compromise. Besides, that frees up some funds so you can kick in one of those beautifully designed, powerful Harman Kardon Citation Sub S Subwoofers.
---
JBL Bar 5.1 Surround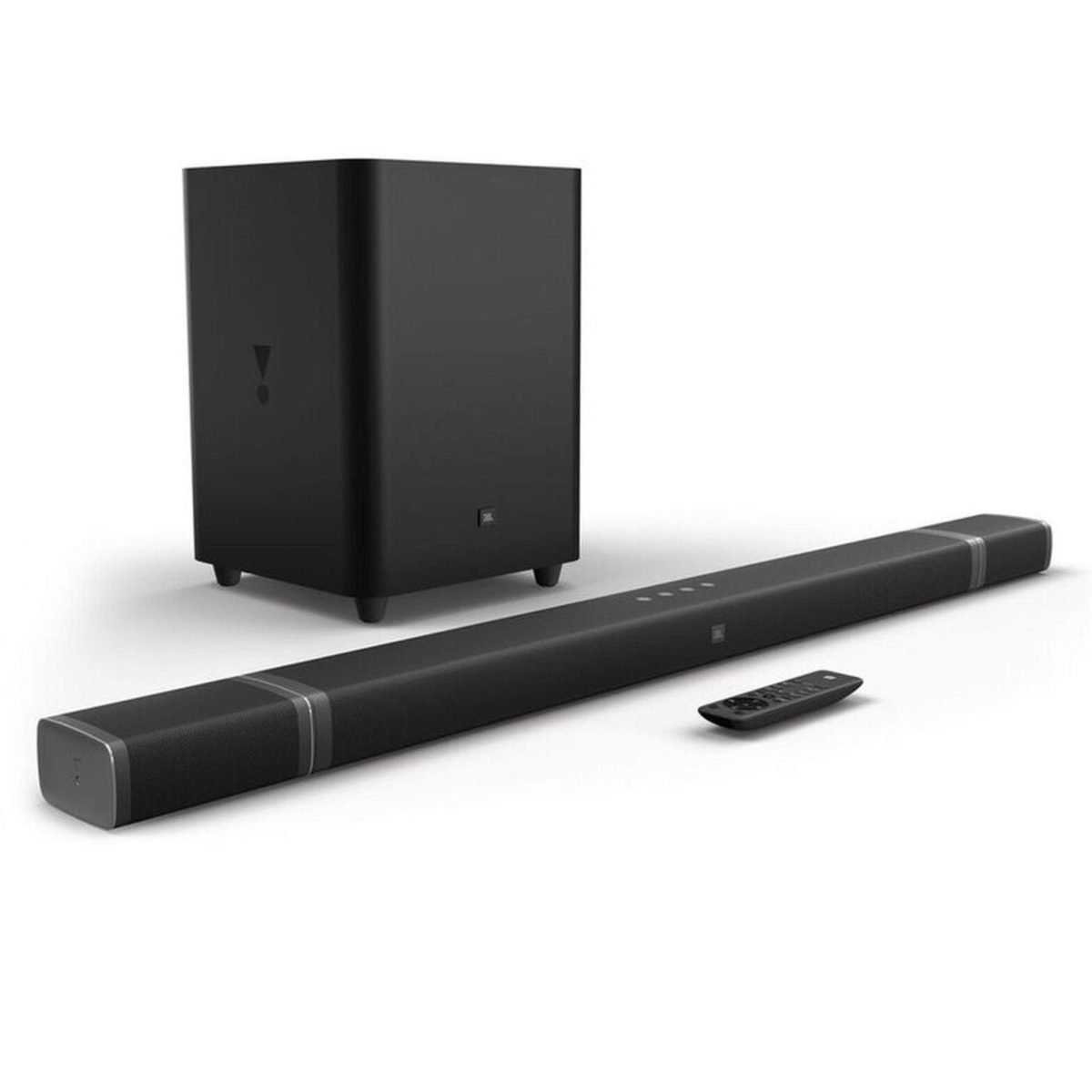 Here's another 5.1 channel soundbar that won't break the bank but still help your home cinema find its groove. It also comes with a sub-woofer, compared to the cheaper single-bar version, and considering JBL's credentials when it comes to bass, expect an excellent low-end performance to complement the 550W system.
JBL has been a bit clever with the 5.1 arrangement here. Although there's no support for Dolby Atmos, and no rear-firing channels to help create a true surround system, the soundbar uses multibeam technology to fill a room with cinematic, immersive sound. This is beamforming technology, attempting to recreate a virtual version of Dolby Atmos and doing a pretty decent job at it, adding a height dimension from an audio source so there's at least some sense of spatial audio. For example, a helicopter buzzing around will, in theory, sound like it's right above your head.
While in practice, the beamforming technology falls a bit short, especially when compared with something like the Sonos Arc, it's about as good as you'll get at this price point.
This JBL Bar also includes generous EQ options so you can dial in the type of sound you want to better align with the contact you're watching.
Bluetooth is included so you can double this up as a music speaker – you should know by now how good JBL speakers can be – as well as stream via Chromecast and Apple AirPlay 2.
---
Sony HT-X8500 Soundbar 2.1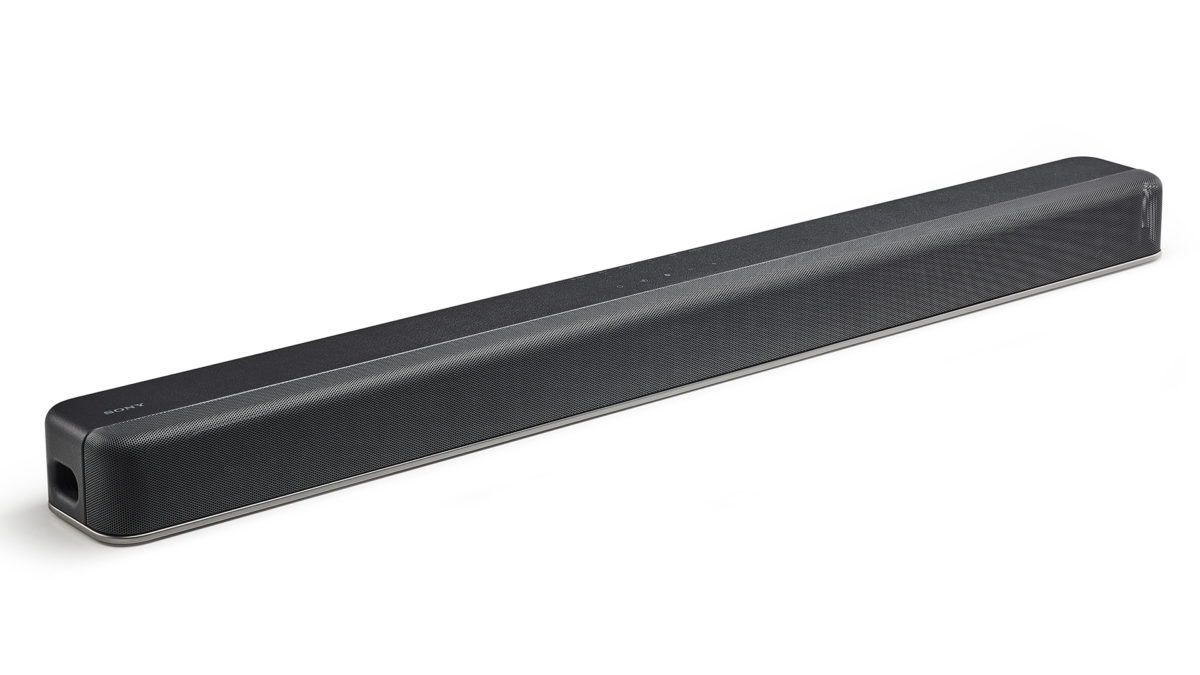 Dropping down in price is the $595 Sony HT-X8500 Soundbar, a standard 2.1 channel device that still manages to punch well above its weight, and price point.
Sony has always been incredibly reliable when it comes to software, and it looks like their habit of pushing out better sound than expected is recreated with this iteration of the Sony HT series. This is mostly achieved through Sony's signature Vertical Sound Engine, which is meticulous enough to work with Dolby Atmos and DTS:X content to recreate at least some sense of a wider, more immersive soundstage. The height and width of the sound is stretched around the room to create the illusion of surround sound, without the need for any additional speakers.
What's the compromise then? Well, considering Sony has thrown a lot into the sound, there's an egregious lack of connectivity options and no smarts to speak of. You've got Bluetooth and Wi-Fi so you can at least stream music, and HDMI ARC next to an optical audio port, but there's no support for AirPlay 2, Chromecast, Amazon Alexa, or Google Assistant.
Does sound make up for that? It sure does. But you'll have to decide what level of compromise you're comfortable with before adding the Sony HT-X8500 to your home cinema set-up.
---
Yamaha YAS 209 2.1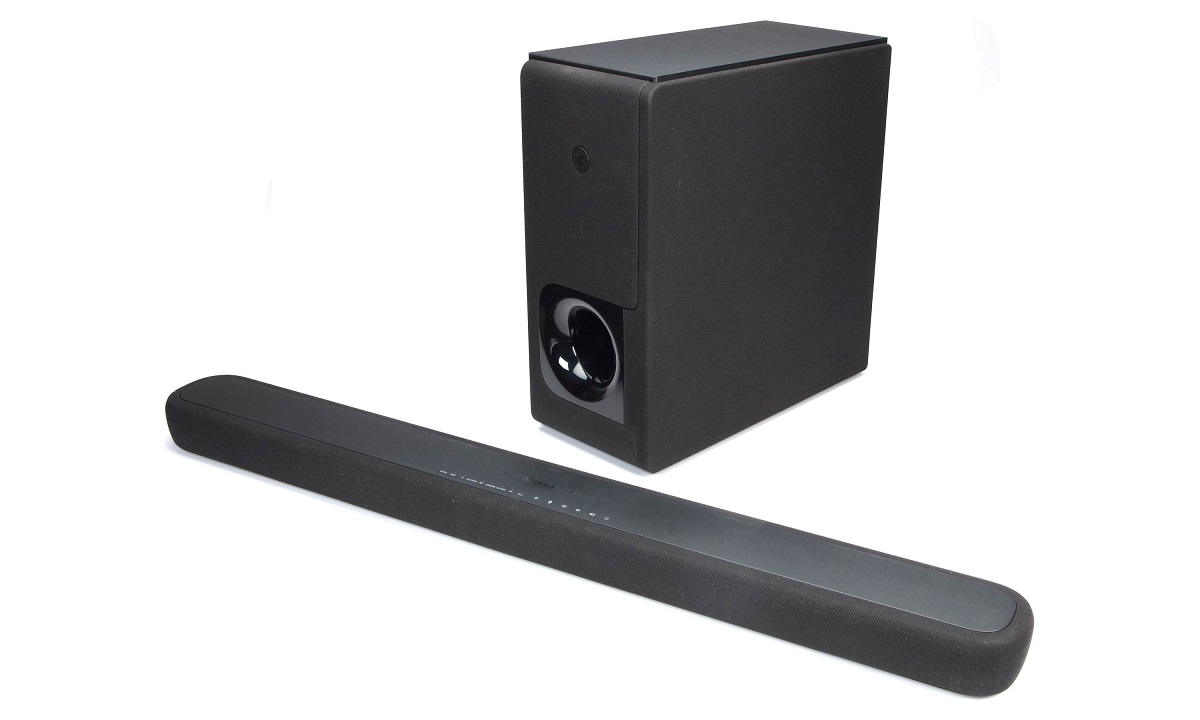 Building upon the excellent Yamaha YAS 207, which is often cited as one of the best soundbars at its price point, the Yamaha YAS 209 is an iterative improvement, but a meaningful one.
Compared to the YAS 207, the Yamaha YAS 209 performs much better at max volume, maintaining that crisp, clear profile with heightened dialogue. It also comes packaged with a better subwoofer that's more capable when it comes to sub-bass. Another advantage is Wi-Fi support, which the YAS 207 didn't have, catching up with some of the other more expensive competitors by doubling as a music speaker.
Key to the performance here is DTS Virtual:X which, like the JBL 5.1 with its faux Dolby Atmos, attempts to recreate DTS:X surround sound. It's not going to be perfect – this is the cheapest soundbar on this list, after all – but the structure does an incredible job, considering it's only a 2.1 set-up.
For connectivity, you've got HDMI ARC, optical digital, as well as Bluetooth and Wi Fi. Unfortunately for Apple users, there's no AirPlay 2 or even Chromecast, but Amazon Alexa gets some support for ease of use without the remote. That's more than enough to make up to a sub-$500 price tag, making this the best soundbar option for anyone who isn't willing to fork out over double the amount for a true Dolby Atmos soundbar.
---
Best Soundbars In 2022 – Frequently Asked Questions
Are soundbars worth the extra money?
A good soundbar can be an investment if you're already blowing your budget on the latest TV. If you're set up is in a rather small room, then it's probably not worth buying a more expensive soundbar. However, if you've got a bigger space, and the viewing distance between you and TV is wide enough, a soundbar can really take your audio experience to the next level.
Is Dolby Atmos worth the hype?
Dolby Atmos is a 3D audio format that recreates the spatial sound you could expect from a large cinema. The advanced format is able to handle over 100 separate objects simultaneously, creating a wide soundstage that has clarity, depth, and is able to separate all sounds into distinct objects so you can really feel them come to life.
What is the best soundbar to buy?
The best soundbars you can buy right now are the Sennheiser Ambeo Soundbar, the Samsung Q950A, and the Sonos Arc. All three will give you a great Dolby Atmos experience, at a price.