There is an endless, overwhelming amount of options out there if you're in the market for the best wireless earbuds money can buy. In the past few years, just about every audio brand you can think of has tried to swipe a piece of this lucrative market so I thought it'd be a good idea to help guide Boss Hunting's readers towards the best value options out there.
After you read through my top picks for the best wireless earbuds, keep scrolling. It's important to be aware of a few terms before you go shopping around for the best wireless earbuds. For example, you need to make sure your source (e.g., a phone) matches your sink (the earphones) so the two can communicate as freely and efficiently as possible, leading to better sound quality and a more seamless overall experience.
Before we get into all of that, first take a look at my top picks below. I've been fortunate enough to go hands-on with many different earbuds. Some were incredibly poor form while others – these ones – all hit the mark when it comes to different metrics like performance, price, design and build.
Note that this round-up will be updated every few months as more wireless earbuds hit the market from big brands like Samsung, Sennheiser, Sony and Apple so do check back every now and then to see if a new pair of earbuds has passed our testing process (which I've detailed below).
---
---
---
Our Favourite True Wireless Earbuds For 2023
1. Apple AirPods Pro (2nd Generation) — Best For iPhone Users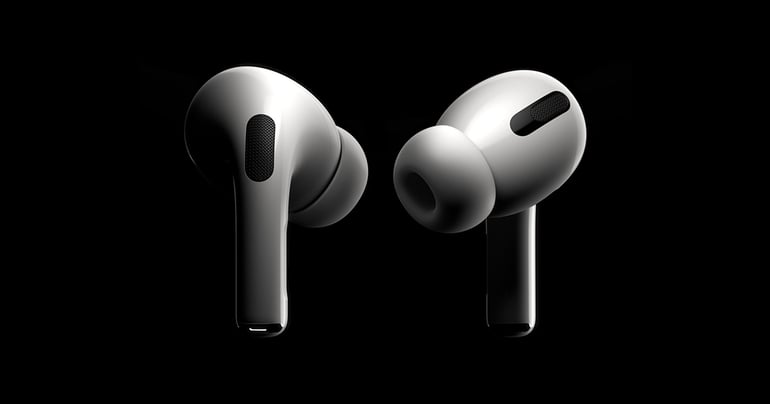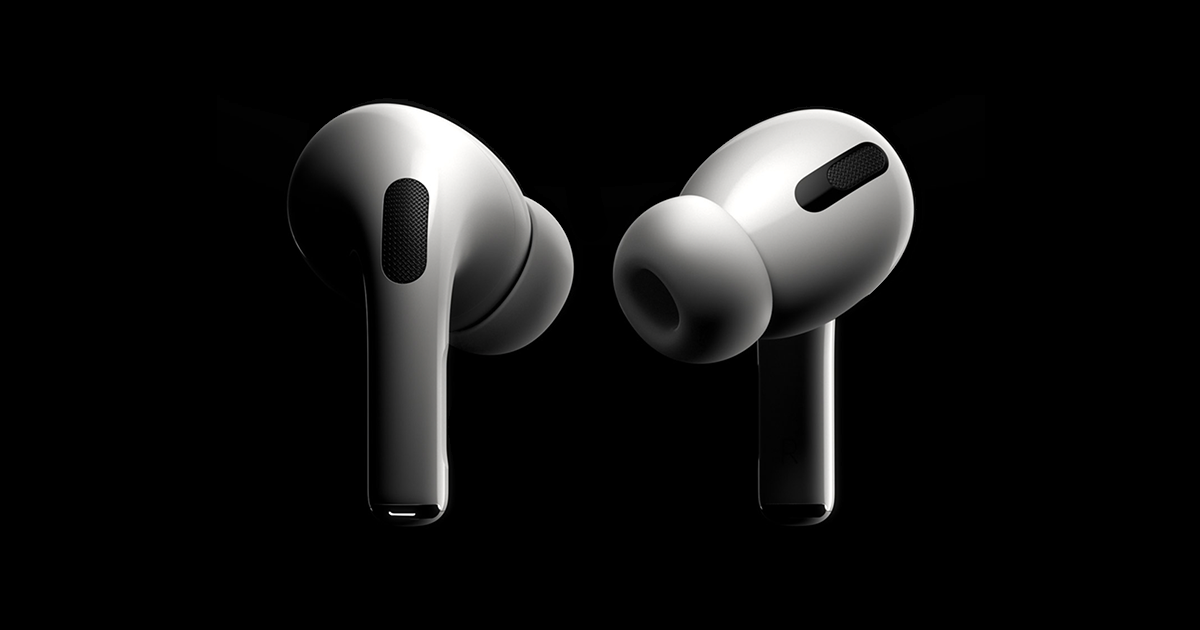 Specifications
Noise Cancelling: Adaptive Noise Cancellation
Total Battery Life: 19 hours
IP Rating: IPX4
Since Apple was responsible for creating this insanely competitive market, it makes sense that the company would be making some of the best wireless earbuds money can buy.
Although the Airpods haven't been iterated on as much as some other established brands, the Apple AirPods Pro introduce some incredibly efficient active noise cancelling to what is already one of the best-sounding pair of earbuds on the market.
Compared to their predecessors, the 2nd Generation Apple AirPods Pro ship with a range of ear-tips so you can find the perfect seal, reiterating the renewed focus on noise cancelling along with better sound quality thanks to a spatial audio mode, and better integration with Siri thanks to the more efficient H1 Chip.
Yet, I've always found the ugly stem design very unappealing. And it makes implementing touch controls a bit more difficult. Instead, I have to squeeze the stem to activate Siri so I can command Siri to do things like answer calls, skip tracks and adjust the volume. This adds an extra step to playback control and it can get annoying after a while. In fact, I've just stopped using the function.
I'm also only getting 4.5-5 hours on a single charge, although the charging case can boost an extra 19 hours of battery life with just five minutes giving me enough juice for one hour. The IPX4 water resistance also isn't too impressive when compared to other, more activity-friendly rivals. I don't use these Apple earbuds when it's raining for that exact reason.
Excellent noise cancelling
Works well with the Apple ecosystem
Very comfortable for long listening sessions
Excellent call clarity
Supports wireless charging
Accurate head tracking
Sound quality and battery fall short of some alternatives
Poor IPX4 rating
---
2. Jabra Elite 10 — Best For Comfort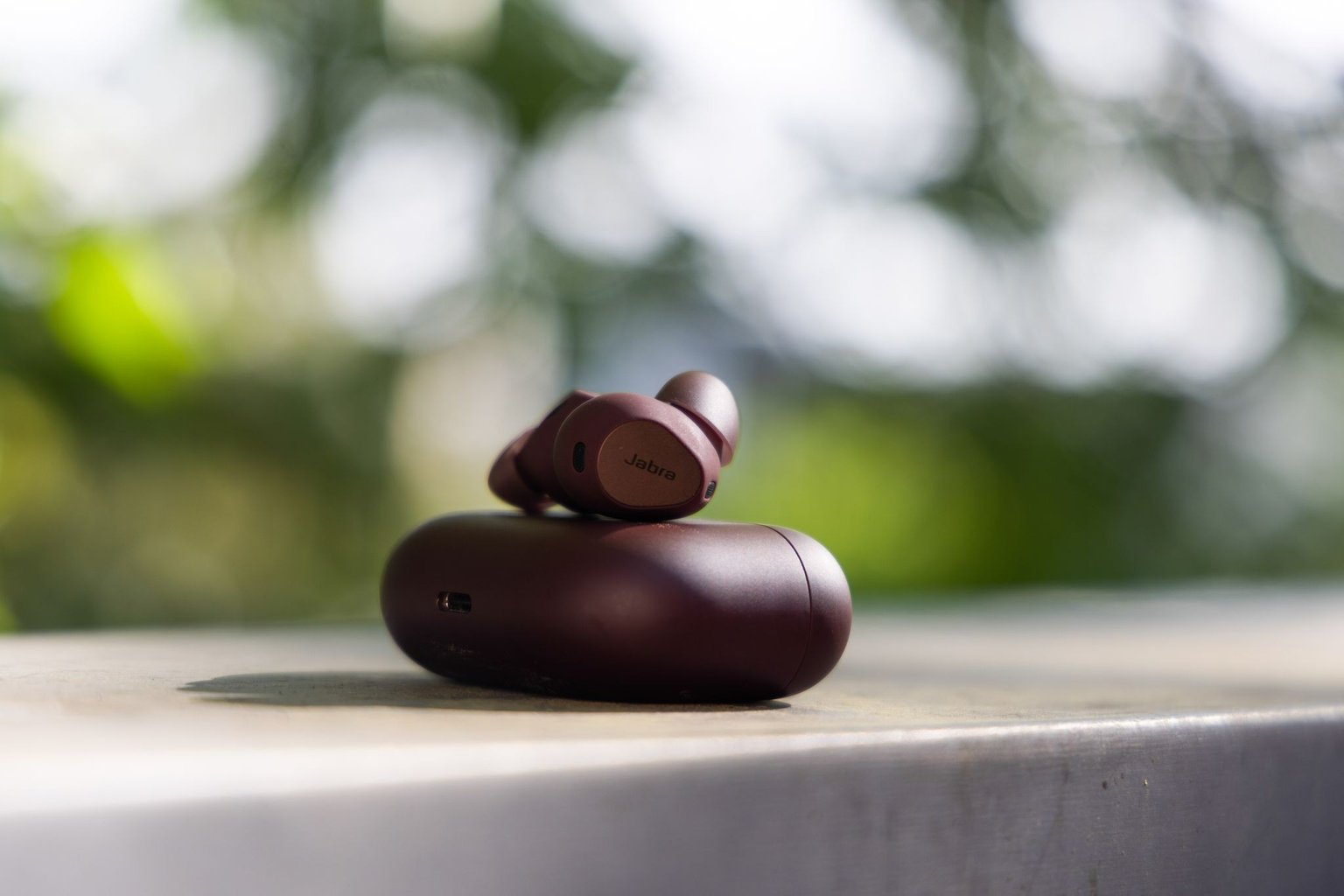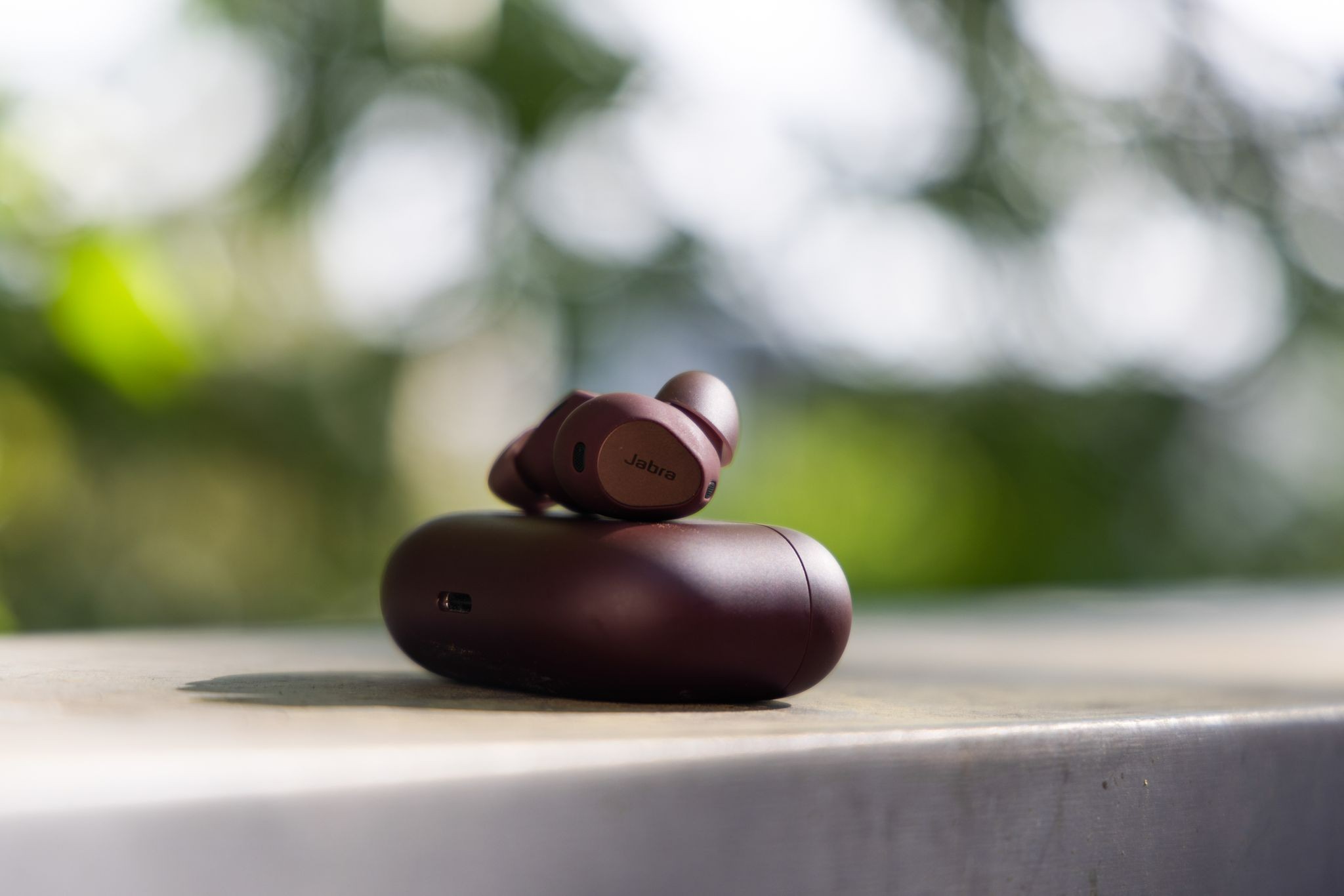 Specifications
Noise Cancelling: Active Noise Cancellation
Total Battery Life: 27 hours
IP Rating: IP54
Jabra's latest earbuds are some of the brand's best yet. The Elite 10 is a big step up for the Copenhagen-based company's lifestyle devices, with most of the value in the exceptionally comfortable and intuitive design.
These buds use physical buttons as opposed to the more on-trend touch surfaces. And I think I prefer it. The small tactile feedback you get from pressing the button on either earbud leaves no room for mistakes so I have no such issue with adjusting the buds and then accidentally pausing the music.
And while the noise cancellation is quite average for the price, I'd say I get more use out of these earbuds than most of the other ones on the list. Again, the design is the biggest reason for that but these also sound great despite the lack of any high-end codecs.
Easy to use physical buttons
Very comfortable in the ears
Bass lacks any punch
Average noise cancellation
RELATED: Jabra Elite 10 Review
---
2. Sennheiser Momentum True Wireless 3 — Best Design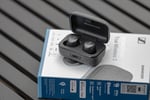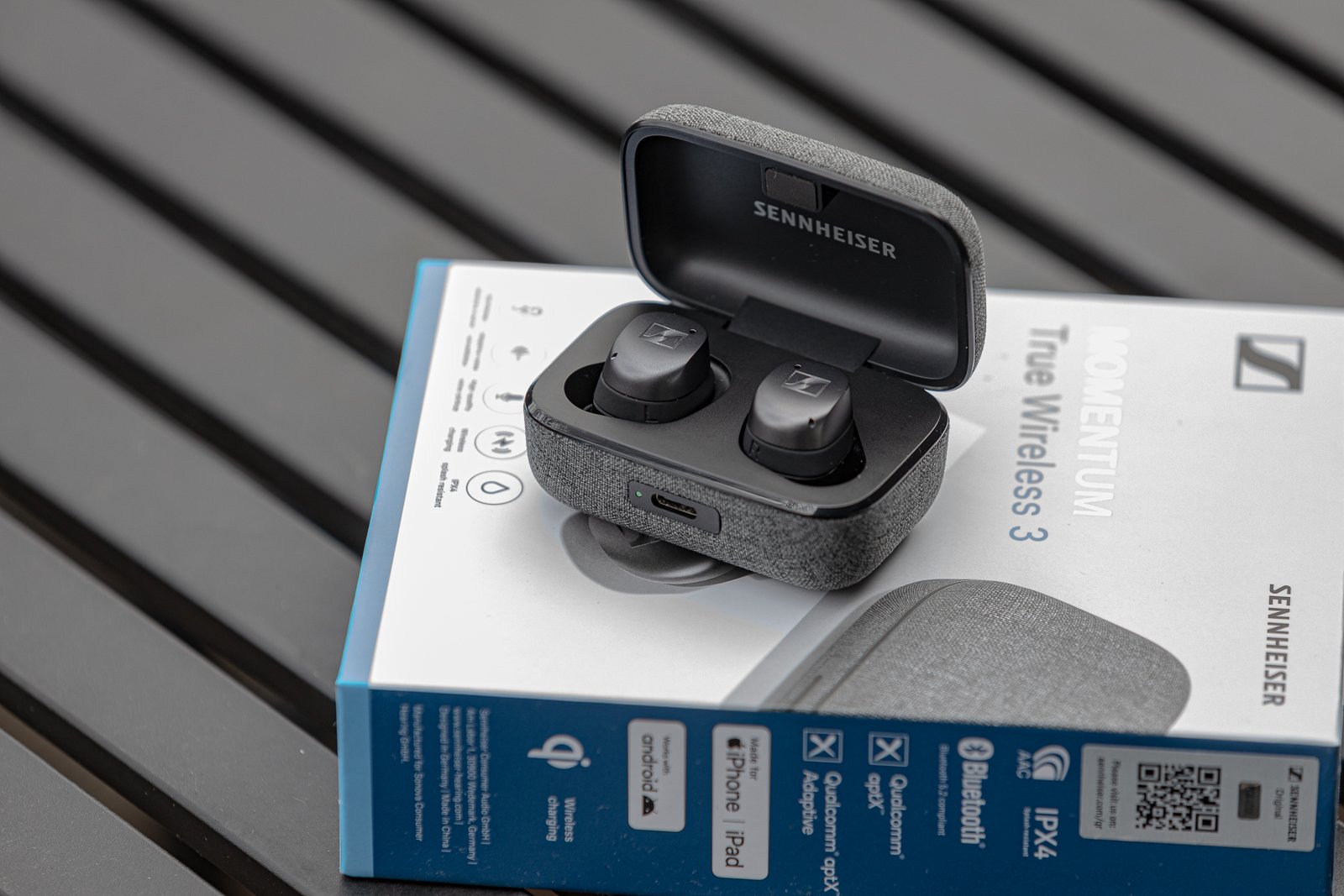 Specifications
Noise Cancelling: Adaptive Noise Cancellation
Total Battery Life: 28 hours
IP Rating: IPX4
The Sennheiser Momentum True Wireless 3 are some of the best wireless earbuds I have tested to date.
A warm, mature sound signature that's perfectly balanced with the lows, mids, and highs raises the bar for how earbuds should sound in the modern day. There's also a great slim design with responsive rounded touch-sensitive pads on each earpiece.
The active noise cancelling is exceptional; on par with Sony's gold standard earbuds, but with a more comfortable fit. Pair that with generous battery life – seven-hour battery life with a single charge, and 28 hours in total with the charging case – and I'm confident in recommending these as one of the absolute best wireless earbuds you can buy. That is if you can justify the price. You'll also need to compromise on water protection given the paltry IPX4 rating.
If these are too expensive for you, try the Sennheiser CX True Wireless. At around $150, they are some of the best budget options on the market and further down this list.
For more details check out our full Sennheiser Momentum True Wireless 3 review.
Excellent sound quality
Very comfortable design
Touch controls can be customised easily
solid noise cancellation
Strong battery life
Very expensive
Wireless charging case is very bulky
IPX4 rating
---
3. Samsung Galaxy Buds2 Pro — Best Overall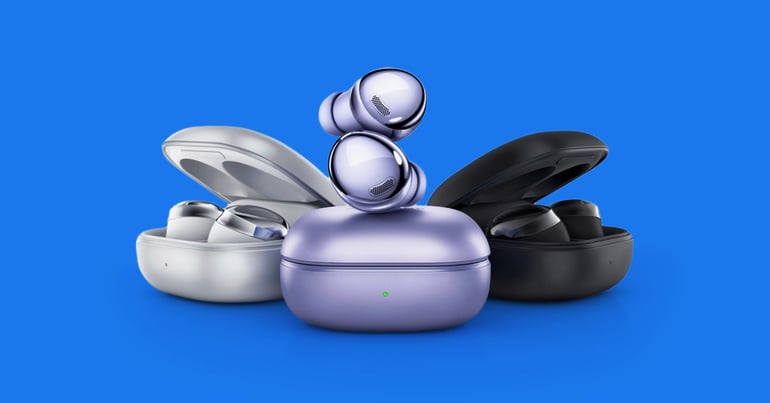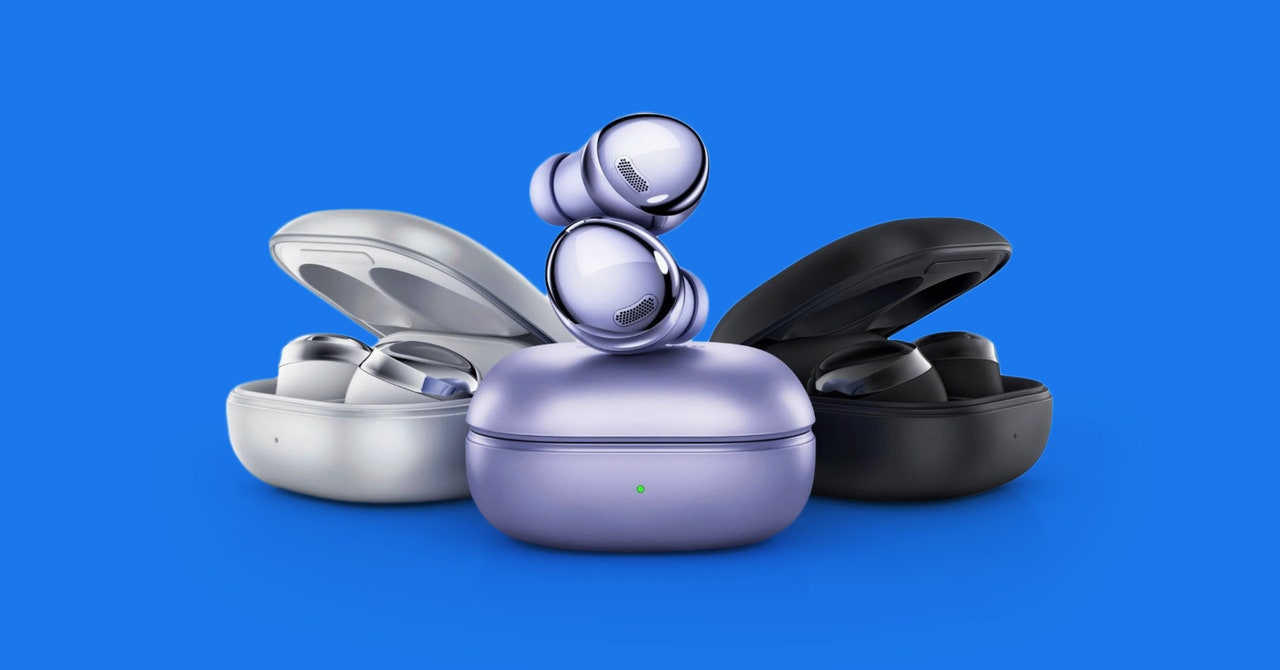 Specifications
Noise Cancelling: Adaptive Noise Cancellation
Total Battery Life: 30 hours
IP Rating: IPX7
If you just want a clear, decisive answer to the best wireless earbuds, you're down to three choices. The Sony WF100XM4 (listed below), Sennheiser Momentum True Wireless 3 (listed above), or these beauties, the incredibly high-performance Samsung Galaxy Buds2 Pro. Of course, if you're an iOS user, it's probably best to go with Apple or Beats wireless earbuds.
For all others, Samsung is tough to beat.
Unlike Sony's best buds, Samsung had the smarts to throw in IPX7 waterproofing, meaning these can withstand your sweaty gym workouts. You won't need to worry about rain and sweat shouldn't be much of an issue. Pair this up with a solid sound signature that's balanced at all levels and volumes, and features like Voice Detect which will immediately turn on ambient sound mode (that is, turn active noise cancellation off) as soon as the mics detect that you're speaking.
However, to get the full functionality for all its many features, you'll need to have the Samsung Galaxy Buds2 Pro connected to a Samsung Galaxy smartphone running OneUI 3.1 or later. This is mostly to make use of 360 Audio, which widens the soundstage and is noticeably more immersive.
Battery-wise, these buds can't be beaten. I've consistently managed to pull up to 26 hours with ANC turned on, and 28 hours with it turned off — just below the promised 30 hours. The harmony between software and hardware couldn't be any tighter for Samsung's best buds yet.
Like the Sennheiser Momentum's the first generation Samsung Galaxy Buds did lack AptX Low Latency, chipping away at value for gamers and anyone planning on using them with a smart TV or PC to watch content. Thankfully, Samsung addressed this for the second iteration of its flagship wireless earbuds with a seamless 'Game Mode,' which helps lower the latency when connected to a device that also supports AptX Low Latency.
Excellent sound quality
Flexible noise cancellation
Intuitive touch controls
Incredible battery life
IPX7 rated
Poor latency when streaming content
Works the best with only Android phones
---
4. Sony WF 1000XM5 — Best Overall Sound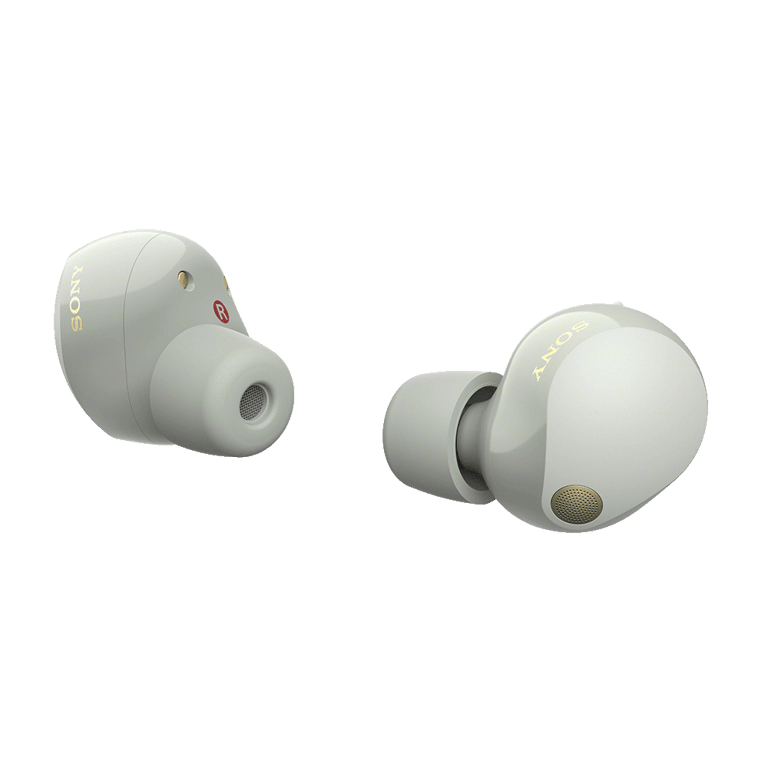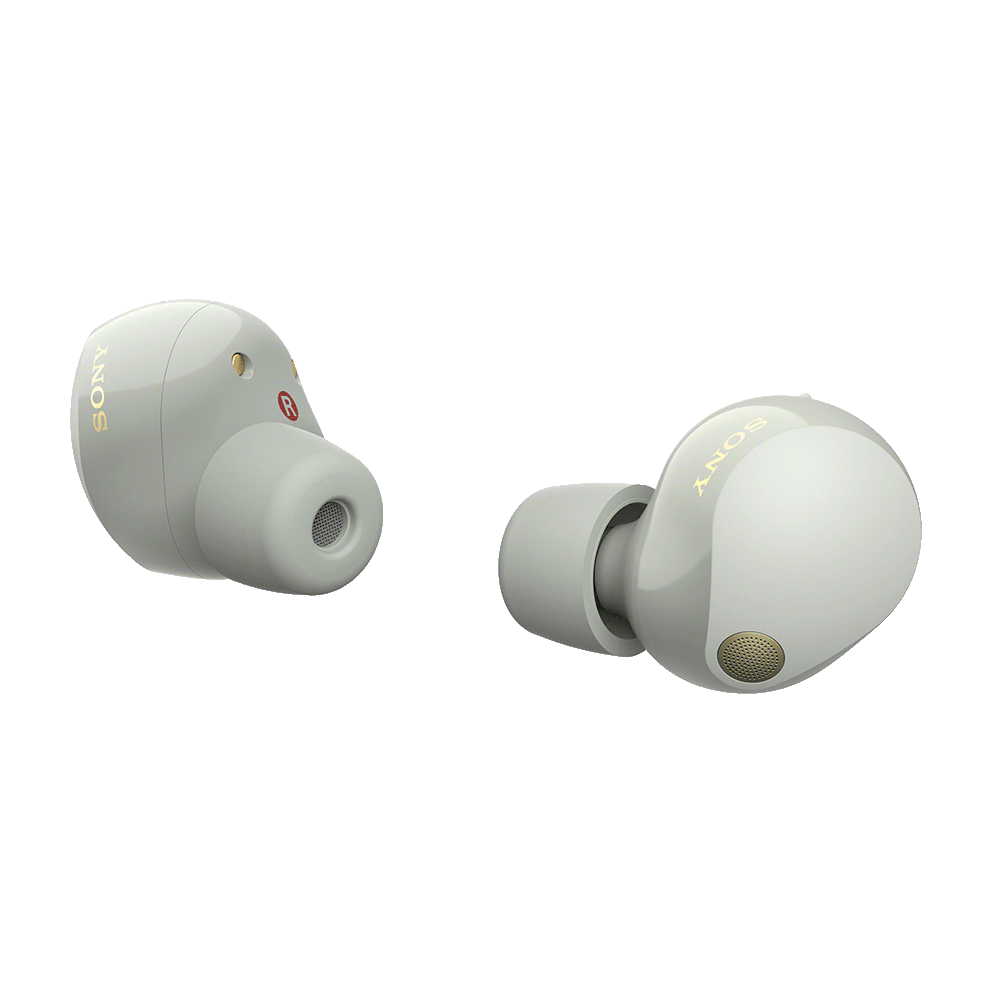 Specifications
Noise Cancelling: Adaptive Noise Cancellation
Total Battery Life: 24 hours
When the award-winning Sony WF1000XM3 true wireless earbuds were released in July 2019, they immediately shot to the top of the market. Best sound, the best active noise cancelling, best overall experience. It was hard to see how Sony's superior processing could be topped, especially after a successful follow-up with the WF1000XM4.
As such the Sony WF1000XM5s are some of the best wireless earbuds you can buy right now, at least when it comes to sound and noise cancelling. With a stable connection using the modern Bluetooth 5.2, and fast processing thanks to Sony's LDAC codec, it's safe to expect a sound signature that brings out the best in both the low, mid, and high frequencies, maintaining an exquisite sense of balance and composure even at full volume.
Sony's battery is a reasonable performer as well, with eight hours of battery life on a single charge, plus another 16 from the charging case. And that's with active noise cancelling turned on. In addition to USB C, you can also use Qi wireless charging to keep the case topped up.
Chipping away at perfection is a lack of any IP rating. The XM4s were IPX4 rated so we could only assume these are the same, which places it in the same league as the Apple AirPods Pro when it comes to shrugging off water and sweat. This means Sony's new standard isn't quite as nifty when it comes to your everyday gym workouts when compared with superior offerings from the likes of Jabra and Beats studio buds.
These are the wireless headphones I use the most and the first pair of earbuds I'd readily recommend to friends. That being said, you're best looking for discounts on this one before investing so much.
Best sound overall
Excellent noise cancellation
Low latency works very well
Great battery life
No IP rating
Very expensive
---
5. JBL LivePro+ TWS — Best For Value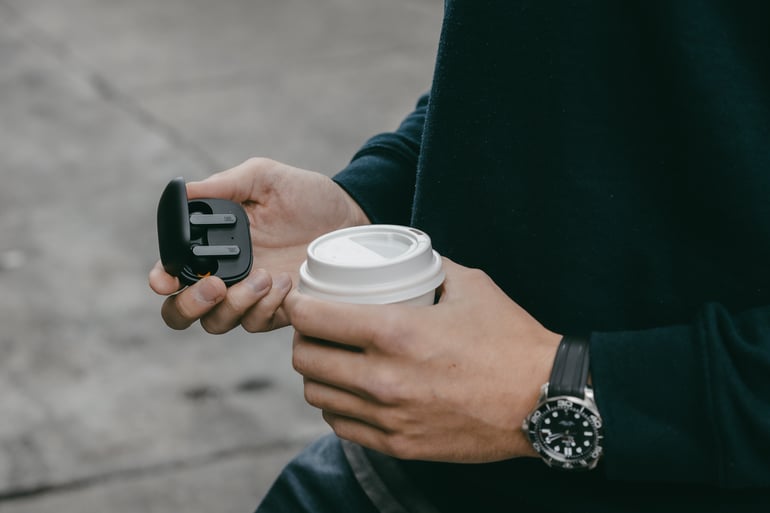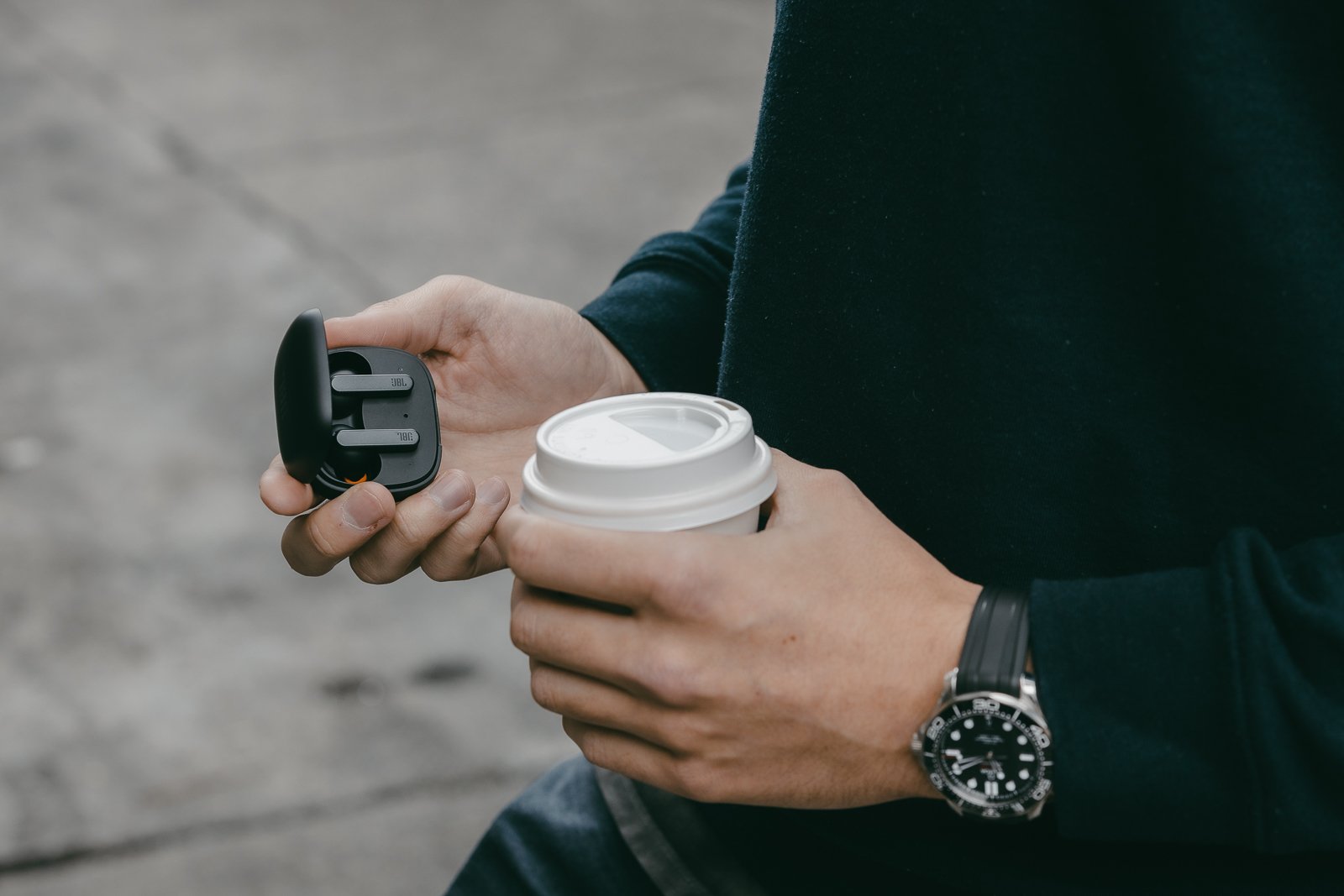 Specifications
Noise Cancelling: Adaptive Noise Cancellation
Total Battery Life:  28 hours
IP Rating: IPX4
JBL has really come out swinging with the JBL LivePro+ wireless earbuds, not only remaining competitive with price but throwing in a tonne of features and offering a very generous 28-hour battery life (with ANC turned off).
JBL has more recently toned down their excessive love of bass for something a bit more balanced, and you can tell from the sound signature that the brand is maturing. The sound quality you can expect from these buds is nicely balanced with a lot of detail in the mids and highs. Throw in some great adaptive noise cancelling and you've got a product that stretches beyond its reasonable price point.
There is plenty of upside if you're going for the JBL LivePro+. These buds feature some of the best call quality you'll find in this price range, they work so seamlessly that they instantly pair to your device as soon as you open the charging case. Plus, there's a Smart Ambient mode that accentuates external noise so you can still hear your surroundings clearly even with a perfect seal.
I've found the latter to be the feature that stands out the most to me. Smart Ambient mode is very accurate, meaning the mics have been calibrated perfectly.
Think of these are strictly lifestyle buds. Although the comfort and fit are fine, they only feature an IPX4 rating which means these noise-cancelling wireless earbuds don't deal with sweat and water as well as others on this list.
Very affordable
Excellent battery life
Good sound quality
Great call clarity
Intuitive app and EQ controls
Only IPX4 rated
Not as comfortable as some alternatives
---
6. Google Pixel Buds Pro — Best For A Stable Connection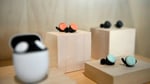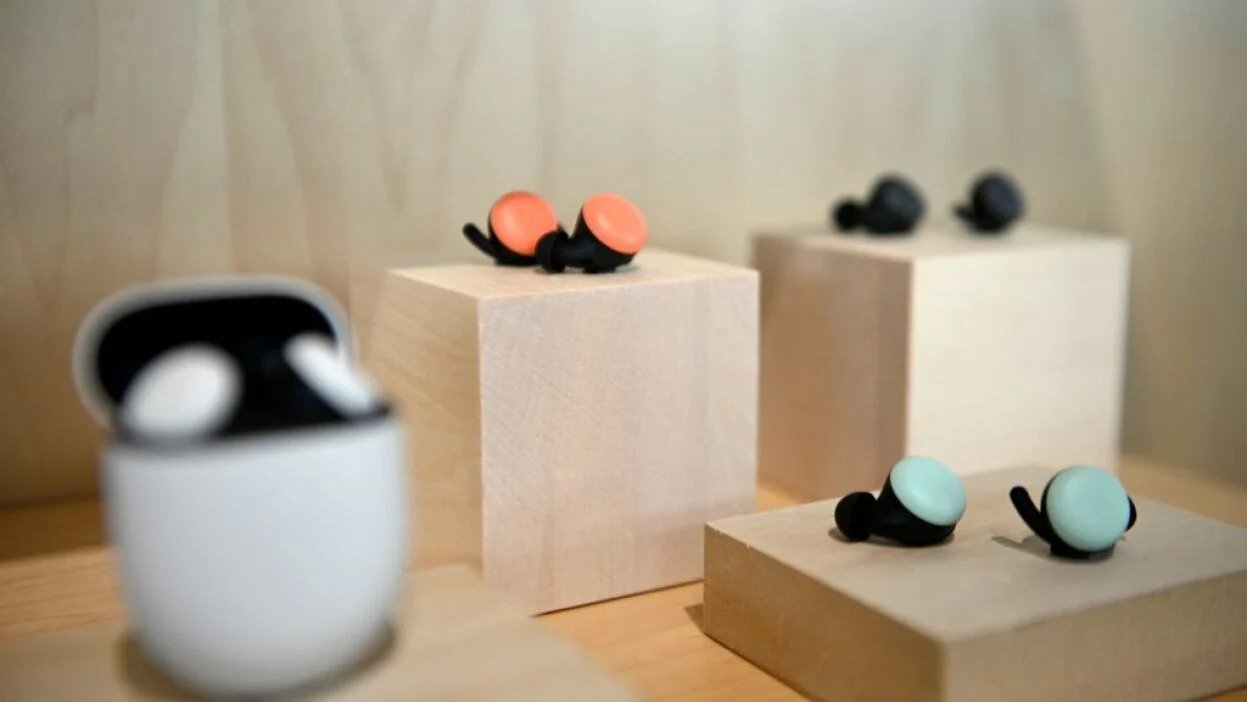 Specifications
Noise Cancelling: Adaptive Noise Cancellation
Total Battery Life: 31 hours
IP Rating: IPX4
Google was late to the game when it came to wireless earbuds. Especially when compared with Samsung and Apple. Yet it was a market the company clearly felt it needed to be in. Unfortunately, while interesting, the Google Pixel Buds A-Series failed to impress.
Consider the Google Pixel Buds Pro the most improved on this list. Finally, the company has something to put up against its biggest rivals. The low-profile look doesn't bulk from your ears, the sound quality is excellent and the multipoint connection works seamlessly. In fact, I'd say the connection is Google's strongest offering here with a completely frictionless hold on Bluetooth that switches between devices smoothly without any stutters.
Clear audio that doesn't muddy at higher volumes and expressive instrumentals that aren't lost in denser soundscapes like jazz and rock. Google has hit the mark hard and it's likely the company is only going to keep improving when it comes to catching up with its competitors. I for one can't wait until the next generation as I know Google tends to do great things with software.
Seamless multipoint connection
Very expressive sound signature
Huge battery life
Not very stable in the ears
---
7. Bose QuietComfort Earbuds II — Best For Noise Cancellation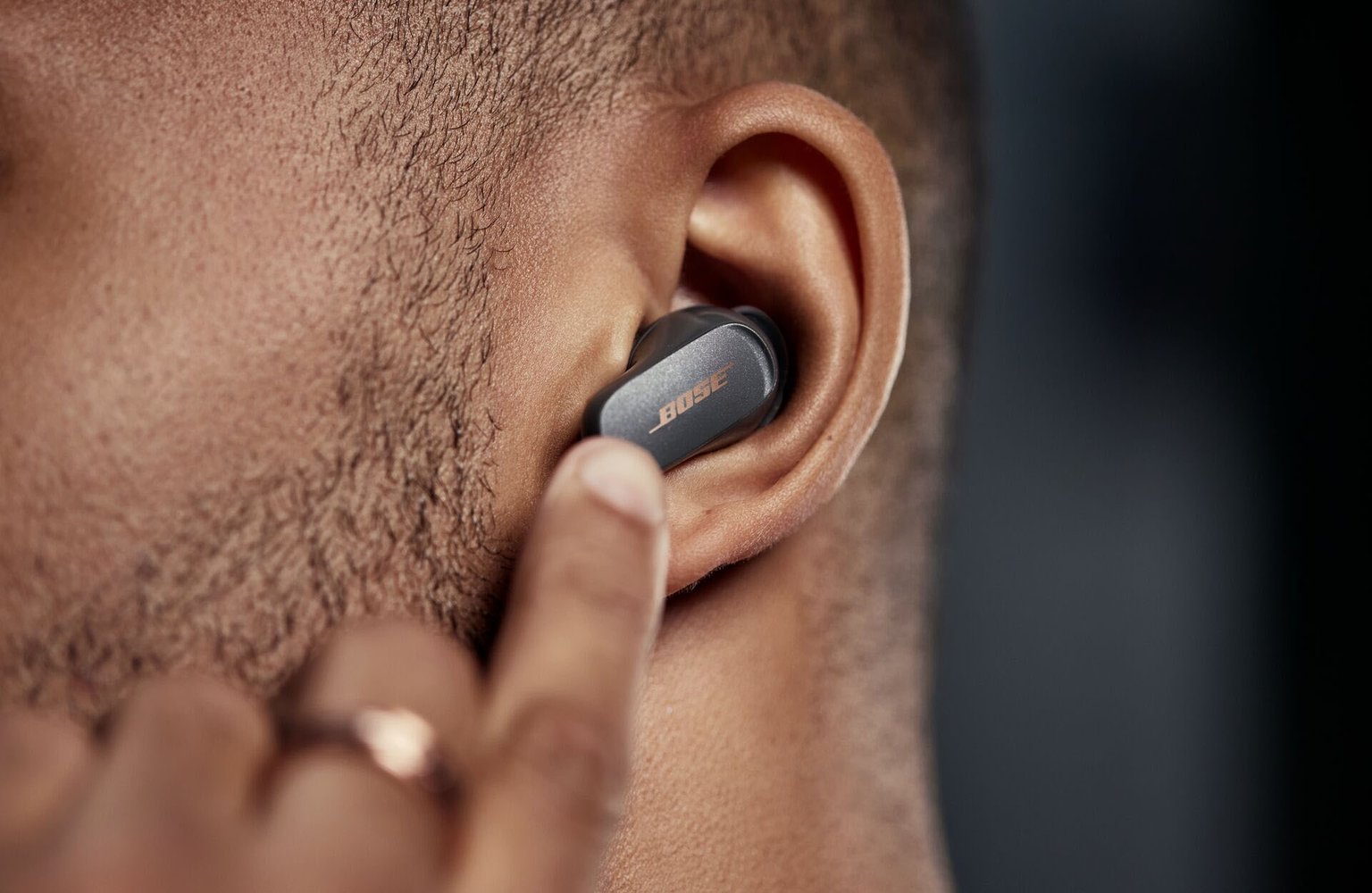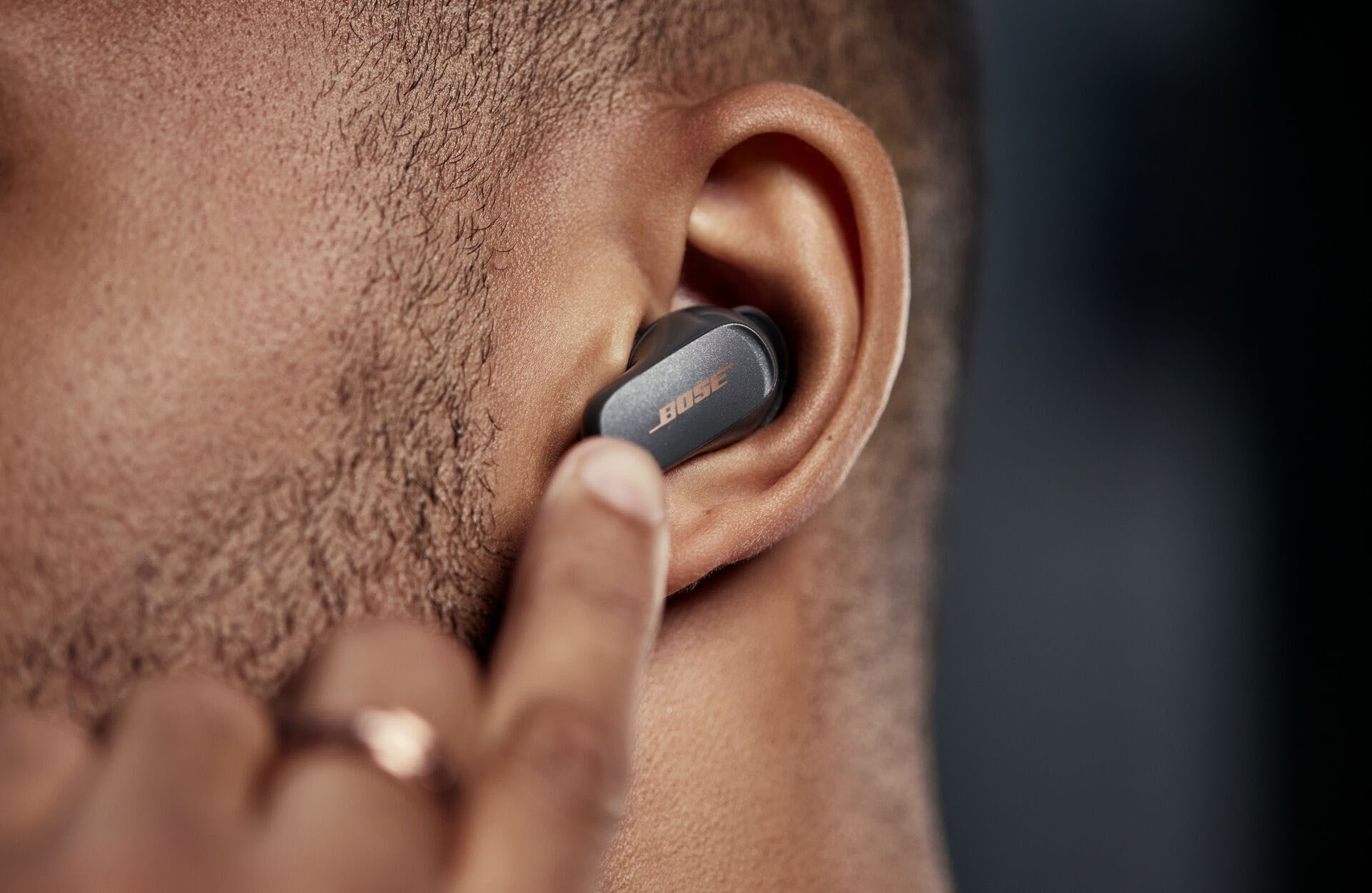 Specifications
Noise Cancelling: Adaptive Noise Cancellation
Total Battery Life: 18 hours
IP Rating: IPX4
Bose has taken pretty much everything that has made their QuietComfort Headphone series such a staple in the world of personal audio and channelled it into these well-designed lightweight buds. The Bose QuietComfort Earbuds II place a lot of value on allowing you full control over the performance, with the companion app offering plenty of options when it comes to customising various features and controls.
As you can probably tell from the name, Bose put a great deal of emphasis on noise cancellation and comfort. Bose's second-generation earbuds do an incredible job at actively cancelling out external noise beyond more than just the typical low-frequency nuisances.
I actually prefer to use these on a flight rather than my Sony WH1000XM5 overhear headphones. That's because I can actually sleep on my side with these in.
The sound is very bass-forward and full-bodied, able to milk out a lot of detail in the lower ends of the spectrum but still maintaining a good amount of vibrancy in the mids and highs. As such, consider these more suited for styles like hip-hop, modern pop, and electronica.
Battery life isn't as strong as that offered by Samsung, but you'll get a decent six hours from a single charge, and 18 hours in total when combined with two additional charges from the charging case. Not the best, not the worst.
Very comfortable fit
Some of the best sound earbuds on the market
Very strong ANC
Great call clarity
Battery life falls short of alternatives
Only IPX4 rated
RELATED: Best Bluetooth Speakers You Can Buy In Australia
---
8. Harman Kardon Fly TWS — Best For Travellers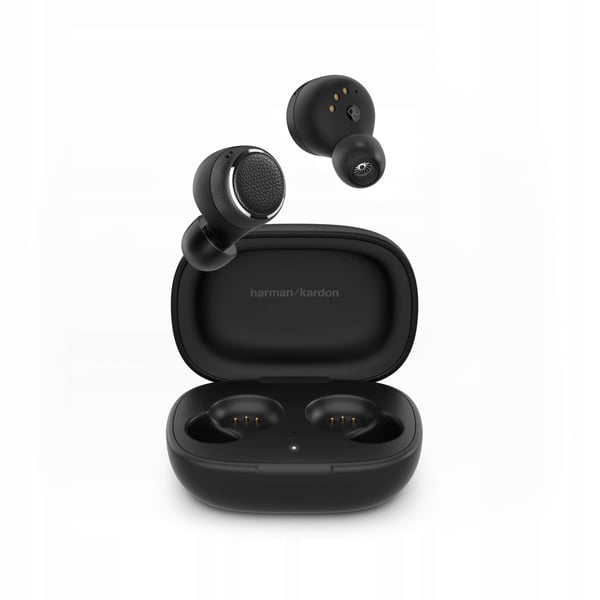 Specifications
Noise Cancelling: Active Noise Cancellation
Total Battery Life: 20 hours
IP Rating: IPX5
Harman Kardon Fly TWS is the brand's purpose-built wireless earbuds aimed mostly at those who are constantly on the move. With commuters in mind, the focus is then on offering complete control over noise cancellation without interrupting any aspect of the daily commute.
Thanks to the fully responsive touch-sensitive surface of each bud, it's easy to flick through TalkThru and AmbientAware modes. It works well; I can control the amount of passive noise cancellation whenever I need it. Given these were designed with travellers in mind, you'd hope that active noise cancellation was the biggest consideration.
And while the real kicker here may be great noise cancellation at this price point, the sound is respectable too. Harman Kardon is nothing if not super reliable when it comes to fine-tuning a sound signature that pays equal attention to all aspects of the profile, as well as lets in those smaller details that are surprisingly replicated despite the buds not offering any high-fidelity Bluetooth codecs.
A decent IPX5 rating means that I can take these down to the hotel gym without having to worry about sweat being an issue. Although there are some downsides too; there's no AptX support at all so don't bother using these to stream Netflix, and the battery isn't quite as impressive with only a total of 20 hours with the charging case.
Granted, that's still enough for a long-haul flight, which is obviously what these buds were made for.
Great noise cancellation
Decent battery life
Great sound quality
Very comfortable for longer listening sessions
No AptX support
ANC isn't quite as solid as some alternatives
---
9. LG TONE Free T90 — Best For Hygiene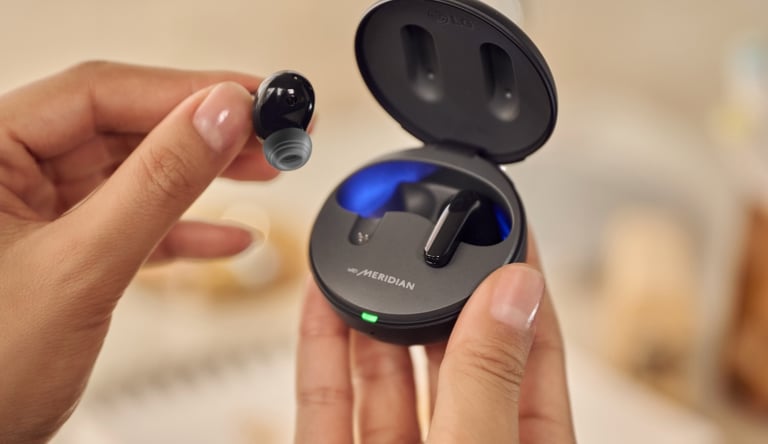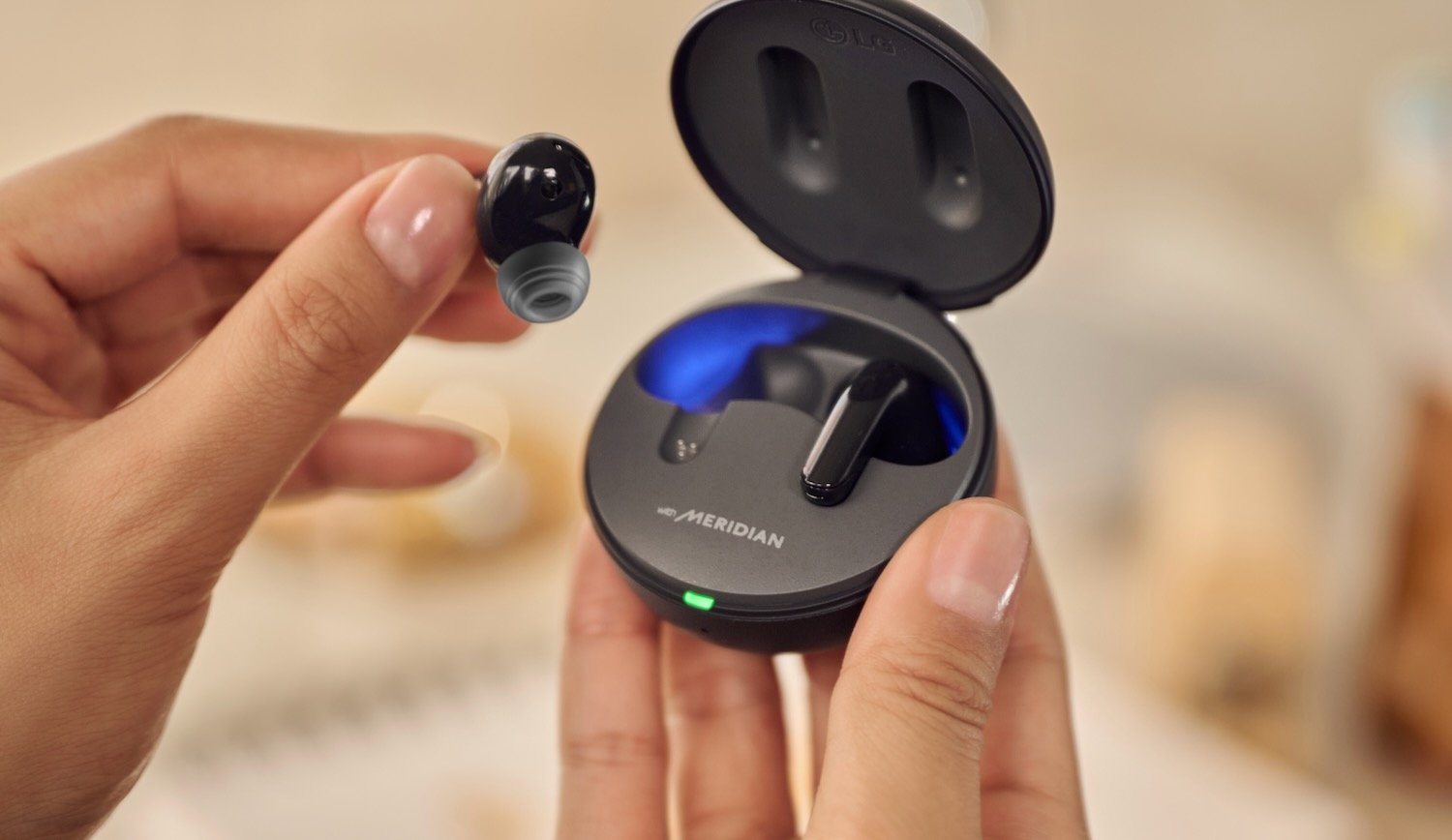 Noise Cancelling: Adaptive Noise Cancellation
Total Battery Life: 29 hours
IP Rating: IPX4
When the LG TONE Free series first started, I wasn't too impressed with the company's attempt to muscle into the market. The unique selling point was that the charging case features a UV nano light that promises to kill 99.9% of bacteria (that causes Escherichia coli & Staphylococcus aureus) while charging for at least 5 minutes. That's cool, and LG made sure to go through the appropriate medical testing to be able to make such a claim.
But everything else was closer to average. The sound wasn't great, the build felt cheap and the price point just wasn't compelling enough. It's also worth noting that UV light does nothing for COVID.
That's finally changed with the LG TONE Free T90 earbuds. LG has nabbed a handy Dolby Atmos rating to stand out in the crowd, presenting genuinely impressive spatial sound. Yet the real punch here is Dolby Head Tracking and it's a bit of a game-changer that I think other brands will be using forward.
Essentially, the earbuds track which direction your head is facing and adjust the sound accordingly. This could have easily been ruined by constant stuttering as the sound raced to catch up with constant movement. Yet I found that even if exaggerated my head movements the sound would switch seamlessly.
That being said, you'd need to be dialled into a service that also supports Dolby Atmos to take advantage of this. Netflix, Disney+ and Apple TV+ fortunately do so if you're watching something like Ozark on your iPhone with the earbuds in then you can notice the object-based audio really coming through.
The availability of Dolby Atmos when it comes to music is a bit more limited. Apple Music supports the technology but the more widely used platform, Spotify, does not. When this changes, hopefully, the market will be loaded with more Dolby Atmos earbuds.
As for LG, I hope they land on a better design eventually because this unsightly build feels awful after a few hours.
Genuine Dolby Atmos support
Dolby Head Tracking works very well
UV Nano charging case is always a nice touch
Cheap built feels uncomfortable after a few hours
Only an IPX4 rating
---
10. Jabra Elite 7 Pro — Best For The Gym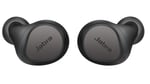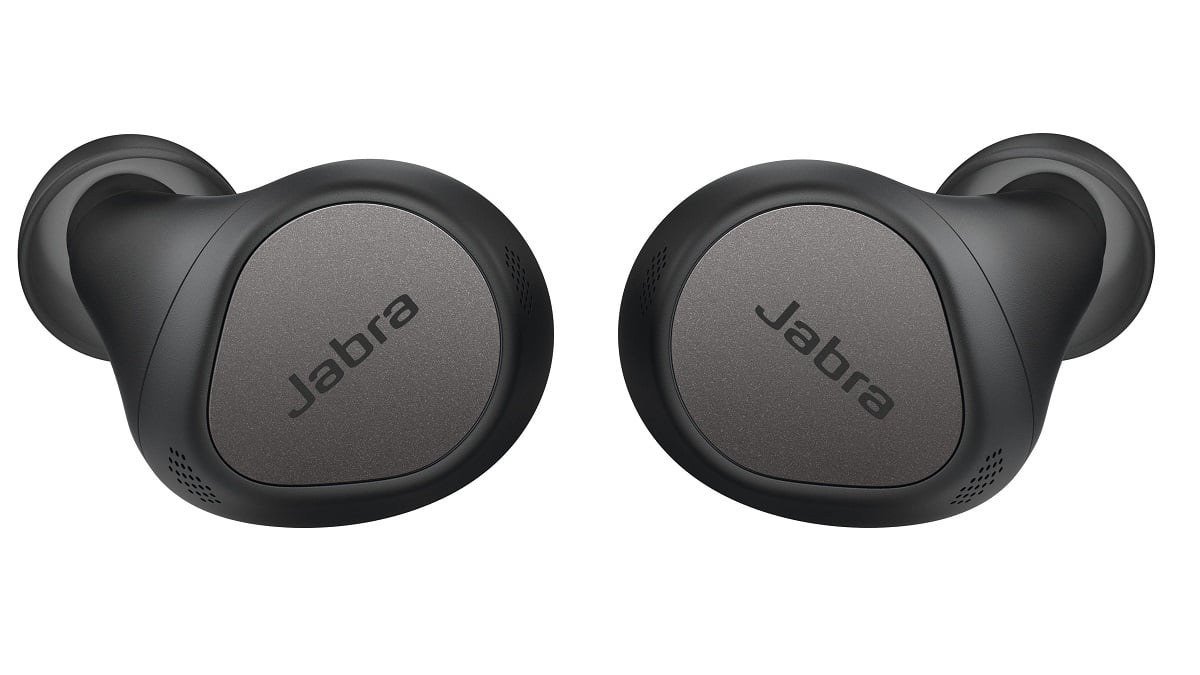 Specifications
Noise Cancelling: Adaptive Noise Cancellation
Total Battery Life: 30 hours
IP Rating: IP57
As I mentioned in our round-up of the best sports earbuds, the Jabra Elite Active 75t is the ultimate option for gym junkies who want something purpose-built for fitness. The Jabra Elite 7 Pro takes that to the next level, refining everything that makes this fitness-minded brand so reliable.
The sturdy IP57 rating not only competes with the Samsung Galaxy Bud Pro's incredible water resistance but also adds solid dust resistance on top of that – something none of the other earbuds on this list can really claim. The reliable build also fits well enough not to jolt around so runners need not worry about these falling out before they hit that 10 km marker.
The downside here is that they can feel rather bulky in the ear so longer listening sessions could be a bit irritating. I find that after a few hours, these buds can start to feel very thick and heavy in the ear when compared with some of the better-designed earbuds on this list.
As for the audio, it's rich and detailed even at max volume. Rounding that out is one of the most reliable batteries in the game with 30 hours in total when considered with the extra boosts from the charging case. This places them over the likes of the otherwise solid Beats Powerbeats Pro and Jaybird Vista when it comes to the best wireless earbuds for exercise.
Strong ANC
Excellent battery life
Effective water and dust proofing
Very stable fit
Poor call clarity
Not as comfortable over longer listening sessions
Some latency issues with streaming content
---
11. Jaybird Vista — Best For Running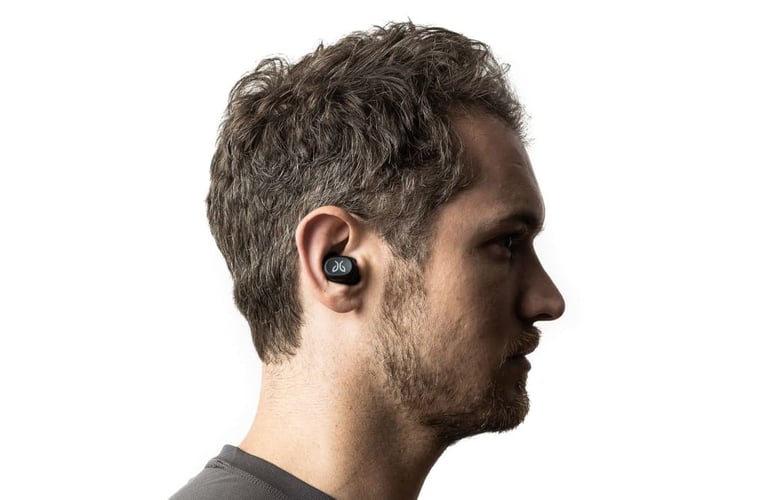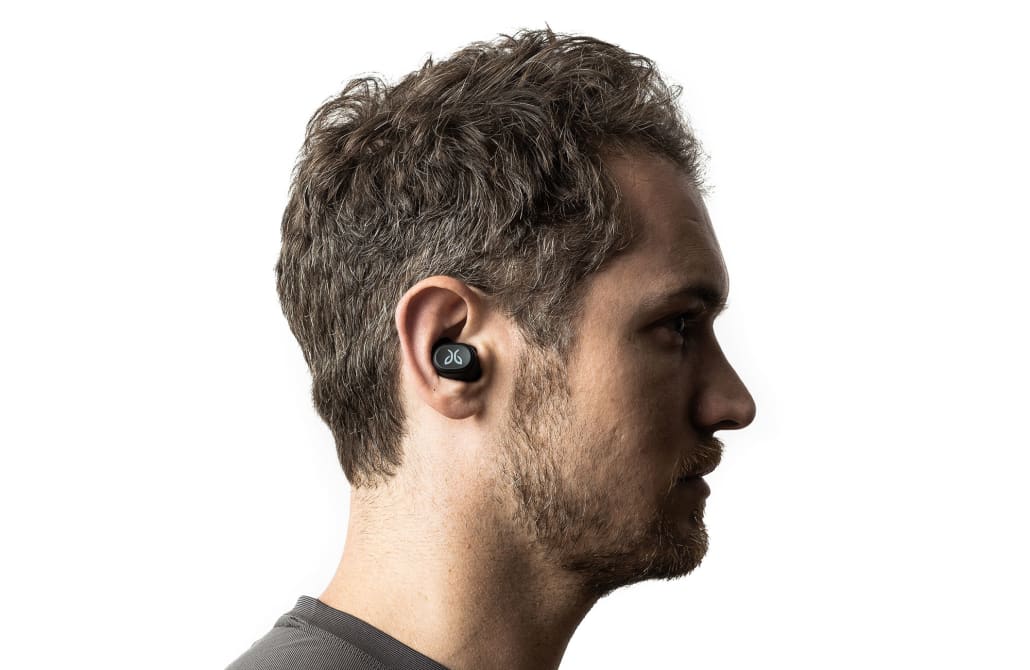 Specifications
Noise Cancelling: Adaptive Noise Cancellation
Total Battery Life: 16 hours
IP Rating: IPX7
The original Jaybird Vista Bluetooth buds are quite simply the best for runners due to their smart design and superior performance. And while the Jabra Elite Active series is virtually unbeatable when it comes to the gym, there are a few design advantages from Jaybird that target these buds more specifically towards runners.
Aided by tips with integrated ear fins, the Jaybird Vista earphones are designed to sit tight in the ear despite any amount of movement. Without more intrusive ear hooks, this level of stability is unmatched, and with an IPX7 rating, I can splash these with water without issue.
However, Jaybird has made it a bit hard to find a good fit if your ear canal is a bit different to the average user. The wings vary in size, but the actual ear tips themselves do not. Given finding the right fit is essential to just about every aspect of an earbud, from the sound to the noise cancellation, this could be a problem for some.
On the plus side, Jaybird has one of the best companion apps out there, for both iOS and Android, and the amount of customisation you can dial in gives the Jaybird Vista earbuds a great deal of flexibility in performance.
Very stable fit
Decent waterproofing
Excellent transparency mode
Very average battery life
---
12. Sony WF-C500 — Best For Budget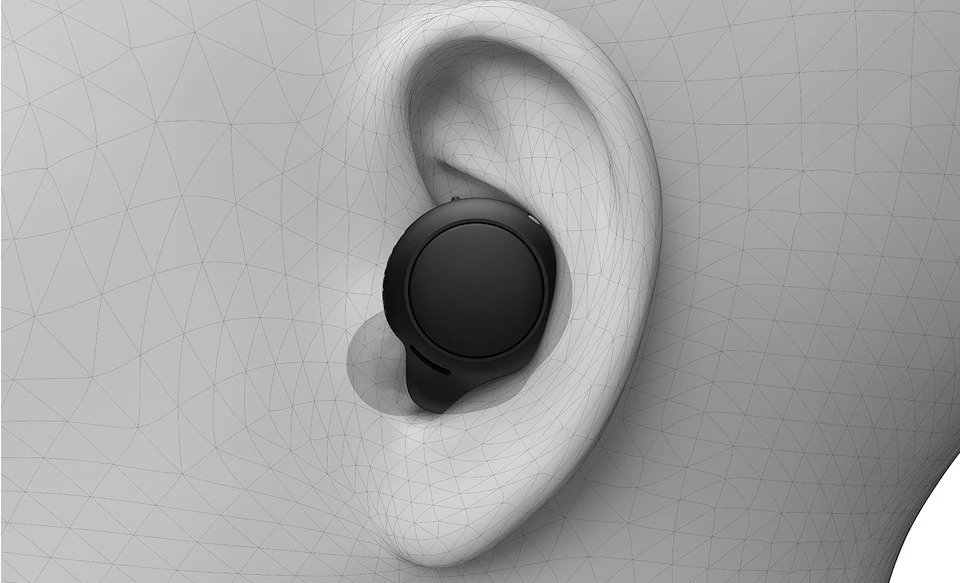 Specifications
Noise Cancelling: Adaptive Noise Cancellation
Total Battery Life: 20 hours
IP Rating: IPX4
Sony may be dominating the high-end with the show-stopping Sony WF 1000XM4, but the company is holding up the other end of the price range quite nicely with the dirt-cheap Sony WF-C500.
You are, of course, accepting a lot of compromises when you're going for a pair of earphones you could easily find for less than $100. But that's all expected.
The promised battery life is around 10 hours, with 10 additional hours boosted by the charging case. Yet on my test, I've fallen short of that consistently, with about eight hours standard and nine hours from the case.
Plus, you've only got mild splash resistance with an IPX4 rating. On the other hand, these sound much better than you'd think from the price, with a vibrant, well-balanced sound signature that's highly detailed and clear even at higher volumes.
And look, for $98, that's pretty much all I hoped for. Great sound but everything else is disappointing.
Great sound for the price
RELATED: Best Robot Vacuums To Suck Up Dirt While You Suck At Life
---
13. Sennheiser CX True Wireless — Best Affordable Sennheisers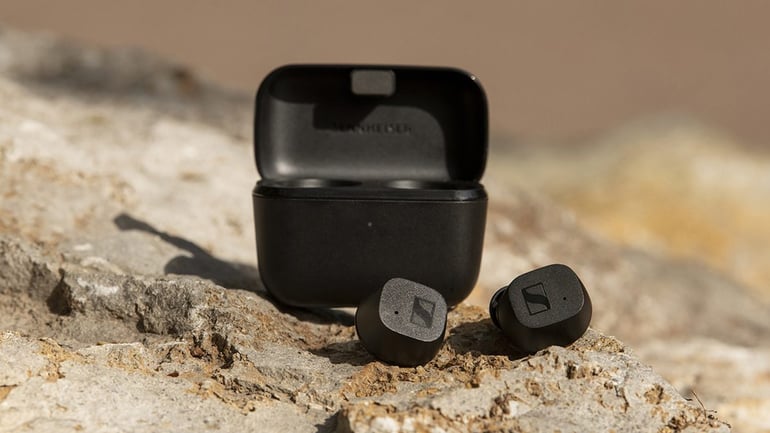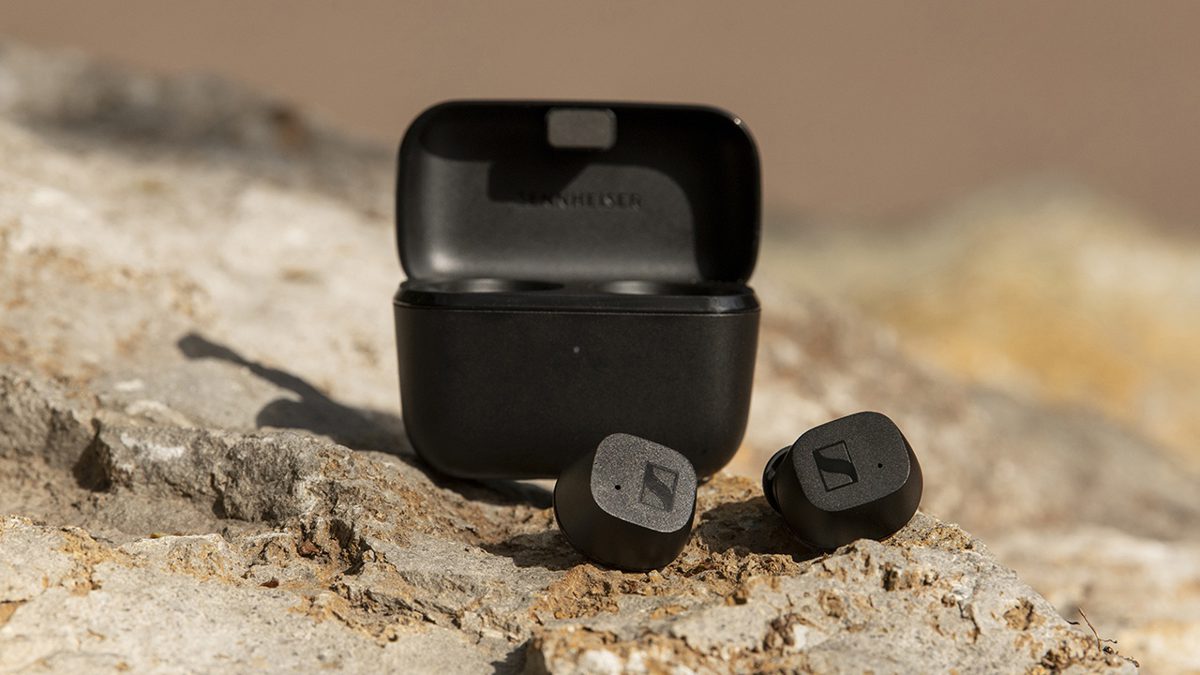 Specifications
Noise Cancelling: Adaptive Noise Cancellation
Total Battery Life: 27 hours
IP Rating: IPX4
You're looking at less than $200 if you want a pair of the Sennheiser CX True Wireless headphones, bringing things down from the panache of the Momentum True Wireless 3 to something a bit more affordable for a wider range of users.
Much like the Sony WF-C500 above, the CX is one of the better options out there if you're looking to save money on a pair of wireless earbuds but refuse to compromise on sound.
Sennheiser is renowned for producing some of the best-sounding earphones and headphones out there, with a very mature and refined signature that doesn't topple at higher volumes.
I've found Bluetooth connection to be an issue sometimes, with dropouts common and frequent while I'm walking with my device in my picket. But when you dial in a stable connection and land on the exact EQ settings you want, then you'll likely be left wondering why anyone would ever spend over $200 on a pair of earbuds.
In terms of battery, I usually get around 27 hours in total when using these with the charging case, which is exceedingly generous for the price tag and one of the better reasons to opt for these over the budget Sonys.
Great battery life for price
Strong sound for budget headphones
Connection can stutter
Latency issues when streaming content
---
How We Test Wireless Earbuds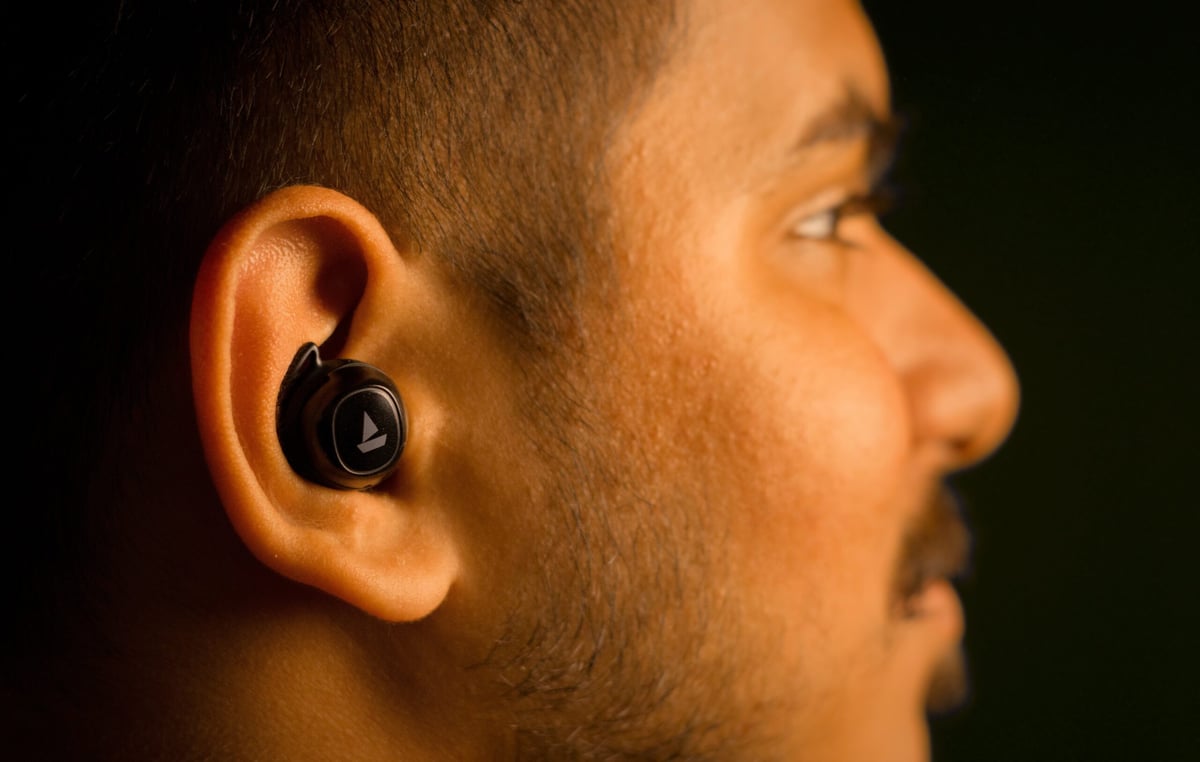 Here at the Boss Hunting office, we consider ourselves experts when it comes to knowing what separates a good product from a truly exceptional product. This is especially relevant for personal audio devices given we have been able to test so many over the years and have become quite adept at evaluating speakers and earbuds.
We know that good bass doesn't necessarily mean a good speaker or pair of earbuds; conversely, it often means that the balance has been thrown off and you won't get those crispy mids and bright highs. In other words, the mix has to be just right by default, because while most earbuds come with an app that has EQ settings, if the standard sound signature is off there's little you can do to fix it.
When I test Bluetooth earbuds I make sure to do so in different environments. Whether that means in transit, in crowded shopping centres or in the office. This is mainly to test out how good noise cancelling is. You don't need different settings to tell if the audio quality is any good. I also go for a light jog with each earbud or take them to the gym to test stability. That is, how well these earbuds stay in your ears despite constant movement.
When we tested wireless earbuds for this article we placed value on the following:
Design – is it purely functional for the purpose (e.g., stable wing tips for sports earbuds) or is the focus on aesthetics?
Sound – Simply, does it sound good? Particularly when it comes to music; is there a good balance in the sound signature? Can you hear those minute details that you wouldn't hear with lesser earbuds?
Noise Cancelling – Nowadays, it's pretty much a given that consumers will want noise-cancelling earbuds. Audio quality is the most important, sure, but you also need onboard mics that constantly pick up external noise and use an algorithm to cancel it out before it can disrupt your listening session. This is especially helpful in the office or on crowded flights.
Features – Other features like Bluetooth codecs and smart voice assistants are also important to consider. You'll want to pay attention to how Bluetooth has been used to get the best quality from your connected devices while also reducing latency, resulting in smooth listening experiences when consuming content from streamers like Netflix Australia and Binge.
Battery Life – Simply, how long do the earbuds last both on a single charge and in tandem with the charging case? There's not much more hellish than having a great listening session only to have the music cut off because your earbuds have run out of juice.
---
Why Are Wireless Earbuds So Popular?
While Oppo was the first major smartphone brand to ditch the 3.5mm headphone jack, Apple famously got rid of the port in 2016 with the iPhone 7, when it forced users to use their phone's Lightning port for either charging or the included wired earphones.
No longer were we able to listen to our music and juice up our phone's battery at the same time, which many took issue with, making it one of the pettiest technological hurdles of that time. Soon after, Apple placated us with the very first Apple Airpods, and since then various other brands like Sony, Samsung, Sennheiser, Bose, and Jabra have been climbing over each other in a race to produce the best earbuds they can, whether they are wireless in-ear headphones or true wireless buds that sit securely on the ear.
The market for wireless earbuds is ridiculous now, and as companies keep tinkering with long battery life, Bluetooth codecs, premium sound quality, comfort, and active noise cancelling, that fierce competition isn't about to flitter away anytime soon. There are also other features to consider, like spatial audio support, and noise isolation (how the mics deal with background noise during calls while still offering superb sound quality).
Truly wireless Bluetooth earbuds are the lightest and most unobtrusive form of personal audio to date, making them an easier, more portable, and more pocket-friendly alternative to bigger and bulkier Bluetooth headphones. There's no questioning how essential they are to your daily tech kit, you just need to make the right choices, since there is a hell of a lot out there.
And look, it's tough. There are so many choices when it comes to the best wireless headphones and wireless buds that hit the essential markers of impressive battery life, dynamic sound, and superior noise cancelling that can be toggled seamlessly.
We put together this deep dive into the features and aspects of the best wireless earbuds, and a look at some of the better options on the market, at all price points. We've already looked at the best sports earbuds, which emphasise rugged outdoor use, protective IP ratings, and situational awareness. Now, we're going a bit broader and working through the best wireless earbuds for all lifestyles.
---
How To Shop For The Best True Wireless Earbuds
Here is what you should consider when trying to discern what Bluetooth earbuds are best for you.
1. Bluetooth Codecs
A Bluetooth codec is a tricky thing to wrap your head around; it's not always necessary to do so. Consider these complex algorithms which determine how the audio signal is compressed and transmitted between devices. A codec essentially determines how audio data is compressed into smaller, more manageable bits so it can be sent wirelessly to your earbuds and decompressed there.
Obviously, the less data that needs to be sent over Bluetooth, the more stable and efficient the connection will be.
Codecs determine the nuances of Bluetooth and are responsible for the more subtle effects of the streaming experience. The codecs don't always make a huge difference, but it's still important to be aware of a few so you can make sure your devices will work together as efficiently as possible. No one wants to be watching Netflix out of sync, nor do they want high-quality audio to stutter endlessly as the signal attempts to compress from the source and decompress into your ears.
A lot of people still prefer wired earbuds and wired headphones because it's much easier for an audio signal to sound true-to-source when the data has a wire to play with. That's why Bluetooth is often seen as a vastly inferior way to listen to music because, despite the convenience, there was just no way airless communication could be perfect. Bluetooth has improved drastically over the years.
That's why it's worth making sure that not only your earbuds support the latest Bluetooth codecs, but your source does too. That way they can work together harmoniously without having to transfer heaps of data, economically stripping away unnecessary details from the source to make things work faster. More advanced codecs, however, don't need to strip away as many details and work with higher data rates for deeper, richer wireless sound.
The latency of these codecs is also important to consider. This describes the time it takes for the audio data to be encoded and decoded. Basically, lower latency means faster performance, and this is often best demonstrated by lip-syncing issues when watching content on the best streaming services. If there are lip-sync problems, the latency on those wireless earphones is too high.
aptX Low Latency, for example, is a codec with a latency roughly below 40ms. If both your source and your sink support AptX Low Latency, you'll virtually have no issue with lip-syncing. Conversely, AAC is another codec that has higher latency, because while it prioritises conserving data and boosting exceptional sound quality over speed, it uses more memory and hence takes longer to transfer.
A lot of users don't seem to realise this, but you can activate certain codecs via your smartphone's settings. A lot of the time standards like SBC and AAC will be activated. If you've got a higher-end pair of earbuds, you may want to activate the more advanced codecs on your phone like Sony's LDAC, which is only for Android phones and boasts 3 times the speed of SBC, and Qualcomm aptX HD Audio – assuming your sink supports them.
You can't do this on iOS, but here's how to do it on an Android phone.
Go into Settings -> About Phone.
Scroll down to "Build Number" and press on it about 7 times. This will activate "Developer Options"
"Developer Options" will now be an option in Settings. Go into this and scroll down to "Bluetooth Audio Codec"
You'll see that your default codecs are selected, but there are options to toggle on higher-end codecs like Sony's LDAC and Qualcomm aptX HD Audio for a better experience. This is how you can make sure you're getting more out of your wireless earbuds.
---
2. Eartips
A problem unique to the best wireless earbuds, compared to Bluetooth wireless headphones, is finding the right seal. If the silicone ear-tips attached to your earbuds don't seal your ears properly, the sound won't be as good and you'll leave plenty of gaps for external noises. Passive noise cancellation (noise cancellation without the use of any microphones) will also be poor, so all that traffic or office noise is going to sneak under that new Dua Lipa jam you're trying to vibe to.
Most earbuds these days come with a range of differently sized silicone ear tips so you can find the right seal for better comfort, more effective noise cancelling, clearer call quality, and greater performance.
---
3. Battery Life
Almost all truly wireless earbuds now come with a carrying case that doubles as a power bank. Once the buds are placed inside, usually with a satisfying magnetic lock, and the lid is closed, the case tries to boost them with some extra juice to get you through the day. You'll obviously want earbuds with the longest battery life possible, but there's also a problem. A lot of these charging cases don't really consider how empty a battery actually is before they charge it up, which messes with the charge-deplete cycle in the long run and can ruin a battery's longevity.
A few companies have attempted to fix this, by introducing smarter charging cycles. Take Apple for example; with iOS 14 introducing Optimised Battery Charging, the case can actually learn an individual user's charging routine and keep the case from charging past 80% until it's absolutely necessary. This will be better in the long run.
So it's worth checking if your pair of earbuds make use of any feature that helps extend the life cycle of the battery, rather than just charging it up.
---
4. Active Noise Cancellation vs Adaptive Noise Cancellation
Active Noise Cancelling (ANC) earbuds represent the biggest leap in the market over the past few years and the most meaningful one. Now it's a matter of being able to completely control how much noise cancellation you want, so you can either let ambient sound come through when you need situational awareness or completely block the world out when you want to be in your own little echo chamber.
It's important to note that, as far as earbuds have come, they just won't be as effective with ANC as a bigger pair of wireless headphones. This is because active noise cancelling requires tiny microphones that constantly listen out for ambient sounds, recording sound waves and then using software to produce their own to cancel them out immediately.
Some of these earbuds are obviously better and more efficient at blocking out a wider range of sound waves, although the most common waves that will be locked are low-frequency sounds, like the roar of an engine or the buzz of office chatter.
The problem here is maintaining situational awareness. You probably don't want to be flattened by a bus while crossing the road, and you want to be ready for those random conversations while you're out. The best wireless earbuds that use active noise cancelling, will also include something like a transparency mode, where you can quickly listen out for ambient sound without disturbing your listening sesh.
Look for a pair of earbuds that play around with active noise cancellation and allow you to quickly control how much sound you want to block out at any given time. Some of the more expensive true wireless earbuds, like the new Sony WF 1000xm4, are even smart enough to automatically pause active noise cancellation (and music) when you start a conversation.
Do note that there's also Adaptive Noise Cancellation, which is what most modern earbuds use. This is a bit less stringent and advanced than Active Noise Cancellation, which uses an algorithm to decide which noises to cancel out and which ones to let through based on the situation.
---
Frequently Asked Questions — Best Wireless Earbuds
What are the best wireless earbuds to buy now?
Right now, the best wireless earbuds considering all factors would be the Samsung Galaxy Buds Pro, Sennheiser Momentum True Wireless 2, and the Sony WF1000XM4.
What are the best wireless earbuds for working out?
The Jabra Elite Active 75t is still the best pair of truly wireless earbuds for all kinds of exercise, with a sturdy IP57 rating and excellent active noise cancelling.
Are active noise cancelling earbuds worth it?
You'll need to pay a bit more if you want a pair of earbuds with solid active noise cancellation. It's worth the extra cost to make sure you're listening to music outdoors on your own terms, whether that's letting ambient sound in, or completely blocking those annoying noises out from your listening session.