The best Bluetooth speakers still compete in an aggressively rich and varied market. The appetite for personal audio devices has only gotten stronger over the past few years, which is why we have so many different Bluetooth speakers to choose from in 2023.
Although some attention has turned to Wi-Fi-enabled smart speakers for the home in recent years, there's still a great deal of (justified) hype around portable Bluetooth speakers that you can use to take your content with you wherever you go.
We've tried and tested many Bluetooth speakers over the past few years at Boss Hunting and have rounded up the best small devices to listen to. Below you will find our favourites from brands like JBL, Bose, Sonos, Bang & Olufsen, BlueAnt and Ultimate Ears.
---
---
The Best Bluetooth Speakers You Can Buy In 2023
1. Ultimate Ears Megaboom 3 – Best For Pool Parties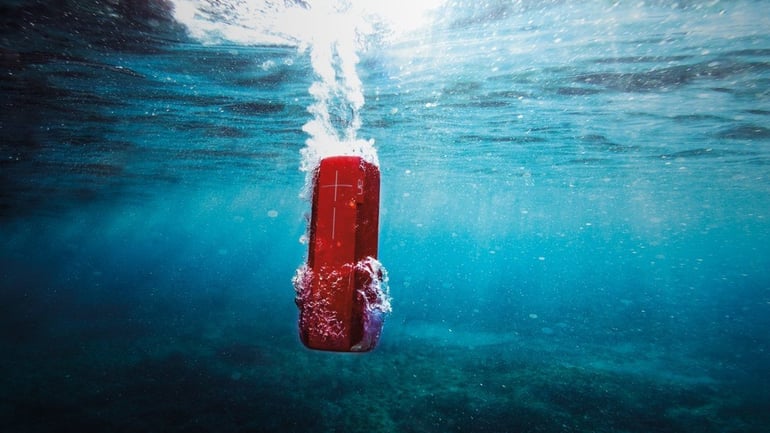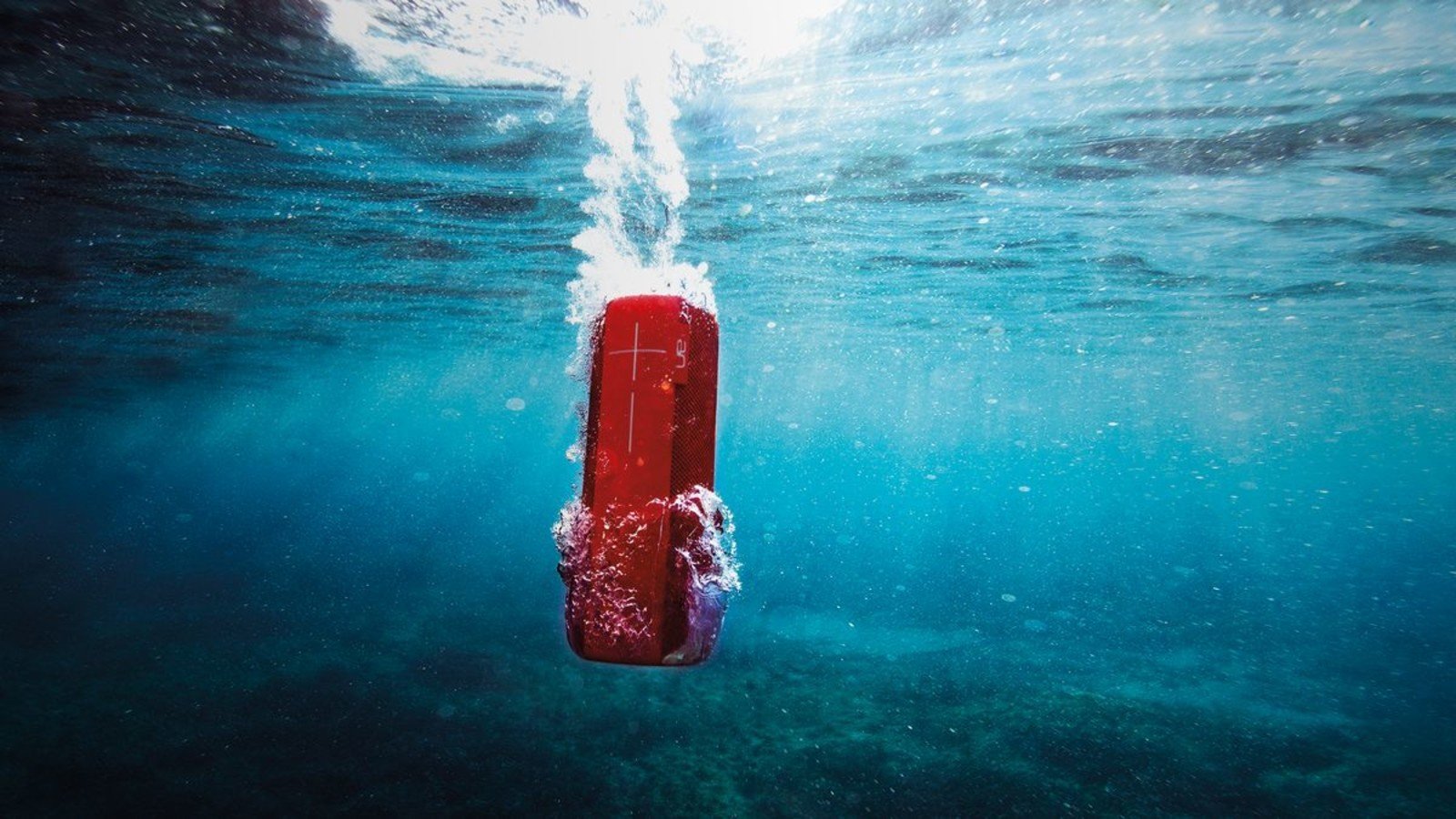 Frequency Range: 60Hz – 20kHz
Diameter: 87 mm
Height: 225 mm
Weight: 925 g
IP Rating: IP67
With the UE Megaboom 3 (AKA UE Megaboom 3), Ultimate Ears has finessed the idea of on-the-go 360-degree audio, offering a portable Bluetooth speaker that's attractive, durable, and brimming with crispy, well-balanced stereo sound. The two-tone fabric that drapes the speaker grille is available in a huge range of colours and iridescent themes, nailing the simple lifestyle-minded design. It's now of the best wireless Bluetooth speakers you can buy, even after all these years.
Perfectly designed for outdoor use
Speaker delivers well-balanced sound
Can connect up to 150 speakers
Strong battery life
Excellent sound quality
No voice assistant support
Micro USB is oudated
Some connectivity issues when using multiple devices
---
2. Bang & Olufsen Beosound A1 – Best For Aesthetics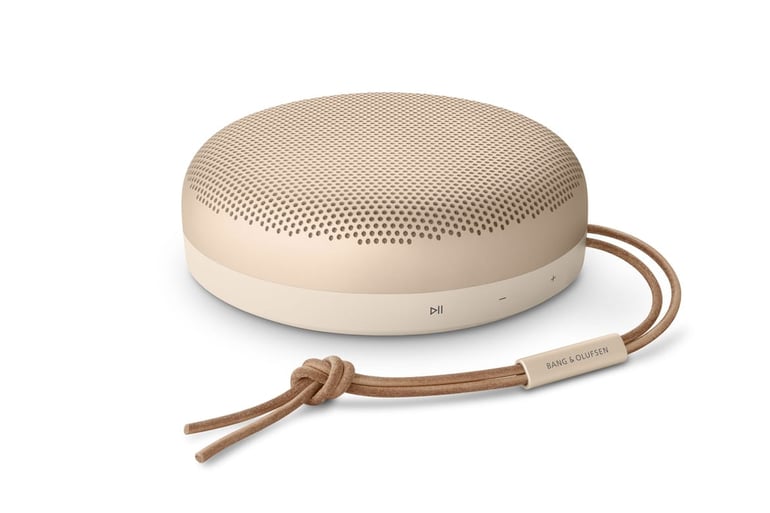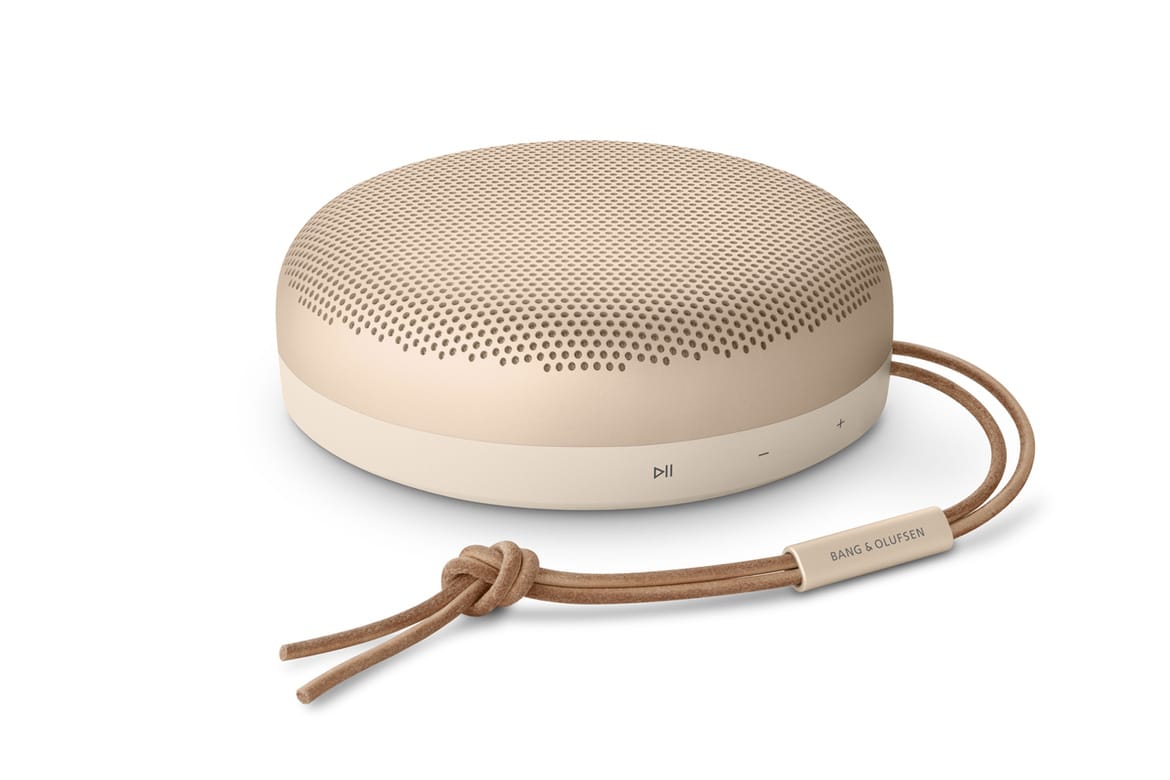 Frequency Range: 55Hz – 20kHz
Diameter: 133 mm
Height: 45 mm
Weight: 558 g
IP Rating: IP67
Battery Life: Up to 18 hours
High-end Danish audio company Bang & Olufsen are known for shaping Bluetooth speakers that are as tastefully designed as they are powerful. The IP67-rated, 360-degree Beosound A1 has been a mainstay in designer homes the world over, credited to clear, natural sound that's just as perfect for music and podcasts as it is for crystal clear phone calls.
Attractive design with several colour options
Strong dust and water resistance
Great for taking calls
Support for aptX Adaptive and Bluetooth 5.1
No support for Google Assistant
Battery life falls short of some alternatives
---
3. Sony SRS-RA3000 – Best For Home Design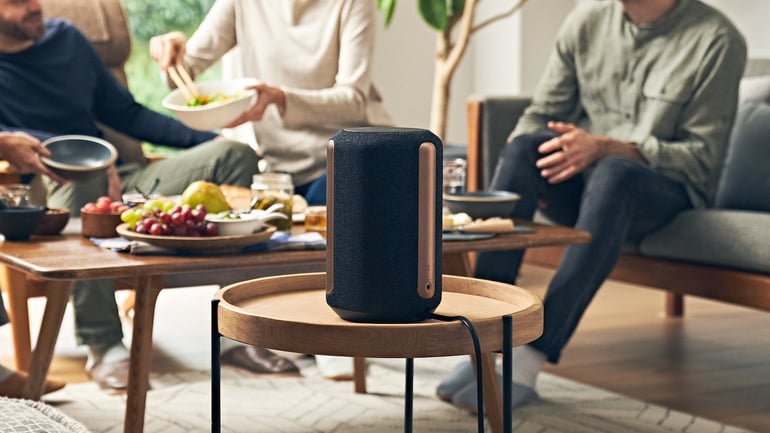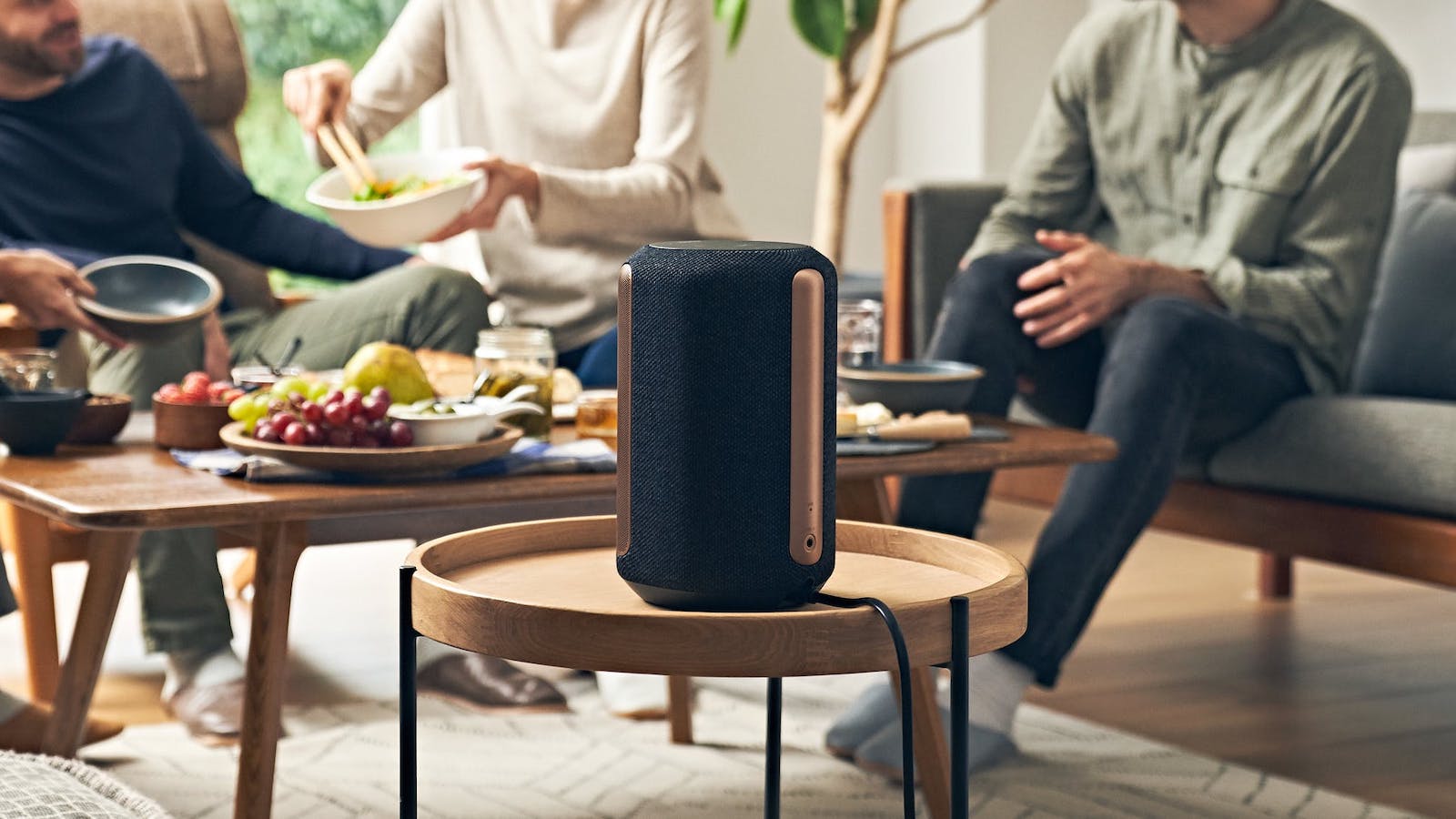 Diameter: 155 mm
Height: 247 mm
Weight: 2.5 kg
IP Rating:  IP67
As the company's best premium Bluetooth speaker to date, the Sony SRS-RA300 presents a wide, detailed soundstage with crispy mids and vibrant, attentive highs. For this attractive hybrid Wi-Fi and Bluetooth speaker, Sony has pared back the low end to achieve a better balance, although the companion app's EQ is comprehensive enough that you can really dial in the exact style for your tastes.
360-degree spatial sound creates a wide soundstage
Intuitive companion app
Support for both Alexa and Google Assistant
Uses both Wi-Fi and Bluetooth
Has to be plugged in
Bass performance falls short of some alternatives
---
4. Sonos Move – Best For Volume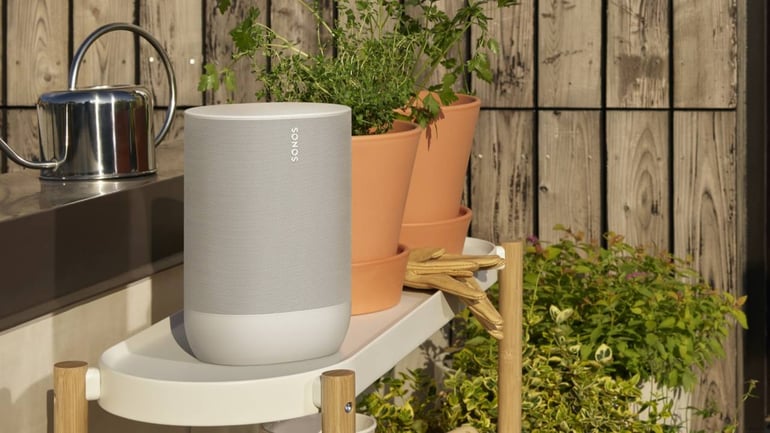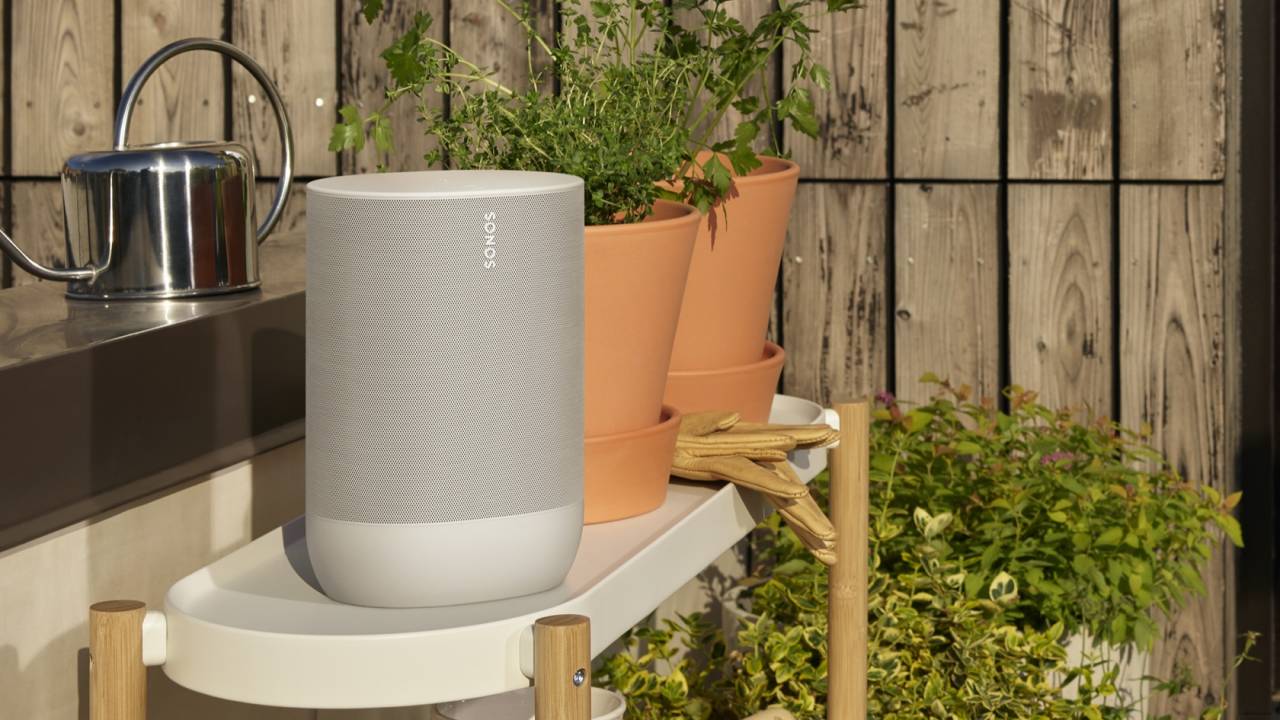 Diameter: 126 mm
Height: 239 mm
Weight: 2.99 kg
IP Rating: IP56
Battery Life: Up to 11 hours
Not only does this hybrid Bluetooth and Wi-Fi speaker deliver in terms of sound, but it also carries Sonos' penchant for thoughtful features like the Sonos Trueplay audio-tuning tech which uses sound waves to calibrate the speaker based on the room it's in. Performance is boosted by two top-quality drivers, giving this speaker enough punch to reach loud volumes while still maintaining that pitch-perfect elegance and sonic structure Sonos has become known for.
We love the Sonos Move so much at Boss Hunting that we've included it in our highly curated guide on the best gifts for men.
Can reach very loud volumes without sounding muddy
Attractive, minimal design
Very easy to carry around
Can use both Wi-Fi and Bluetooth
Poor battery life
Cannot use with Sonos Arc
Proprietary charging base can be buggy
Poor IP rating compared to some alternatives
RELATED: The 6 Loudest & Most Powerful Bluetooth Speakers You Can Buy
---
5. Bose Home Portable Speaker – Best For Picnics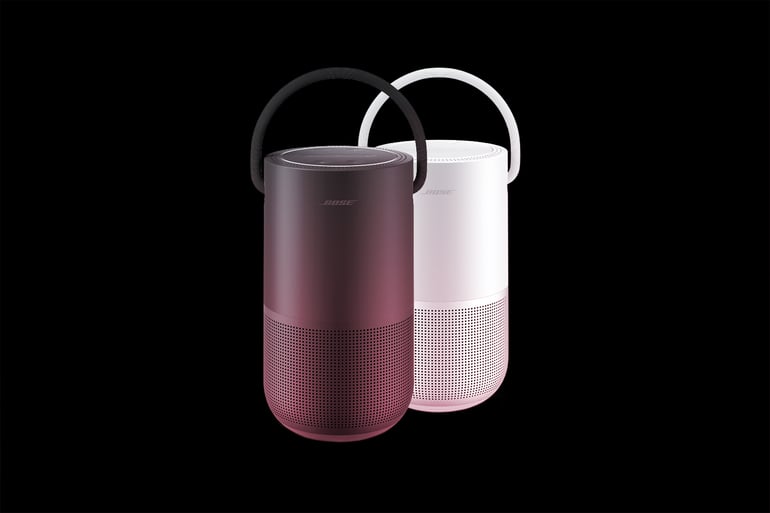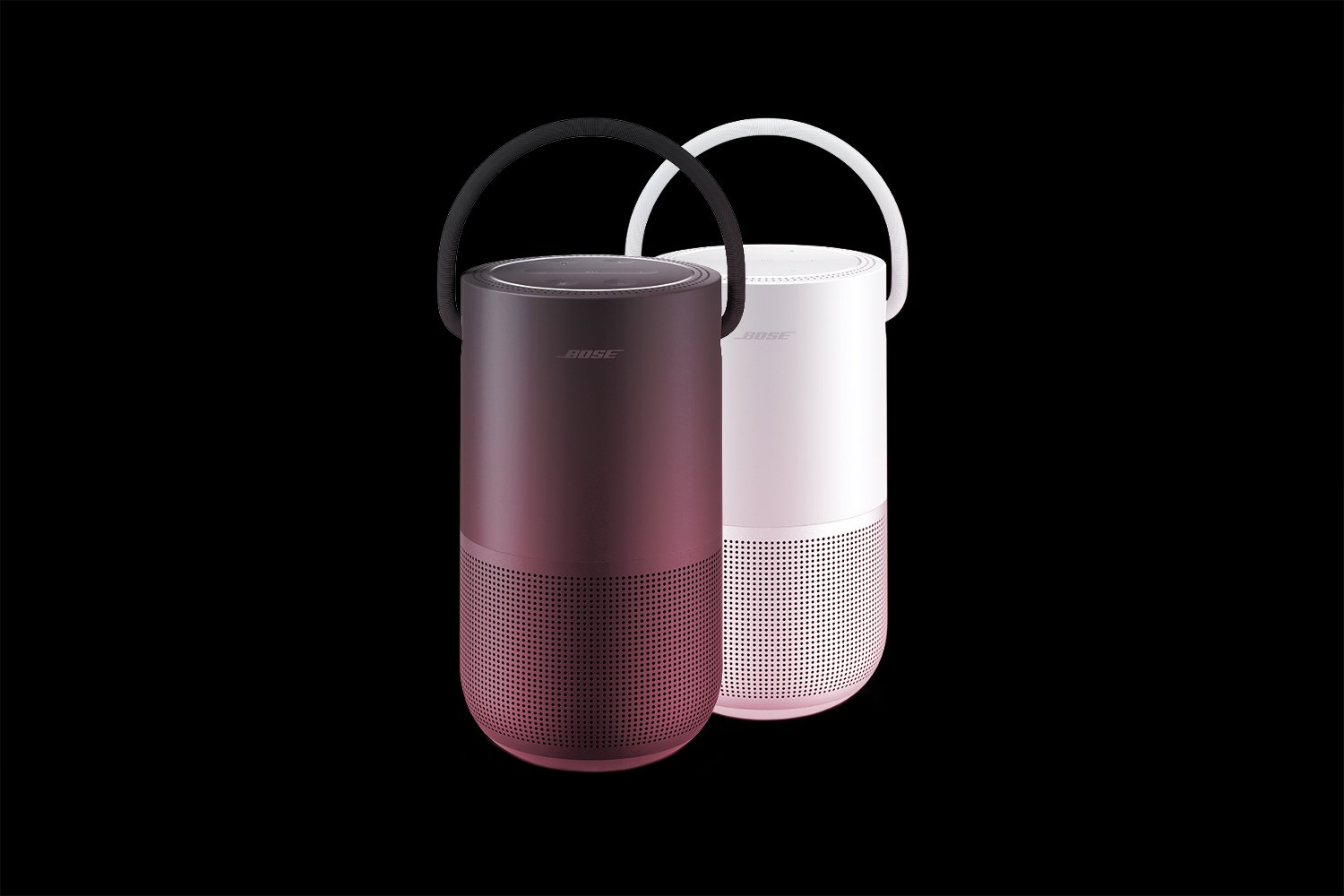 Frequency Range: 55 Hz – 19.1 kHz
Diameter: 104 mm
Height: 191 mm
Weight: 1.06 kg
IP Rating: IPX4
Battery Life: Up to 12 hours
As the best Bluetooth speaker to date from Bose, the simply named Bose Home Portable Speaker is a sturdy music bucket packed with a brilliant sound signature with an easy-to-carry haul handle on top. It may not be the most exciting design, but it's the most functional for those who value portability with their Bluetooth speakers.
Fantastic overall sound at all volumes
Functional design
Excellent voice support for Alexa, Google Assistant and AirPlay 2
Bass can be a bit thin at times
Weak IP rating
12 hour battery life falls behind some alternatives
Takes a long time to charge
---
6. Sonos Roam – Best For Travel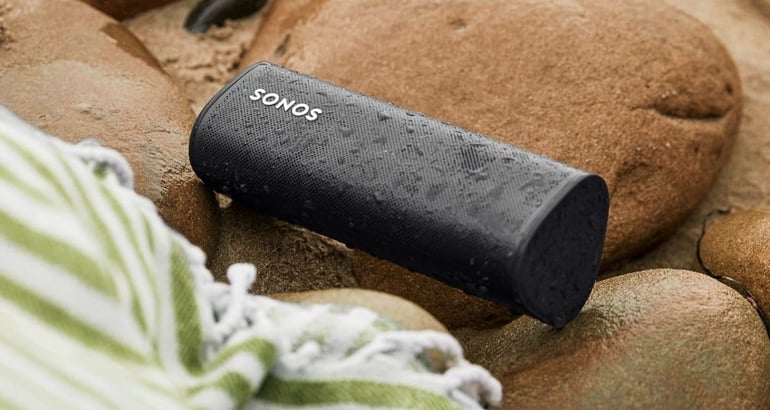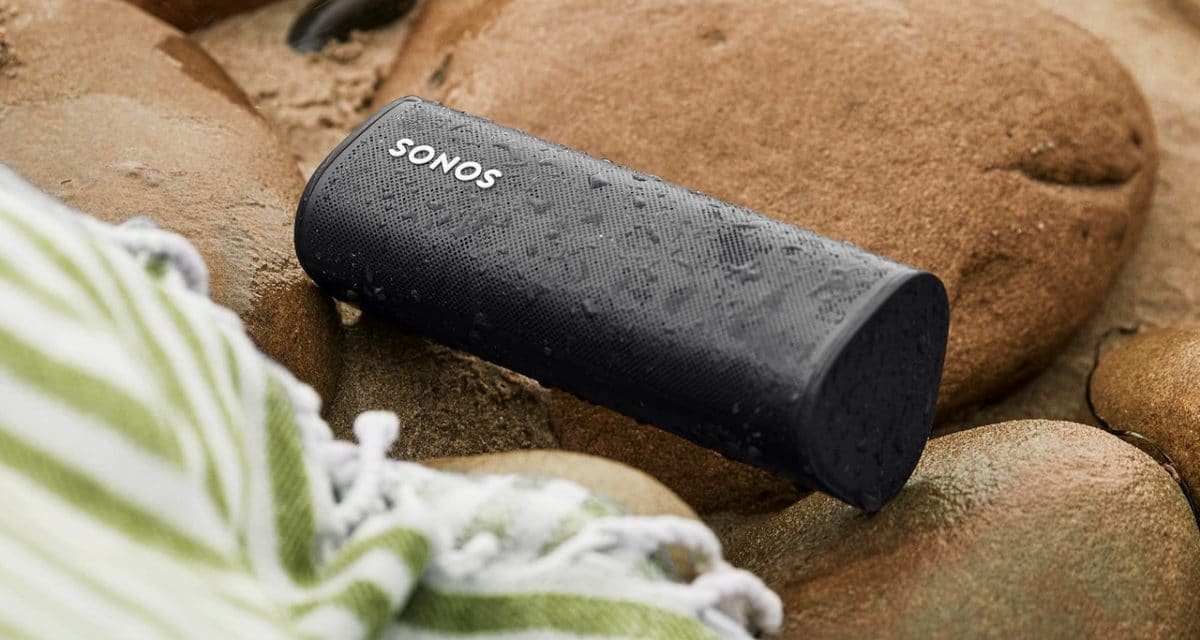 Frequency Range: 100Hz – 10kHz
Diameter: 62 mm
Height: 168 mm
Weight: 430 g
IP Rating: IP67
Battery Life: Up to 10 hours
Following the success of the Sonos Move, the company released the Sonos Roam to try and recapture that same portable slickness in a smaller format. The 430 g speaker has been a great success for the audio company with its odd shape that can stand both vertically and horizontally. Packed with smart features, the hybrid Wi-Fi and Bluetooth speaker is my go-to for travel since it can easily slide into a backpack.
Very portable and easy to carry around
Fling function can keep music going across devices with no pauses
Can get quite loud for its size
Trusty IP67 rating
Bass can sound restrained at higher volumes
Poor battery life
---
7. JBL Charge 5 – Best For Value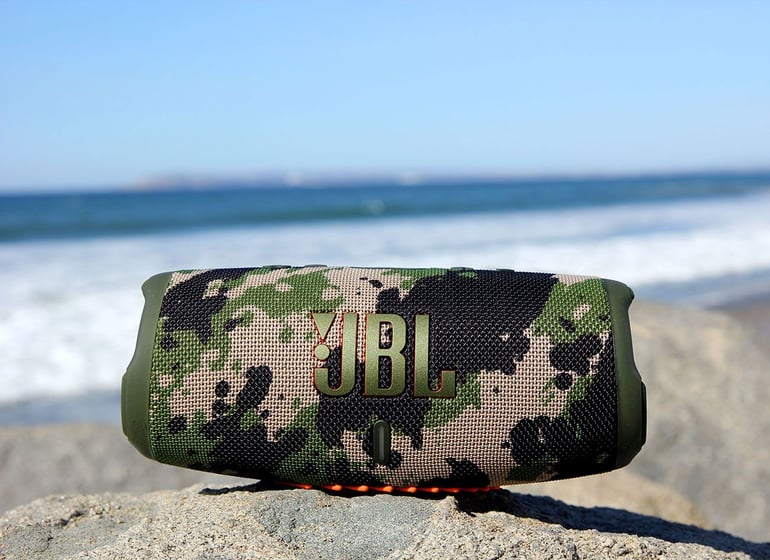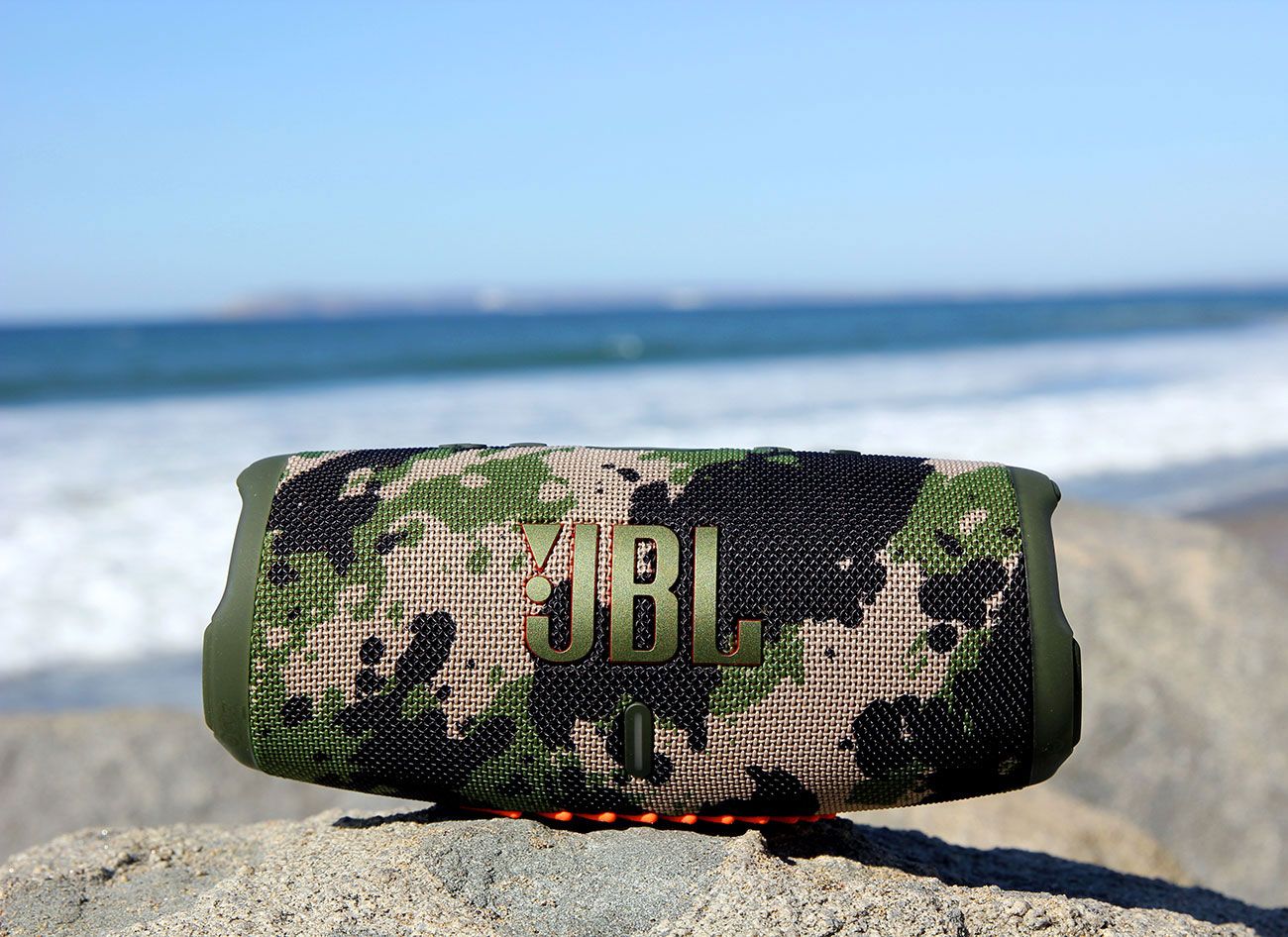 Diameter: 223 mm
Height: 97 mm
Weight: 960 g
IP Rating: IP67
Battery Life: Up to 20 hours
There's a strong case for the JBL Charge 5 being the best Bluetooth speaker the famously party-minded brand has ever put out. In terms of build, there's not much to differentiate this from the JBL Charge 4, just tighter curves and a more pronounced logo. The port arrangement has changed slightly as well, designed specifically to help achieve stronger protection with an IP67 rating.
Solid IP67 rating
Doubles as a power bank
Fantastic sound at reasonable volumes
Excellent support for voice assistants
Very affordable
Great range of colours
---
8. JBL PartyBox 310 – Best For Parties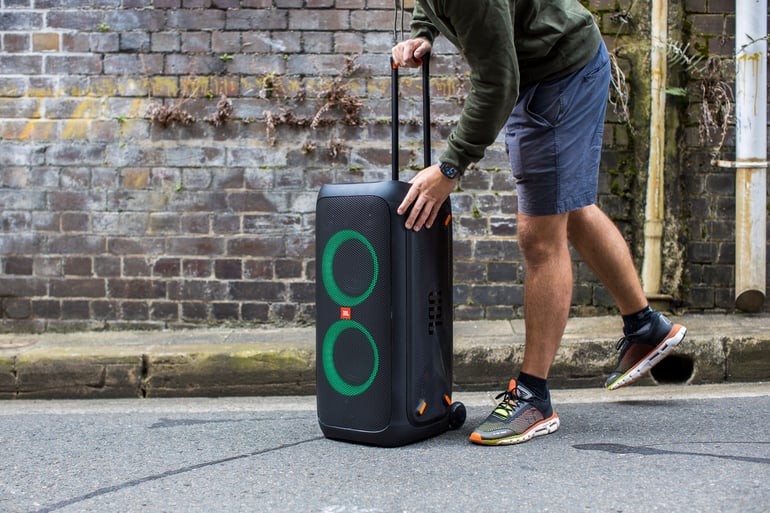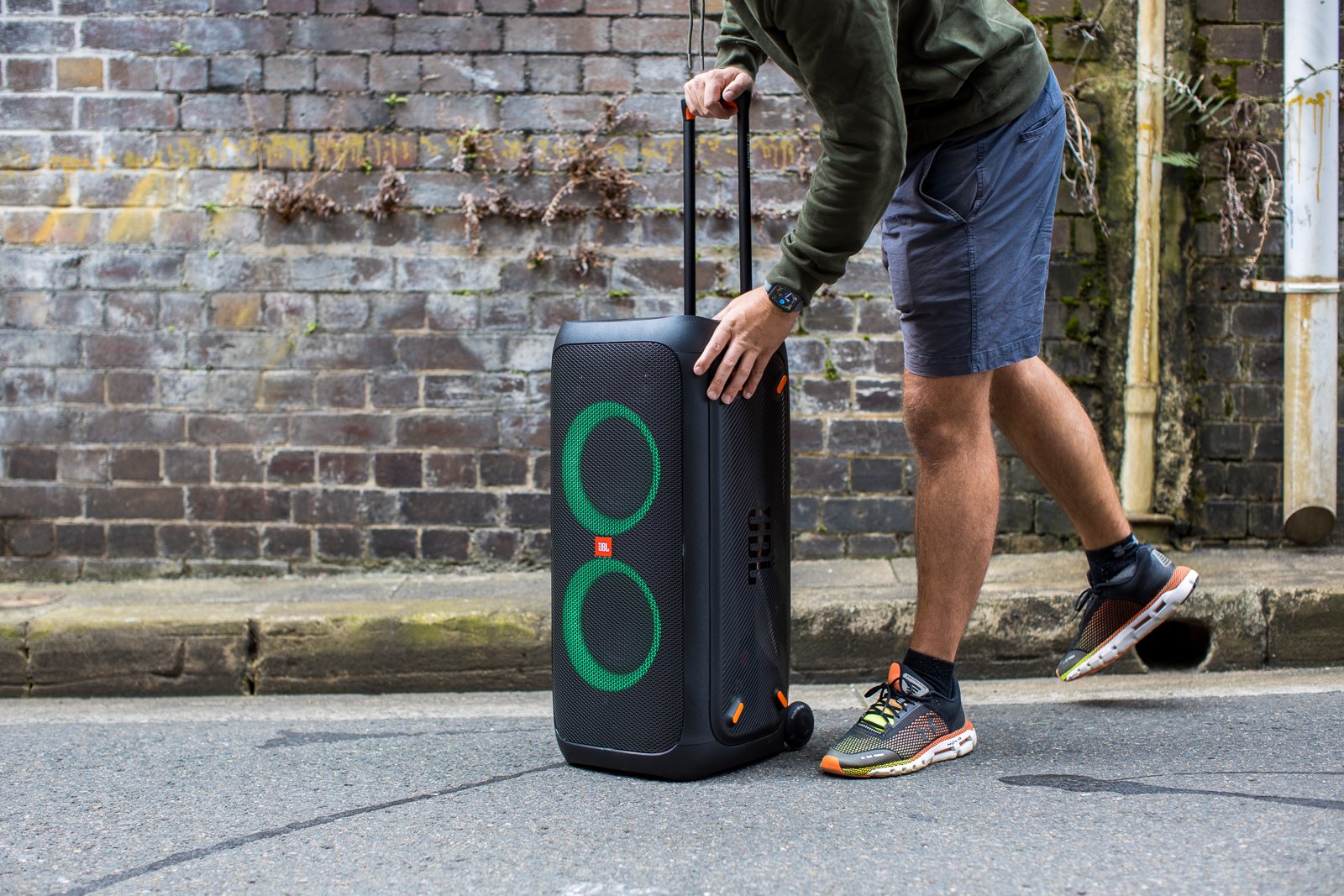 Frequency Range: 45Hz – 20kHz
Diameter: 326 cm
Height: 688 cm
Weight: 17.42 kg
IP Rating: IPX4
Battery Life: Up to 8 hours
The JBL PartyBox 310 is a beastly performer, playing right into the brand's reputation for producing party-minded speakers, and adding more than a few layers of functions perfect for gatherings both big and small. A substantial step up from the legendary JBL PartyBox 300, the large loudspeaker features a tighter and more impressive fully customisable light show and built-in dual microphones with guitar inputs for some impromptu karaoke.
There are a few other speakers on the market that attempt to include a synced-up light show as part of their appeal, with some fine examples being the JBL Pulse 4 and the Anker Soundcore Flare. But none are as big, impressive, and richly detailed as the JBL PartyBox 310.
Loud with strong bass response
Fully customisable RGB lightshow
Easy to move around despite size
Extra inputs for instruments and microphones
---
9. Soundboks Gen 3 – Best For Outdoor Parties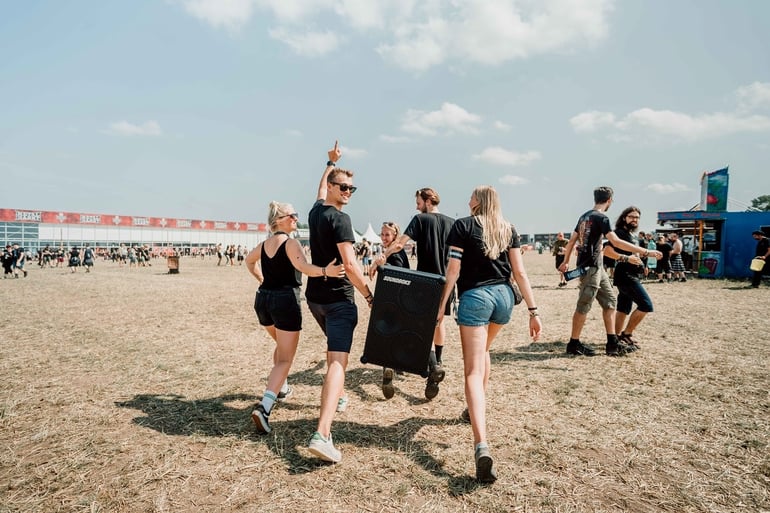 Frequency Range: 40Hz – 20kHz
Diameter: 344 mm
Height: 666 mm
Weight: 15.4 kg
IP Rating: IP65
Battery Life: Up to 40 hours
As the most expensive option on this list of the best Bluetooth speakers of 2023, the Soundboks Gen 3 – often just referred to as NEW SOUNDBOKS – does plenty to justify the price tag with up to 126 decibels of beautifully balanced sound. Just one of these will easily fill a large room with clean, crisp, and reliable sound all day with up to 40 hours of battery life.
Can get very loud
Massive battery life
Very heavy for a portable speaker
Quite expensive
---
10. Ultimate Ears Hyperboom – Best For Battery Life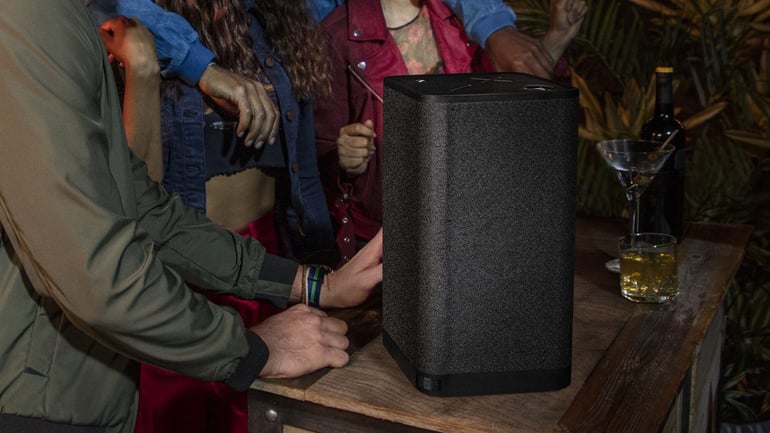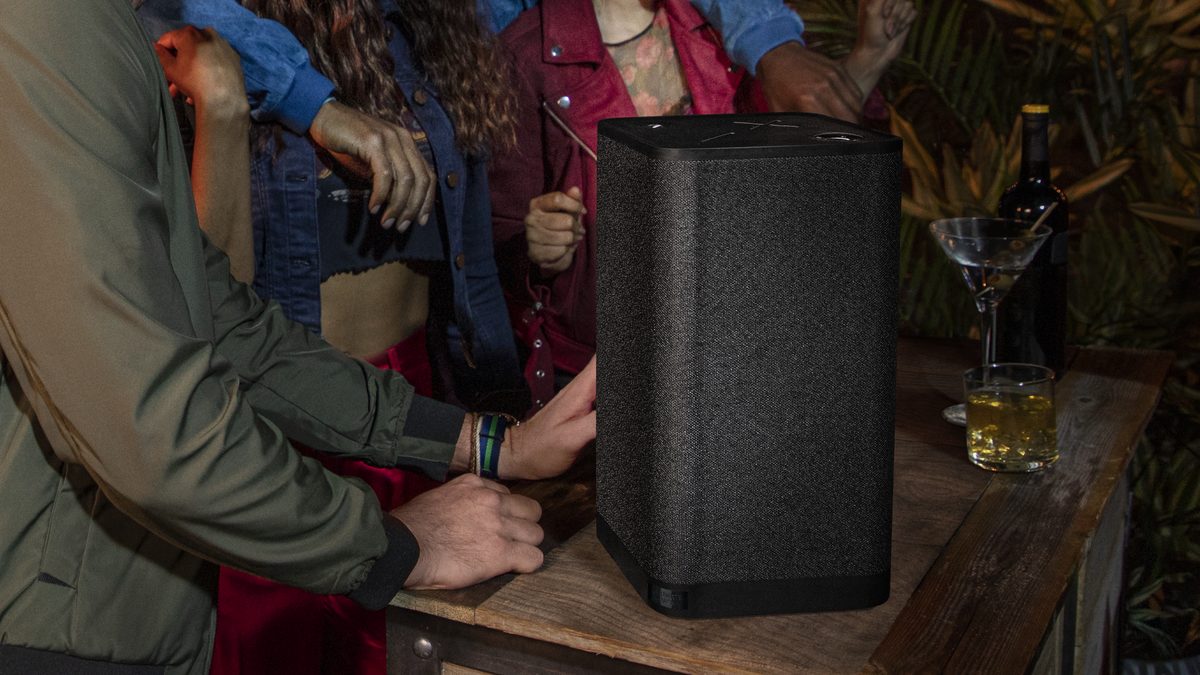 Diameter: 190 mm
Height: 364 mm
Weight: 7.71 kg
IP Rating: IPX4
Battery Life: Up to 24 hours
While most know the UE Megaboom 3, Ultimate Ears is at its best and most powerful with the supersized Hyperboom. 24 hours of battery-powered sound that could easily stretch across an entire yard makes this one of the finest choices for those backyard BBQs and mid-sized parties. And we're talking about some of the best sound any Bluetooth speaker in this price range can produce, with thunderous, detailed bass response, really crispy mids, and vibrant highs. The clarity and balance are exceptional.
Very strong sound at all volumes
All day battery life
Adapts to the environment
---
11. JBL Clip 4 – Best For Camping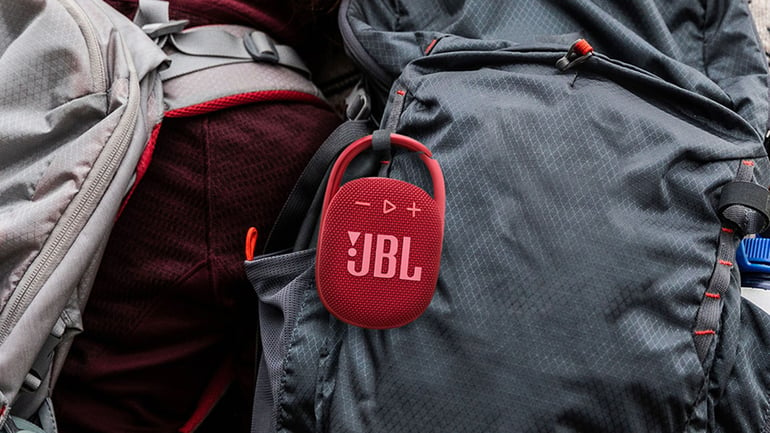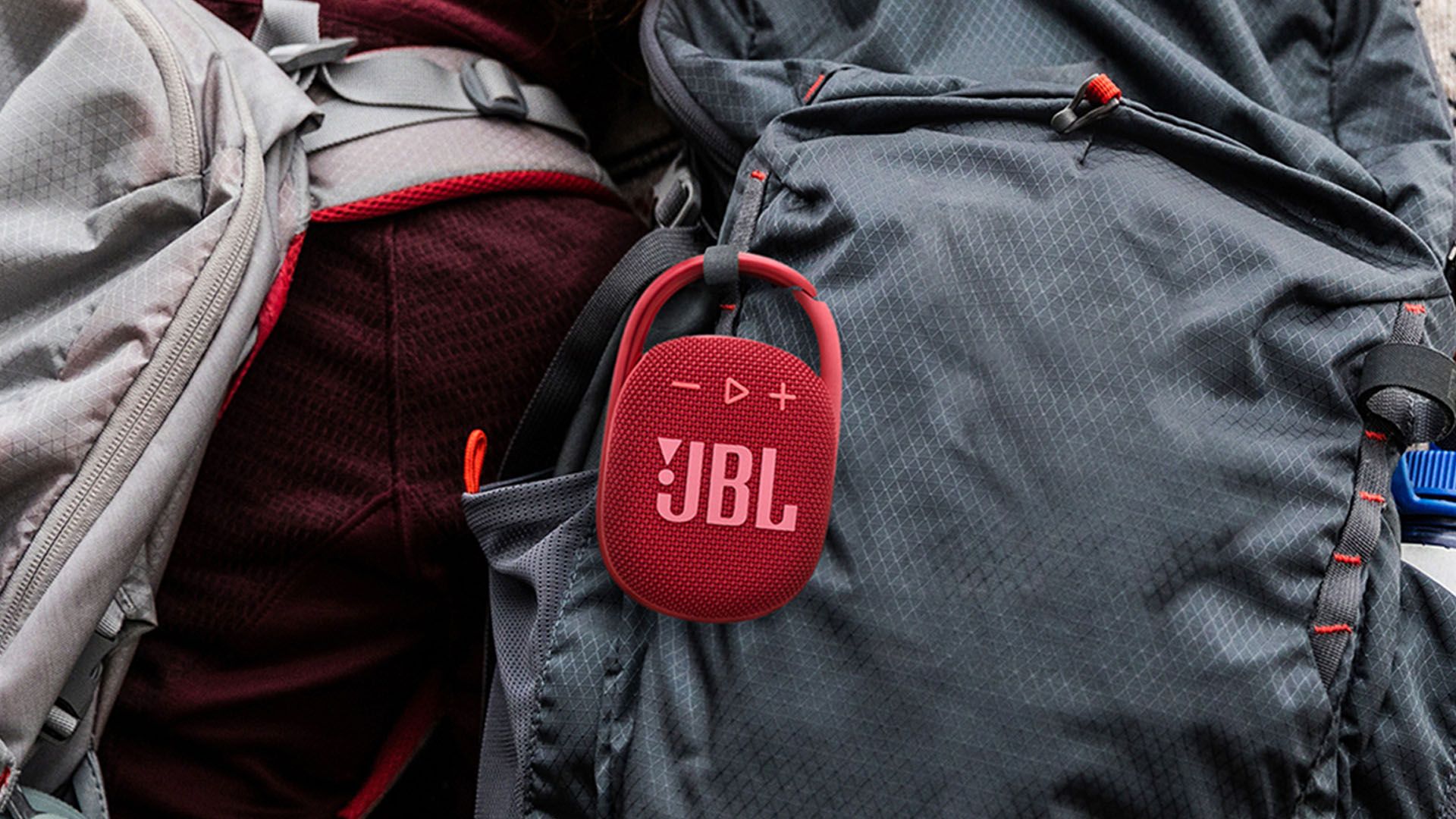 Frequency Range: 93.8Hz – 13.3kHz
Diameter: 86 mm
Height: 135 mm
Weight: 239 g
IP Rating: IP67
Battery Life: Up to 10 hours
I was going to go with the excellent $125 Bose SoundLink Micro for those who want are after a super small, almost pocket-sized Bluetooth speaker. But the $90 JBL Clip 4 has come along in recent months and completely changed the game, improving in every way upon its predecessor but still sticking true to that super convenient small-profile design with the useful built-in carabiner you can use to hang off various attachment points like a backpack strap or a tent.
Comes with a tough carabiner
Sturdy IP67 rating
Strong sound for its size
10 hours of battery life is reasonable for the size (and price)
No speakerphone function
Bass can be very thin
---
How Boss Hunting Chose The Best Bluetooth Speakers
At Boss Hunting, we are lucky enough to have access to a great range of consumer technology devices. We regularly spend time with Bluetooth speakers and use them in a variety of settings to test which ones we would want to buy, and ones we would personally recommend to friends. We then discuss our findings in the office and curate our lists based on those discussions.
It's as simple as that, with our main metrics for speakers being overall sound signature, features, companion apps, battery life and design.
For more information please read our editorial policy.
---
If you found our round-up of the best Bluetooth speakers in Australia helpful, check out our other consumer technology round-ups:
---
Frequently Asked Questions
What is the best Bluetooth speaker to buy right now?
While the best Bluetooth speaker for you is going to depend on the setting, some of the most reliable options right now are the JBL Charge 5, Ultimate Ears Megaboom 3, Sonos Move, and Sonos Roam.
What is the loudest Bluetooth speaker to buy?
If you want to go loud you're going to want the Soundboks Gen 3, the Ultimate Ears Hyperboom, or the JBL PartyBox 310.
What is the best Bluetooth speaker for sound quality?
For sound quality, it's hard to look past both the Sonos Roam and Sonos Move, both with TruePlay technology. Also great for volume and sound quality is the JBL Charge 5 and Bose Home Portable Speaker.
What is the best Bluetooth speaker for camping?
The best Bluetooth speakers for camping are going to have a high IP rating and are more portable in size. These include the JBL Clip 4, JBL Charge 5, Ultimate Ears Megaboom 3, and Sonos Roam.