If you're looking for the best Bluetooth speaker in 2022, you've got quite a few options on the table. Although the market for Bluetooth headphones and truly wireless Bluetooth earbuds have been more competitive as of late, some of the stalwart audio brands are still churning away and finessing their respective speaker lines to continually one-up each other. JBL and Ultimate Ears are forever in lockstep with party-minded speakers, while Sonos has finally branched out of just Wi-Fi speakers built for the home to enter the Bluetooth game with strong results. Bose gets a few good licks in when it comes to super portable speakers that sound great, Bang & Olufsen continue dominating the aesthetics game, Sony uses their impressive software to put up a strong fight, and Soundboks dial the volume way up.
While the game is nowhere near limited to just these brands, with solid entries from the likes of Marshall, Tribit, and BlueAnt, the below 12 Bluetooth speakers – some also including Wi-Fi connectivity – best represent the breadth of what's out there for all kinds of lifestyles.
---
12 Best Bluetooth Speakers Available In Australia:
The Best Bluetooth Speakers You Can Buy In 2022
Ultimate Ears Megaboom 3
Best Bluetooth speaker for pool parties
Ultimate Ears has come a long way since the company first entered the wireless Bluetooth speaker market in 2003, with the UE Boom. The cylindrical, 360-degree speaker became a dependable mainstay at pool parties the world over and helped push the market for portable Bluetooth speakers forward more than just a few steps.
---
---
With the UE Megaboom 3, Ultimate Ears has finessed just about every aspect of the experience, offering a Bluetooth speaker that's equal parts attractive, durable, and powerful. The two-tone fabric that drapes the speaker grille is available in a huge range of colours and iridescent themes, nailing the simple lifestyle-minded design.
A strong performance is handled by a smart speaker array of 4-ohm full-range drivers and 2 passive radiators, worked to provide a richly detailed, full sound that's balanced beautifully between low, mids, and highs.
Rounded out by a maximum sound level of 90dBC, 20-hour battery life, and sturdy IP67 water and dustproof rating, consider this one of the best Bluetooth speakers out there for a wider range of situations, from poolside and the beach to campfires and office drinks.
Much like JBL speakers, UE has designed the Megaboom 3 so it can be chained with up to 150 other speakers to create a complete party ecosystem. Of course, that pushes you to buy more UE speakers like the UE Boom 3 and powerful UE Hyperboom if you want the full experience, but being able to build your own sound stage using various Bluetooth speakers is a nice little party trick to have in the bank.
Pros: Rough and rugged for outdoor use; speaker delivers well-balanced sound; allows you to connect up to 150 other speakers; accurate 20 hours of battery life at reasonable volumes; can get quite loud for its size; dustproof as well as fully waterproof.
Cons: No voice assistant compatibility; uses micro USB (instead of USB C charging); occasional connectivity issues when using multiple devices.
---
Bang & Olufsen Beosound A1 2nd Gen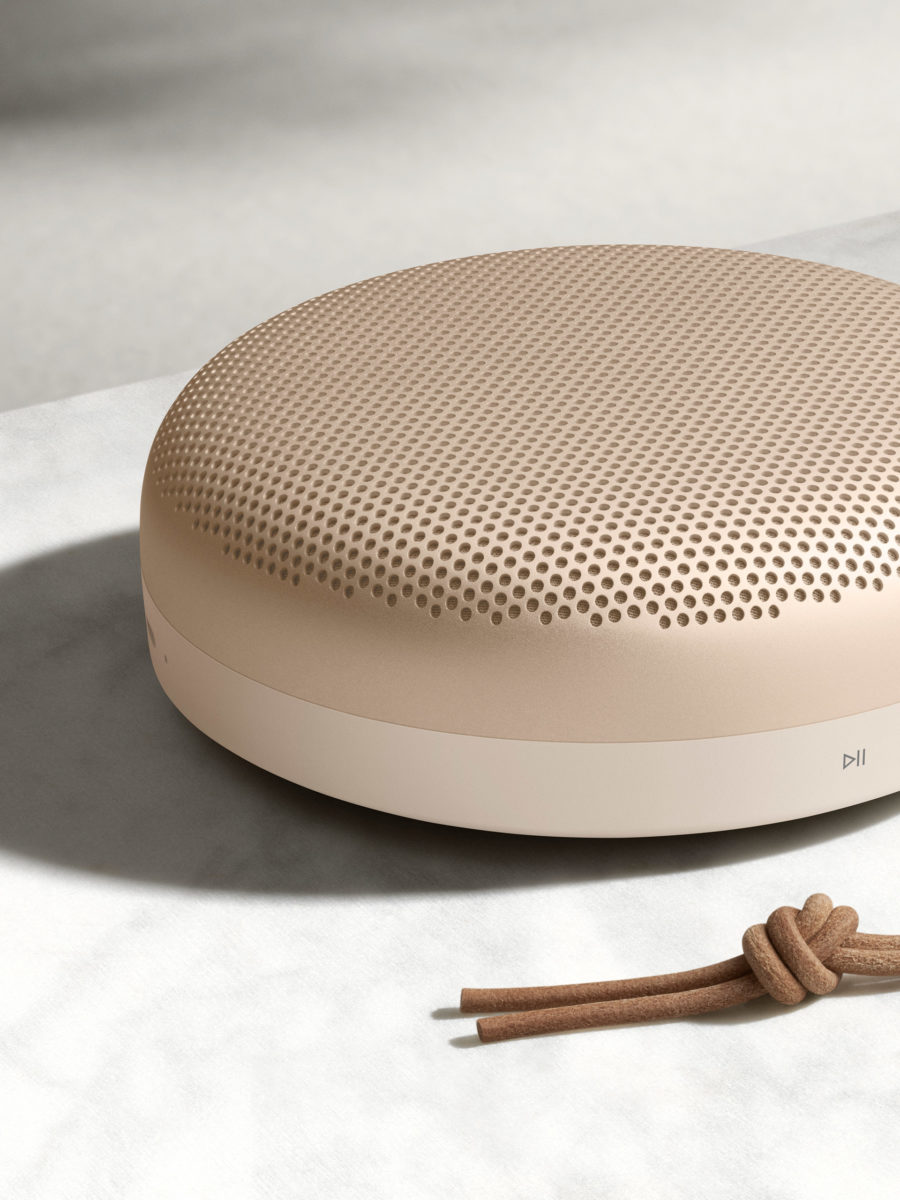 Best Bluetooth speaker for design loving travellers
High-end Danish audio company Bang & Olufsen are known for shaping Bluetooth speakers that are as tastefully designed as they are powerful. The price tag is there for a season – highest quality materials, beautifully calibrated sounds, and fascinating design concepts which have even been on display in some of the world's most influential museums.
---
---
Some of the speakers are monolithic sculptural pieces, but others, like the Bang & Olufsen Beosound A1 2nd Gen, are perfectly content with a smaller footprint. The original A1 has been finessed even further with its attractively smooth disc shape with a pearl blasted aluminium body and waterproof leather cord.
The IP67 rated, 360-degree Bluetooth speaker has been a mainstay in boutique designer hotels around the world. Though good looks are far from the only thing that impresses here; despite its small profile the Beosound A1 2nd gen packs in 1 x 3.5-inch woofer, 1 x 3/5-inch tweeter, and 2 x 30W Class D amps for each. The results are a clear, natural sound that's just as perfect for music and podcasts as it is for crystal clear calls, helped by a triple microphone array. Support for the aptX Adaptive codec also means you could use your favourite streaming services with the speaker without running into any syncing issues.
A stable Bluetooth 5.1 connection certainly helps, as well as limited support for Amazon Alexa. Although don't consider this a complete smart speaker. You're here mostly for exceptional build and solid sound quality, but not much else. But at least it's a bit more reasonably priced than most other Bluetooth speakers from Bang & Olufsen with an RRP of $419 in Australia.
Another solid, and newer, option from Bang & Olufsen for those looking for more rugged Bluetooth speakers is the Incredibly reliable Beosound Explore, and although it's one of the first to feature the new Bluetooth 5.2 standard, it's not as slick and attractive as the A1.
Pros: Incredibly attractive speaker with a great range of colourways; best Bluetooth speaker for design lovers; strong dustproof and water resistance IP67 rating; as good for taking calls with no lag, as it is for perfectly balanced music; easy to move around; support for aptX Adaptive.
Cons: No support for Google Assistant (only Amazon Alexa); 18 hours of battery life is not as competitive as some other less expensive Bluetooth speakers you can buy.
---
Sony SRS-RA3000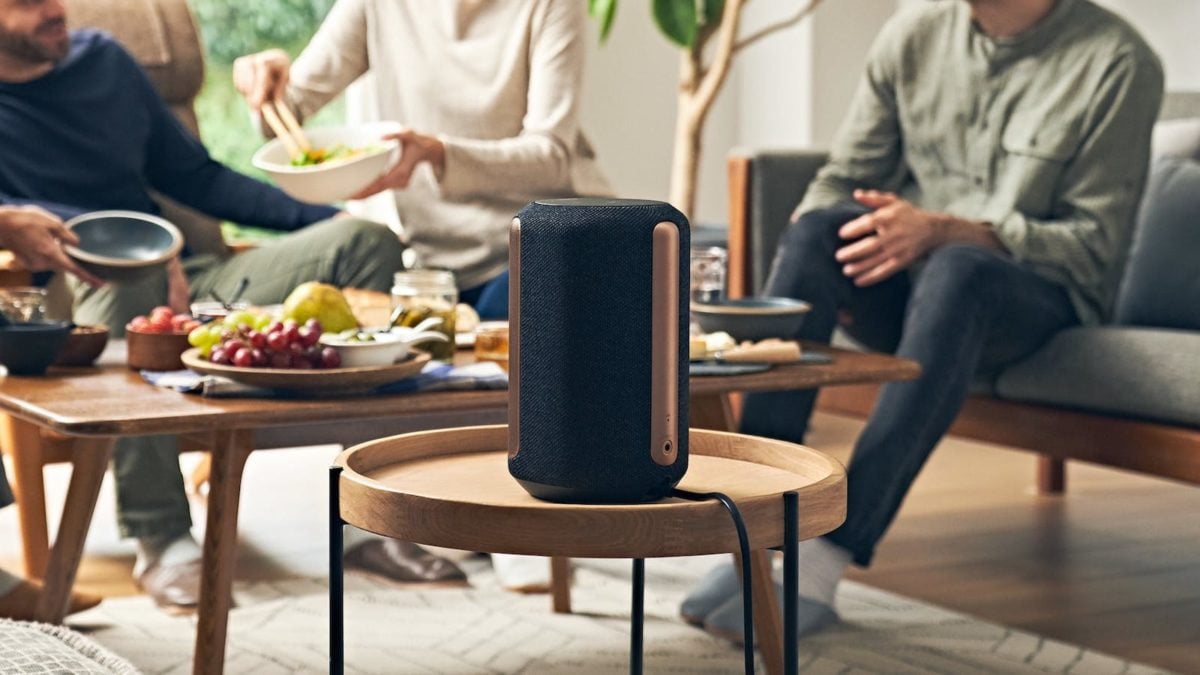 Best Bluetooth speaker for home design
Sony has more popular Bluetooth speakers than the Sony SRS-RA300, but the pricey, premium Bluetooth speaker is easily the brand's most attractive to date. Design matters a lot in this market, so even though something like the Sony SRS-XB33 may be more tempting, with its strong bass performance and attractive sub-$200 price tag, it's worth splurging a bit for this gorgeous build.
The 360-degree design means a wide, detailed sound stage, making this an ideal Bluetooth speaker to have sitting on the kitchen counter or a bookshelf. It may not have the solid bass performance of other Sony speakers, but there's a better sense of balance with crispy, vibrant mids and highs which make this ideal of styles like jazz, soft rock, and soul. That being said, the app offers a decent amount of EQ as well, so you can adjust the sound signature according to taste.
---
---
Perhaps the biggest downside to this speaker is that, like the Sonos One, it needs to be plugged into an outlet. That makes it a no-go for anyone looking for something truly portable they can take camping or to the beach. If you approach it as a Bluetooth speaker exclusive for the home, then the chunky $450 price tag is worth it, especially when considering the number of connectivity options – it's a hybrid WiFi and Bluetooth speaker so can better incorporate into your smart home set-up.
Pros: Beautiful design with true 360-degree sound; easy to use companion app with plenty of customisation options; compatible with Alexa and Google Assistant; uses both WiFi and Bluetooth.
Cons: Has to be plugged in; bass performance not as impressive as competitors.
---
Sonos Move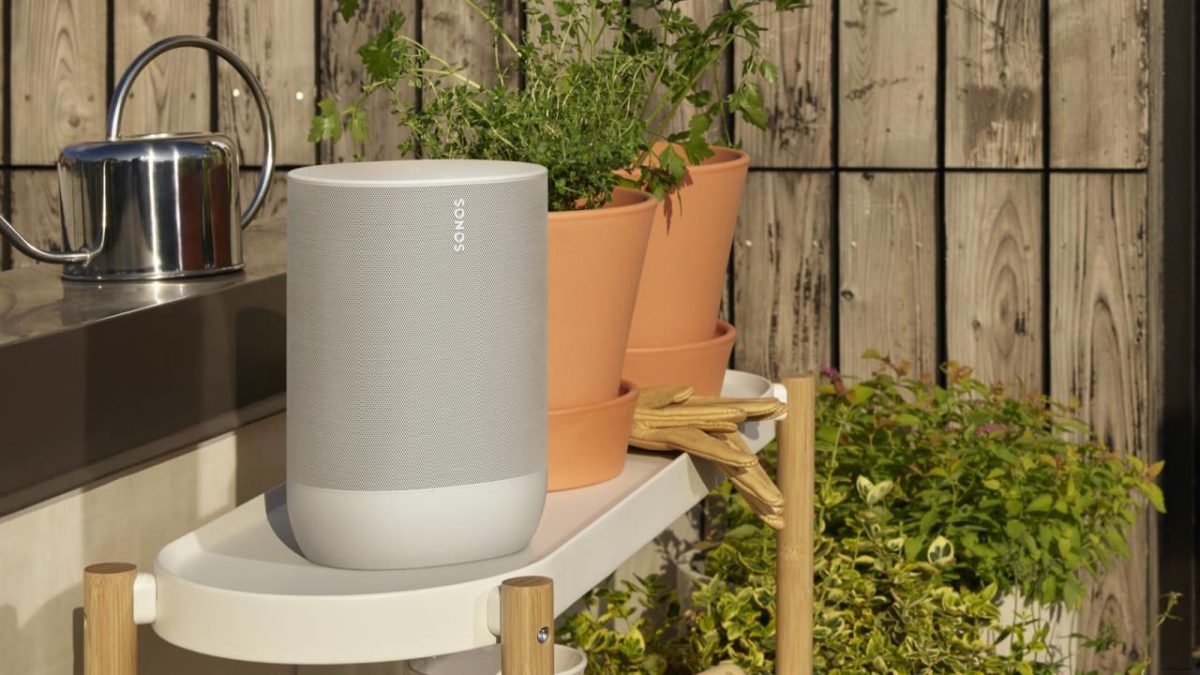 Best portable powerhouse
Given it was the famed audio company's first truly portable speaker, the massive Sonos Move came with a considerable reputation to live up to. Given Sonos speakers, and soundbars, are invariably some of the best options out there, it was no surprise to hear that the hefty Move outperformed expectations.
Not only does this hybrid Bluetooth and Wi-Fi speaker deliver in terms of sound, but it also carries Sonos' penchant for thoughtful features like the Sonos Trueplay audio-tuning tech which uses sound waves to calibrate the speaker based on the room it's in. Performance is boosted by two top-quality drivers, giving this speaker enough punch to reach loud volumes but still maintain that pitch-perfect elegance and sonic structure Sonos has become known for.
Sonos is hard to beat when it comes to connectivity, and in addition to having their own curated digital ratio station, the Sonos Move supports virtually every streaming service that matters, plus its got the smarts to integrate as part of larger Alexa and Google Assistant ecosystems.
I guess the only downside is that you, unfortunately, can't use the Sonos Move as a rear channel for such an exceptional soundbar as the Sonos Arc (you'd need a pair of Sonos One speakers for that) and that USB C charging doesn't juice up the speaker as fast as the included charging base (which is also separately sold for $119).
The Sonos Move also sports a rather weak battery life, at just 11 hours at a reasonable volume. This is of course offset by just how powerful it is, but if you want something portable that'll go the distance, you're better off looking elsewhere.
---
---
Given Sonos is mostly known as a built-for-home brand, the Sonos Move was, and still is, a significant release. It's easier to lug around than the bigger, louder speakers on this list like the Soundboks Gen 3 and the JBL PartyBox 310, but it can still give a thick, powerhouse performance that goes far beyond its size. Most importantly.
There are a few other speakers on the market that attempt to include a synced up light show as part of their appeal, with some fine examples being the JBL Pulse 4 and the Anker Soundcore Flare. But none are as big, impressive, and richly detailed as the JBL PartyBox 310.
Pros: Exceptional – and exceptionally loud – sound; great minimal design that's easy to carry around; hybrid Bluetooth and Wi-Fi connectivity.
Cons: Weak 11 hour battery life (less than 10 hours at max volume); can't integrate with a Sonos Arc; USB C doesn't charge as fast as the proprietary charging base; IP56 rating is sufficient dustproof and water-resistant, but lags behind the more affordable competition.
RELATED: The 6 Loudest & Most Powerful Bluetooth Speakers You Can Buy
---
Bose Home Portable Speaker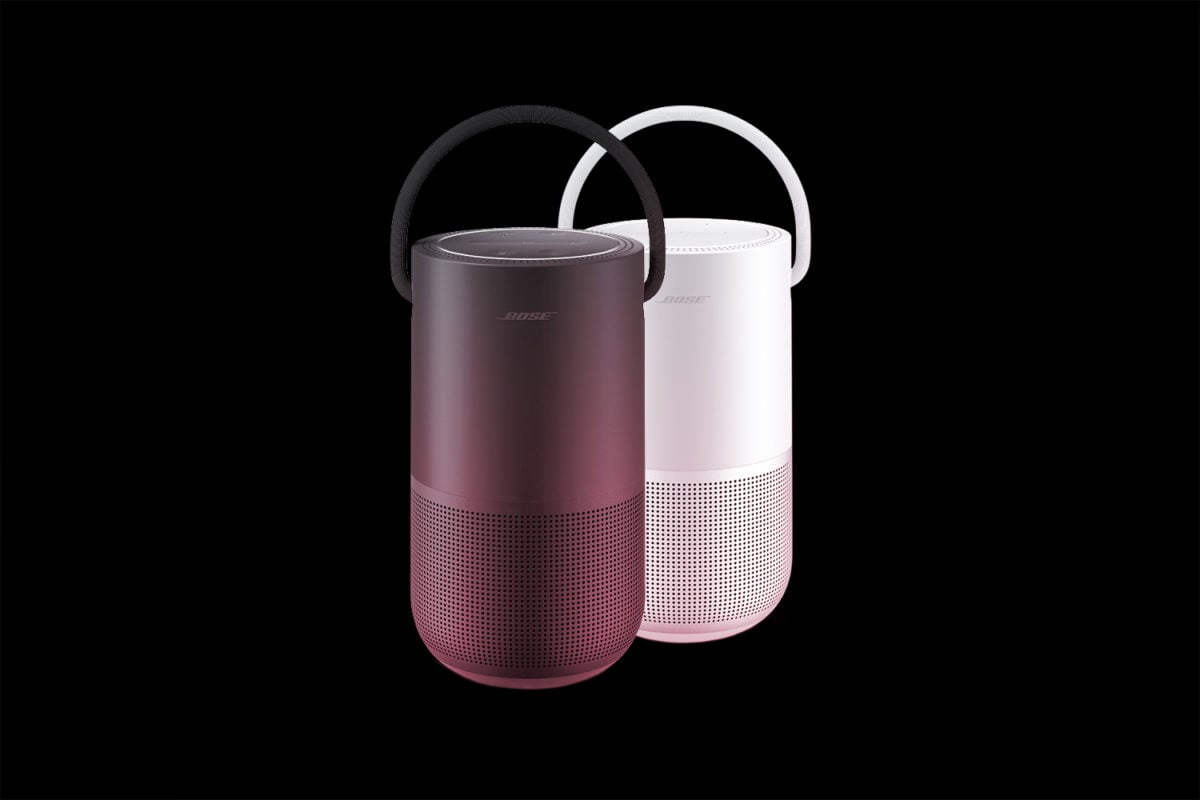 Best Bluetooth Speaker for picnics
As the best Bluetooth speaker to date from Bose, the simply named Bose Home Portable Speaker is a sturdy music bucket packed with a brilliant sound signature with an easy-to-carry haul handle on top. It may not be the most exciting design, but it's the most functional for those who value portability with their Bluetooth speakers.
With support for both Alexa and Google Assistant, maintaining complete control over this minimalist speaker is easy. The mics seem to be some of the most responsive you'd find in a Bluetooth speaker, which also makes the Bose Home Portable Speaker a great device to take with you on the road for when you still need to dial into business calls.
Although the bass is relatively thin, especially when compared to some of the other Bluetooth speakers on this list, you get a solid, likeable performance at all volumes from the Bose Home Portable Speaker. Crispy vocals are a clear strength here, and while the highs may not be as dynamic as something you'd expect from Sonos, Bose has still put forth a compelling offering that still holds strong 3 years after release.
---
---
The downsides? A paltry IPX4 rating which is vastly outpaced by today's standards, and a 12-hour battery life which is nowhere near competitive in 2022.
Pros: Great sound, even if the bass is a little thin; functional and minimalist design makes it easy to carry around and interact with; very responsive voice assistant support.
Cons: Poor waterproofing and no dust ingress protection; 12-hour battery life is fair but not very competitive; takes a long time to charge.
---
Sonos Roam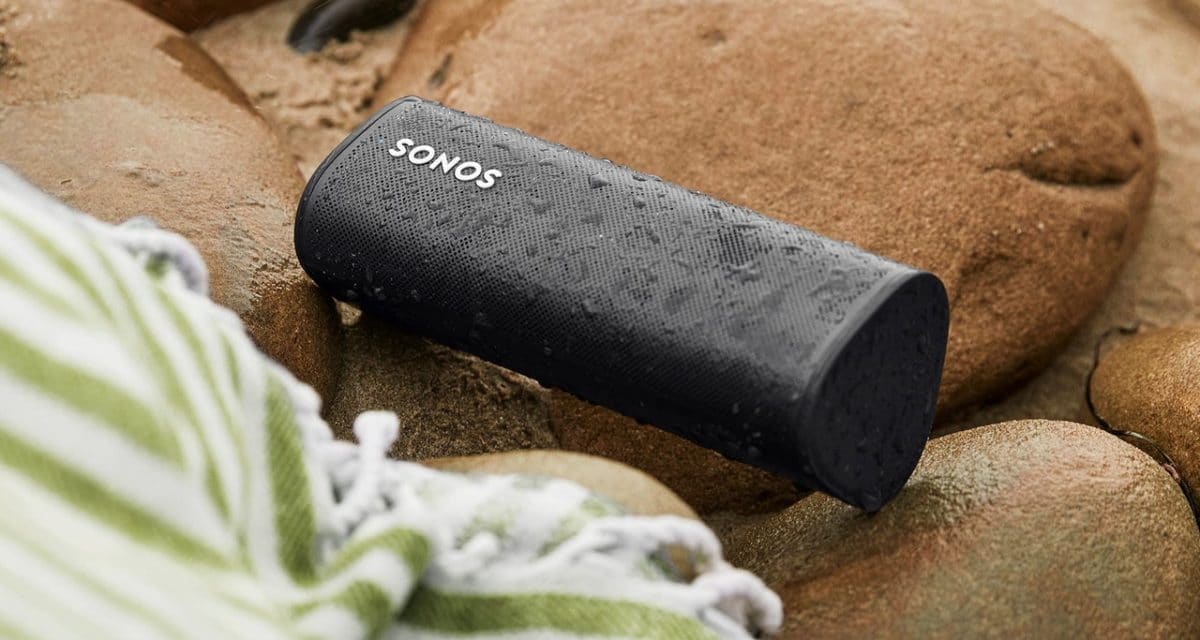 Best overall hybrid Wi Fi and Bluetooth Speaker
Following the success of the Sonos Move, the company releases the Sonos Roam earlier this year to try and recapture that same portable slickness in a smaller format. It was a great success, with the Sonos Roam now positioned as one of the best Bluetooth speakers you can buy if small and nimble is aligned with your lifestyle.
The Sonos Roam is perfectly postured, featuring an odd shape that can is oriented both vertically and horizontally. It's small enough – at 430g – that it can be easily dropped into a backpack or small bag and carried around, but still looking attractive sitting on a bookshelf or the kitchen counter.
As it's a Sonos, the Roam can be worked into a multi-room set-up quite easily. The speaker also introduces a feature that can seamlessly "fling" whatever it's playing to a nearby Sonos device by switching instantly from Bluetooth and Wi Fi – a cleverly considered function that erases any seams when it comes to listening across devices.
Support for Apple Airplay 2, Alexa, and Google Assistant certainly help beef up the spec list, as well as Sonos' precision Trueplay calibration tech which uses a built-in mic to tune bass and treble as a function of the speaker's surrounds.
The combination of some seriously smart features, hybrid Wi-Fi and Bluetooth connectivity, support for just about every streaming service out there, and a sleek design means Sonos can chalk up yet another win on this list of the best Bluetooth speakers on the market. It's simply the best smart speaker Sonos has delivered to date – at least if we're talking hybrids.
---
---
Pros: Supremely portable Bluetooth speaker and made-for-home Bluetooth speaker in one; smart "fling" function to keep the music going without any pauses; works well with chosen voice assistant; can get quite loud for its size; sturdy IP67 rating.
Cons: Paltry 10 hour battery life; bass can sound a bit restrained at times.
---
JBL Charge 5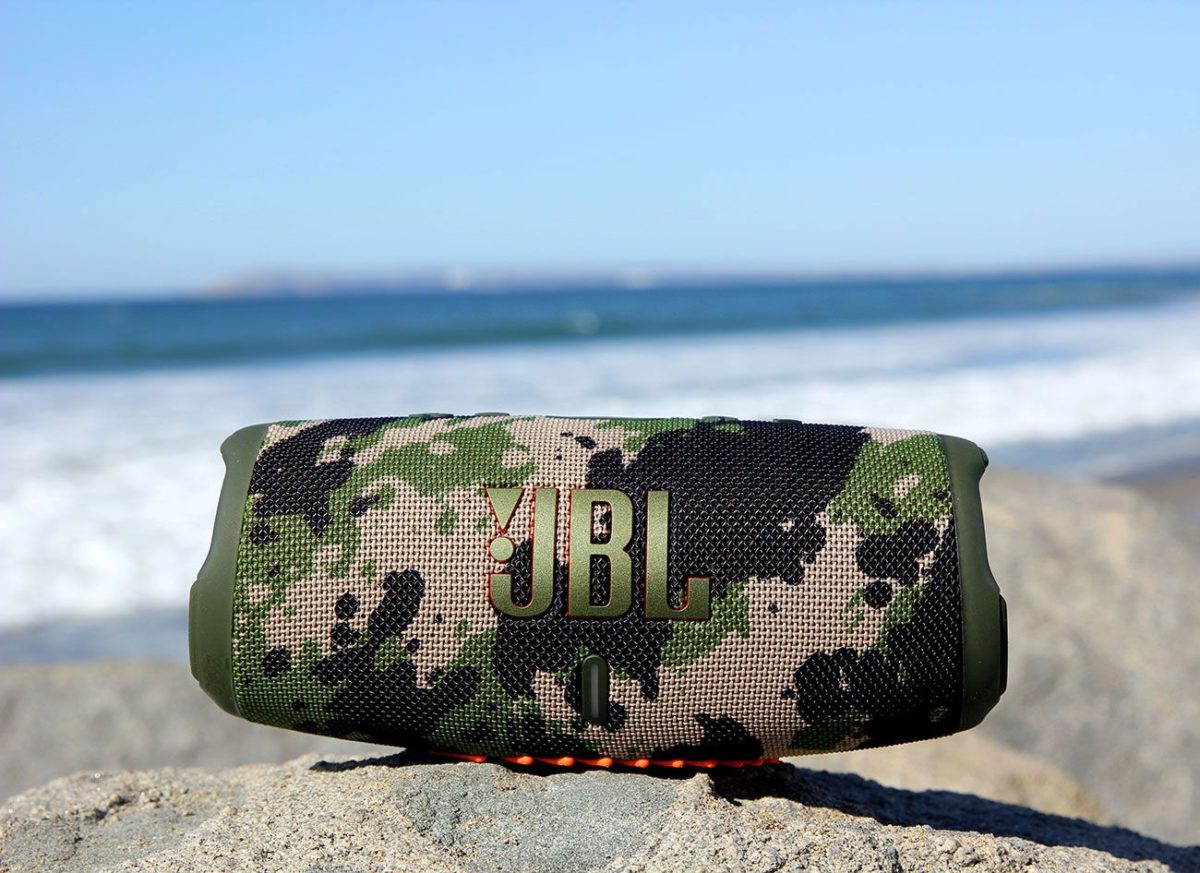 Best value Bluetooth speaker
There's a strong case for the JBL Charge 5 being the best Bluetooth speaker the famously party-minded brand has ever put out. Recently released, it's the latest in the popular portable series, with swift improvements all-round, marking more durability, better sound, and a slightly refined design.
In terms of build, there's not much to differentiate this from the JBL Charge 4, just tighter curves and a more pronounced logo. The port arrangement has changed slightly, designed specifically to help achieve stronger protection with an IP67 rating – fully waterproof and fully dustproof. Compare this with the IPX7 from the Charge 4, which was just water-resistant but had no protection from dust ingress.
With smooth voice assistant integration and nicely textured physical buttons, coupled with JBL's solid EQ options, it's easy to dial in the exact performance you want at all times. Although the out-of-box sound signature is good enough – clean, balanced, articulate, and stable at all volumes.
A smaller alternative would be the JBL Flip series (the JBL Flip 5 is the latest), but when the Charge 5 is so well-priced, it's worth putting aside the extra cash and going for this beauty instead.
Pros: Now fully water and dustproof; incredibly well-balanced sound signature; works well with voice assistants.; doubles as a power bank for your other devices; impressive 20-hour battery life. Not bad for a $200 Bluetooth speaker.
Cons: No AUX jack
---
JBL PartyBox 310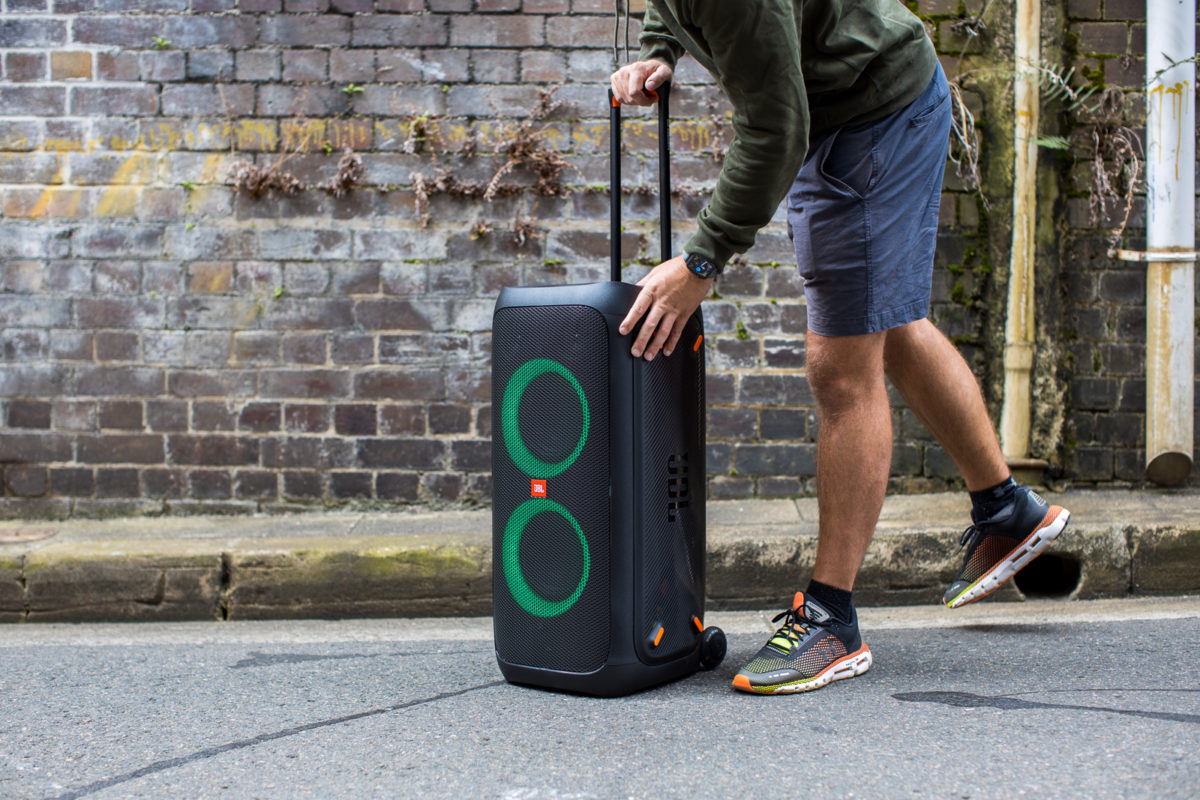 Best Bluetooth speaker for indoor parties
The JBL PartyBox 310 is a beastly performer, playing right into the brand's reputation for producing party-minded speakers, and adding more than a few layers of functions perfect for gatherings both big and small. A substantial step-up from the legendary JBL PartyBox 300, the large loudspeaker features a tighter and more impressive fully customisable light show and built-in dual microphones with guitar inputs for some impromptu karaoke.
Although it's the sound that really impresses here. This thing can get loud with up to 240W of pure force, driven mostly by a fantastic low-end response that is subtle enough to articulate really detailed sub-bass lines without toppling the mids and highs. The tighter sound signature makes this expensive speaker entirely worth it, and the portability is somewhat improved as well, with a gripper, more comfortable haul handle so you can lug this thing around like a massive piece of luggage.
Pros: Loud, clear, and some of the best bass you'll get from a Bluetooth speaker; fully customisable light show; easy to move around despite its weight; inputs for instruments and microphones.
Cons: A hefty investment; poor IPX4 rating only makes it slightly splash-proof.
---
Soundboks Gen 3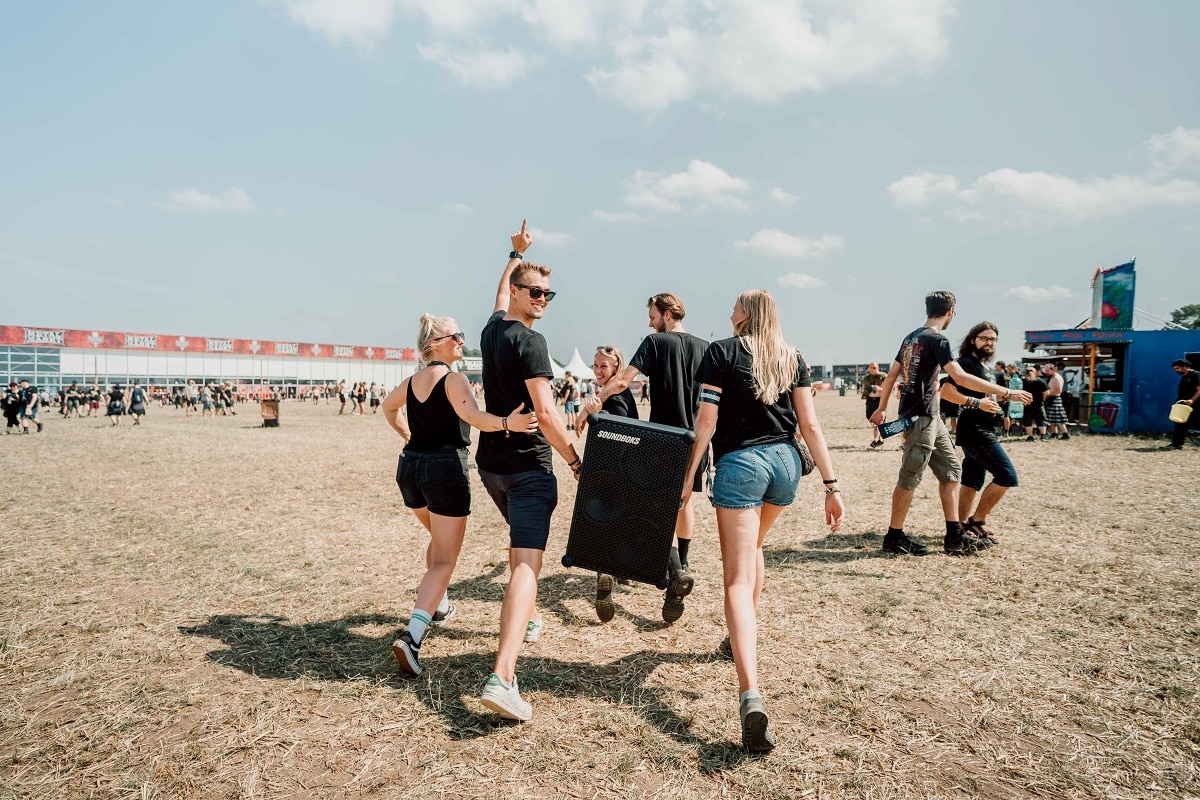 Best Bluetooth speaker outdoor parties
As the most expensive option on this list of the best Bluetooth speakers of 2022, the Soundboks Gen 3 – often just referred to as NEW SOUNDBOKS – does plenty to justify the price tag with up to 126 decibels of beautifully balanced sound. Just one of these will easily fill a large room with clean, crisp, and reliable sound all day, and then some.
Rated for just over 40 hours of battery life, it's hard seeing how any Bluetooth speaker could outlast the Soundboks Gen 3, which can link with up to 5 nearby speakers to create the ultimate sonic environment.
With a reasonable IP65 rating, the portable speaker is a great choice for outdoor events which aren't running the risk of any noise complaints. Seeing as max volume is around 10 times louder than a lawnmower, you'll want to make sure this 15kg speaker isn't going to have neighbours knocking down your door. If you're hosting your own mini Coachella on the other hand, this is the Bluetooth speaker you want. Compared to the JBL PartyBox 310 above, it's more appropriate for outdoor use thanks to the reliable water and dustproof rating.
Pros: Can get very loud without distorting the sound signature; huge 40 hours of battery life; reliable IP65 rating.
Cons: Quite heavy for a portable speaker; fetches a high price.
---
Bose SoundLink Mini II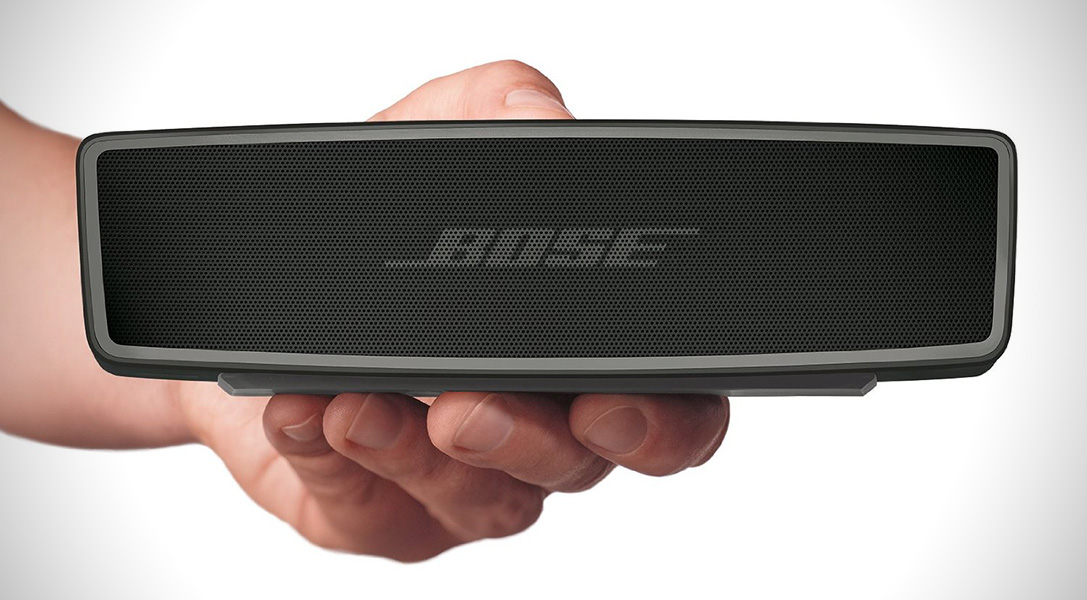 Best Bluetooth Speaker for its age
If you want to get down low to those really small, easy maneuvered profiles, then it's tough to see how any Bluetooth speaker can match up to the Bose SoundLink Micro II. Supremely portable and well-built, this Bose speaker is only 5.1 cm tall and 18 cm wide but still manages to pump out well-rounded sound at a decent volume, most surprising when it comes to a strong, very bass-forward signature.
With an IPX7 rating, the Bose SoundLink Micro II is fully waterproof so performs well for any pool party and won't go crazy if it starts pissing down. Although don't go expecting this to run circles for the entire day; you've only got a 10-hour battery life, which is good for this size but is nowhere near competitive in 2022.
While an AUX jack is welcome, the speaker – having been released in 2015 – is swiftly outdated by alternatives on the market. You've got to rely on the finicky Micro USB for charging, and juicing up this battery does take a longer time than you'd like.
Pros: Still holds up well all these years later; great sound for its size; easy to move around; fully waterproof.
Cons: No dust protection; outdated charging port.
---
Ultimate Ears Hyperboom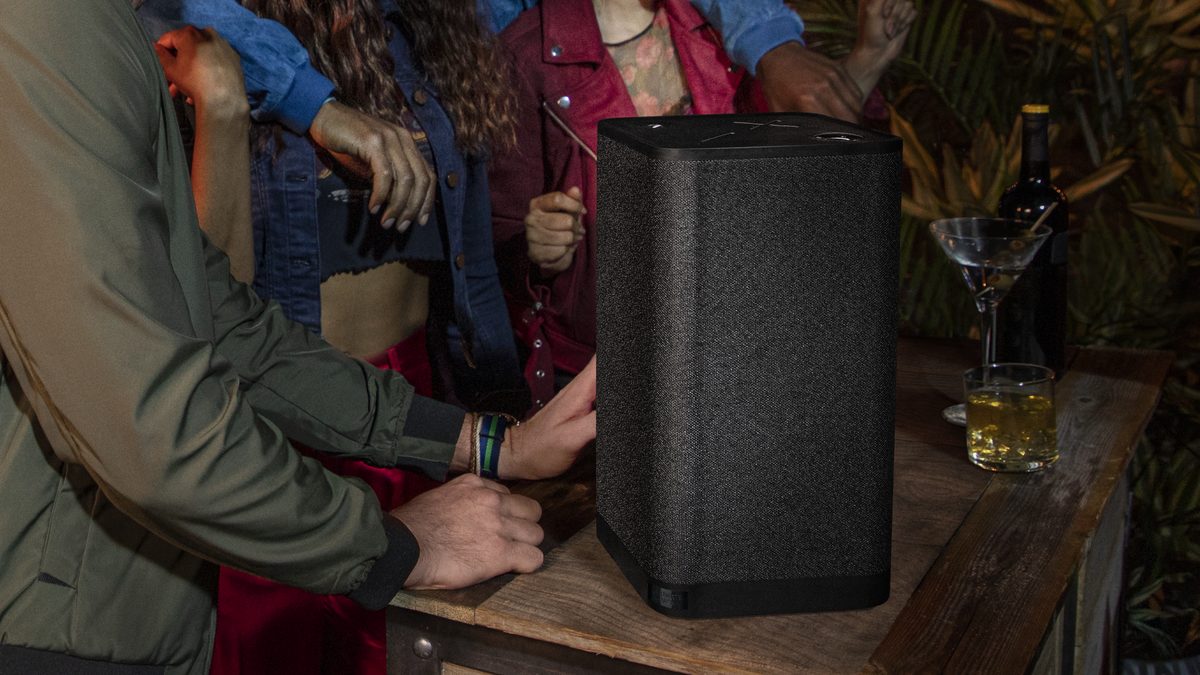 Best Bluetooth Speaker for battery life
Although Ultimate Ears are better known for their more portable speakers, like the UE Megaboom 3 and the UE Wonderboom 2, it's the UE Hyperboom that just might be their most valuable Bluetooth speaker. And that's not really any surprise – 24 hours of battery-powered sound that could easily stretch across an entire yard makes this one of the finest choices out for those backyard BBQs and mid-sized parties. And we're talking some of the best sound any Bluetooth speaker in this price range can produce, with thunderous, detailed bass response, really crispy mids, and vibrant highs. The clarity and balance are exceptional.
Much like Sonos, the UE Hyperboom also uses a combination of algorithms and a built-in mic to adapt to its environment and continually optimise to get the best performance.
And while it is rugged, with a build that could easily shrug off more than a bit of damage, the outdated IPX4 rating does put some dent in the value. That big silicon strap that can be attached easily helps up the portability of this chunky speaker, but without a stronger IP rating, it's hard to recommend this for beach parties. Definitely don't leave it out in the rain.
Pros: Loud, incredible sound signature at all volumes; reliable 24 hours of battery life; intelligently adapts to the environment; rugged body.
Cons: Poor IPX4 rating.
---
JBL Clip 4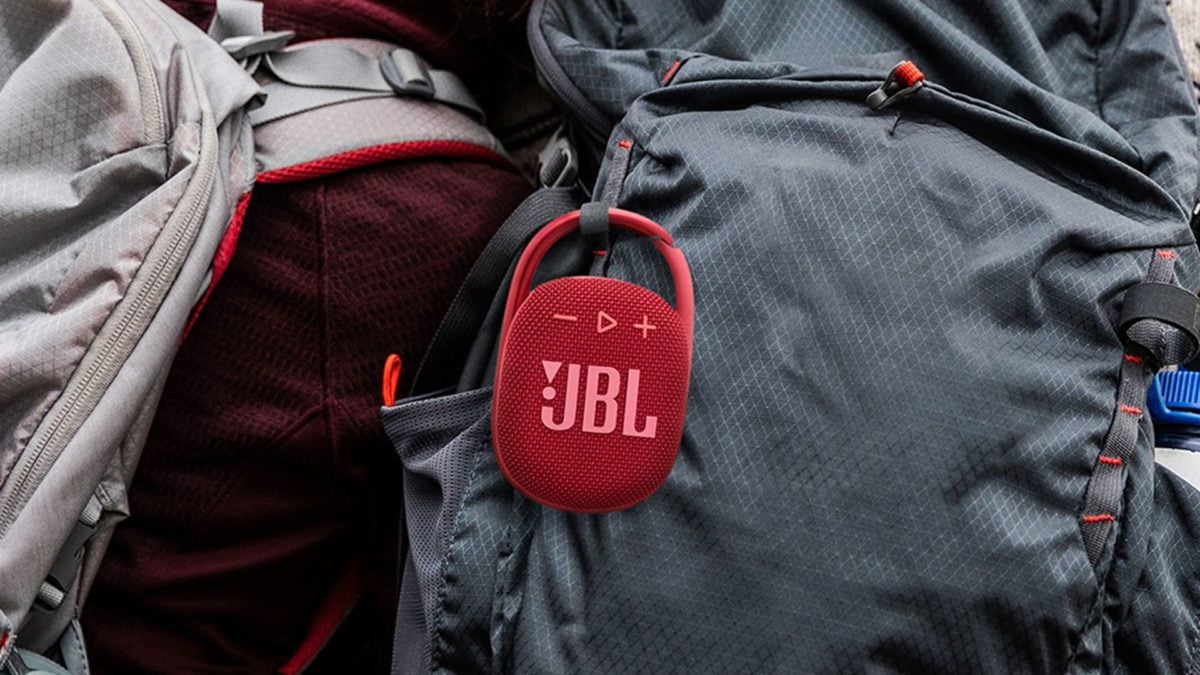 Best mini Bluetooth speaker
I was going to go with the excellent $125 Bose SoundLink Micro for those who want are after a super small, almost pocket-sized Bluetooth speaker. But the $90 JBL Clip 4 has come along in recent months and completely changed the game, improving in every way upon its predecessor but still sticking true to that super convenient small-profile design with the useful built-in carabiner you can use to hang off various attachment points like a backpack strap or a tent.
Compared to the Bose SoundLink Micro's finicky and awkward plastic strap, having a tough carabiner helps bring a great deal of flexibility to the speaker, which sounds much better, and can reach louder volumes, than its 22g body would suggest.
Even though the USB C charging port is uncovered, the design still manages an IP67 rating, which means it's sufficiently shrugged off a great deal of water and dust for those who are constantly taking their speaker outdoors.
The bass is unsurprisingly a little thin, but the signature is still very likeable, especially with those crisp, clear vocals that are noticeably improved from the JBL Clip 3. Unfortunately, there is no built-in speakerphone, so you're unable to use this to make and receive phone calls.
A 10-hour battery life is fair enough for the size, representing another clear edge over the Bose SoundLink Micro, which clocks in at 6 hours. Whether Bose's inevitable sequel to the highly regarded mini Bluetooth speaker will end up topping what JBL has done here remains to be seen, but for now, consider JBL the king of mini Bluetooth speakers.
Pros: Really tough built-in carabiner; attractive design; great IP67 rating; strong sound signature for its size; 10 hours of battery life is more than expected; very affordable.
Cons: Bass is very thin; no speakerphone.
---
Best Bluetooth Speaker In 2022 – Frequently Asked Questions
What is the best Bluetooth speaker to buy right now?
While the best Bluetooth speaker for you is going to depend on the setting, some of the most reliable options right now are the JBL Charge 5, Ultimate Ears Megaboom 3, Sonos Move, and Sonos Roam.
What is the loudest Bluetooth speaker to buy?
If you want to go loud you're going to want the Soundboks Gen 3, the Ultimate Ears Hyperboom, or the JBL PartyBox 310.
What is the best Bluetooth speaker for sound quality?
For sound quality, it's hard to look past both the Sonos Roam and Sonos Move, both with TruePlay technology. Also great for volume and sound quality is the JBL Charge 5 and Bose Home Portable Speaker.
What is the best Bluetooth speaker for camping?
The best Bluetooth speakers for camping are going to have a high IP rating and are more portable in size. These include the JBL Clip 4, JBL Charge 5, Ultimate Ears Megaboom 3, and Sonos Roam.