Microsoft has just officially announced the Xbox Series X specs, giving us all a better idea of the performance capabilities we can look forward to experiencing very soon.
The Xbox Series X specs will boast of an internal storage capacity of 1TB to accommodate for the size of next-gen releases; as well as releases from every previous generation – because yes, it will be backwards compatible (and not in a limited sense like with the Xbox One). The storage is, however, expandable to an additional 1TB for those with higher demands.
The Parallel Cooling Architecture and whisper quiet fan will provide for a less "disturbed" experience in terms of immersion. Expect the Xbox Series X to run silent and without a fuss. As a consequence, this essentially means users also have the comfort of knowing their console won't burn out and crash as easily.
---
---
This time around, something known as the Xbox Velocity Architecture has been thrown into the mix. Offering quick resumes between multiple titles, minimal load times, and "… fast travel that's truly fast…", this will reportedly mean "… living worlds unlike anything you've seen before…".
According to IGN, the Xbox Series X will also have the ability to apply HDR effects – even to games not previously designed for such. With hardware-accelerated DirectX Raytracing to bring new dimension of real to both light and sound, the Xbox Series X specs holds a performance target range of standard 4K at 60fps all the way up to a heftier 120fps.
Check out the full run of main performance specs below.
CPU: 8x Cores @ 3.8 GHz (3.66 GHz w/ SMT) Custom Zen 2 CPU
GPU: 12 TFLOPS, 52 CUs @ 1.825 GHz Custom RDNA 2 GPU
Die Size: 360.45mm2
Process: TSMC 7nm Enhanced
Memory: 16 GB GDDR6 w/ 320mb bus
Memory Bandwidth: 10GB @ 560 GB/s, 6GB @ 336 GB/s
Internal Storage: 1 TB Custom NVME SSD
Expandable Storage: 1 TB Expansion Card
External Storage: USB 3.2 HDD Support
I/O Throughput: 2.4 GB/s (Raw), 4.8 GB/s (Compressed, with custom hardware decompression block)
Optical Drive: 4K UHD Blu-Ray Drive
Performance Target: 4K @ 60 FPS, Up to 120 FPS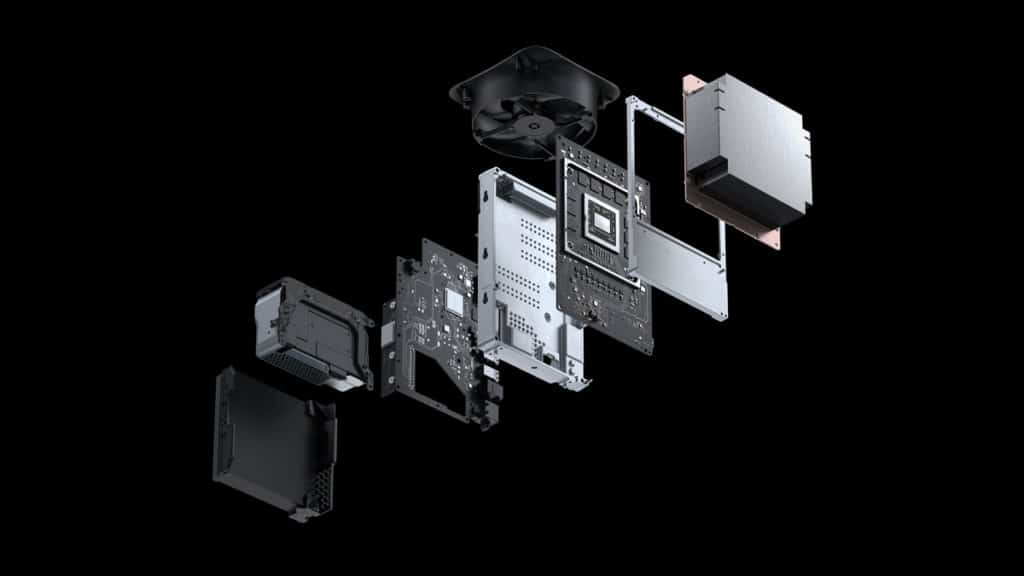 Find out more over at xbox.com.