SAN FRANCISCO, CA: The Samsung Galaxy S20 series has arrived — and with it comes as a legitimate contender in the smartphone war.
At the unveiling of the new Samsung Galaxy S20 series (S20, S20+, S20 Ultra), there was a certain electricity in the air. A gravity to the moment, if you will. Something I couldn't help but feel hailed the coming of not just a legitimate contender in the smartphone war – but a device that could actually define this generation. And it's all thanks to its superior lifestyle utility.
We were fortunate enough to receive some hands-on time with the S20 series' higher-end model, the Samsung Galaxy S20 Ultra. Here's what we thought.
---
---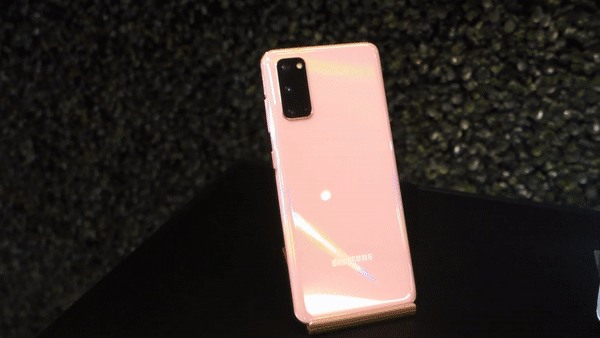 Specs
Galaxy S20 Ultra
Display
6.9-inch Quad HD+ Dynamic Amoled 2X (511 ppi)
HDR10+ certified
120Hz display refresh available
Camera
Quad camera —
Ultra-Wide 12MP/Wide-Angle 108MP/Telephoto 48MP/Selfie 40MP
Depth Vision, Space Zoom
Hybrid Optic Zoom 10X, Super Resolution Zoom 100x
8K Video Recording
Memory
12GB/16GB RAM
128GB/256GB/512GB internal storage + MicroSD Slot (1TB maximum)
Processor
7mm 64-bit Octa-Core Processor
Battery
5,000 mAH
Network
5G/LTE (single SIM + eSIM enabled)
Charging
Improved wireless charging speeds, Fast Wireless Charging 2.0 + Wireless PowerShare
Authentication
Pattern, PIN, password, fingerprint, face recognition
Dimension
166.9 x 76.0 x 8.8mm, 220g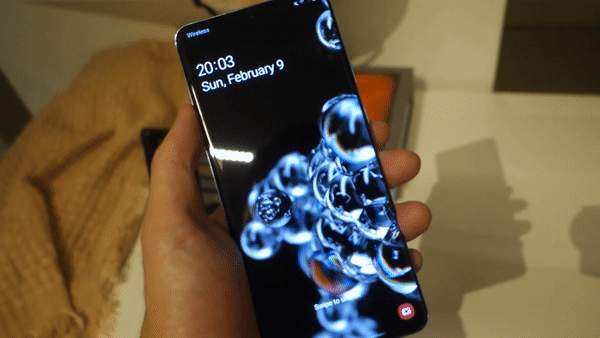 108MP, 100x Zoom, & Deadly Smart AI… you'll never take a terrible photo again
For the everyday smartphone user, there are a few key make-or-break points. Camera quality is certainly one that ranks amongst the unspoken priorities. To the point where DSLRs and heavy-duty photography kit are quickly becoming obsolete to the general population. With this exactly in mind, Samsung has gone ahead to ensure you'll practically never take another terrible photo again (my words, not theirs).
Quad pro-grade cameras. Ultra-Wide at a respectable 12MP. Wide-Angle at a staggering 108MP. Telephoto at 48MP. Even the damn Selfie lens stands at a whopping 40MP. Resolution is the name of the game here. Because if you want quality, you need clarity. And clarity starts with capturing every possible detail. Naturally, this puppy is also capable of recording 8K videos.
On the subject of resolution, the Galaxy S20 Ultra also showcases an incredible feature that no ordinary human being should be given for fear of abuse. Ethics of privacy and debates about morality aside, we now have access to this very feature (and there's simply no turning back). I'm talking, of course, about the Super Resolution Zoom 100x.
You read that correctly. 100X. This isn't some sort of headline-making gimmick, empty gesture, or part of some technical pissing contest. As I can assure you, having witnessed it with my own two eyes – the 100x zoom is very much functional. Across the city, functional; to an almost dangerous degree…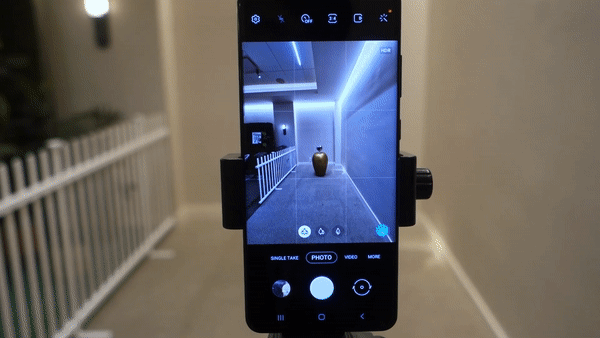 But it doesn't just end there with a flashy spec sheet worth of flex metrics. As mentioned earlier, there's an entire world of incredibly well-considered lifestyle utility primed for practical application under the hood of the entire Galaxy S20 series. In terms of the camera, this is most prominently demonstrated through two key features:
Quick Crop
Given the high resolution of the cameras, it's now possible to select and save separate images from within original images with virtually zero quality sacrifice. Meaning you can now cut out your ex from those beach shots far easier than before. Or whatever your version of that depressing reality is (crowds, stray seagulls, melted ice cream?).
Single Take Mode
Undoubtedly the crown jewel of the Galaxy S20's photography AI — Single Take Mode. Essentially, it allows you to capture a rolling clip of footage. From there, the AI extracts and curates what it deems to be the best shot specifically for you, even providing some stylised edits in an instant. And never fear, as the original will be preserved in case you trust your own instincts over that of a computer. The computer, however, will probably learn and improve faster. But you know… dealer's choice.
Moments within moments at every turn. That's the S20 promise.
---
---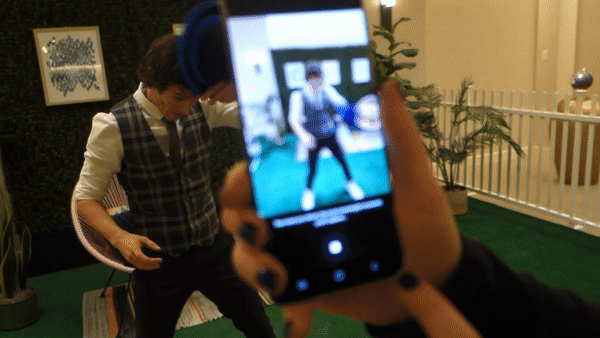 A smartphone with some proper endurance
Processor, RAM, storage, battery – the Galaxy S20 Ultra is built to last. Everyday use. Heavy-duty application. Anything else in between. There's a whole lot of technical "oomph" engineered into Samsung's latest flagship offering.
The Galaxy S20 Ultra's battery capacity is among the highest in the market right now. At 5,000 mAH, by my current estimation, this could easily last an everyday user approximately two whole days. Though currently, it is unclear what the general lifespan of each charge is. Only a firsthand comprehensive review will determine a more accurate gauge of the S20's power management optimisation. Regardless, 5,000 mAH gives us plenty of reasons to remain optimistic. Here's a comparison table below for reference (metrics provided by Expert Reviews).
The hefty bit of built-in storage with the option to expand is yet another point that caught our attention. Granted, we live in the day and age of cloud storage which is designed to phase out physical storage when it comes to smartphone engineering. But in contrast to other high-end flagships such as the Google Pixel 4 XL or the iPhone 11 Pro Max which do not allow for expansion – or in the egregious case of the Pixel 4 XL, which offers relatively dismal built-in storage for a lofty price point – it's definitely a nice touch. The height of luxury, after all, is not having to even think about the day-to-day dilemmas.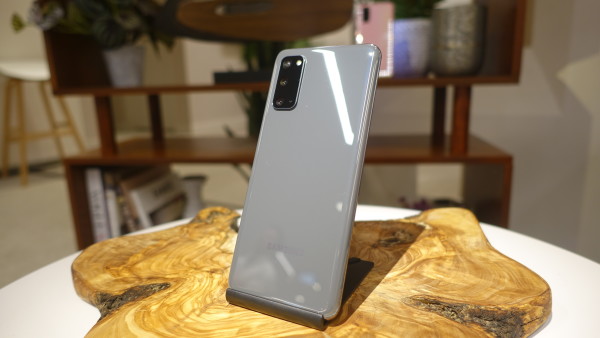 And then there's the RAM. Yet again, for perspective, 6GB to 8GB will do the job. By do the job, I mean run all your apps and facilitate your browsing with pretty much no issues. 10GB is already excellent, even though most smartphones won't ever need that much for daily use. 12GB to 16GB? Put it this way… it's like bringing a Panzer tank to a rabbit hunt, i.e. waaay more than you or I need for the task(s) at hand.
At the very least, you can rest easy knowing the job will get done with no real issue or meaningful operational obstacle. Really. 12GB to 16GB is more RAM than most laptops you'll find in a budding corporate office. And just because we're keeping score with competitors, the iPhone 11 Max Pro is apparently content with a mere 4GB.
Suffice it to say, many a year will pass before you'll be required to upgrade in order to keep up with "current" tech demands.
And as for the niceties…
The following section is better understood in person. But I'll do my best to try and communicate why you should care with a (mostly) succinct TLDR:
Minimal bezel, infinity-edge display
More screen, cool sides.
120Hz refresh display
Smoother visual performance, primed for gaming (but more on that later).
Power share
Wirelessly transfers battery life to other devices with similar capabilities.
Music share
Let your mates connect to you when you're hooked up to a speaker etc. to seamlessly share the music broadcast experience.
Distraction-free mode
Lock away fun parts of smartphone life so your lazy ass gets some shit done.
Primed for mobile gaming
Opposite of the "distraction-free mode" summary. Expected aspect, given the technical grunt/capabilities. Fun fact, Microsoft is launching 'Forza Street' in the Galaxy Store — the first time the game is coming to mobile.
The Samsung Galaxy S20 Series will be available to purchase in Australia from March the 6th, 2020. Pricing will start from $1,349 (baseline 4G Galaxy S20 with 8GB RAM/128GB memory) to $2,249 for the absolute top of the range model (5G Galaxy S20 Ultra with 16GB RAM/512GB memory).
---
---
Pre-orders are now open. As an added bonus, all pre-orders will come with Samsung Galaxy Buds+…
Immerse yourself in your favourite music and podcasts. Sound by AKG, Buds+ feature 2-way speakers; 3 mics for unparalleled sound and voice quality; and an incredibly long battery life—up to 11 hours from Buds+ and an extra 11 hours in the case. Buds+ app, 'Galaxy Buds+', is now iOS compatible, so you can enjoy a great audio experience no matter which device you use. And with the Spotify partnership, listen to the tunes and podcasts you love more easily by hitting play with a single press.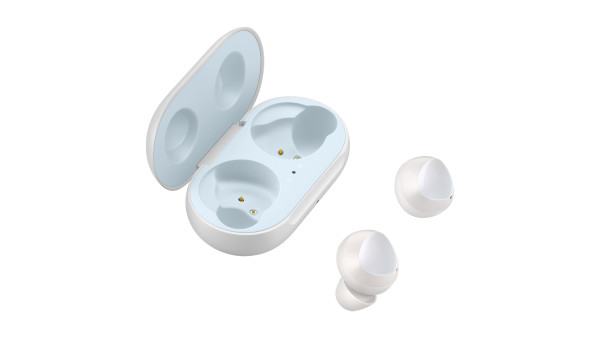 Find out more at samsung.com/au starting today.
RELATED: Hands-On With The New Motorola Razr Foldable (And Our Honest Thoughts).