We've made it very clear how exciting the Samsung Galaxy S20 Ultra is in the past month, starting from our coverage of UNPACKED 2020 in San Francisco. But starting today, Samsung is doing something even more exciting — they're giving away stacks and stacks of FREE Samsung Galaxy S20 Ultras in their microcodes promotion.
This Australia-wide scavenger hunt will see the tech giant offering "… hundreds of thousands of dollars' worth…" in their high-end flagship device. With clues scattered all across the nation, your opportunity to snag one may be hiding in plain sight.
Enough chit-chat… I'll cut to the chase.
---
---
Here's how you can win one:
Be 18 years of age or older to be eligible.
Find any Samsung Galaxy S20 advertisement in —
– Samsung Experience Stores & Kiosks
– Samsung Online Banners
– Facebook
– Instagram
– TV, cinema, and other select out-of-home placements
Scour and scrutinise the ad for the word "phone" written in geometric writing.
Once you've spotted the right frame, enter the code into www.samsung.com/au/microcodes/
If you're the first person to enter that code, you'll be the proud owner of a brand new Samsung Galaxy S20 Ultra.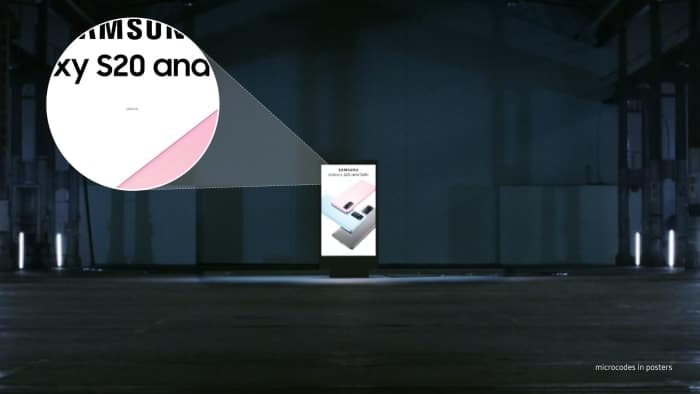 Pro tip:
You might want to have your phone camera zoom handy for this one.
Now, as for Boss Hunting's exclusive clue…
"Most dogs are microchipped – but there's one in Samsung's George St store that's also microcoded."
Other clues will be dropped here and there on Samsung Australia's socials, as well as on the socials of known Samsung Australia friends such as Demas Rusli, Mr Muselk, and Unlisted Leaf.
Happy hunting!
---
---