It's that time of year again, folks. We're roughly 50 sleeps away from Christmas, which means Mariah Carey + Michael Buble can begin to defrost, wishlists start compiling, and of course, Tiffany & Co unveils yet another ridiculous advent calendar for 2021. In keeping with their latest "About Love" campaign fronted by Beyonce and Jay-Z, this particular edition of the famed jeweller's limited-edition release also features Jean-Michael Basquiat's 1982 painting Equals Pi – and will, of course, set you back a considerable US$150,000 / AU$200,000.
Handcrafted from white oak in New York – i.e. Tiffany's seat of power – the four-foot cabinet houses 24 boxes in the brand's signature blue, each one labelled by a numbered tag and filled with opulent delights, "including designs from Tiffany HardWear, Tiffany T1, and Elsa Peretti." While the specific contents of said boxes have yet to be revealed, previous iterations have included the following (all currency referenced = USD):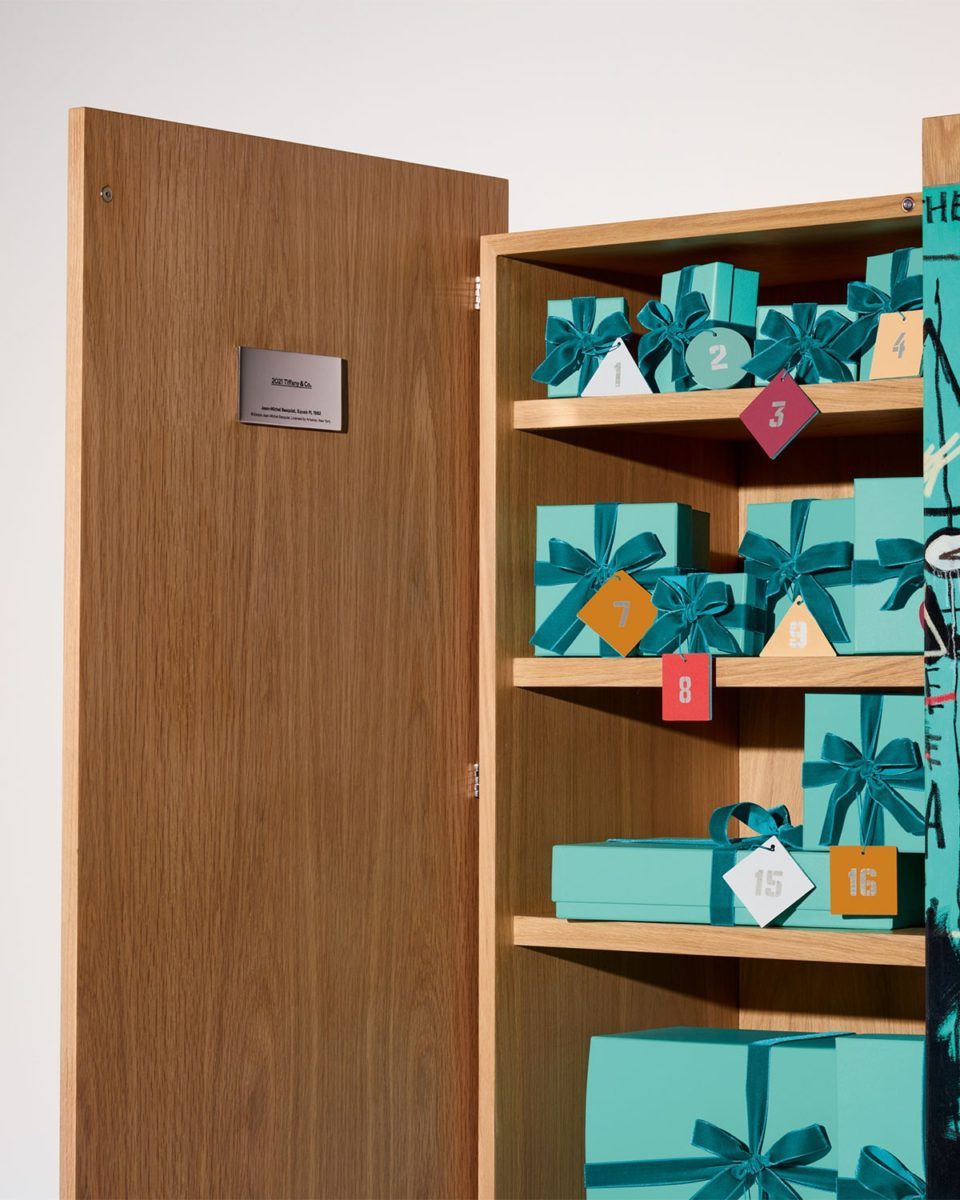 RELATED: Tiffany & Co. Now Make Diamond Engagement Rings For Men
---
---
Return to Tiffany Medium Heart Tag Bracelet in 18K Gold ($3,700)
Color Block Pen & Pencil Set in Brass w/ Lacquer Finish & Sterling Silver ($410)
Tiffany & Love Eau de Parfum for Her, 3.0 Ounces ($135)
Tiffany Ampersand Sterling Silver Key Ring ($250)
Everyday Objects Sterling Silver Tiffany Box ($650)
Rocking Horse Ornament in Sterling Silver ($250)
Everyday Objects Sterling Silver Paper Cup ($625)
Everyday Objects Sterling Silver Clothespin ($515)
Jasmine Candle in a Bone China Color Block Vessel
Everyday Objects Sterling Silver Marker w/ Tiffany Blue Enamel ($760)
Everyday Objects Sterling Silver Harmonica ($395)
Tiffany 1837 Makers 22 mm Square Watch in Stainless Steel w/ Diamonds ($3,400)
The cynics out there will be interested to hear this Christmas-time endeavour won't be entirely about profit, either. According to Robb Report, Tiffany & Co has pledged to make a US$250,000 / AU$334,850 donation from the sales of its 2021 Advent Calendar to Free Arts NYC – a non-profit organisation dedicated to providing art and mentoring programs to youth from underserved communities.
Find out more about the Tiffany & Co 2021 Advent Calendar (Jean-Michael Basquiat Edition) – and perhaps even place an order – via the official link below.