From Boom to Virgin Galactic, aviation companies all over the gaff have been tirelessly working towards bringing back supersonic passenger flights ever since the Concorde retired two decades ago. But soon enough, the need for speed could be satisfied by the newly-unveiled Bombardier Global 8000.
Hailed as both the world's fastest and longest-range business jet, the Canadian manufacturer's "flagship for a new era" has a top speed of Mach 0.94 (1,160 km/h) and the first-ever transcontinental ultra-high-speed cruise of Mach 0.92 (1,136 km/h); in addition to being capable of travelling 8,000 nautical miles (14,816 kilometres) before it needs to refuel. The Global 8000 has room for up to 19 passengers.
"Today, Bombardier solidifies once more its position as the leader in business aviation with the newest member of the industry-leading Global family," Bombardier President & CEO Éric Martel announced during a press event at Geneva's 2022 EBACE business-aviation conference.
---
---
RELATED: United Airlines Just Purchased $4 Billion Worth Of Supersonic Jets
"The Global 8000 leverages the outstanding attributes of the Global 7500 aircraft, providing our customers with a flagship aircraft of a new era," Martel adds in reference to the Global 7500 test vehicle which broke the sound barrier, achieving speeds exceeding Mach 1.015 (1,253 km/h) during a NASA F/A-18 chase plane accompanied demonstration in May 2021.
"We remain unmatched, which – for an innovation-focused team like us – is great."
Éric Martel confirmed Bombardier Global 7500 owners will be able to retrofit their aircraft, allowing it to achieve the same speed and range as the forthcoming flagship.
Equipped with Bombardier's Pũr Air and advanced HEPA filter technology, the Bombardier Global 8000 business jet will also feature the healthiest cabin in the industry. We're talking quality O2 like never before, the fastest fresh air replacement, and as an added bonus, the lowest cabin altitude in its class of 2,900 feet flying at 41,000 feet.
"The Global 8000 aircraft is the only true four-zone cabin business jet to have a range of 8,000 nautical miles – and it more than delivers even when it comes to comfort," reads the Bombardier press statement.
"With its spacious four personalized suites ergonomically designed to maximize space and freedom of movement, the Global 8000 aircraft also incorporates the revolutionary features introduced on the Global 7500 aircraft that dramatically improve passenger comfort."
---
---
"Including the Soleil circadian lighting system to help combat jet lag, coupled with the innovative Nuage seat with the first-ever zero gravity position — passengers will arrive at their destinations revitalized and refreshed."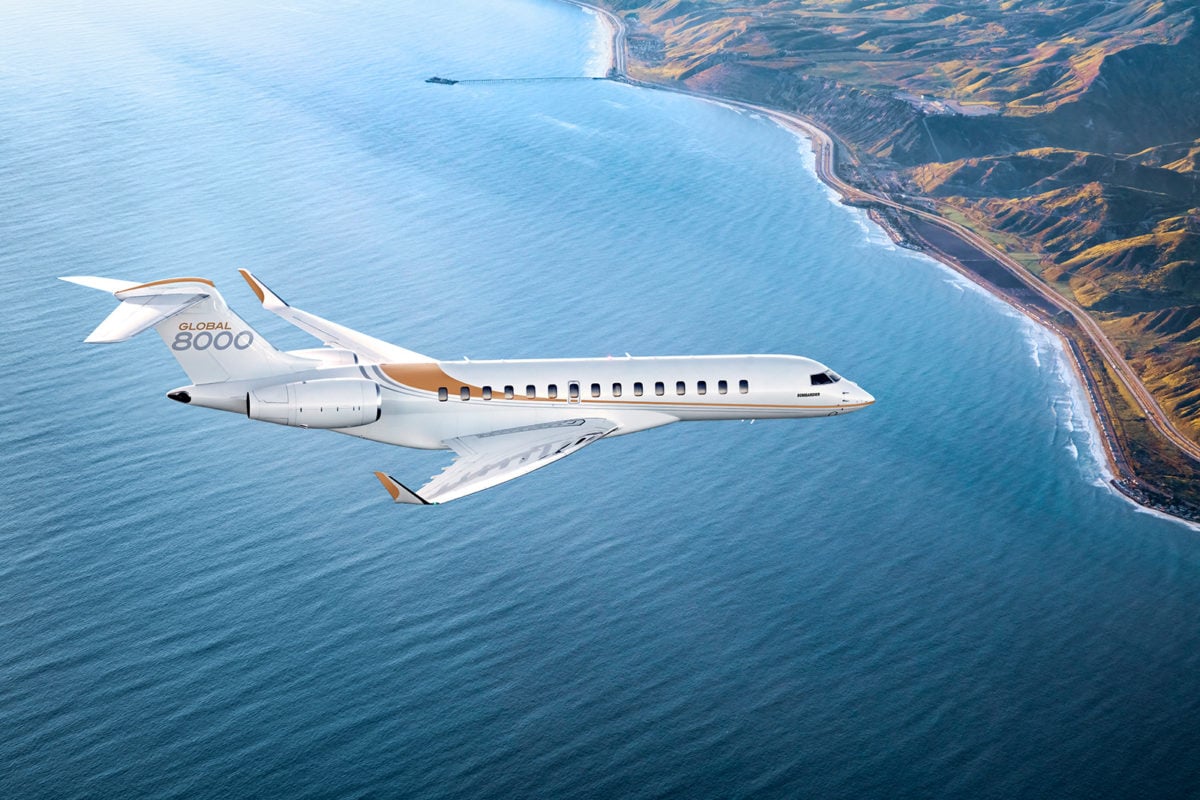 "An exemplary commitment to detail is assured, including an available Principal Suite with a full-size bed and a stand-up shower in the ensuite. Revolutionary cabin entertainment control and connectivity, the intuitive nice Touch CMS and OLED touch dial, Bombardier's l'Opéra directional audio sound system and available 4K monitor, also ensure passengers will receive an unrivalled cabin experience."
The Bombardier Global 8000 business jet is expected to enter service in 2025, at which the Global 7500 will be phased out (hence the option to retrofit the latter). According to Robb Report, the Bombardier Global 8000 has a base price of US$78 million / AU$110 million.
Keep an eye out for the Concorde's successor.