The Blueprint Series is a rolling release of profiles on individuals from any walk of life, pioneers of what they do best. From athletes to artists, fashionistas to entrepreneurs, this series gives you a personal insight into the minds of masters at the apex of their respective professions.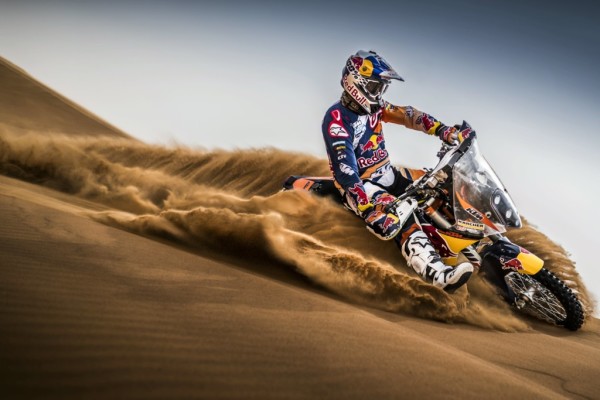 Toby Price was riding motorbikes since the age of two and was winning races by the time he was four. Today the 29-year-old Australian, off-road and enduro motorbike rider has an impressive list of national and world titles under his belt. However, much like the off-road tracks he competes on, Toby's career hasn't all been smooth travelling. The Red Bull athlete has had a pretty intense journey. In 2014, Toby crashed out badly whilst racing in California. Mark Kariya for Transmoto explains that following the incident, Price attempted to pick his bike back up and get going again, although it quickly became evident that this wasn't going to happen. After a medical response team arrived, Price told them his neck and back hurt. He then passed out, and was forced to wait for a helicopter to arrive which took him to a hospital in Palm Desert, near Palm Springs. Scans revealed that Price had broken his neck, leaving him close to paraplegia.
An injury of this nature would usually deter anyone else from getting on a bike again, but not Toby. In true Aussie fashion, Toby jumped back on the bike and took the 2016 champion title of The Dakar Rally – the soul-destroying, 9000-kilometre, 14-day ride.
We caught up to Toby to discuss a range of things; from what it was like getting back on the bike after such a horrific injury, to his real dream of pursuing a career as a rapper.
What words do you live by?
Work hard, play hard.
What are your three most treasured possessions?
My 2016 Dakar Trophy, my vintage Ford F-150 Truck and my Geiser Brothers Trophy Truck.
If you weren't doing this, what would be your ultimate alternate career?
As fun as it would be to put down the helmet and pick up a microphone, I don't think I quite have the talent to be rapping on the radio anytime soon. If I wasn't riding motorbikes and driving my trucks and I'd probably still be an athlete – most likely a Snowboarder.
If you could be any age for a week, what age would that be?
21, I'd love to be stuck at that age for life, partying and ready to go anywhere around the world at any time.
What is your favourite travel destination?
If we are talking about riding destinations, I just can't go past the United States – the tracks are all prime and the set-up is insanely well done. If I ever found time to take a holiday I would have to head somewhere tropical, I've been to Fiji before and it was great to be able sit back and relax for a couple of days for a change.
We hear you are quite the cook. A few questions here: How did you get into cooking? What is your favourite meal to cook? And could a celebrity Master Chef appearance be on the way?
I kill it in the slow cooker, but there's not much prep required for that and it isn't anything too special. I love cooking on the BBQ, it's the best fun having people around and getting everyone together. At the end of the day if I need to cook something decent and put my mind to it I can, but it's a whole day process for me really! I wouldn't say anything drastic like MasterChef is on the way, but I'd love to whip up a Pork Belly Roast garnished with sweet potato mash and asparagus, and for dessert I make a white chocolate cheesecake.
How long have you been riding for and how did you get into the sport?
I've been riding for 27 years now. I've been on two wheels since I was two, and I won my first race when I was four – I'm 29 now so it's been a crazy ride! Getting into Motocross had to a lot to do with my family. My father John was an off-road buggy champion so racing was just in my blood.
What sort of training do you do?
Since I injured myself at Dakar at the start of this year I'm still a bit restricted, but normally I hit the trails for some mountain biking, head to the gym, or just go for a ride. I normally like to ride 2-3 days a week, but I also like doing things that seem like training but are actually fun – like mountain biking and running (even though I suck at it). I love getting on the rowing machine, doing gym work, but yeh, for my core it's a hell of a lot more fun on a stand up Jetski on the water instead of doing some crunches on the floor!
When I'm training with my team I do a lot of navigation training to suit our event road books. We also do a lot of elevation training because a many of the places we compete in present huge peaks in elevation.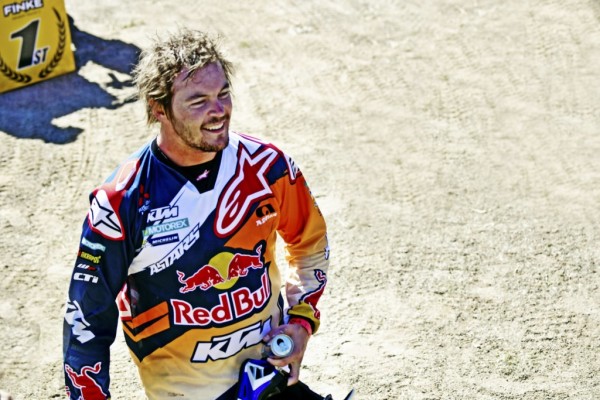 You injured yourself pretty badly in 2014, tell us more about that.
I was in California riding for KTM America when I crashed out, I broke three bones in my neck and had to have a major operation to repair it. I also faced a lot of personal repercussions that proved just as challenging as my recovery. Safe to say I'm glad that nightmare is over.
What did you learn from the experience?
With injuries the biggest thing is a lot of companies and sponsors that are relying on you for your results. When your injuries come you feel like you let your sponsor down and the people that are following you. Injuries are the worst part about sport but at the end of the day they can change the way you think about racing, and it gives you a chance to realise the opportunities and chances you have. You realise you need to make thing happen and that you only get a short window as a professional off-road racer, so you need to make it count.
My injury also taught me that while competing in all corners of the globe, it's crucial to have all your ducks in row because you can't go back in time once you become unstuck!
What was it like getting back on the bike?
A breath of fresh air. It was nerve-racking but a relief at the same time.
What do you consider to be your greatest achievement?
My greatest achievement has to be winning the Dakar Rally in 2016. I was the first ever Australian to do it and it is the ultimate race for off-road rides around the world. It's the pinnacle of the sport, and with a few blank pages left in my book I can't wait to see what happens at Dakar in the coming years.