UPDATE [10/03/22]: Scenario B it is… In the early hours of this morning, Haas announced the return of Kevin Magnussen, who will serve as a replacement to recently-ousted Russian driver Nikita Mazepin after inking a multi-year contract.

"I'm delighted to welcome Kevin Magnussen back to Haas F1 Team. When looking for a driver who could bring value to the team, not to mention a wealth of Formula 1 experience, Kevin was a straightforward decision for us," says Haas Team Principal Guenther Steiner.

"Kevin's immediate availability means we can tap into him as a resource for pre-season testing alongside both Mick Schumacher and Pietro Fittipaldi. Pietro's going to be first in this week with half a day's running at the test on Thursday – that's a great opportunity for him, with Mick and Kevin doing the rest ahead of the Bahrain Grand Prix."
"I was obviously very surprised but equally very excited to receive the call from Haas F1 Team. I was looking in a different direction regarding my commitments for 2022 but the opportunity to return to compete in Formula 1, and with a team I know extremely well, was simply too appealing," says Kevin Magnussen himself.

"I really have to say thank you to both Peugeot and Chip Ganassi Racing for releasing me promptly – both are great organisations. Naturally, I also want to thank Gene Haas and Guenther Steiner for the chance to resume my Formula 1 career – I know just how competitive they both are and how keen they are to return to competing week in and week out. We've enjoyed a solid relationship and our positive association remained even when I left at the end of 2020."
"I've been briefed as much as possible on the development of the VF-22 and the potential in the package. There's work to do but I'm excited to be a part of it. I can't wait to get back behind the wheel of a Formula 1 car in Bahrain."

Original Article – Nikita Mazepin Has Been Dumped… But Who Gets His Empty Seat At Haas?
---
---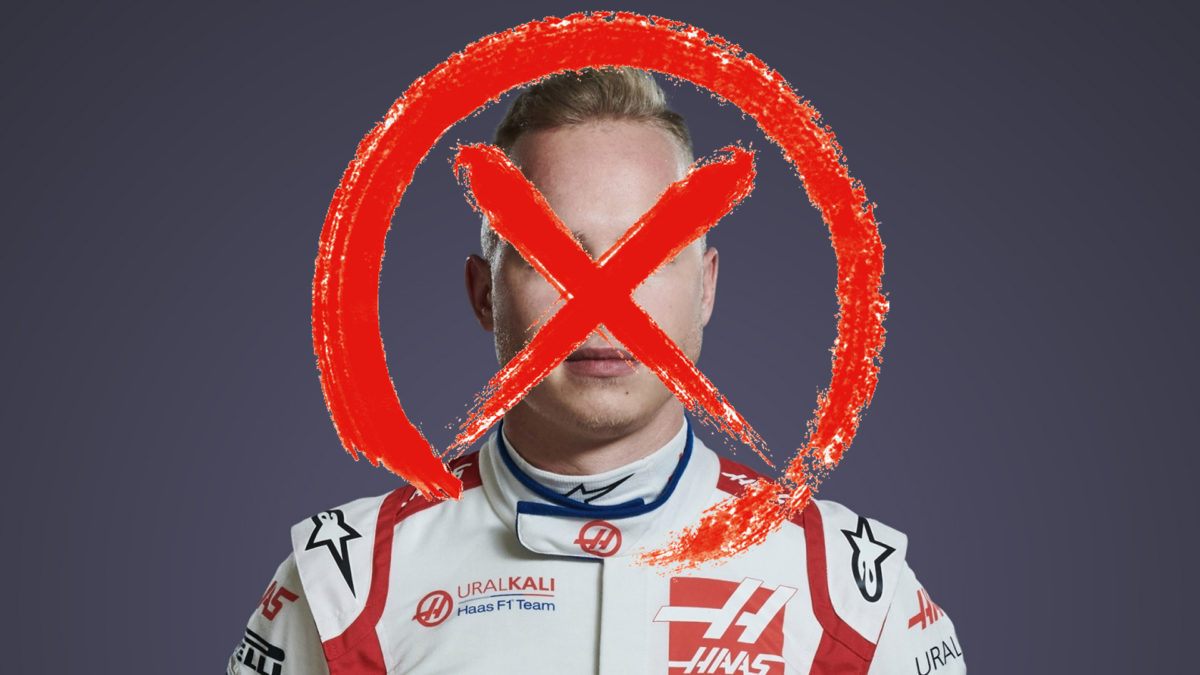 Like the rest of the world, Formula 1 has cut ties with Russia. As of last week, the motorsport's contract with the Russian Grand Prix has been scrapped while Russian competitors will only be allowed to continue racing under a neutral flag; agreeing to the FIA's principles of "peace and neutrality," in addition to acknowledging its commitment to stand "in solidarity with the people of Ukraine, the Federation Automobile d'Ukraine, and all of those suffering as a result of the ongoing conflict." The most interesting development, however, involves pay-to-play driver Nikita Mazepin, whose involuntary exit now leaves Haas in need of a replacement.

As per the official statement issued by the American outfit:
Haas F1 Team has elected to terminate, with immediate effect, the title partnership of Uralkali and the driver contract of Nikita Mazepin. As with the rest of the Formula 1 community, the team is shocked and saddened by the invasion of Ukraine and wishes for a swift and peaceful end to the conflict.
Shortly after, Nikita Mazepin issued a statement of his own:

Dear fans and followers, I am very disappointed to hear that my F1 contract has been terminated. While I understand the difficulties, the ruling from FIA plus my ongoing willingness to accept the conditions proposed in order to continue were completely ignored and no process was followed in this unilateral step. To those who have tried to understand, key eternal thanks. I have treasured my time in F1 and genuinely hope we can all be together again in better times. I will have more to say in the coming days.
RELATED: Max Verstappen Is Receiving A Monster Pay Rise From Red Bull
Granted, F1 pundits and fans alike have long anticipated this very outcome for the 23-year-old, albeit under slightly different, merit-based circumstances. Russia's invasion of Ukraine compounded by the fact his oligarch father Dmitry Mazepin is an associate of President Vladimir Putin himself only expedited the inevitable. As one (hilarious) Redditor has noted, the fastest thing about Nikita Mazepin has been how quickly Haas dropped him. Although it does raise a very pressing question that impacts the 2022 grid as a whole: who gets the vacant seat at Haas?
The obvious choice would be Haas F1 Team's reserve driver Pietro Fittipaldi, grandson of two-time Formula 1 world champion Emerson Fittipaldi, who has been linked with the seat by multiple publications. But if we open our minds to the less obvious, the possibilities are… interesting, to say the least. Here's who could be partnering Mick Schumacher at Haas this season (and how it might play out).
Nikita Mazepin Replacement: Who Will Now Drive For Haas F1 Team In 2022?
Scenario A: Antonio Giovonazzi Returns
Nobody was happy about Grid Jesus getting the boot to make room for F2's Guanyu Zhou. Giovonazzi had never been given a fair shake of the sauce bottle, but he's now (ostensibly) the best fit for Haas after young Fittipaldi. Both he and current Haas driver Mick Schumacher share the role of reserve driver for Ferrari. Ferrari and Haas maintain a close relationship, meaning it could very well be a straightforward pipeline, as well as potentially incurring "some added incentives from Maranello," according to ESPN.
Scenario B: Kevin Magnussen Returns
For some reason, every sports publication online seems to have a hard-on for Kevin Magnussen in this department. Probably due to the fact he's previously raced for Haas and left on "good terms" and would be a "natural fit." A key reason he was forced into retirement was, of course, funding. Which could also be an obstacle this time around. For the time being, we'll give him the benefit of the doubt.
Scenario C: Australia's Oscar Piastri Parts Ways With Alpine & Makes His Debut
Similar to Antonio Giovonazzi, Aussie prodigy Oscar Piastri copped the shit end of the stick when he was passed up by Alfa Romeo in favour of F1 debutante Guanyu Zhou. After all, in what world does a driver who wins the Formula Renault Eurocup, Formula 3, and Formula 2 championship in consecutive years – accomplished at the spritely age of 20, no less – fail to secure a promotion?
Signing with Haas would, however, require him to end his longstanding relationship with Renault/Alpine, as well as abandon his post as the Alpine F1 Team reserve driver. So who knows. Plus, like Kevin Magnussen, he simply isn't a substantial enough financial draw at this stage in his career.
RELATED: A New Formula 1 Team Might Be Hitting The Grid In 2024
Scenario D: Michael Andretti Bails Out Haas F1 In The 11th Hour, Introduces Colton Herta To The Grid
Michael Andretti, son of 1978 Formula 1 champion Mario Andretti, has been tirelessly angling for a way into acquiring a Formula 1 team these past few years, chasing the glory of that career-best P3 finish at Monza during his own F1 career with McLaren; as well as to complete the final price of his motorsports empire.
Last October, he came pretty bloody close to inking a deal with Islero Investments to take over Sauber and place his IndyCar driver Colton Herta in the series. Sauber, of course, runs Alfa Romeo. According to the IndyCar boss, last-minute control issues emerged, torpedoing the "advanced discussions." Andretti has since been making a bid to establish a brand new team (read more in the related link above).
As unlikely as Scenario D might be, it would kill two three birds with one stone for Haas: secure a fresh injection of capital, partner with an entity renowned for its impressive motorsport infrastructure, lock in a replacement for Nikita Mazepin. And keep in mind… none of us anticipated World War III, either. Anything goes in this whacky timeline of ours.
---
Haas is scheduled to announce its replacement for Nikita Mazepin early this week. Whatever happens, it'll surely make for an entertaining episode of Netflix's Drive To Survive season 5 (next year's instalment, not the one arriving to streaming queues this week).
---
---