1996. Happy Gilmore was facing insurmountable odds. Going head to head with the circuit's top star and his number one rival Shooter McGavin, Gilmore would need to overturn a four-stroke deficit on the back nine to secure his Pro Golf Tour Championship win.
This had all come so fast. Just a year prior, Gilmore was nothing more than a failed hockey player with a powerful slapshot – something that had oddly translated quite well into his unorthodox but effective putting style.

Under the tutelage of legendary former pro golfer Chubbs Peterson, Gilmore would soon storm the local circuit to earn a spot with the big dogs. Though this wasn't without its fair share of controversies, setbacks, and turmoil.
In the tradition of talented maverick athletes across several sporting fields like John McEnroe, or even Australia's very own Nick Kyrgios, there was the matter of professional etiquette which threatened Gilmore's career. So much so that Tour Commissioner Doug Thompson attempted to eject him from the tour altogether.

Gilmore would later engage in a public fistfight with beloved TV presenter Bob Barker during a celebrity pro-am tournament, effectively landing him a one-month suspension and US$25,000 fine. Gilmore would later claim there was a heckler who was hired by McGavin. This claim was never publicly verified.
---
---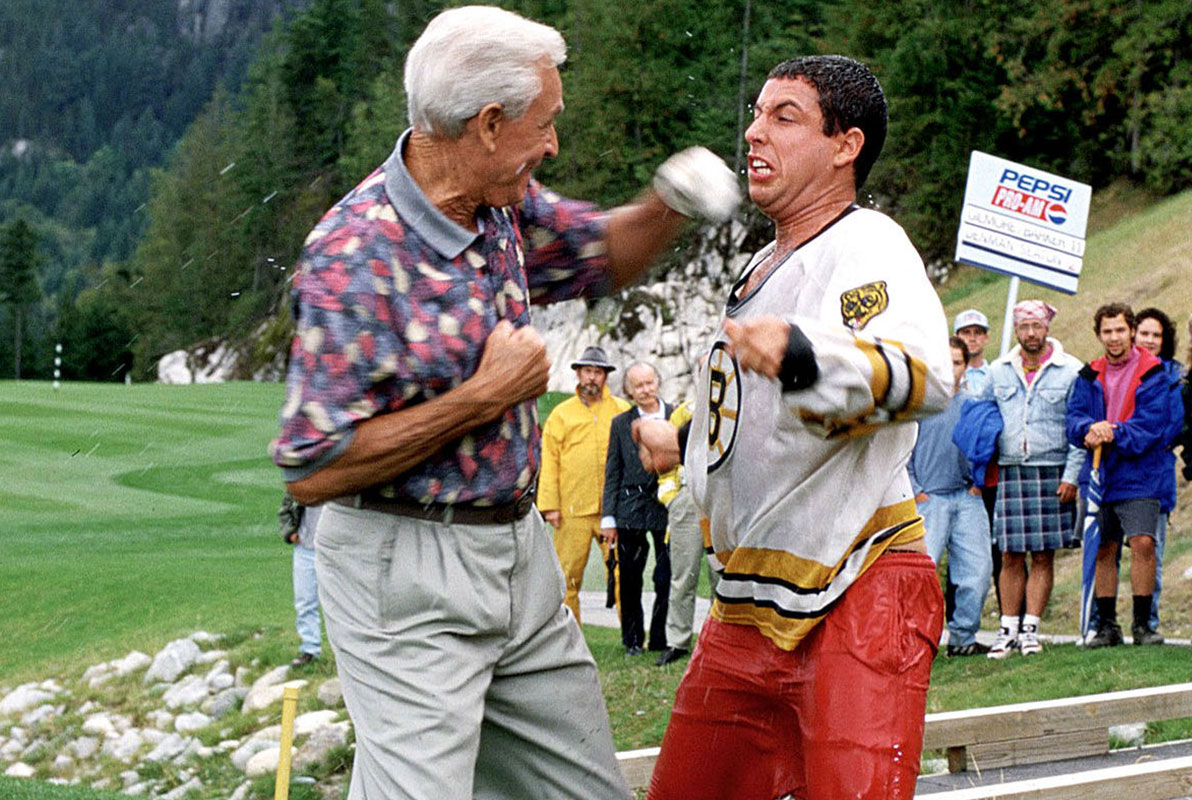 RELATED: You Can Now Buy 'Illegal' Golf Balls That Only Fly Straight.
And then there was the matter of personal tragedy. The recent passing of his mentor Peterson would be an unfortunate stain in this chapter of Gilmore's rise; in addition to the foreclosure and subsequent sale of his grandmother's home, adding financial strain to the mix.
Happy Gilmore's saving grace would appear in the form of the tour's public relations head Virginia Venit. Venit championed Gilmore, leveraging his incredible TV ratings, attendance, and sponsorship to keep him on board, going as far as to land Gilmore a deal with the now-disgraced sandwich shop franchise Subway.
Which brings us to the Championship in question…
Gilmore had played masterfully in the first three rounds, edging out McGavin in a decisive manner, until an on-course injury impaired the former's long-drive ability. To make things even more challenging, a tower had fallen in the final few minutes, thereby obstructing the green.
It all came down to this one moment. Gilmore needed to overturn a four-stroke deficit on the back nine. Make or break. Live or die. This is, of course, how sporting history is forged – in the flames of adversity and near-impossible statistics. Gilmore swung. The crowd held its breath. In a miraculous turn… he drained it clean.
---
---
Happy Gilmore had just become the new Pro Golf Tour champion.
The epilogue to this memorable golfing win, however, left a bad taste in the mouths of golf fans around the world. In an act of poor sportsmanship, Shooter McGavin refused to accept the defeat and made a grab for the golden jacket. He quickly drew the ire of the crowd that day, inciting an all-out brawl wherein McGavin was the primary target.
It turns out McGavin did, indeed, eat little pieces of shit for breakfast.