At this stage, it goes without saying that His Airness was – and continues to be – a completely different species when it comes to competition. But if you were to ask the six-time NBA champion, six-time NBA Finals MVP, 14-time All-Star, and undisputed GOAT what's the "hardest" sport to play, Michael Jordan wouldn't respond with basketball or even baseball. He'd hand that particular honour to golf.
"I kind of got into golf mainly because from a competitive standpoint, to me, it is the hardest game to play," MJ explains to Steph Curry.

"I can always respond to an opponent, defensive guy, offensive guy whatever but in golf, it's like playing in a mirror. You're battling yourself consistently to try to get perfection. Every swing. Every putt."
"For a competitive person like me, this is what keeps me sane. Because when I walk away from the game of basketball, that was enough to keep my competitive juices working."
---
---
RELATED: Inside Michael Jordan's Ultra-Exclusive Golf Club
"Now when I don't have that game, this game – and it even drives me crazy then. I go fishing in between my golf because I got to show patience in fishing that's going to be related to golf."
MJ's exploits on the green are (arguably) just as legendary as his accomplishments on the court. Where golf is a hobby for most, the billionaire principal owner of the Charlotte Hornets likes to quite literally put his money where his mouth is.
A few years ago, former NHL player Jeremy Roenick recounted the time he logged a cheeky day session with Michael Jordan on the course. As it so happens, Roenick and MJ met to play 18-holes and throw back a few cold ones right before the Chicago Bulls were scheduled to face off against the Cleveland Cavaliers. To make things more interesting, the two blokes thought it'd be a good idea to put some money on the action. The hockey player managed to best MJ. Unsatisfied with the outcome, MJ challenged him to another 18-holes – but to no avail.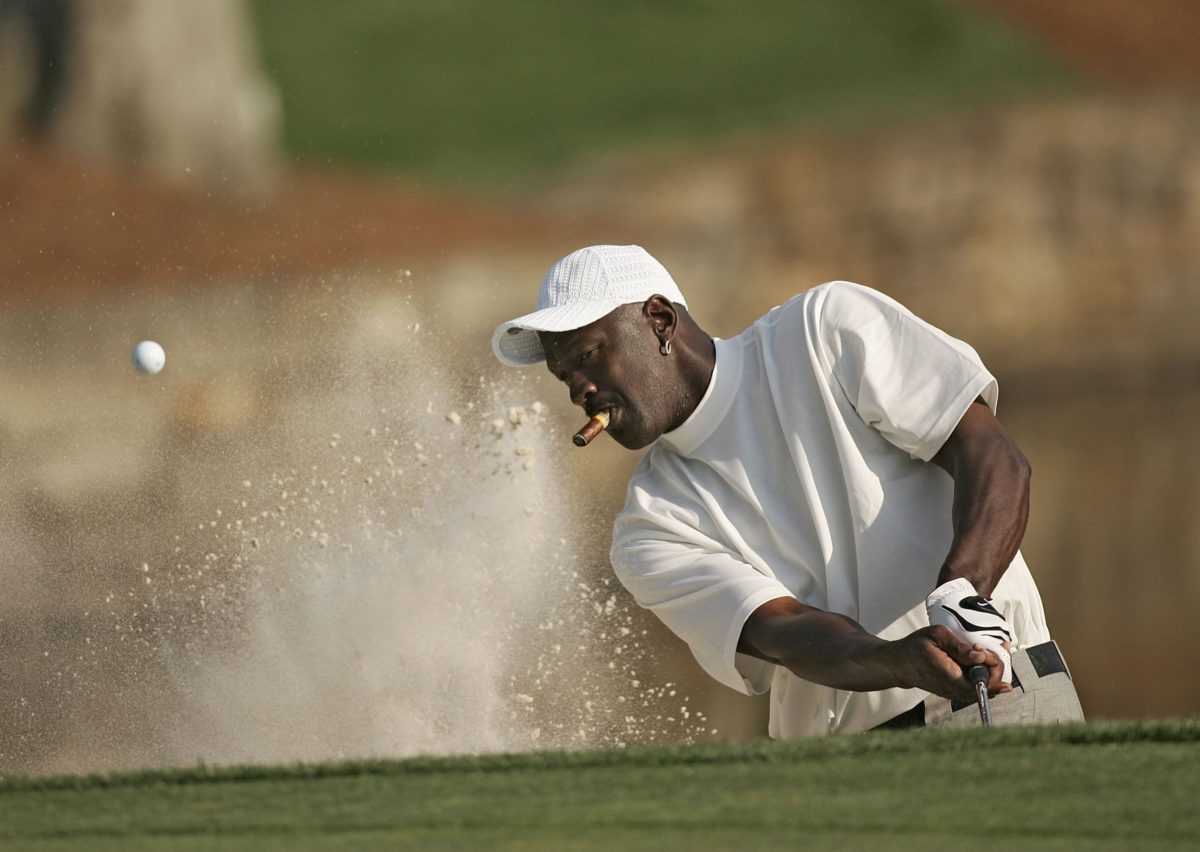 "Now we've been drinking all afternoon and he's going from Sunset Ridge to the stadium, to play a game," says Jeremy Roenick.
"I'm messing around. I'm like, "I'm gonna call my bookie. All the money you just lost to me, I'm putting on Cleveland." He goes, "I'll tell you what. I'll bet you that we'll win by 20 points and I have more than 40 [points]." I'm like, "Done."… Son of a gun goes out and scores 52 and they win by 26 points or something!"
This is where a dose of fact-checking becomes necessary. While Roenick never specifies which game the story revolves around, the closest fit to this incredible narrative would be the Chicago Bulls vs Cleveland Cavaliers game of March 28, 1992. Jordan never scored 52 as alleged, but he did sink 44 points (and right after being on the piss). This led to a decisive 126-102 victory against Cleveland with a 24 point lead, not 26. So while Roenick's version isn't entirely accurate, it did actually happen.
---
---
RELATED: 7 Times Michael Jordan Took It Personally
And then there's the time he bet US$300,000 on a single putt. Appearing on The Dan Patrick Show, Charles Barkley shed a little more light on what it was like playing golf with the man himself
"I've never been under more pressure, and I apologise to Michael for saying this. So we'd be playing golf with certain people for a couple hundred dollars a hole, nothing big. And he'd be playing some guy for US$100,000."
"He's like, "Charles, pick that up." I'm like, "This putt is for US$200." He's like, "Pick that up, Charles, get out of my way – you're in my line!" I'm like, "How much is that putt for?" He's like, "US$300,000." I said, "Let me get out of your line."… It was crazy man."
Check out Michael Jordan and Steph Curry in conversation about golf being the hardest sport, the Ryder Cup, basketball, and more below.