The PGA Tour's stranglehold on professional golf may be loosening, with the emergence of a controversial rival tour backed by Saudi Arabia known as the Super Golf League. While confirmed details are still quite sparse at the current stage, what's clear is a massive shakeup is on the immediate horizon thanks to the latter's £1.5 billion / AU$2.85 billion war chest.
Aussie legend Greg Norman is currently the face of LIV Golf Investments – the organisation behind Saudi Arabia's Super Golf League. The group has reportedly been siphoning cash into the Asian Tour as part of its strategic push to establish a presence within the sport's global stage.

Beyond Norman, no players have publicly announced their participation just yet thanks to some closed-door negotiations and iron-clad non-disclosure agreements (similar to the one signed by Lee Westwood). Although we can safely assume everyone from Tiger Woods to Nicolai Hojgaard has been approached. At least according to Phil Mickelson.
"Pretty much every player in the Top 100 has been contacted at some point."

---

---
… reveals Phil Mickelson, who himself is ranked #38 and is rumoured to have been offered US$100 million / AU$140 million.
RELATED: Tiger Woods To Receive $11 Million From PGA… Despite Not Hitting A Single Shot This Year
In terms of whether old Lefty is in the PGA Tour's camp or the latest recruit of Team Super Golf League, based on what the bloke said to Golf Digest at the Saudi International Tournament, we're willing to bet it might be the latter. History's oldest major winner previously fired off criticism in the PGA Tour's direction for keeping money away from athletes to line its own pockets.
"It's not public knowledge, all that goes on," says Phil Mickelson.
"The players don't have access to their own media. If the tour wanted to end any threat, they could just hand back the media rights to the players."
"But they would rather throw $25 million here and $40 million there than give back the roughly $20 billion in digital assets they control. Or give up access to the $50-plus million they make every year on their own media channel."
"For me personally, it's not enough that they are sitting on hundreds of millions of digital moments. They also have access to my shots, access I do not have. They also charge companies to use shots I have hit."
---
---
"And when I did 'The Match' – there have been five of them – the tour forced me to pay them $1 million each time. For my own media rights. That type of greed is, to me, beyond obnoxious."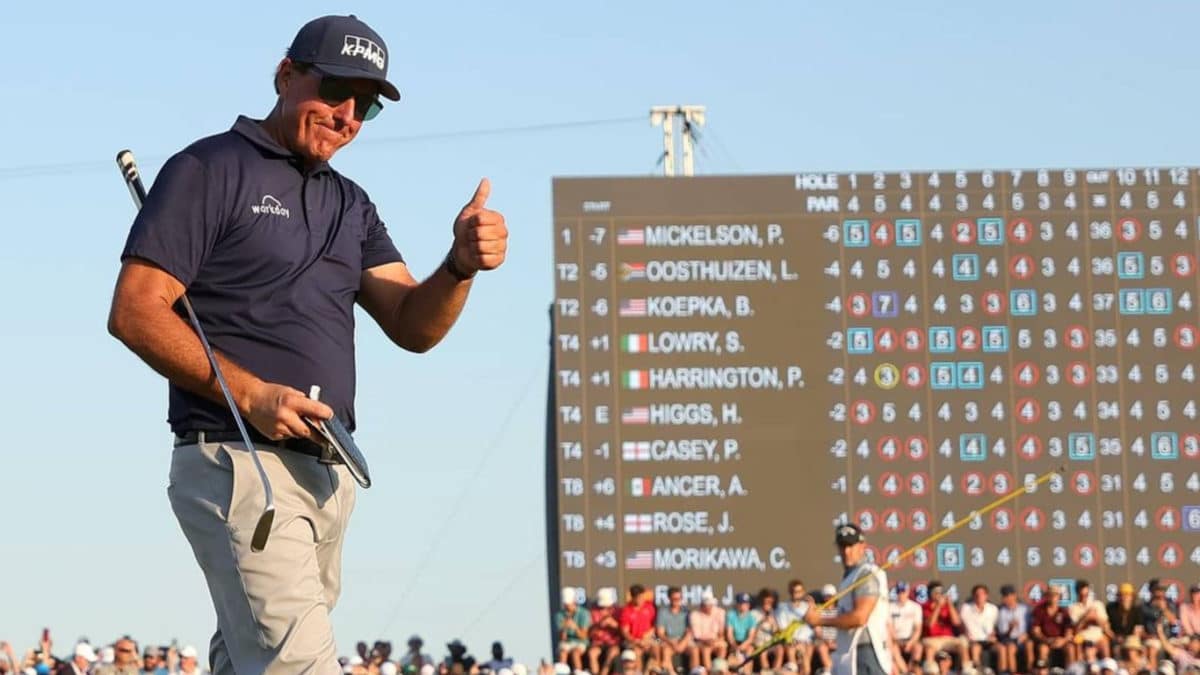 RELATED: Netflix Confirm Big Name Cast For All-Access 'Drive To Survive'-Style PGA Docuseries
Reports that Bryson DeChambeau was offered a staggering US$135 million / AU$189 million to abandon ship and joined the Super Golf League have since been debunked, with the 2020 US Open champion himself indicating the reports was "wrong." It did, however, raise an interesting point.
DeChambeau's total career earnings have only amounted to US$26 million / AU$36.5 million. Even if the PGA Tour commits to banning players for siding with Saudia Arabia's Super Golf League, theoretically speaking, someone like BD is financially set for life. For comparison, as the PGA Tour's golden boy and top earner, Tiger Woods' total career earnings amount to US$120 million / AU$168 million.
But as to whether we'll actually see golfers of Bryson DeChambeau and Tiger Woods' calibre make the switch? Both players appear to be on opposite sides of the proverbial fence. Here's what they had to say about the matter…
Bryson DeChambeau: "I'm not a politician. I'm a golfer, and I want to play where the best golfers in the world are going to play."
Tiger Woods: "I just don't want to go over there… It's a long way."
"Money does not talk in golf, it shouts through a megaphone," writes Rick Broadbent of Code Sports.
---
---
"But if players in the power struggle are now silenced by confidentiality agreements, they will have the final say in shaping the new landscape. Not so much pawns in this game but the kings, it seems fitting that it could end up in court."
Whatever the outcome, it'll definitely make for juicy Netflix content.