Everyone knows you're instantly 500% cooler wearing a pair of shades in the club because wearing sunnies in the dark aligns with the age-old adage: "You don't need to see anything when you're already blind." For this precise situation, Oakley has just re-launched one of its most iconic historical frames in the Sub Zero, which are the perfect companions for your next large night on the town.
The Oakley Sub Zero dates back to 1992, but was only in production for three years and was finally discontinued in 1995. Perhaps it's the unforgettable shape of the frames, or the fact that Dennis Rodman would have probably been a fan of them, but the Sub Zero's have earned a cult following over the last three decades.
As a part of a broader enthusiasm for the neo-vintage Y2K aesthetic, Oakley has chosen to release the glasses within the MUZM Collection, which is the brand's retro-inspired collection that takes heritage styles and infused them with the latest lens technology for the high-performing sesh gremlin.
---
---
RELATED: Oakley Drops The Final Boss Of Speed Dealers
Boasting near-identical frame dimensions, the 2022 expression of the Oakley Sub Zero features Prizm Lens Technology that acts to enhance colours and increase contrast for crystal clear vision. Without a doubt, you'll be able to spot the DJ's fingers dancing over the decks from the middle of the mosh pit.
In addition to cutting edge lenses, the late-night shades boast Unobtainium nosepads and earsocks that provide a no-slip grip, both of which are sure to come in handy in the likely case of perspiration. Oakley has overlooked no detail in ensuring you'll never be let down as you find yourself entering a second evening of enthusiastic excess.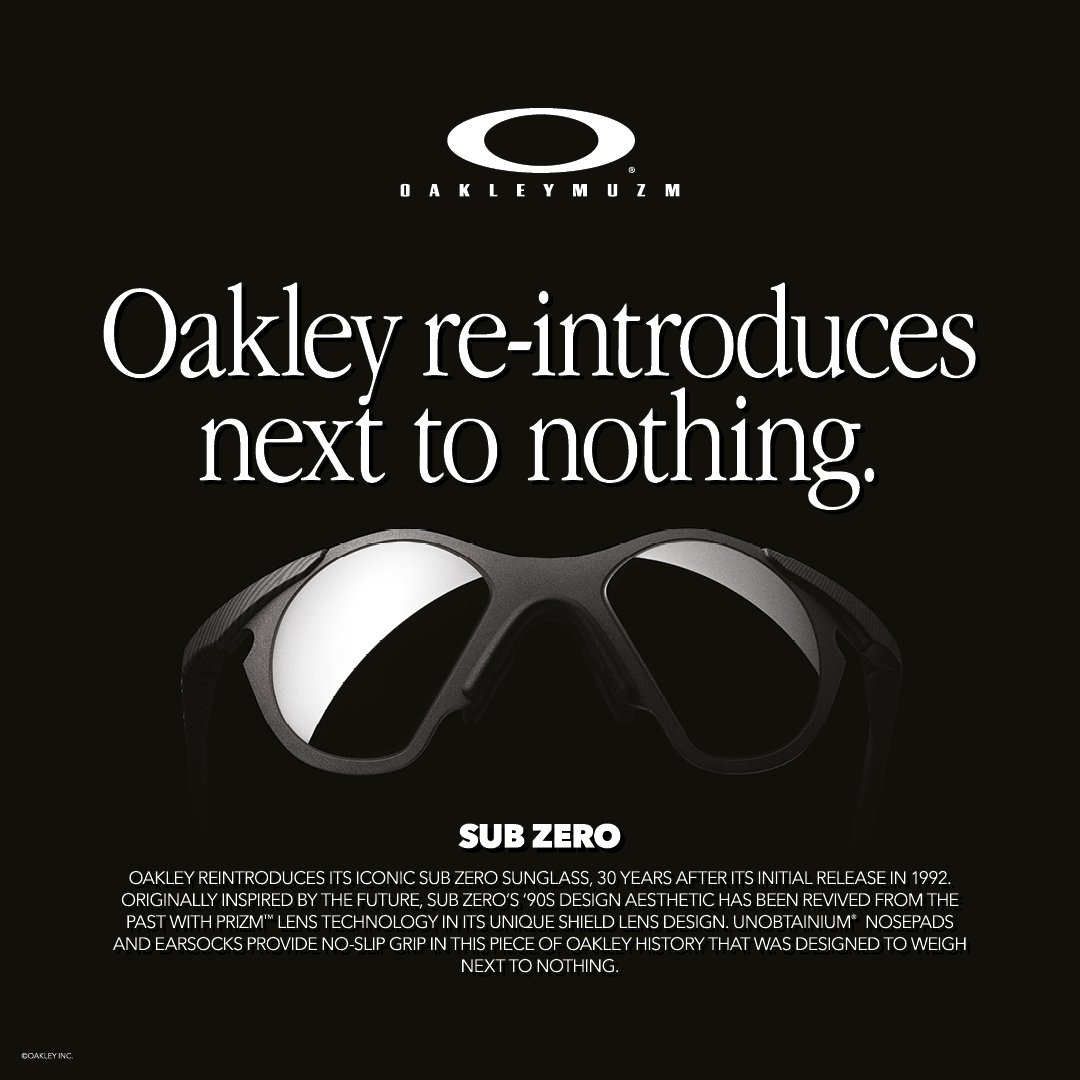 "In the '90s, Sub Zero didn't just break the mould of what sunglasses could look like. It changed the way they were made," said Brian Takumi, the Vice President of Oakley Brand Soul and Creative.
"Thirty years ago, Sub Zero set the stage for Oakley's next chapter, fueling an unprecedented era of success. Now, the re-issue sets the stage for what's to come in the future."
The reissued Oakley Sub Zero is currently available in a quartet of colours, with an RRP of $325. So if enjoy a night out for a good time, as well as a long time, make these a part of your regular outfit.