What's not to love about Aussie summer? Oh yeah, that's right, wearing a suit.
If this past winter was anything to go by, the upcoming spring and summer seasons are going to be absolute scorchers, and the last thing us gents will be keen to do is don a suit & tie.
Wedding season, spring carnival, work Christmas parties, you name it. We'll soon have our hands full with suit-worthy events while the mercury continues to climb into the unbearable 30's.
---
---
So the annual dilemma is upon us again, and it's time someone did something about it. Chances are you've seen the phrase 'cool wool suit' thrown around the menswear space. To be honest, to have the words 'cool' and 'wool' in the same sentence seemed counter intuitive to us, until M.J Bale invited us to debunk this myth ourselves with the ultimate endurance test.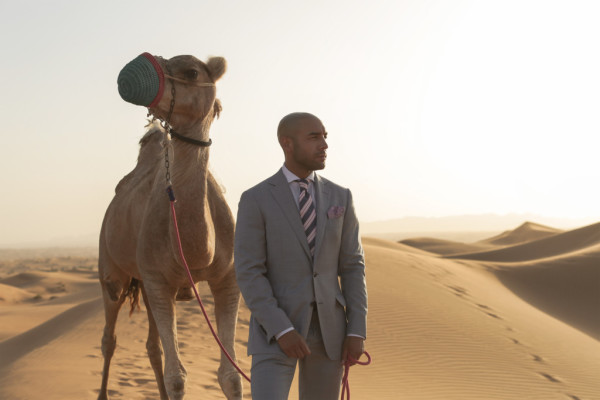 This coming Monday, September 4, Sydney-siders will have the same opportunity as us – to trial for themselves just how much heat one of M.J. Bale's cool wool suits can take. The world's hottest temperatures – from Rajasthan to Death Valley – will be simulated in M.J. Bale's Chifley Plaza store for guests to experience how breathable and durable the cool wool suit range can actually be.
As we write this, U.K. weatherman Alex Beresford is chasing these unbearable temperatures in real time, putting M.J. Bale's cool wool suits through their paces in the hottest locations right now around the globe.
You can follow along with Alex's escapades via the M.J. Bale Facebook page, or test the suit out for yourself in the very heart of Sydney until next Friday, September 8th before the heat manipulating change room takes the challenge to all Aussie gents nationwide.