While it's getting harder and harder for small businesses to make their mark in the current economic climate, luxury retailers are dominating the landscape as high-end brands continue to be in demand from consumers.
Deloitte, one of the largest accounting firms in the world, recently released their findings on the most powerful luxury brands in the world at present and why they continue to thrive. The report explains how brands are embracing the digital world to market and sell their wares and this is reflected by increasing sales. Consumers are also responding favourably to companies who are eco-friendly and provide humane conditions for their workers. Sustainable fashion is undoubtedly on the rise.
Deloitte's Global Powers of Luxury Goods list includes the 100 most powerful brands based upon sales, with the likes of Prada, Hugo Boss and Giorgio Armani all featuring in the top 25. But it's the top 10 that really counts, with these brands making up more than half of sales for luxury companies in the world.
---
---
The report found the average sales of each company to be in the vicinity of $2.2 billion a year, with the aggregate net sale of luxury goods from the top 100 companies an astonishing $217 billion a year. You can read more of the prominent statistics below.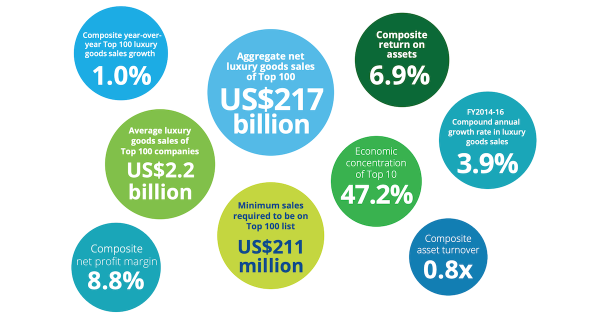 Of the companies comprising the top 10, unsurprisingly LVMH (Louis Vuitton, Moet and Hennessy), which includes brands such as Louis Vuitton, Marc Jacobs and TAG Heuer, took out the top spot, while cosmetic giant Estée Lauder and Swiss giants Compagnie Financière Richemont SA (brands include Cartier, Montblanc and Jaeger-LeCoultre) came in second and third respectively.
You can check out the top 10 below or find the full list of companies here.
1. LVMH (France)
2. Estée Lauder (USA)
3. Compagnie Financière Richemont SA (Switzerland)
4. Kering SA (France)
---
---
5. Luxottica Group SpA (Italy)
6. L'Oréal Luxe (France)
7. The Swatch Group (Switzerland)
8. Ralph Lauren Corporation (USA)
9. PVH Corp. (USA)
10. Chow Tai Fook Jewellery Group (Hong Kong)
RELATED: The 10 most valuable fashion brands in the world for 2019