As with all content that begins with 'best or top', 'best hair products for men' articles are a dime a dozen online, and ironically, are written by people who usually have no actual experience with the styling products in their own hair. Over the course of 2019 and 2020, we accrued a handful of hair products for men from a host of brands, so I thought I'd collect ten, including some popular additions from other lists around the web and actually test them all, one product a day over the course of 10 days and share my experience on each. Of course, I didn't end up doing 10 consecutive days but the format allows for the inclusion of more hair products as 2022 rolls on.
As a precursor, it's important to know that my hair type is quite long and I wear it combed back to reveal an aggressive receding hairline and shining forehead. I tried to choose as many Australian owned men's hair products as I could as well as a mix of formulas for different hair types, including creams for long hair, wax, textural clay, gels and pomades for readers with short hair, or men who want a styling product for a messier look. In all cases, I've applied the hair products to my hair after drying it with a towel, no more than 5 mins out of the shower, so still damp. It's also worth noting that the test began five days after a trip to the barber and spanned two weeks, so there was a bit more length at the conclusion – not that it affected the outcome.
My commentary on each of the tested hair products for men can be found below – listed in chronological order from the first tested.
---
---
Of course, you'll need to do a bit of experimenting yourself based on your hair type. Curly hair, fine hair, fine or thinning hair, damp hair, dry hair, wet hair, greasy hair, wavy hair, damaged hair – you'll need to consider the texture of your hair at the time you're using these products. Wet or dry hair has more of an effect on a lot of these products than most people realise.
For those of you who just want to jump straight to the rankings, here you go…
Hair Products For Men – Final Ranking
Seb Man – The Dandy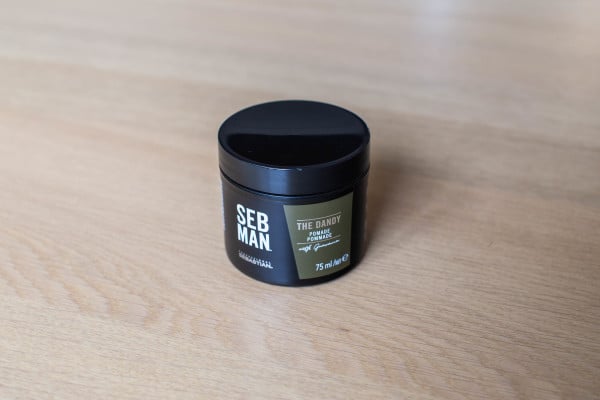 With a name like 'The Dandy' and a colour palette and packaging I find far from appealing, I didn't hold hopes high for this hair product but they say you shouldn't judge a book by its cover, even though that's exactly what covers are for. Unscrewing the tub reveals a creamy white pomade with a pleasant but indescribable scent. The formula is soft and sticky when rubbed into my hands and initially feels the same when it first graces my damp thinning locks. It soon acquiesces to my demands, softens and becomes an absolute dream to comb and style with characteristics akin to Brylcreem. You don't want a product that'll weigh hair down too much, so the lightness is certainly a big tick.
A little goes a long way and once combed, it looks voluminous and not overly shiny. It washes off with ease leaving no sticky residue whatsoever. Running my hands through my hair on my walk to the office I discover the dry product isn't stiff but smooth and soft, similar to having conditioner in it.
Impressive. Throughout the day the hair product holds its shape, even after some sweating. It also pulls up well after wearing my motorcycle helmet, maintaining some sort of volume instead of getting flattened into my scalp like other hair pomade products. A quick brush sees it back to the same pristine state my hair left the house in. I'm seriously impressed, it's one of the best hair styling products I've used, in fact, I may fob off the rest of this styling products experiment. It'll work best for short to medium styles.
Price: $25
Size: 75ml
Date: 15/01
Weather: High 26
KMS Hair Play – Hybrid Claywax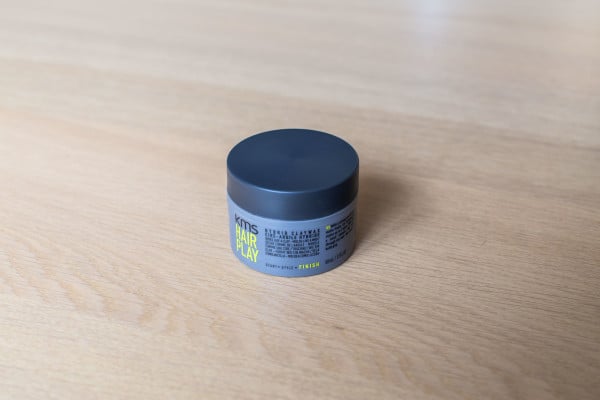 I don't know much about KMS men's hair products, I think it's a salon brand trying to make a play at the men's styling space. I enjoy the stubby little pot but I'm not so into the texture of the formula which is dense and very fibrous. You've really got to push your finger into it and then make sure it's evenly distributed around your hands before you apply it to your hair. I do this twice to get enough paste to tame the shrew, but feel as though the majority of the product has landed in only two spots of my hair, where my hands landed first. It's not a nice feeling and requires a solid scrub to remove from my hands. I opt for quite an aggressive brush and pull it through the product and it brushes quite harmoniously in the end with a matter finish than yesterday. My hair is looking flatter, however, with a few rogue strands falling from the top of my scalp.
---
---
At 10.30, I give it a brush with a Quiff Roller and it sits up a bit more but feels and sounds like I'm combing a Japanese rock garden in the process. Interestingly, my hair feels softer for the effort and appears more natural than when I left the house. By 3, the KMS Hair Play has dried and the strands on the side of my hair are getting unruly, requiring a bit of water to be stuck back down – perhaps it's more suitable for shorter hair. It hasn't been a bad experience but I won't be using KMS hair products again.
Price: $32.50
Size: 50ml
Date: 16/01/2020
Weather: High 25
Redken Brews – Outplay Texture Pomade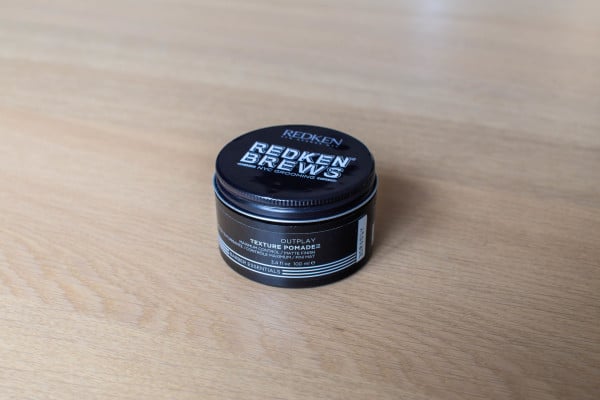 Redken Brews Outplay Texture Pomade is another fibrous formula that makes me reflect more honestly on yesterday's very 'meh' hair product. It's softer than the KMS, you require less of it and it spreads with more ease, onto your hands and into your hair. Once worked into the hair it combs and styles more like a cream but has a matte finish, which is right up my alley.
I cop a bit of rain on my walk to work, then an hour of perspiration as we rearrange the office and I mop the floor, but the Redken Brews isn't phased. I gingerly run a brush through it before heading off to lunch at Cho Cho San – and I'm looking good if I do say so myself. Post lunch, it has lost its way a bit but is easily manoeuvred back into place with a flick of my hairbrush.
I certainly wouldn't call it maximum hold as the description states (probably medium hold for most men's hair – perhaps my hair type wasn't agreeable) but I'd definitely give this or another Redken men's hair product another run, especially if you can find it on sale for $15.99, as I did.
Price: $32.50
Size: 100ml
Date: 17/01/2020
Weather: High 22
EVO Hair – Casual Act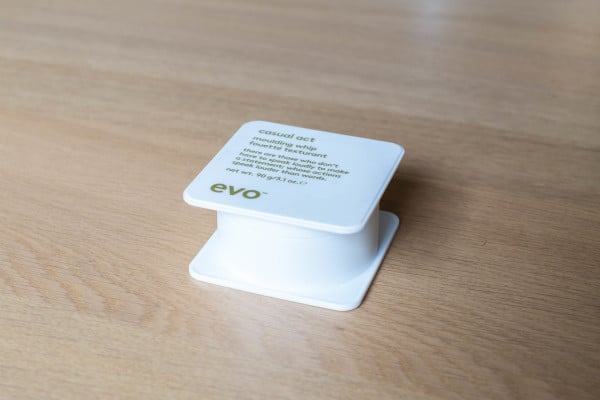 Evo Casual Act feels like I'm putting my finger into a really wet panna cotta and it smells incredible. I feel distinguished, as if I'm in a posh spa or overnight in a Mandarin Oriental hotel, in a robe. Gosh, this smells good. Shame I dislike the packaging so much.
The hair product works easily into my palms and hair but initially clumps together. I don't love it to start but it brushes without a problem and styles well, supporting a fair amount of lift at the front with a matte finish. It dries harder than any of the previous products, and while it doesn't appear set (it actually looks very natural), it feels like it, with firm – bordering on crunchy strands – which I'm not a huge fan of for my hair type.
---
---
By 1 pm my dry hair is practically devoid of the hair product – granted it's a muggy day with a bit of rain but it hasn't endured any harder conditions than the Redken yesterday. If I was going out this afternoon/evening I'd either need to apply more or require a new product altogether, which is a damn shame because the sweet aromas are still lingering. Definitely the most disappointing performer so far.
Price: $28.50
Size: 90g
Date: 18/01
Weather: High 23
American Crew – Grooming Cream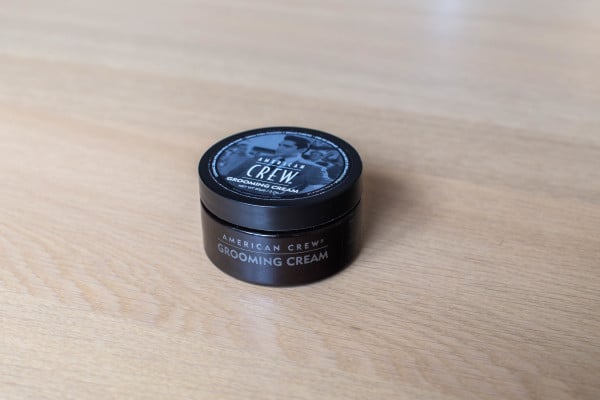 Disclaimer here, I've used American Crew Fiber and American Crew Grooming Cream numerous times but I've never approached a day of use with the goal to comment on it, so I thought I'd include it anyway. Let me start by saying that I literally have night terrors thinking about rubbing this product into my hands. It is SO sticky and thick, almost a Manuka honey, far more of a wax or paste than a cream. As I type this at 10:53 am, I fear it's still on my hands, and I'm beginning to doubt if all of the water in all of the oceans would be able to wash my hands clean.
Understandably, it's sticky when it first hits your hair, pulling aggressively at strands but it quickly relaxes and is suddenly agreeable. I run a wide bristle brush through it first to pull it into line, then a finer comb to finish with pleasing results despite it looking a tad greasy. By the afternoon, rogue curls have begun to separate from the pack and it's looking greasier than this morning but the American Crew Grooming Cream has held up pretty well – perhaps this is why I continue to use it.
I don't love this men's hair product but I certainly don't hate it and being American Crew, you can find it cheap. At the time of writing, I found one online for $16.92, making it arguably the best cheap hair styling product on the market.
Price: $28.50
Size: 85g
Date: 20/1
Weather: High 27
Patrick's M2 – Styling Pomade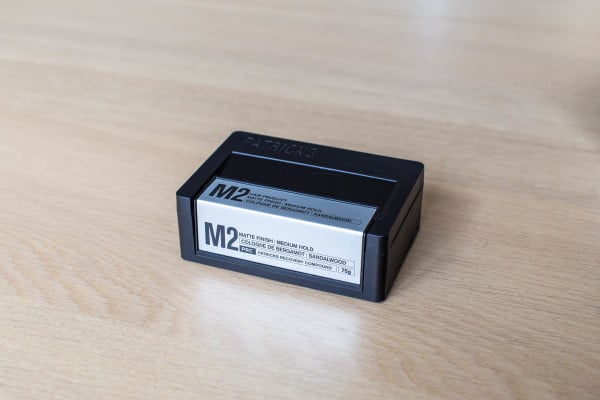 Today I'm using Patrick's M2 Matte Styling Pomade which, as you might have guessed, offers a matte finish. I've used the M1 in the past which is, arguably, the better solution for long hair but thought I'd opt for the M2 here because it's a bit more versatile with medium hold for readers with short hair. The packaging is the clear leader in the men's hair brand realm and the bergamot and sandalwood formula smells fresh and fantastic. The soft putty scrapes easily onto the finger and emulsifies with ease into the palms. I apply but stuff up the distribution and rub clump into the right side, fortunately, it combs out and I don't require a restart. I use a fine comb to fix the issue and it looks great.
I walk up the street to get lunch. In 30-degree heat, the M2 in dry hair isn't phased by the light perspiration. As the afternoon progresses the M2 holds steady and at 6.45 pm cops a 'your hair has held up well today' comment from the lady friend who knows I'm testing different hair products and practicing with heat styling and hair styling tools. I concur, despite it looking and feeling a tad greasy. A solid day's work from the M2 but a potential stretch on the finances at $60.
---
---
Price: $60
Size: 75g
Date: 21/01/2020
Weather: High 31
Truefitt & Hill – Circassian Cream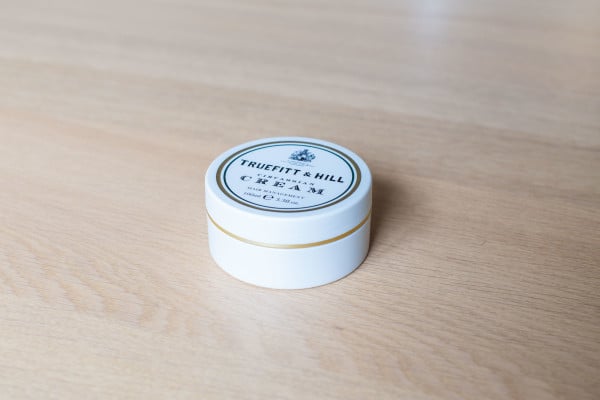 What is Circassian Cream you ask? I couldn't tell you – and strangely – the Truefitt & Hill website can't either. I fear the worst with this hair product even before I open it, a real 'all the gear, no idea' contender – maybe it's the gold accents on the tub trying to justify the price. The product has a viscosity akin to a moisturiser but feels almost gritty as it pushes through my hair. There's not a lot of control but it's cooperative to comb and styles well upon completion.
From there, things go a little pear-shaped. The front of my hair dries quicker than the rear, which resembles rock hard, free-spirited clumps. There are stray singular hair strands above my forehead that look like I've attempted to pluck them. By the time the hair spray softens the back, all my hair feels dehydrated and leaves an unpleasant coating on my hands. I wash them for a second time and remind myself not to touch my hair again. By 2.30 pm it has virtually evaporated, much the same as the EVO, except this hair one costs more and doesn't smell as nice. Give it a miss whatever your hair type.
Price: $51
Size: 100ml
Date: 22/01/2020
Weather: High 28
Hanz De Fuko – Scheme Cream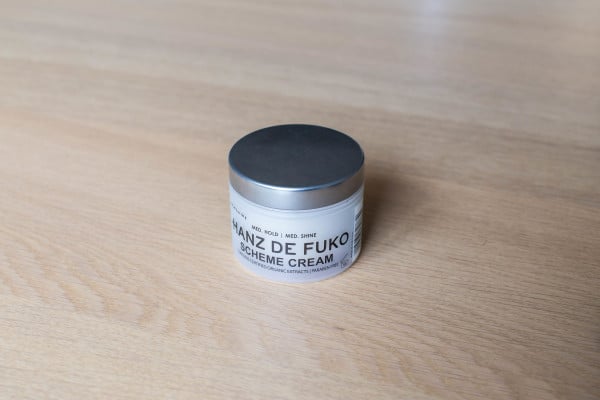 I've heard a lot of good things about Hanz De Fuko's styling product, so I opt for their first formula Scheme Cream, which I later read is a good 'pre-styler'. It arrives in a small pot that you'd be happy to display on any shelf in your bathroom. There's a hint of vanilla on the nose, and, continuing the butter analogy, wipes onto the finger like a Lurpak that has been left in the sun – much softer than then Imperial hair product. It is low shine and very similar to the Imperial in how it distributes, combs and styles which is interesting, although it doesn't feel as firm in its hold. In fact, it's very similar to the Imperial in a lot of ways, except it feels and looks more natural and I didn't wash my hands after applying.
Aside from a quick photo shoot, I spend the whole day at my desk so don't put the hair product through any real challenges in the heat, apart from my stroll to the office early. By 6.30 pm I'm at the pub and Jack comments that my hair is looking the best he's seen it throughout the trial. In the bathroom I have a quick look in the mirror and agree with Jack's opinion, my hair looks remarkably abundant for so late in the day, with just enough quiff upfront to resemble a young Alain Delon. I can't see this one leaving my shelf.
Price: $29.95
Size: 56ml
Date: 24/01/2020
Weather: High 30
Imperial – Classic Pomade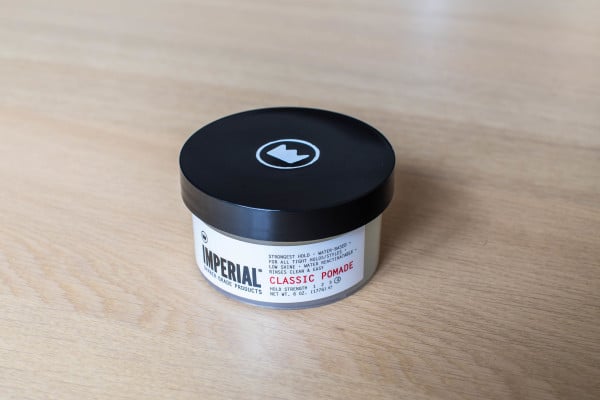 After being bedridden with a ferocious illness for the better part of the long weekend, I was determined to start the week with a new lease on life and my hair. Imperial's Classic Pomade had come recommended from a friend, and while we often clash on opinion, I hold his hair product-related opinions in high regard. First thing you'll notice is the huge 177g tub – aka VALUE.
---
---
If you've ever pushed your finger into a firm serving of butter to grease a baking tray, you'll have a fair idea of this clear pomade's consistency. It applies and emulsifies with ease, disperses with ease and combs, you guessed it, with unbelievable ease. As the day progresses it remains malleable. While it looks high shine with dry hair, at no point does it feel crisp to touch. It also doesn't appear overly maintained, like I paid my hair too much attention before I left the house.
Whether you use a hand, brush or comb to manage your hair throughout the day, it maintains shape and lift while assuring a cool but nonchalant aesthetic with a medium hold to high hold. I perspire while cooking dinner in my shoebox of a kitchen and the product begins to dilute and my hair to curl. To give the Imperial Class credit, it's 8.30 pm – it has performed without fault for my hair type. Hands down the best of the hair products I've used thus far.
Price: $35
Size: 177ml
Date: 28/01/2020
Weather: High 29
MR MUK – Flexible Hold Grooming Cream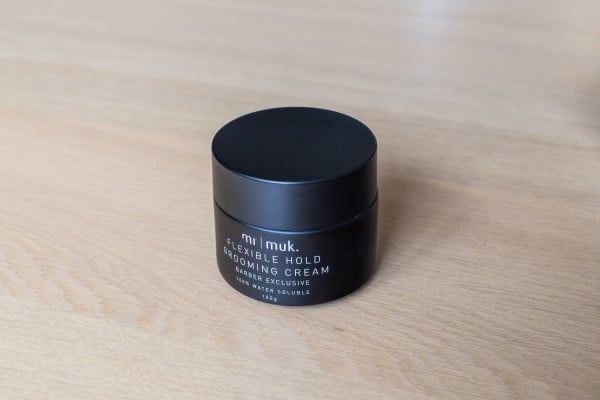 MR MUK flicked us a handful of assorted men's hair products some time ago and the boys have gotten around it hard. I chose their Grooming Cream to feature in this trial although I did rub a bit of their Gritty Finish Paste (which John uses for his much shorter hair) through my hair late last year and enjoyed that too. It is very sticky – so sticky in fact I find a couple of strands of hair stuck to my palm when I go to wash my hands – I am balding aggressively to be fair.
It has clumped the hair a bit which I find frustrating, definitely needed some additional emulsification. Once combed and styled, it drys brittle with low shine but then softens and mattes out by mid-morning. It's agreeable for the rest of the afternoon, although it certainly feels dry as the day progresses. I shower before heading out that evening and opt for a little Seb Man – not a great sign but at $28 it's definitely worth a try if you can find at your local barber.
Price: $28
Size: 100ml
Date: 30/01/2020
Weather: High 28
Tucker Browne – Thickening Texture Lotion & Dust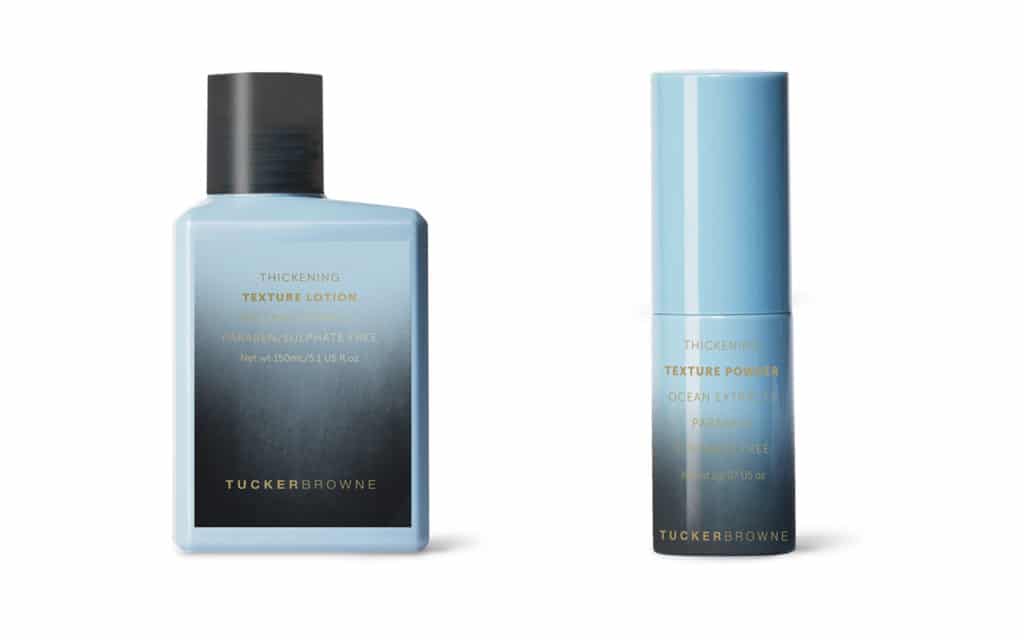 It has been almost six months since I added to my list of tried and tested hair products for men, however, I thought after a great day in the hair last week, that I'd include the Tucker Browne Thickening Texture Lotion & Dust combination. The Tucker Browne kit was recommended and supplied by my pal Matt who runs Barber Supreme in The Rocks and arrived as a single package with the two products, designed to be used together.
I massage the texture lotion into my scalp, give it a comb, then add the thickening dust and use the quiff roller to try and give the illusion of volume. The first time I used it I wasn't convinced, although the rain most definitely played a part – then last week I gave it another run and the results were far more pleasing. The oil is, as you'd expect, runny, so distributes easily into dry hair, if not a bit messily but quickly becomes soft to touch and a breeze to comb. Adding sprays of the dust increases the stickiness of the hair – providing the lift – and needs to be brushed as soon as it is applied before it drys. Once dry, it's a tad springy and isn't all that pleasant to touch but it looks great, sitting up all day. At almost $80 for the set, it's not an everyday solution on price but nor is it on performance. It's not a hair gel or hair wax – rather the ideal styling product for a night out or event.
---
---
Price: $36.50 Lotion & $39.50 Dust
Size: 150ml & 2g
Date: 04/06/2020
Weather: High 17
Some of these hair styling products were sent to us, others were purchased for this test. Rest assured, gifting of hair products didn't influence our reviews.
RELATED: 5 Common Mistakes Blokes Make With Their Hair (And How To Easily Fix Them).