It hasn't even been a year since its debut, but one of the best men's perfumes in recent memory, Issey Miyake's instantly iconic Fusion D'Issey, has officially levelled up. Energetic, vital, fiery – the distinctive Aromatic Fougere fragrance was immediately hailed as stroke of genius from legendary Master Perfumer Nathalie Lorson. Now, it takes on a new life with the release of the Issey Miyake Fusion d'Issey Extreme Eau de Toilette.
The brand new Eau de Toilette is another on-point production from Lorson, who has taken the original's visionary inspiration of volcanic fire and ethereal ice and given it a huge twist.
As per Fusion D'Issey's rather dramatic description of the new men's fragrance, d'Issey Extreme takes on the mantle of "underwater volcanic eruptions", dipping down from its predecessors pyroclastic disposition and offering a scent built primarily around a mineral solar accord.
---
---
Whereas the original Fusion D'Issey opened with tops notes like coconut milk, fig nectar, and lemon, the Extreme iteration opts for a grand introduction of bergamot and cardamom. Heart notes play similarly to the predecessor, with coconut, mint, lavender, solar notes, and mineral notes coming through. After the dry-down, expect those deep, woody base notes of sandalwood and patchouli.
RELATED: Everything You Need To Know About Men's Fragrances
The Extreme appears to slim down the profile and focus on cooler notes, combined with some heat for a bit of dynamism. According to the official description, Fusion d'Issey Extreme Eau de Toilette plays on either side of that central solar accord with the freshness of cardamom and bergamot, set against the intensity of volcanic woods. As such, the new extreme fragrance should be as appropriate for the winter as it is for the summer.
Lorson has described her creation as a "graphic fragrance", produced to align with the brand's DNA by celebrating nature as much as technology. The solar, mineral signature is what pushes the fragrance forth into something new, but as per Lorson, "it's that minerality that plunges you into an underwater volcanic world".
And while the imagery may sound like typical perfumery marking, Lorson has actually expressed it quite well.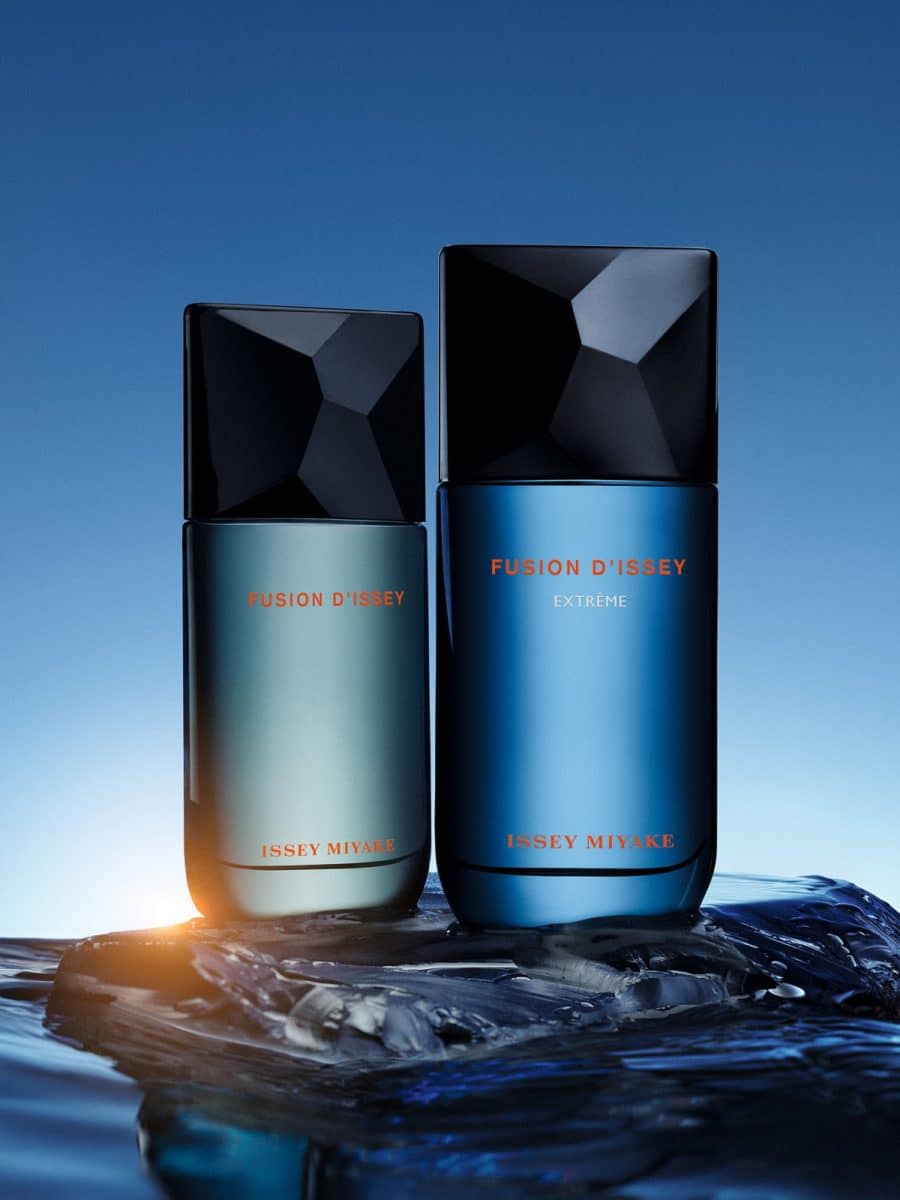 In describing the difference between the Issey Miyake Fusion d'Issey Extreme and its original, the prolific perfumer says she intentionally worked with "cooler" spices – like cardamom essence, ginger essence, and peppermint essence – for pure, sharper profiles, to play heavier on the cold side of the hot-cold contrast. The coconut water was given more texture and depth here than in the original, creating an airy coolness that's anchored by the sandalwood and patchouli finish.
"That's what I wanted to convey in the scent… as if magma was flowing into very cold water".
---
---
Again, it's of course an elaborate story, and like all great perfumes, the vivid imagery is ultimately what sets it apart when one is browsing for a new men's fragrance. But to Lorson's credit, it sounds like a journey you'd absolutely want to emanate from your pulse points. For the man looking to stimulate one of the most powerful and attractive senses there is, this kind of dynamism and contrast is exactly what's needed.
Issey Miyake Fusion d'Issey Extreme EDT has now launched in Australia and is available at Myer and David Jones for $116 (50ml) and $158 (100ml).