Two Aussie icons have joined forces to bring something that can only be described as aggressively fair dinkum – Victoria Bitter Thongs.
Reportedly the country's only certified 100% "Australian Made" thong currently on the market, this little piece of pub chic Australiana drops just in time for the long weekend. And as you'll soon find, they're practically built for the sesh in more ways than one.
The thongs will obviously appear in the classic green, red, and white colourway of the old Victor Bravo – they'll even feature the beloved beer brand's slogan on the straps: "A hard-earned thirst needs a big cold beer".
---
---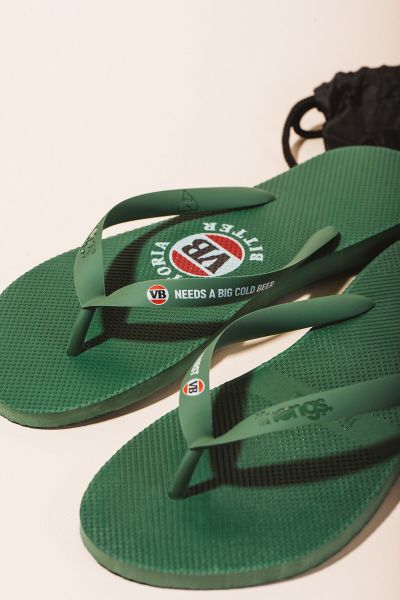 As an added bonus, these thongs are apparently built a little tougher than your average Kmart options. Cut from premium rubber, they claim to be "strong enough for a game of frisbee at the park" as well as being "comfortable enough for a session at the pub."
The thongs also come with a VB branded carry bag as well as a 12-month no breakage guarantee. In other words, you won't need to worry about a blow-out during your backyard cricket shenanigans this long weekend.
"Working with VB, a brand synonymous with hard-working Australians, was easy," says Scott Jungwirth, Director of Thongs Australia.
"As well as being iconic, our main inspiration was creating thongs that were tough. We were sick of our
old ones breaking all the time."
"VB thongs are the perfect accessory for the Australian summer," says Hugh Jellie, Associate Director of Victoria Bitter.
"Thongs are proudly manufactured in Australia, supporting hard-working Aussies, [making] them the perfect partner for us."
The VB Thongs are now available exclusively at the VB merchandise store found at victoriabitter.com.au for $45.
---
---