The Jacob & Co Bugatti Chiron Tourbillon has just kicked things up a notch in the world of sports car themed horology collaborations. Comprised of 578 hand-assembled parts, this timepiece will be sure to turn heads and raise eyebrows with more than its staggering price.
Behold: a luxe bit of wrist fashion that actually houses a working reproduction of the Bugatti Chiron's W16-cylinder engine – moving pistons, crankshaft, and all.
Just marinate on that concept for a moment. The functional engine of a Bugatti Chiron recreated and miniaturised for a watch. And at the press of a single button, all sixteen pistons are set into motion within the cylinders of an equally functional/miniaturised crankshaft. Which only goes to show – even in the realm of high-end tourbillion – there's levels to this game.
---
---
RELATED: Drake's Jacob & Co. Timepiece Features A Working Roulette Wheel.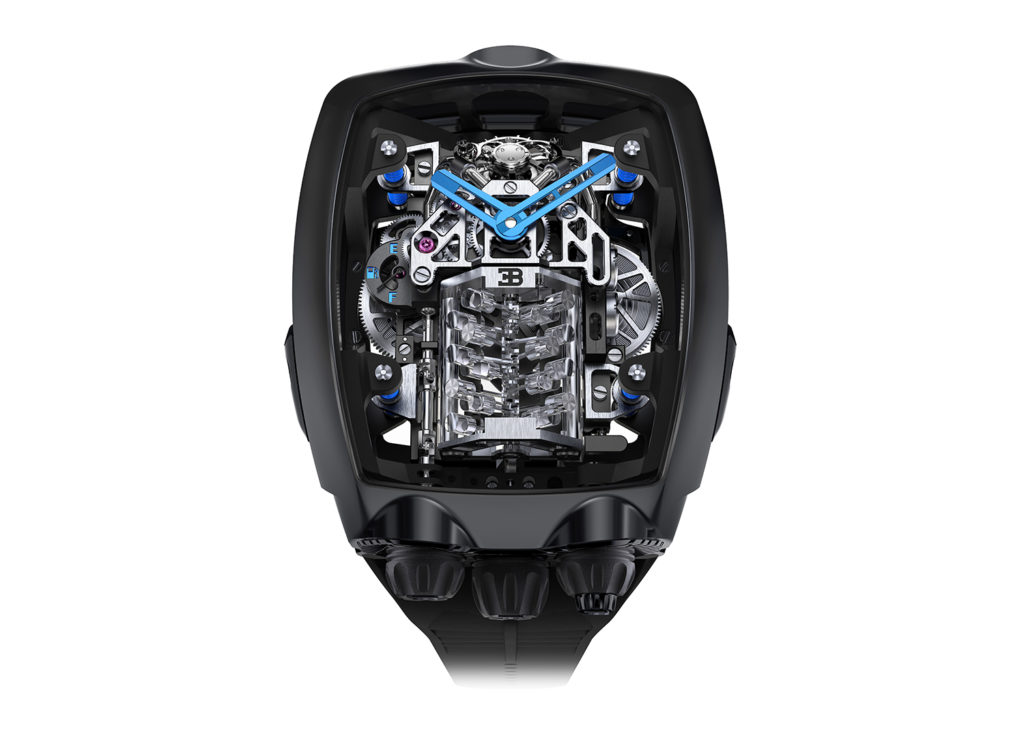 To give you more of an idea about the scale of this achievement, it reportedly took three days to program the CNC machines for production of the miniature crankshaft alone – in an effort to ensure the tolerances are precise. None of this, however, serves any horological purpose. Merely adding to the value of visual craftsmanship.
Consistent with the whole idea of the Jacob & Co Bugatti Chiron Tourbillon being a car on the wrist, even the movement's power reserve capacity is indicated via a fuel tank gauge at the three o'clock position. Placed between "Empty" and "Full" markers, the movement itself has a total power reserve of 60 hours.
According to Robb Report, the moving engine animation has a duration of twenty seconds and can be activated three times before the mainspring needs to be rewound.
This collaboration will be limited to 250 pieces. Those of you considering one should have a spare US$280,000 on hand.
Check it out in action below.