Oktoberfest is rolling round, and the festivities are about to kick off in a big way. German airline Lufthansa, for one, is tapping entire kegs of draft beer on their flights– the first time in fifty years.
This special in-flight keg service is set to return starting September 19th on the Munich to Newark flight. Lufthansa in-flight beer kegs will continue to be a real life thing on September 25th from Munich to Singapore. The Munich to Shanghai flight set to take off on October 6th will mark the last Lufthansa keg flight for the year.
To make this all possible at this altitude, Lufthansa has commissioned for the design of a special keg complete with a valve that regulates carbon dioxide pressure so it doesn't, how do I say this, "explode" (not a great word to use when talking about air travel, I know).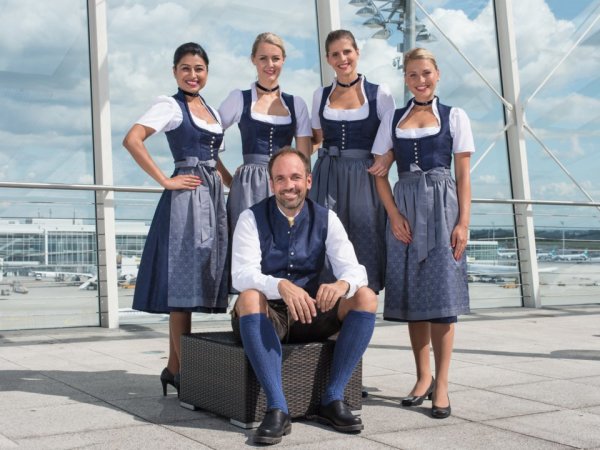 You think that's extra? Well think again. In order to fully lean into the Oktoberfest celebrations, Lufthansa cabin crew on these keg flights will be required to trade in their regular navy and yellow uniforms for a traditional Bavarian get up (in dark blue and silver gray). Munich clothing specialist, Angermaier, has been tapped by the airline to design custom dirndls for the women and lederhosen for the men. Lets all take a moment to acknowledge that cabin crew don't get paid enough as it is, let alone for these kind of shenanigans.
Outside of these limited flights, Lufthansa Business Class passengers on international flights from September to October will be able to experience a special Oktoberfest menu, featuring such items as "… ox tartare with truffle…" and "… char with riesling sauce…", with Lufthansa Lounge at Munich airport serving the likes of pretzels, white sausage, and something called Leberkäse (a German meatloaf).
For those of you lucky enough to get in on this, congratulations. You're living your best life. As for the rest of us, maybe one day.