Netflix has doubled down on being the organisation which throws buckets of money at stand-up comedians by putting together a completely stacked festival.
With such heavyweight acts like Dave Chappelle, Kevin Hart, Jamie Foxx, Bill Burr, and more on the lineup – this one promises to be a certified hitter.
---
---
The festival – branded as Netflix Is A Joke Fest – will take place over the course of a week in Los Angeles, bringing all of comedy's biggest names to centre stage.
But the fortunate attendees of this monster event can expect more than just a tight fifteen from these modern-day philosophers. The event will also play host to live podcast recordings, exclusive screenings, and "more". Though currently, the "more" has yet to be specified.
The Netflix Is A Joke Fest will also include a ceremony to induct legends of the past into the Comedy Hall of Fame. Veterans such as Chappelle, Hart, Chris Rock, Jerry Seinfeld, and Sarah Silverman are set to honour the late Robin Williams, Joan River, George Carlin, and Richard Pryor.
Check out the full lineup below: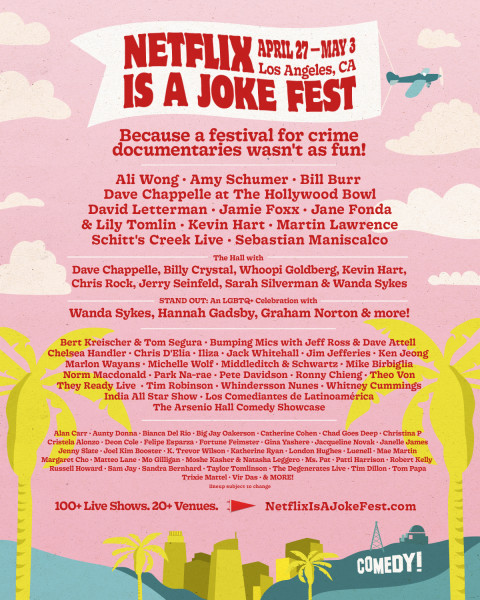 Want to find out more? Head on over to netflixisajokefest.com.
RELATED: That Time Jack Nicholson Punched Too Many Cones & Needed Robin Williams To Do His Acceptance Speech.