Chances are, if you've travelled internationally at any point in life, you've crossed paths with James Bond.
Not literally, of course, but for a franchise that is about to mark six decades of weaving itself into the cultural fabric of society, there are few corners of the world yet to be visited by the enigmatic 007 across his 25 official films.
Exotic, enchanting and evocative are just a handful of prerequisites when characterising any Bond filming location. You've probably strolled the iconic streets of London's Whitehall, but have you spent the night in a centuries-old cave in the Italian town of Matera?
---
---
No Time To Die was the final chapter in Daniel Craig's tenure as the globe-trotting British spy and no doubt overdelivered on the locations front. Some we'd seen before, others were dramatically introduced to us in cinematic fashion courtesy of director Cary Fukunaga and cinematographer Linus Sandgren.
From Norway to Jamaica, locations that would soon become synonymous with our travel wish lists jumped out of the screen with an aura that was more Hollywood than ever before. For an audience that has largely been grounded for the better part of two years, Bond's most recent pins on the world map (enclosed within) will inspire us all to explore both the overt and the covert filming locations in No Time To Die.
---
Matera, Italy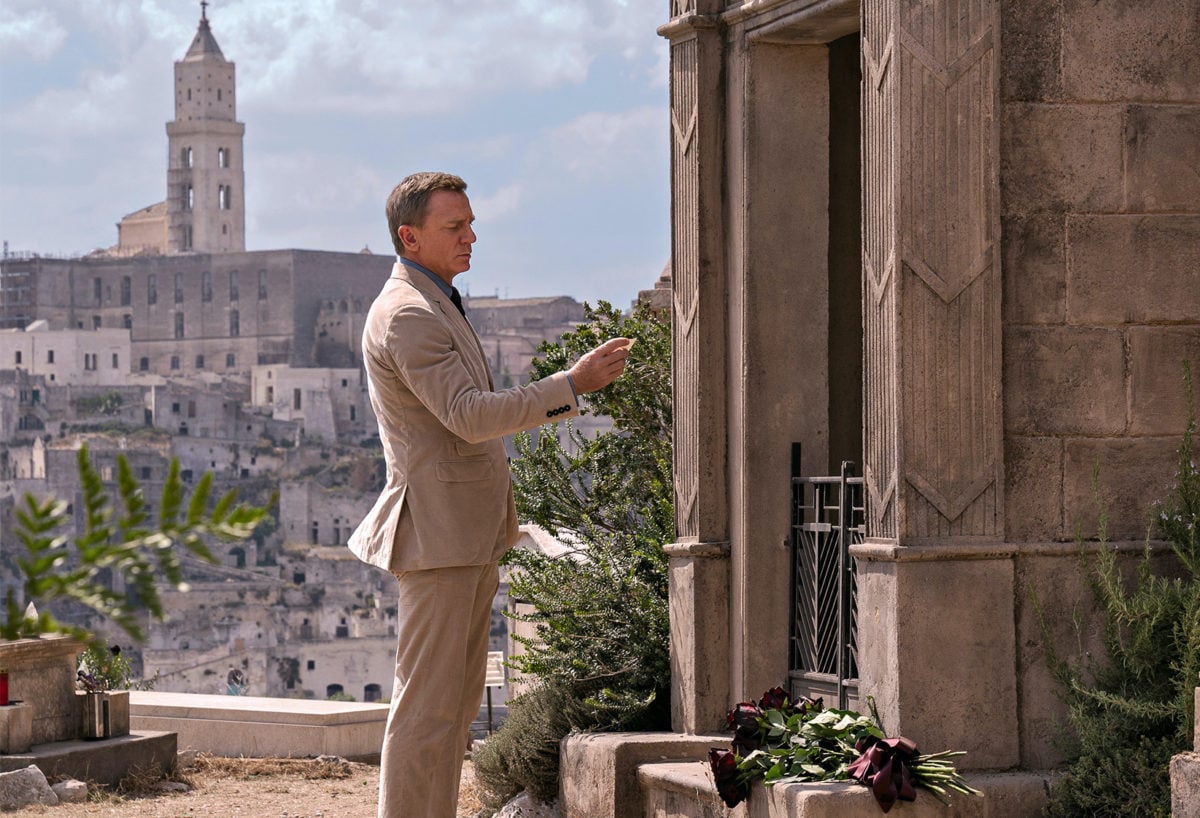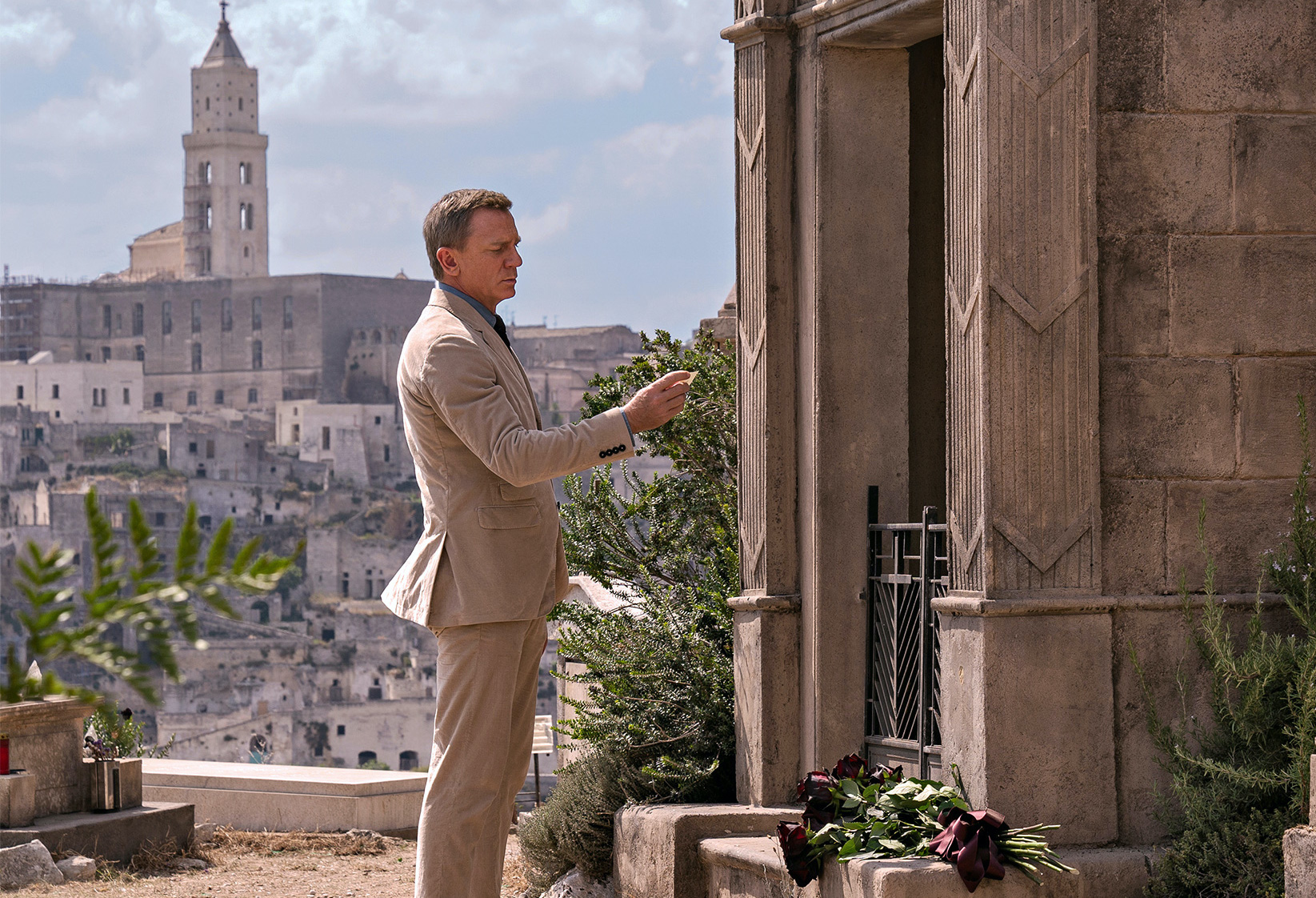 James Bond is no stranger to Italy, and you're probably not either, but one couldn't help daydream of southern region of Basilicata after the chaotic pre-title scenes of No Time To Die. If you thought Rome was old, the ancient city of Matera is layered by 9,000 years of settlements perched atop a rocky outcrop that has been occupied by everyone from the Greeks to the Romans for basically as long as humans have walked the Earth.
In 1952 the city's population was evacuated from the 'Sassi' (old town, pictured above) which became overrun with disease and squalor due to its dilapidated dwellings and crippled sewage system. It wasn't until the 1980's that the network of stone caves and historic streets were restored and reinvented to become the network of luxury hotels, shops and restaurants that exist there today.
If you find yourself wandering the World Heritage-listed city in 2022, however, you might find a few differences from the film. Interestingly, the graveyard where Bond visits Vesper Lynd's tombstone was built entirely from scratch during production on a nearby hillside thanks to its perfect backdrop overlooking the city. So don't waste the hike unless you're just keen on the view. A similar creative license was used for the stone aqueduct Bond swung from to escape Spectre. The bridge is actually from a town called Gravina in nearby Puglia, almost three hours drive from Matera. Production designers merged the two towns in post-production and we didn't know the wiser.
While the breathtaking hotel room overlooking the old town was, of course, an elaborate set at Pinewood Studios in London, rest assured that it only takes a quick browse of the internet to discover a host of boutique hotels carved into the rock that are just as charming. Finally, the winding cliffside road that hosts the DB5 in all its glory at the beginning and end of the film is Torre Dei Crivi, Italy, between the towns of Sapri and Acquafredda, if you find yourself on a road trip.
---
Atlantic Ocean Road, Norway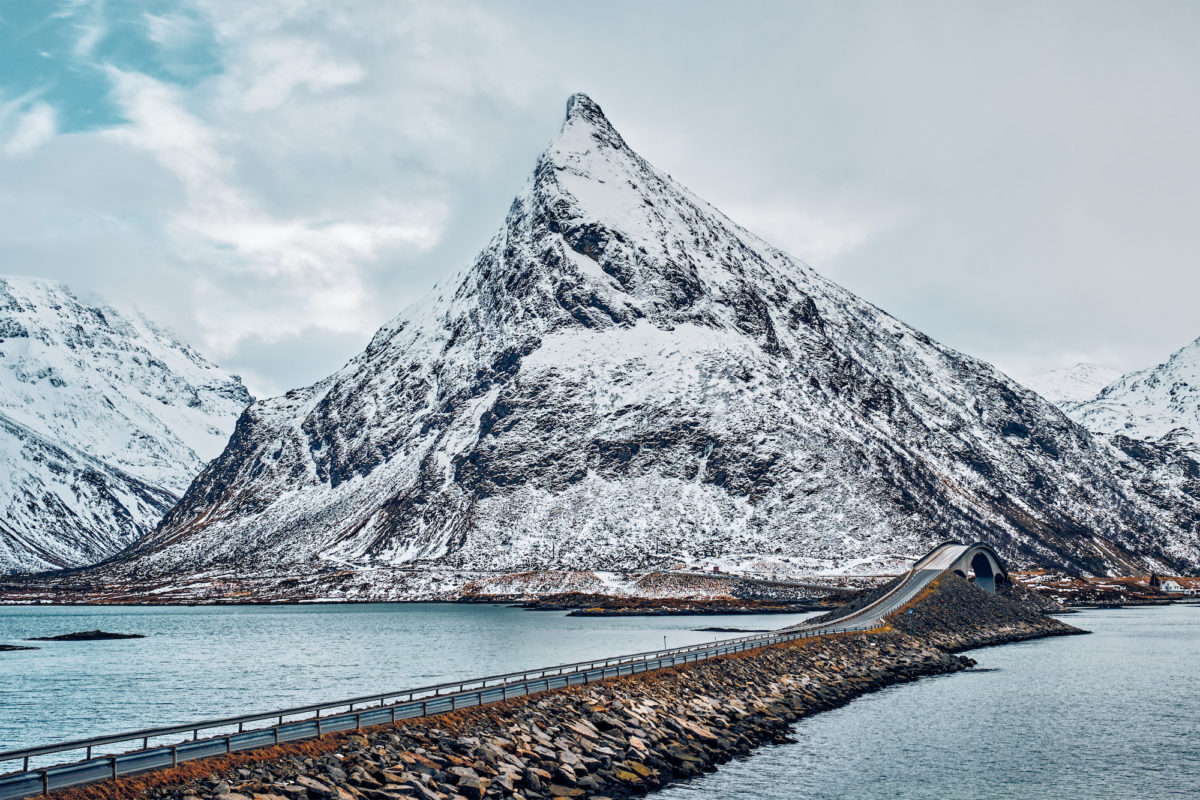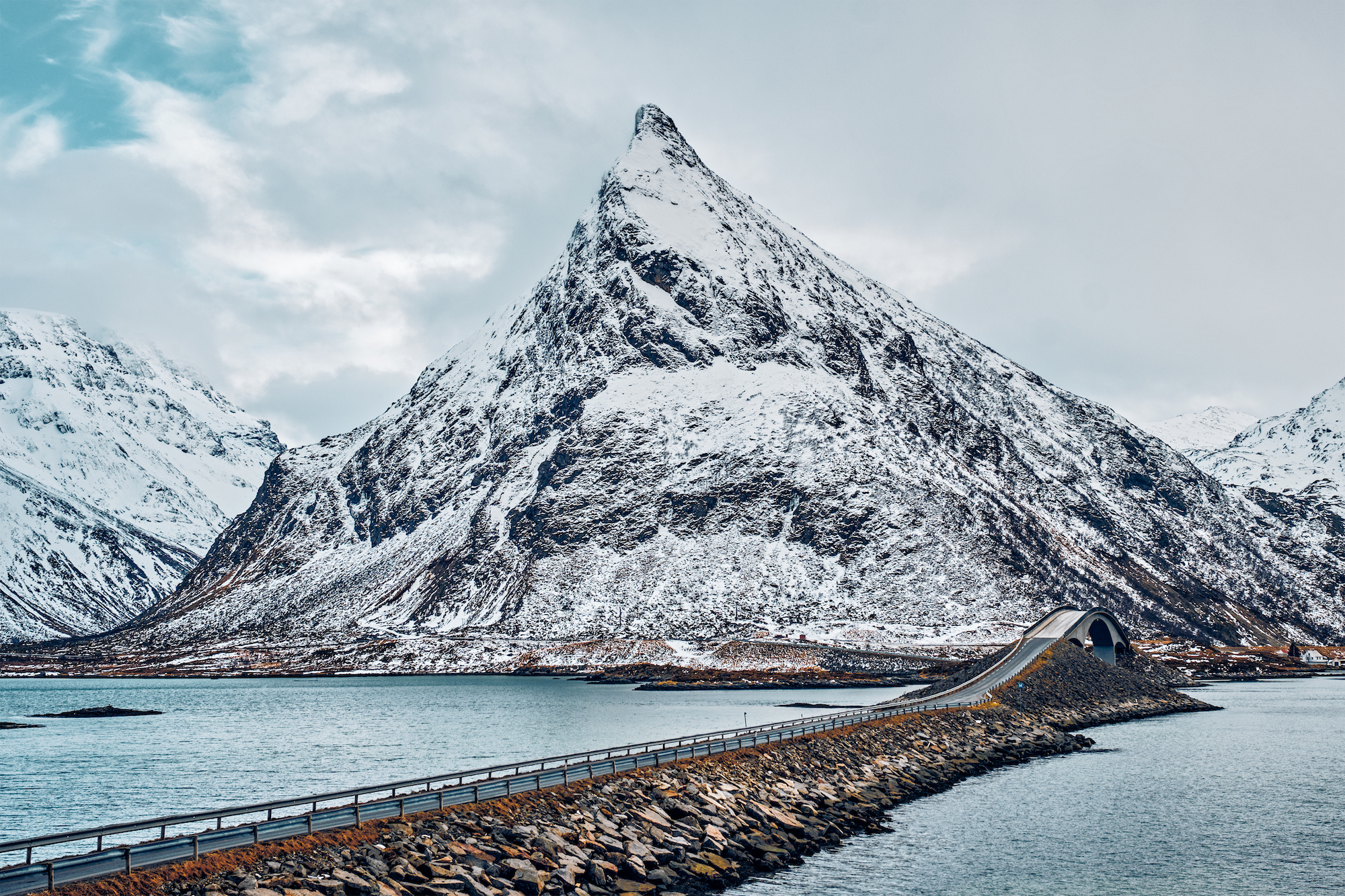 Speaking of road trips, No Time To Die re-welcomed an almost forgotten OG in the James Bond locations catalogue – Norway. Not since a brief stint in You Only Live Twice has Norway featured in the franchise, and it's been reported that the Norwegian government gave production 47m NOK in tax breaks to sway the film to the Scandinavian country after a 55-year hiatus.
---
---
The most visually compelling Nordic location from this film has to be the Atlantic Ocean Road (Atlanterhavsvegen). The remote highway south-east of Trondheim connects an otherworldly archipelago that rises impressively out of the North Sea for almost eight and a half kilometres by a series of undulating bridges. Bond drives this road in both his 1980's V8 Vantage and in a 1996 Landcruiser Prado when escaping from Lyutsifer Safin. You might not have noticed that the car chase actually blends seamlessly into a sequence filmed in Scotland, but we'll get to that later.
As for Madeleine Swann's remote forest cabin, those shots were filmed on the opposite side of the country at a lake called Langvannet, not far from Oslo on the border of Norway and Sweden.
---
Port Antonio, Jamaica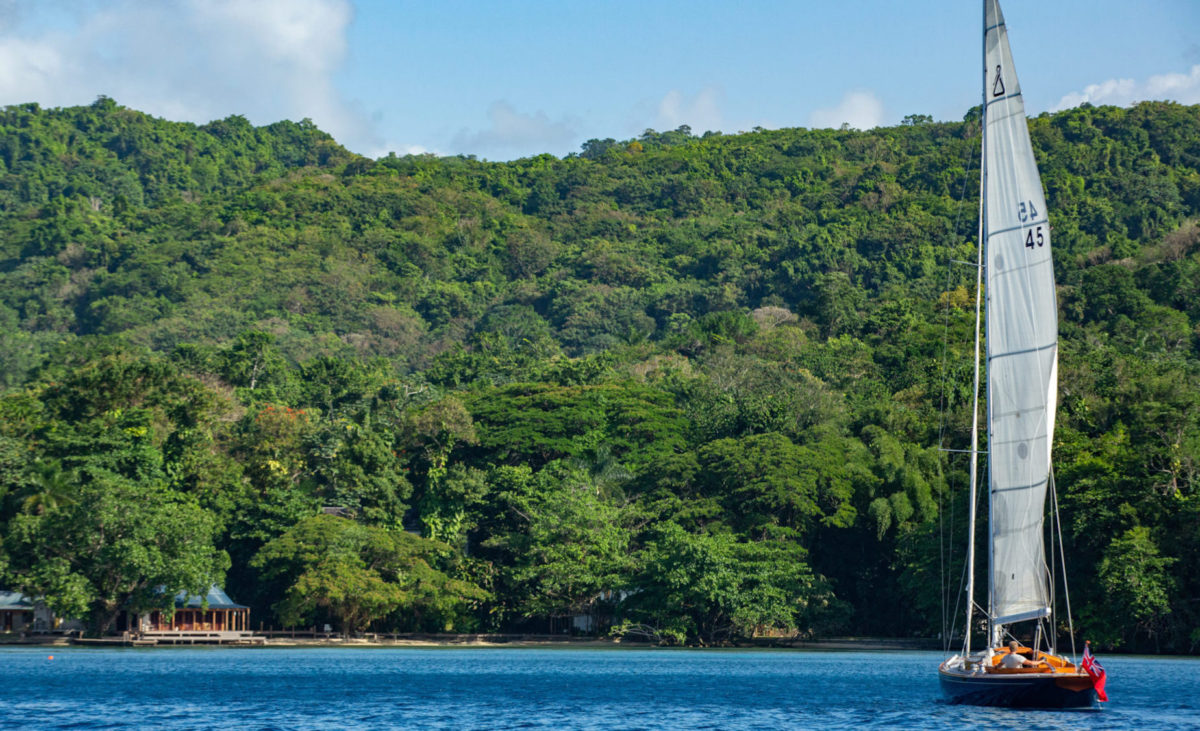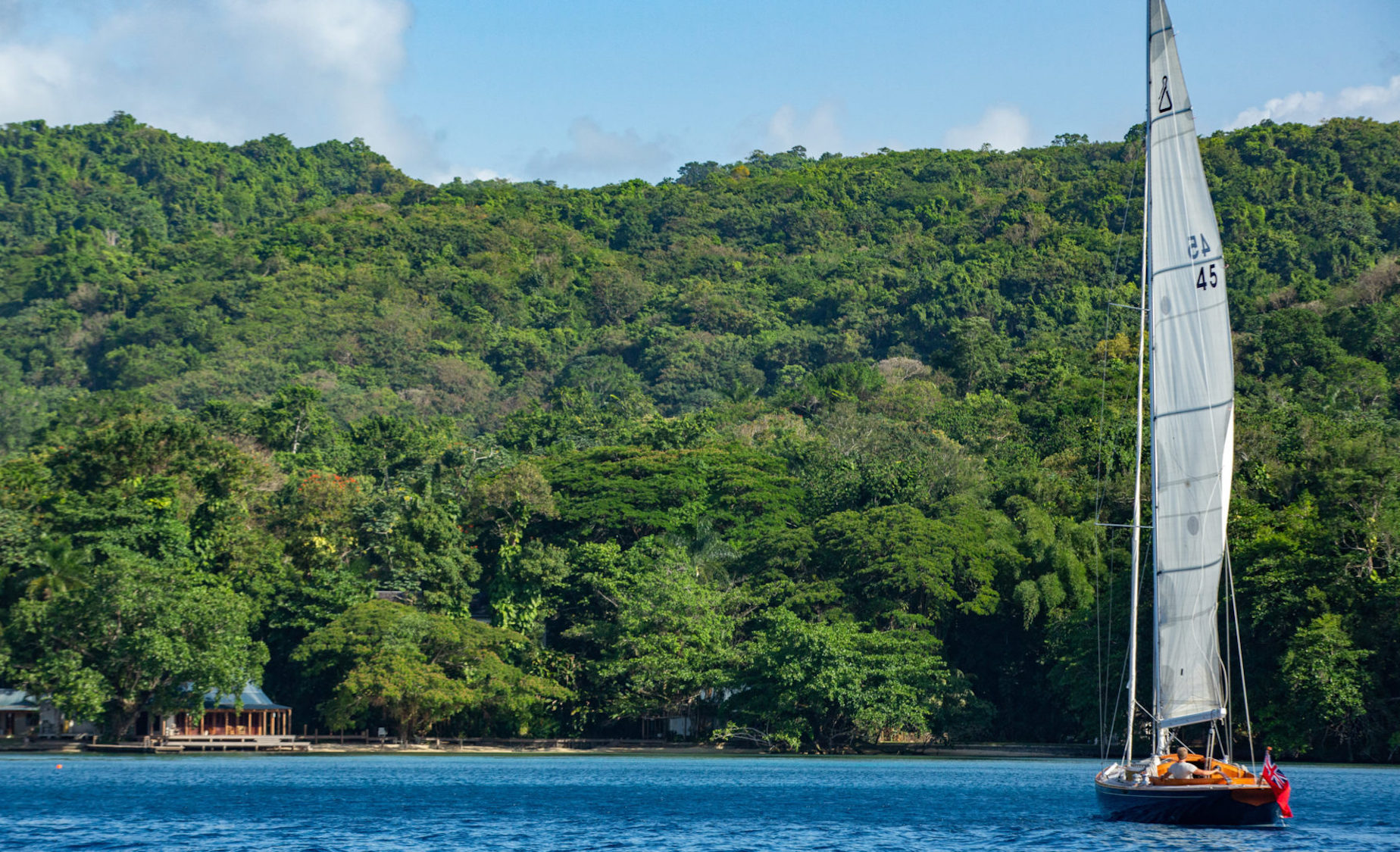 Ah, Jamaica. Arguably the original Bond location only after, perhaps, London itself. It was here at Laughing Waters Beach in 1962 that Ursula Andress emerged from the sea in Sean Connery's debut outing, Dr. No. The literary brainchild of the character, Ian Fleming, penned his James Bond novels from a nearby villa known as GoldenEye, and six decades later, EON productions once again returned to the Caribbean country for No Time To Die.
On this occasion, the private San San Beach on the edge of Cocoa Walk Bay near Port Antonio was used as Bond's fictional retirement home. Filmmakers built the beach house from scratch on the private stretch of sand (and dismantled it after shooting), but the crisp ocean and lush tropical surrounds are still accessible by private boat charter, although a 46ft Spirit Yacht is not guaranteed.
Port Antonio itself, despite being a rather quiet harbour, has a few points of interest to astute viewers of the film including the town centre and Market Square in particular. Between three Bond films (one can't forget Roger Moore's Live And Let Die), as well as being the home of the Bond legend itself, you won't be bored when under the magical spell of Jamaica.
---
London, England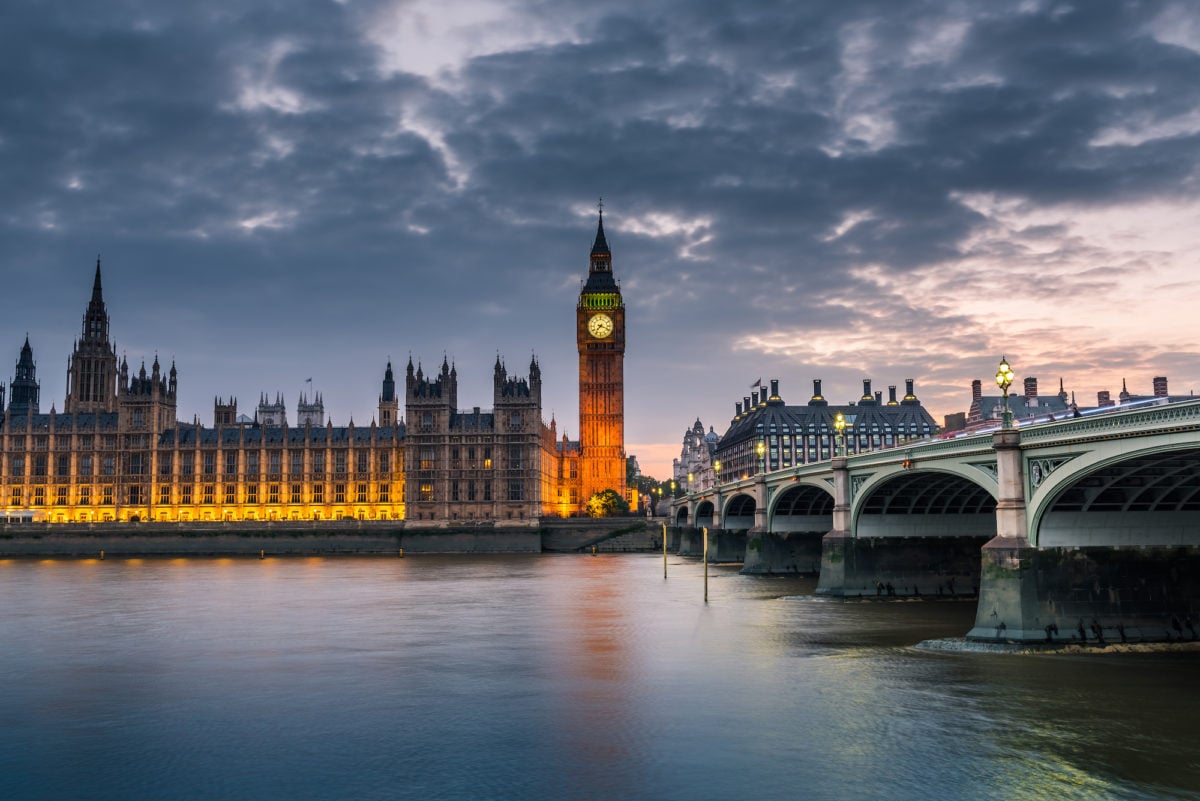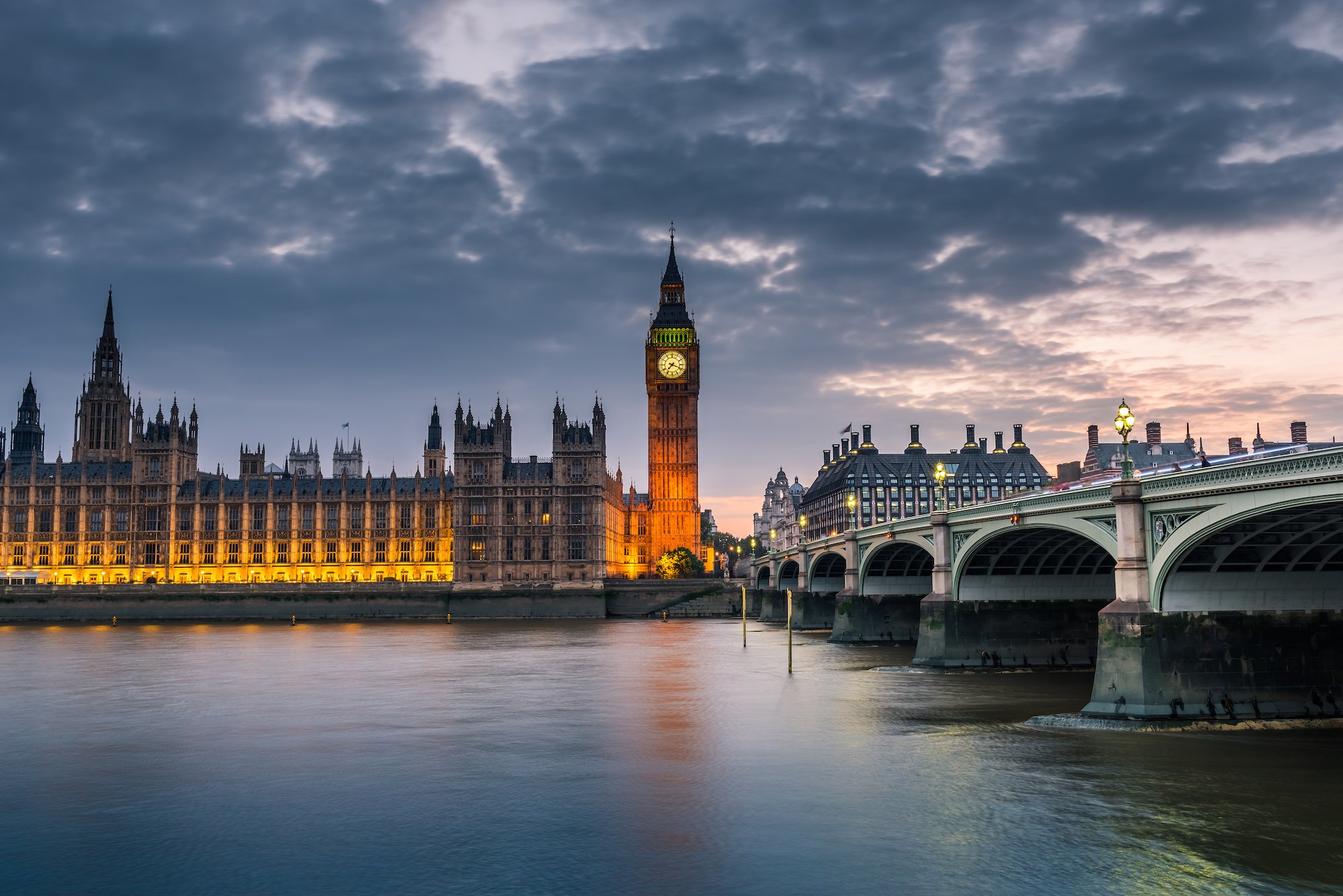 London is always a good idea. Despite being a default destination for a lot of us when travelling to Europe, it doesn't get more quintessentially James Bond than London, England.
Bond struts back into business along Horseguard Avenue after stepping out of his classic Aston Martin Vantage in No Time To Die and later debriefs with M (Ralph Fiennes) on the banks of the River Thames near the Hammersmith Bridge. Other than that, London isn't quite front and centre in this film as it is for Craig's other outings, the most prominent of which has to be Skyfall.
Both the fictional and real-world headquarters for Britain's overseas intelligence service sits on the banks of the Thames at Vauxhall Cross, which incidentally gets blown up when Judie Dench's former employee turned villain, Raoul Silva, plants a bomb in her top-floor office. The aforementioned Whitehall road and surrounding area that connect Trafalgar Square and the Palace of Westminster also host a variety of Bond filming locations, including the Ministry of Defence, The Mall, and a few relevant tube lines and stations of the London Underground.
---
---
---
Havana, Cuba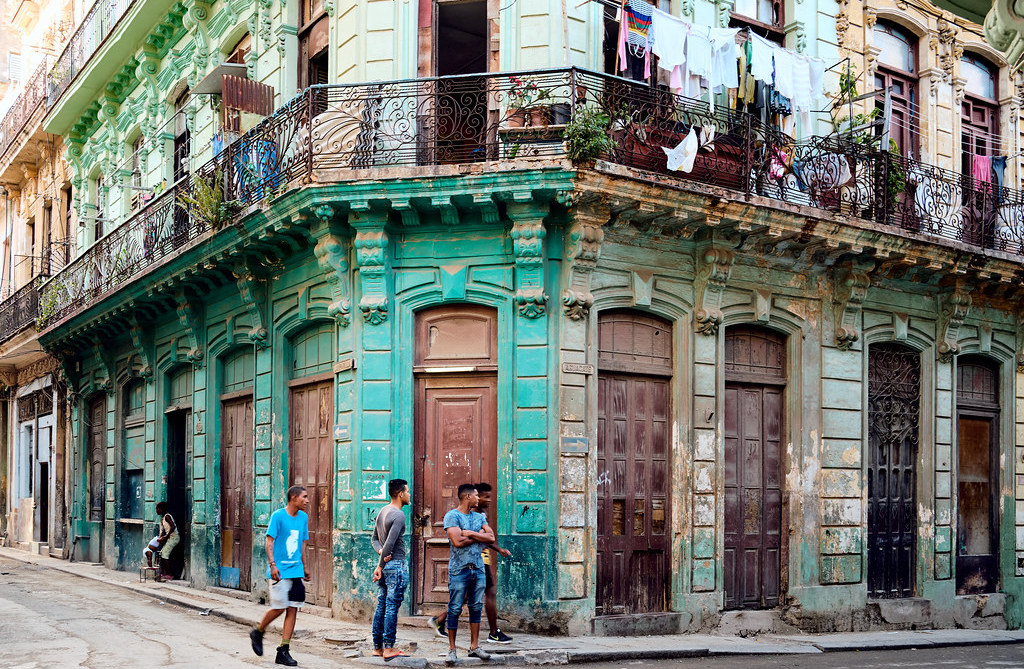 One of the most unadulterated countries on earth, Cuba has just finished a revolutionary five-year revival. Since the first American cruise ship in nearly five-decades arrived back in 2016, the time-locked Caribbean country has been propelled into the 21st-century. WiFi is readily available, ATM's actually work now, and there are more signs every day that you're no longer walking through a relic of the 1950's. With an increase in commercial tourism comes a trade-off for classic Cuban authenticity, but that doesn't mean it isn't still one of the most memorable destinations in Latin America.
For whatever reason – be it logistics or bureaucracy – No Time To Die's show-stopping Cuba scene (with a ravishing Ana De Armas, let's not forget) was actually shot on a backlot at Pinewood Studios. Production designers spent countless weeks recreating a classically Cuban street, complete with restored period vehicles and local talent. This no-expenses-spared operation, as well as Armas' obvious on-screen rapport with Craig, made Cuba one of the most enjoyable locations to watch in the whole film. An impressive end result considering the production crew never even left the UK.
Back to the real-world, aside from Havana itself, other must-see destinations within Cuba include the lush, cigar-rolling town of Viñales, a Pirates of the Caribbean-esque colonial village called Trinidad, and the history-packed diving Mecca just off the Bay of Pigs. If you've got the time, an expedition to the south-east of the island will bring you to Santiago de Cuba, the actual Cuban town for which the on-screen location in No Time To Die was based.
---
Cairngorms, Scotland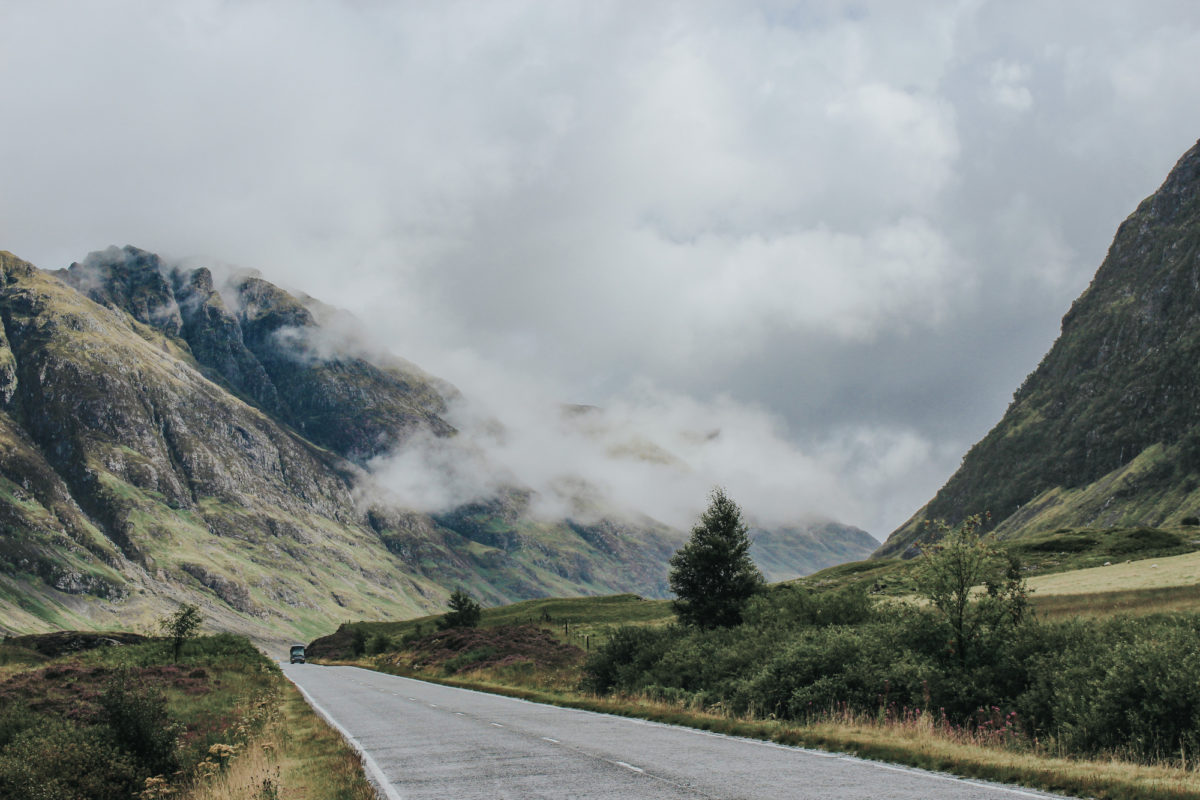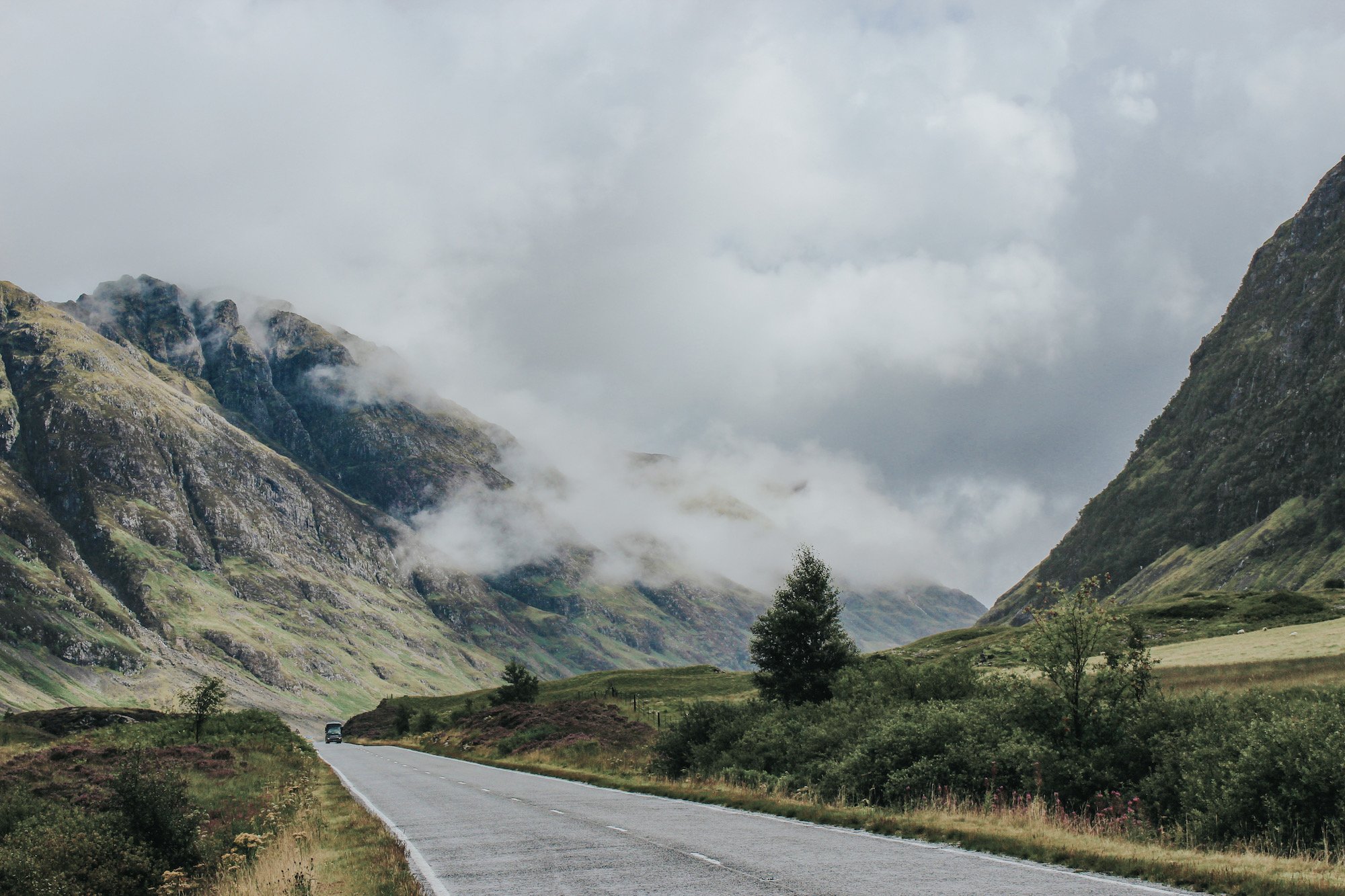 If James Bond was a mood, it'd be Scotland. Barren and foreboding, the Highlands of Scotland could trick you into believing you're the only person for miles. And quite often, you are.
Interestingly, for the convenience of No Time To Die's location team, it also looks aptly familiar to the geography of Norway.
If you can recall the aforementioned Atlantic Ocean Road chase scene, Bond turns off the bridge into the path of a cadre of gravity-defying Land Rover Defenders that were actually filmed flipping and rolling on the fringes of Scotland's Cairngorms National Park, nowhere near Norway. Production set up shop at the 19th-century Ardverikie Estate on the shores of Loch Laggan for the scene which was probably logistically simpler and cheaper to film on home soil. The river crossings and helicopter shots likely played out on the opposite side of the mountain at the smaller Lochan Na h-Earba.
Semantics, really, as pretty much all the Scottish Highlands look the same. That being said, a little further afield on the opposite side of the Cairngorms snakes a road that could potentially trump all other driving roads in the UK. It's called Old Military Road, and it runs from Speyside past Balmoral down to Glenshee. Think 17th-century Victorian cottages, thousands of square miles of game reserve, and some of the most fun you can have behind the wheel of a car. No trip to the Cairngorms is complete without it – read our guide to Scotland's greatest driving roads here.
---
Kalsoy, Faroe Islands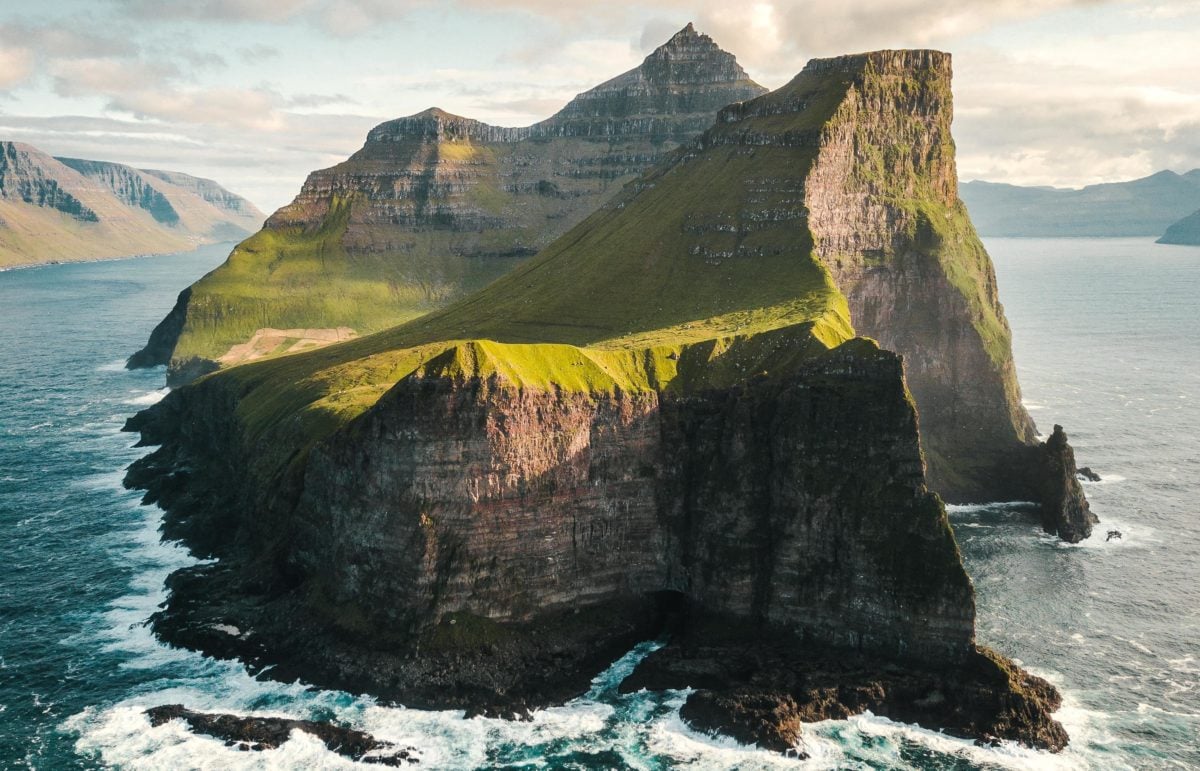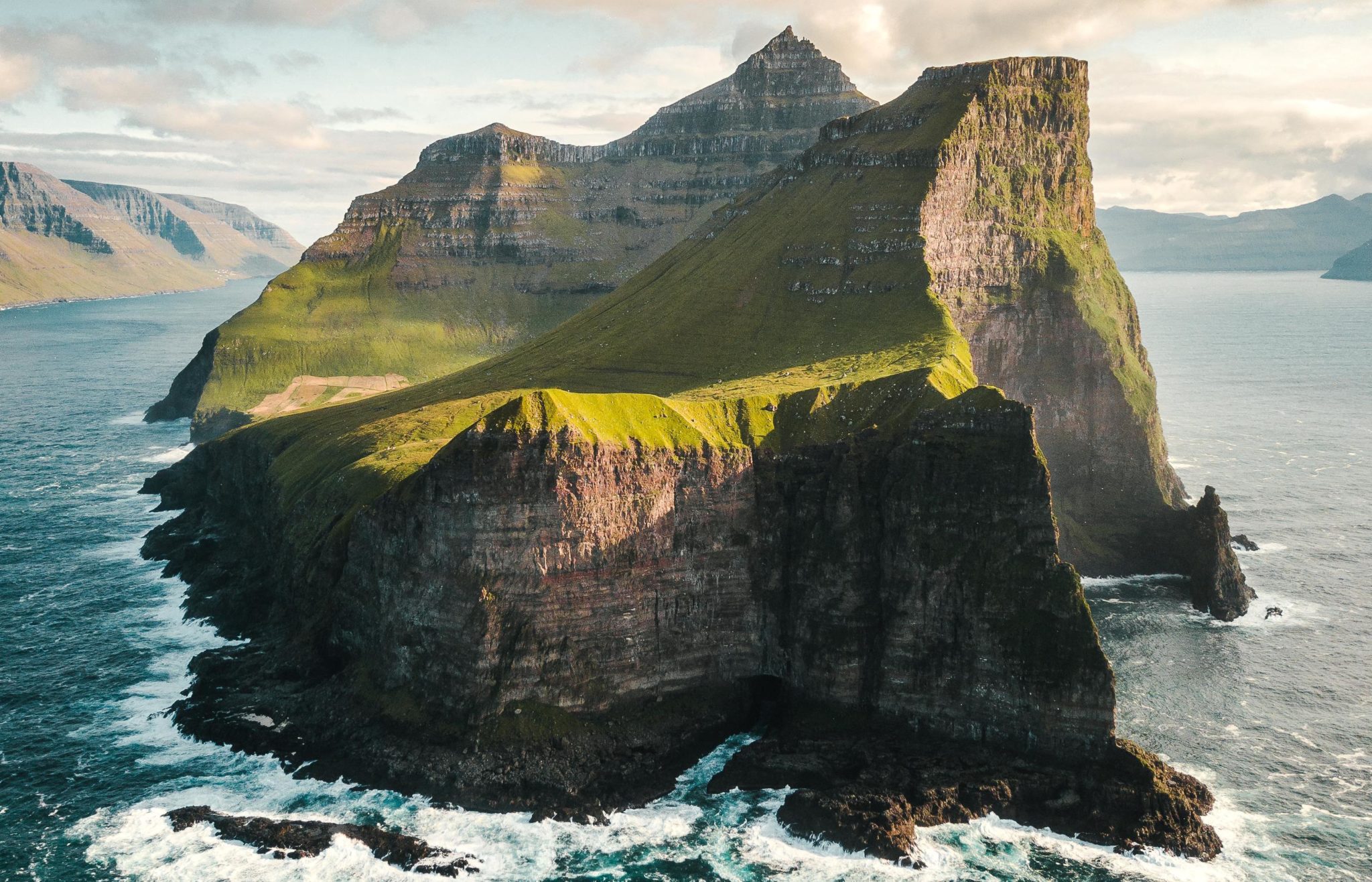 You'll have to travel far and wide to access the final inclusion in our James Bond travel guide for 2022. The elusive Faroe Islands – an Atlantic archipelago officially administered by the Kingdom of Denmark – can be found roughly 320 kilometres off the north coast of Scotland and are about as estranged from reality as you can get. Least of all thanks to their truely otherworldly landscapes rising out of the ruthless North Sea.
---
---
It's the real-life isle of Kalsoy that plays host to the fictional lair of Safin in No Time To Die, supposedly an abandoned WWII-era submarine base somewhere between Japan and Russia. While the striking strip of land is actually one long stretch of steep cliffs and deep valleys, filmmakers had to digitally alter its northernmost tip to appear as a standalone island in No Time To Die.
Four villages with a total population of just 80 people occupy Kalsoy, with the furthest village of Trøllanes playing home to the trio of missile silos seen in the film, which were obviously added in post-production. Thanks to its proximity to the Arctic Circle, the Faroe Islands enjoy a mystical lighting phenomenon in the autumn months that award it one of the most dramatic and prolonged golden hours in the world.
Now, read about the legend of the stolen Aston Martin DB5 from 1964's 'Goldfinger', which has just been found after 25 years.