Now that New Zealand is welcoming back fully vaccinated Australian travellers, you're going to want to know exactly where to stay the next time your trip lands you in the big urban sprawl of Auckland.
Considering this is New Zealand's biggest and most populous city there are more than a few options on where to stay, whether that's going old-school with some classic luxury accommodation Fable Auckland, living it up at the ritzy Cordis, or dipping into the eclecticism of boutique-minded mainstays like SO/ Auckland and QT Auckland.
We've already taken you through the best new restaurants in Auckland, and broadened the scope with the best New Zealand lodges for luxury and adventure. Now let's just focus on where you'll want to rest your head in the big city, all of which are easy walking distance to some of Auckland's most exciting neighbourhoods.
---
---
Our Picks For The Best Accommodation Auckland Has To Offer
---
Cordis Auckland by Langham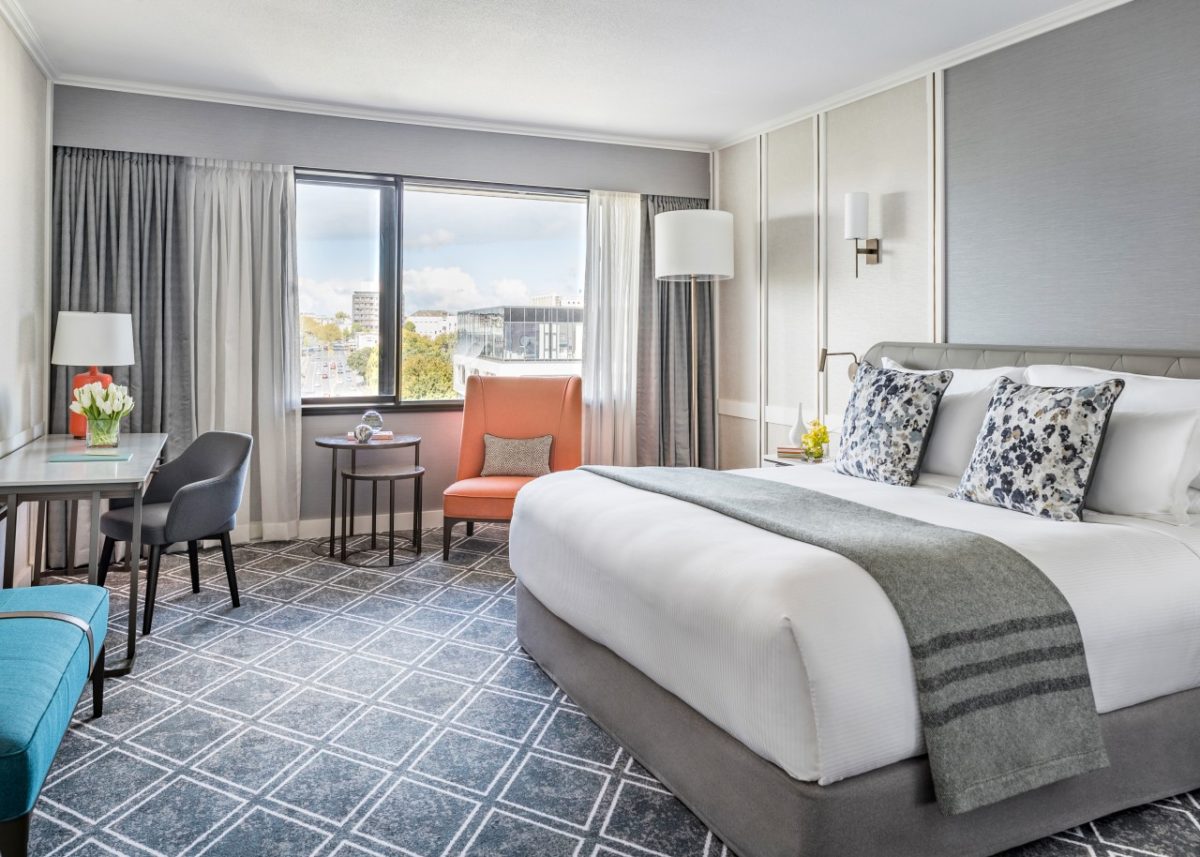 Cordis is one of the most popular luxury hotels in Auckland city centre, and easily one of the country's best known. Although it was formerly The Langham, Cordis is still part of the same famously upscale hotel brand, maintaining much of what makes the renowned Langham Hospitality Group so coveted in cities like Chicago, Melbourne, and Sydney.
Cordis' Upper Queen Street location certainly helps with the demand, positioning guests right in the middle of Auckland's best restaurants, cafes, and bars. Although leaving might be hard; the amenities of this luxurious hotel are unquestionable. Chan Spa, which offers treatments based on the five phases of wuxing – a guiding Chinese philosophy based on the elements – is one of the best spas in New Zealand.
The reputation the Langham name has for culinary excellence is also kept in tact with resident restaurant Our Land Is Alive, which tells the story of Aotearoa's landscapes through local produce and is one of the best new restaurants in Auckland to open in recent years.
Address: 83 Symonds Street, Grafton, Auckland 1010, New Zealand
Contact: +64 9379 5132
---
Park Hyatt Auckland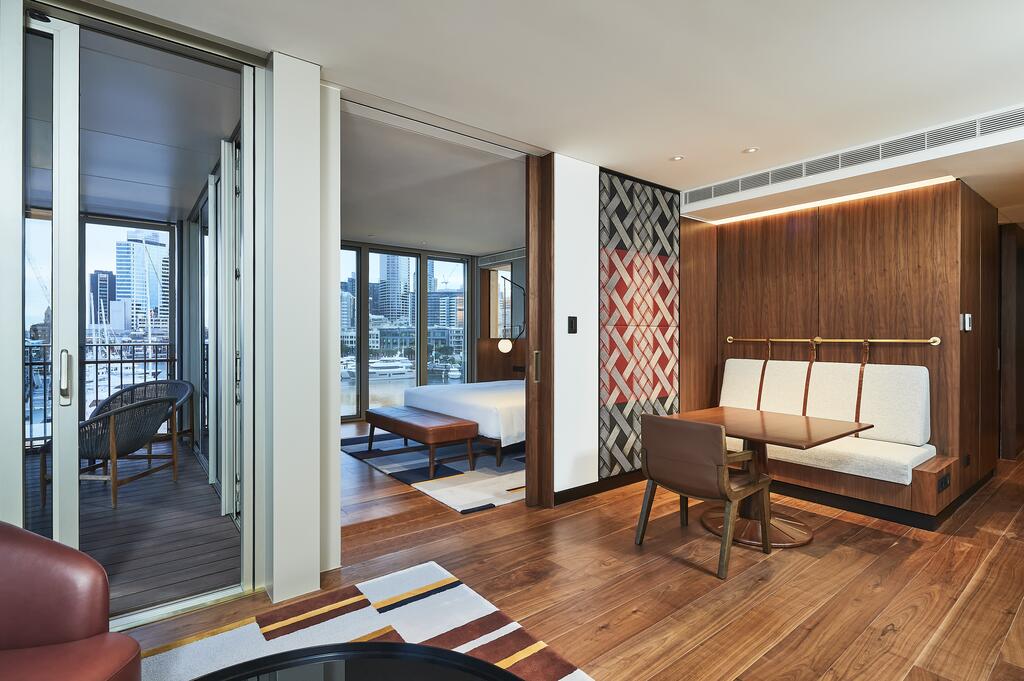 As New Zealand's very first 195-room Park Hyatt hotel, this property marks the return of the Hyatt brand to the country's biggest city. Having opened in 2020, it's also one of the newer hotels in Auckland for returning Australian travellers, with 195 tastefully appointed rooms including a 245 square metre Presidential Suite with its own internal garden and an additional 125 square metre terrace with views that scan the harbour.
This kind of visual punch fully captures just how stunning Auckland can be, with city and ocean views a given.
Address: 99 Halsey Street, Auckland CBD, Auckland 1010, New Zealand
Contact: +64 9366 1234
---
---
---
Sofitel Auckland Viaduct Harbour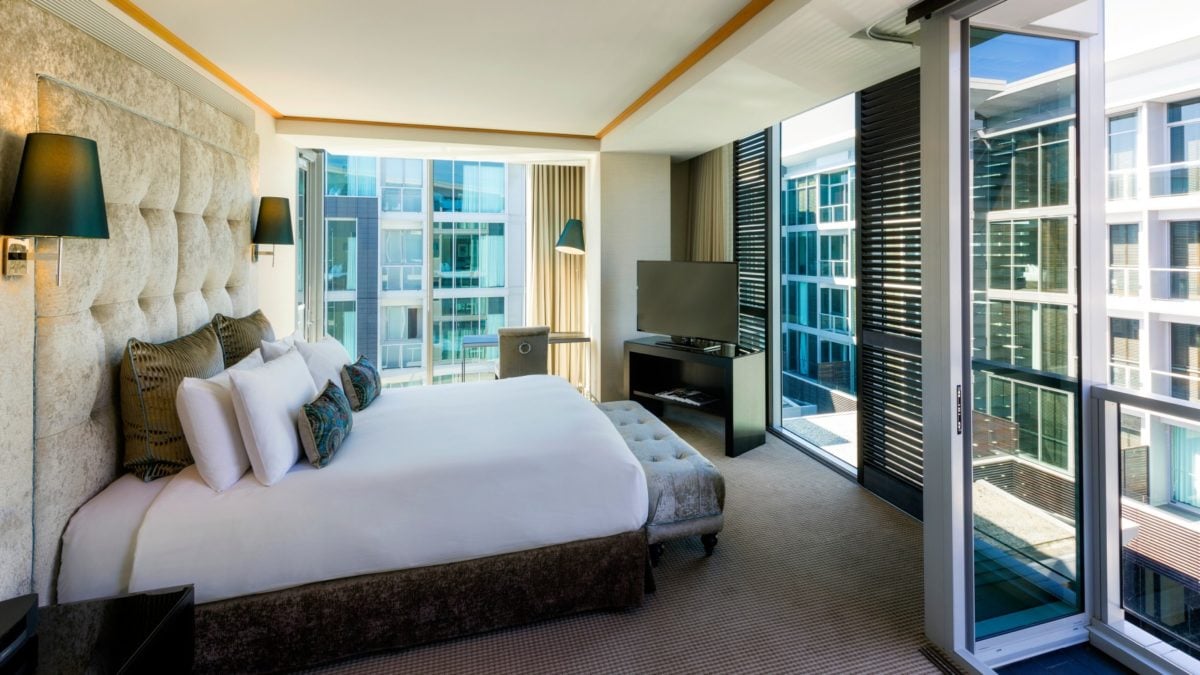 Unsurprisingly, Sofitel has carved out an enviable presence in Auckland's hotel industry. The elegant French brand has blended seamlessly with the city, offering up slick contemporary design set against those immense floor-to-ceiling views of Waitemata Harbour, the Viaduct precinct, and the well-spaced cityscape.
Art and fashion define the smaller touches for Sofitel Auckland Viaduct Harbour, best seen in the high-end 127 square meter Opera Suite, where a grand sofa is perfectly placed to maximise those views, and an 8-seater wooden dining table is ideal for entertaining.
Staying at this upscale hotel also means that you're a stone's throw from Sparks Arena, which is typically pumping year-round with concerts and events.
Address: 21 Viaduct Harbour Avenue, Auckland CBD, Auckland 1010, New Zealand
Contact: +64 9909 9000
---
QT Auckland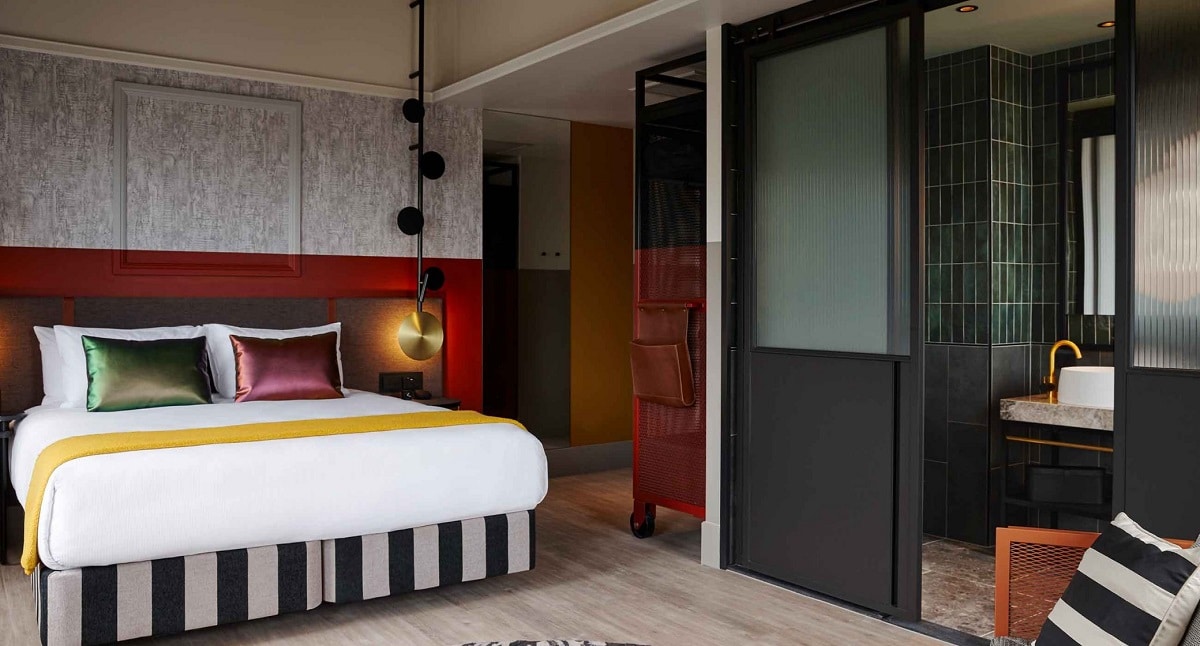 QT Hotels & Resorts made the jump across the ditch a few years ago, first opening QT Wellington and QT Queenstown. Adding an audacious Auckland hotel was just a matter of time.
Now, the quirky luxury hotel brand has added the 150-room QT Auckland to its impressive Kiwi roster. And that same sense of theatrical style, boutique-minded approach, and personality-led design can be found here, alongside Mediterranean restaurant Esther, helmed by Sean Connolly.
It's also part of QT's "Pup Yeah" program, so it's not only one of the best hotels in Auckland now, it's one of the best dog friendly hotels in Auckland.
Address: 4 Viaduct Harbour Avenue, Westhaven, Auckland 1010, New Zealand
Contact: +64 9379 9123
---
---
---
Hilton Hotel Auckland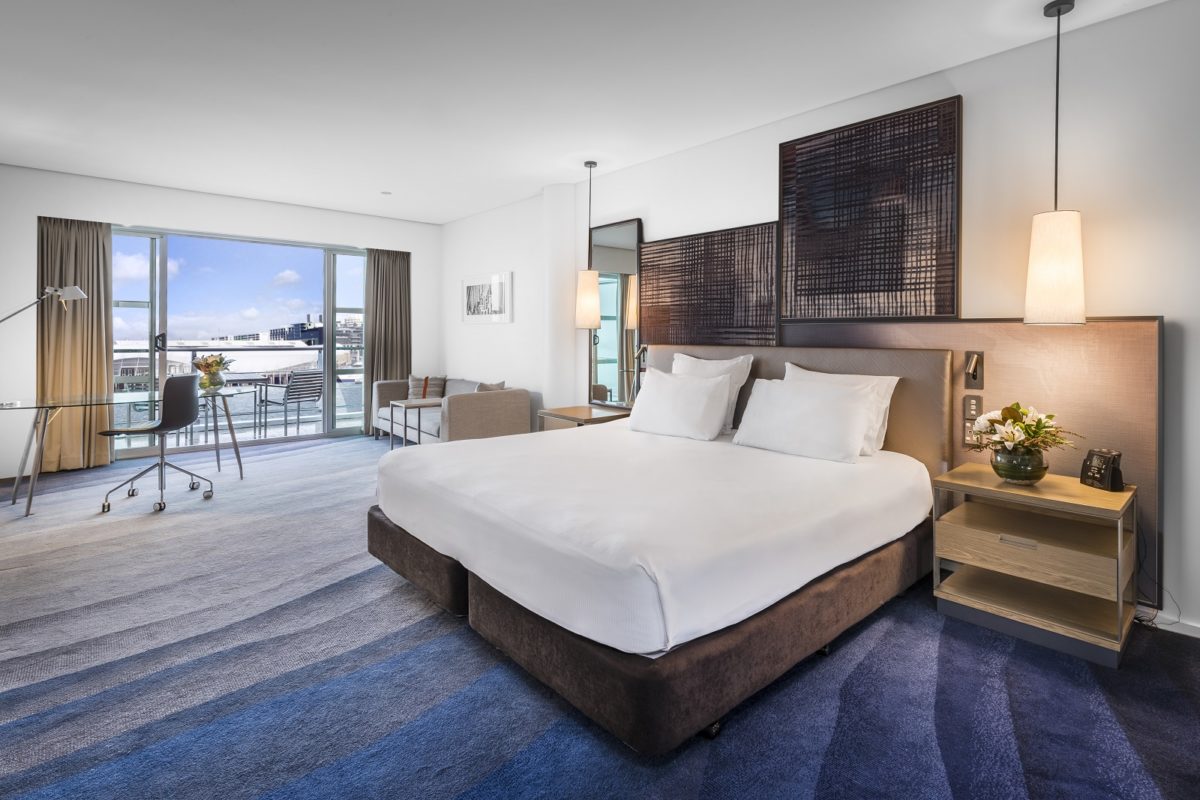 The stalwart Hilton Hotel Auckland is a five-star property located on the tip of Princess Wharf so the views of Auckland's waterfront are incredible.
Located right next to Viaduct Harbour, as many of the best hotels in town are, this Auckland city central offering is a lavish base for all the drinking and dining you could possibly want.
Plus, it's a short walk to Auckland CBD, central Bitromart station, the Maritime Museum, and the all-important Waiheke Island ferry terminal for when that inevitable wine crawl across one of Auckland's greatest landmarks is calling your name.
Address: 147 Quay Street, Auckland CBD, Auckland 1010, New Zealand
Contact: +64 9978 2000
---
SO/ Auckland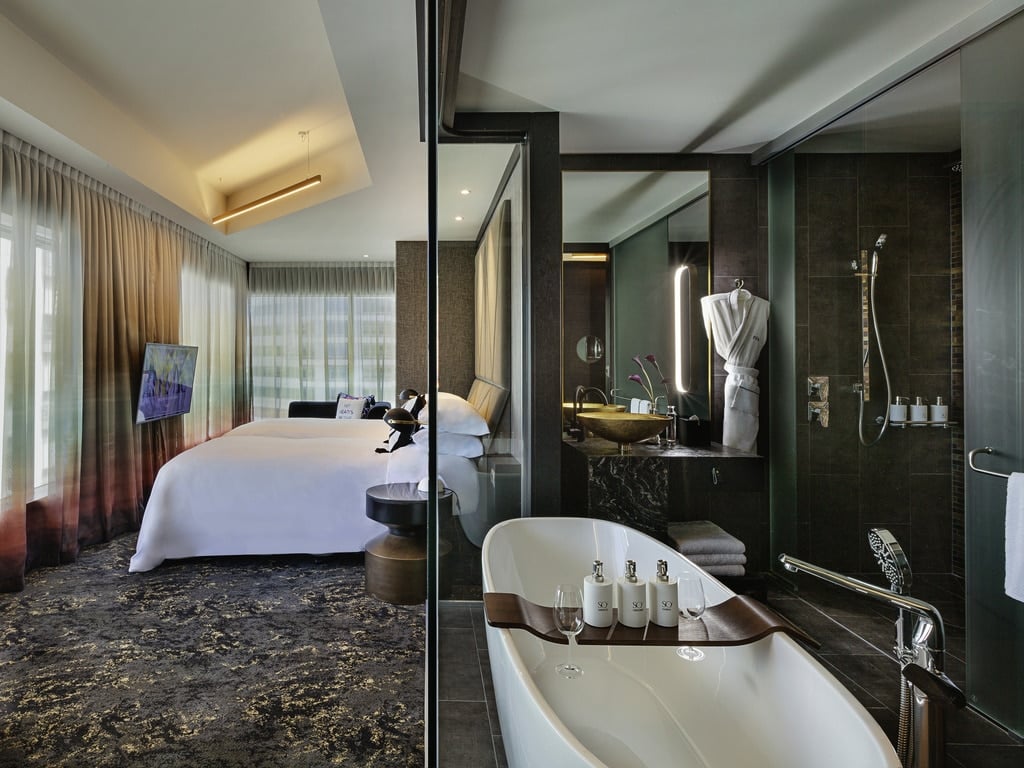 Ever since the SO/ brand started in Bangkok, it has become one of Accor's most exciting new titles in the hotel industry. As it does in the eternally vibrant Thai capital, SO/ Auckland takes the elegance of its parent brand, Sofitel, and adds a more youthful, conceptual spin to the design.
Located in the very convenient Britomart area, the chic 130-room hotel loosely translates Auckland's volcanic history with an eccentric approach, led by Kiwi fashion designer Benny Castles.
Address: Corner Of Customs St E&, Gore Street, Auckland CBD, Auckland 1010, New Zealand
Contact: +64 9379 1860
---
Hotel Fitzroy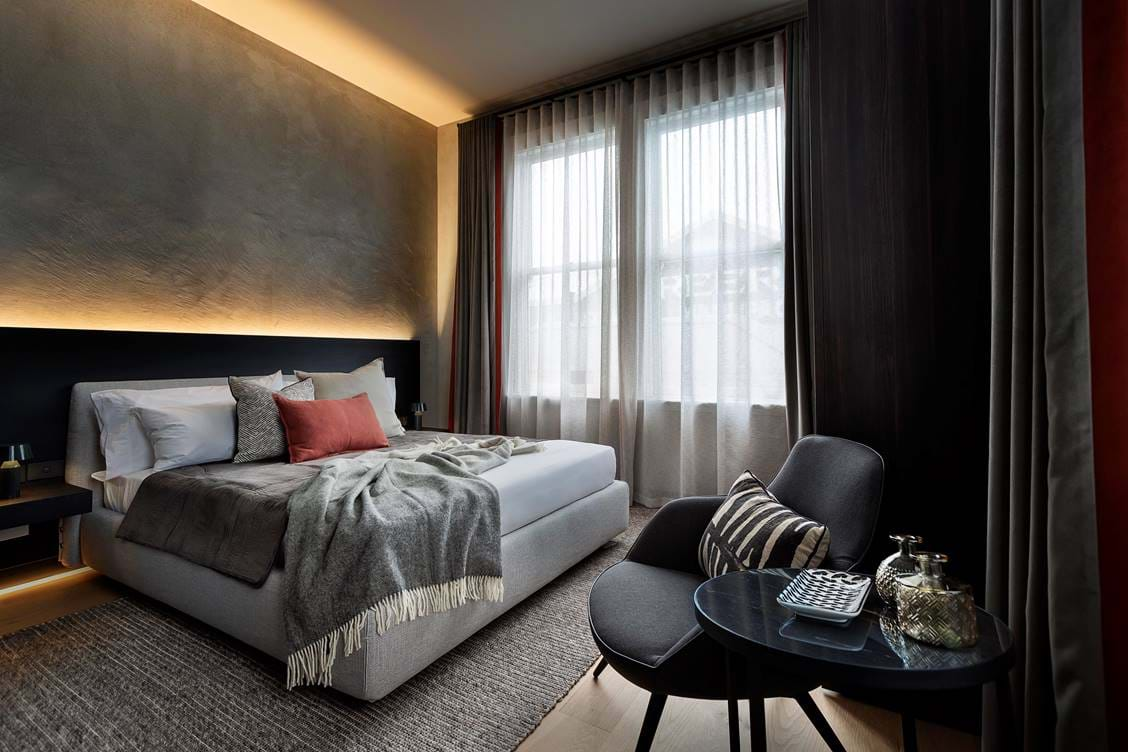 It doesn't get any more boutique than a 10-room luxury villa that's been beautifully restored in the hip Auckland suburb of Ponsonby. If you want a luxury boutique hotel offering the quintessential local lifestyle, Hotel Fitzroy curated by Fable should be your top pick.
---
---
This is where you'll find some of the city's trendier restaurants and bars, so being able to lap up some five-star service from a suburb that's severely lacking in accommodation options is more than enough to make this one of the best hotels in Auckland.
Plus, it's got that pristine, picturesque façade that makes you feel as if you're staying in a high-end Airbnb property while still maintaining the level of service and attention boutique hotels are known for.
Hotel Fitzroy curated by Fable is an obvious favourite for those seeking a luxurious urban hotel situated in one of Auckland's best neighbourhoods.
Address: 43 Richmond Road, Grey Lynn, Auckland 1021, New Zealand
Contact: +64 9558 1955
---
The Hotel Britomart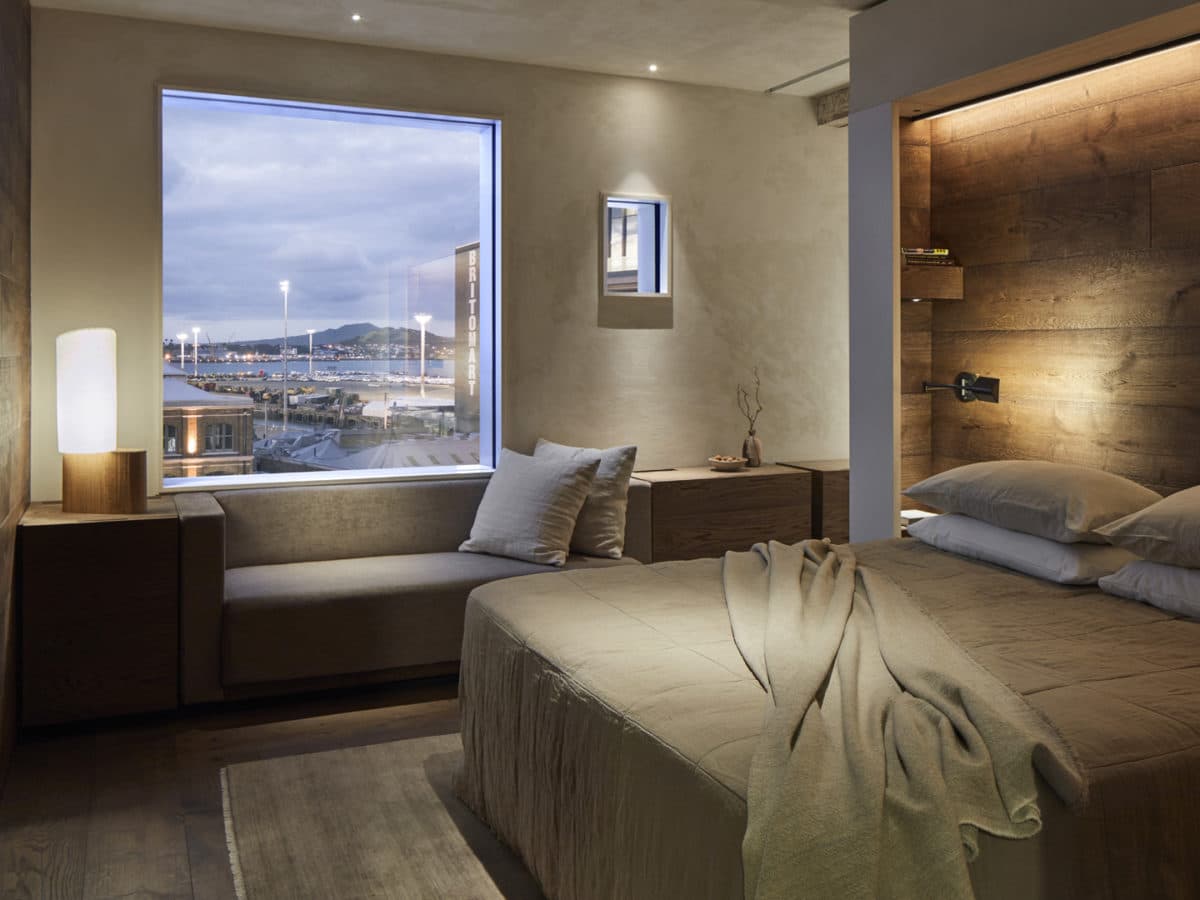 Opened in 2020, The Hotel Britomart is an excellent addition to Auckland with a strong commitment to being positioned as New Zealand's greenest and most environmentally friendly city hotel.
The five-star New Zealand Green Building Council rating is well-earned, placing the 99-room hotel at the top of the sustainability scale with great efforts taken to use appropriate materials, minimise wastage, ensure energy efficiency, and source organic skincare products.
The fact that Hotel Britomart can make such genuine strides in sustainability and still offer one of the best luxury hotel experiences in Auckland is impressive to say the least.
Address: 29 Galway Street, Auckland CBD, Auckland 1010, New Zealand
Contact: +64 9300 9595
---
---
---
Fable Auckland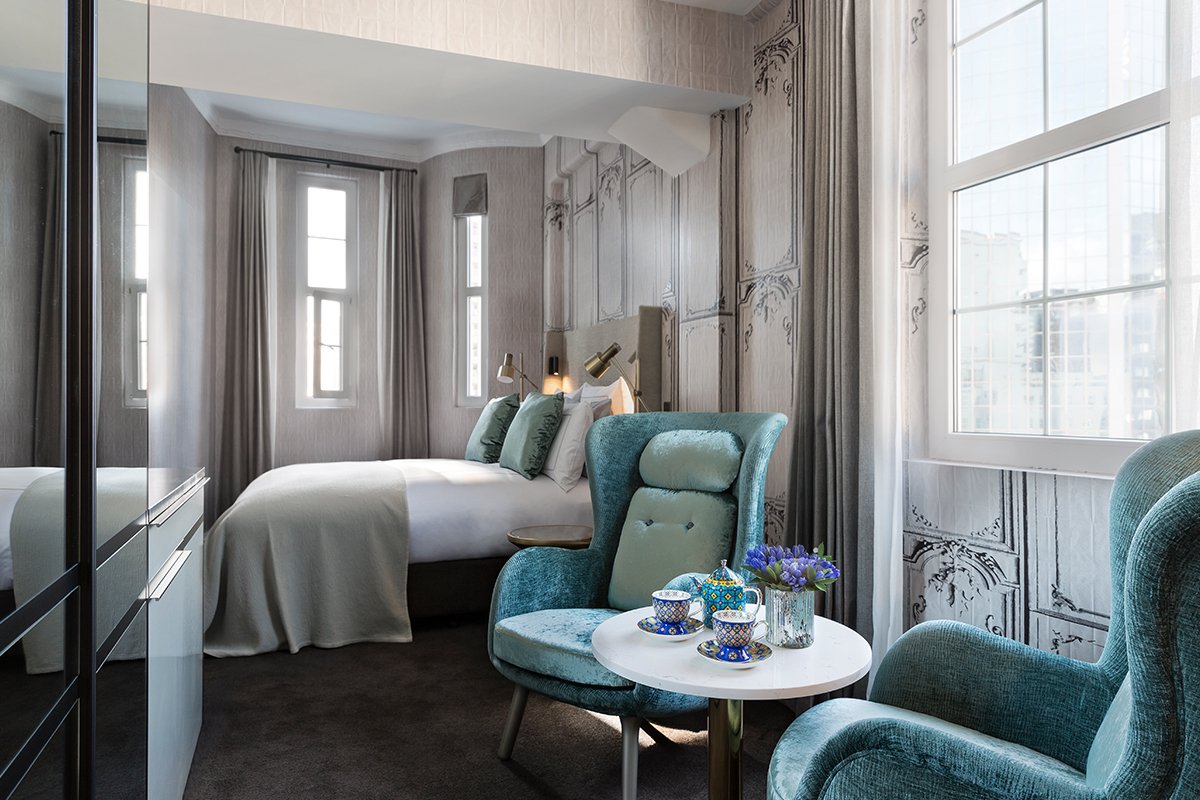 Furthering Accor's firm grip on Auckland's hotel scene, the Fable Auckland (formerly known as Hotel Grand Windsor) is an MGallery by Sofitel property and is easily one of the most luxurious in the city. Set in an art deco heritage skyscraper dating back to 1936, the staunch traditionalist hotel has that air of old-world glamour that contrasts against the more modern tastes of competing Auckland luxury hotels.
It's a testament to the timelessness of vintage charm and classic hospitality, hinged mainly on its conceptual connection to the personal jewellery collection of the Duchess of Windsor – clearly expressed in the vibrant tones of each of the hotel's 79 rooms and suites.
Following a substantial refresh in 2016, Fable Auckland was named as one of the best new hotels in the world, which is high praise considering how many luxury hotels in Auckland are dotted around Auckland's central business district.
Address: 58 Queen Street, Auckland CBD, Auckland 1001, New Zealand
Contact: +64 9309 9979
---
Hotel DeBrett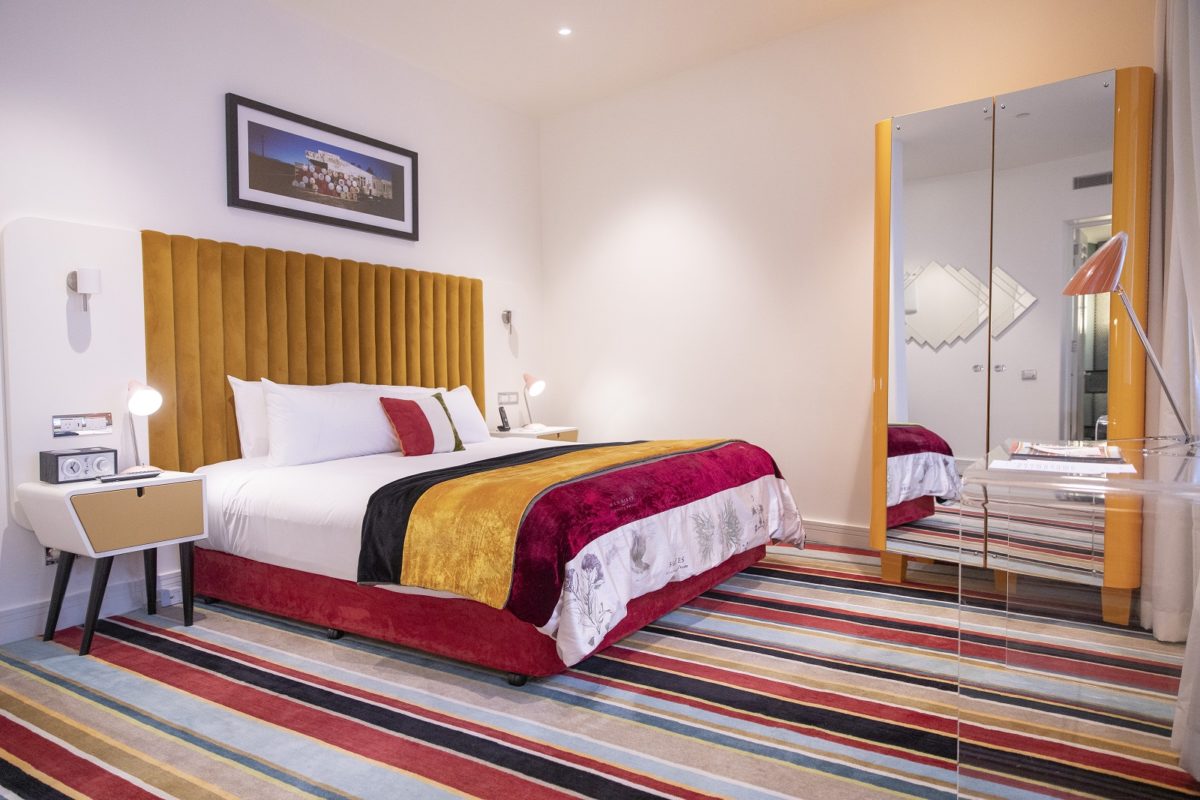 Although the colourful interiors may be a bit too loud for some, Hotel DeBrett is a reliable choice when looking for the best hotels in the heart of Auckland CBD.
Frequented by locals and guests for their high tea offering, the vibrant boutique 25-room hotel is easily one of the family-friendly properties in the city. The flexible room designs and attentive service make this a favourite for larger groups travelling together.
Address: 2 High Street, Auckland CBD, Auckland 1010, New Zealand
Contact: +64 9925 9000
---
The Grand by Skycity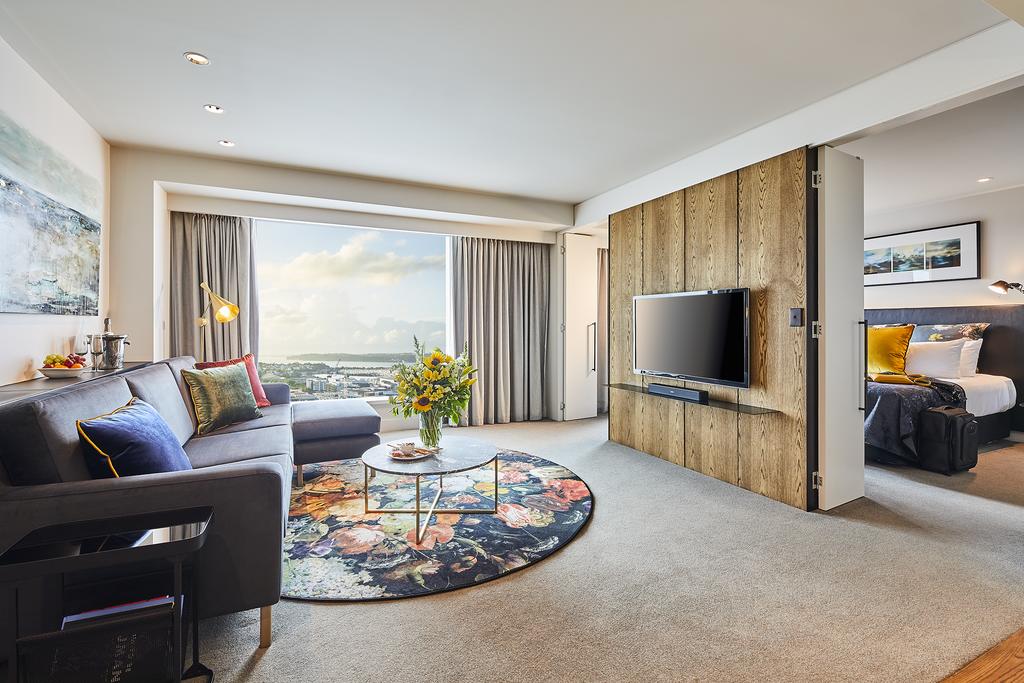 Connected to the Sky City precinct via an air bridge, The Grand is one of two hotels offered by the casino – the other being a 4-star property. You'll be right next to some of Auckland's favourite restaurants here, so even if punting isn't your thing, you're well-placed to explore Auckland from classic five-star comforts.
---
---
While more modern hotels have opened since, there's little denying that The Grand stays true to its name, with an admirably old-school approach to hospitality framed by all the standards you'd expect from a casino's higher-end accommodation.
Plus, you've got direct access to Sky Tower which is the largest man-made structure in New Zealand and somewhat of an icon for Auckland's city skyline.
Address: 90 Federal Street, Auckland CBD, Auckland 1010, New Zealand
Contact: +64 9363 6000
---
Warblers Retreat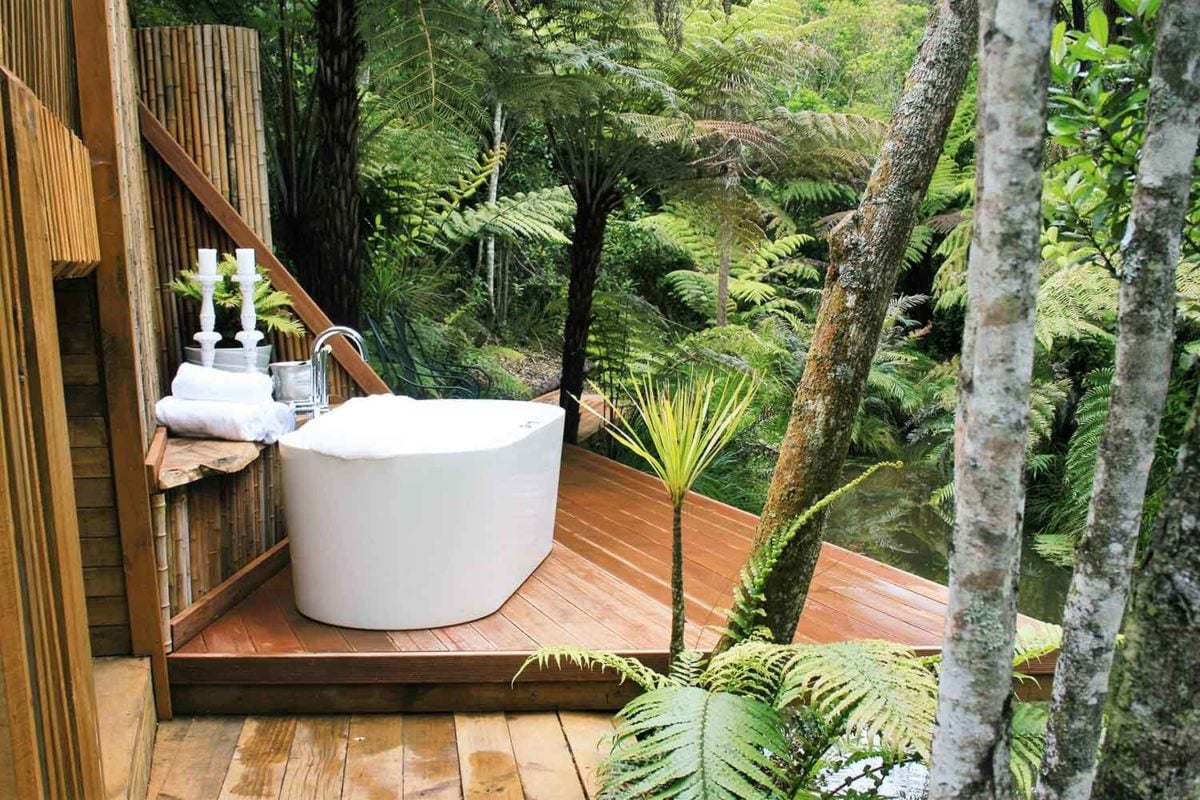 While most of the best hotels in Auckland are packed into the city, Warblers Retreat, a five-star eco getaway, coasts closer to the enormous Riverhead Forest. Nodding to its natural surroundings, this property is regarded as the city's most romantic getaway – certainly the most private.
The focus here is on a restorative stay, as most of the best and most remote luxury accommodations in New Zealand are. This includes forest-bathing spa baths, and access to some top-notch garden and nature walks.
Address: 8/361 Paremoremo Road, Albany, Auckland 0632, New Zealand
Contact: +64 9414 4503
---
Delamore Lodge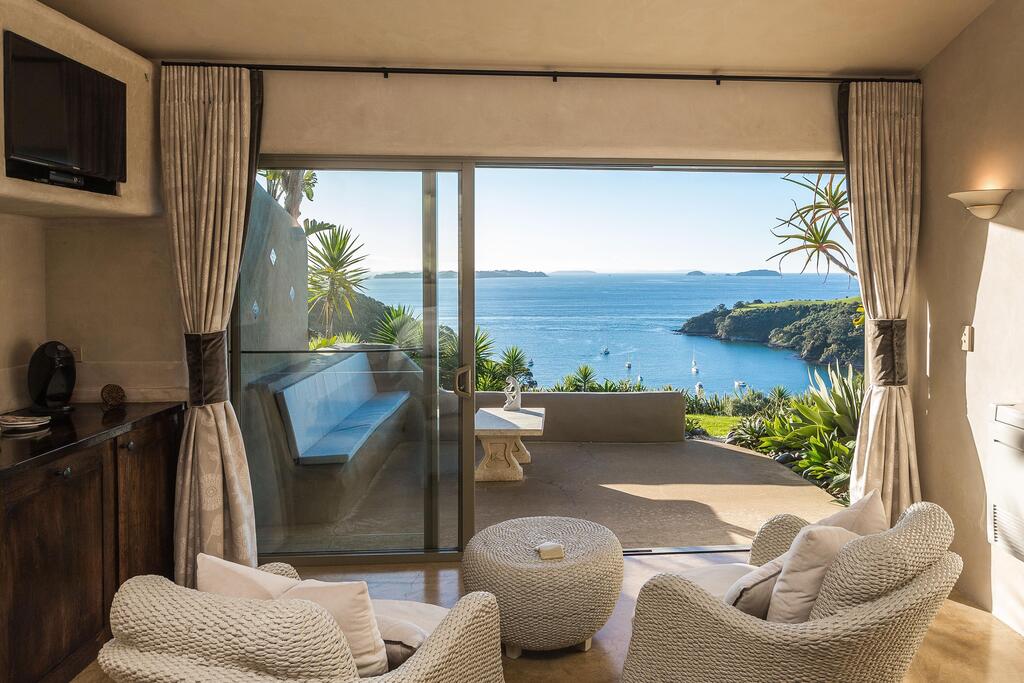 Located on Auckland's famous Waiheke Island, Delamore Lodge is clearly a shoo-in for lovers of fine New Zealand wine. The island is dotted with some of the best and most internationally renowned wineries you can find on the North Island, so the commanding cliffside lodge is obviously going to be swimming with some of the best drops around.
The hook-shaped, first-class lodge makes full use of its enviable location sweeping across Auckland's visually stunning Hauraki Gulf for the ideal backdrop to all that wining and dining, best taken from one of the numerous stylish rooms that make up the luxury hotel.
Address: 83 Delamore Drive, Oneroa, Auckland 1081, New Zealand
Contact: +64 9 372 7372
---
Sticking closer to home this year for a vacation? Check out the best restaurants in Noosa for your next holiday.
Best Hotels in Auckland – Frequently Asked Questions
---
What are the best hotels near Auckland Central?
The best luxury hotels around Auckland Central include Cordis, Hotel DeBrett and The Grand by Skycity.
What is the most fashionable hotel in Auckland?
For guests who like their hotels young and trendy, both the QT Auckland and SO/ Auckland are the top choices.
What is the best hotel at Auckland airport?
If you need to stay close to Auckland airport the best hotels are Novotel Auckland Airport Hotel and Naumi Hotel Auckland Airport.