There's much more utility in Airbnb than just booking somewhere homely as your temporary base of operations whenever you're abroad. Every now and again, the website uses its swathes of data to highlight the most popular properties in any given destination, highlighting one-of-one accommodations that you'd otherwise never come across. With New Zealand now open to all fully vaccinated Australian travellers, we thought it would be a good time to tap some of that data and round up the most
"wishlisted" New Zealand homes so that you're across 10 of the most enviable properties tracking everywhere from Pepin Island to Pihama.
Although, it seems Canterbury is the place to be if you really want to land on New Zealand's most popular Airbnb listings, with the majority of the homes in the current top 10 being from the South Island region. Canterbury is obviously best known for its largest city, Christchurch, but it appears the most enviable homes are spread outside of the city, sidling up to the Southern Alps or nestled on a remote farmstead.
It's the type of bread-and-butter nature porn that defines Airbnb's most popular homes, and New Zealand is full of them. Luxury set against rugged landscapes is what the best lodges in New Zealand thrive upon, and these rentable homes are no different.
---
---
Note that this data is based on the most "wishlisted" New Zealand homes on Airbnb from Australian travellers.
RELATED: Airbnb Reveals The Most Liked Homes Of 2021
The Most Popular New Zealand Homes On Airbnb [2022]
Kiwi Chalet – Lake Hayes, Otago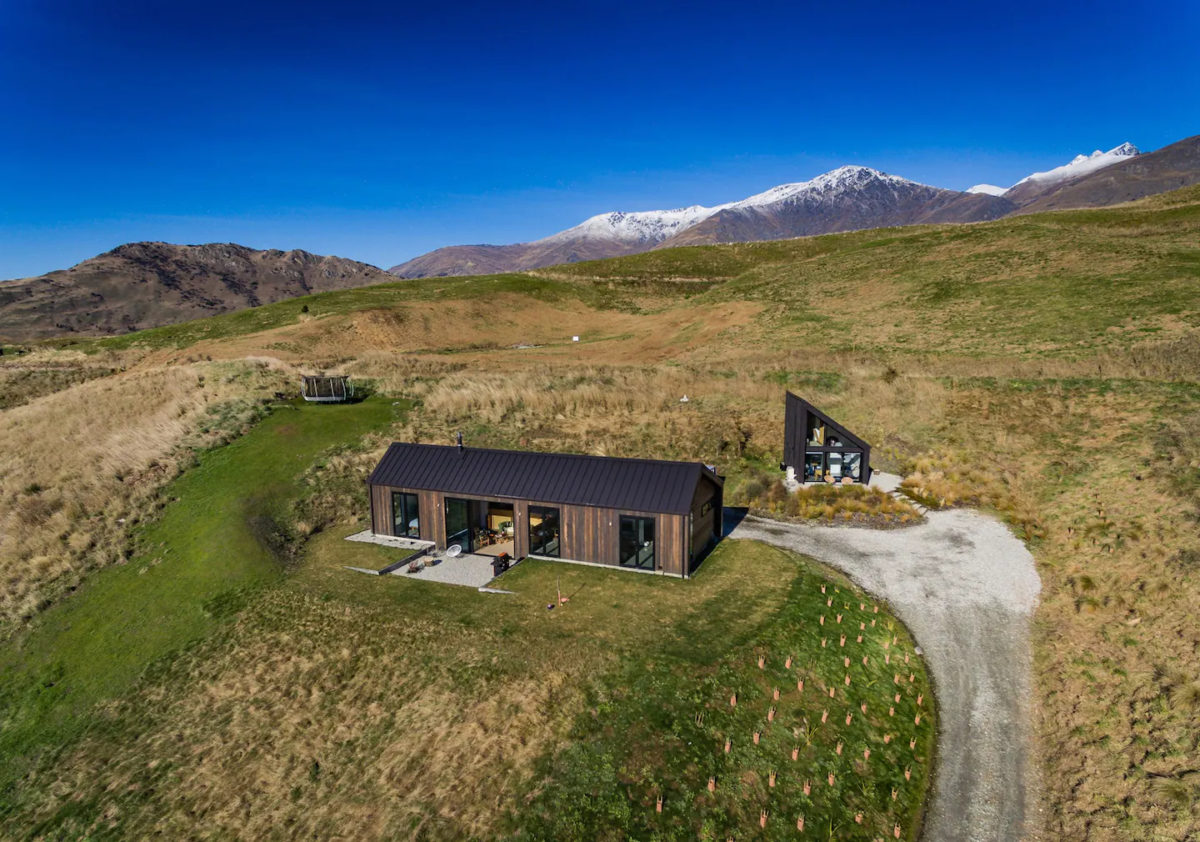 With an enviable location overlooking Coronet Peak, Kiwi Chalet is as immersive as they come and a prime romantic getaway if you're heading over to New Zealand with your partner. The major selling point here is all of that natural frame of majestic snow-capped mountains and wide-open terrain, making guests feel like this spot was carved into the earth just for them.
A stay at this art-deco tiny home also means you're close to all the ski fields, cycling trails and nature walks you'd need. If something a bit more urban is on the cards, historic Arrowtown is only a short drive away, and Queenstown is also an easy day trip should you be in the mood for a quick lunch at Amisfield or Rata.
Stargazing at Coronet Peak is also a celestial experience, so whatever you do, make sure you're back at Kiwi Chalet by night. The light show would be worth it.
Guests: 2
Bedrooms: 1
Bathrooms: 1
Price: $204
---
The Raven's Nest Bed & Second Breakfast Farmstead – Springfield, Canterbury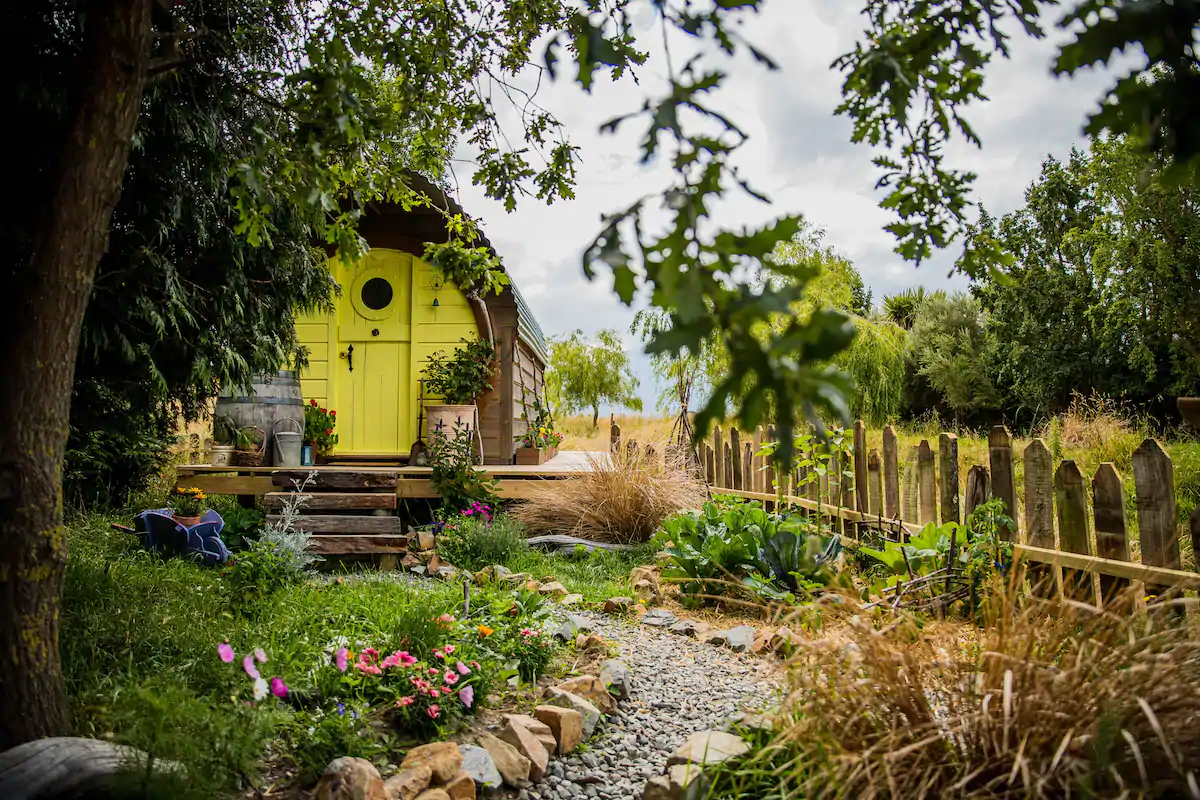 While it may look like The Raven's Nest Bed is straight out of New Zealand's famous Hobbiton Movie Set in Matamata, this fantastical Canterbury home is found just outside of Christchurch on the South Island. As with most remote farmstead stays in New Zealand, this unique home is surrounded by sheep and towering trees with direct access to snowfields and wide-open spaces perfect for horse riding.
---
---
It's the kind of surreal stay that perfectly expresses the uniqueness of New Zealand's landscape, and why it was chosen as the filming location for The Lord of the Rings in the first place. Anyone who wants to stay at Hobbiton usually picks one of the Hobbit hotels just outside of the film set; this is a much better idea if you want to recreate that same kind of Middle Earth accommodation without the tourists.
Guests: 2
Bedrooms: 1
Bathrooms: 1
Price: $171
---
Rocky Point Hut – Pepin Island, Nelson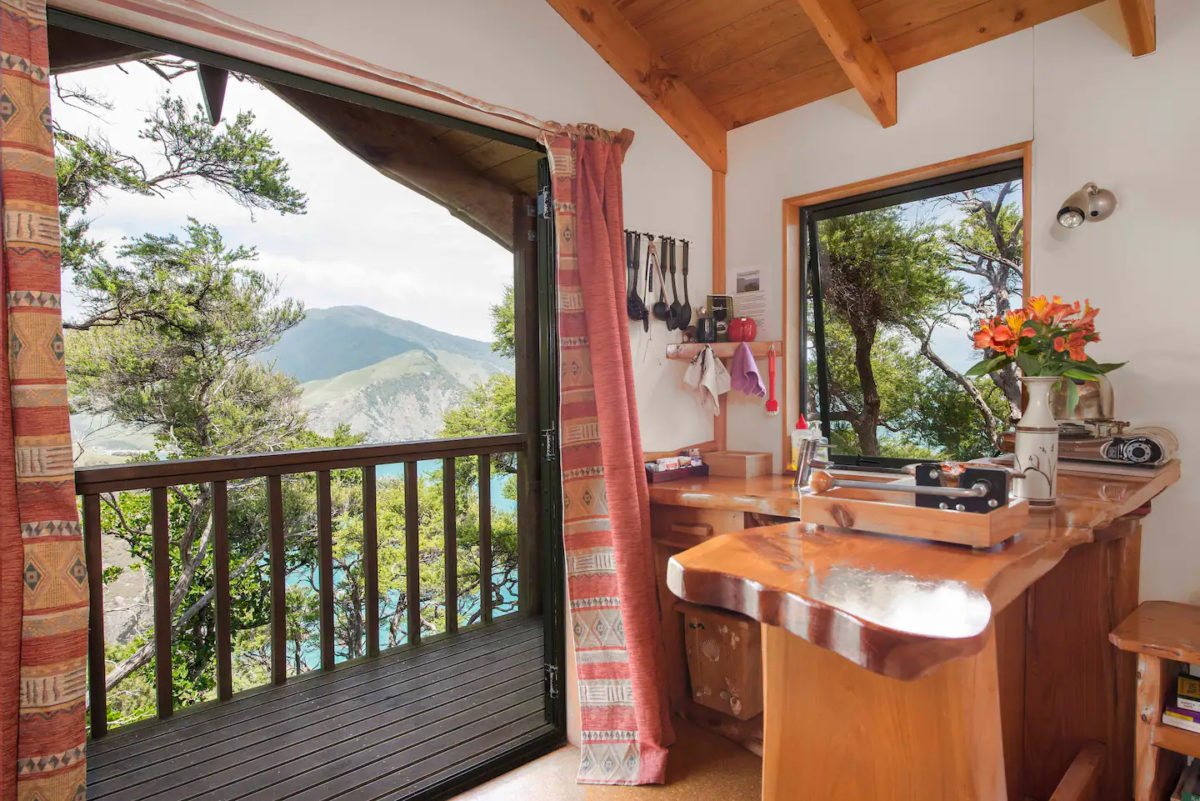 Noticing a theme here? The most popular New Zealand homes on Airbnb are almost all small-scale getaways best suited for those quintessential romantic getaways. Given these are the most "wishlisted" homes for Aussie travellers, it seems those – at least from this subset – planning on making the journey across the ditch are all couples looking for isolated, scenic accommodations as opposed to city stays.
Rocky Point Hut embodies that brief. Situated on the very remote Pepin Island, the luxury hut soaks in pinch-yourself scenery across Cable Bay and Tasman Bay, making the most of its coastline location. The private hut is located on a cliff, right next to a hot outdoor bath that overlooks the Abel Tasman ocean.
While the wooden interiors don't look quite as lush as some of the other New Zealand Airbnb homes on this list, the location more than makes up for any compromises.
Guests: 2
Bedrooms: 1
Bathrooms: 1
Price: $177
---
Stargazer's Luxury Retreat – Lake Tekapo, Canterbury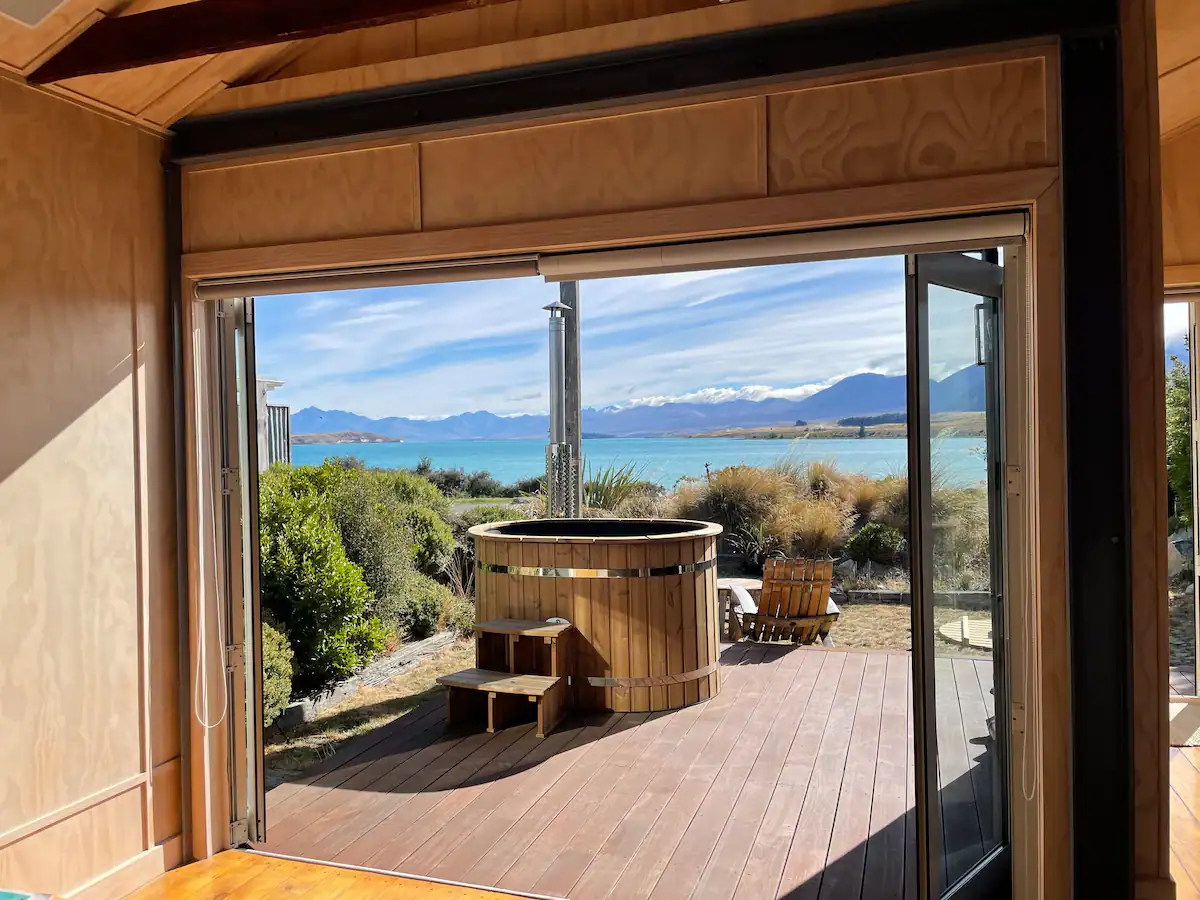 The name is really the only description you need if you want to imagine what a stay at Stargazer's Luxury Retreat is like. If you're heading to this tastefully-designed cottage for a bit of escapism for a few nights then you're going to end up in that gorgeous private wood-fired hot tub looking up at the impeccably clear night sky.
The region's emblematic Church of the Good Shephard is a short walk from this New Zealand Airbnb, so the tourist attraction's surrounding cafes are nearby should you want to pop your head out from the private cottage. Although it feels like seeing anyone other than your partner when you're up to is an immersive-breaking experience not worth the effort. Pack your fridge with some regional produce and wine and spend a few nights here hiding away. Few things compare.
---
---
Guests: 2
Bedrooms: 1
Bathrooms: 1
Price: $278
---
Ica View Glamping – Whareama, Wellington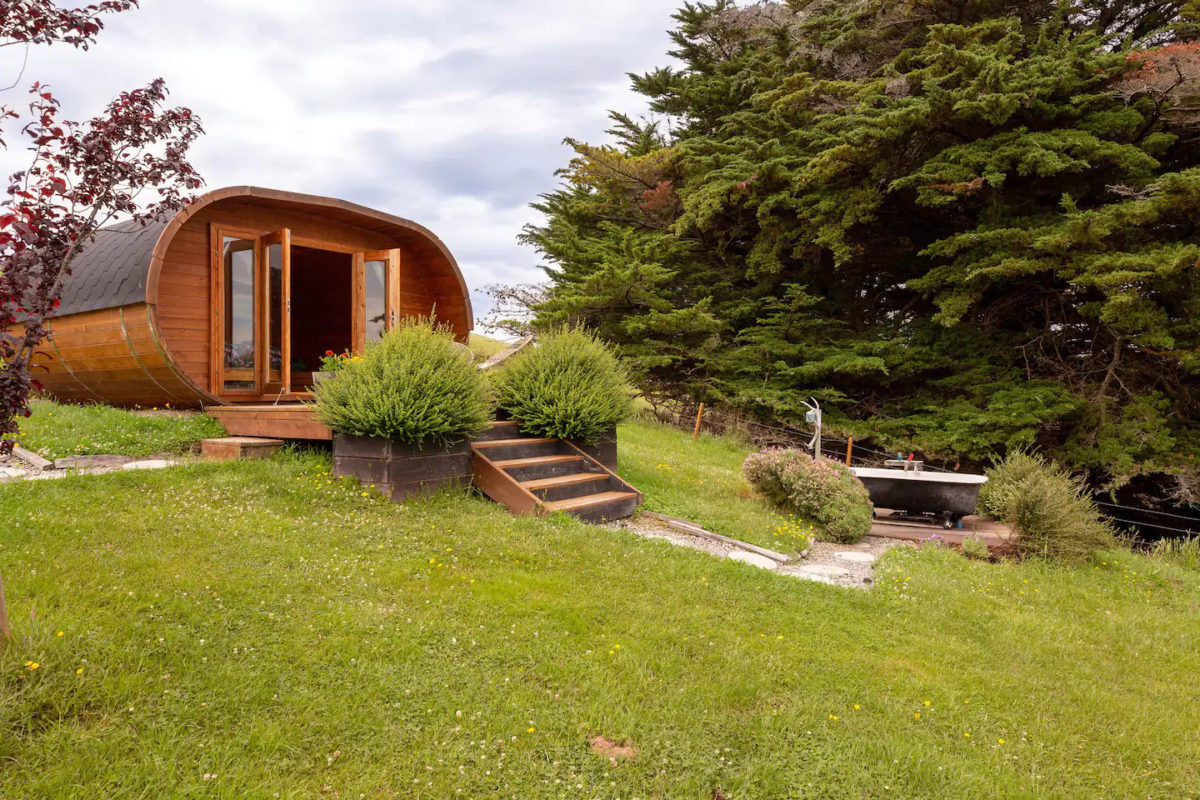 Located just outside of New Zealand's capital, Wellington, Ica View Glamping is a tiny property that's big on atmosphere. Those bucolic surroundings would make you feel as if you've been ripped away from any sense of society, setting a nice, wild scene for you and your partner to soak up the privacy with private BBQs, outdoor baths and nature walks – typical off-the-grid stuff.
Plus, when you feel like shelling out from your hermit lifestyle, the beaches of Masterton are just a 35-minute drive east and Wellington is only a bit further.
Guests: 2
Bedrooms: 1
Bathrooms: 1
Price: $191
---
The Nest Coastal Escape – Pihama, Taranaki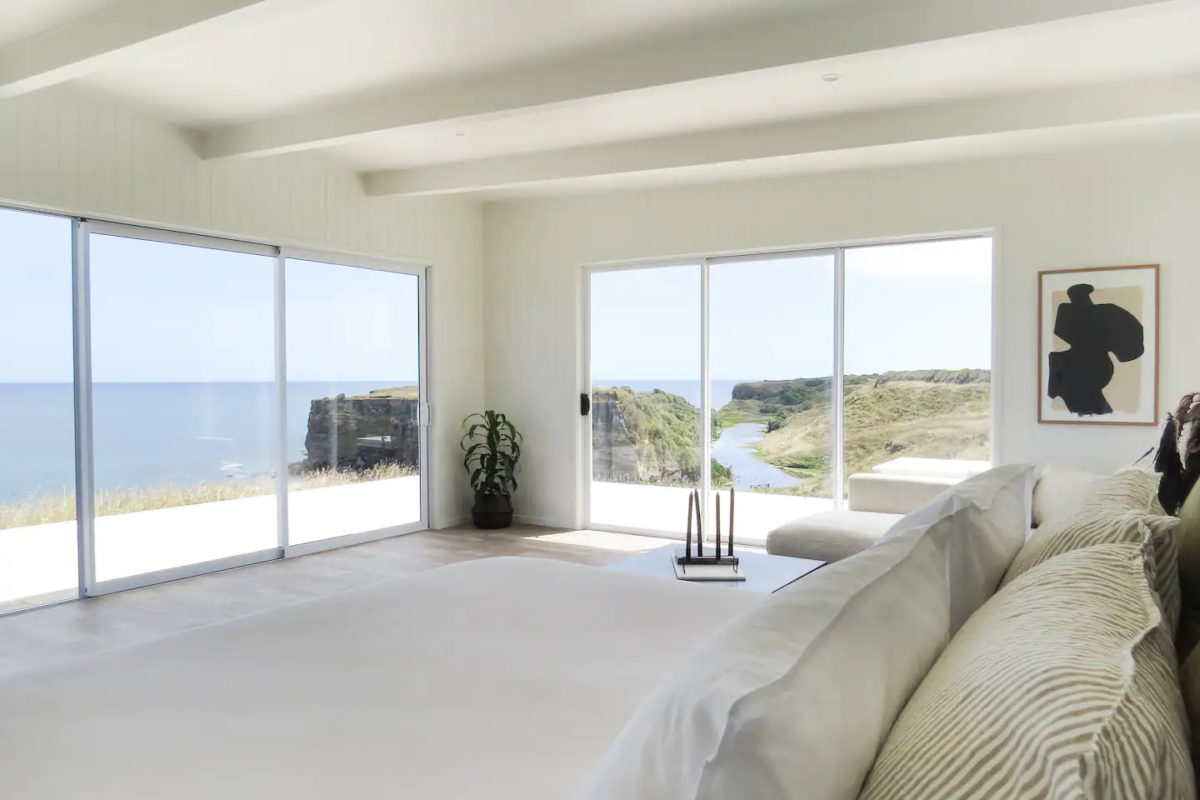 If Mt Taranaki is your preferred frame, then The Nest Coastal Escape in Pihama has your name written all over it. Not that this is an exclusive feature to this part of New Zealand, but the untouched nature found swirling around this 1-bedroom home will go far in satisfying any amount of wanderlust you've built up during the past few years, letting you and your partner loose on the rugged surrounds that overlook the Tasman Sea and a deserted black sand beach.
If you're regularly heading down south to check out the best nature escapes in Tasmania, then you should be familiar with the kind of wild and remote atmosphere The Nest offers. And while the inside may look like a cookie-cutter modern apartment, the furnishings look comfortable enough to offer an ideal base to retreat to after a day venturing around the landscape.
Guests: 2
Bedrooms: 1
Bathrooms: 1
Price: $266
---
Tom's House – Queenstown, Otago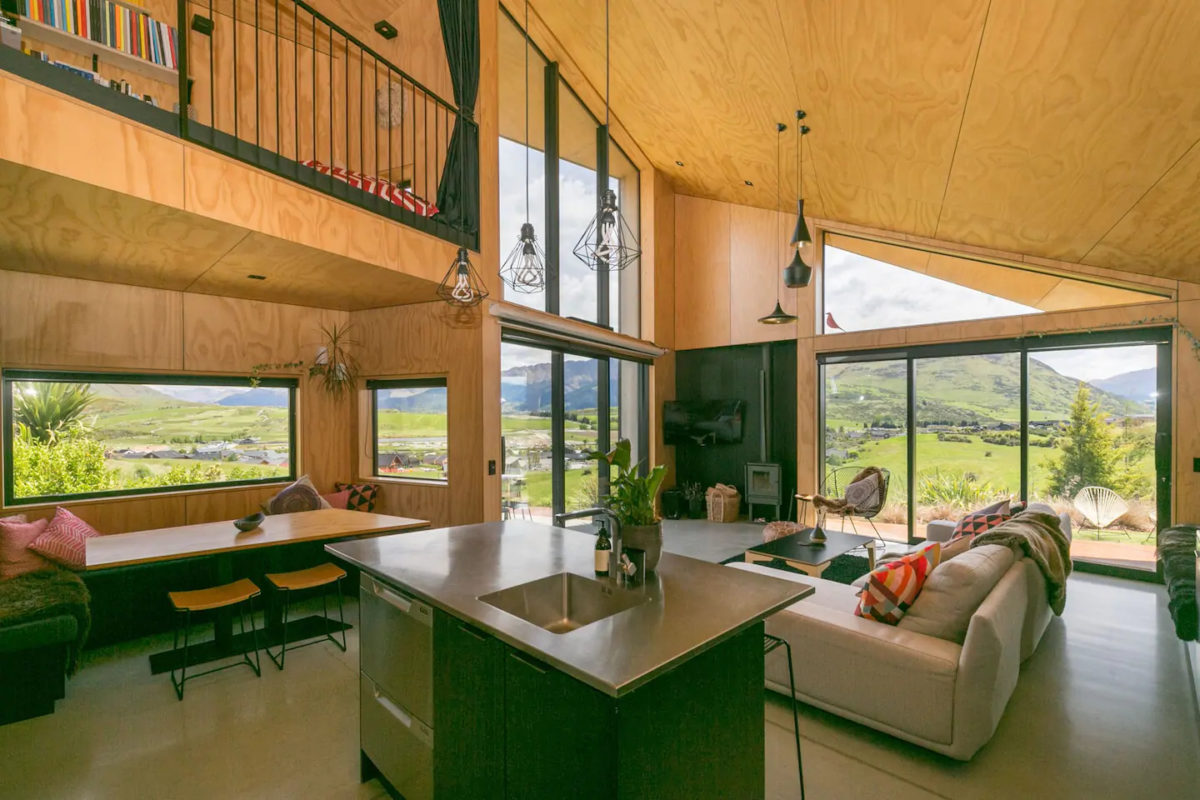 It's no surprise that if any major town in New Zealand was to make an appearance on this list, it'd be Queenstown. The quintessential adventure destination has plenty of worthwhile hotels and lodges set amongst some of New Zealand's best restaurants and art galleries, but if you're looking for somewhere a bit more private whilst in the Park City of the Pacific then it seems like Tom's House is the way to go.
---
---
The award-winning home is an accomplished architectural gem just outside of town, moving away from the trend of romantic couple's getaways with three bedrooms and five beds for a total of eight guests. A very open design offers plenty of space in the living areas, and the bedrooms like equally generous with a lot of crystal-clear views that pull in natural light and look north towards some of Queenstown's best features.
Guests: 8
Bedrooms: 3
Bathrooms: 2
Price: $419
RELATED: The Best Queenstown Restaurants For When You Need Some Off-Piste Fuel
---
High Country Cabin – Ben Ohau, Canterbury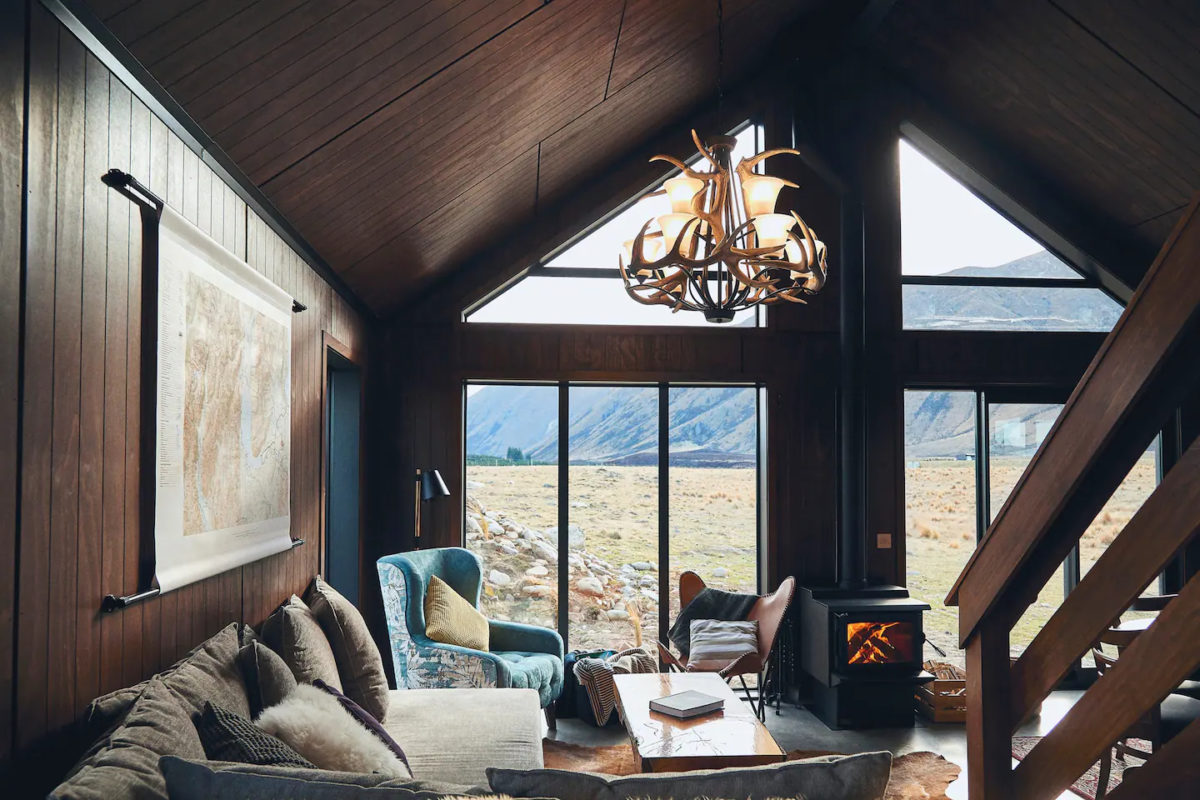 Styled after the backcountry huts that can be found throughout the Canterbury region, High Country Cabin looks like another great shout for small groups looking to post up in a rustic country-style experience. The location in the Southern Alps adds a bit of drama to the whole scene, while the bucolic town of Twizel sits just 15-minutes away from the tastefully decorated home.
Much like pretty everywhere on the South Island, you've got almost direct access to top-quality snow sports, mountaineering, hiking, mountain biking, hunting and fishing so do consider the fact that you'll be out and about for most of the time you're here.
Guests: 5
Bedrooms: 1
Bathrooms: 1
Price: $185
---
Skylark Cabin – Twizel, Canterbury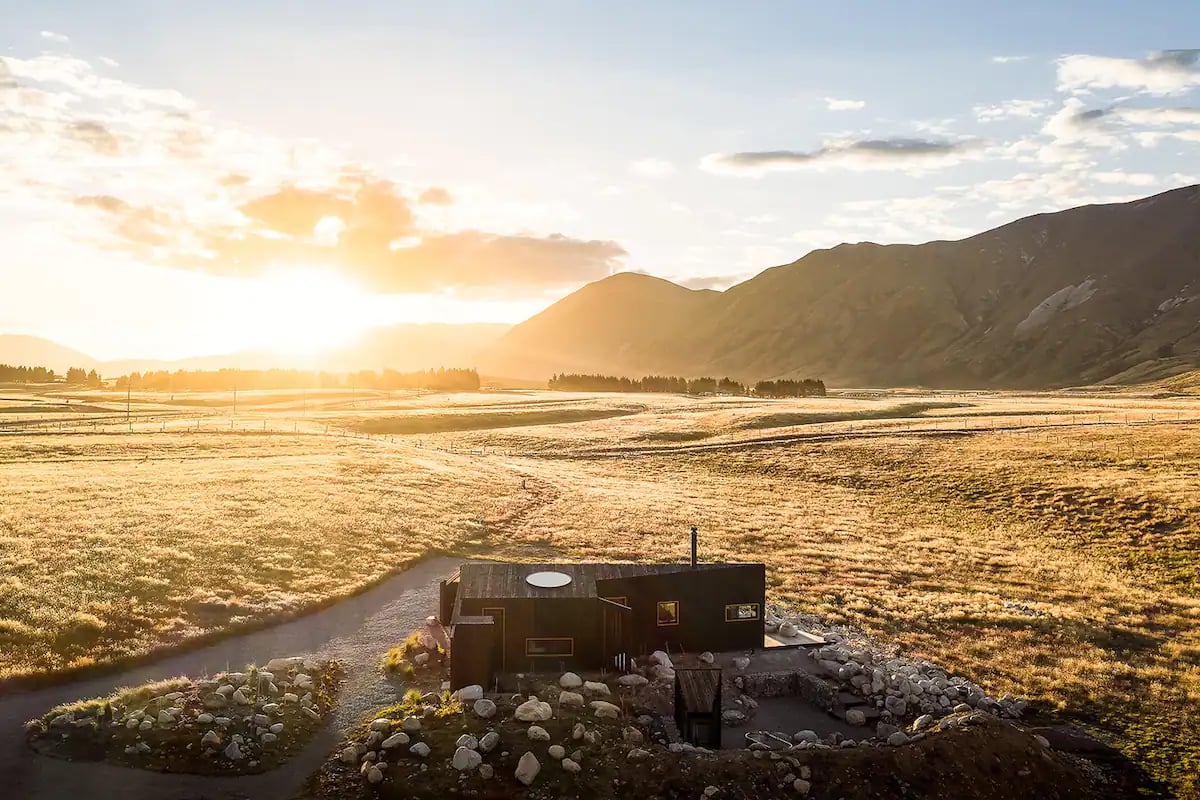 Much like High Country Cabin above, Skylark Cabin is perfect if you want to see a side of Canterbury that's often – unwisely – neglected by Aussie travellers in favour of art-obsessed Christchurch. Considering this New Zealand Airbnb home only has enough space for 2 people, at around $354 per night it's easily the priciest on this list and looks like it offers just as much value in return.
You've got the backcountry vibe of Ben Ohau to contend with out here, meaning plenty of natural beauty spinning around you. Expansive valleys, soaring mountains – you get the idea. And while there's absolutely nothing wrong with being same-same in a country like New Zealand, Skylark Cabin at least has its immaculate design to keep it distinctive amongst similar Airbnb options.
---
---
Picture an outdoor stainless steel bath with gas-heated hot water soaking under the clear night sky, with high-end furnishings that look like they've been taken straight from a five-star hotel.
Guests: 2
Bedrooms: 1
Bathrooms: 1
Price: $354
---
Pisa Cabin – Bendigo, Otago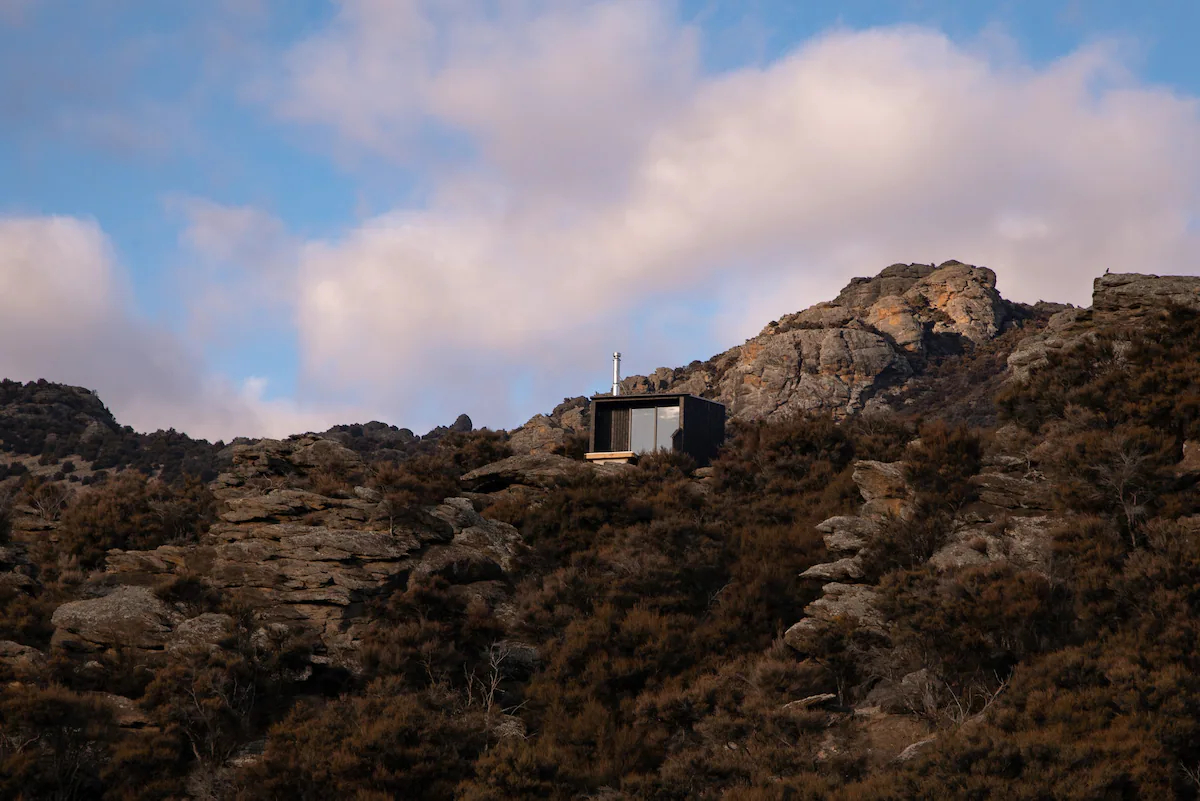 Located in historic Bendigo in Central Otago, about 30-minutes outside of Wanaka and 50-minutes from Queenstown airport, the hilltop Pisa Cabin is the very definition of a pristine wilderness escape. Consider it Central Otago distilled into one cosy, gilded studio, setting couples up for the ultimate off-the-grid base after a day running through nearby wineries or taking advantage of Wanaka's dry powder ski runs. With plenty of adventure around, soaking in that outdoor tub after a big day seems like it's worth the trip alone.
It's probably one of the more cost-effective ways to really make the most of Central Otago, so it's unsurprising to see so many Aussie travellers have their sights set on Pisa Cabin.
Guests: 2
Bedrooms: 1
Bathrooms: 1
Price: $166
---
Feel like a city break in New Zealand? Check out the best hotels in Auckland.