UPDATE [11/10/21]: Rockstar Games has confirmed the Grand Theft Auto remastered trilogy – GTA III, GTA: Vice City, GTA: San Andreas – is on the way for current and last-gen consoles. Dubbed Grand Theft Auto: The Trilogy – The Definitive Edition, it'll arrive before the end of 2021, with a mobile version releasing in early 2022. You can find out more here.
"Later this month marks a very special anniversary for Rockstar Games: 20 years since the original release of Grand Theft Auto III. In addition to carving a new path for the open-world genre, Grand Theft Auto III established Grand Theft Auto as a cultural phenomenon, alongside its two subsequent — and equally legendary — entries in the series, Grand Theft Auto: Vice City and Grand Theft Auto: San Andreas."

"In honour of the upcoming anniversary, we are excited to announce that all three games will be coming to current generation platforms later this year in Grand Theft Auto: The Trilogy – The Definitive Edition for PlayStation 5, PlayStation 4, Xbox Series X|S, Xbox One, Nintendo Switch, and the Rockstar Games Launcher on PC."
"Grand Theft Auto: The Trilogy – The Definitive Edition will feature across-the-board upgrades including graphical improvements and modern gameplay enhancements for all three titles, while still maintaining the classic look and feel of the originals… To prepare for launch, we will begin removing existing versions of the classic titles from digital retailers next week."
---
---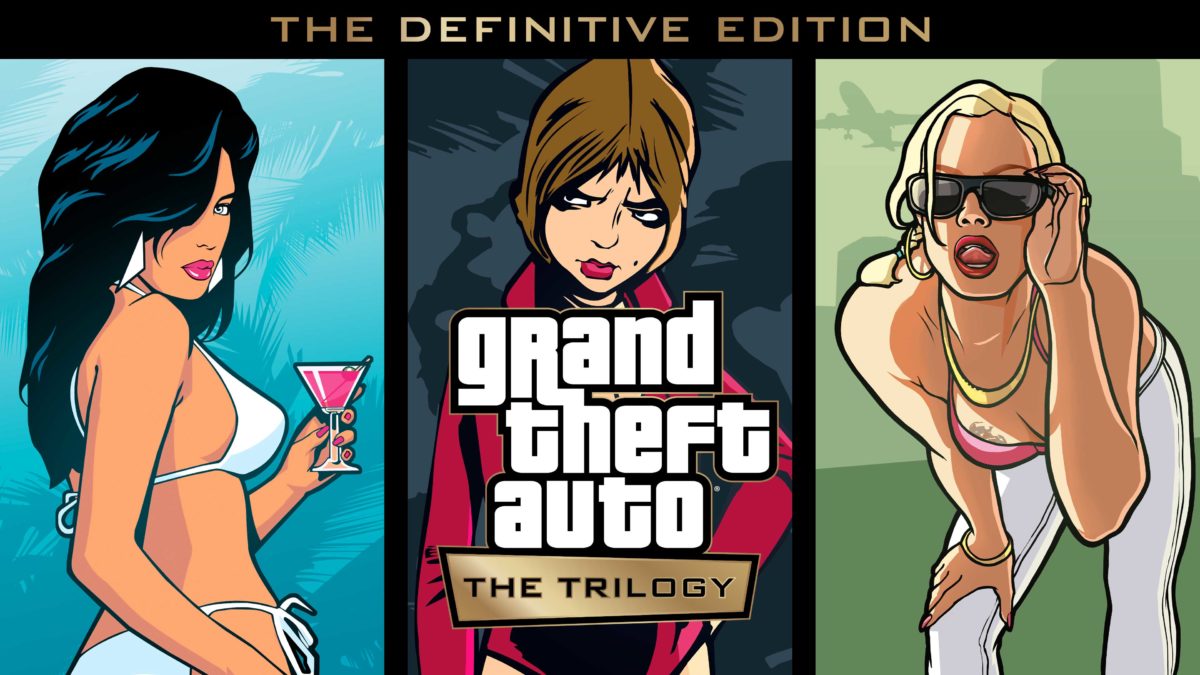 Original Article – 'Grand Theft Auto' Remastered Trilogy Currently In Development
Rockstar Games' Grand Theft Auto franchise has been mired in what seems like an endless procession of rumours lately, and we're not just talking about the long-overdue sixth instalment that's slated for 2025. Fresh reports are now indicating a remastered Grand Theft Auto trilogy – GTA III, GTA: Vice City, GTA: San Andreas – is in the works from Rockstar's Dundee Studio in Scotland, with a tentative release date of late October slash early November this year.
Compatible with every console from PlayStation 4, PlayStation 5, Xbox One, Xbox Series X | S, Nintendo Switch, to Stadia – eventually arriving to PC and mobile devices in 2022 – the possibility has been discussed for some time now; but only recently alluded to by Rockstar's parent company, Take-Two Interactive, which confirmed plans for three unannounced refreshes of classic titles (although some speculate this could involve the likes of Max Payne, Bioshock, and Bully instead).
RELATED: 'Grand Theft Auto 6' Release Date Reportedly Scheduled For 2025
According to an unnamed inside source who has spoken to Kotaku, all three games are being remastered using Unreal Engine, blending a mix of "new and old graphics." One particular source, who claims to have witnessed a snippet of the games in action firsthand, stated the visual component was extremely reminiscent of the classic GTA titles' heavily modded versions. Throw in the fact an entire shotgun spray of DMCA takedowns were fired off to remove said classic GTA mods as the remastered games were announced, and suddenly it all makes sense.
The UI for each game is facing something of an overhaul as well, though will retain a good portion of the same classic style. At this stage, no details have been revealed about gameplay – on the unofficial front or otherwise – although Kotaku has on good authority that the coming trilogy will "… [try] to stay true to the PS2-era GTA games as much as possible." Which is certainly a comfort for the more nostalgic operators among us.
The goalposts for a GTA remastered trilogy has apparently been shifted due to COVID-19. Initially, the intention was to release all three games in a single package, gifted to players who purchase the upcoming next-gen re-releases of GTA V and GTA Online as a "thank you" bonus of sorts. Now, it seems like Rockstar Games wants to make some actual dosh.
---
---
If all goes well in the old sales department, this could potentially lead to a remastered edition of the original Red Dead Redemption.