If you love driving, there's a lot to enjoy about racing simluators, except one thing: most of them are awful to look at and need to be relegated to the garage or games room. To fix this eyesore, Prodrive has linked with legendary automotive designer Ian Callum's studio CALLUM, to create a racing simulator that looks like a work of art.
Levelling up from the arcade racing simulator style, the design of Prodrive and CALLUM's sim is restrained but aggressive, boasting a shape that just looks quick. The build features a sculpted carbon monocoque cockpit, which sits beneath an elegantly shaped dorsal-fin-like canopy made from 16-layers of pressed birch timber.
It's no accident that this sim looks so good, with Ian Callum's CV including names like Ford, TWR, and Aston Martin, while he also served as the Director of Design for Jaguar Landrover until 2019. He's since set up his own design consultancy firm, continuing to work on automotive projects with the likes of Prodrive that saw the creation of the $2.2 million Hunter hypercar derived from a Paris Dakkar race car.
---
---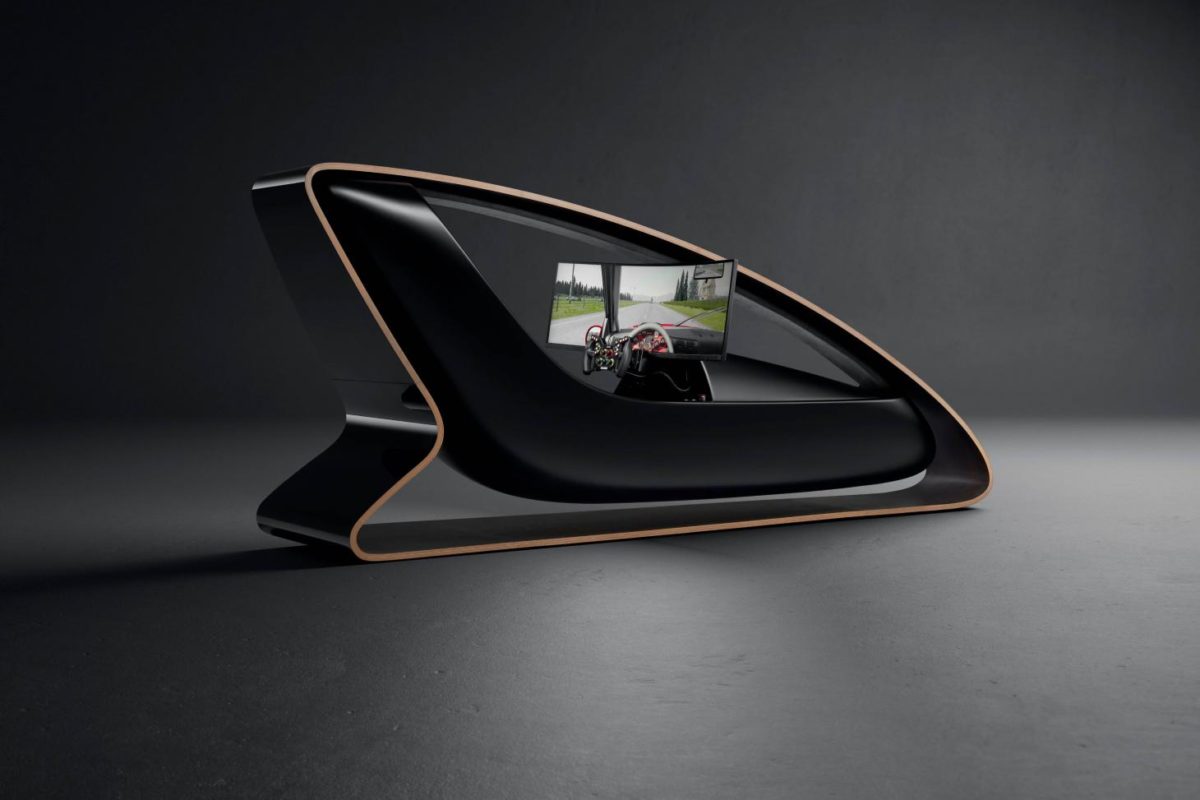 RELATED: Aston Martin's AMR-C01 Racing Simulator: The Ultimate Home Setup
While the Prodrive and CALLUM racing sim looks the part, it's also functionally cutting edge, featuring a supremely comfortable Cobra Nogaro Street seat, Precision SIM LM Pro steering wheel, and curved 49-inch AOC dual QHD monitor. Running on Assetto Corso racing software, the system uses a 12GB GeForce RTX graphics card and arrives with a set of Bowers & Wilkins PX7 Bluetooth headphones.
"Designing the simulator was a great opportunity to create something technically stimulating as well as visually abstract," Ian Callum said about the project.
Prodrive chairman David Richards was equally enthusiastic about the project, explaining, "most racing simulators on the market today are very functional but not particularly attractive.
"What I wanted was something that was more like a piece of modern art; something you would be proud to have on display in your home like a grand piano or sculpture, indeed something that would not look out of place in a gallery of contemporary art."
The Prodrive x CALLUM racing simulator is currently available to order from Prodrive's site, with an RRP of £39,000 (AU$67,490).