Digital content has reached a stage where TV shows and video games can feasibly crossover / collaborate / champion on a whim. The latest example comes from Ubisoft and Netflix, as the former announces its Watch Dogs: Legion will soon be dropping a DLC based on the latter's Spanish crime series, Money Heist (AKA La Casa De Papel).
The free online co-op mission takes players to the Bank of London with a key objective: steal millions of illegally stored cryptocurrency from Clan Kelly (one of the game's enemy factions). Dressed in full Money Heist garb – red jumpsuits, masks, and all – you'll be required to team up with your friends, infiltrate the building, neutralise some guards, disable a firewall, download the crypto, and of course, take on Clan Kelly while avoiding capture.

"Suit up and embark on a crypto-heist for the Resistance!" reads the official trailer description.
RELATED: 'Money Heist' Season 5's Explosive Trailer Is Finally Here
---
---
As per the trailer, players also have a choice of approaching it stealthily or kick the door down guns blazing and launch a full-scale assault. Once the counterfeit ETO has been secured, not to spoil anything, but it appears as though the escape involves riding a drone across the River Thames and into the night sky. Successfully completing the Watch Dogs: Legion x Money Heist mission – dubbed "Paperless" – unlocks an exclusive skin for players' recruits.
This isn't exactly the first crossover event hosted by the game. Earlier in the month, Ubisoft announced another experience based on the studio's other major property – Assassin's Creed – which arrived last week alongside Update 5.5. Following a newly-introduced character by the name of Darcy, players are tasked with breaking into a tomb of old assassins in London armed with the iconic hidden blades (the franchise's signature weapon used in-game by the Assassin's Brotherhood). While the story isn't canon, successfully completing the mission does unlock a playable assassin character, as well as two new story missions.
RELATED: Ubisoft Is Developing A Massive Open-World 'Star Wars' Video Game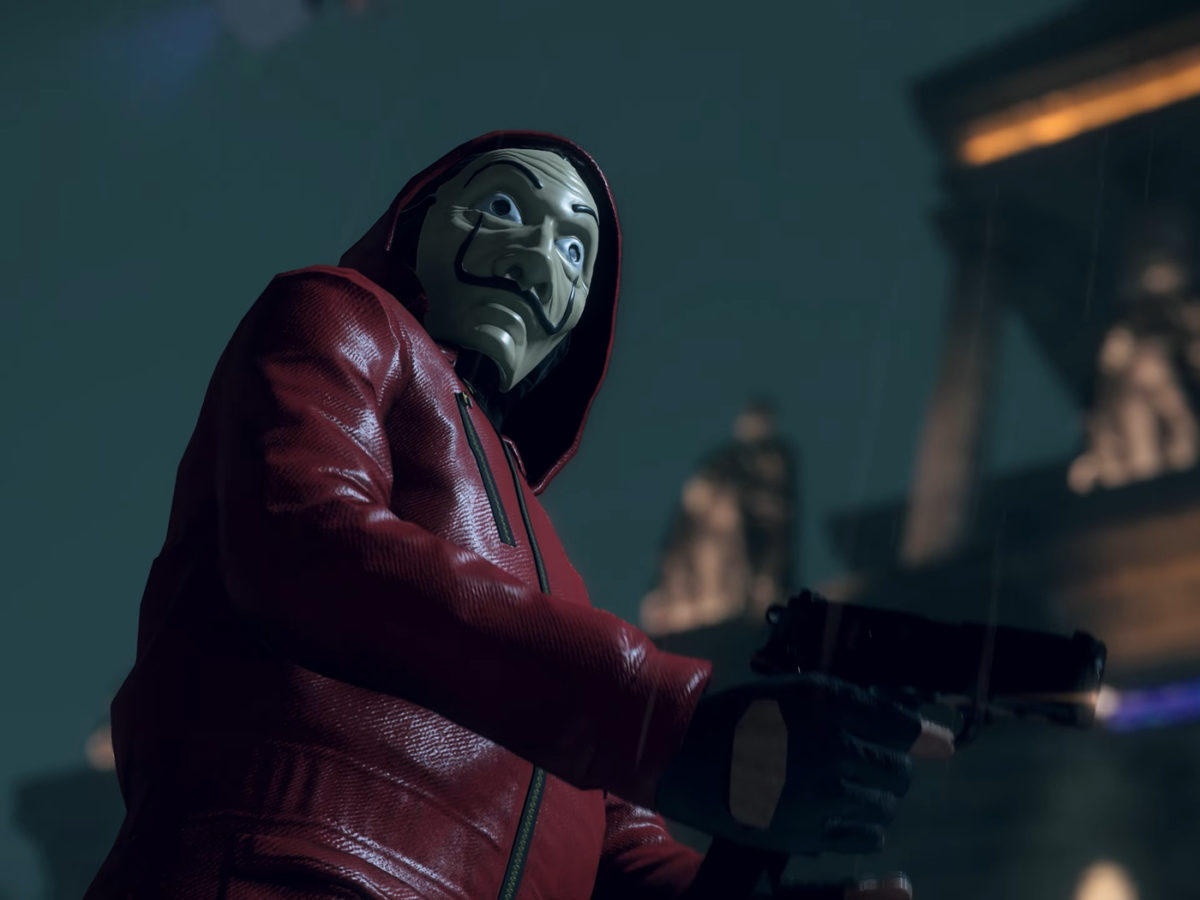 Prior to both the Money Heist "Paperless" co-op mission and the bonus Assassin's Creed content, Ubisoft and Netflix partnered up to produce yet another limited-time, interactive crossover centred on the animated series Blood of Zeus and Immortals Fenyx Rising. The quest pitted players against the formidable Cerberus and Chimera. On that occasion, the reward for completion entailed an Eagle pendant, in addition to several customisation options inspired by the Netflix release.
Check out the trailer for Ubisoft x Netflix's Watch Dog: Legions & Money Heist DLC ("Paperless") above.