Without any of the usual hype and fanfare leading up to its arrival, a brand new Dave Chappelle special has just been released by Netflix. But those of you expecting conventional stand-up might be disappointed with What's In A Name.
In the same vein as The Closer, this latest special is more of a political + philosophical examination as opposed to regular old comedy. Across 40 minutes, What's In A Name chronicles the speech Dave Chappelle gave last month during a naming ceremony at his alma mater, Washington DC's Duke Ellington School of the Arts. And as you may recall, the institution faced some backlash.
"Chappelle wasn't warmly received and faced some angry students. The appearance was going to be for a theatre that was to be named for Chappelle in consideration of his support of the school, especially after he and his friends were the group that raised the most money for the building," explains Bruce Haring of Deadline.
---
---
RELATED: 'Blonde' Trailer – Ana De Armas Becomes Marilyn Monroe In Netflix's R-Rated Drama
"That dream ended when his long-running controversy over statements on the transgender community in The Closer ended those plans. Instead, he decided the venue shall be called the Theater for Artistic Freedom and Expression."
The speech in question addresses a hostile student Q&A session hosted at the very same school in which Dave Chappelle defended himself from the controversy.
"All the kids were screaming and yelling. I remember, I said to the kids, I go: 'Well okay, well what do you guys think I did wrong?' And a line formed. These kids said everything about gender, and this and that and the other, but they didn't say anything about art," recalled Dave Chappelle.
"And this is my biggest gripe with this whole controversy with The Closer — that you cannot report on an artist's work and remove artistic nuance from his words. It would be like if you were reading a newspaper and they say: 'Man Shot In The Face By A Six-Foot Rabbit Expected To Survive.' You'd be like, 'Oh my god,' and they never tell you it's a Bugs Bunny cartoon."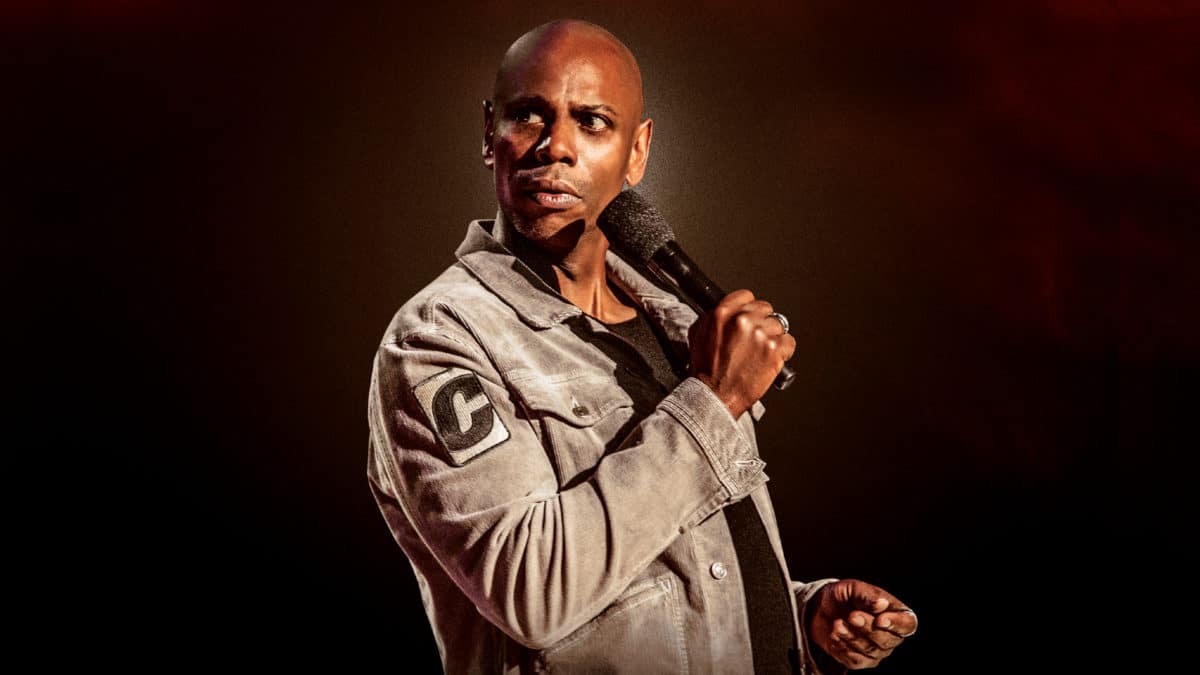 "The more you say I can't say something, the more urgent it is for me to say it."
Despite all the headlines and vitriol, Netflix seems perfectly content with sticking by Dave Chappelle. In addition to What's In A Name, earlier this year, it was confirmed he'd be executive producing and hosting a fresh batch of comedy specials for the crimson N dubbed Chappelle's Home Team.
---
---
While they were initially billed as "Dave Chappelle comedy specials," he isn't the sole focus of Chappelle's Home Team. Nor is he even the focal point. Instead, each instalment features a different comic handpicked and introduced by Chappelle – although you can still expect the odd one-liner.
RELATED: The Best Shows On Netflix Australia Right Now [July 2022 Update]
The first metaphorical cab off the equally metaphorical rank was The Neighbourhood actor and host of Quakeshouse radio show, Earthquake (real name: Nathaniel Martin Stroman), whose special Earthquake: Legendary premiered later this month on February 28th.
Another special spotlights veteran Chappelle collaborator, Donnell Rawlings, who was a key player in the revered Chappelle's Show. The last two talents, however, have yet to be announced. According to The Hollywood Reporter, all comedians involved have been in the stand-up game "for at least 30 years." So don't expect any fresh faces.
"I've been doing this a long time and comedians like Quake and Donnell are not only friends but have inspired my own career," says Dave Chappelle.
"Anyone in the comedy community knows these names and knows their time to shine is long overdue. I am proud to be a part of this moment."
You can now watch Dave Chappelle's What's In A Name on Netflix.