Harvey Specter is the boss – there's no more appropriate way to put it. He kicks goals and gets it done, all the while staying impeccably dressed and looking sharp.
We teamed up with psychologist and career expert, Suzie Plush, to give you an insight into five key areas so you too can kick goals with confidence like the man himself: Harvey Specter.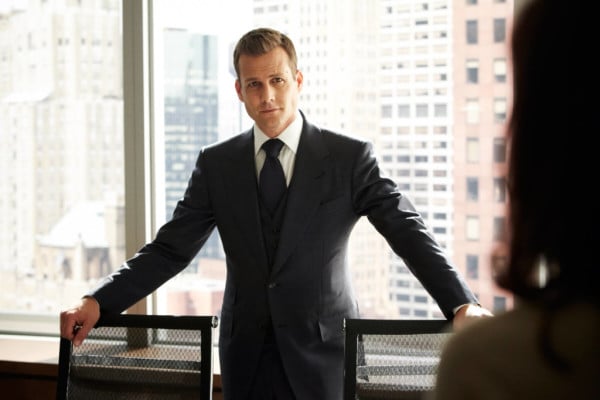 Dress for impact
"The better you dress the worse you can behave"
---
---
Your presence will be felt if you power dress. A polished presentation will immediately give you the upper-hand in your negotiations. While realising that we can't all afford $3,000 suits like Harvey, Suzie's advice is to spend within your means and prioritise quality over quantity. Invest in one good suit rather than multiple tacky options. Most importantly, have it tailored. No need to completely blow the budget, something around $1,000 should do the trick.
If the suit is tailored, natural confidence will come from feeling good in your outfit. First impressions count. Think of it as an investment in your career and development. Getting an old suit tailored is a good option too, but make sure it still fits with the current trends.
Rewrite the rules
"When you're backed against the wall, break the goddamn thing down" – Harvey Specter
Challenge what is expected and be creative when problem-solving. Casey Neistat has told us over and over again, "Do what you can't." Suzie emphasises the need not to think outside the box, but redraw it completely. Try new approaches – to everything from daily experiences to life goals. Make 'yes' your first response rather than immediately thinking of how things can't be done. Change the norms. Start small, this Monday try chatting to someone new in the office you wouldn't normally speak to. The rest will flow naturally.
Position yourself to win
"You wanna lose small I wanna win big" – Harvey Specter
Take up challenging opportunities and do what it takes to come out on top. Strategic risk-taking is a fine art for the modern man. If you want to win big, you usually have to bet big, says Harvey Specter. The key here is to pick and choose your battles, be calculated in your approach and be prepared to fail forwards. By this we mean you should expect setbacks and accept them with humility. You'll get more confident the more often you bounce back from failure.
Let your reputation precede you
"Work until you no longer have to introduce yourself" – Harvey Specter
---
---
Craft your personal brand to ensure you leave a lasting impression. This isn't about trying to make your reputation by driving yourself into the ground. No one's going to be successful in both work and life by slaving away six days a week from 8 AM until 10 OM. You need to work hard but also play hard. When you are working, work smarter not harder. Learn to say no to things that don't add value in your life and prioritise those that energize you. The success and reputation will become a consequence of your attitude towards your quality of life.
Back yourself
"It's going to happen because I'm going to make it happen" – Harvey Specter
Speak with authority; your tone, pace and choice of language will increase your level of persuasion. Communication is power. You don't always have to say everything that comes to mind, try speaking slower and with less pauses in your train of thought. Body language goes hand in hand with this. You may notice that Harvey stands every time he makes a strong point. Move with purpose and make your presence known. If you're confident in yourself, if you back yourself, then you'll be kicking goals with accuracy just like Harvey Specter.