The ubiquity of Facebook goes without saying these days. On the monetary front, however, the social media giant has only been inducted to the four-comma club as of yesterday, as the Facebook market cap closes with a value exceeding $1 trillion.
The social media giant reached this milestone for the first time in its sub-decade run of being publicly listed. Company shares received a tidy 4.2% bump after a "favourable legal ruling" dismissed an antitrust complaint lodged by the US Federal Trade Commission, and backed by an entire coalition of state attorney generals. Facebook joins the hallowed company of other equally ubiquitous names, ranging from Apple, Amazon, Google's parent company Alphabet, and Microsoft – the latter of which reached its $2 billion milestone late last week.
RELATED: Microsoft Is Now Officially Worth Over $2 Trillion
---
---
While many have pointed out how Facebook is worth far more due to its presence alone – and especially when you consider all its heavy-hitting divisions ranging from Messenger, Instagram, WhatsApp, to Oculus – it's simply a matter of what the collective is willing to value it at. And as Warren Buffett would say, the stock price doesn't tell us anything about a company aside from how much it costs to buy in.
But if you are looking for an investing story, the Mark Zuckerberg-founded operation's recovery since 2018 is the telling detail here. As a refresher, that year, a potent combination of the Cambridge Analytica scandal, other similar data leaks, the rise of fake news, and failing to post satisfactory growth + revenue figures kicked the Facebook stock price's legs out from under it – sending the market cap tumbling. Three years on, the bounce back has been tremendous, and the stock price is now sitting at over +90% in comparison to old mate Zucc's darkest days.
At this stage, $2 trillion isn't so much a matter of 'if', as much as it is a matter of 'when'.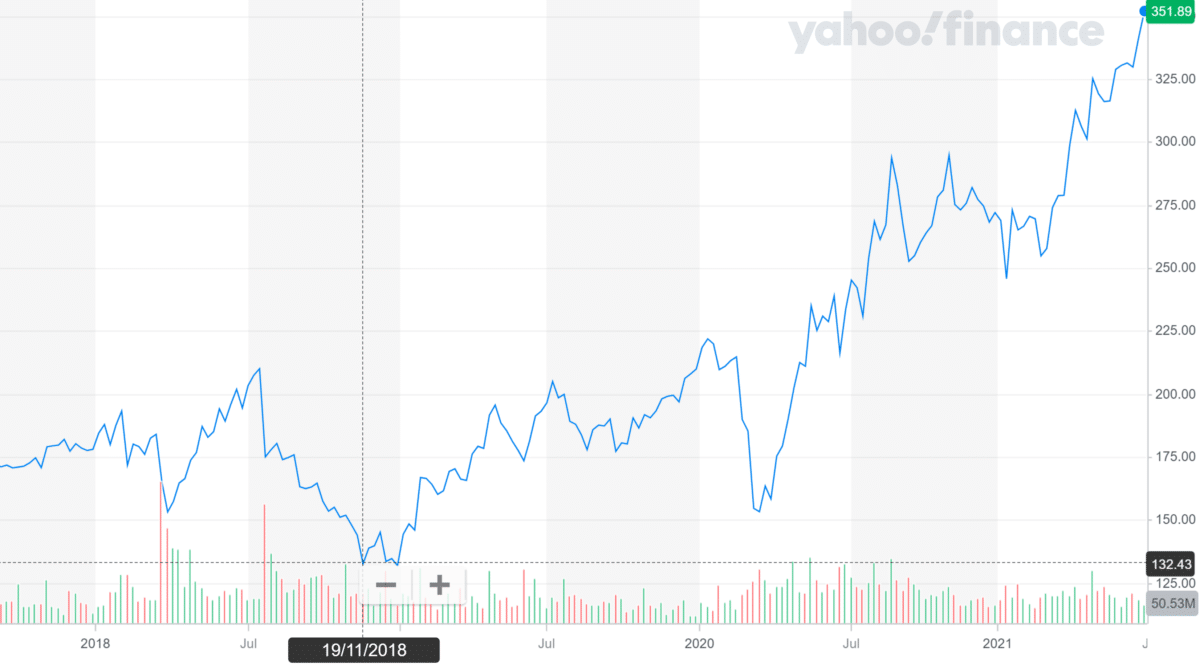 Looking to get in on the US share market action? Check out our definitive guide to buying US shares in Australia for 2021 here.