North America's very first Bitcoin ETF has officially gone bang, as investors flock to exchange approximately $165 million worth of Purpose Bitcoin ETF (TSX: BTCC) shares during its debut in Toronto – $80 million from the first hour alone.
This rampant fervour surrounding the world's largest cryptocurrency has, of course, stemmed from its historic comeback; rallying back from the dead – or $7,000 in a tangible number (March 2020) – steadily climbing towards its previous all-time high around the $20,000 benchmark, before shattering record after record to reach its current jaw-dropping $66,200 price at the time of this writing.
As per the saying, follow the money – and follow, the masses have. Recently, prolific electric automaker Tesla announced it had welcomed US$1.6 billion (AU$1.95 billion) worth of BTC to its balance sheet, citing "more flexibility to further diversify and maximize returns on our cash" as the principal motivation, with plans to accept BTC as payment for its products in the near future ("subject to applicable laws and initially on a limited basis").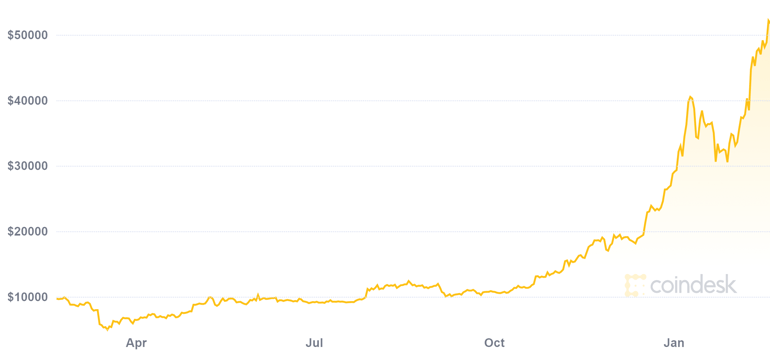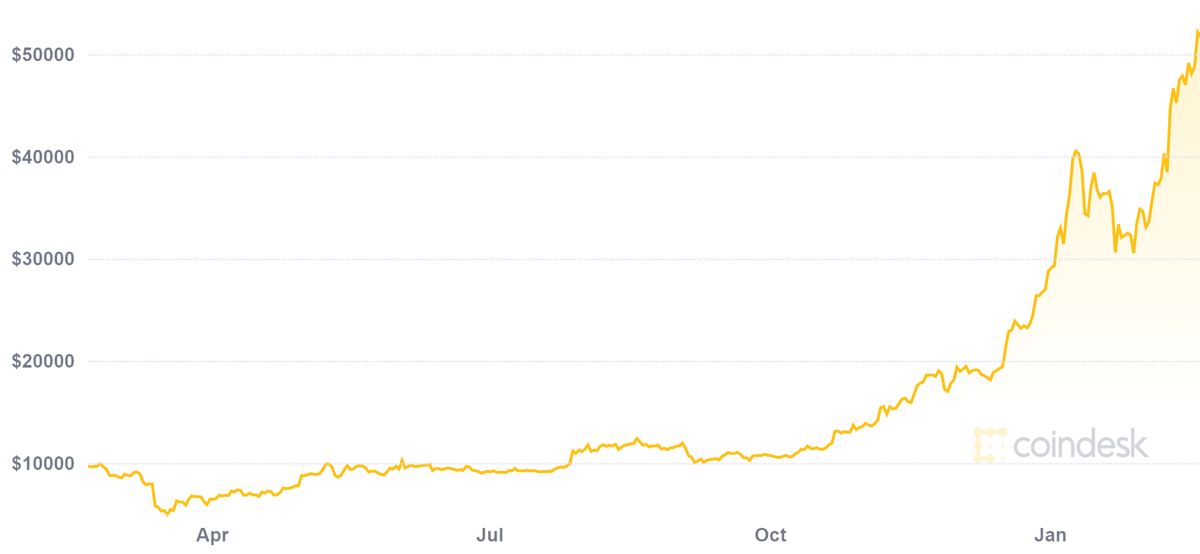 RELATED: Bloke Forgets The Password To His $303 Million Bitcoin Portfolio
On a more everyday level, Apple Pay users can now spend Bitcoin in stores and online with the introduction of BitPay Prepaid Mastercard support to Apple Wallet. Effectively, the card and its brand new Apple Pay integration will allow everyday consumers to instantly convert cryptocurrency into dollars they can spend anywhere Mastercard debit is accepted.
"We have thousands of BitPay Wallet app customers using the BitPay Card who are always looking for new places and ways to spend their crypto," says Stephen Pair, BitPay CEO.
"Adding Apple Pay and soon Google and Samsung Pay makes it easy and convenient to use the BitPay Card in more places from day-to-day items to luxury purchases."
While this can already be accessed by those residing in the US, Australians will have to wait just a little longer.
As noted by Bloomberg Intelligence analyst James Seyffart, although the trading volume was "well above an ETF's typical first day in Canada", at the present stage, it's unclear how much of the BTCC activity will actually translate to inflows for the fund. But already, proponents are applauding such a fund for allowing trade without the exorbitant premiums (much like the premiums which plague many Bitcoin trusts south of the border in the US).
Find out more about the Purpose Bitcoin ETF below.