The multi-year licensing deal between Joe Rogan and Spotify raised many an eyebrow when it was announced last year. With an estimated value exceeding $100 million, armchair economists from all corners of the internet immediately piped up to question whether a podcast such as The Joe Rogan Experience – a podcast which already boasted 200 million monthly downloads in addition to its monster viewership circa 2019 – was really worth nine figures. In light of the performance data from a leaked internal Spotify newsletter, any lingering doubts regarding Rogan as an audience draw will certainly be put to rest.
Since joining the audio streaming platform in September of 2020, The Joe Rogan Experience has consistently ranked as the #1 podcast every single month. The month it made its debut under the green banner, it commanded 4.5% of all podcast listening activity on Spotify (14.9 million hours). In October, the market share climbed to 4.7% while consumption increased to 16.3 million hours. And keep in mind… this was achieved before the show became a Spotify exclusive in December later that year.
A company spokeswoman has confirmed the numbers revealed are not reflective of the show's current audience, which has obviously increased at a steady rate over a year after the contract was inked. Hence why they're apparently willing to eat controversy after controversy, though not without some internal complaints from the Spotify team. But as a general rule of thumb, if the boss likes you, your job is pretty safe.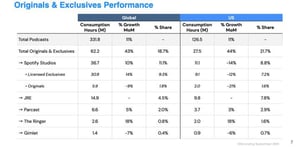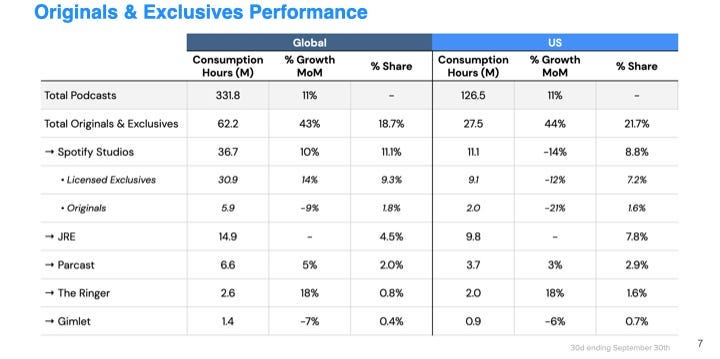 RELATED: Spotify Wrapped 2020 Reveals The Most Streamed Artists & Podcasts
"The guy who runs Spotify – the CEO – is amazing," Joe Rogan said of Daniel Ek during an interview with Tom Papa.
"He's a fan of the podcast and he likes it wild."
Furthermore, Spotify's most recent Q1 earnings report indicated The Joe Rogan Experience had "performed above expectations with respect to new user additions and engagement." And as we all know, in a world dictated by bottom lines, it's hard to argue with something which prints money for you.
Despite the impressive figures – audience, monetary, and otherwise – Rogan's migration to Spotify hasn't been entirely beneficial to his influence. In fact, a study conducted by Ashley Carman of The Verge has illustrated how the UFC colour commentator and DMT enthusiast has actually taken a hit in this department.
"We pulled data from the analytics tool Social Blade to track the Twitter following of every guest who went on Rogan's podcast between December 2019 and July 2021," explains Carman.
RELATED: Inside Joe Rogan's $14.4 Million Austin Mansion
"Guests generally see a surge of new followers after appearing on the show, with some gaining as many as 18,000 new followers in the week following their chat, and that effect has grown over time as The Joe Rogan Experience gained popularity. While we can't attribute every new follower to Rogan – guests might have been on a media tour to promote a new movie or book, for instance – the bump after a Rogan appearance is constant."
"We found that prior to going exclusive, from December 2019 to November 2020, Rogan's guests could expect to gain around 4,000 Twitter followers in the week after their episode premiered. After he went exclusive, that number declined by half to around 2,000, suggesting a drop in listeners. To isolate the effect, we focused on people who had under 500,000 followers when going on Rogan's show, since bigger names – someone like Dave Chappelle or Elon Musk – were likely to bring more attention to Rogan than vice versa."
"The drop doesn't look monumental, due to the presence of a couple outlier months, but broadly, you can see that following Rogan's move to going exclusive, his guests gain fewer followers on average. Even the best months as a Spotify exclusive show only rival the worst months when his show was widely available."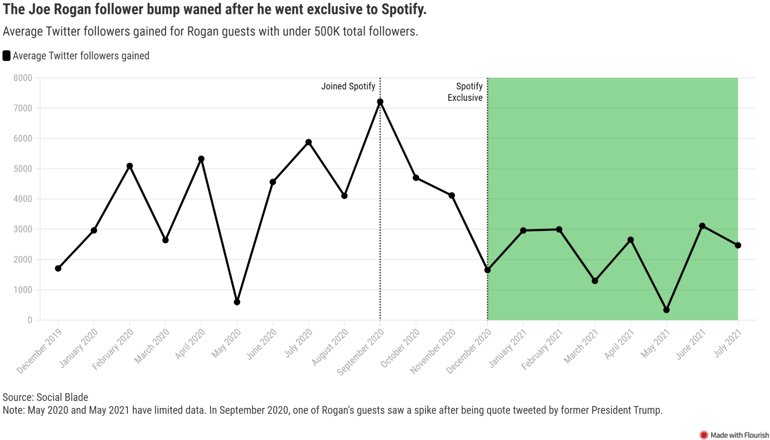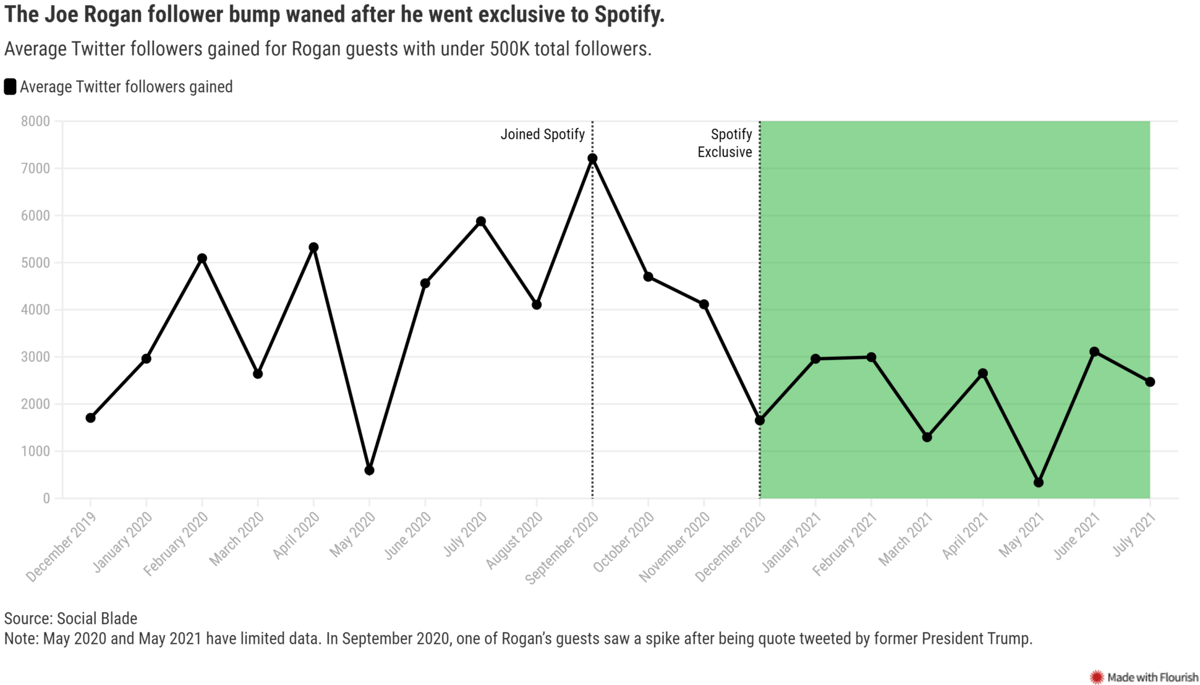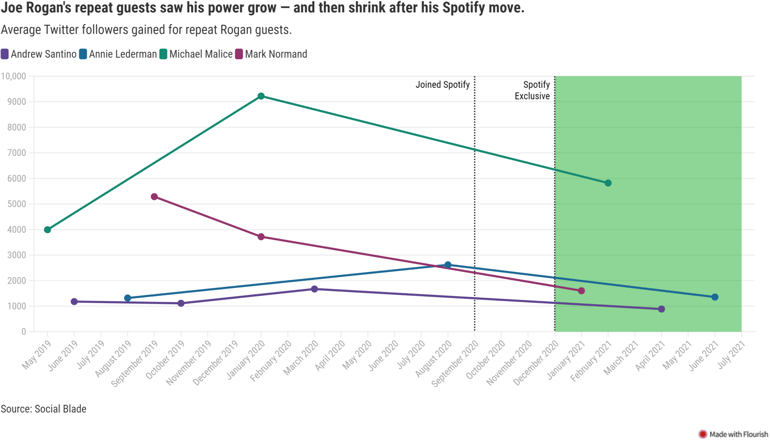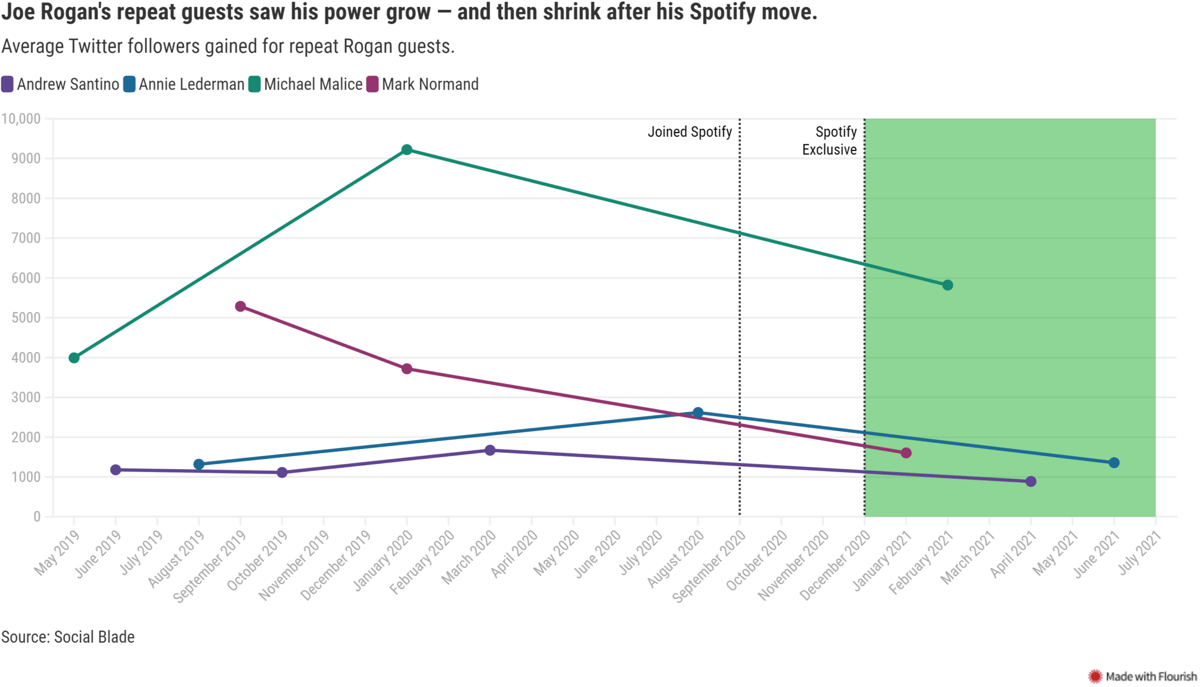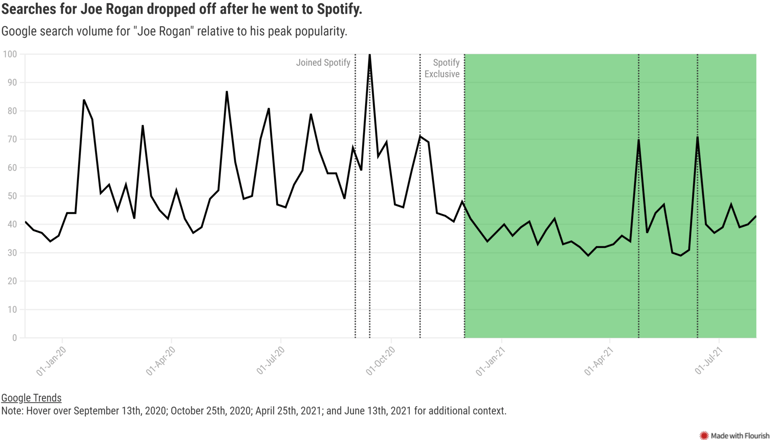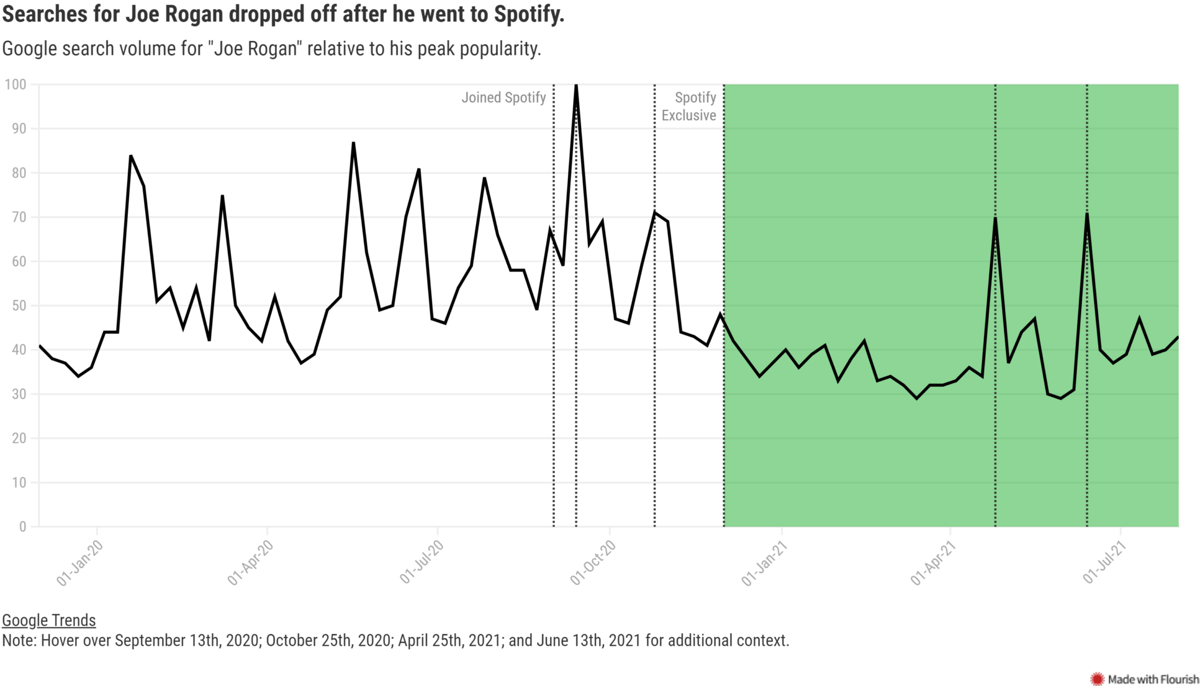 You can check out the complete findings here.