When it comes to predicting US presidential election outcomes, the S&P 500 has a proven track record dating all the way back to World War II. Even when the polls got it egregiously wrong in 2016, the stock market managed to get it right – old faithful just "knew" Donald Trump would defeat Hillary Clinton.
Now, just hours away from the moment of truth, the stock market has once again offered its final prediction for the 2020 US presidential election pitting President Donald Trump against former Vice President Joe Biden… and the margin is razor-thin.
The rule of thumb is as follows: in the three months preceding the actual election from August through to the end of October, if the S&P 500's performance is negative, the incumbent party will be voted out of the White House and replaced by the opposition. If the S&P 500's numbers are up, the incumbent party will remain in power.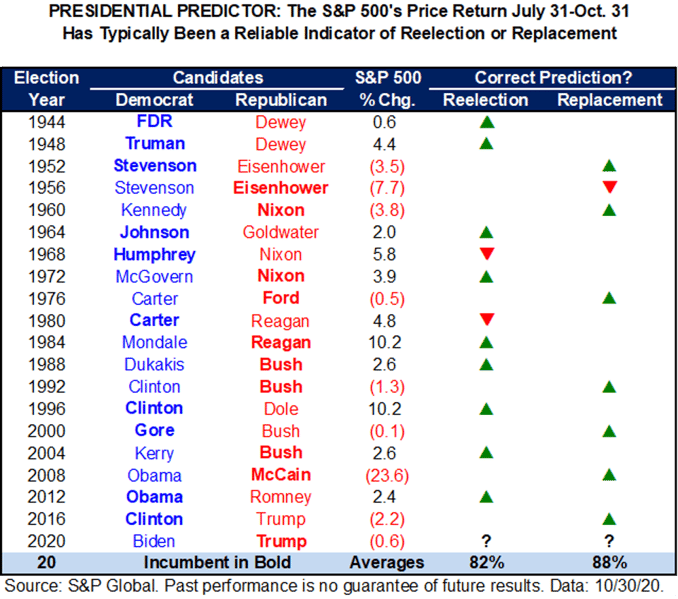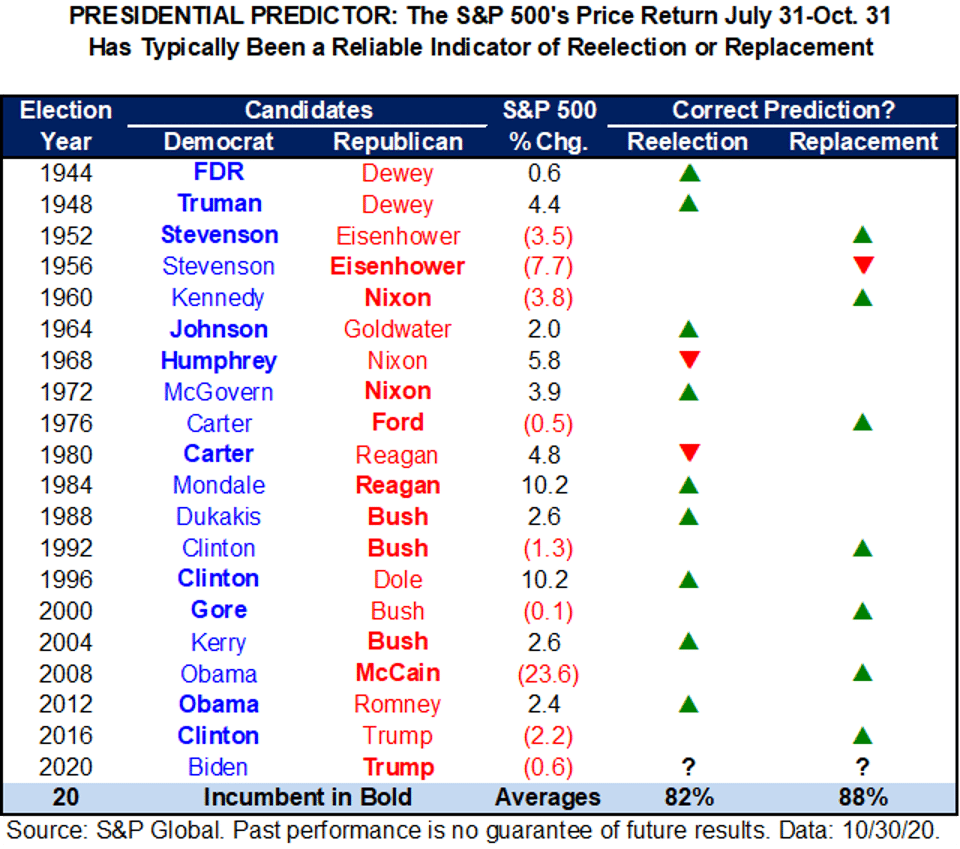 This year, the S&P 500 has dipped just a touch over 0.6%. Meaning the stock market has officially signalled that Democratic nominee and former Vice President – Joe Biden – is on track to triumph over Trump and soon be sworn in as Commander-in-Chief.
For those of you asking for the exact science behind all this, as much as we'd like to rationalise it and show you the working, there simply isn't one. Many theorise it has something to do with being a gauge for uncertainty, as well as how investors tend to sell when the future is unclear.
Though we've certainly had our fair share of market volatility given the whole matter of COVID-19, and this widespread sell-off may simply be an indicator that people don't have faith in a new president. Still, it's worth noting that negative S&P 500 performance has been on the money in this regard for almost every year since 1928 (the sole exception being 1956 when President Dwight Eisenhower shook off a 7.7% decline to defeat Adlai Stevenson).
And as noted by Fortune, a small margin can still be correct. When George W. Bush (R) defeated Al Gore (D) in 2000 and the incumbent party was Democratic, the S&P 500 was down just 0.1%.
Only time will tell and it'll definitely be interesting either way.