The annual Knight Frank Wealth Report (2021 Edition) has published a breakdown of what it takes to be considered a top 1% earner around the world. The most fascinating takeaway? The numbers are… surprisingly achievable.
"The top 1% – frequently cited, sometimes maligned, but never really defined," reads the report.

"The level of net wealth that marks the threshold for entering this rarefied community varies widely among different countries and territories. Interestingly, though, it falls far short of our definition of an Ultra High Net Worth Individual (UHNWI) – somebody whose net wealth exceeds US$30 million."

"Even in Monaco, which has the world's densest population of super-rich, the entry point for the principality's branch of the 1% club – the world's most exclusive – is US$7.9 million."
Monaco is not-so-closely followed by "the home of the private bank", Switzerland, with a net worth threshold of US$5.1 million, edging out the United States at US$4.4 million, before the rankings once again drop off rather dramatically to Singapore's benchmark of US$2.9 million – which just so happens to be Asia's highest entry, marginally beating Hong Kong.
---
---
RELATED: What It Takes To Be A Top 1% Earner Around The World (Annual Salary)
Check out the full breakdown of select countries + territories below.
Top 1% Earners (Global)
**All figures converted to USD
Net worth threshold comparison
Monaco: $7.9 million
Switzerland: $5.1 million
US: $4.4 million
Singapore: $2.9 million
New Zealand: $2.8 million
Hong Kong: $2.8 million
Australia: $2.8 million
Ireland: $2.6 million
France: $2.1 million
Germany: $2 million
UK: $1.8 million
Taiwan: $1.5 million
Japan: $1.5 million
Spain: $1.4 million
Italy: $1.4 million
UAE: $1.3 million
South Korea: $1.2 million
China: $850,000
Malaysia: $540,000
Russia: $400,000
Argentina: $360,000
Romania: $300,000
Brazil: $280,000
South Africa: $180,000
Vietnam: $160,000
Nigeria: $70,000
India: $60,000
Philippines: $60,000
Indonesia: $60,000
Kenya: $20,000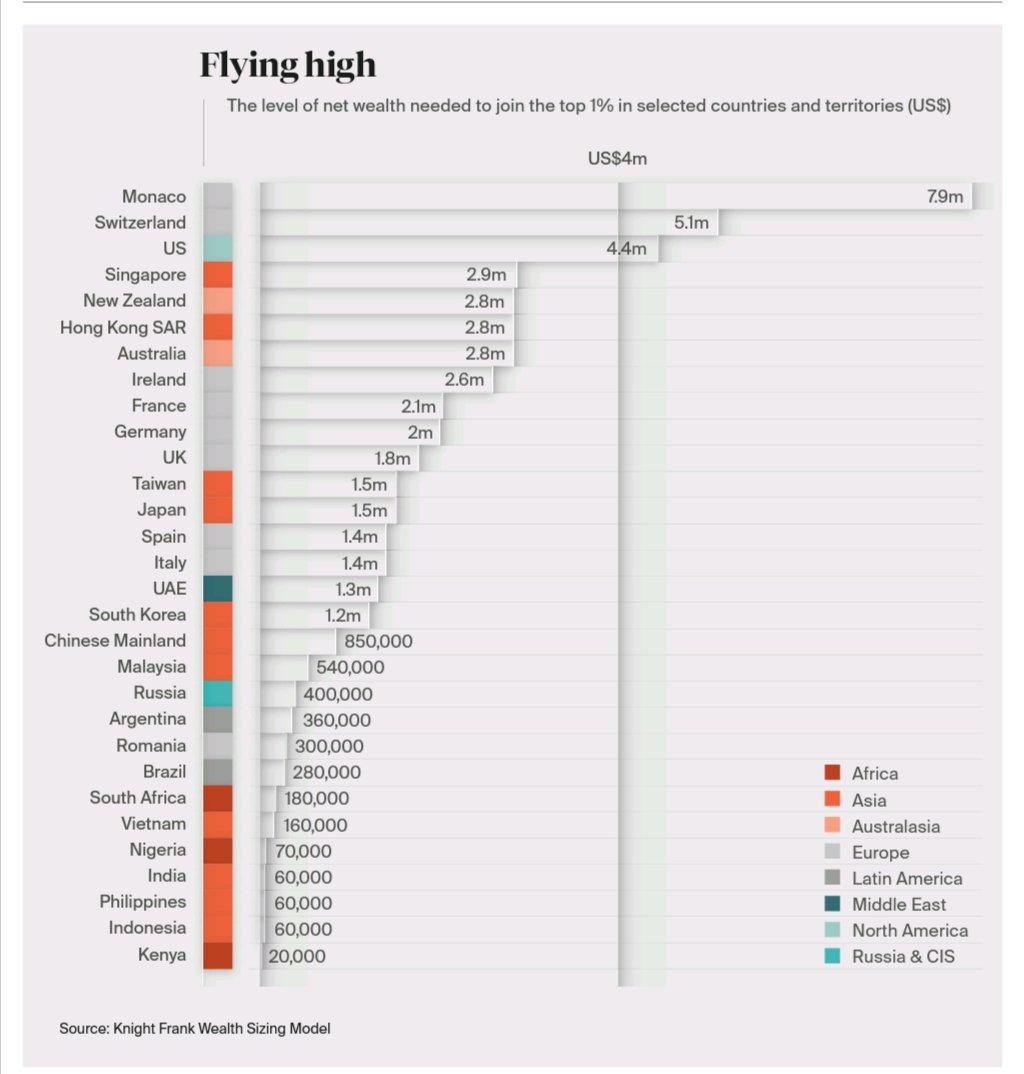 Additional insights
Developing economies Indonesia & Kenya have thresholds less than 1% of Monaco's
India has the same 1% level as both Indonesia & Kenya but 10x the UHNWI population (individuals with US$30 million net worths) of Indonesia & 14x that of the Philippines
Wealth growth forecasts predict India's threshold to double over the next five years
China (mainland) is also forecasted to see its 1% threshold rise by almost 70% from US$850,000 – reflects rising wealth but growth is not uniform
Wealth inequality has become starker within countries & globally due to COVID-19 pandemic