Each year, research group Kantar BrandZ ranks the world's most valuable brands based its total financial value – the financial contribution each brand brings to its parent company ($); multiplied by proportional value – which is measured by the brands' proportional impact on its parent company's sales (%). In 2021, despite the flow-on economic effects of COVID-19, the figures behind the world's 100 most valuable brands are still verifiably mind-boggling.
Led by the usual suspects which require no further introduction/explanation – i.e. Amazon, Apple, Google, Microsoft, Tencent, Facebook, etc. – the total worth of this year's rankings amounted to US$7.1 trillion. Or in the words of Kantar's own frankly insane comparison, the equivalent to the combined gross domestic product (GDP) of France and Germany.
Having collectively increased by 42%, which is over four times the study's usual annual average percentage increase from the past 15 years, the growth has apparently been "driven by confidence derived from vaccine availability, economic stimulus packages, and improving GDP outlooks." US brands accounted for 56 of the Top 100, with the good majority of the big bucks sourced from tech.

Read up on the biggest takeaways below + check out the numbers visualised.
---
---
RELATED: LVMH Is Officially The Most Valuable Company In Europe
Highlights From 2021 (all sums referenced in USD)
Amazon maintained its position as the world's most valuable brand, growing 64% to $684 billion (or the equivalent GDP of Poland). Having first entered the BrandZ ranking in 2006, Amazon's value grew by almost $268 billion this year and became the first half-trillion-dollar brand, joined by Apple, valued at $612 billion.
Tesla is the fastest growing brand and became the most valuable car brand, growing its value by 275% year-on-year to $42.6 billion.
Five brands more than doubled their brand values: Pinduoduo, Meituan, Moutai and TikTok from China, and Tesla from the US.
Overall growth has been fuelled by 69 brands increasing their value by at least 5% since 2020, together with 13 new entrants, including Zoom, Nvidia and AMD, and Spotify.
Technology dominates the top end of the Kantar BrandZ ranking, with seven of the top ten brands coming from the tech sector. Tech has also enabled non-tech brands to achieve significant growth, for example Gucci – harnessing the power of TikTok during the pandemic – and Domino's – leveraging online and delivery services. The Top 10 brands are today valued at $3.3 trillion, compared to $800 billion in 2011.
US brands grew fastest in 2021 with their brand values growing an average 46% year-on-year, meaning the US now accounts for 74% of the Top 100's total value, despite having just 24% of global GDP.
China has consolidated its lead over Europe. Chinese brands have grown from 11% of the Top 100 value in 2011 to 14% today. European brands, in contrast, now represent 8% of the ranking's value versus 20% in 2011.
Top 10 Most Valuable Global Brands In 2021 (all sums referenced in USD)
Amazon – $683.85 billion (+64% annual growth)
Apple – $611.99 billion (+74% annual growth)
Google – $457.99 billion (+42% annual growth)
Microsoft – $410.27 billion (+26% annual growth)
Tencent – $240.93 billion (+60% annual growth)
Facebook – $226.74 billion (+54% annual growth)
Alibaba – $196.91 billion (+29% annual growth)
Visa – $191.28 billion (+2% annual growth)
McDonald's – $154.92 billion (+20% annual growth)
MasterCard – $112.87 billion (+4% annual growth)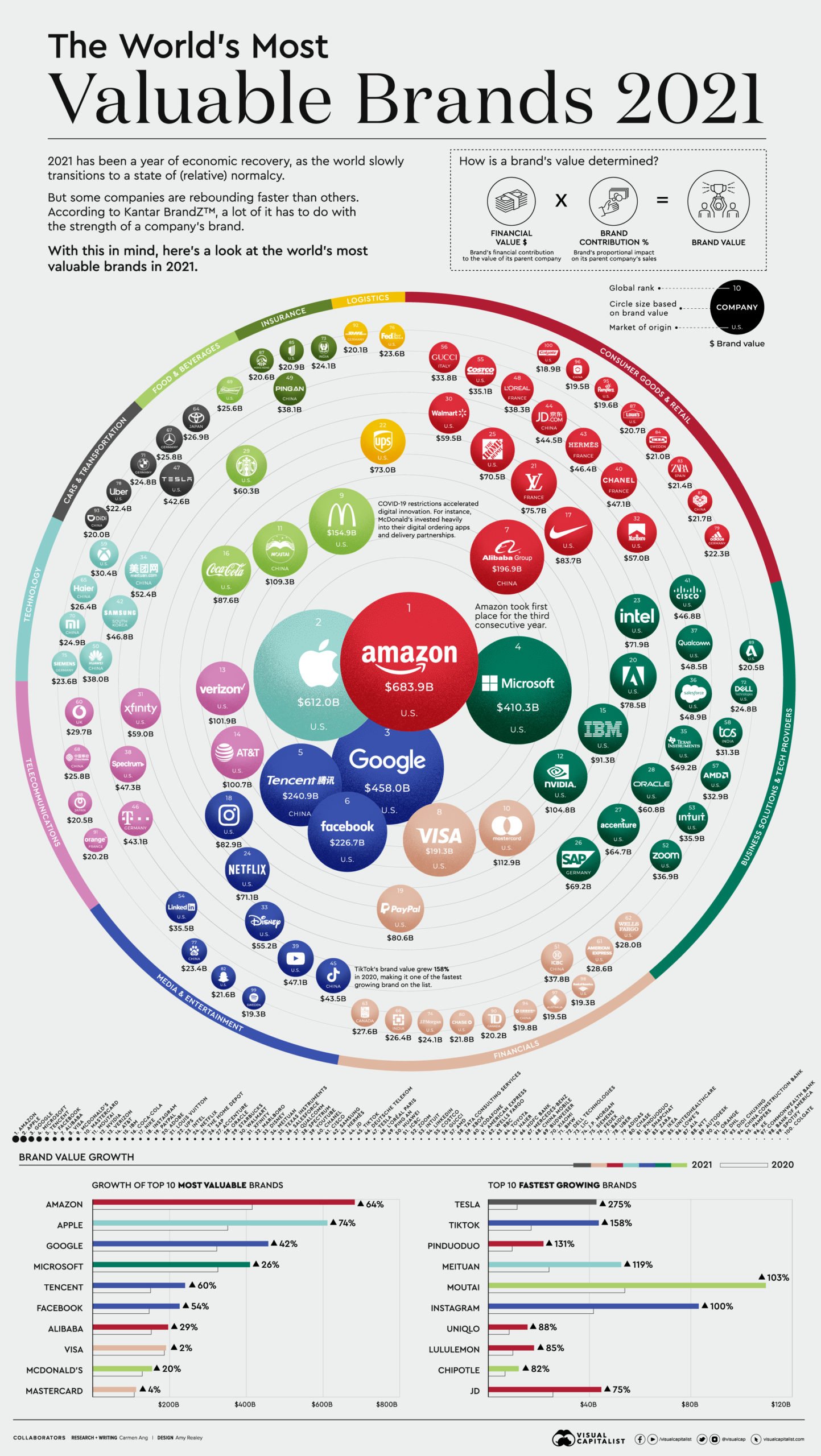 You can read the full 2021 Kantar BrandZ breakdown here.