I know what you're thinking: this takes time and effort. But it shows you can cook more than baked beans on toast and aren't a hopeless bachelor with a complete lack of life skills. You don't have to spend hours on a Sunday roast with entire banquet of sides, or deliver a Michelin-star level main course that would look at home in one of Massimo Bottura's restaurant. There are loads of simple yet satisfying dishes to impress your date.
Here are three easy and impressive dishes that we've picked that even the most uncoordinated male can master.
Sizzling Moroccan Prawns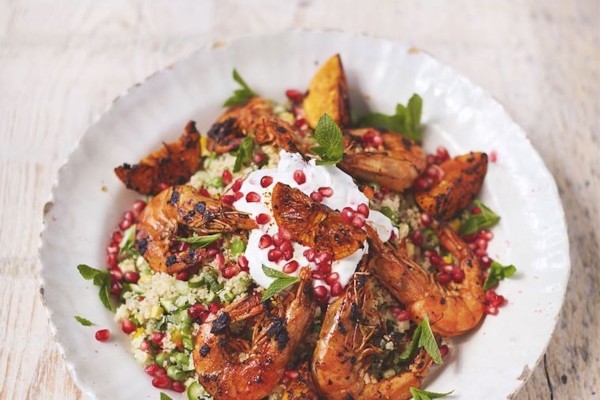 It might sound over-the-top and exotic but this special actually takes less time to prepare than ordering UberEats, and looks absolutely stunning once plated up. Using prawns as the key ingredient, the addition of orange and pomegranate helps creates a delicate and surprising flavour profile.
---
---
Cooking Time: 20 minutes
Key Ingredients: 6 large King Prawns, oranges, pomegranate, wholewheat couscous, paprika, saffron, garlic, chilli, lemon, yogurt, fresh herbs and an assortment of vegetables
Ideal Date: A woman who enjoys the finer things in life. Great on a warm summer's night while sharing a bottle of dry white.
Thai Yellow Curry With Veggies, Cashews & Tofu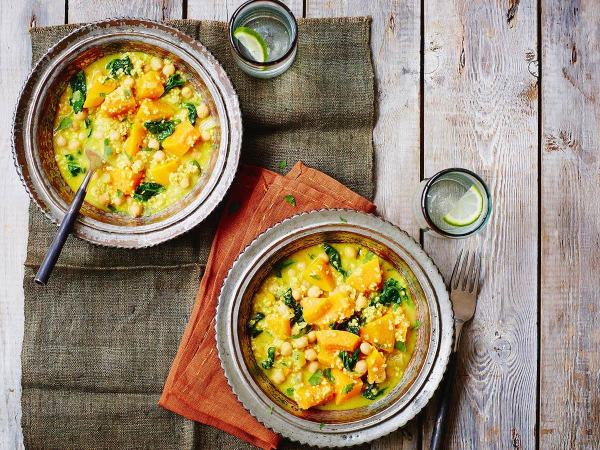 If your other half isn't exactly carnivorous, this Thai curry is exactly what the doctor has ordered. Like any curry, it's all about the spices, and the stars of this ensemble are cayenne, cumin and cardamom. The great thing about this dish is you can substitute the tofu for protein (I suggest chicken) if you choose to swing back to the other side of diets.
Cooking Time: 20 minutes
Key Ingredients: Coconut milk, onion, garlic, tofu, capsicum, broccoli, asparagus, assorted spices, cashews, curry powder and brown rice
---
---
Ideal Date: A vegetarian or vegan that loves a bit of kick with their meal. Great dish when you're both comfortable with each other and willing to change up the recipe to suit your needs.
Roasted Chicken Breast with Pancetta, Leeks and Thyme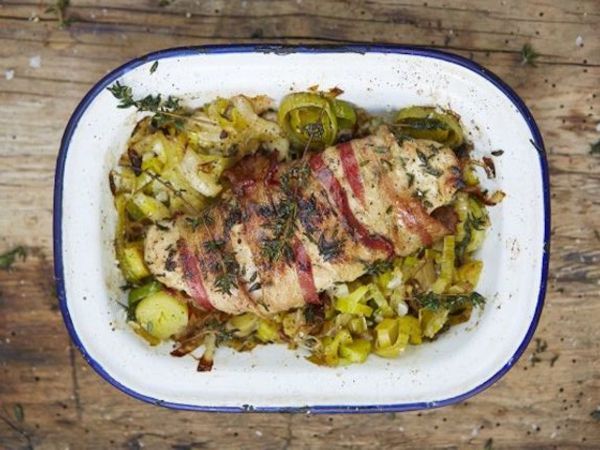 If you really want to show off your skills in the kitchen, then why not attempt this mini-roast for two? A rustic and delicious dinner full of flavours, this take on the traditional roast is shockingly easy to prepare. It's the type of meal that lets your date know you don't shy away from a challenge and is perfectly paired with crusty bread and a side of roast potatoes. Just make sure you keep an eye on the time so you don't overcook the chicken.
Cooking Time: 45 minutes
Key Ingredients: Chicken breast, pancetta, leek, thyme and white wine
Ideal Date: The ideal hearty first date meal. While it takes a little longer than the other options, it'll give you more time to bond over a glass or two of wine.