As more amateur chefs fire up the idea of investing big in quality kitchen gear, the market for standalone BBQ smokers and grills continues to swing from strength to strength. There are now a whole lot of options out there for anyone looking to maximise flavour with a smoker – or a grill that performs equally well as a smoker – from big-ticket brands like Traeger, Yoder, Horizon, and Oklahoma Joe.
If you're in the market for a dedicated standalone smoker then there are a few things you need to consider before shelling out for the hefty cooking tool. The price tag is invariably high, but your taste buds, mates, and family will all agree – it's worth it.
---
Traeger PRO 575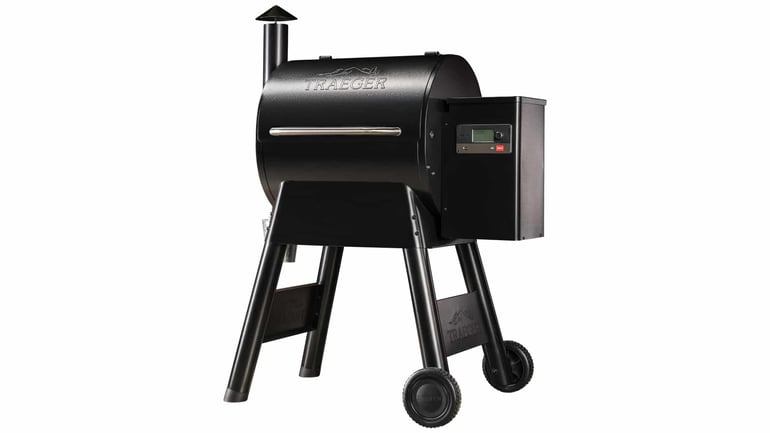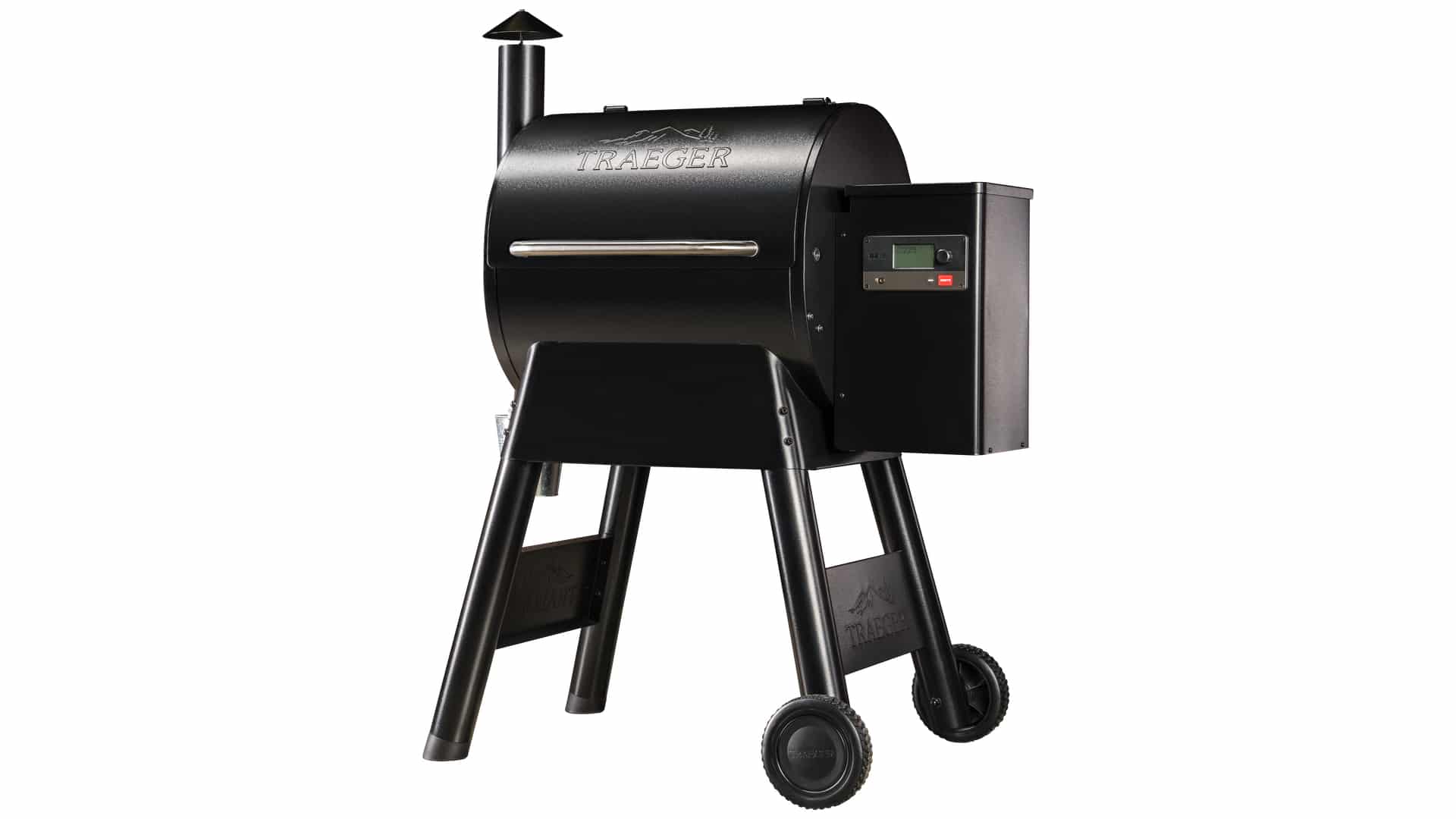 Specifications
574-square-inch cooking chamber
Height: 1346 mm
Width: 686 mm
Depth: 1346 mm
Weight: 56 kg
The best-selling pellet grill from one of the best-selling brands in the industry. The Traeger PRO 575 is a WiFi-controlled smoker grill named for the high capacity (575 inches) of the cooking chamber, which is fed pellets from a bin with the whole process and temperature efficiently monitored by various technologies. The beastly tool has become one of the most reliable and cost-effective ways to control the flow of a BBQ, offering something more affordable than the Traeger Ironwood series and high-end Traeger Timberline series, but still getting the job done consistently.
Can be used as both a BBQ and smoker
Very easy to use
Requires electricity
Bulky
---
Z Grills 450A Wood Pellet Smoker Grill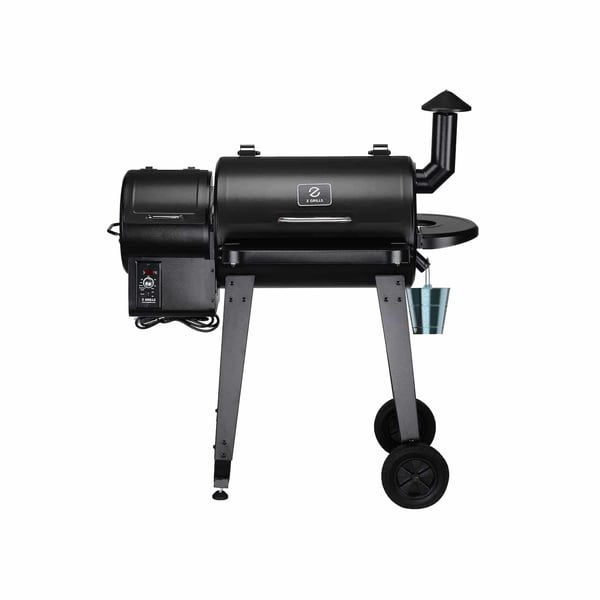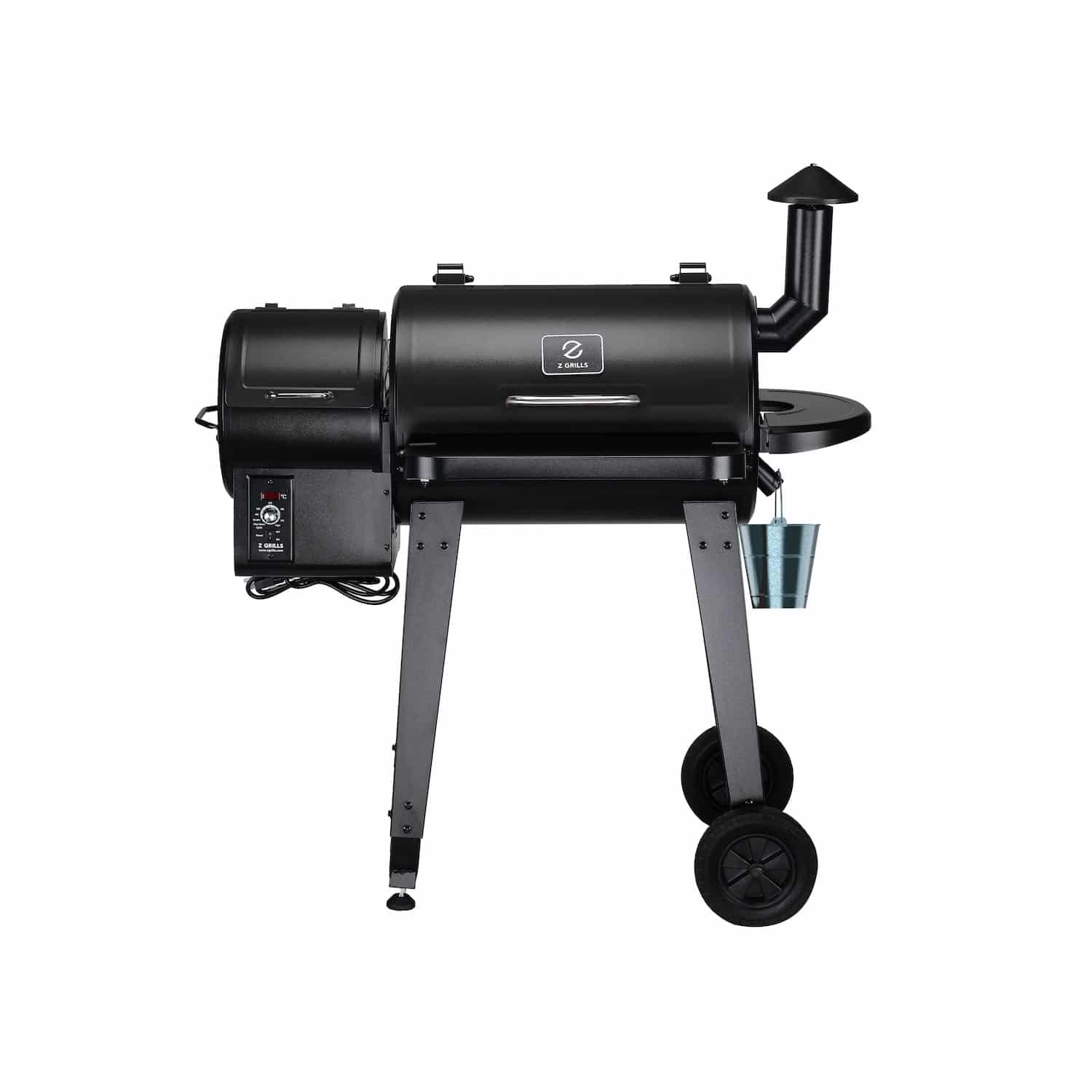 Specifications
462-square-inch cooking chamber
Height: 1250 mm
Width: 1150 mm
Depth: 710 mm
Weight: 38 kg
If you want a wood pellet smoker grill under $1,000 then one of your best bets is this Australian company, Z Grills. Their compact-sized pellet smoker, the Z Grills 450A, is the smallest from the brand but easily represents some of the best value on the local market, with a 7kg hopper for pellets and an improved PID controller to keep the temperature stable.
---
Yoder Frontiersman 30″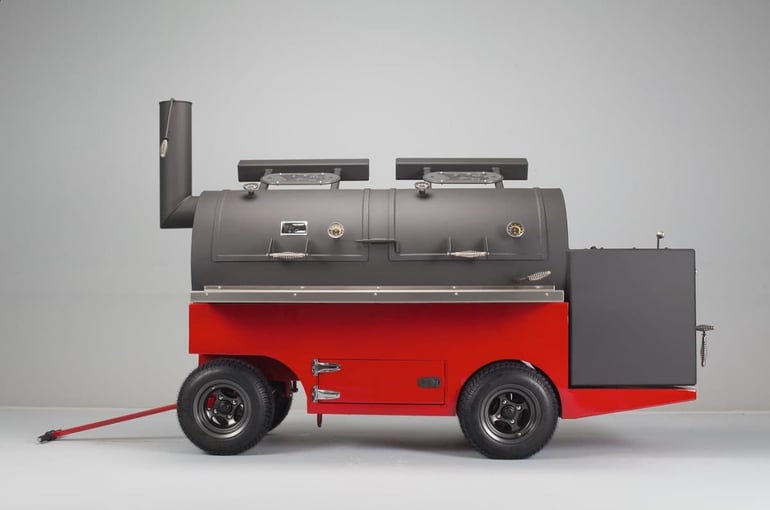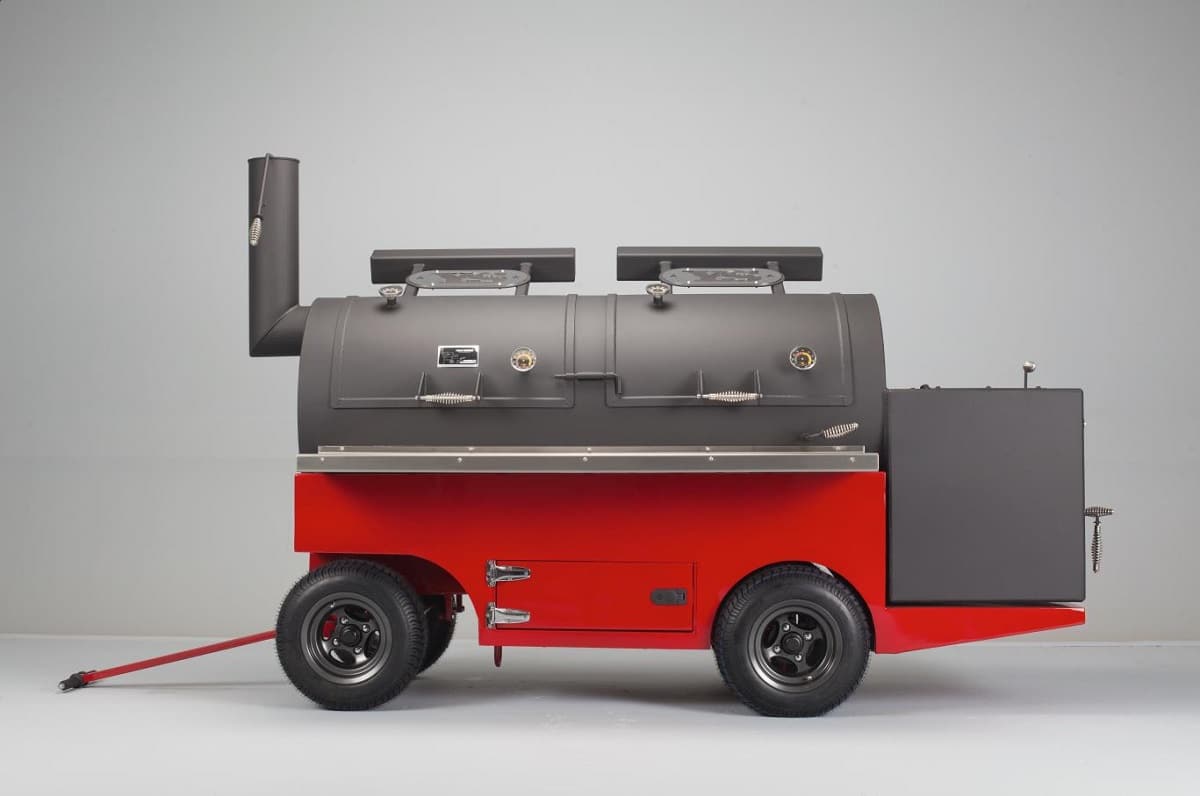 Yoder has muscled to the top of the smoker scene in recent years, becoming one of the most dependable names in BBQ with their high-end powerhouse signature 30-inch Yoder Frontiersman offset wood smoker, on a dedicated competition cart.
The high-performance smoker is aimed at competition cooks, food trucks and caterers, so it comes with a standard for efficiency that is pretty much unparalleled in the world of smoked meats. The incredibly mobile Frontiersman is designed to burn fruitwood and hardwood split logs, while the specific inner architecture aims directly for perfect airflow and heat management – so it's much easier to maintain a steady temperature when you're smoking up some brisket.
Yoder builds each Frontiersman to specification so the price will be on enquiry and depends on what you'd like your Yoder Frontiersman to offer.
Need to know exactly what you want
---
Masterbuilt Electric Smoker 30″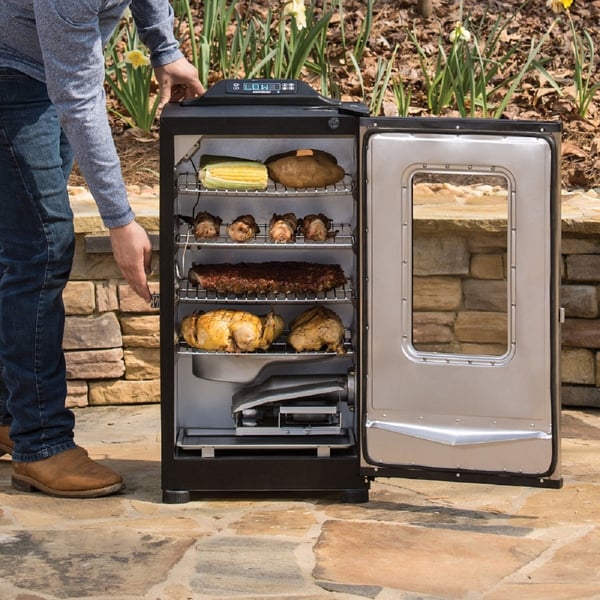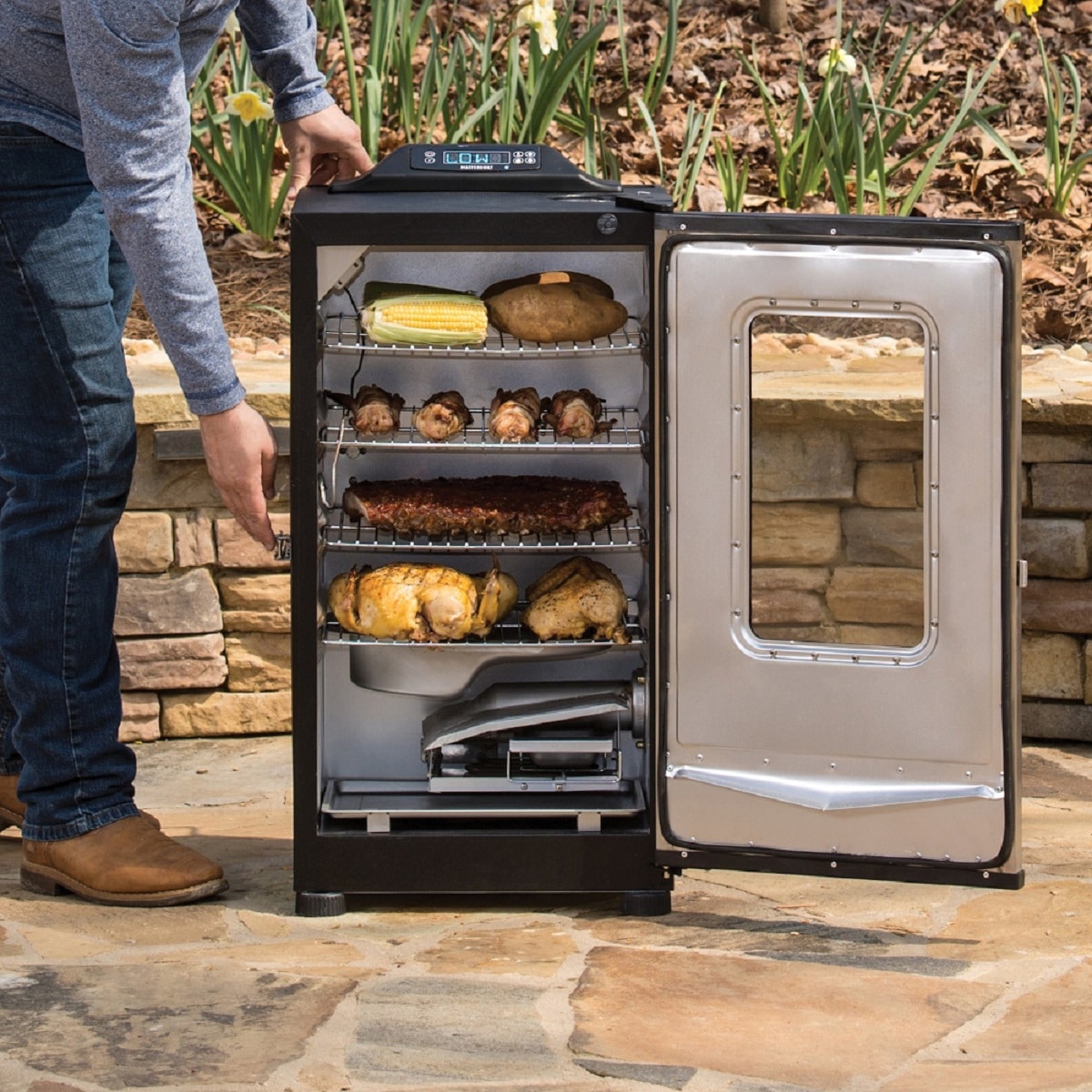 Specifications
711-square-inch cooking chamber
Height: 850 mm
Width: 520 mm
Depth: 510 mm
Weight: 20.8 kg
If you still want something a bit easier to handle for beginners and pit masters alike, go for the Masterbuilt Electric Smoker. This 30-inch workhorse offers 711 square inches of smoking space across four chrome-coated smoking racks.
The fully-insulated body helps retain heat, while the very intuitive digital panel can be used to maintain perfect cooking temperatures and manage time. While some grillers might fancy themselves a bit too advanced for an electric smoker, it'd be foolish to overlook the Masterbuilt Electric Smoker, which has a patented side wood chip loader so you can still experiment with adding flavour to your meats without opening the smoker door.
Reasonably priced
Easy to refill wood pellets
Stable temperature
---
Weber Summit Charcoal Grill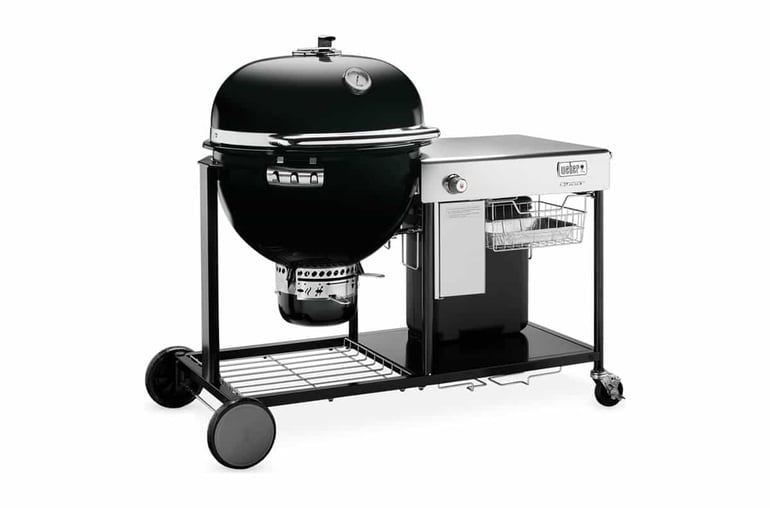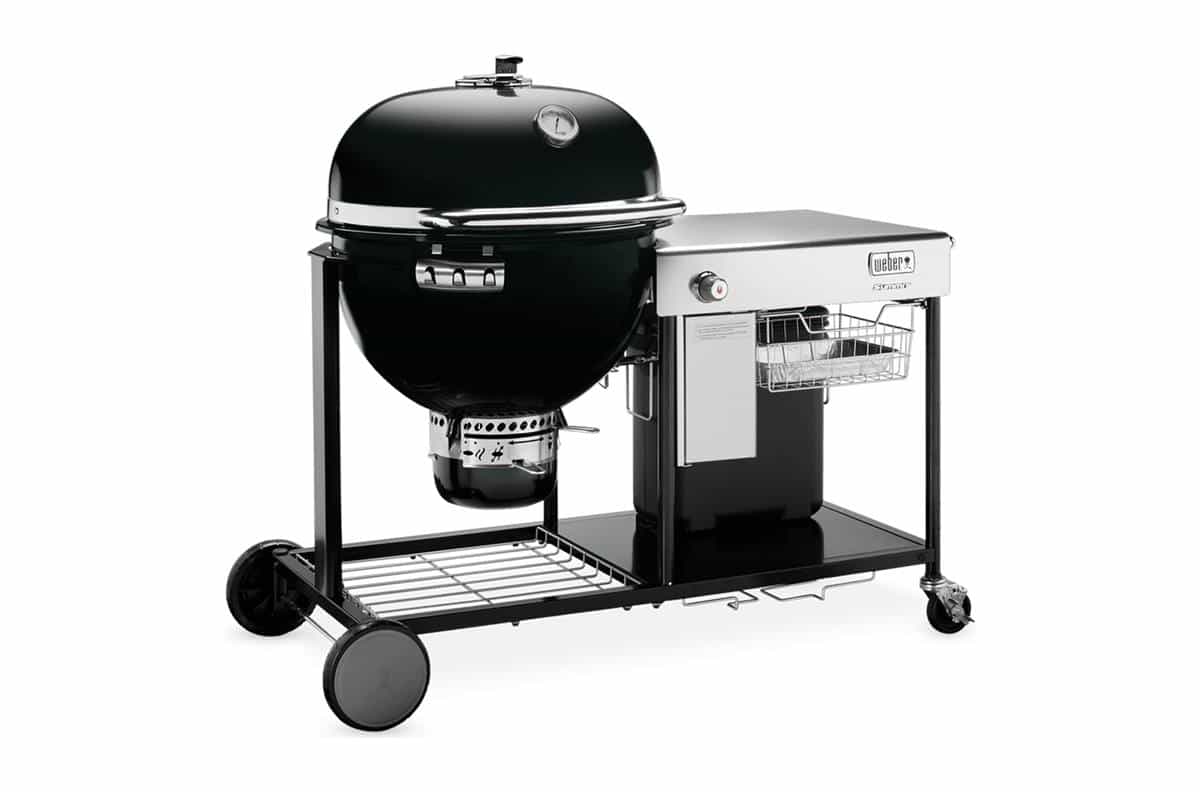 Specifications
451-square-inch cooking chamber
Height: 121.1 cm
Width: 143.7 cm
Depth: 88.9 cm
Weight: 107.56 kg
A flexible upgrade for the iconic Weber Kettle, the Weber Summit is a high-end charcoal grill that does an equally great job smoking as it does searing and baking. If versatility and a smaller footprint are what you want for your next family cookout, then the Summit is a smart choice for its seamless fusion of charcoal barbecuing and low-and-slow pit smoking.
Smokes, sears and bakes
Easy to cook low-and-slow
Quite heavy and not at all portable
Very expensive
---
Oklahoma Joe's Longhorn Combo Charcoal Gas/Smoker & Grill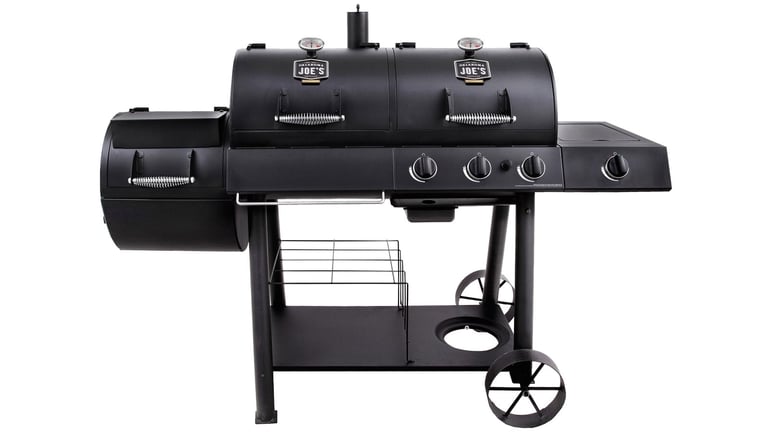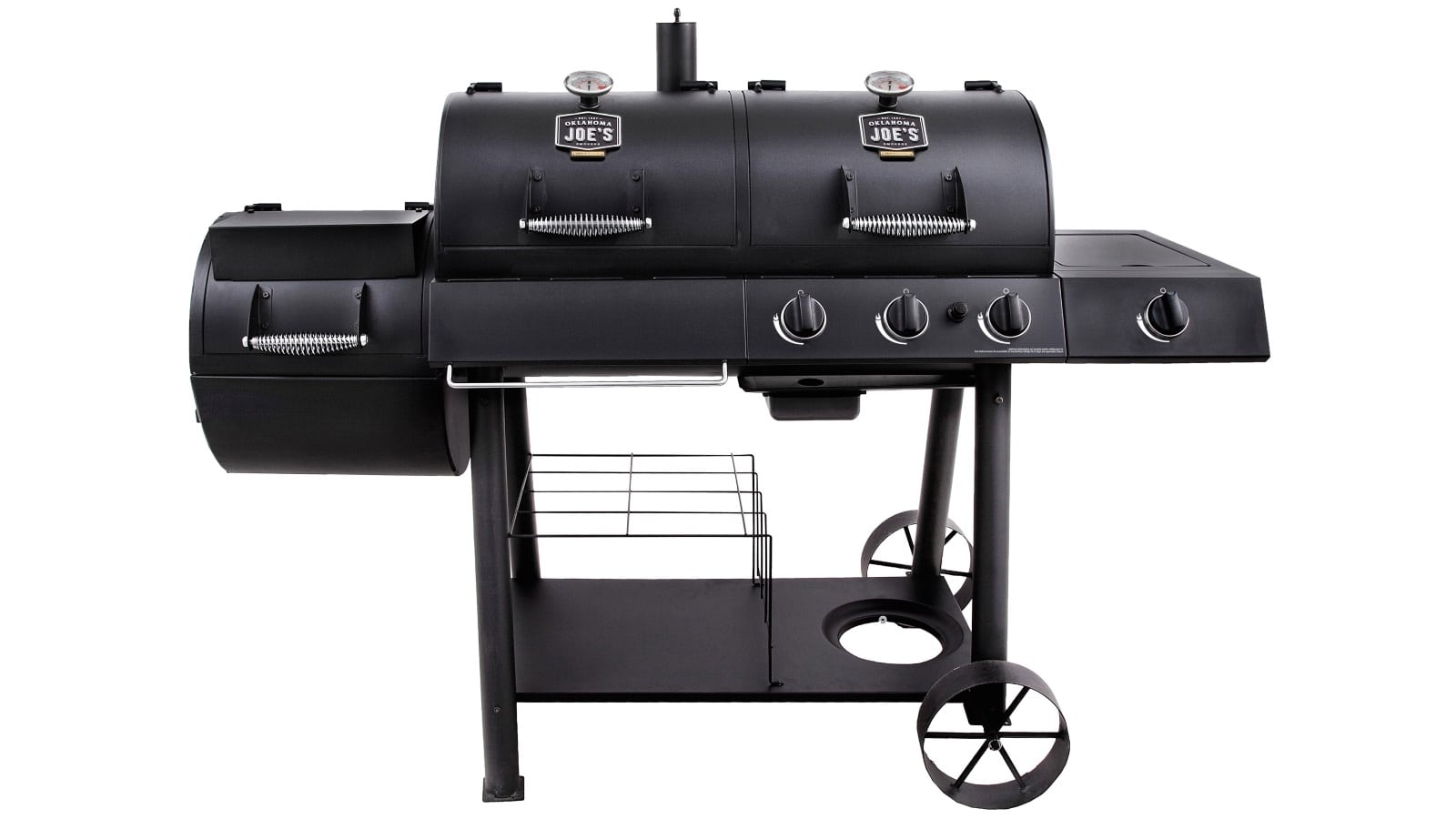 Specifications
1,060-square-inch cooking space in total
Two cooking spaces
Height: 1285 mm
Width: 1880 mm
Depth: 800 mm
Weight: 92.8 kg
Oklahoma Joe is offering Aussies a one-stop shop with the Longhorn Combo, featuring separate cooking chambers for smoking, charcoal grilling, and gas grilling. That's 4,839 square centimetres of primary cooking space and 2,000 square centimetres of secondary cooking space, handling a tonne of capacity so you can prepare an entire feast with very little fuss or any extra effort.
The grass grill chamber features three separate burners, each rated at 12,000 BTUs, as well as another 12,000 BTU side burner ideal for use with a frying pan or a pot to keep that sauce simmering ahead of the meat degustation you've got planned.
Plus, The Longhorn is one of the most accessible smokers in Australia, seeing as it's even being sold at Bunnings – and having a Bunnings smoker is a brag in itself.
Two high-capacity cooking chambers
Three stainless steel burners in the gas chamber
Very reasonably priced
Sold at Bunnings
Heat shields and burner tubes known to burn out quickly
---
Horizon RD Special Marshal Smoker Loaded 30″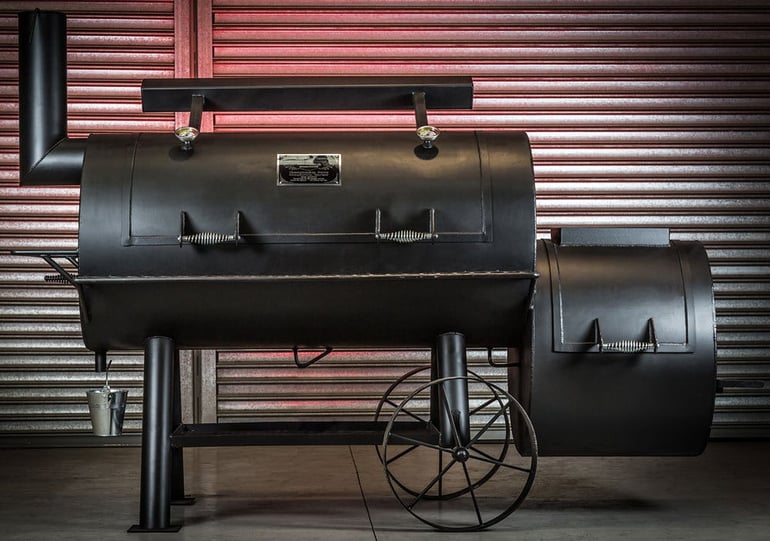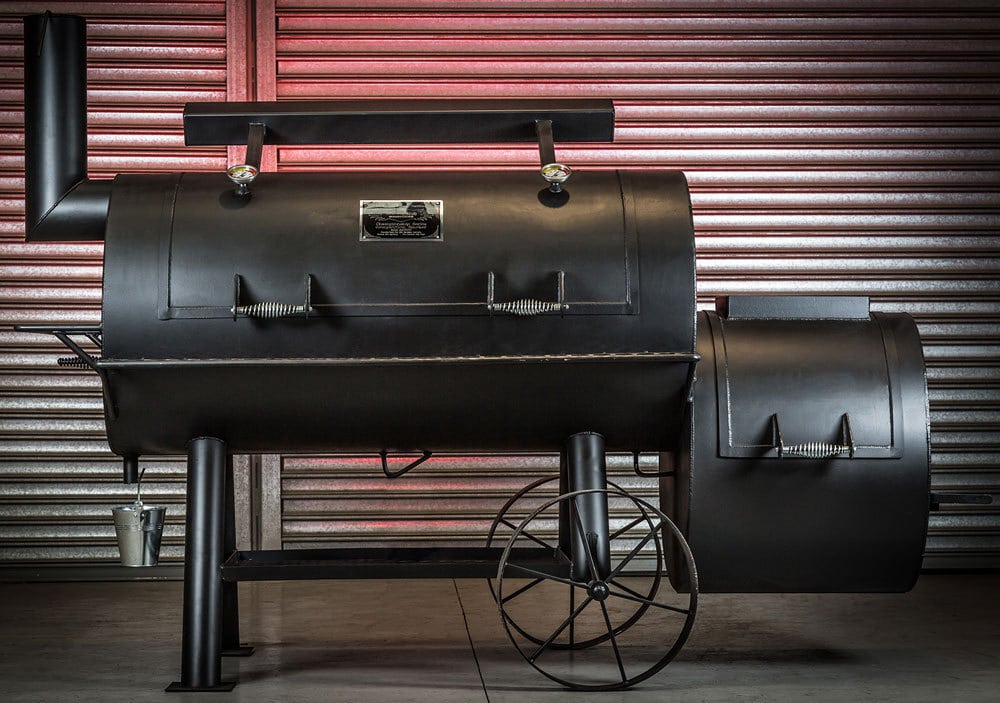 Specifications
60-square-inch cooking chamber
30-square-inch firebox
Heavy-duty build
Height: 1828 mm
Width: 2438 mm
Depth: 863 mm
Weight: 408 kg
Horizon BBQ smokers are handmade in Oklahoma, and coming from what is ostensibly the home of BBQ obviously implies some pretty high standards. This top-line Horizon RD Special Marshal Smoker is the best pick of the brand, with both a 60-inch long Cooking Chamber and a 30-inch long offset Firebox, complemented by a heavy-duty charcoal gate that is built to last.
There's a double damper system to make temperature regulation much easier and more efficient, freeing you from any extra effort needed to get those smoked meats exactly the way you want them. Use wood, charcoal, or a combination – the beauty of this kind of pit smoker is that experimentation is encouraged and, most importantly, easy for everyone, regardless if they are a BBQ beginner or a seasoned pit master.
Separate cooking chamber and firebox
Seamless heavy-duty build
Materials that will last
Easy to clean
Advanced temperature regulation
Very expensive
Bulky and heavy
Not easily accessible
---
Hark Hickory Pit Offset Smoker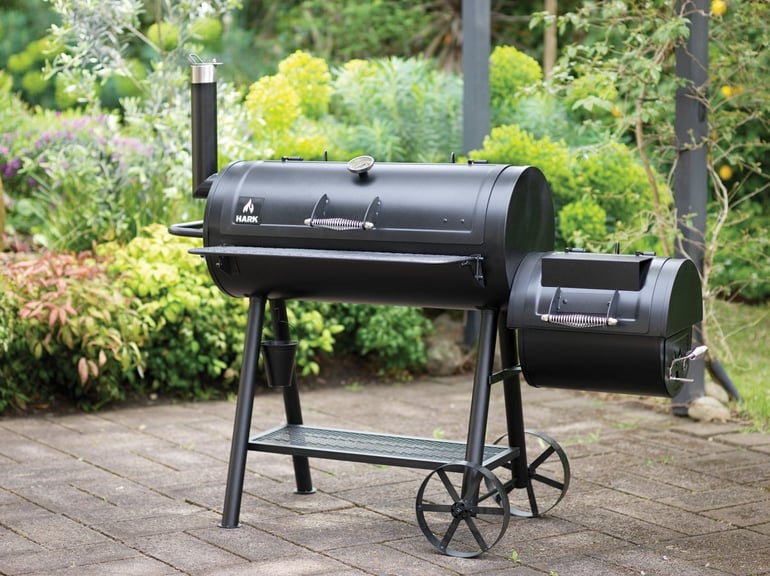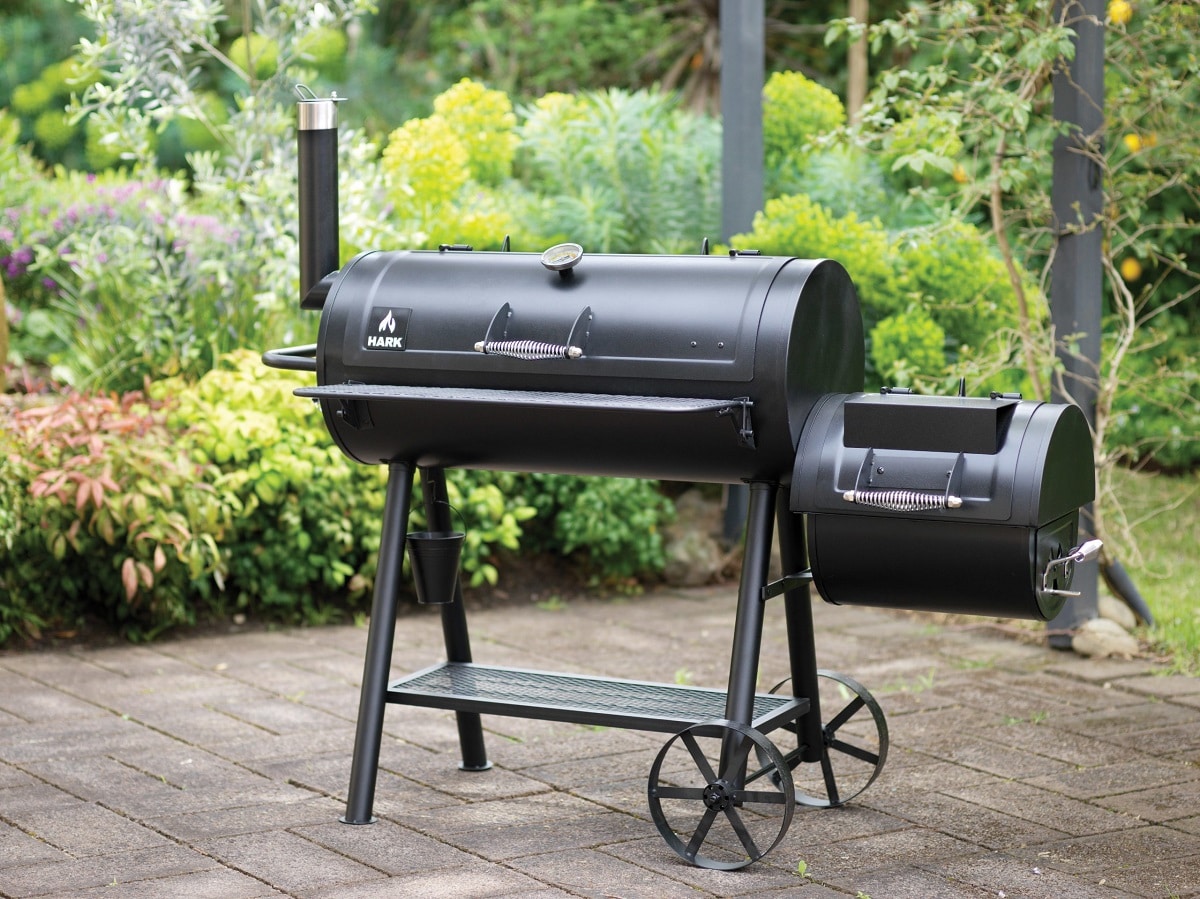 Specifications
567-square-inch cooking chamber
Height: 1320 mm
Width: 1550 mm
Depth: 780 mm
Weight:  56 kg
The Hark Hickory Pit Offset Smoker can be used with either charcoal, wood, or a combination of both. It's also one of the more affordable ones out there, and yet still a reliable pit smoker for anyone looking to prepare low and slow classics like brisket, pulled pork, and sticky ribs.
The path to becoming a professional BBQ pitmaster is long and arduous, but a tool like this could do more than just push you much closer to that ambitious end-game. Importantly, the specific design of everything from the firebox to the adjustable baffles makes it so much easier to adapt technique to whatever you choose to cook up on the day, whether you're looking to smoke some meats or grill some veggies.
Very affordable
Easy to use and very adaptable design
---
Lang Patio Smoker 36″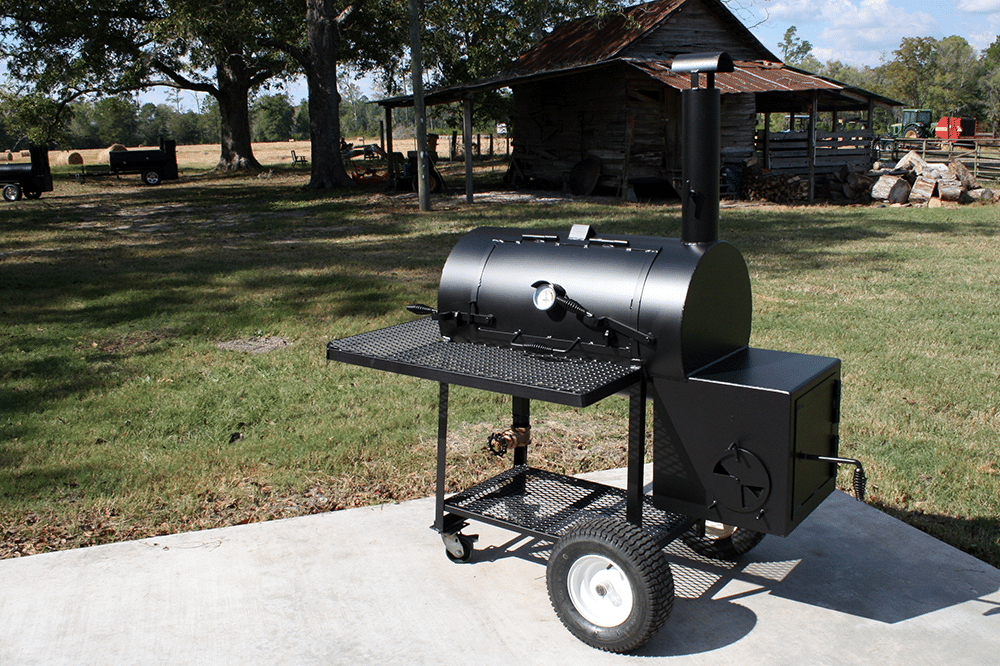 Specifications
864-square-inch cooking chamber
Height: 1853 mm
Width: 1778 mm
Depth: 990 mm
Weight: 301 kg
Lang is one of the most reliable names out there when it comes to companies that manufacture and build the best BBQ smokers in the business. Many a BBQ competition has been won with a trusty Lang, and you'll get similar results if you're wise enough to fork out for their 36-inch Lang Patio Smoker. Much like a few of the other units on this best BBQ smokers list, it's a hybrid smoker and grill, and one of the best flow smokers you'll find on the market.
Key to this superior performance is a well-built reverse flow heat baffle so the unit can heat up very fast and retain an even cooking temperature so you can cook with precision and deliver the exact results you've been aiming for.
Solid reputation
Perfectly sized cooking chamber
Heats up very fast
Very heavy and not portable
---
M Grills M1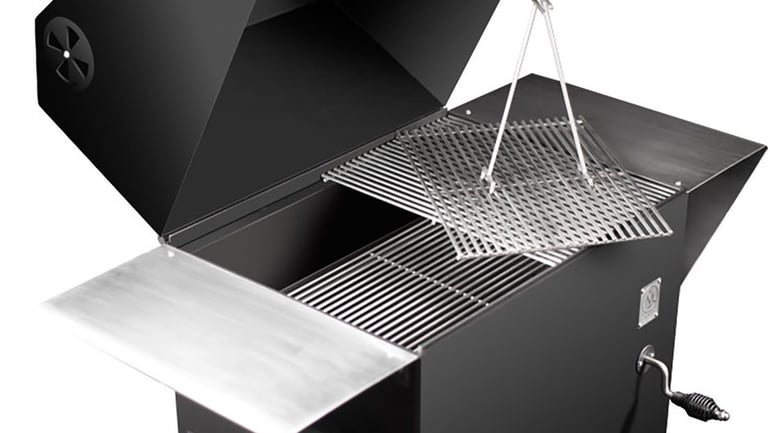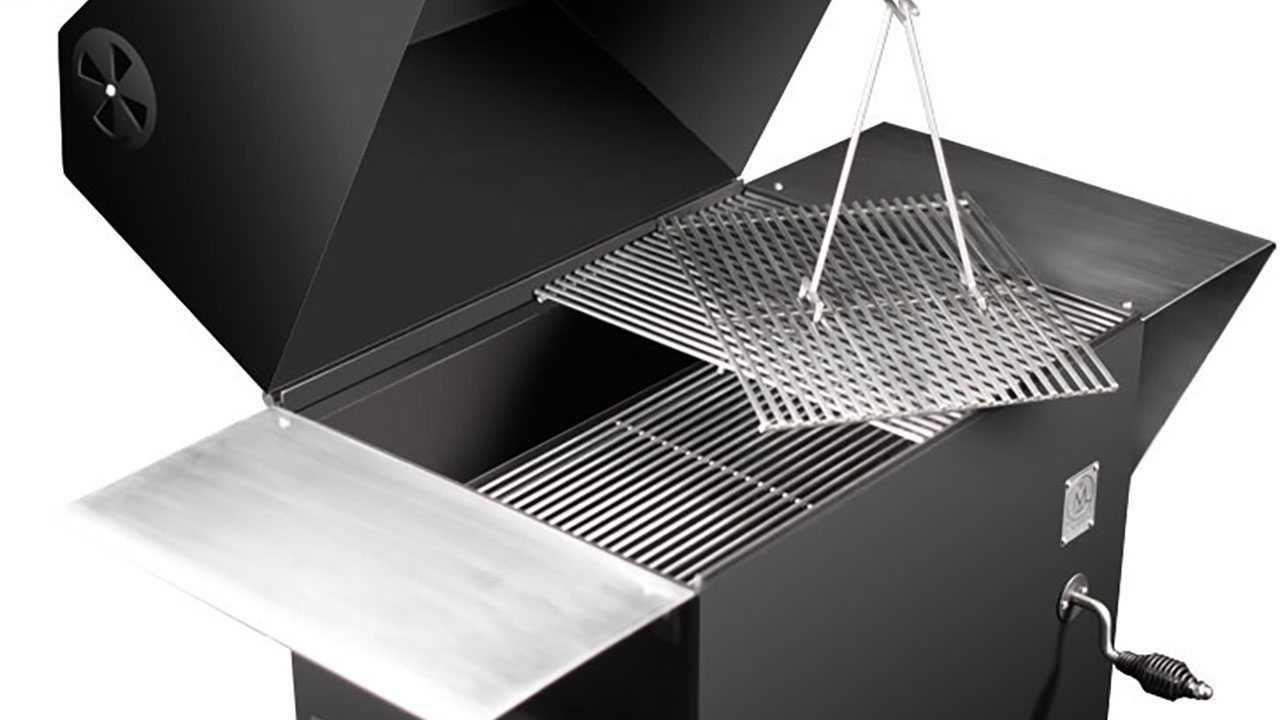 Specifiations
Cooking chamber size no specified
Height: 1210 mm
Width: 680 mm
Depth: 1200 mm
Weight: 174 kg
M Grills is a competition favourite and for good reason. If you're after one of their exceptional patio BBQ smokers, go for the M1, which has been designed as a mini reverse airflow smoker for when grilling just won't cut it. Although it can do both.
Because of the specific architecture here, the smoke and heat can travel underneath the top cooking area and then travel back over the food on its way out of the lid of the smoker. This allows for fewer hot spots and a smaller footprint, giving enough space for the firebox to sit out of the cooker and inside the body, resulting in longer, steadier, and more efficient burn times. For a patio smoker that gets the job then, it's hard to overlook the M1.
Competition favourite
Sturdy construction
---
Why You Should Use A Smoker For Your Next BBQ
If you're after a shortcut to a semi-enthusiastic round of applause at your next backyard BBQ, then a gas grill is what you want.
These bad boys use propane or natural gas for a heat source, resulting in blazingly fast cooking, without you having to manually start the fire. Building up direct heat is a matter of turning on the gas and hitting the igniter button. It's easy to maintain the temperature and does a fine job for smaller cuts and even fruits and vegetables.
But what you're sacrificing is not just the faultless flavour-enhancing qualities of smoke generated by a dedicated smoker, but also the freedom to experiment with different types of wood (hence, giving you some control over the flavour profile of whatever you choose to cook) and do it properly.
Of course, you aren't lazy. You're a discerning home cook who lives or dies by the phrase "low and slow". That's why you're reading this in the first place – you want to know the BBQ smokers worth buying in 2023, so all those smoked meats are delivered exactly the way they should be.
Why? You know cooking with a smoker will give you robust flavours you couldn't get anywhere else. You also get to play around with oakwood, cherry wood, and mesquite wood (or pellets), to help build different types of flavour profiles that just aren't going to be as strong and pronounced if you used a different method.
Yes, you can use your gas or charcoal grill to smoke meat as well but, with few exceptions, it's absolutely not going to be the same as using a beefy, dedicated smoker. Fortunately, they aren't as pricey as they used to be, and now there are some grills out there that do a fine job at smoking as well.
BBQ Smokers are best used when cooking up those bigger, meatier cuts like briskets, ribs, roasts, and ham. In other words, all the good stuff that will actually impress the lads next time they come over for a feed.
If you're in the market for one, first consider what type of smoker you'll need as a function of what you'll be cooking the most and how much effort you want to put in. For most cases, the best way to go is going to be an offset smoker, or an offset, which is built in two parts.
An offset smoker has a main cooking chamber which is typically built with a long metal barrel or a box with a lift door and a smokestack. The firebox, where the heat and smoke is created, is attached to one end of the cooking chamber and typically enters through a small hole between the two spaces. Smoke then travels over the food before exiting through the smokestack.
The way offset smokers are built differs greatly. You're going to want one with a premium build that doesn't leak any smoke through its doors and maintains a seamless connection between the firebox and the primary smoking chamber (where the food is). The heating should also be even and retained well, which is why cheaper, less efficient offset smokers don't cut it with cheaper, thinner metal.
Although offsets aren't the only types of BBQ smokers. You should also be across the following 5, at the very least. But do note that there are a few more types, like the Kamado Grill (which is what the popular Big Green Egg is defined as).
Gas smokers. These are usually built like cabinets and use natural gas or propane as their heat source.
Charcoal smokers. You're typically going to want to babysit the meat a bit more than you would with electric or gas smokers. The heart source is charcoal here, which additional smoke usually coming from wood chips that sit above the coals.
Offset smokers. As described above, offset smokers feature a firebox separate from the main smoking chamber, and it's all about how efficiently the smoke flows between the two. An offset tends to be fairly labour-intensive, making smoking meat more of an art form than a science. Still, you'll get incredible results once you master the process.
Pellet smokers. These are typically the most popular type of smokers in 2023. Compressed sawdust is the heat source, ignited by a heating rod and managed by fans and grills that run on electricity. Modern pellet smokers use start-of-the-art technology to manage the process, which usually means a more hands-off approach to cooking which saves you time and avoids you from having to babysit your food more than you'd want to.
Electric smokers. If you want something easy to use, go for an electric smoker. There's no natural fuel here, an electric smoker uses a heating element to ignite wood chips and create smoke.
---
The Best BBQ Smokers You Can Buy – Frequently Asked Questions
What is an offset smoker?
An offset smoker is perhaps the most common smoker design on the market now due to its efficiency and versatility. The primary chamber is where the food smokes, while the firebox is attached the one side, burning the charcoal, wood, or a combination of both. Heat and smoke from the firebox travels into the main cooking chamber to cook and flavour the food, and then exits through the smokestack.
What are the best brands for BBQ smokers?
You can rarely go wrong with anything from Lang, Horizon, Traeger, or Yoder.
What is the most important factor for BBQ smokers?
The first thing you should always consider with a smoker is not just the type, but how efficient the build is at heat and smoke retention. Great insulation is always going to be the most important factor when looking for BBQ smokers.
---
Don't feel like cooking? Check out the best steak restaurants in Sydney, and in Melbourne.