The Melbourne burger scene may not be as vigorous as it once was, with new openings popping up just about everywhere and food trucks flying around Melbourne CBD. But it's hard to ignore just how rich and vibrant the city is when locals and visitors inevitably embark on that admirable quest to find the best burgers Melbourne has to offer.
The choices are endless, with the likes of Collingwood favourite Easey's regularly taking the crown, but not without strong competition from easy picks like the stalwart Andrew's Hamburgers, the ever-elusive Goldieboy and the super reliable Leonard's House of Love.
There are plenty of arguments in favour of Melbourne having the best burger scene in all of Australia – and Australia having some of the burgers anywhere in the world – and while I still think Sydney has the edge, there's no doubt some of the country's finest can be found here. Melbourne is, after all, a city that lives or dies on its well-sourced produce, and that penchant for culinary excellence certainly spills over to both fast-casual burgers and gourmet restaurant burgers.
---
---
Here I've rounded up the best burgers in Melbourne so you know exactly where to go next time you're craving some carbs. As with my best burgers in Sydney round-up, the first 10 burger joint are ranked, while everything beyond that is unranked just so you can navigate the competitive burger scene a bit easier.
RELATED: The Best New Restaurants In Melbourne
---
1. Easey's, Collingwood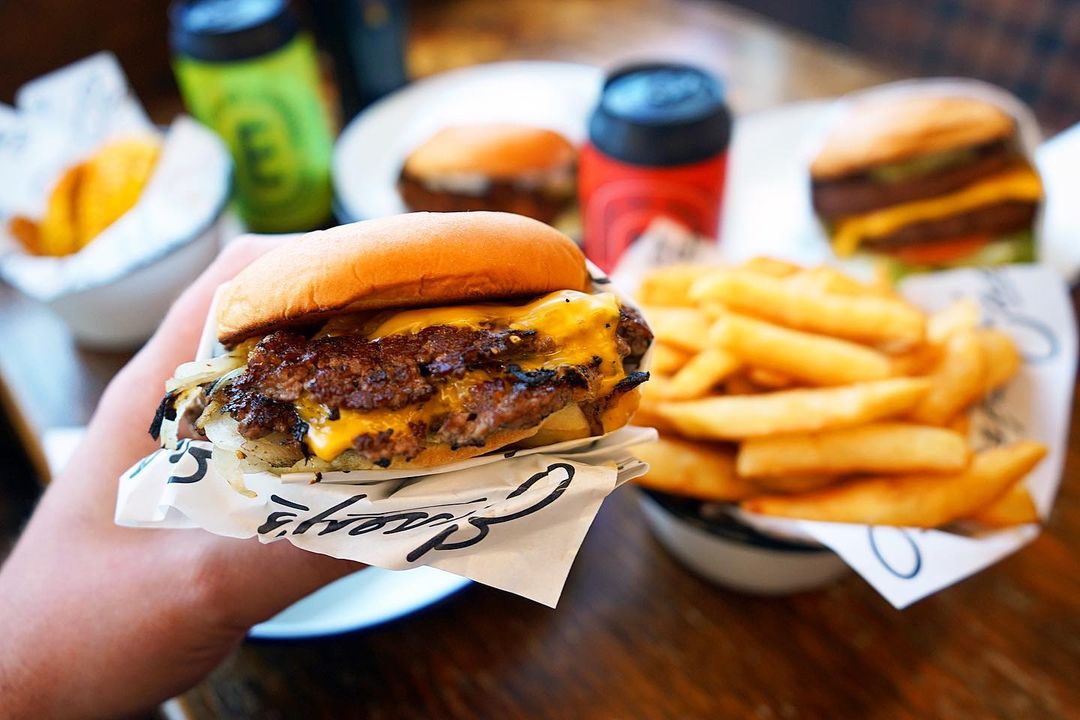 There are three decommissioned Melbourne trains atop the multi-level Easey's, all spray-painted and beaming amongst Collingwood's skyline. It adds a nice sense of visual flair to Jimmy Hurlston's relentlessly hipster burger joint, but you'd be mistaken for thinking Easey's is all style and no substance.
Yes, the Collingwood hamburger restaurant was recently crowned as home to Australia's best burger, for the kitchen's wildly experimental Easey's Motz Madness – a double Oklahoma fried onion burger with 2 beef patties, double American cheddar, a potato cake, and a dim sum – but there's a reverence for simplicity here that Hurlston and his team have clearly perfected after years of research.
After all, Hurlston did write an actual book on burgers and is known as somewhat of an authority on the scene. You'll be better off going for the more modest burgers on the menu, but it's good to know that Easey's can rise to the occasion when you're craving something a bit more experimental and non-traditional from your favourite burger joints.
Address: 3/48 Easey St, Collingwood VIC 3066
Contact: (03) 9417 2250
Opening Hours: Monday – Thursday (11 am – 10 pm); Friday – Saturday (11 am – 11 pm)
---
2. Leonard's House of Love, South Yarra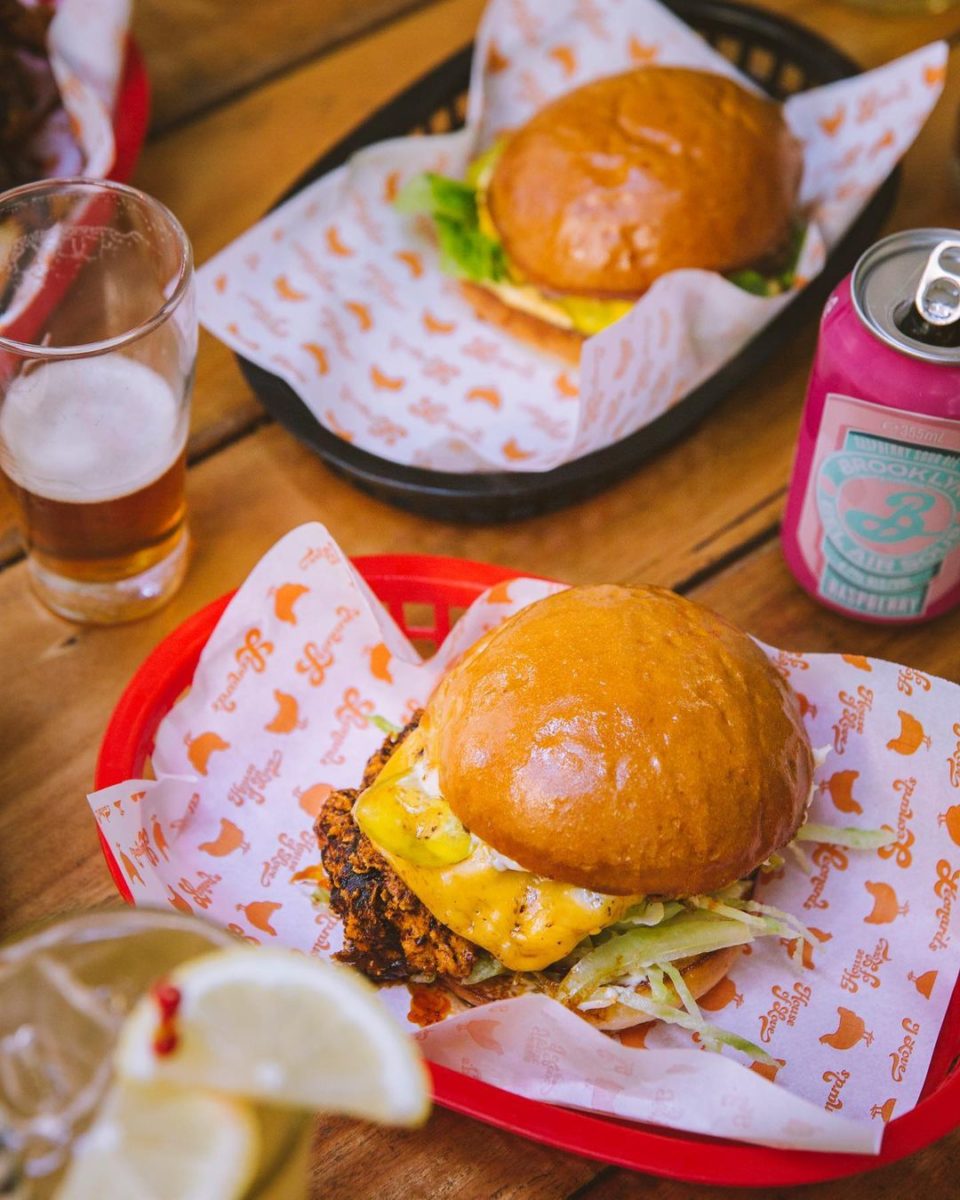 Leonard's House of Love doesn't feel like anywhere else in Melbourne, ripping guests away from the city as soon as they enter and throwing them into a log cabin far out in the sticks. A particular craving for poutine and popcorn chicken always brings people through those unassuming doors, but it's the kitchen's excellent burgers that deserve all the attention.
---
---
The signature cheeseburger is treated as high-art over at Leonard's with a deeply flavourful beef brisket and short rib patty layered with melted American cheese, signature burger sauce, pickled and – just for a bit of freshness – lettuce. If you're looking for a Melbourne hamburger restaurant that offers something a bit different than the usual, head straight to Leonard's House of Love.
Address: 3 Wilson St, South Yarra VIC 3141
Contact: 0428 066 778
Opening Hours: Monday – Thursday (5 pm – 1 am); Friday – Saturday (12 pm – 3 am); Sunday (12 pm – 1 am)
---
3. Goldieboy, Various Mystery Locations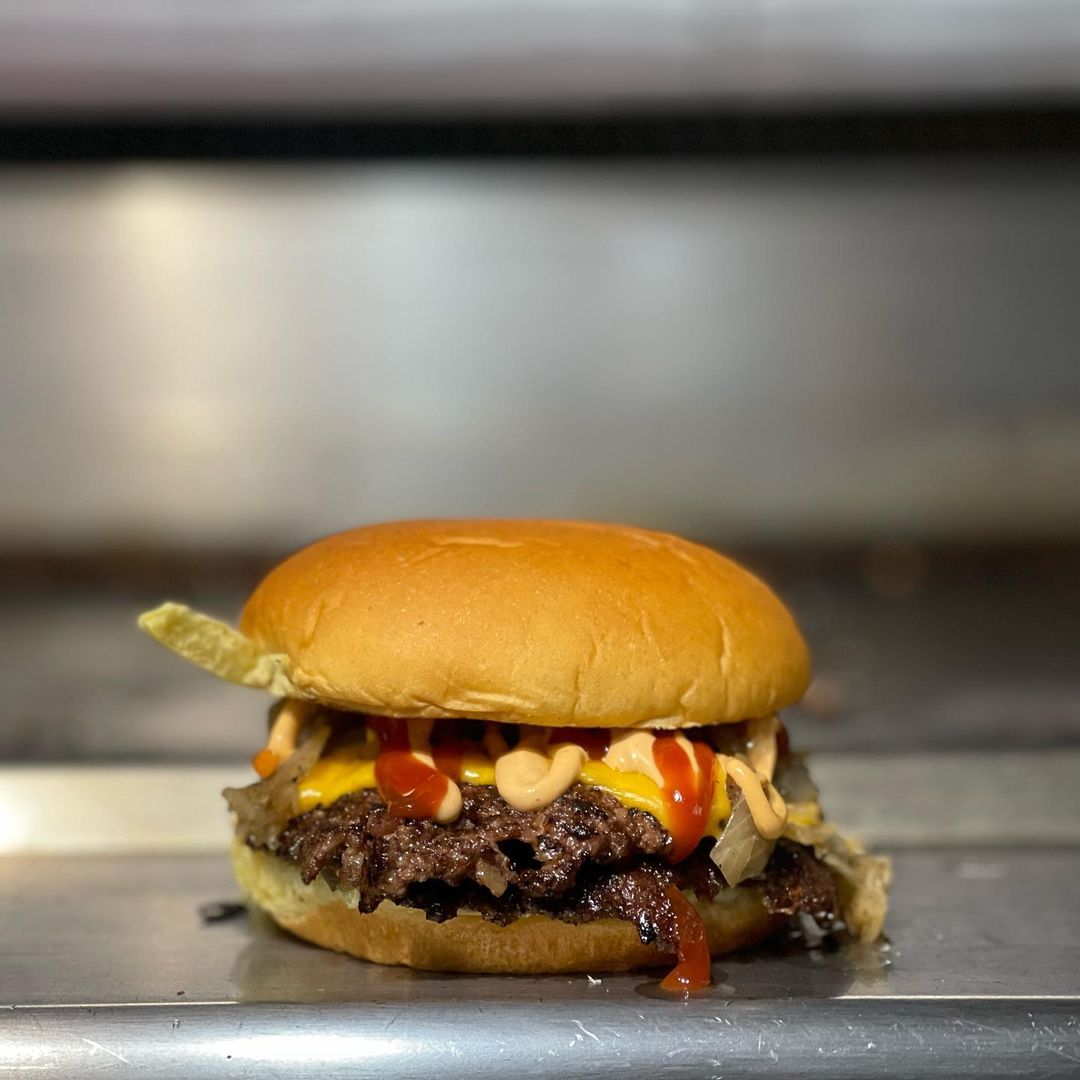 Snagging a Goldieboy burger kind of feels as if you've just been bumped to the front of the queue for a Splendour in the Grass ticket. These bad boys are hard to get a hold of, with Goldieboy founder Simon 'Simmo' O'Keefe preferring to go the elusive route and taking his burger business to random pop-ups and private gigs around Melbourne.
It's not as hard to get a hold of Goldieboy today as it used to be a few years ago, but you'll still need to be on the pulse to wrap your mouth around those beautiful Martin's potato buns slapped with a signature chuck and beef brisket patter, American cheese, and house-made adobo kewpie.
You'd just need to head along to Goldieboy's weekly pop-up at Two Wrongs, which takes place every Saturday from 12 pm and typically sells out ridiculously fast. Although the business has been known to just as often pop-up over at Hotel Westwood, which is where it currently resides until further notice.
Or you can just pick up one of their online DIY kits and have all the burger ingredients delivered straight to you.
Address: Hotel Westwood – 28 Napier St, Footscray VIC 3011 (current address)
Opening Hours: Thursday – Friday (6 pm – 9:30 pm); Saturday – Sunday (1 pm – 4 pm, 6 pm – 9:30 pm)
---
4. Rockpool Bar & Grill, Southbank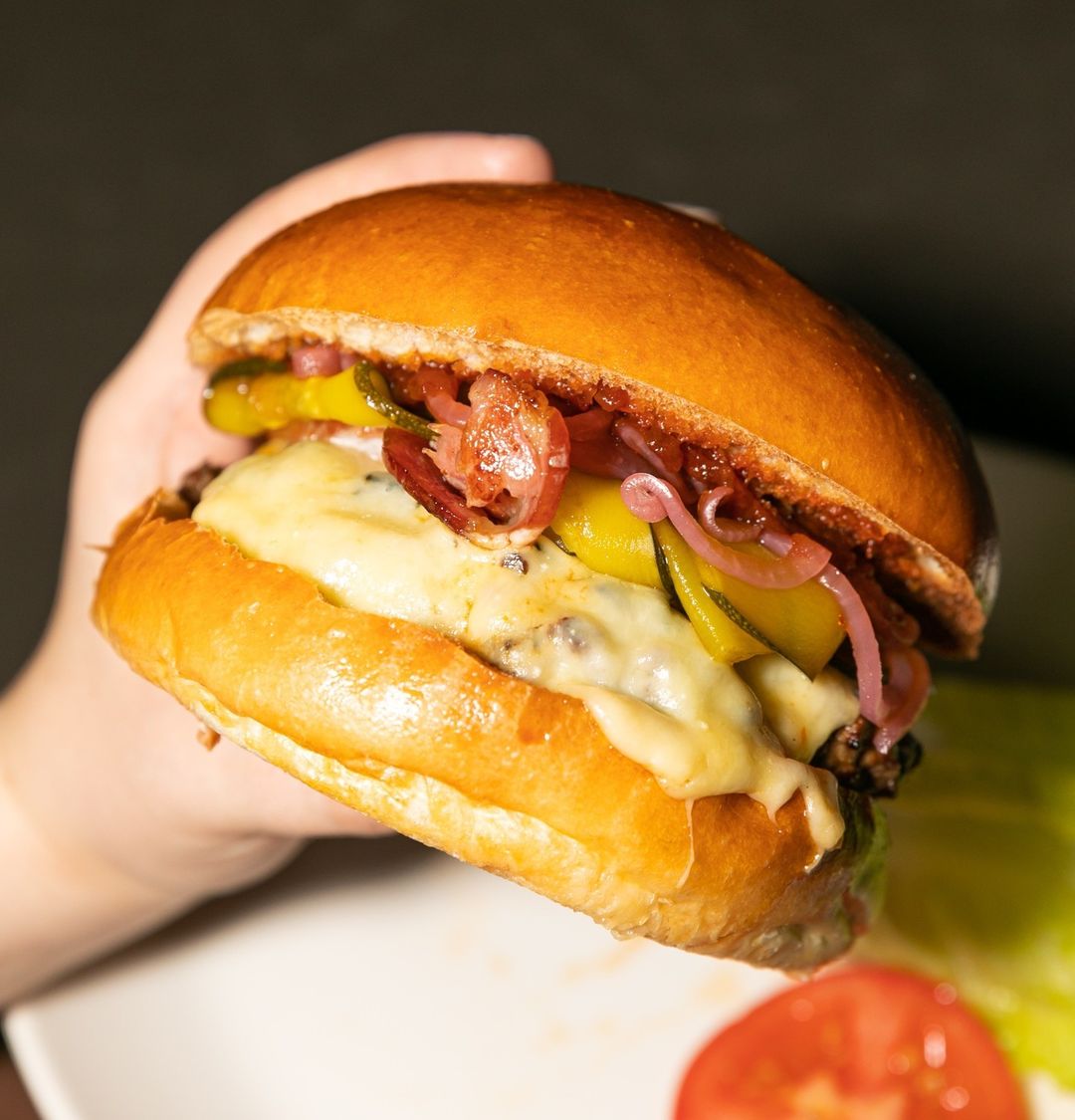 Fork out $19 at Rockpool Bar & Grill and you'll get Neil Perry's iconic David Blackmore's Full Blood Wagyu Burger with bacon, gruyere cheese, and a zuni pickle. The fine dining burger is still one of the best and most influential in Australia, making a strong case for simplicity as long as you're using the right produce and, of course, know how to get one of those juicy David Blackmore's Full Blood Wagyu patties perfectly medium-rare.
---
---
For our best burgers in Sydney list, the Rockpool Bar & Grill burger didn't make the top 10. There's a reason for that. Sydney's burger scene has always been stronger than Melbourne's (fight me), so the competition is a lot stronger.
While in Sydney places like Hubert and The Gidley have stepped up to the plate when it comes to sit-down gourmet burgers, but you'd be a fool not to appreciate what Rockpool has done here.
Address: Crown Casino, 8 Whiteman St, Southbank VIC 3006
Contact: (03) 9081 0532
Opening Hours: Wednesday (6 pm – 9:30 pm); Thursday – Friday (12 pm – 2:30 pm, 6 pm – 10 pm); Saturday (6 pm – 10 pm); Sunday (12 pm – 2:30 pm, 6 pm – 9:30 pm)
---
5. Dandenong Pavilion, Dandenong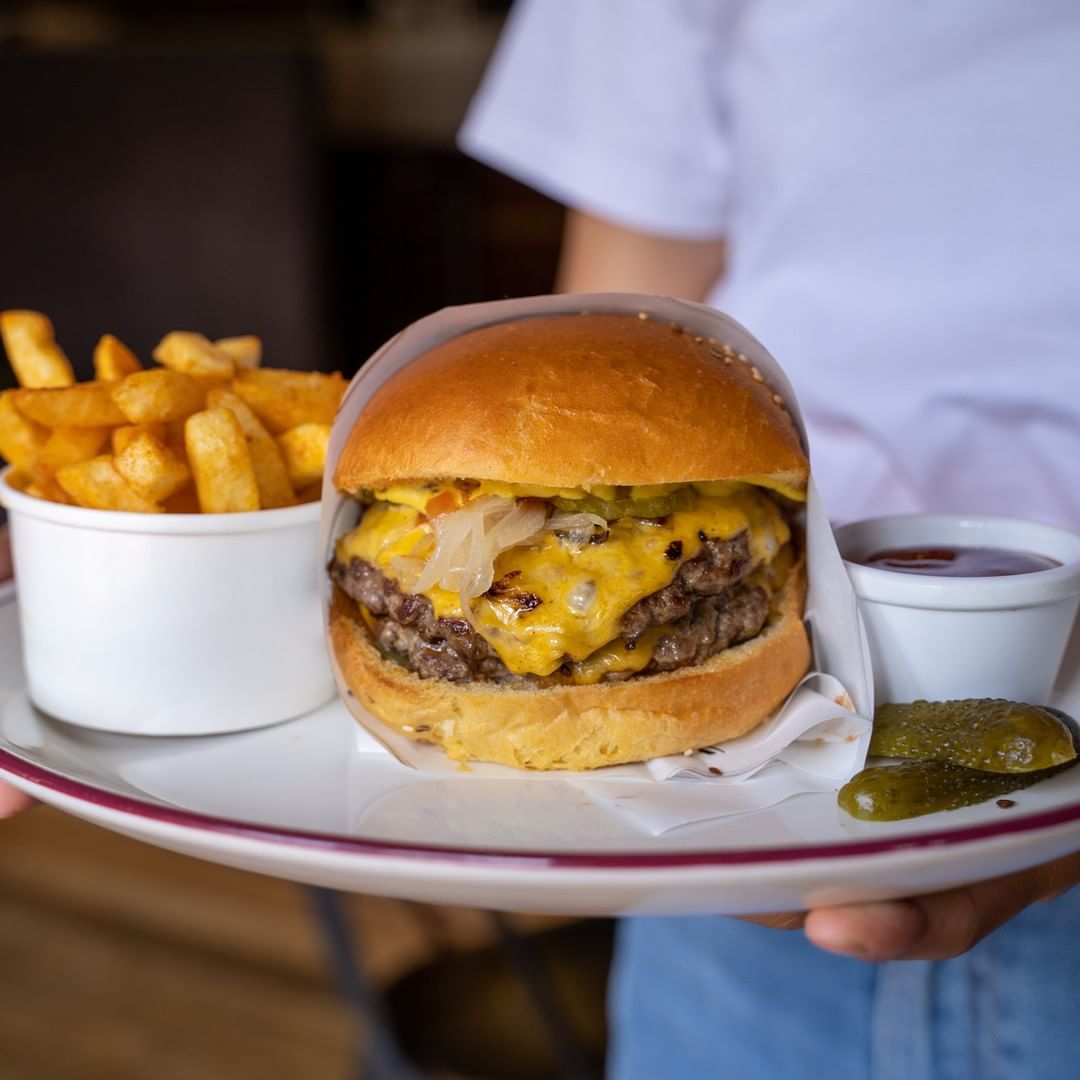 Dpav is home to some of the best burgers in Melbourne and was where one of Melbourne's busiest burger dons, Dani Zeini, got his start.
While Zeini obviously left to helm Royal Stacks and help a bunch of other entries in this list lift their burger game, Dandenong Pavilion's power over Melbourne's most insatiable burger fiends is still very much in tact. And there's not much else to say about that, with no one option better than the other. It's all incredibly fresh and well-balanced at Dpav, offering Melbourne locals a fine option when they want the best burger in town.
Address: 55-61 Princes Hwy, Dandenong VIC 3175
Contact: (03) 9793 2133
Opening Hours: Monday – Sunday (11:30 am – 10 pm)
---
6. Bar Margaux, Melbourne CBD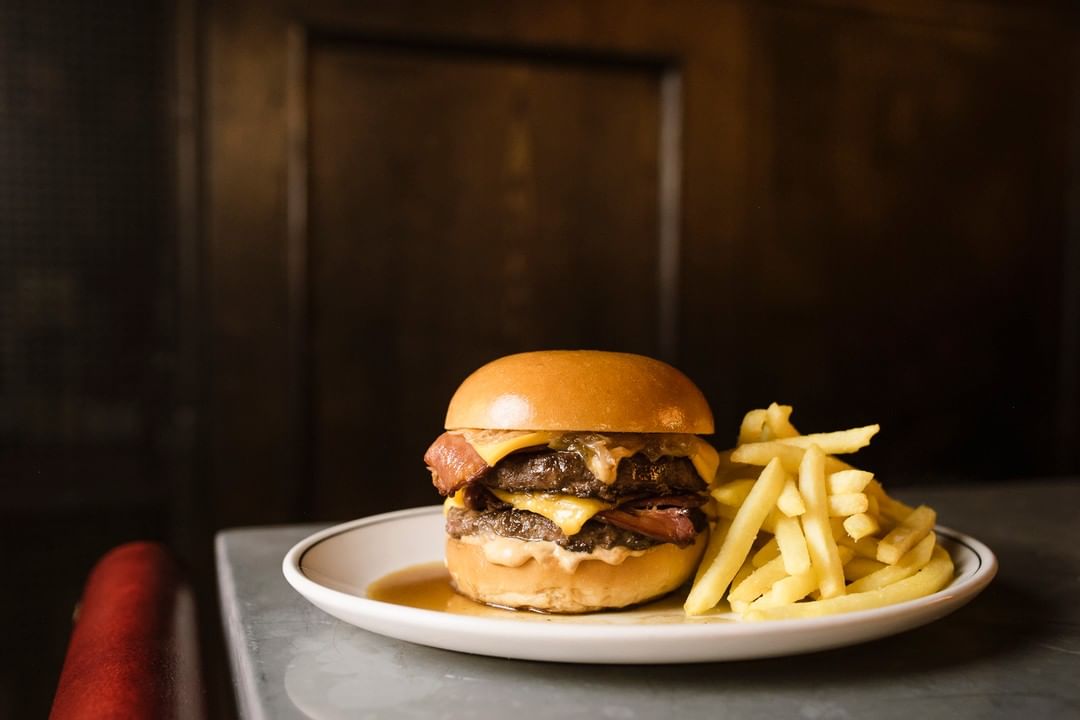 Located on Lonsdale Street, Bar Margaux is a classic French brasserie and a constant favourite for when anyone in Melbourne CBD is craving some steak frites. And yeah, the steak here is invariably excellent but you'll be selling yourself short if you didn't at least once try the signature MGX Burger.
Also served with frites, the MGX Burger is as decadent and comforting as anything else on the menu, stacking up nicely with two 120-gram Wagyu patties, organic sliced cheese, bacon and a Bordelaise sauce made from bone marrow, shallots, red wine and pepper all layered onto a sugary soft milk-brioche bun.
---
---
Melbourne falls a bit behind Sydney when it comes to premium burgers in sit-down restaurants. But the city isn't too far behind, especially with the likes of Rockpool Bar & Grill, Gimlet and Bar Margaux.
Address: Basement/111 Lonsdale St, Melbourne VIC 3000
Contact: (03) 9650 0088
Opening Hours: Wednesday (5 pm – 1 am); Thursday (5 pm – 1 am); Friday – Saturday (5 pm – 3 am)
---
7. 300 Grams, Northcote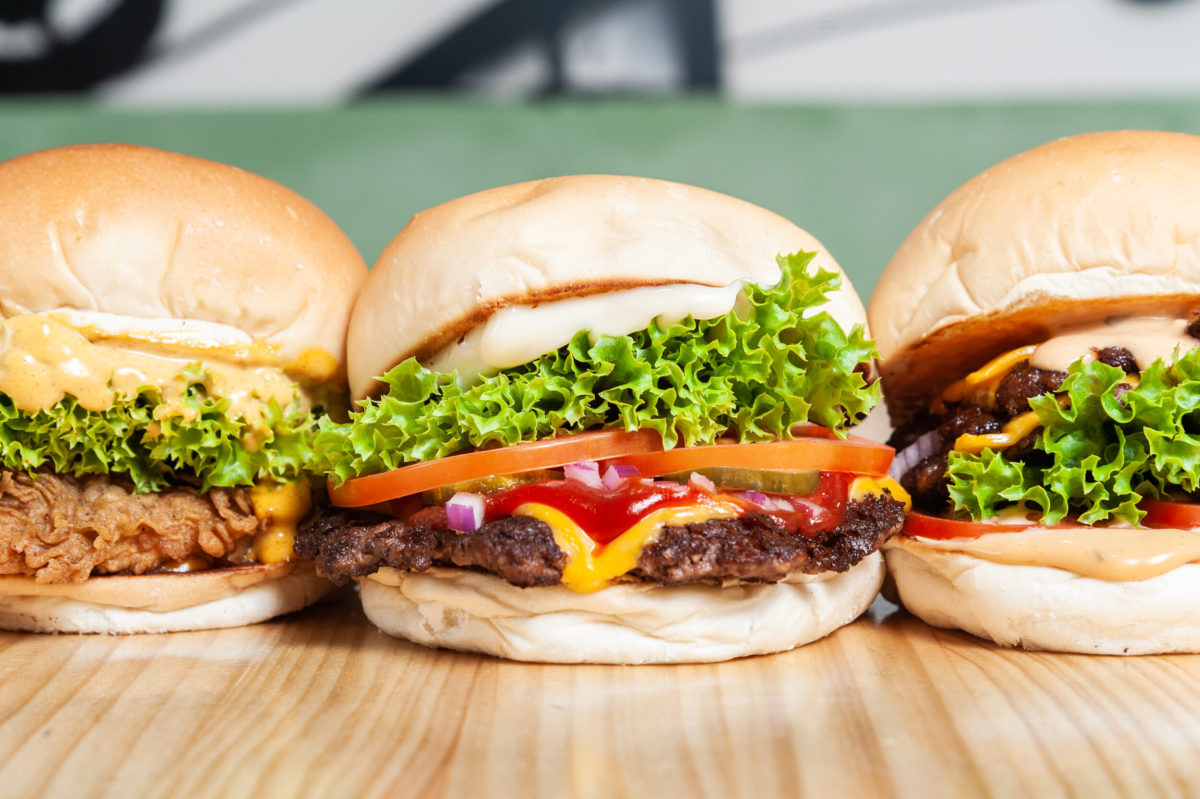 Grab some loaded fries and a crispy double patty smash burger at 300 Grams. The Northcote favourite has steadily built a loyal following since opening in 2019 and has since extended to a second burger joint in Coburg to catch up with demand.
300 Grams is one of the newest contenders for Melbourne's burger crown and there's little doubt we'll be hearing more from the business in the coming years, especially amongst those who like their burgers packed with heat – the Hot Bird fried chicken burger is incredible.
Address: 313 High St, Northcote VIC 3070
Contact: 0422 874 377
Opening Hours: Monday – Thursday (11:30 am – 9 pm); Friday (11:30 am – 9:30 pm); Saturday – Sunday (11:30 am – 9 pm)
---
8. Juanita Peaches, Brunswick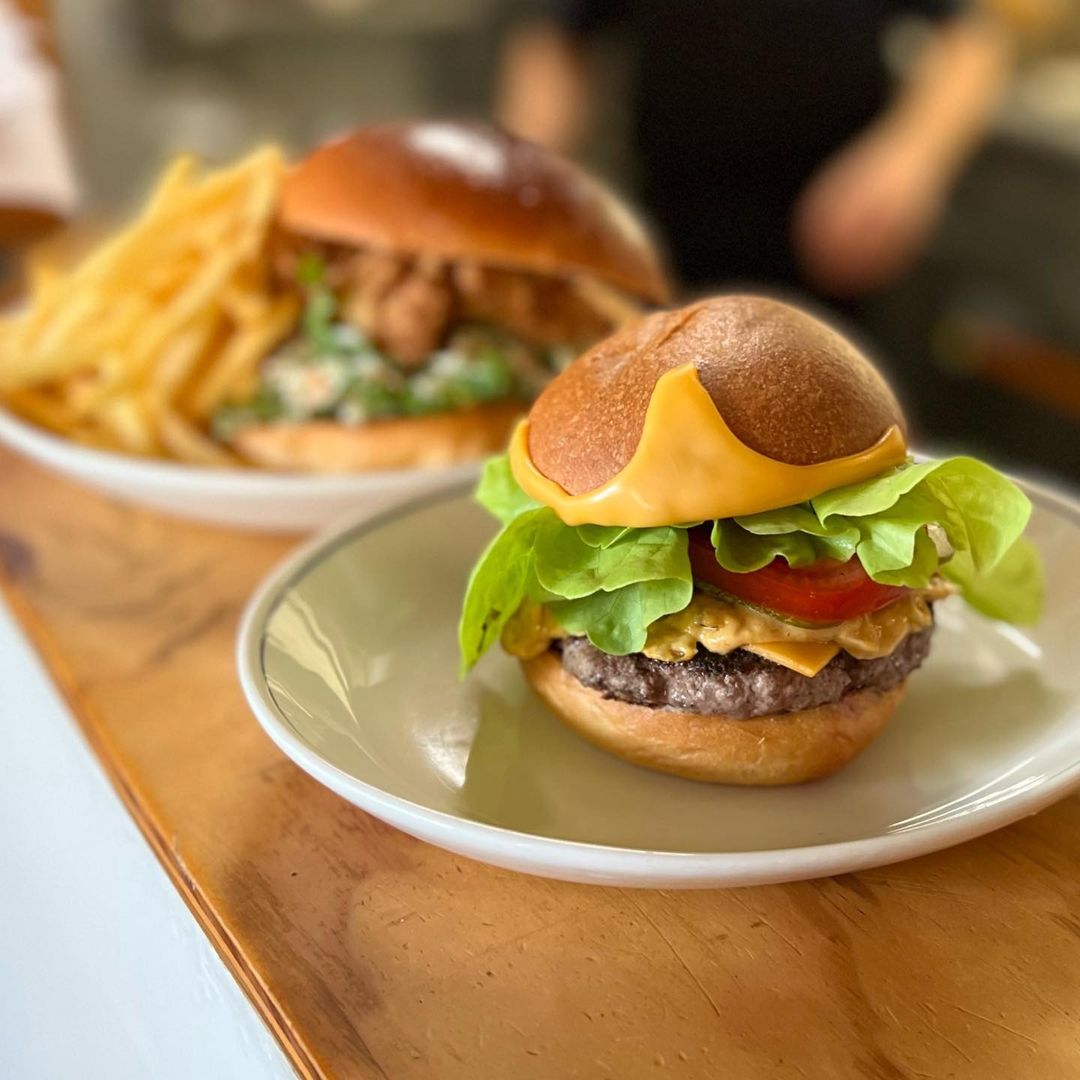 Although Beatbox Kitchen's Brunswick store may have shut up shop in 2021, much of what made that one of Melbourne's best burger joints has been transferred over to Juanita Peaches on Edward Street. It's all fatty American goodness over here, primarily pumping out perfectly crisp fried chicken and a cheeseburger that has a coffee-rubbed, grass fed beef brisket patty flanked by pickles, two slices of cheese and confit shallots.
Given owner Raph Rashid has been known as a bit of an aficionado when it comes to dude food, considering he runs some of Melbourne's best eateries for carb-lovers such as Taco Truck and All Day Donuts, and pioneered the city's rich food truck scene, you can bet Juanita Peaches will always be in good hands.
Address: 12 Edward St, Brunswick VIC 3056
Contact: (03) 8060 6664
Opening Hours: Monday – Thursday (12 pm – 9 pm); Friday – Sunday (11 am – 9 pm)
---
---
---
9. Gimlet at Cavendish House, Melbourne CBD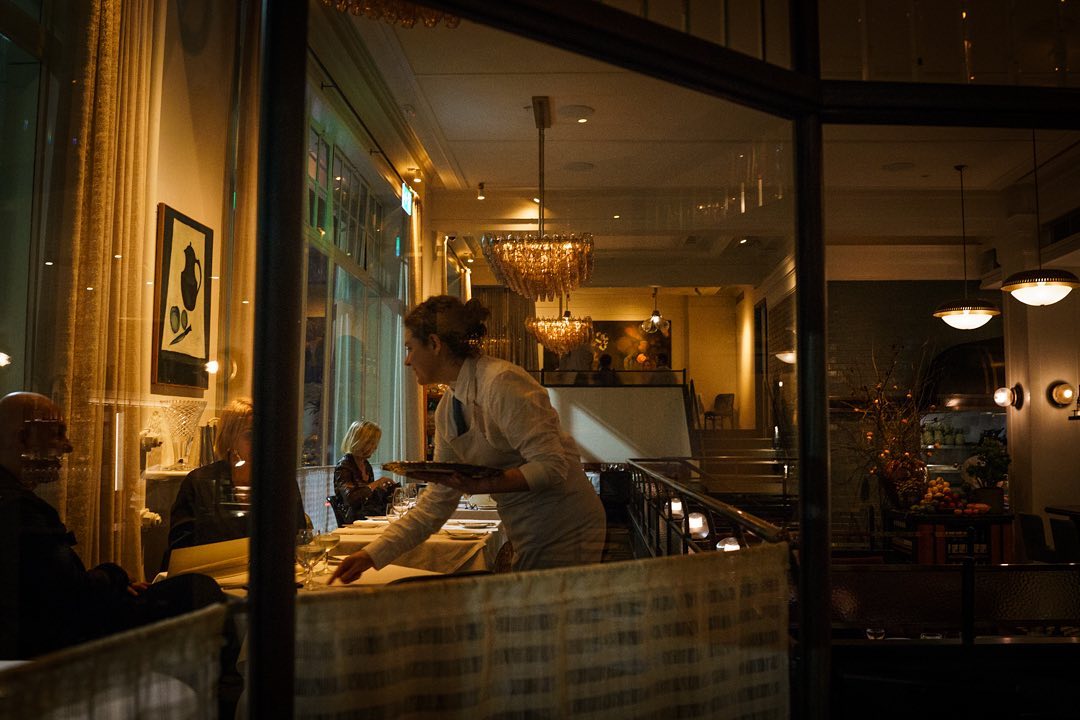 As one of the newer entries on this list of the best burgers Melbourne has to offer, Gimlet has a lot of competition to muscle out. Fortunately, Andrew McConnelldoes it in style, with this incredibly attractive and highly ornate cocktail bar quickly shooting through as not just one of the best new restaurants in Melbourne, but one of the best spots to get a more refined late-night burger than what you'd find at a more casual restaurant.
You won't find the $26 classic cheeseburger on the regular dining menu here. You'll need to grab the Supper menu, which pumps out this late-night gem with equal attention given to each and every layer.
Address: 33 Russell St, Melbourne VIC 3000
Contact: (03) 9277 9777
Opening Hours: Monday – Thursday (12 pm – 12 am); Friday – Saturday (12 pm – 1 am)
---
#10 The B.East, Brunswick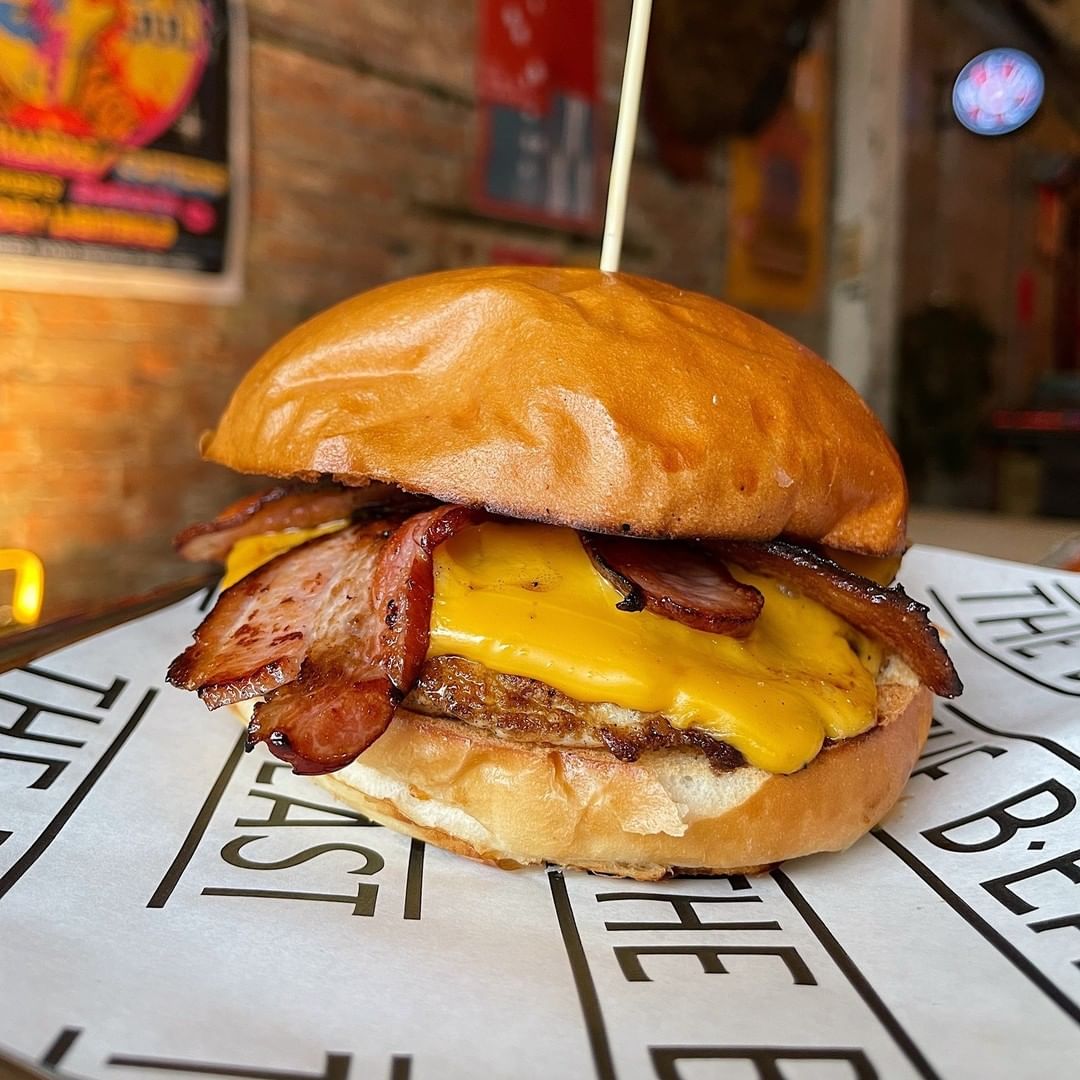 The first thing you'll want to note when heading along to rock-obsessed The B.East in Brunswick is that the kitchen specialises in Wagyu. The staple southern fried chicken burger here is well worth the price, but if you're only gunning for one burger go for anything with beef.
The kitchen sources its Wagyu from Mayura Station in South Australia, which is some of the best in the country. It's a dedication to produce you wouldn't expect from the rather rustic and casual atmosphere, offering a burger menu that's a bit more elevated and refined than some of the other joints on this list.
You're here for gourmet burgers that show a nice little slice of creativity like King Khan, layered with a Wagyu beef patty, bacon, Swiss cheese, caramelised pineapple, fermented jalapeno, hot sauce and smokey BBQ sauce.
Address: 80 Lygon St, Brunswick East VIC 3057
Contact: (03) 9036 1456
Opening Hours: Monday – Thursday (12 pm – 11 pm); Friday – Saturday (12 pm – 1 am); Sunday (12 pm – 11 pm)
---
Fat Bob's Bar & Grill, Moorabbin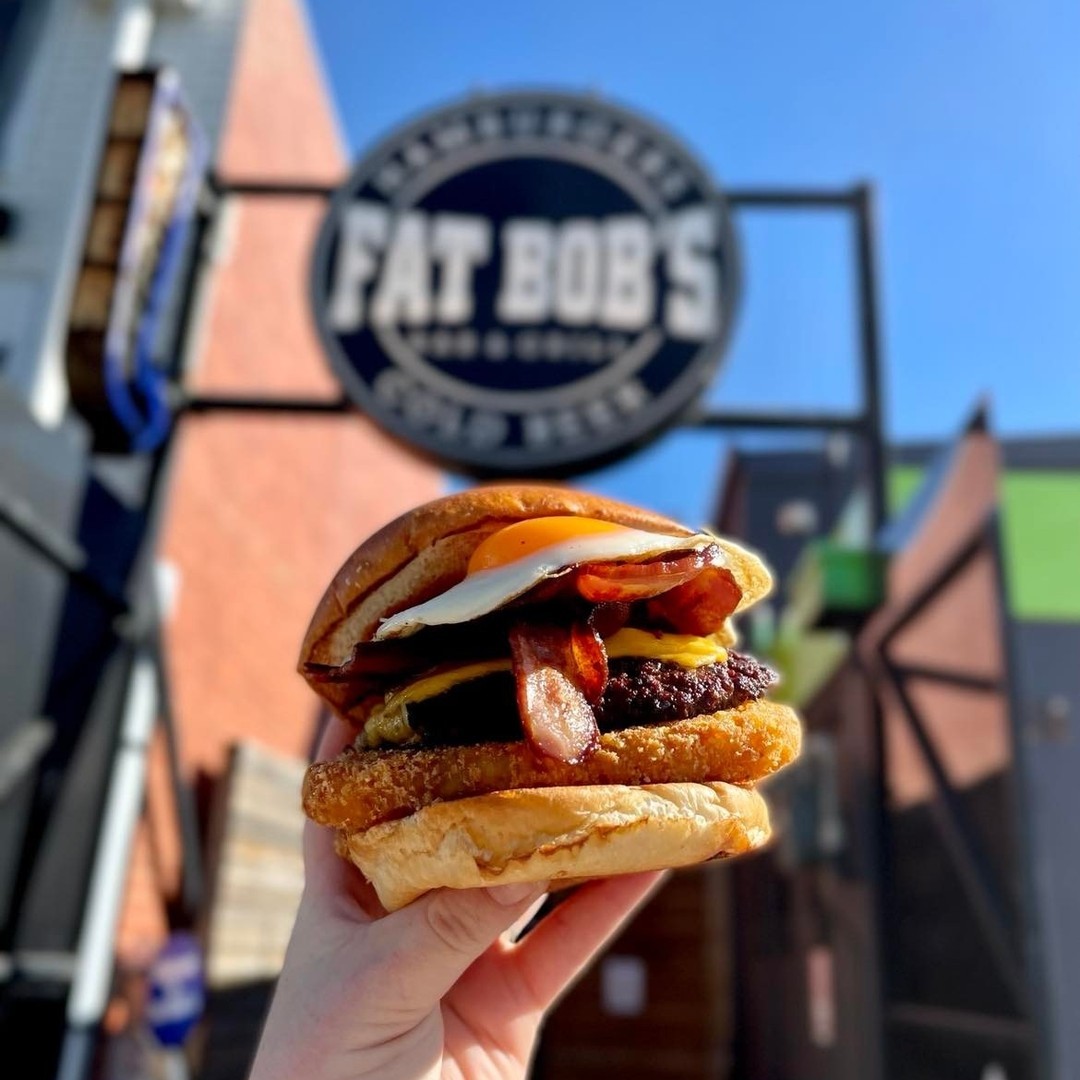 Fat Bob's is a beefy little number located out in Moorabbin, sporting a sizable burger menu that's full of all those loaded American-style classics done incredibly well with good quality produce.
---
---
There's not much in the way of concept here. You're heading along for the kind of atmosphere you'd want from a grill restaurant, full of mac n cheese bites, chicken wings and – if you've chosen right – either a 24-hour braised pull pork burger with grilled pineapple and BBQ sauce or the hotter-than-hot Firestone with house made Carolina Reaper chilli sauce.
Address: 80A Cochranes Rd, Moorabbin VIC 3189
Contact: (03) 9555 0909
Opening Hours: Wednesday – Thursday (5 pm – 9 pm); Friday – Sunday (12 pm – 9:30 pm)
---
Andrew's Hamburgers, Albert Park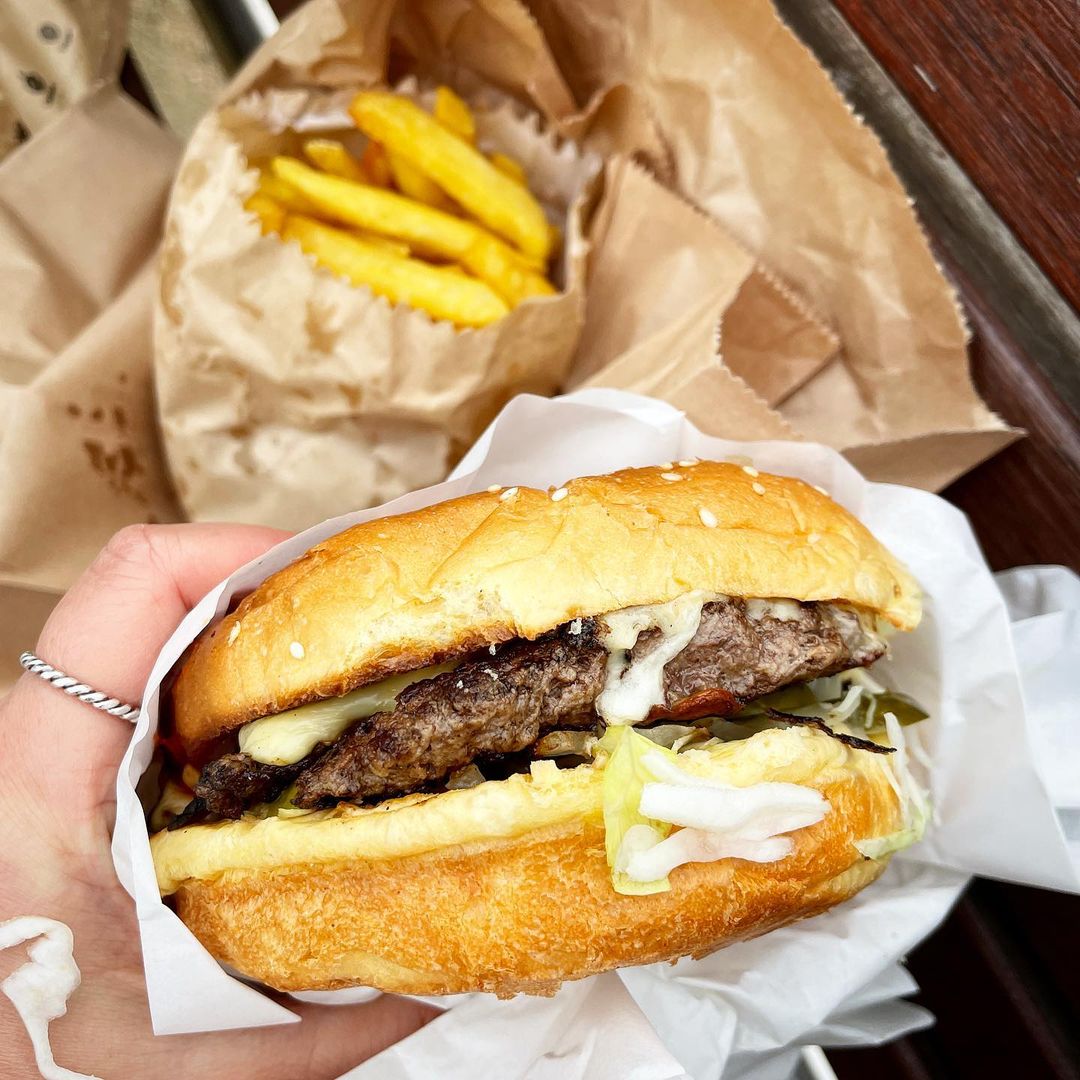 Andrew's Hamburgers is that reliable burger joint most major cities have. You know, the one that's been around forever and has built up a cult following so fierce and dedicated that there's almost no space for competition. Andrew's is home to the best tuckshop burger in Australia.
The Albert Park burger shop has been around since 1939, pumping out what is easily some of the best burgers Melbourne has to offer. The tight menu doesn't afford many options, but you don't need many when you're just going for the signature classic Andrew's Burger with the lot. Beef, chicken, or steak – whatever protein you've used to ground that towering mess of lettuce, onions, egg, bacon, tomato, double cheese, and sauce is going to taste good. Andrew's is a no-brainer for our best burgers in Melbourne round-up.
Address: 144 Bridport St, Albert Park VIC 3206
Contact: (03) 9690 2126
Opening Hours: Monday – Saturday (11 am – 8:45 pm)
---
Truck Stop Deluxe, Werribee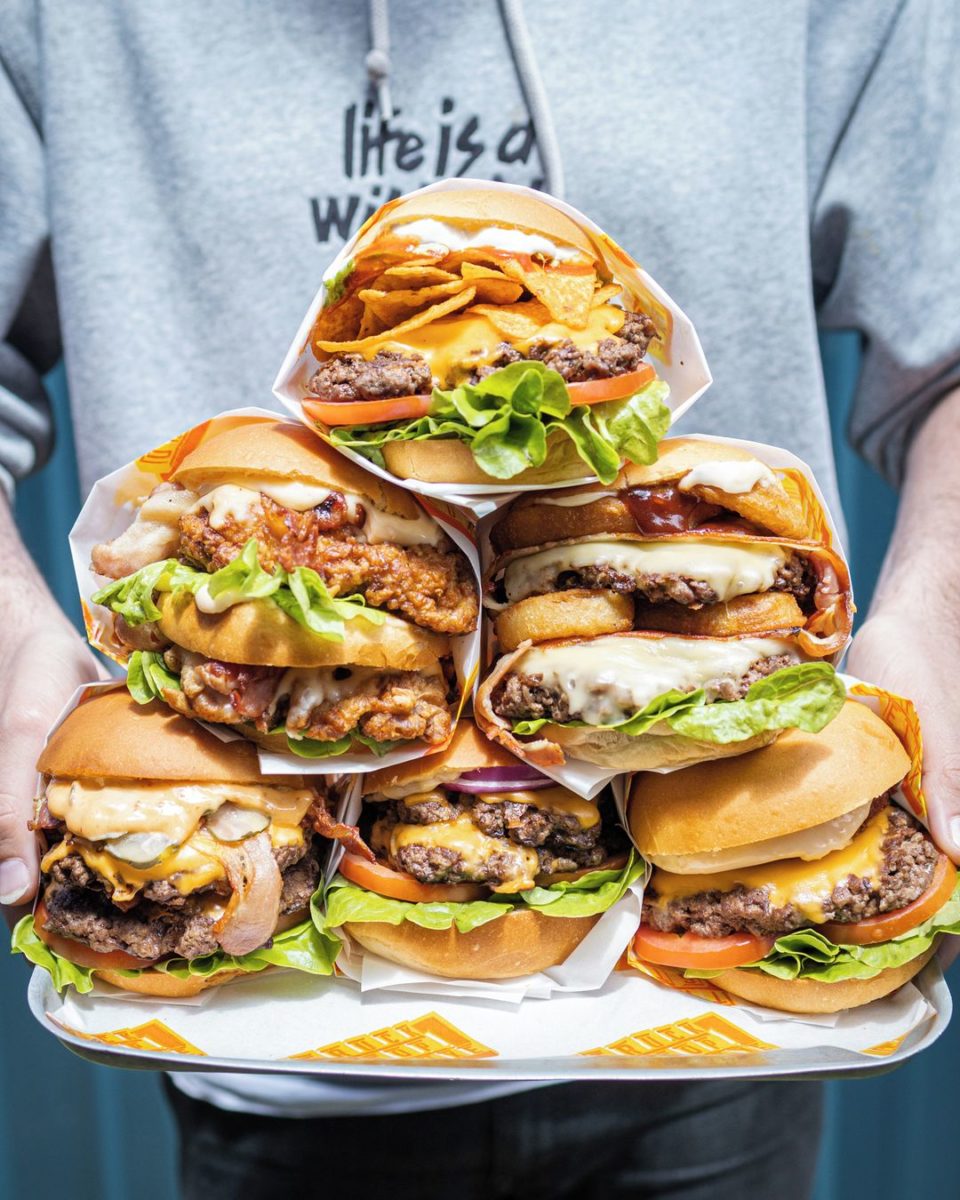 Some of the most delicious burgers are always built with the freshest ingredients, and Truck Stop Deluxe is built on that idea. If you want the best go for the American style burgers like the Route 66 special with two premium Aussie beef patties, American cheese, caramelised onion, jalapenos, pickles, mustard, tomato sauce and Changz hot sauce.
But there are just as many more sensible burgers that you can actually hold with one hand here, like the $11.50 Fine & Dandy or the Colonel – a simple buttermilk fried chicken burger with American cheese, lettuce and aioli. But then again, who needs a more humble burger when you've got something like the Kanye West-Side, an awfully lame name but a powerful build with buttermilk fried chicken, Swiss cheese, bacon, lettuce, tomato, sliced onions, avocado, sweet chilli sauce and aioli. All on a lightly toasted brioche bun.
Address: 98 Watton St, Werribee VIC 3030
Contact: (03) 9741 4000
Opening Hours: Wednesday – Sunday (11:30 am – 9 pm)
---
Grand Trailer Park Taverna, Melbourne CBD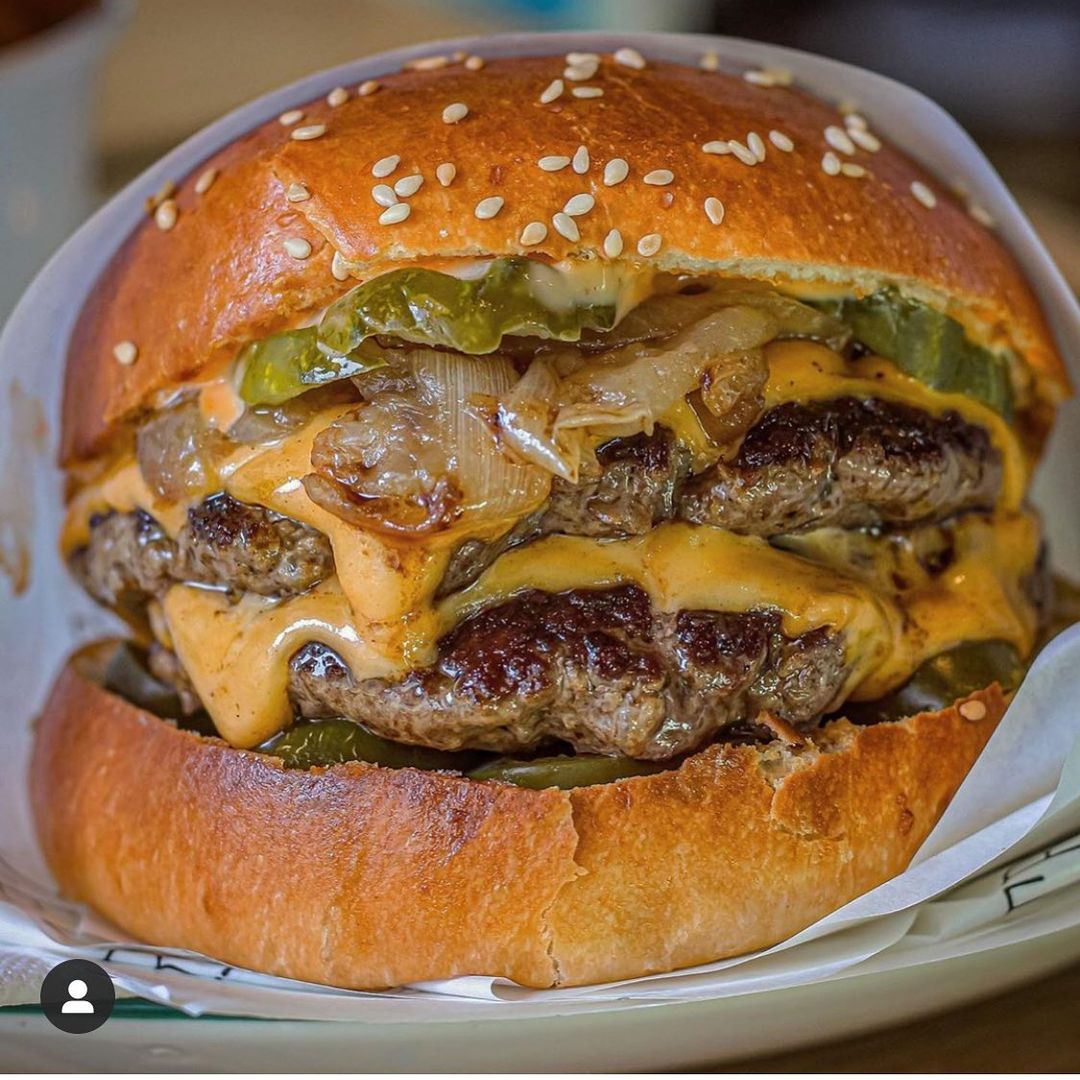 Everyone in the industry has been through Grand Trailer Park Taverna at some point. And while the appeal of this iconic burger joint is often overshadowed nowadays, it's hard to deny just how centric Grand Trailer Park Taverna is when discussing the best burgers Melbourne has to offer.
Served up along with signature spiked shakes and cocktails, the burgers on offer here straddle the very fine line between gourmet and gluttonous, arriving at a nice balance that's manageable but still packs one hell of a punch.
Address: 87 Bourke St, Melbourne VIC 3000
Contact: (03) 9972 3699
---
Butchers Diner, Melbourne CBD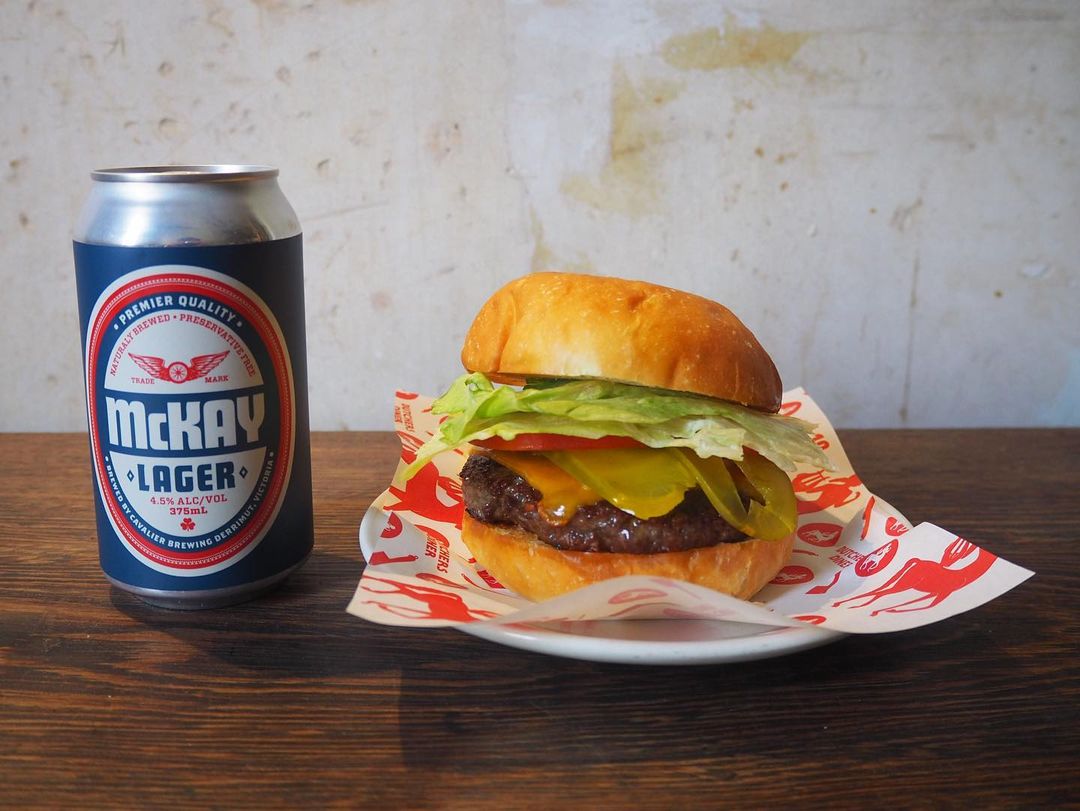 Located in the Imperial Hotel on Bourke Street, Butcher's Diner is the go-to if you're craving a good burger at 4 am after a big night out in Melbourne CBD. The kitchen runs 24 hours a day, and it's just as viable for a feed at noon as it is when the sun goes down and those cravings for meat sweats come out.
There's a slight Japanese influence here that doesn't feel overdone, worked into the menu in a seamless way so grab some of that Japanese fried chicken to pair up with the signature $18 cheeseburger which has all the usual ingredients layered with a juicy 160 g beef patty.
Address: 10 Bourke St, Melbourne VIC 3000
Contact: (03) 9639 7324
Opening Hours: Tuesday – Saturday (12 pm – 12 am)
---
Sonny's Fried Chicken & Burgers, Carlton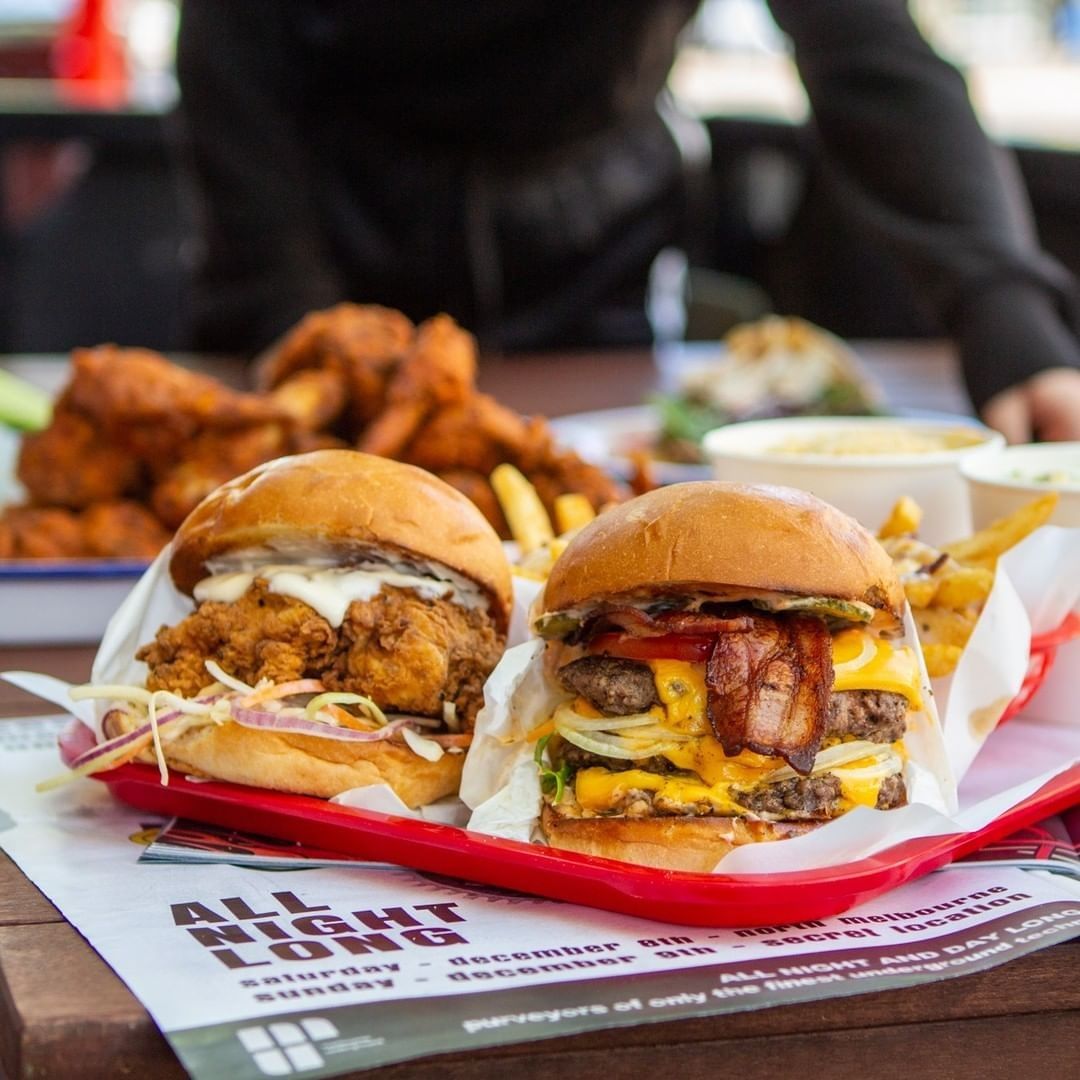 Perfect for old-school American-style burgers, Sonny's is rightfully a Carlton institution and the unfailing go-to when you're craving some greasy Southern fried chicken wrapped up in an eclectic atmosphere that's usually filled with some sort of live music.
Sonny's Fried Chicken & Burgers is the resident kitchen at The John Curtin Hotel's bandroom, scoring those late-night fried chicken burgers with local tunes for a vibe that's sort of similar to Mary's Burgers up in Sydney – Rock & Roll & Grease never made such a better pair.
Address: 29 Lygon St, Carlton VIC 3053
Contact: (03) 9663 6350
Opening Hours: Monday – Sunday (12 pm – 10 pm)
---
Balwyn Canteen, Balwyn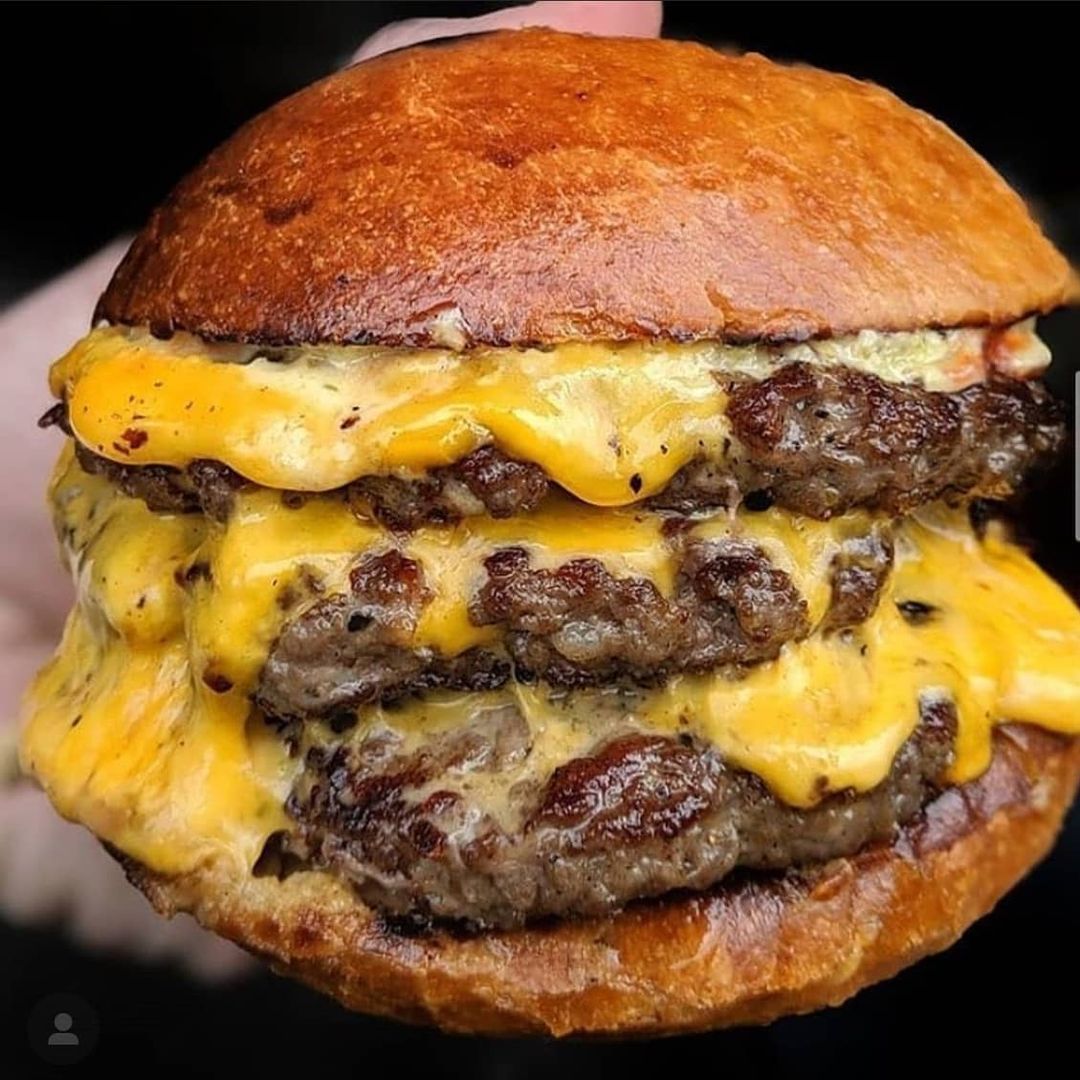 When Balwyn Canteen opened back in 2017 right near Maccas it was in the midst of the ridiculous frankenburger craze. You know the one. Burgers that are much too large to wield with two hands, offering a saucy feast that requires more than just a few napkins to mop up.
Balwyn Canteen makes no apologies about how freakishly large and gluttonous the kitchen's burgers are, best complemented by equally delectable donuts and thickshakes should you want the unholy trio of unhealthiness.
Thick juicy burger patties, perfectly melted cheese, crispy fried chicken waffle sandwiches. On paper, it sounds like these burgers easily fall short of the mark and sacrifice quality for the sake of gluttony, but you'd be damned to find any option as tight as Balwyn Kitchen if you're looking for the best burgers in south-east Melbourne.
Address: 262 Whitehorse Rd, Balwyn VIC 3103
Contact: (03) 9042 9429
Opening Hours: Wednesday – Sunday (12 pm – 9 pm)
---
Hello Sam, South Yarra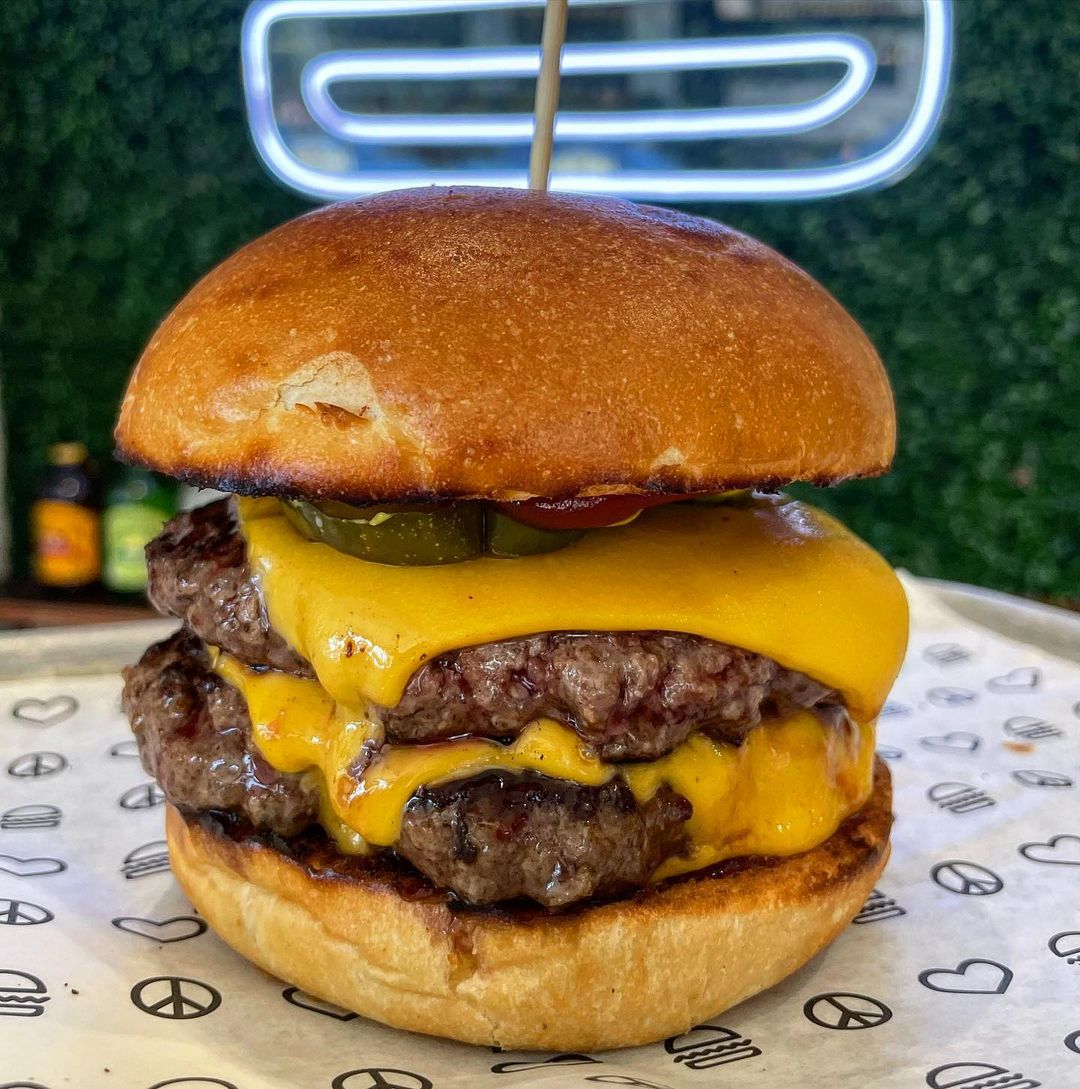 Hello Sam in South Yarra is one of the more underrated burger joints on this list, constantly pumping out those weekly specials even though most people head here for the great Truffle Shuffle. The vegetarian option is one of the best meat-alternative burgers in Melbourne, with a mushroom arancini patty layered with American cheddar, lettuce, caramelised onion and truffle mayo.
Address: 760 Chapel St, South Yarra VIC 3141
Contact: (03) 9973 9551
Opening Hours: Monday – Sunday (11 am – 9 pm)
---
Grill'd / Bettys Burgers & Concrete Co / Royal Stacks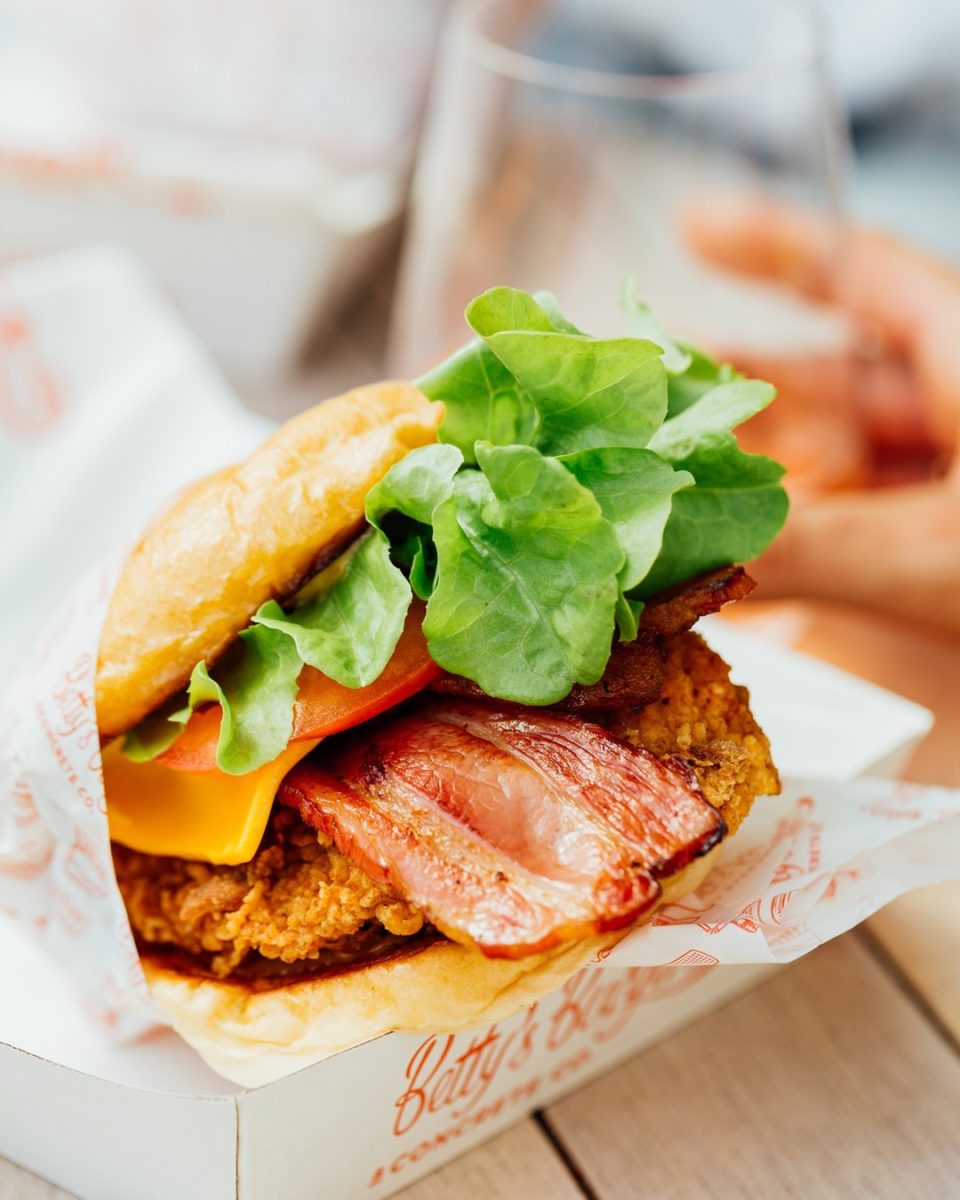 Not quite Maccas-level, not quite gourmet. Grill'd, Bettys Burgers & Concrete Co and Royal Stacks represent Australia's firm grip on fast-casual burger joints that have popped up in the past decade, pushing back against the fast-food burgers of yesteryear and offering up great alternatives bang on the consistency that made businesses like Maccas so famous to begin with.
There was once upon a time when I'd put Huxtaburger here too, but unlike Royal Stacks, I think the gourmet burger chain, as pioneering as it was, suffered too much from dilution when it expanded. Bettys Burgers & Concrete Co and Royal Stacks are then better examples of businesses that managed to expand while still holding onto that all-important consistency. Although arguably the best of the bunch is Grill'd.
And yes, there are always going to be times when you're going to walk away disappointed from all three. Unlike single-venue burger joints, there's always going to be a risk but more often than not you should know to expect.
Also, do note that Virgin Australia now serves Bettys Burgers & Concrete Co in the airline's Sydney, Melbourne and Brisbane airport lounges so you can grab some of their Shake Shack inspired burgers before a flight.
Address: Various location
---
McDonalds / KFC / Oporto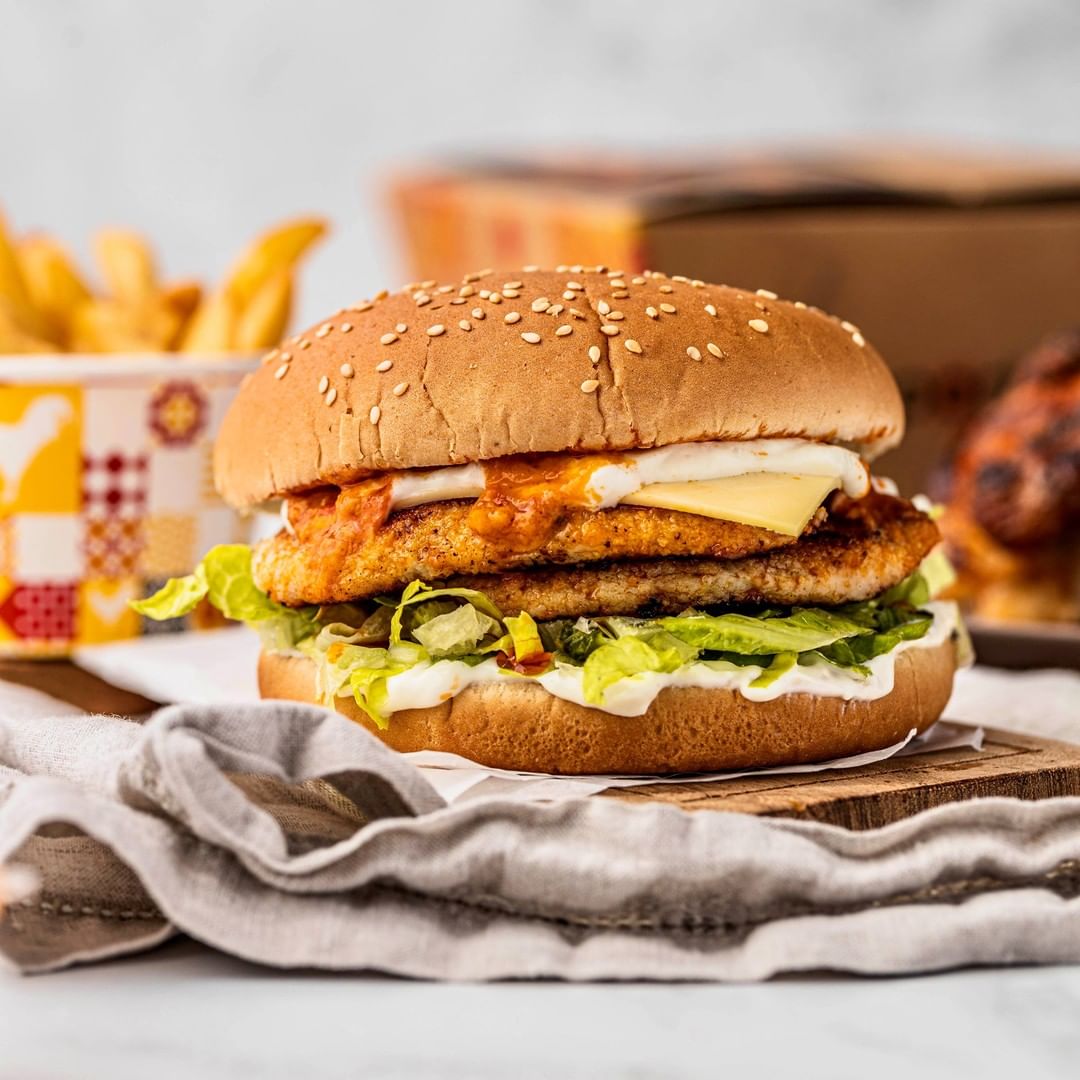 Speaking of consistency, you can't really go past the unholy trinity of Maccas, KFC and Oporto. These three fast-food burger joints have really nailed it when it comes to dependability, and as I wrote in our Sydney best burgers round-up, there's a lot of value in knowing that 99% of the time you'll be getting your expectations met.
If you love these burgers, you'll love them. If you hate them, you'll hate them. The only variable then is how fresh these burgers arrive from the kitchen, which comes down to the staff at each individual venue.
None of these burgers – from the Fillet O Fish to the good ol' zinger – would qualify as "amazing burgers" on par with the gourmet level of detail you can expect from the likes of Easey's and Gimlet, but no one could – or should – deny the efforts taken to make these chains so consistent in what they do. Hungry Jacks on the other hand – good at times, but the business usually has a lot more consistency issues than these three much more reliable chains.
Address: Everywhere
---
Best Burgers Melbourne – Frequently Asked Questions
Where can I find the best burgers in Melbourne?
You can find the best burgers in Melbourne at Easey's, Leonard's House of Love, Rockpool Bar & Grill and Bar Margaux.
What is the best burger in Melbourne CBD?
Head to Gimlet at Candevish House if you want one of the best burgers in Melbourne CBD. It's a bit more refined and upscale than your typical burger, but the bar's supper menu features a cheeseburger that will blow your mind. Bar Margaux is even better as well, especially when you're craving a late-night burger.
What's the best fast food burger in Melbourne?
In all honesty, I think Bettys Burgers have nailed the consistency enough to be considered the best fast food burger in Melbourne.