According to The Official Great Aussie Pie Competition, Whittlesea Bakehouse now produces the best meat pie in Australia, claiming the throne formerly occupied by Pinjarra Bakery.
Located approximately 40 kilometres northeast of Melbourne's CBD, this humble family-run operation has taken home the coveted top prize/bragging rights for Best Meat Pie (Plain), beating 1,500 other entrants for the crown.
"I'm a firm believer if you use good ingredients, good flour, good margarine, you keep it simple and love what you do, then that's what counts," Whittlesea Bakehouse pie maker Adrian Caporetto told Star Weekly.
RELATED: Australia's Best Hot Chips Has Officially Been Crowned
"We're a humble little family bakery and to come out on top among the big boys is great."
The competition's chief judge, Mike French, revealed the secret to crafting the best meat pie essentially comes down to three simple elements: "A crispy pastry top with flake, a structurally sound pie bottom, and the ultimate pie filling."
French added the ideal pie should be "baked through with a nice golden colour" with a consistent three-millimetre thick side and bottom.
"Regardless of the meat you choose, the ultimate pie filling contains meat, thickener, colour, and seasoning, and we recommend adding some onion for flavour," explained French.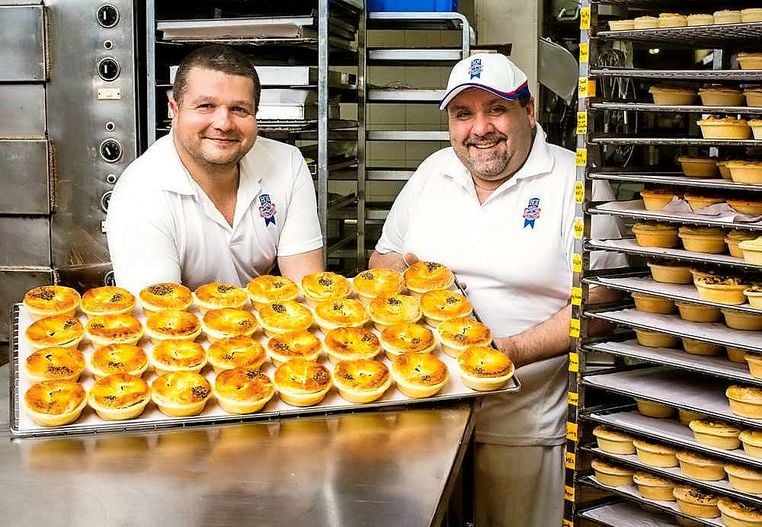 "Be sure to pay special attention to the meat-to-pastry ratio to achieve the perfect balance and not jeopardise your structure."

"The pie should be meaty and tasty with a nice rich brown gravy, not grey or black. The filling should not fall into your lap when hot, or conversely, stick to the roof of your mouth."
Here are the best meat pies according to The Official Great Aussie Pie Competition (2022 Edition).
The Official Great Aussie Pie Competition (2022 Edition) – Best Meat Pie In Australia Rankings
Best Plain Meat Pie
Whittlesea Bakehouse (VIC) – Plain Mince
Four Seasons Patisserie Café & Bakery (WA) – Plain Mince
Country Cobb Bakery (VIC) – Chunky Mince
Oven Crisp Bakery Riverton (WA) – Plain Mince
Oven Crisp Bakery Baldivis (WA) – Plain Mince
Best Gourmet Pie
Miss Amelie Gourmet (VIC) – Chinese BBQ Pork Belly
Rolling Pin Pies & Cakes (VIC) – Surf n Turf
Miami Bakehouse (WA) – Country Apple & Raspberry
Rolling Pin Pies & Cakes (VIC) – County Lamb Rosemary
Mount Barker County Bakehouse (WA) – Jalapeno Sauce & Smoky Pork
Best Red Meat Pie
Rolling Pin Pies & Cakes (VIC) – County Lamb Rosemary
Country Cobb Bakery (VIC) – Pepper Beef
Buddy Bakery Melton (VIC) – Chunky Pepper
Brighton's Best Bakehouse (TAS) – Slow Cooked Beef & Onion
Paradise Bakehouse (QLD) – Beef Pepper Pie
Best Poultry Pie
Parkview Bakery (VIC) – Moroccan Chicken
Four Seasons Patisserie Café & Bakery (WA) – Satay Chicken
Gippsland Gourmet Pies (VIC) – Chicken Coconut Mango Curry
Country Cobb Bakery (VIC) – Chicken Laksa
Four Seasons Patisserie Café & Bakery (WA) – Thai Massaman Green Curry
Best Pork Pie
Miss Amelie Gourmet (VIC) – Chinese BBQ Pork Belly
Country Cobb Bakery (VIC) – Pork & Pepper
L'Arte Central (VIC) – Pulled Pork Nacho
Chunky Pies (QLD) – Smoky BBQ Pork & Apple
Emma's Bakery (VIC) – South American Pulled Pork
Best Slow Cooked BBQ Pie
Mount Barker County Bakery (WA) – Jalapeno Sauce & Smoky Pork
Country Cobb Bakery (VIC) – BBQ Beef Brisket Cheese & Chili
Country Cobb Bakery (VIC) – BBQ Beef Mac & Cheese
Porter Avenue Pies & Cakes (VIC) – Smoked Brisket
Whittlesea Bakehouse (VIC) – Curry Brisket
Best Breakfast Pie
Brighton's Best Bakehouse (TAS) – Brekkie Farmhouse
Pinjarra Bakery (WA) – Big Aussie Breakfast
Buddy Bakery Melton (VIC) – Ned Kelly Pie
Banana Boogie Bakery (SA) – Eggs Benny
CC'S On The Range Bakehouse (QLD) – Ned Kelly
Best Game Pie
Gisborne Bakery & Café (VIC) – Rabbit, Mushroom, & Thyme
Four Seasons Patisserie Café & Bakery (WA) – Mexican Red Wine Kangaroo
Four Seasons Patisserie Café & Bakery (WA) – Kang a Thai
Parkview Bakery (VIC) – Get Some Goat India
The Foodies Basket (WA) – Goat Curry
Best Seafood Pie
Rolling Pin Pies & Cakes (VIC) – Surf n Turf
Country Cobb Bakery (VIC) – Curry Scallop
Country Cobb Bakery (VIC) – Peppered Calamari
Country Cobb Bakery (VIC) – Spicy Red Curry Lobster
Country Cobb Bakery (VIC) – Singapore Chili Crab
Best Shepard's / Potato Top Pie
Buddy Bakery Melton (VIC) – Steak Mushroom Potato
Brighton's Best Bakehouse (TAS) – Potato Pie
Jack's Bakery (WA) – Shepherd's pie
The Little Red Grape Bakery (SA) – Sweetie Pie
Brighton's Best Bakehouse (TAS) – Sweet Potato
Gluten Free Pie
JoJo's Gluten Free Goodies (VIC) – Thai Chicken Curry
Country Cobb Bakery (VIC) – Cheesy Broccoli & Cauli
Heatherbrae Pies Ourimbah (NSW) – Walnut Vegetarian
JoJo's Gluten Free Goodies (VIC) – Cracked Pepper
Beefy's (QLD) – Steak & Bacon
RELATED: Australia's Best Pie Has Been Crowned For 2023 (But It Ain't Made Of Beef)
And the rest…
Best Vegetarian / Vegan Pie
Jack's Bakery (WA) – Veggie Paella
Jack's Bakery (WA) – Veggie Quiche
Miss Amelie Gourmet (VIC) – Triple Cheese & Cauliflower
Golden Bakery (WA) – Veggie Lover
Pinjarra Bakery (WA) – Thai Red Curry
Best Apple Pie
Miami Bakehouse (WA) – Country Apple & Raspberry
Four Seasons Patisserie Café & Bakery (WA) – Apple
Brighton's Best Bakehouse (TAS) – Apple Raspberry
Pie Face (NSW) – Apple & Blueberry
Miami Bakehouse (WA) – Apple Pie
Best Sausage Roll
The Little Red Grape Bakery (SA)
Tilba Bakery (NSW)
Oven Crisp Bakery Riverton (WA)
The Shearing Shed Café (WA)
Banana Boogie Bakery (SA)
Best Gourmet Sausage Roll
Gippsland Gourmet Pies (VIC) – Pork w/ Caramelised Apple
Pinjarra Bakery (WA) – Lasagne Roll
Hungie Fangs Artisan Bakery (VIC) – Moroccan Lamb
Liv's Heirloom Recipes (VIC) – Thai Pork
Para Hills Hot Bread Bakery (SA) – Chicken Lemongrass
Best Gluten Free Sausage Rolls
JoJo's Gluten Free Goodies (VIC) – Roast Veggie Roll
J&M Catering (VIC) – Spinach Ricotta
JoJo's Gluten Free Goodies (VIC) – Beef
JoJo's Gluten Free Goodies (VIC) – Spinach & Ricotta
Heavens Bakehouse (VIC) – Gluten Free Vegan