Let's face it. Australia just doesn't have as firm a grip on regionality and authenticity when it comes to Mexican cuisine, especially when compared to the country's fine showcase of Japanese and Italian flavours. Although that isn't to say there aren't some incredible local Mexican for when you're craving something a little bit more refined than Tex-Mex casuals like Guzman Y Gomez and Zambrero. Both Sydney and Melbourne may have the lion's share, but Brisbane gets a fair few licks in with their best Mexican restaurants.
RELATED: The 12 Best Mexican Restaurants In Melbourne
Beloved locals like Tuckeria, Juan More and Fiesta Ole may be long gone, but there's still enough kicking around Brisbane from the West End to Tenerife for fans of exceptional Mexican food. Here are the best 7 Mexican restaurants in Brisbane, so you're only working your way through the very finest salsas, tacos and margaritas.
---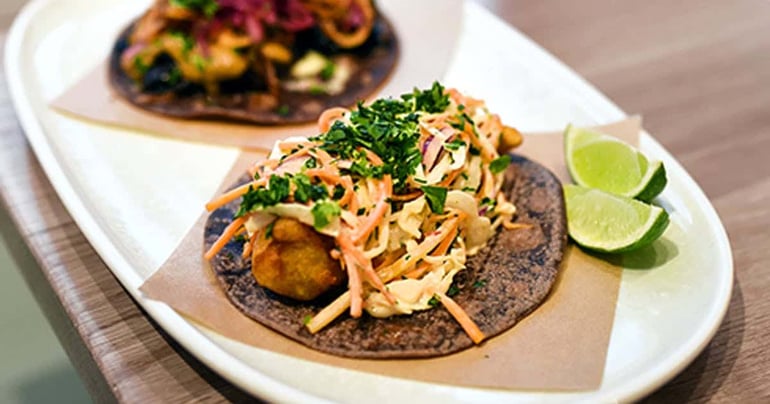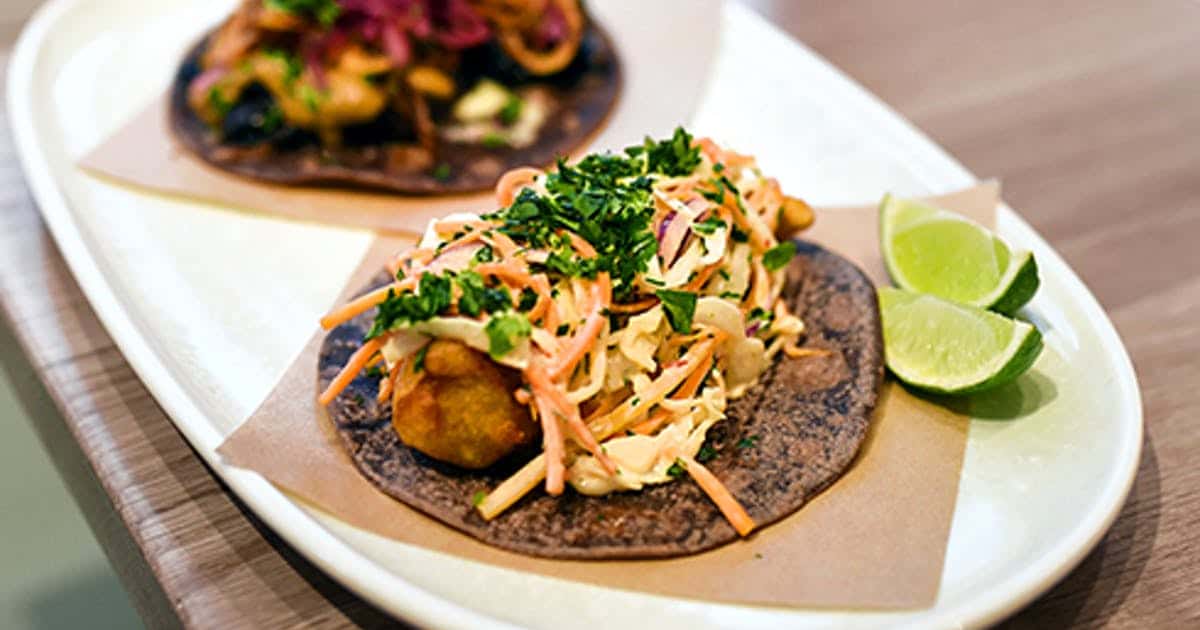 Baja
SoCal rules Baja's approach to fresh, coastal modern Mexican in Fortitude Valley. Teasing the fringes of FV's more party-minded spots, this relatively quiet restaurant is often the local pick for pre-club Mexican feasts, favouring light and airy fare like kingfish ceviche delicately layered with guajillo orange, chintexlle, burnt cucumber and broken totopos, alongside the likes of boneless chicken wings with Baja hot sauce, and local fish pate with toasted jalapeno and lime. Even the guacamole is dressed up for the occasion, flecked with blistered cherry tomatoes, pickled jalapenos and feta.

A modern approach to tacos can also be found with fillings like pork jowl being used in the classic al pastor, with pineapple mole and radish, fried chicken with pickled red peppers, and slow roasted duck with smoked tomato and tamarind sauce. You'll usually spot those filling up tables alongside a stiff cocktail like the "Day of the Dead", which builds two different tequilas and one mezcal with pineapple, grenadine and lime.

Address: 211 Brunswick St, Fortitude Valley
Contact: (07) 3625 0069
---
El Torito
This West End institution was established over 20 years ago, planted firmly by Jorge and Doris Perez as a dedicated family business. Modest beginnings as a take-away diner quickly built a cult-following, picking El Torito up as one of the city's most anticipated hubs of produce-forward, rustic Mexican food.
The menu is a fair play at balancing authentic flavours with mainstream tastes, sticking closely to homemade style and inexpensive dishes like pork and jalapenos drizzled with onion and green capsicum sauce, served with fresh guac, rice and tortillas, as well as grilled chicken that's been bathed in homemade mole, also served with rice and tortillas. It's simple, no-fuss Mexican done exceptionally well.
Address: 146 Boundary St, West End
Contact: (07) 3844 5977
RELATED: Best New Restaurants In Brisbane
---
El Planta
There is nothing on the menu that isn't plant-based at the aptly named El Planta, South Brisbane's shining gem as far as Mexican food goes. Similar to Bad Hombres in Sydney, the kitchen here shows plenty of ingenuity while sticking to the health-conscious concept, taking typically meat-based options and switching them up alternatives. For example, the classic al pastor does away with the conventional pork, and instead uses jackfruit that has been generously lathered in adobo sauce and piled onto a house-made corn tortilla with grilled pineapple, salsa verde, pickled onion and coriander.
The menu changes regularly, but the fan-favourite tacos almost always stay the same, best served in addition to snacks like grilled corn rolled in house-made chipotle and family-sized mains like mushroom stem carne and potatoes served swimming in a rich chili stew with rice, frijoles and tortillas.
Address: 58 Hope St, South Brisbane
Contact: 0412 728 047
---
La Quinta
The décor can be a little gaudy, but this rowdy Mexican restaurant is one of the best in Brisbane. If you're opting for take-away, which is reasonable given the usual wait time for a table, then you've got yourself a typical Mexican a la carte menu, clashing Tex-Mex with Mexico City favourites so you can pick and choose. But dine-in and you better have your appetite ready; La Quinta only does set group menus now, nodding to the restaurant's popularity amongst those keen on a big night out.
Design for groups of 8 or more, there are three set options with the best approach being the $40pp "Mexican feast". That'll net you and your mates generously sized plates of queso fundido, albondigas en salsa de chipotle, chorizo sofrito paste, taquitos, hickory smoked beef or pork ribs, fajitas, and more. The kitchen knows exactly what's going to go down well with that sizable beer list, so the best approach is to relax and let them do the deciding for you.
Address: 1/189 Oxford St, Bulimba
Contact: (07) 3399 2800
---
RELATED: The 12 Best Mexican Restaurants In Sydney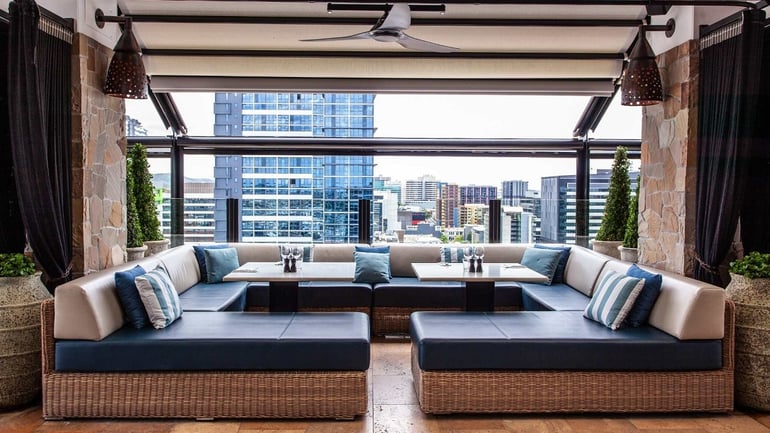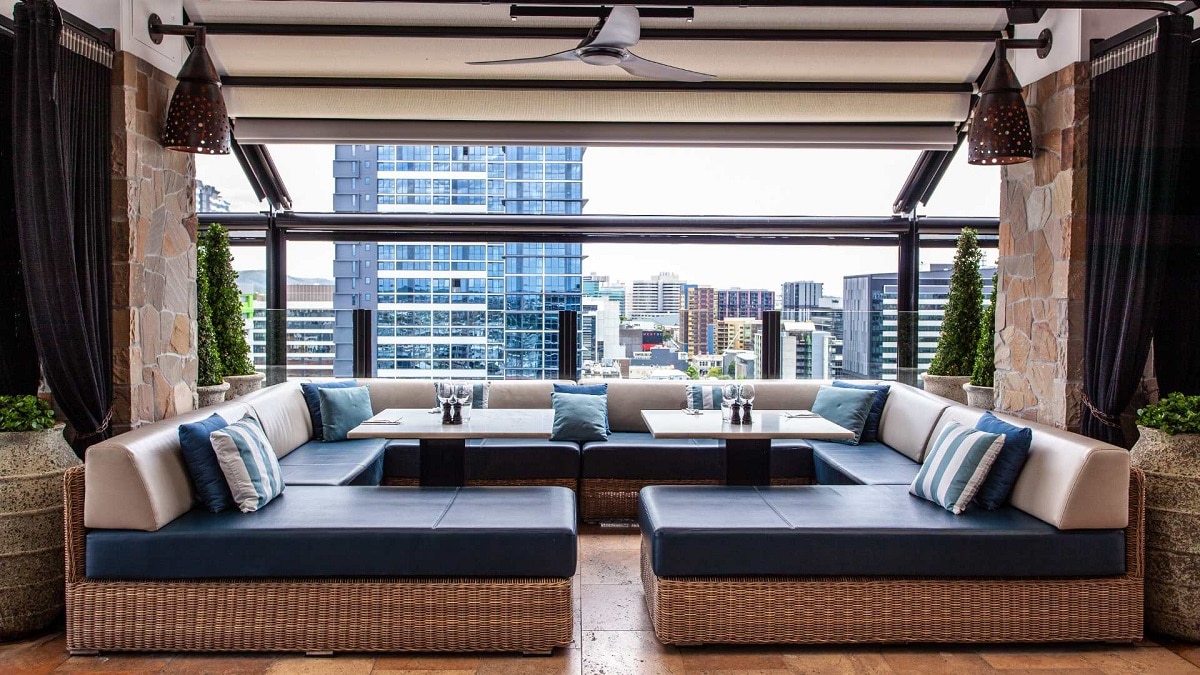 Maya
Although it's intended as a pop-up, converting Fortitude Valley's airy Eleven Rooftop Bar into a temple of Tequila and mostly Yucatán, Coastal Pacific and Sonoran street food, Maya is currently one of the best Mexican restaurants in Brisbane. Bringing a little bit of regionality to a city desperately lacking in such a country-wide scope, Maya has curated a food menu that revolves around its stacked selection of Tequilas, Mezcals and Sotols.

Given the equal focus on drinks, there's plenty of cocktails to go around, most obviously favouring Patron – given a Patron x Eleven pop-up in 2019 is what inspired the restaurant in the first place. The food list is even more extensive, with highlights including short rib that's been slow-cooked in chipotle and served with Ilegal Mezcal glaze and chimichurri, tacos like confit duck and al pastor, wagyu beef tartare tostadas, and a hearty barbacoa lamb with ancho chilli glaze, celeriac puree, tomatillo salsa verde and fresh corn tortillas. Whether or not Maya stays put well into 2021 remains to be seen, but while it's up, there's no doubt that this is one of the best Mexican restaurants in Brisbane.
Address: 757 Ann St, Fortitude Valley
Contact: (07) 3067 7447
---
La Patrona
Tenerife is well known for its high dining standards, so it wouldn't feel right if the inner-city suburb didn't boast at least one of the best Mexican restaurants in Brisbane. La Patrona is the restaurant in question, fresh-faced in 2020 with a kitchen led by Rebeca Flores and Chef Alejandra Mendoza.

Rich in culture, the menu is the kind of hit-after-hit temptation that'd defeat anyone who prides themselves on decisiveness. The best approach is to come in hot and heavy with a large appetite and scoff down everything, like the agave-infused ancho chilli stuffed with beef mince and covered with walnut salsa dressing, the corn pockets filled with smokey chile ancho shredded brisket with pico de gallo, cheese, and house pickled jalapenos, and the Veracruz style snapper that's been braised with tomatoes, capers, olives, capsicum, and herbs. Just make sure there's room for the make-your-own taco plate filled with chorizo, rib fillet, queso frito, chipotle chicken tenderloin, rice, cactus, pickled jalapenos, grilled spring onions, and chile de arbol salsa.

Address: 11 Florence St, Teneriffe
Contact: (07) 3852 5825
---
Mama Taco
Mexican food helmed by an Italian team best known for late West End favourite Luigi's Italian – it doesn't sound promising. And yet, it is. Mama Taco, another fresh one for 2020, has quickly risen through the ranks to become one of the best Mexican restaurants in Brisbane, fitted so beautifully into the historic Rialto Theatre. Designed primarily as a Mezcaleria, the venue maintains a strong dedication to produce and provenance, promising their main techniques of marinating, low-and-slow BBQ, and charcoal cooking is fuelled by locally and ethically sourced ingredients.
The kitchen fresh presses the tortillas each day, and sourdough burritos are made on-site, while they also ferment their own tepache and signature hot sauce from a combination a Merken, Bhuta and Habanero chillies. This drives a food menu that's exclusively all about those tacos and burritos, with fillings like caramelised miso eggplant, charcoal beef with salsa roja, and yellowtail. The latter has proven especially popular, with the fresh fish done up in a burrito with habanero, merken, avocado, coconut, onion, lime, raspberry, passionfruit and mango. Finish that off by devouring a mango vanilla yoghurt cheesecake with mole crisp and you'll see why this place is so hyped.

Address: Shop 4/59 Hardgrave Rd, West End
Contact: [email protected]
---
In the mood for some Japanese? Check out our list of the 10 best Japanese restaurants in Brisbane.
And if you're keen on something fresh, check out our list of the best new restaurants in Brisbane.