Since Mamasita first opened in 2010, Melbourne has seen a constant rush of authentic Mexican restaurants open each year. From rustic kiosks to decadent interiors, there's virtually no corner of the city left untouched by freshly made tortillas and top-shelf agave spirits.

Importantly, it goes far beyond the standard tacos and burritos, highlighting the rich diversity and regionality Mexican cuisine is based upon, not to be outdone by the city's swarm of Italian, French and Japanese flavours when it comes to distinct techniques and quality ingredients.
There's quite a lot to wrap your head around, so to help direct you towards the best, here's the 12 best Mexican restaurants in Melbourne to make sure you're scoffing down only the finest festive flavours the country and its varied culture has gifted the world.
RELATED: The 10 Best Italian Restaurants In Melbourne
---
---
---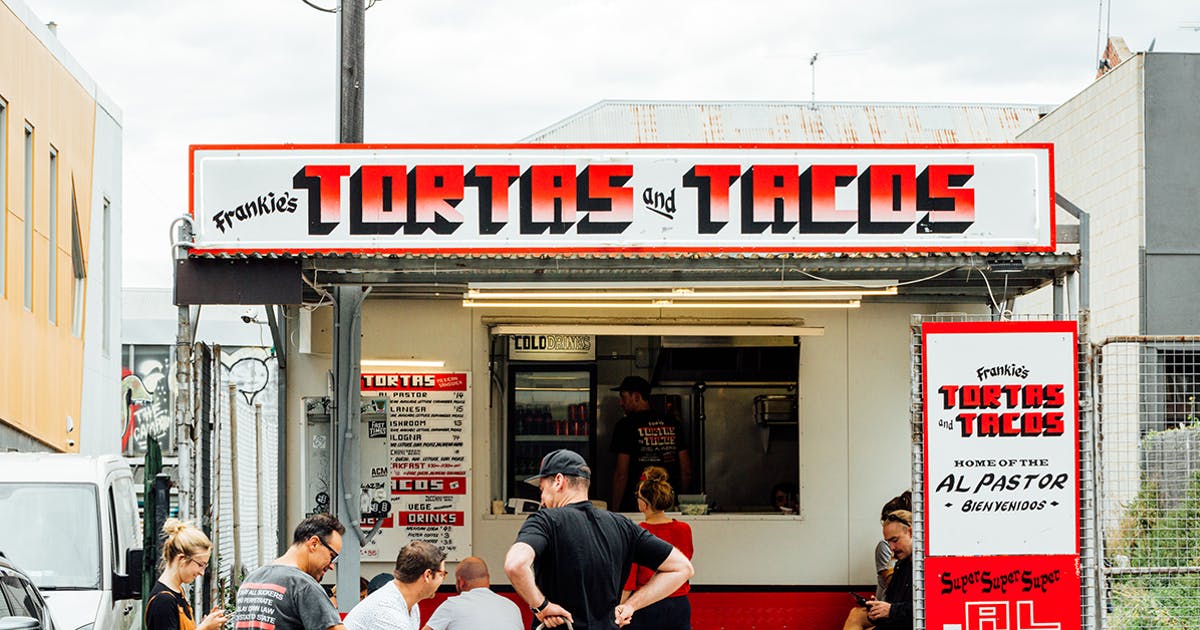 Frankie's Tortas & Tacos
Fresh-faced Frankie's Tortas and Tacos looks a bit lonely on Smith Street, but this formidable Collingwood kiosk has plenty of company when it comes to the regular queue of hungry folk wreathing around the spot. It's that old-school paper plate appeal that Melbourne locals can't resist, offering a fuss-free atmosphere with a tiny, roughly defined dining area caged by wall wire fencing.
Collingwood was gifted this bare-bones kiosk late last year, and throughout the pandemic it's been a beacon for simple take-home enchiladas made to nothing but perfection. On the regular, the menu sticks true to the name – tortas, tacos, and not much else. And whether it's a Milanese-style beef torta, or one of those powerful al pastor tacos, it's unlikely any fan of Mexican street food would leave disappointed.
Address: 384 Smith St, Collingwood
Contact: N/A
---
Hotel Jesus
The multicoloured taquerias of the 1970s echo through Melbourne's most formidable Mexican restaurants, Hotel Jesus. The popular venue, from Mamasita owners Nick Peters and Matt Lane, opened in the old Collingwood Post Office back in 2016, transforming the historic building into an eye-catching, light-filled space that's absolutely heaving with top-quality tacos, volcanes, and enchiladas.
You'll be hard-pressed finding a discerning Melbourne diner who hasn't already worked their way through Hotel Jesus' manageable list of food options, and sank more than a few Oaxaca Old Fashioned's while they were at it. To make the most of it, go for the $59 banquet menu, or the unfailing taco-and-cocktail parade that is the $65 bottomless lunch. The consistent popularity should be more than enough to signal that this is one of the best Mexican restaurants in Melbourne.
Address: 174 Smith St, Collingwood
Contact: (03) 9650 6054
---
Los Hermanos
Retaining its party-minded vibe ever since opening in 2012, Los Hermanos has remained Brunswick's go-to spot for rowdy nights fueled by margaritas and tacos. And owner Bruno Caretto has done it while carefully balancing that party life with a semi-serious, sophisticated bar, built as a complete ode to high-quality tortillas loaded with all sorts of fresh ingredients.
---
---
With tacos falling between $5 and $6 each, it's not unusual for groups to order the entire menu, netting the likes of lamb barbacoa slow cooked in a beer base, twice cooked beef in chipotle salsa, handpicked organic green beans cooked with potato and free range oven baked eggs, and fish fillet fried in maize flour beer batter. They've also got gorditas, which you won't find in many other Mexican restaurants across town. It's authentic Mexican bursting with the flavours of fresh produce, best served with one of the regular tequila or mezcal specials scribbled on the bar's massive blackboard.
Address: 339 Victoria St, Brunswick
Contact: (03) 9939 3661
---
El Sabor by El Cielo
A vibrant two-level cantina in North Melbourne, El Sabor by El Cielo maintains an admirable focus on authentic Mexican that's both consistent and generously proportioned. And that's no surprise, given the absolute worship of Mexico City's favourites, and a faith in the country's most beloved comfort dishes.
Co-founder Cesar Duran, who is a Mexico City native and founded one of Melbourne's first tortillerias – El Cielo – narrows focus on street food here, ranging from fajitas that are big enough for two people, to crispy quesadillas, loaded tostadas, and flautas (deep-fried rolled tacos). Importantly, it's all served with balance in mind, avoiding excess to keep texture and flavour as close to the traditional recipes as possible.
Address: 500 Victoria St, North Melbourne
Contact: (03) 9329 9477
---
Mamasita
Mamasita is unequivocally the pioneer when it comes to Melbourne's undying love for Mexican. The Collins Street institution, which opened 10 years ago, is as vital as ever, having undergone a 2019 refresh to bring it closer to the atmosphere of 1950s Mexico City. It's a vibe that pairs up well with the regionality on display throughout Martin Zozaya's ever-changing and season-driven menu.
Alongside authentic Mexican beverages, this taqueria is known for much more than just their exceptionally built tacos – which range from jackfruit al pastor, and fried fish, to grilled ox tongue and cheek. Favourites include handmade fresh burrata with guajillo-chipotle salsa, a Peruvian-style ceviche of market fish, lamb barbacoa tostadas, and chargrilled beef short rib with arbol chimichurri. Plus, there's no going past the kitchen's fresh guacamole, which is mixed with totopos, onion and coriander.
Note that Mamasita is in the middle of moving venues, and we will update this listing with the new location when it's confirmed.
---
---
Address: Level 1/11 Collins St, Melbourne
Contact: (03) 9650 3821
---
Mesa Verde
Occupying the top floor of Curtin House with a festive atmosphere, the forward-thinking Mesa Verde uses produce from its well-maintained rooftop garden to keep the kitchen's extensive menu in top shape. It's reason enough for them to focus on the lighter flavours of Mexican like airy heirloom tomato tostadas with ricotta, marinated onion chili and tarragon, and scallop aguachile with coconut, jalapeno, radish, avocado and finger lime.
While you'll probably need to keep things light to make up for that seemingly endless parade of top-tier tequila, the comfort classics are always on display with a refined approach. Think pork belly in a tamarind glaze served with pickled peppers, coriander and crema, and market fish ceviche tossed with blood orange, avocado, red onion, and cherry tomato. You'd expect nothing less from one of the best Mexican restaurants in Melbourne.
Address: Level 6/252 Swanston St, Melbourne
Contact: (03) 9654 4417
---
Mejico
Sydney-born Mejico has officially expanded to Melbourne, coming off the back of a solid reputation for reliable eats across breakfast, lunch and dinner. By morning, you can grab a signature benedict with gypsy ham, chipotle hollandaise and jalapeno crumb, or a mezcal cured salmon with poached eggs and acho mayo. By night, switch that up with pan-fried barramundi with pineapple salsa, and Gippsland lamb barbacoa tacos with a side of chicharrones and beef brisket empanadas.
There's also a strong drinks list for those later nights, with a second floor designed as a tequila bar and margarita lounge, hosting over 260 varieties of tequila and mezcal drinks, with doors open until 3am on weekends.
Address: 1 Pink Alley, Melbourne
Contact: (03) 9671 4376
---
Radio Mexico
Head south to St Kilda to stuff yourself silly with mezcal-marinated beef enchiladas and slow-roasted pork belly (served in a dance with pineapple salsa of course). Radio Mexico is sharp on the vibrant flavours of Mexico City, sticking with tradition but having just enough fun with it to offer dishes you're unlikely to find anywhere else, like spanner crab tostaditas with corn and avocado, a house specialty of undying popularity.
---
---
The festive vibe has been running for a good eight years now, which probably has a lot to do with their five-option margarita menu, which teases out different angles of El Jimador reposado, running through the classic style straight to an unconventional popcorn and jalapeno interpretation.
Address: 11-13 Carlisle St, St Kilda
Contact: (03) 9534 9990
---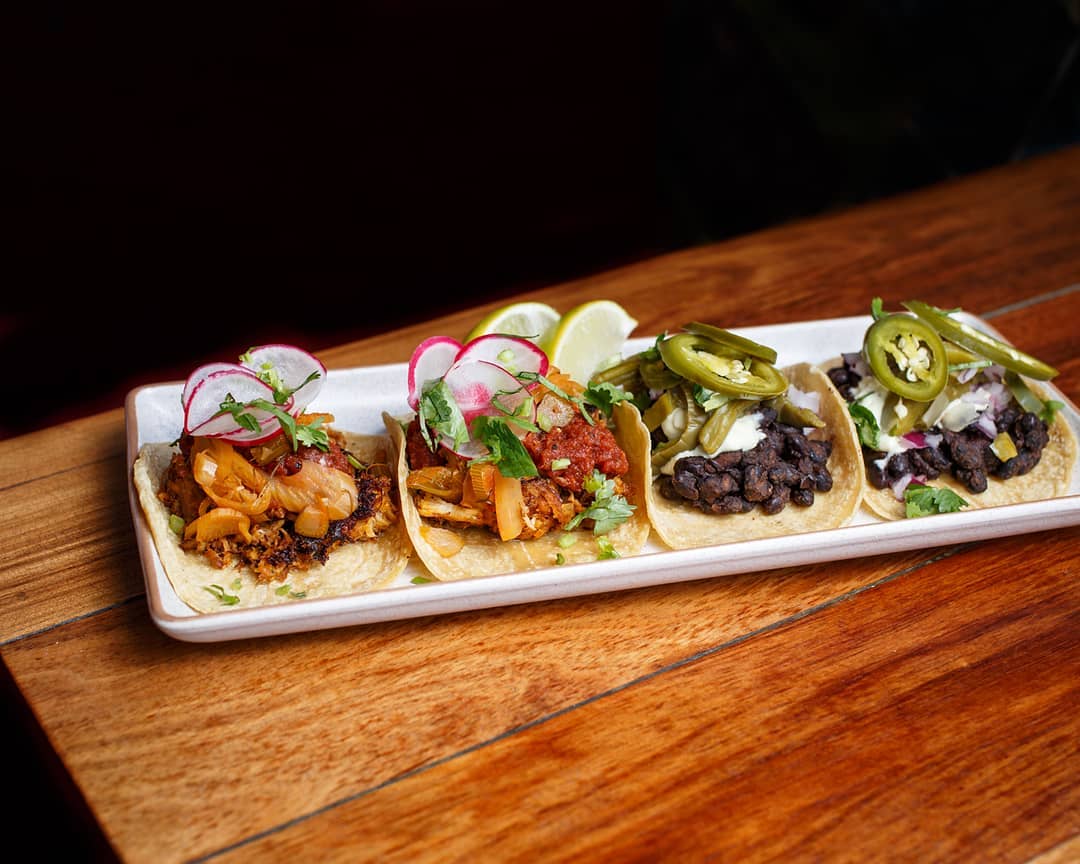 Bodega Underground
As one of Melbourne's only Mexican restaurants with a menu that's entirely gluten-free and vegan-friendly, Bodega Underground's raucous popularity is of little surprise. The CBD taqueria has plenty to parade out of the kitchen, from chilli and salted Mexican fried chicken (which after midnight can be paired with a mezcal negroni for $29) and charred cauliflower al pastor taco, tacos (served by the pair) with fillings like fried market fish, fried sweet potato, battered zucchini, braised pork, and fried chorizo.
The underground venue is open until 3am every single day of the week, making it one of the premier late-night margarita spots in the CBD. Though equally as viable on weekend arvos, with a bottomless brunch option that teams five courses with 90 minutes of unlimited cocktails. There's no doubt that this is one of the best Mexican restaurants in Melbourne.
Address: 55 Little Bourke St, Melbourne
Contact: (03) 9650 9979
---
Taquito
When it comes to Mexican food, the humble tortilla is king. The flat, circular bread is the anchor for most of Mexico's most popular dishes, which makes it somewhat surprising that Taquito is one of the only spots in Melbourne that actually makes their own on-site. La tortelleria – which is also on the list – does as well, but given the city's high density of authentic Mexican restaurants, you'd think there were more.
Obviously, this diminutive Carlton kitchen is a stickler for detail, dressing up those stone-ground gluten-free corn tortillas to the perfect proportion, highlighting just how much better Mexican is when not only texture and flavour is paramount, but dimension too. The perfectly sized tacos come with plenty of different fillings, such as crispy skin chicken chicharron, Baja style crispy fish, slow cooked pork hock, and chamomile baked sweet potato. Although it'd be a mistake to stick to just tacos here, with other essentials like the kangaroo tartare on a blue corn tostada with leek crema and cured egg yolk, and eggplant barbacoa with pineapple salsa and Mexican rice.
Address: 350 Drummond St, Carlton
Contact: 0450 651 247
---
---
---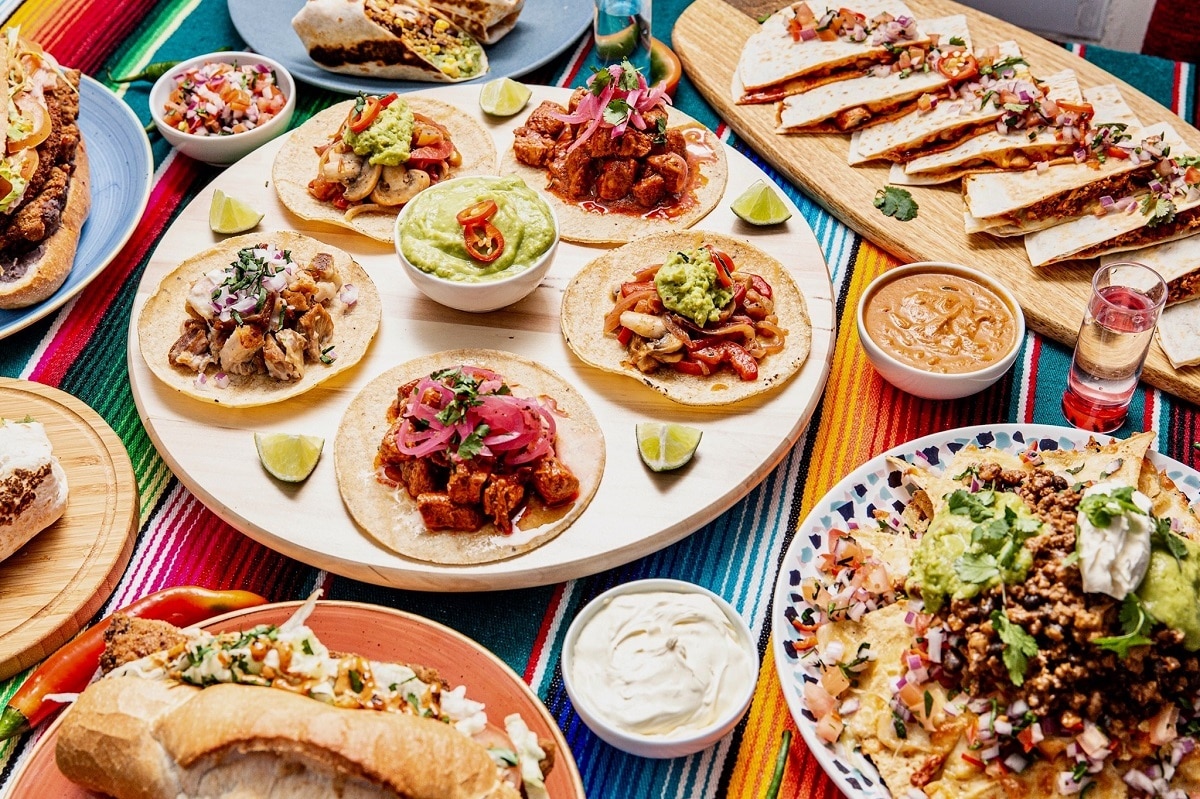 The Happy Mexican
Just a few hops over from Collingwood Station, Hoddle Street newcomer The Happy Mexican has immediately been stamped as one of the best Mexican restaurants in Melbourne. True to its effervescent name, the small venue is a bounty of multicoloured decor, dressed up with antique sombreros and cacti bringing pops of green to the bright yellow entrance. It's hard to pass by something like this, especially if you know just how much owner Julian Romero has put into keeping the menu as to-the-ground and traditional as possible.
Romero, who grew up in L.A. and would often travel down to Mexico City, obviously has a real sense for Mexican as it should be. He hits up La Tortilleria for their fresh stone-ground corn tortillas and stacks them with purpose, not overdoing it but ensuring guests get more than what they pay for – whether it's beer-battered fish, fresh mushroom, roasted pumpkin, slow-cooked pork, roasted chicken breast, sweet and sour grilled pork, ox tongue, or slow-cooked beef. Extra points if you zone in on their signature: an aguachile tostada made to a traditional sinaloa recipe, topping a flat crispy corn tortilla with ceviche style prawns, cucumber, red pickle onion, green apple, salsa verde, guacamole, and chipotle mayo.
Address: 108 Hoddle St, Abbotsford
Contact: (03) 9416 4596
---
La Tortilleria
Using the same traditional method indigenous Aztecs have been using for centuries (called "nixtamal"), La Tortilleria create their own stone-ground corn tortillas daily and supply some of the other best Mexican restaurants in Melbourne. Armed with a mill and tortilla ovens imported from Mexico, and sourcing corn from Aussie farmers, this widely acclaimed restaurant maintains a strong grip on high-quality Mexican food.
The 100% locally-made, gluten free and vegan tortillas are used to full effect, whether guests are starting with chilaquiles (like nachos but with more sauces) and beef cheeks, or going all out with the different varieties of tacos. Equal attention is given to dishes like the daily chef's special grilled meat (alambre), easily positioning La Tortelleria as one of the most refined and produce-driven Mexican restaurants in town.
Address: 72 Stubbs St, Kensington
Contact: 1300 556 084
---
In the mood for some Japanese? Check out our list of the 15 best Japanese restaurants in Melbourne.
And if you want to get across all the legends of Melbourne's dining scene check out the best restaurants Melbourne has to offer: the hall of fame.
---
---