If you've eaten any single meal more than a sandwich in your life, well then you're probably not from Australia, or have a vastly different diet to me – but not all sandwiches, nor sandwich shops are created equal. No, you're going to want to find the best sandwich shop in Sydney – always an admirable, ambitious venture.
From 7-11 cardboard wrapped sambos (that may as well be made of cardboard), to gourmet sangas created with care by trained chefs, Sydney has a huge range of sandwich offerings.
To cut through the cardboard, so to speak, we've done the hard yards and put on a few kg's to find the best sandwich shops, and indeed the best sandwiches, in Sydney – the majority of which, strangely, are located in or around Surry Hills.
---
---
The Best Sandwich Shops Sydney Has To Offer
---
Malibu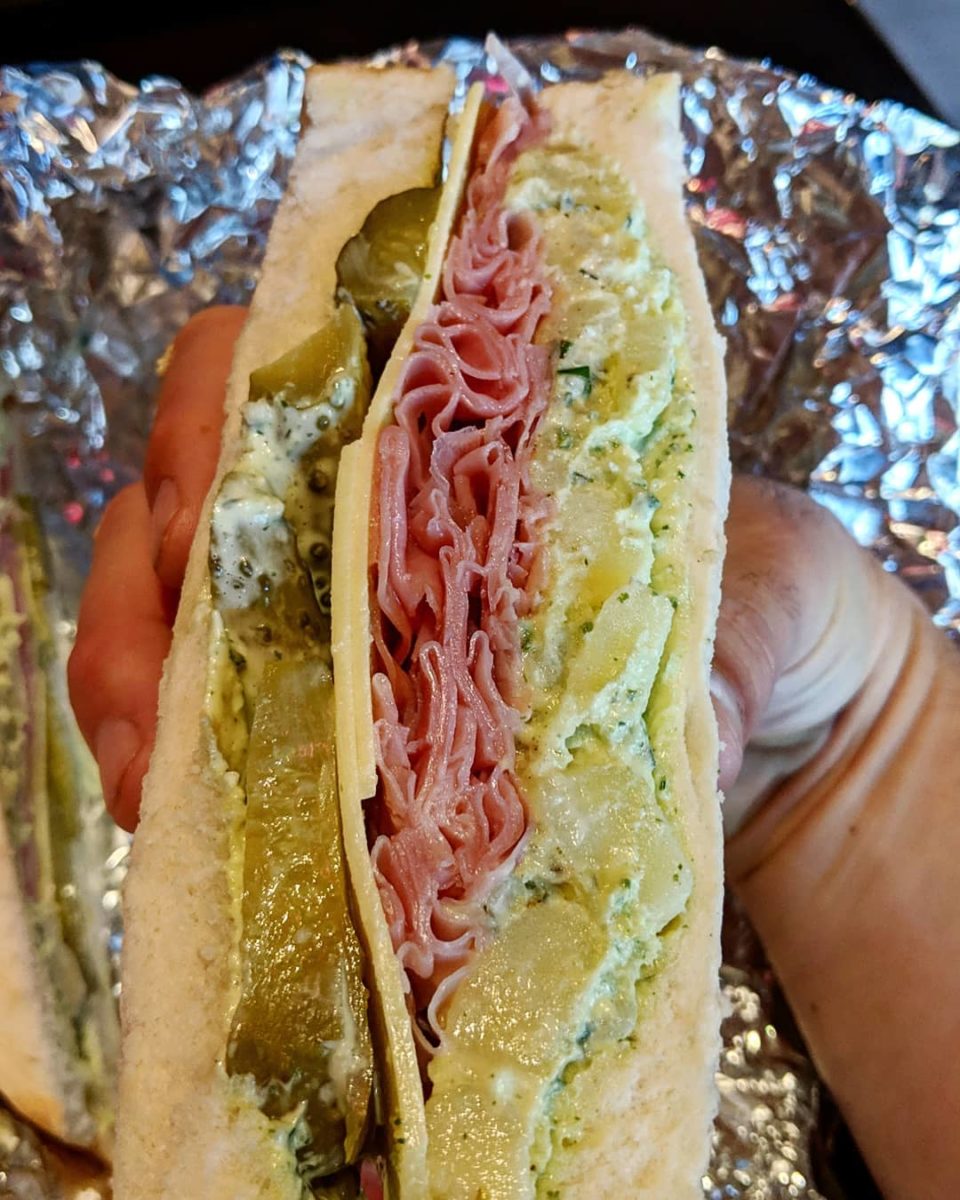 Want to eat the biggest sandwich you've ever seen? Say no more. Hidden away down a Surry Hills alley, Malibu is the undisputed champion of the giant sandwich club, with each gargantuan creation made with super fresh ingredients right in front of you. There's a menu, but most regulars get a custom sandwich each visit. Malibu also offers delicious (and equally large) salads at a very reasonable price. Takeaway only, and cash only.
Address: 62 Foster St, Surry Hills NSW 2010
Contact: (02) 9280 2233
Opening Hours: Monday – Saturday (6 AM – 2 PM)
---
City Edge Café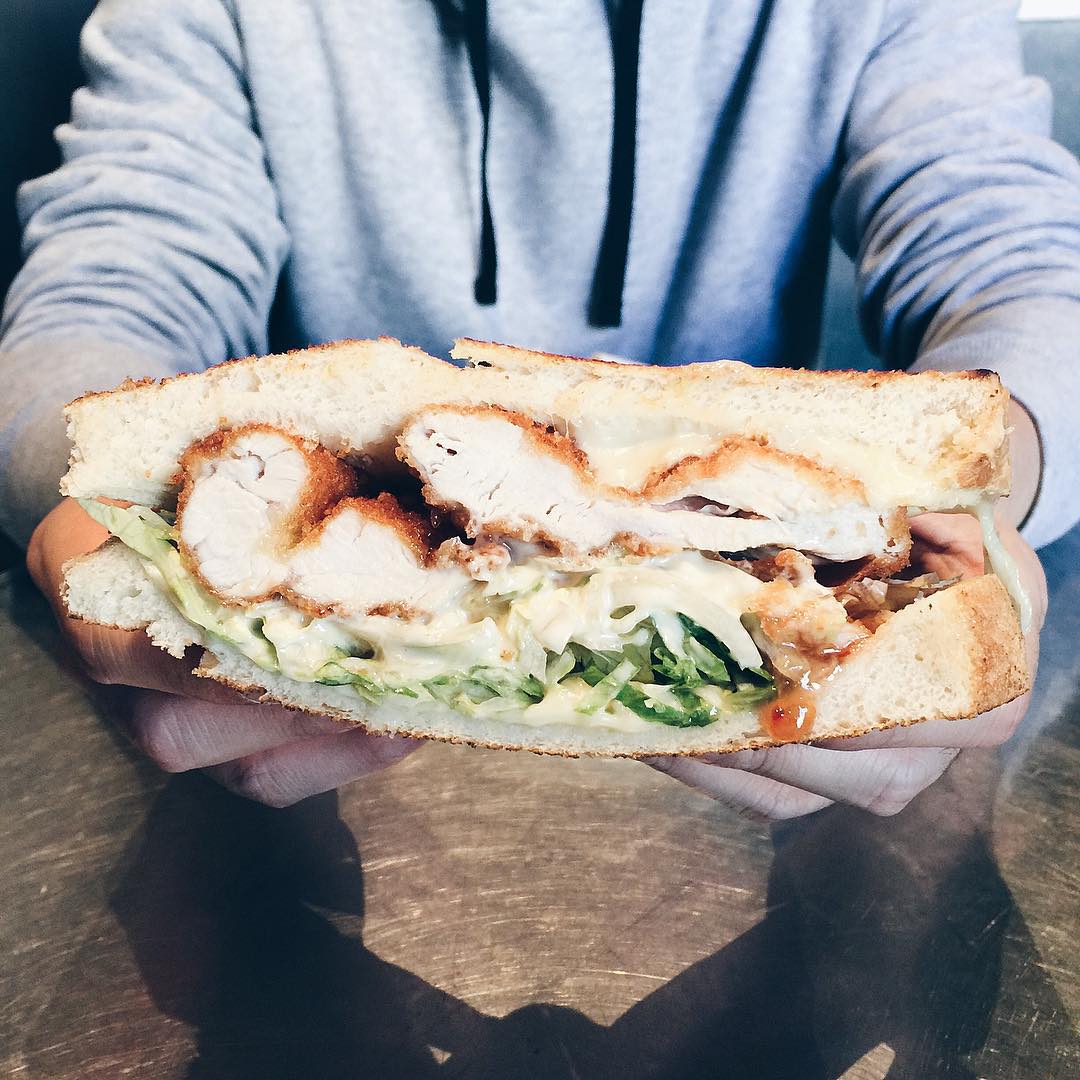 Known by regulars as 'Tommy's', City Edge Cafe is an unmissable Surry Hills icon known as much for its scrummy sandwiches and wraps as it is for the snaking lines down Reservoir St. Once you've made it toward the front of the queue at City Edge, you'll see a giant chalkboard to your right with ten sandwiches labelled S1-S10, ten wraps W1-W10, ten Turkish breads T1-10, and a range of daily specials starting at $9. The range of choices can be overwhelming, but if you don't panic and choose wisely, you're in for a treat.
And you'll want to pay attention to the regularly rotating specials, which can get wildly experimental with all types of sandwich staples like Swiss cheese, roasted sesame flavoured slaw, fried chicken, roast beef, spicy tomato relish, scrambled eggs, dill pickles, double smoked ham, garlic butter, cream cheese, roast chicken, caramelised onion chutney, grilled onions, veal meatballs, grilled eggplant, smoked pork belly, slow cooked brisket, and… you get the point.
Address: Shop 2/55 Holt St, Surry Hills NSW 2010
Contact: 0412 534 888
Opening Hours: Monday – Friday (8 AM – 2:30 PM)
---
Sambos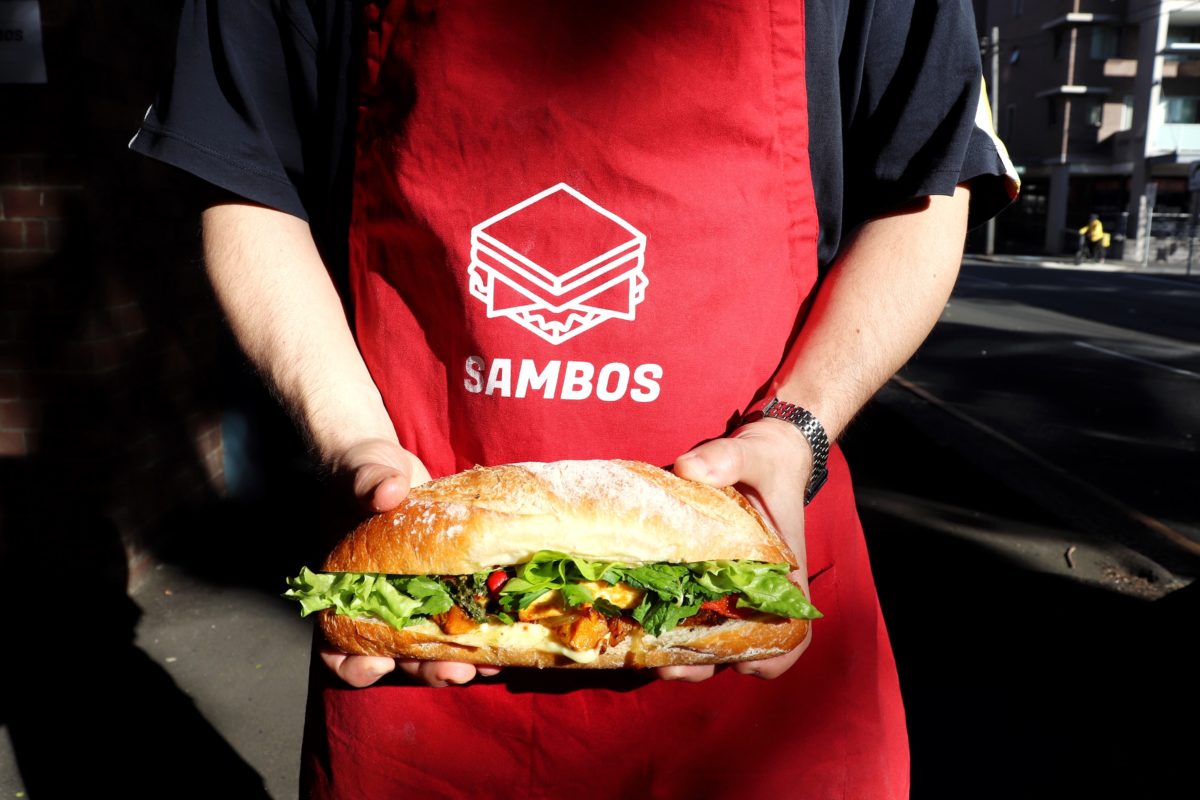 A new upstart operating out of a small kitchen in Ultimo, Sambos is the passion project of three friends from the food industry who have set out to make the best sandwiches in Sydney. Their baguette based sandwiches are made with love, quality ingredients, and offer some of the heftiest you'll find in the city. While for now, Sambos only operates on weekends, expect a 7-day offering soon. We recommend the 'Lola' and the 'For Emma', for what it's worth. Oh, and don't forget to order the crinkle-cut fries.
Address: 12-14 Foveaux St, Surry Hills NSW 2010
---
---
---
South Dowling Sandwiches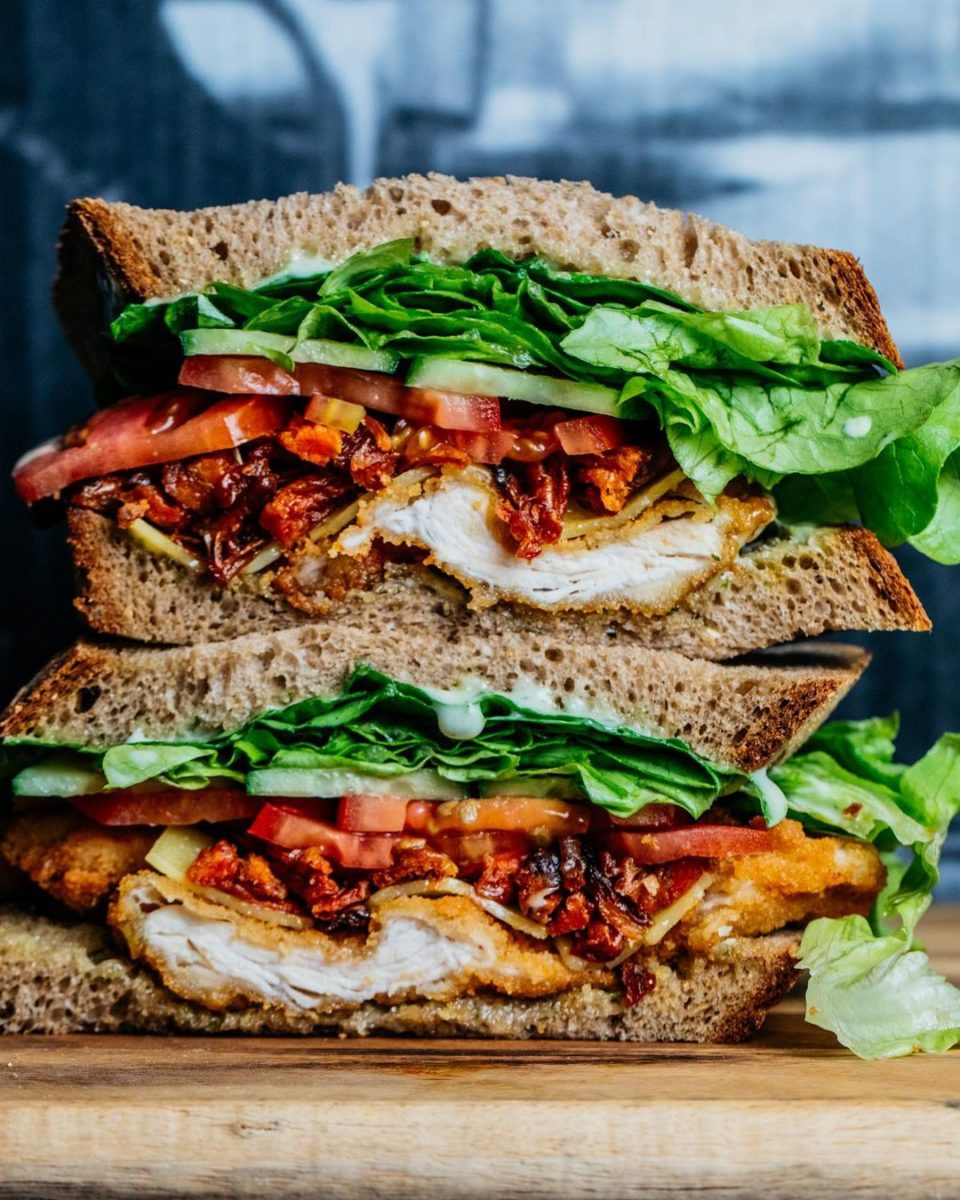 With a daily line out the door rivalled only by City Edge, it's apparent a lot of locals reckon South Dowlo has the best sandwiches in Sydney, and we're inclined to agree. Their classic salad sandwich is so iconic it copped a mention in the New York Times, and their chilli-chicken on white is unmissable. They also do delivery, so there's really no excuse not to give it a crack. Just look up the South Dowling Sandwiches menu, make your order, and join the queue.
Note that South Dowling Sandwiches has two shops now – the original South Dowling Sandwiches in Darlinghurst and the newer South Dowling Sandwiches in Alexandria. Head to the website for details on both.
Address: 377 S Dowling St, Darlinghurst NSW 2010
Contact: (02) 9360 9355
Opening Hours: Monday – Saturday (7:30 AM – 3 PM)
---
Small's Deli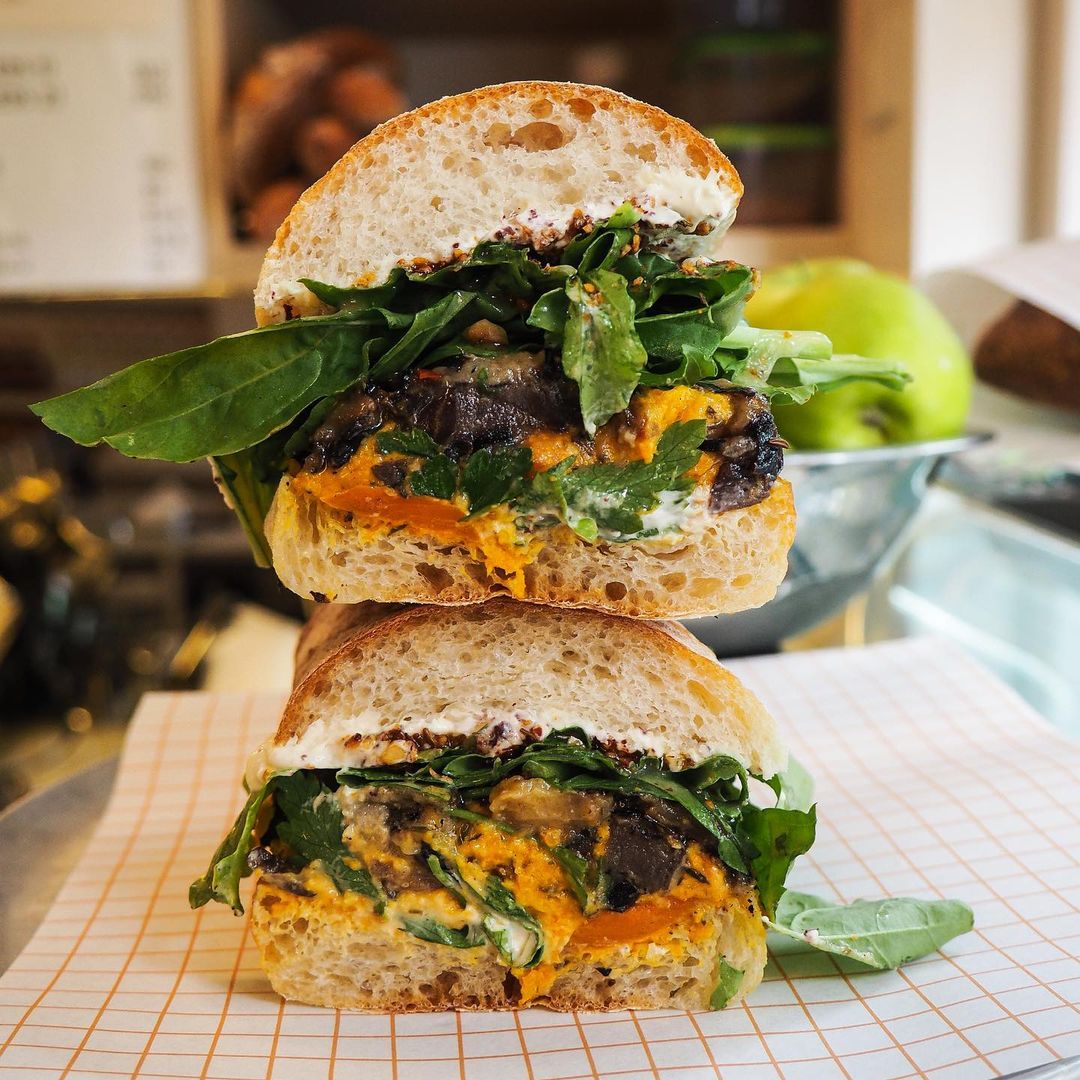 In the mood for a European style panini or baguette filled with some of the freshest ingredients in the game? Look no further than Small's Deli in Potts Point. This newcomer only opened in March 2020, but has to already be vying for top spot in this list. Their salads are absolutely stacked and well-worth it too, with various top-notch produce to add on for extra.
Address: 166 Victoria St, Potts Point NSW 2011
Contact: (02) 8592 5597
---
Good Ways Deli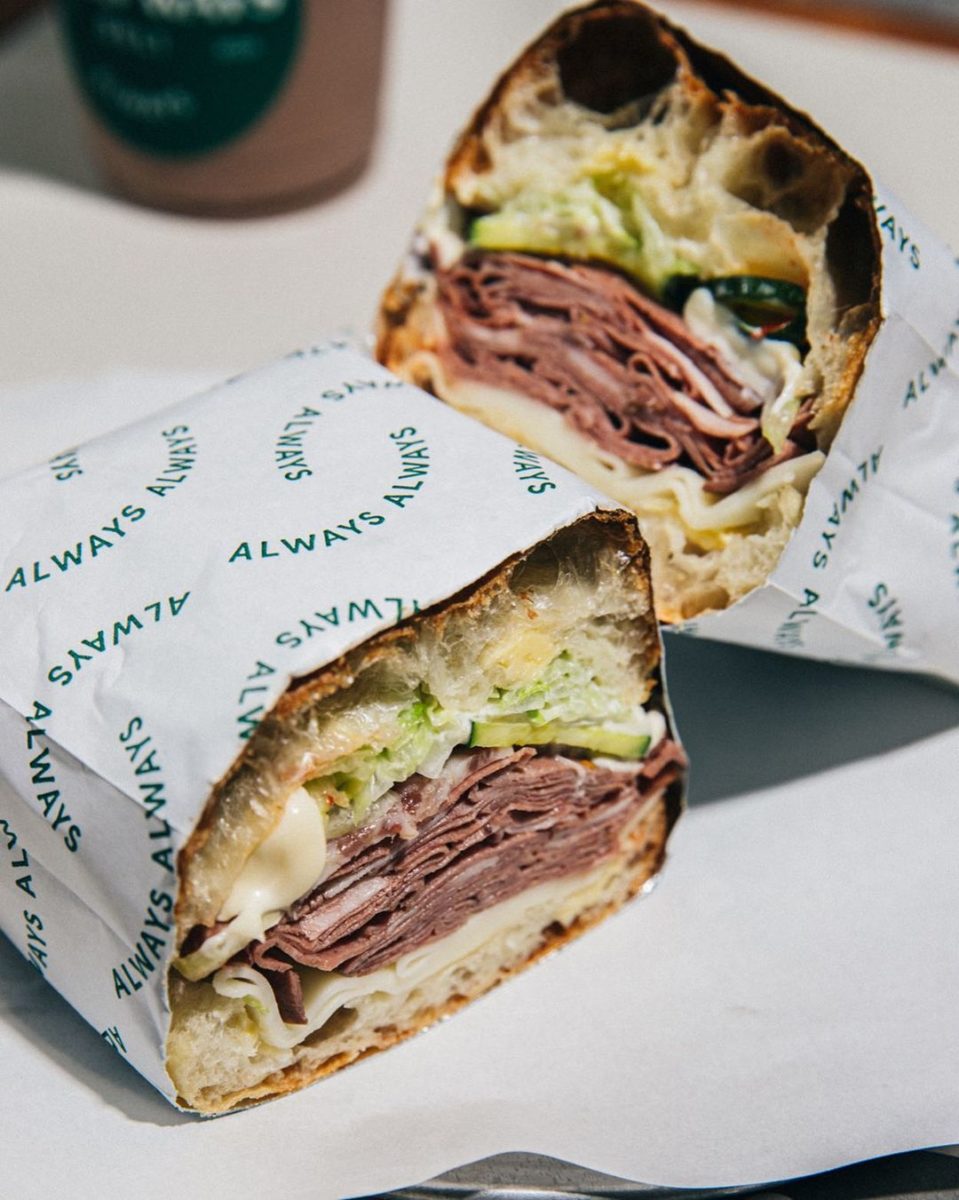 Fast becoming known for their signature kangaroo mortadella sandwich with fermented chilli, Redfern newbie Good Ways Deli is a deli and bakery hybrid clearly set out to make a mark on Sydney's varied scene of sandwich bars. The crunchy chicken sandwiches here are moreish and packed with flavour, their sausage rolls are out of this world, and the love of using native ingredients obviously pays off throughout the entire menu.
Much like the other picks on this best Sydney sandwich shops round-up, there's also a regularly rotating specials board. Don't go expecting baked bean toasties, a Philly cheesesteak, or egg sandwiches though – this kitchen is much more inventive than that, and the delicious sandwiches they pump out are now amongst the city's best.
Address: Shop 1/20 Cooper St, Redfern NSW 2016
Opening Hours: Monday – Friday (7 AM – 3 PM); Saturday – Sunday (8 AM – 2 PM)
---
---
Tiny's Sandwich Bar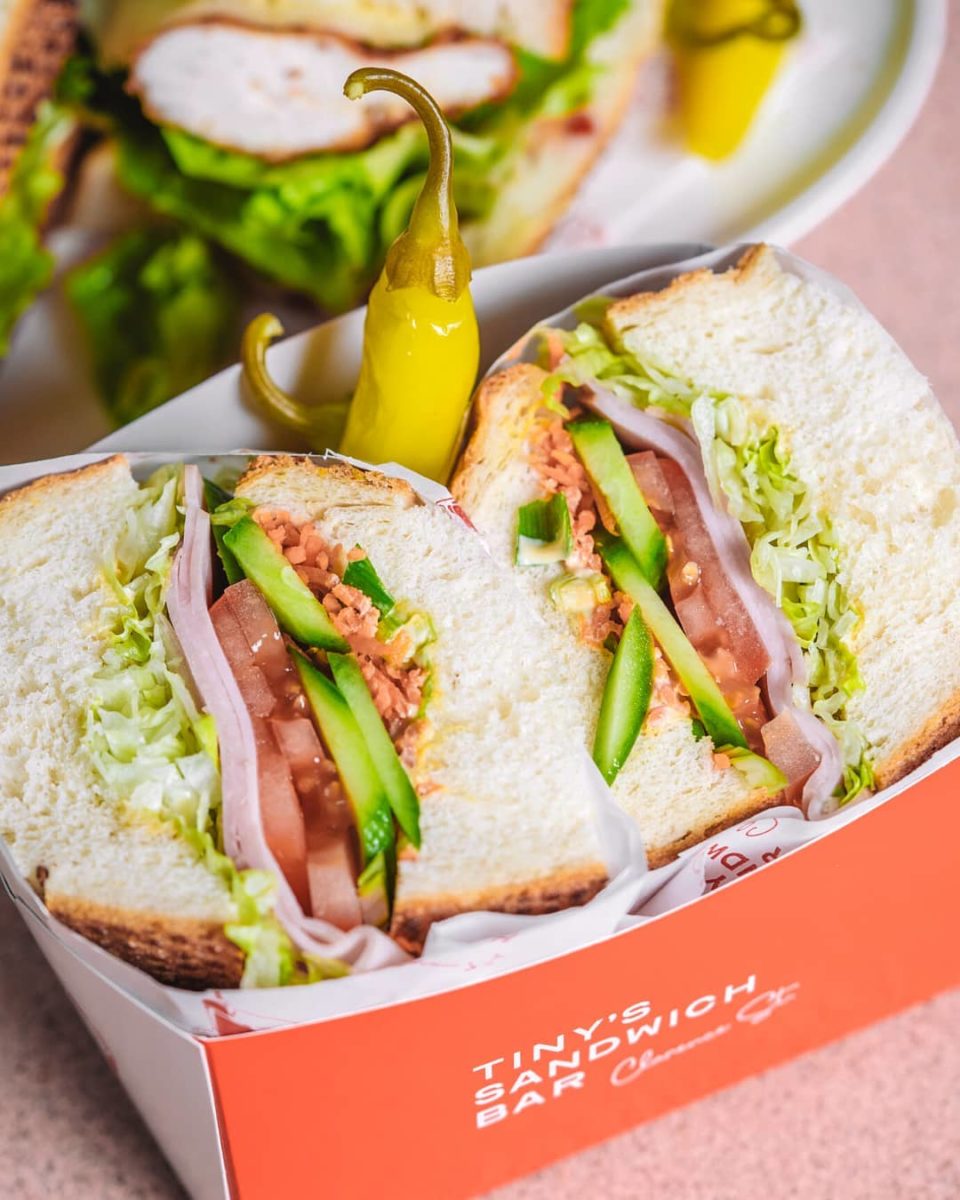 Tiny's is a bit different from the usual result you'd get from searching "best sandwich near me" on Google. It's a raucous cocktail bar as well as a sandwich shop, giving Sydney a hybrid the city has never seen before smack bang near the middle of the CBD. The gourmet sandwiches aren't an afterthought at Tiny's Sandwich Bar, which slowly evolves throughout the day – from opening at 6 am as a sandwich bar and slowly evolving into a space teeming with tiny bottled cocktails and a tightly curated soundtrack.
Address: 1/55 Clarence St, Sydney NSW 2000
Contact: (02) 9299 9155
Opening Hours: Monday – Wednesday (6 AM – 9 PM); Thursday – Friday (6 AM – 10 PM)
---
Mrs. Palmers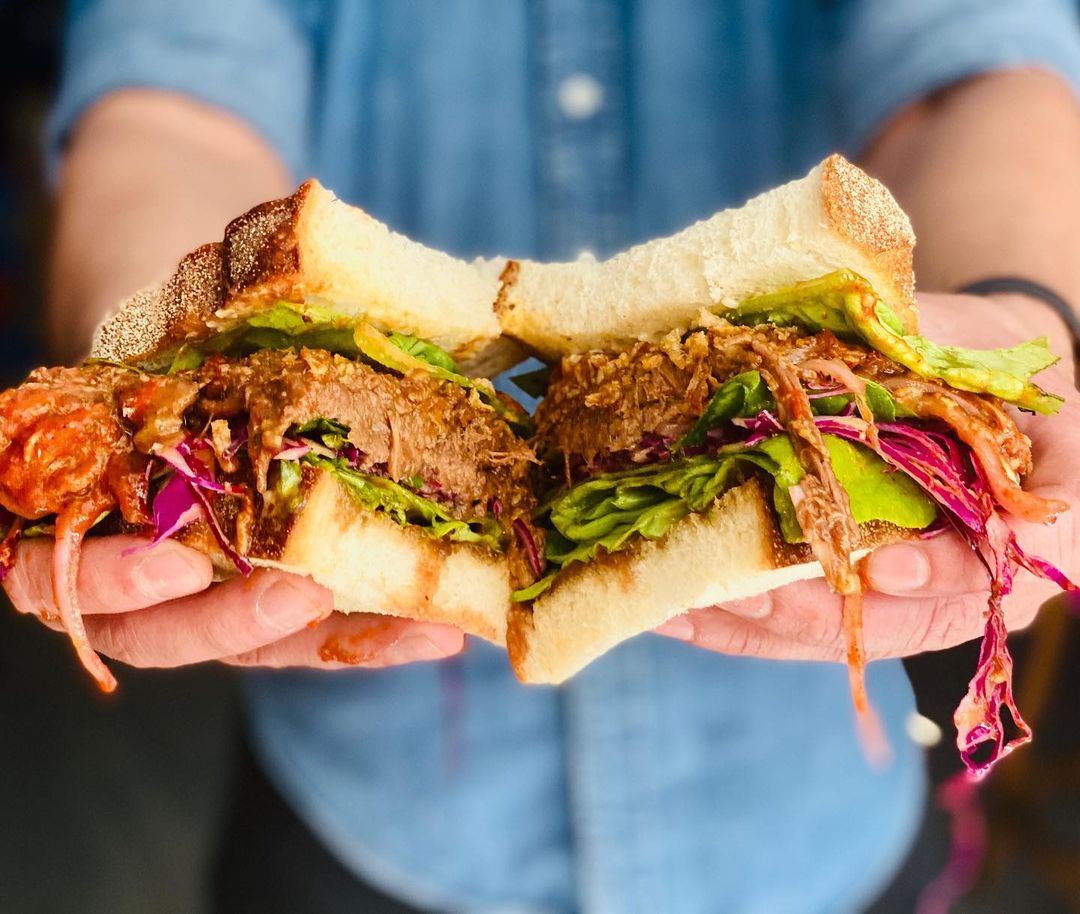 A newly opened purveyor of fine sandwiches, Mrs. Palmers has quickly developed a cult following amongst Stanley St diners. While other establishments on this list are famed for their huge range of sambos, Mrs. Palmers only has five sandwiches on the menu + a weekly special (sometimes courtesy of a big-name chef). They're big, delicious, and well worth a go.
Although do note that there can sometimes be a consistency issue. The Boss Hunting office has been disappointed on more than a few occasions with Mrs. Palmers, but when they hit the mark, they hit it hard.
Address: 81 Stanley St, Darlinghurst NSW 2010
Contact: Monday – Friday (11:30 AM – 2:30 PM)
---
Sandoitchi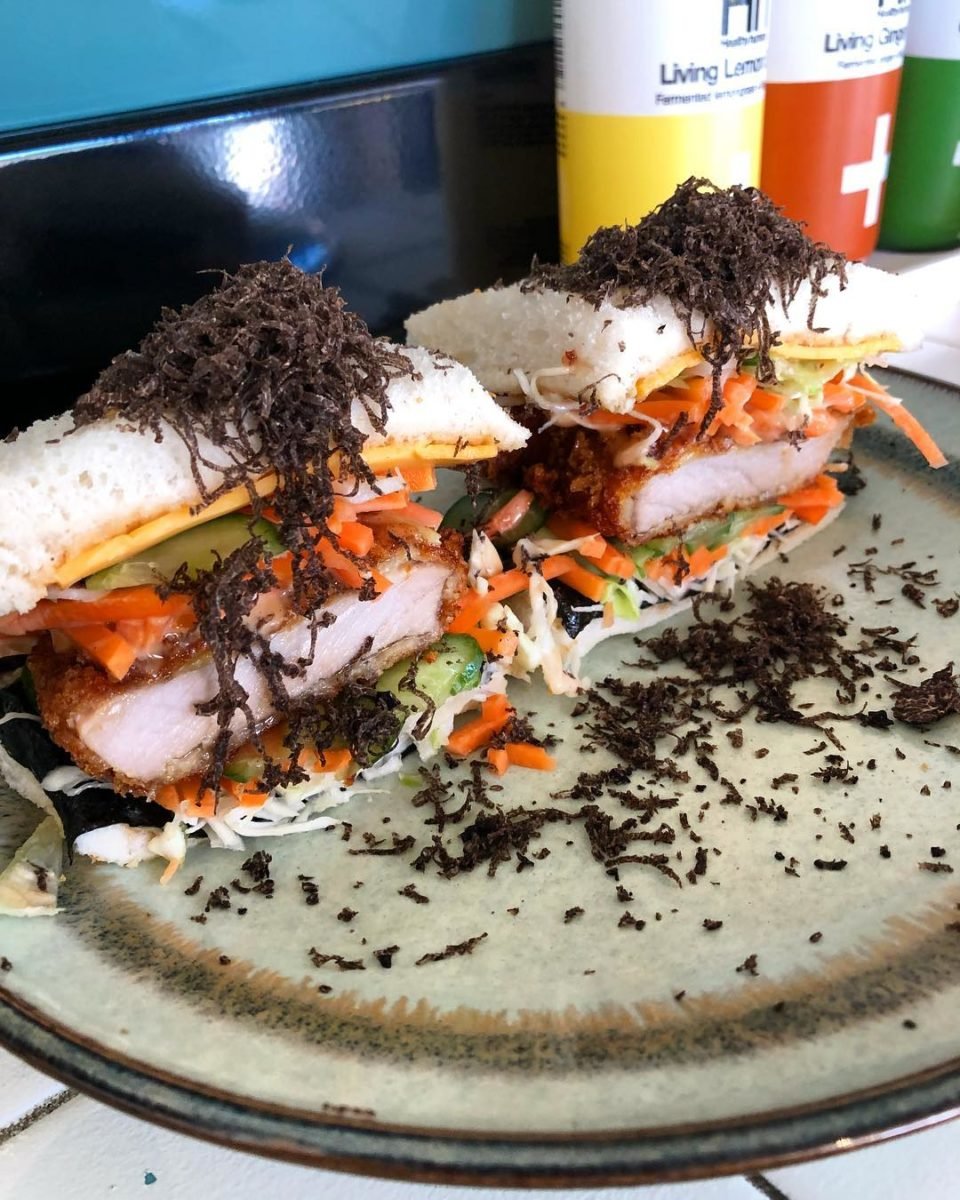 This tiny Oxford St cafe specialises in poke (ish) bowls, brekky, and bloody delicious Asian style sandwiches. Their specialty? The Pork Katsu Sando priced at $11 but they do a mean chicken katsu as well. Well worth a visit if you're in the area and looking for the best sandwich shop you can find in Sydney.
Address: 3/113-115 Oxford St, Darlinghurst NSW 2010
Contact: 0491 092 958
Opening Hours: Tuesday – Friday (7 AM – 3:30 PM); Saturday – Sunday (8 AM – 3:30 PM)
---
John Montagu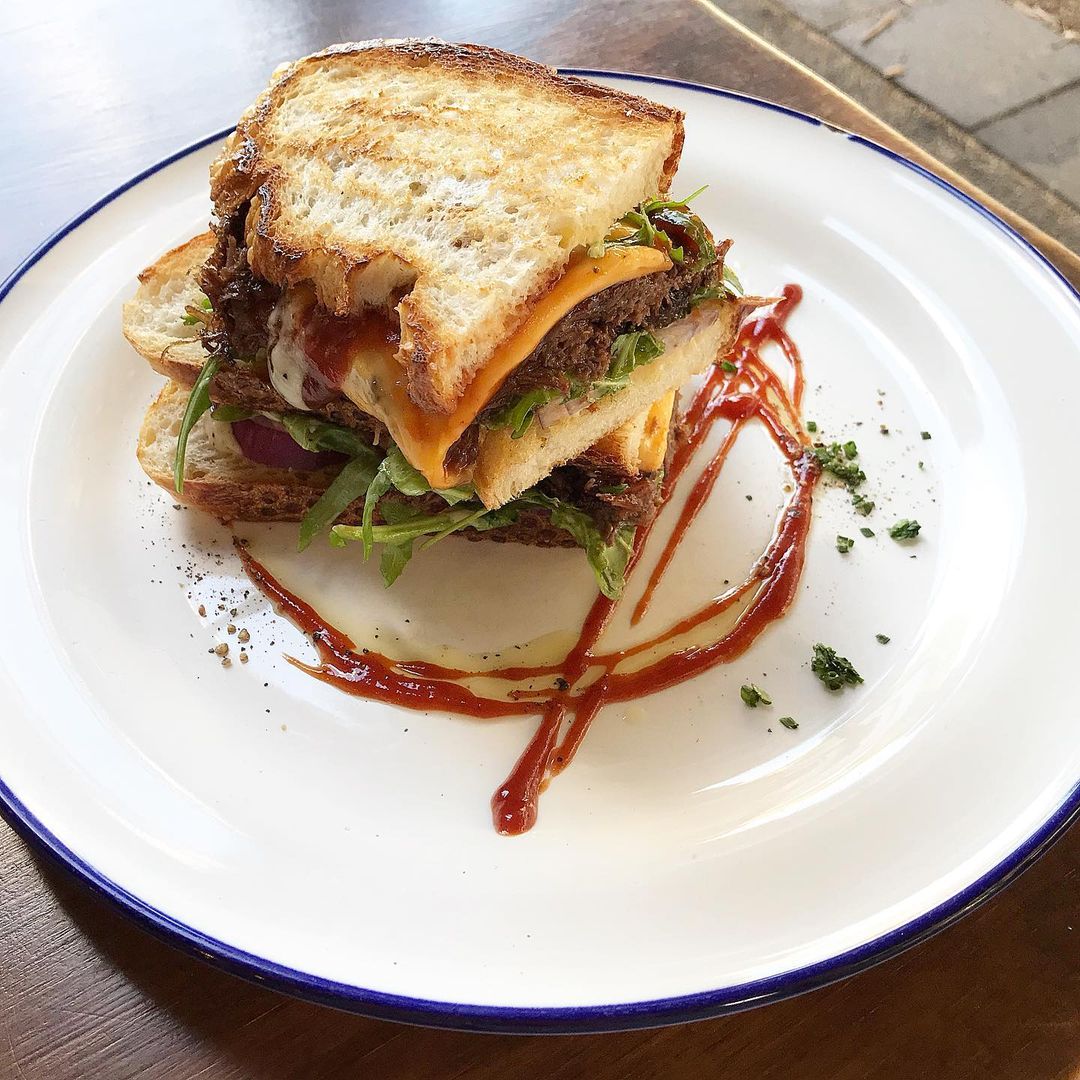 Named after John Montagu the 4th Earl of Sandwich, who is widely credited with inventing the best dish in the world, John Montagu has a lot to live up to – and it does. Using some of the best ingredients going to create some of the best sandwiches going, John Montagu specialises in hearty, rich, meat-based options starting at $13. Best sandwich shop in Sydney? It just might be, and you'll surely agree as soon as you try to signature with Mexican spiced grilled chicken, Mexican beans, chilli, parmesan cheese, chipotle, mixed greens, and mayo.
---
---
Address: 144 Cathedral Street, Woolloomooloo NSW 2011
Contact: 0410 760 541
Opening Hours: Monday – Tuesday (6:30 AM – 2:30 PM); Wednesday (8 AM – 2 PM); Thursday – Friday (6:30 AM – 2:30 PM); Saturday – Sunday (7:30 AM – 2:30 PM)
---
Dutch Smuggler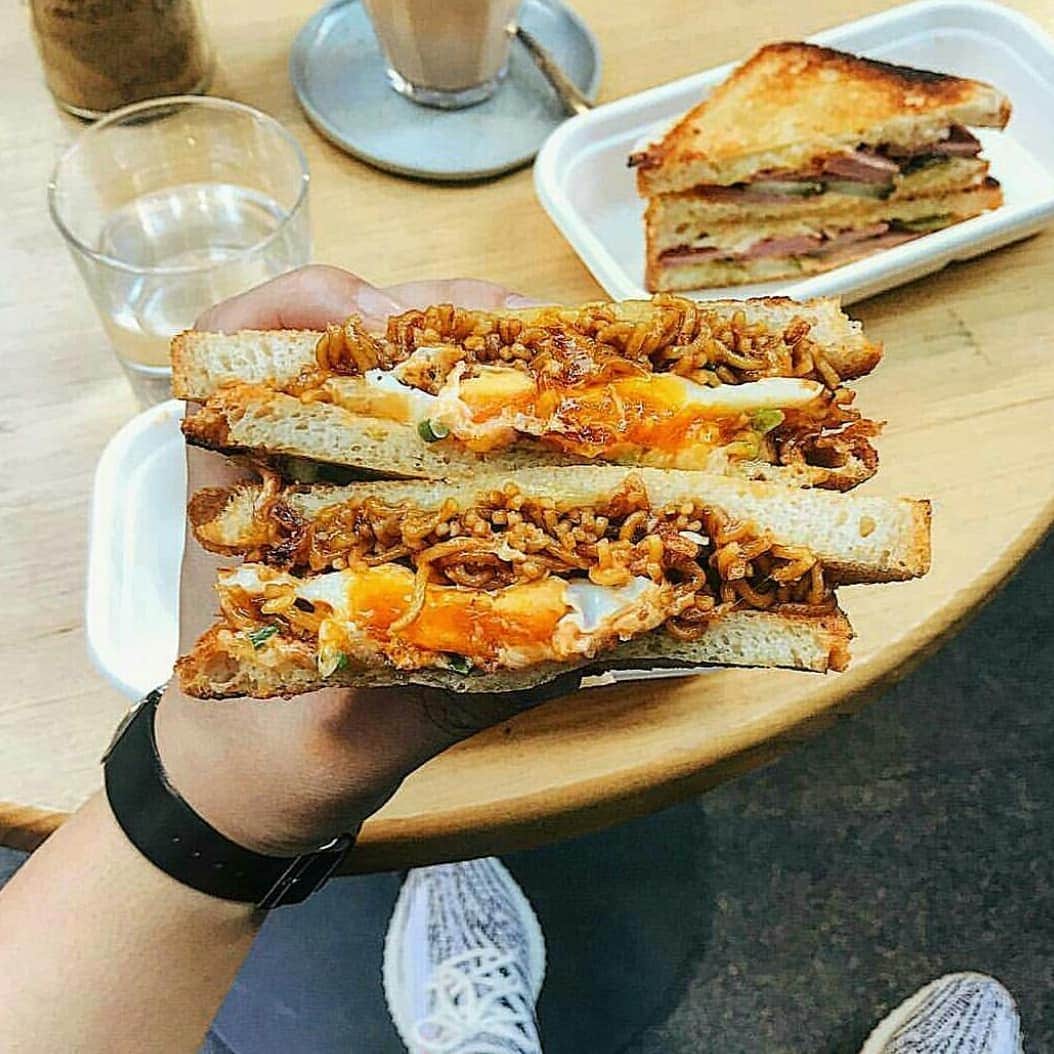 Mi Goreng Toastie? Say no more. But seriously, if you're in the market for a heart-attack-inducing toastie that will blow your tastebuds mind then Dutch Smuggler in the CBD should be top of your list.
Address: 200 George St, Sydney NSW 2000
Opening Hours: Monday – Friday (7 AM – 3:30 PM)
---
The Sandwich Stop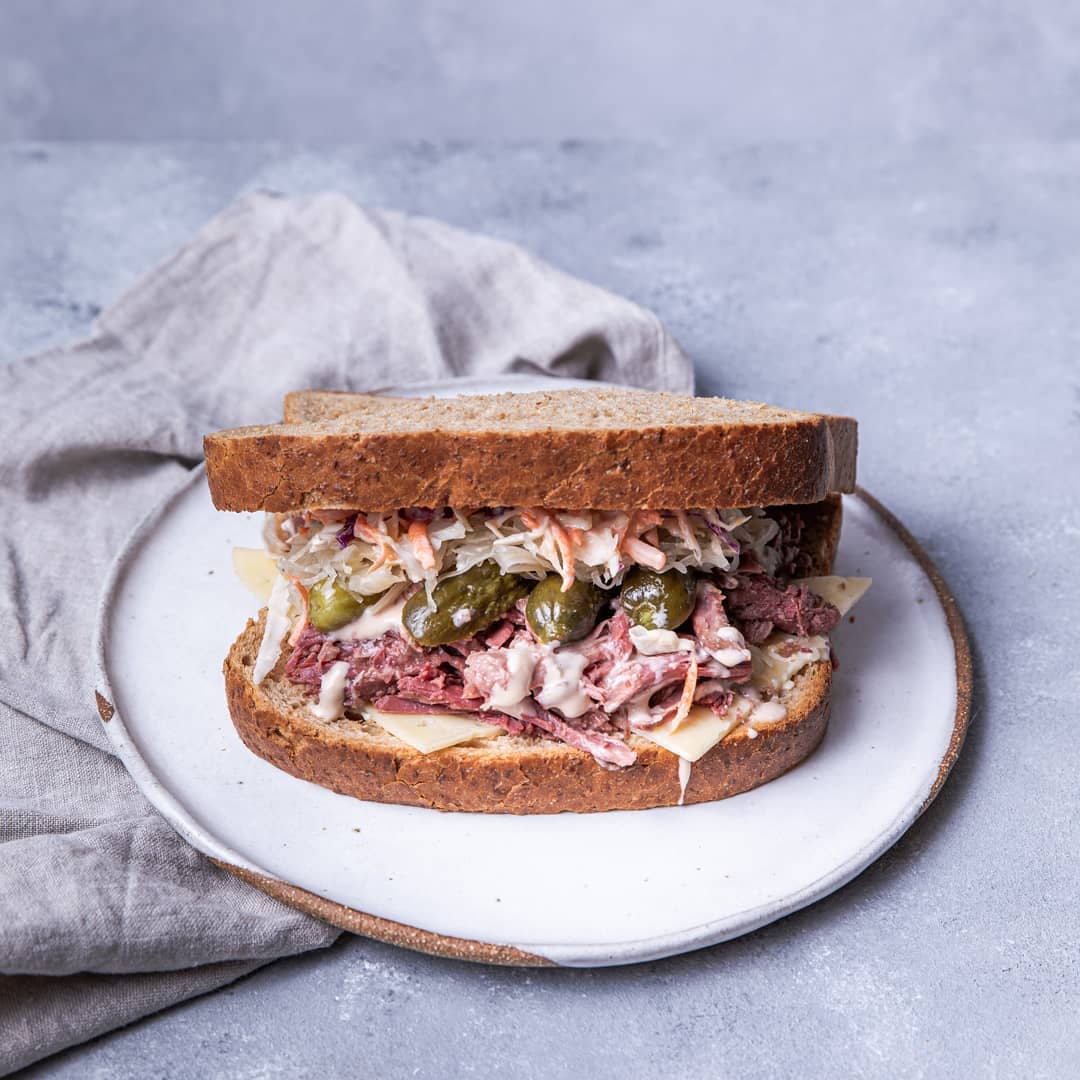 The Sandwich Stop is a newcomer for this list, but its undoubtedly the driving force behind the sweeping changes at Oxford Village. The tiny Oxford Street shopping centre, now lively with various new food options, has seen a massive lunchtime surge thanks to this simple, no-fuss, and health-focused sandwich shop, which perfects everything from the classic turkey club and sweet chilli chicken, to vegetarian options like the eggplant and halloumi special. All sandwiches can be translated into salads as well, making this not just a contender for the best sandwich shop in Sydney, but a shoo-in for best salad shop as well.
Address: Oxford village, Shop 24/63 Oxford St, Surry Hills NSW 2010
Contact: 0403 911 119
Opening Hours: Monday – Saturday (10 AM – 3:30 PM)
---
Honourable Mentions
North Sandwiches, CBD
The Sandwich Shop, Surry Hills
Saga, Enmore
Oratnek, Redfern
Clementine's, Pyrmont
Prefer Victoria? Check out the best sandwich shops in Melbourne.
---
Best Sandwiches In Sydney – Frequently Asked Questions
Where can I find the best sandwich in Sydney?
If you're looking for the best sandwiches in Sydney then you'll want to go to South Dowling Sandwiches, but also The Sandwich Stop, City Edge Cafe, Malibu, and John Montagu. Take Your pick.
Where are the best sandwiches in Sydney CBD?
If you're in the heart of the city you're going to want to head along to either The Dutch Smuggler or Tiny's Sandwich Bar
---
---