UPDATE [24/03/2021]: Desk jockeys rejoice. The second Five Guys Australia outpost has been announced. Destined for Sydney's CBD, according to Good Food, you'll find this temple of the bunned arts within Spiden House at 383 George Street (opposite The Strand Arcade) come May 2022. How good.
UPDATE [16/09/2021]: Five Guys Australia is opening its inaugural outpost at 123 Mulgoa Rd, Penrith NSW next week (Monday, September 20th 2021). You can check out the menu via its official AU website here.
UPDATE [19/01/2021]: Five Guys Australia has officially confirmed the first location for the chain's imminent arrival. The US cult burger chain will be opening its first restaurant in the Western Sydney suburb of Penrith sometime during mid-2021. More specifically, right next door to Penrith Leagues Club, between the McDonalds and KFC on Mulgoa Road. Australian franchisee Seagrass Boutique Hospitality is also currently considering sites around Darling Harbour, Circular Quay, and Broadway, as well as stores in Melbourne and on the Gold Coast.
---
---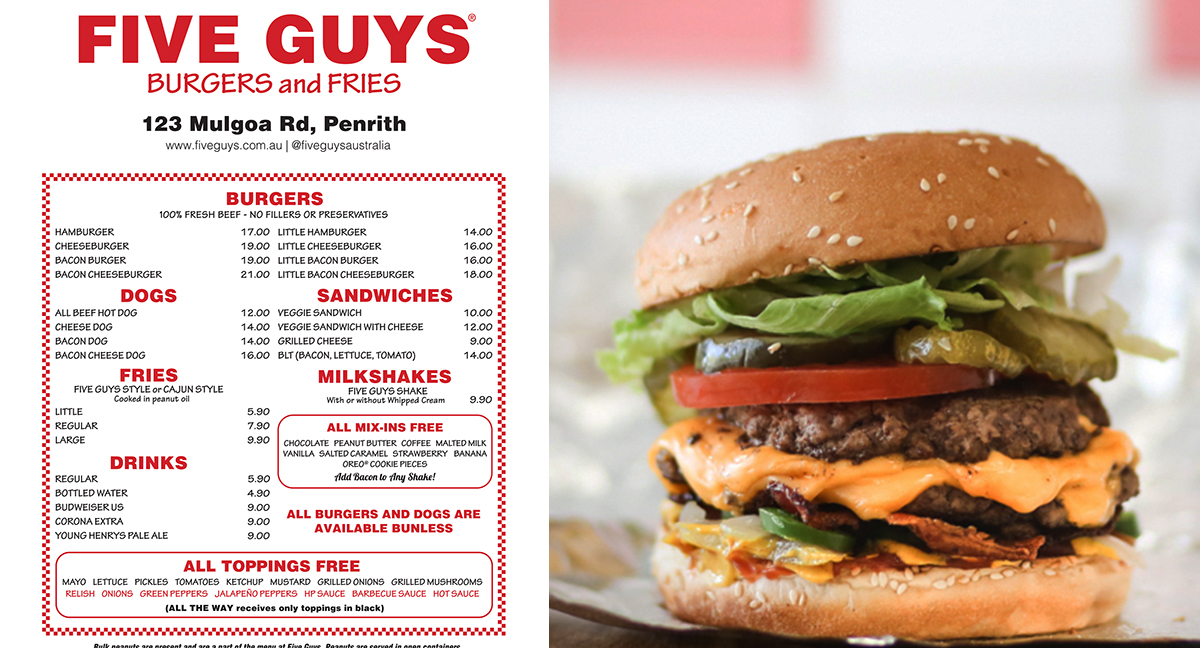 Original Article – Five Guys Is Officially Coming To Australia
God-tier US burger chain and Barack Obama's favourite joint – Five Guys – is officially coming to Australia. Not for one of those half-assed pop-ups which leave you waiting in a Depression Era-style line around the block, either. I'm talking about a solid brick-and-mortar expansion.
Confirmed will welcome the first Five Guys Australia store – given its status as the superior East Coast capital – joining other existing international outposts such as London and Paris. But fear not, inferior East Coast capitals. As Five Guys also has plans to make a move on Melbourne and Brisbane sites, eventually setting up shop in New Zealand.
This arrival has been rumoured for some time now. Having eyed our sunny shores for several few years, the company first confirmed its plans for "aggressive" global expansion as early as 2016. Now, after quite a lengthy period of clickbait speculation/daily fantasy – it's finally happening.
When can we expect to dine within the hallowed banquet halls of a Five Guys Australia? According to a spokesperson for Seagrass Boutique Hospitality, the local organisation that has acquired the local master franchise:
"We are looking to open our first store in early 2021."
And just like that, 2020 ain't looking so shit after all…
---
---