Sharpening your skills in the kitchen is always going to go far for the modern man. However, there's one chunky existential issue that often creeps up on your dreams of becoming the next Massimo Bottuara, and it can aggressively slice all those hours spent watching Nigella Lawson videos faster than a mandoline can make a mess of your digits. That'd be time. Time can blitz the joy right out of kitchen work, the management of which is often cited as one of the main reasons a lot of blokes don't even bother picking up their cooking game. For almost a decade now, that has turned attention towards the best meal kits and prepared meal delivery services – smart, completely valid choices for time-poor home cooks who still want to prepare something a bit more sophisticated than a quick low-rent stir fry.
Turning to meal kit delivery services like Hello Fresh, Dinnerly, and Marley Spoon isn't an admission that you don't know what you're doing in the kitchen. It's a smart, completely logical way of cooking at home, subscribing to regular deliveries of fresh ingredients and easy-to-follow recipes that save time, produce satisfying (and nutritious – you aren't on a college kid's diet anymore) meals, and save you from having to constantly clean your fridge of rotting produce.
There are good reasons the market for food box subscriptions and prepared meals delivery services has been brutally competitive in the past few years. Particularly with the Covid-19 pandemic now savaging our lifestyle, more people are turning towards cooking substantial meals at home and getting fresh ingredients delivered reliably and on time – two things completely covered by the category. Across the world, and at its peak, there were more than 100 meal kit delivery services trying to outdo one another.
---
---
Seeking out the best home meal delivery kits confers plenty of options in Australia right now. It's no longer just Hello Fresh running the market, although the German-born food delivery giant is still leading the pack when it comes to presence and reliability.
In the past 5 years, the share price for Hello Fresh (OTCMKTS: HLFFF) has shot up over 800%, with the recent price of €94.44 (AU$150.79) hit on August 20, being the all-the-high. That's up from €10.25 (AU$16.37) in November 2017. Marley Spoon (ASX: MMM) has seen a similarly impressive rise over the years, although the price is currently trending downwards. In March 2020 – essentially the start of the global pandemic – the price per share was around 25 cents, and by the end of July 2020, that figure hit an ATH of $3.35.
Pre-prepared frozen meals that are ready to heat at home are also seeing a similar surge in popularity, with brands like My Muscle Chef and Soulara (touting exclusively plant-based meals) swiftly taking over local supermarkets and nailing the desire for quick healthy eating, both in the office and at home. Not only is convenience caked in, with all of these just requiring a quick few minutes in the microwave, but increasingly these ready to heat meals are using high-quality ingredients and vastly improving upon the bland microwaveable options that dominated the scene just a few years ago.
RELATED: Best Wine Subscription Services In Australia
RELATED: Best Beer Subscription Services In Australia
The Benefits Of A Food Box Or Prepared Meal Delivery Service
The benefits of a food box subscription, or simply stacking your freezer with frozen meals via a prepared meal delivery service, are numerous. Minimal food wastage, minimal preparation, easy to follow recipes, and ingredients that are local and pre-measured. This is complemented by a demonstratable range that considers a whole heap of dietary requirements and preferences. A lot of these meal services that are delivered to your door not only make healthy eating easy and help structure your week's meal planning, but also offer enough options so you can have full control over the frequency.
As long as you've got the cash to keep those subscriptions pumping, it's a no-lose situation.
---
---
---
What's The Best Meal Delivery Service In Australia?
Hello Fresh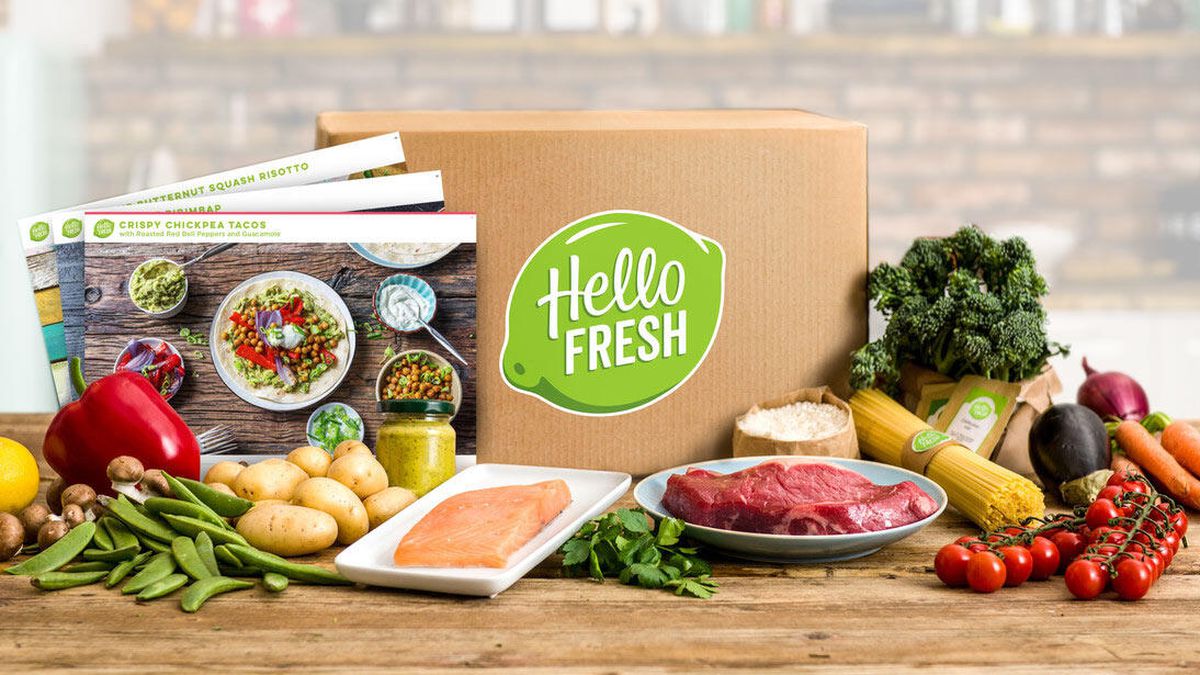 Type: Meal kit / Food box
Delivery areas: All across Australia
Let's kick off with the home cooked food kit everyone already knows. Hello Fresh kind of picked up this entire market and carried it to where it is today; a sheer ability to adapt and expand has kept it on top.
Much like Netflix still dominates the streaming market, the German first-movers have been able to adjust to an increasingly competitive scene by constantly doubling down on convenience and introducing options that are smart, generous, and flexible. Most importantly, the simple recipes they include in their neatly packed, well-sourced food boxes more often than not result in delicious meals that don't skimp on taste.
The ability to scale (or de-scale) is one of the more valuable features of Hello Fresh. Given the volume of available, you have the option to add specific upgrades and extras to your plan on any given week, choosing from grill kits, gourmet hampers, 15-minute dinners, 2-in-1 dinner to lunch recipes, sides, desserts, ready-made meals that just require heating, fruit boxes, and snacks.
Depending on how you've customised your plan, a delivery box packed full of fresh ingredients is delivered weekly according to your chosen recipes. While basics like oil, salt, pepper, soy sauce, white wine vinegar, eggs, and milk, aren't included, each box will contain the seasonal produce necessary for each recipe. It's all proportioned exactly as well, so in addition to minimal prep, you won't get any nasty food wastage and you'll know exactly what's in your food.
Hello Fresh's website hosts recipes you can choose from about a week in advance of each box, so you can go in and make sure you've got the basics necessary before picking what you'd like to cook.
Downsides? There's a few. Simply because they are available, you'll likely be tempted to add on a whole heap of extras when selecting your subscriptions, and the cost can stack up fast. Hello Fresh also represent somewhat of a dichotomy with dietary restrictions, offering only a "meat & veggies box" or a "veggie box" (as well as a "family-friendly box"). This ignores the nuances in more niche dietary restrictions, so if you want keto friendly meals, dairy free, or gluten free meals, it's on you to make your own modifications during the cooking process. That does, however, mean you'll be paying for ingredients you won't end up using.
When you choose to have your meals delivered, you'll also be able to dictate how many people you'll be cooking for, and how many recipes you want (three, four, or five) each week. Because you're not locked into any regular contract or subscription length, you can simply pause the subscription if you don't like the recipes being offered for the following week.
The pros outweigh the cons with Hello Fresh, even if you're keeping it as affordable and light as possible. The recipes are also interesting and adventurous, taking from a variety of cuisines to expand your personal range. Vegetarian options are especially creative, Fresh meals and weight loss are seemingly the biggest considerations when the team is coming up with menu options for a quick breakfast, satisfying lunch, or hearty dinner.
---
---
However, Hello Fresh isn't always the most delicious option. Consistency is always best found with smaller-scale, more boutique subscription services, and there are a few other services on this list that have scored higher when it comes to satisfaction, low carb options, low sodium options, focus on healthy meals, and a bunch of other key touchpoints.
Simply put, Hello Fresh shouldn't be relying too heavily on their "refer a friend" discounts and start focusing on diversifying for a wider range of dietary requirements.
Expect to pay as little as $65 per week for a box of 3 meals that'll feed 2 people. You'll be tempted to add on more so the cost can stack up quite fast, which is why it's always worth checking out whatever deal they've got going on at the moment. Coupons are easy to come across, especially if you hit up a mate for a referral code.
---
The Dinner Ladies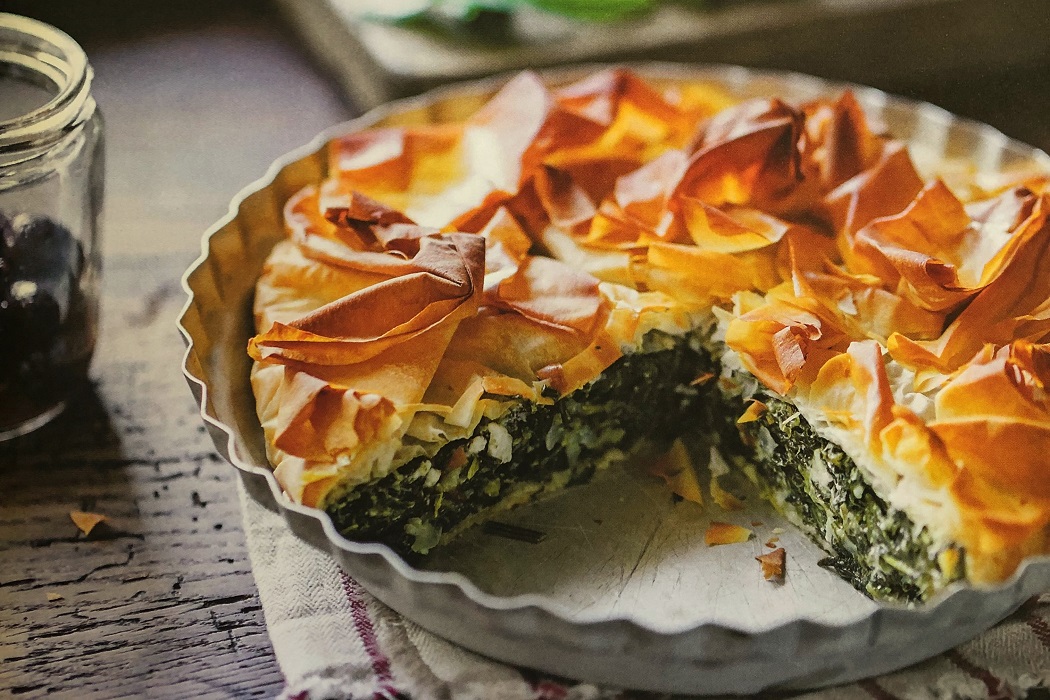 Type: Meal kit & prepared meal delivery
Delivery areas: QLD, NSW, VIC, ACT, Adelaide
Although Hello Fresh may have global domination, The Dinner Ladies has been a presence in Australia for much longer. And it's also more about prepared meals you can easily stack in your freezer and finish whenever you want, as opposed to fresh ingredients you'll need to whip into a feast before they go bad.
They simply cook for you, using high quality ingredients, and snap-freeze both indulgent and healthy meals as soon as they're made. You get the result as early as the day after you order online, as well as steps to follow for defrosting and preparing, with easy to follow heating instructions and recipes accompanying each delivery.
In terms of ease, nothing could be more straightforward, and it certainly helps that The Dinners Ladies have always rated high when it comes to consistency and quality. They have one of the best and most comprehensive websites of any of these meal delivery service options, and transparency is clearly a goal – each meal comes with details on how it was cooked, as well as allergens, nutritional information, and serving suggestions. You can also organise recipes based on 'some prep,' 'no prep,' and 'microwaveable' options.'
The frozen home cooked meals are all generously sized and look presentable, but the real kicker here is the range on offer. The Dinner Ladies has been around for over 10 years, and over that time they've obviously been able to adapt their recipes to changing tastes and preferences. You'll find a lot to love on the website, from specific menus for weight loss goals to worldly dishes across breakfast, lunch, and dinner, plus desserts, sides, and snacks. There's also a healthy amount of individual meals for young kids.
Like Hello Fresh, some of these recipes might require you to have your own staples before cooking, but there's enough information online, where you get to pick and choose dishes to customise into your meal plan. You'll know well in advance what you need to get it all done. Make sure to check out the monthly specials too, which alone should showcase just how much scope this service has.
---
---
The only downside? The Dinner Ladies may be well known in Australia, but their network is typically limited to QLD, NSW, VIC, ACT. and Adelaide. If you're outside of these states, you'll have to go with a more accessible prepared meal delivery service. Delivery is free, as long as you're forking out over $100… or $200 for further-flung locations.
The Dinner Ladies offers various price points, with the menu usually working out to average $9 per meal. Note that it isn't a subscription model, so you'll need to select the meals you want each time.
---
Marley Spoon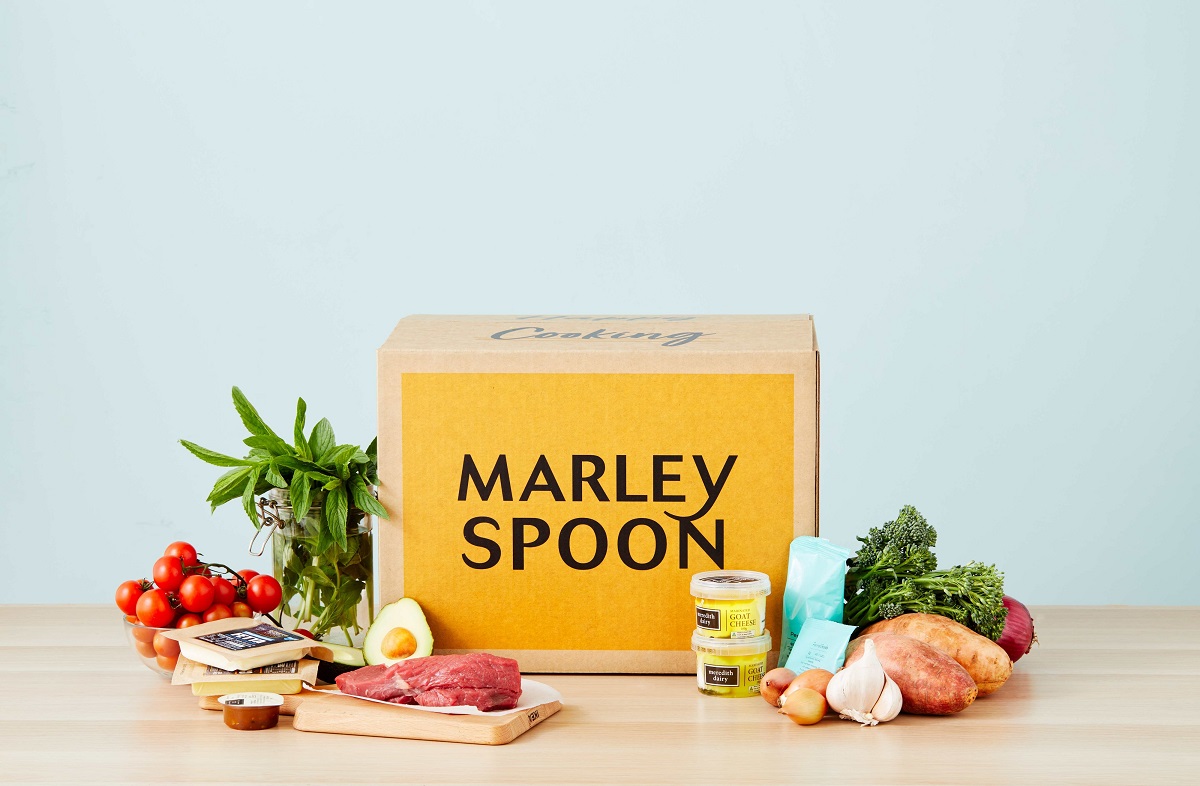 Type: Meal kit / Food box
Delivery areas: All across Australia
Marley Spoon may be the closest competitor to Hello Fresh right now. But it's much more locally-minded and has a few one-ups over its competitor, even though it's more or less the same price. Primarily, that's due to range and quality. Marley Spoon consistently ranks high in satisfaction, with plenty of hype over the quality of their rotating menu options and wide range of healthy food. Marley Spoon also boasts the largest number of weekly food choices out of all Australia's food box delivery services, with a range that should easily broaden your skillset.
In addition, there are a few smaller details which place Marley Spoon above most rivals. The fact that they package all ingredients for each recipe in separate paper bags is definitely a plus, making their boxes appear much more organised, hence making meal plans easier to prepare for each night. Oddly enough, this doesn't apply to their more budget-friendly option, Dinnerly, which packs boxes in a haphazard and disorganised fashion.
From sweet potatoes to grass fed beef, the focus is on locally sourced, organic and fresher produce, which definitely positions Marley Spoon as a much more premium option in the space. When you get your healthy meals delivered, the recipes will also tell you the percentage of Australian ingredients used which is a nice touch for those who place value on provenance (which should be everyone, at this point).
Another strong point for Marley Spoon is that their smartphone app is so intuitive and clean. The great user experience makes it much easier to manage your subscription whenever you want, as well as pause if you aren't feeling certain recipes that week. It's also better organised than the Hello Fresh website, making it much easier to select allergy-free or diet-friendly meals.
Expect to pay as little as $70 per week for a box of 3 meals that'll feed 2 people.
---
Dinnerly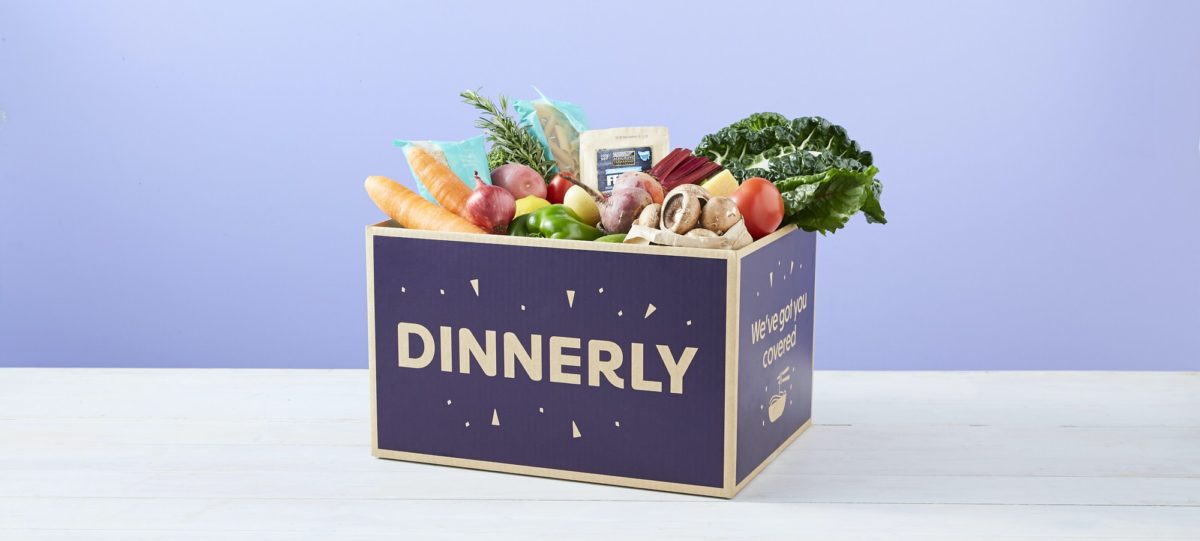 Type: Meal kit / Food box
Delivery areas: All across Australia
Dinnerly is owned by Marly Spoon, and there's a similar focus on offering far better quality than most other meal delivery services. You'll get flavourful meals and good quality local produce, you just won't get as much and the meals will be a bit more basic.
---
---
The down-scaled service has a few benefits over Marley Spoon. It's easier to narrow in on what kind of recipes you actually want, and there are plenty of options for people with allergies. But this lack of variety also means you'll likely get bored of a menu that just doesn't rotate as often as it should.
Dinnerly doesn't ship their ingredients with recipes cards either, which really shouldn't be much of an issue since you're saving a fair bit of cash. Instead, you'll need to log onto the Dinnerly website for your step-by-steps.
It's still safe to expect a fresh meal that's delicious, sized according to nutritionists, and easy to put together. And really, that's enough for most blokes who just want something simple to cook after an office slog.
Expect to pay as little as $52 per week for a box of 3 meals that'll feed 2 people.
---
My Muscle Chef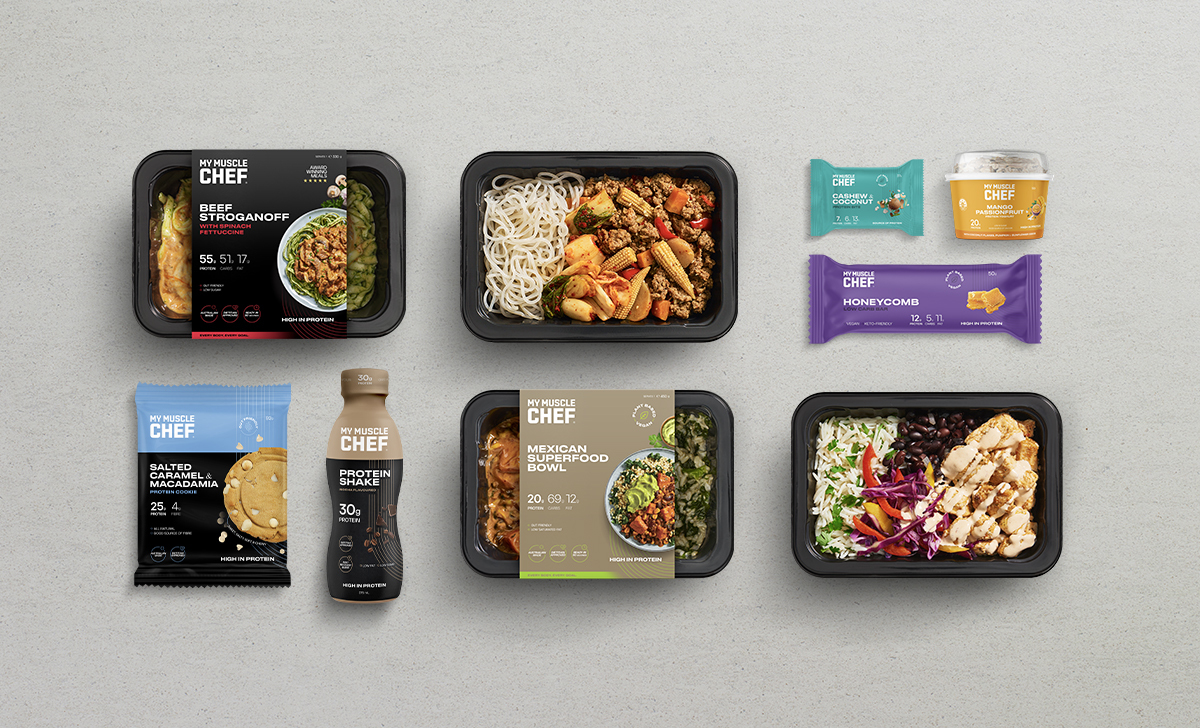 Type: Prepared meal delivery
Delivery areas: NSW, VIC, QLD, SA, WA, ACT
My Muscle Chef is a bit different from the brands we've mentioned so far, given you'll find their products in the supermarket as well as online. You can subscribe to a custom made plan online to get these healthy meals delivered to your door at whatever frequency you choose, with the main product being ready to heat pre-made meals that you just need to pop in the microwave for as little as 90 seconds.
And yeah, that's nothing really different to anything that's been around forever, but the difference here is the obvious focus on the fitness crowd. Meals are put together with muscles in mind, and the company has been recently working hard on expanding to offer more than just delicious microwave-ready meals like the top-tier chipotle chicken burrito bowl, and kimchi Korean beef with sweet potato noodles. The My Muscle Chef range now includes various protein bites, protein shakes, and protein oat bowls.
Online, you can customise a subscription or select your goal and have My Muscle Chef dole out pitch-perfect recommendations across 'Calorie Control', 'Muscle Gain,' and 'Performance.' You'll just need to tell them if you're male or female, and how many times you work out, and they'll bring up a few price options best suited for you're fitness goals.
---
Soulara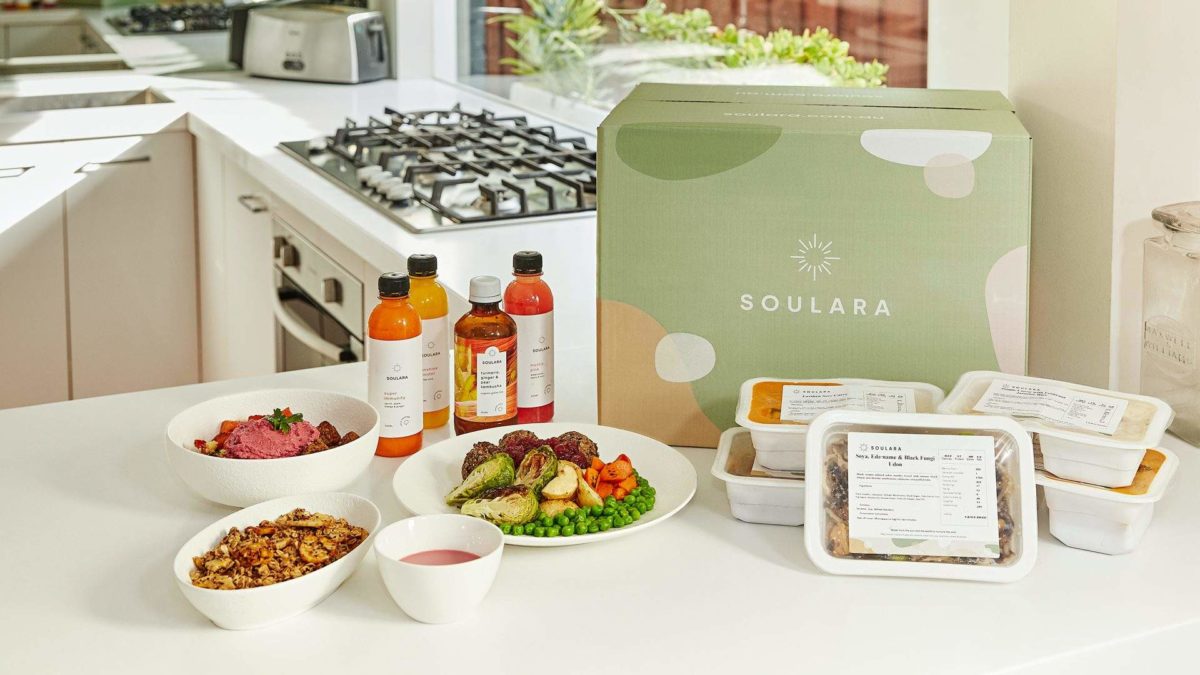 Type: Prepared meal delivery
Delivery areas: All across Australia
Soulara is similar to My Muscle Chef in that they primarily produce ready-to-heat meals, but they are entirely plant-based. The key here is challenging the way people think about plant based eating and demonstrating that it can be far from bland. Most of their meals are built around superfoods, local produce, and tasty natural flavours, with standouts like lentil bolognese, pasta puttanesca, pesto with pine nuts and peas, and spiced butter chickpeas.
---
---
If you're trying to go plant based, or at least introducing more plant based eating to your week, then Soulara is easily one of the better choices out there for anyone who is putting together some meal plans to hit their targets. Plus, they have some great juices in the range as well.
The downside? Given the health focus, Soulara kind of forces you to eat small portions, even though they have a few "larger" sized meals. What I usually do is buy some Soulara meals from the supermarket and heat them up in the pan rather than the microwave, adding a few extra ingredients so I'm not left feeling hungry after. I know that defeats the purpose, but if I'm going to go back for seconds anyway, it works out well.
The range still has a lot of room to grow here, but given you can also find Soulara in the local supermarket, the accessibility makes up for it. Online you can choose plans that bring you up to 24 meals per week ($204 weekly), but the most popular option is 12 meals a week ($119 weekly).
---
MACROS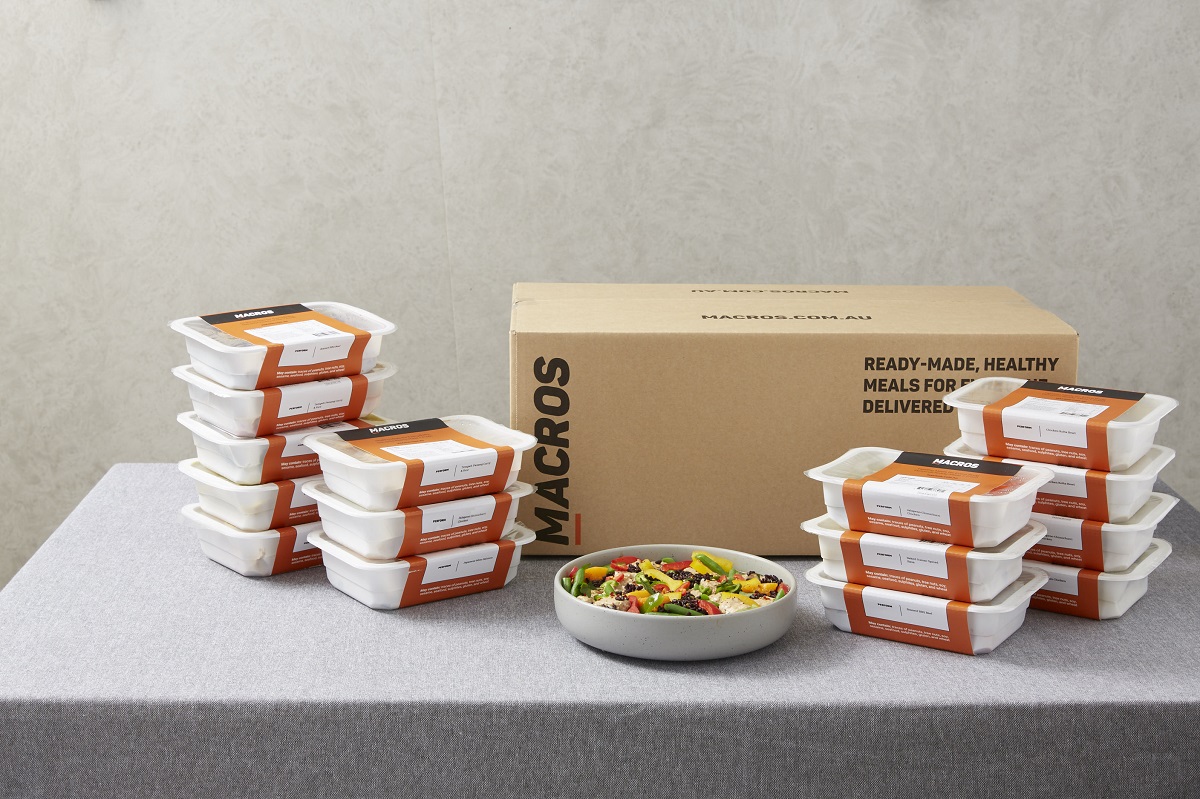 Type: Prepared meal delivery
Delivery areas: All across Australia
MACROS is another microwave-ready meal service that's riding the health-conscious wave with a focus on freshness and – obviously – macro-optimised meals. There are three fitness plans to choose from online: 'sculpt,' 'perform,' and 'gain,' all of which curate from their extensive selection of meals.
Do they taste good? It's hit or miss here, but like Soulara I often use MACROS meals as a good base and spruce it up a bit with some flavour. That's not to say the meals are bland – some of the best microwaveable meals I've tasted come from this brand, which has a wide enough scope to offer meals for plant based diets, along with paleo, low carb, gluten free, and no added nuts requirements.
The important thing here is the focus on fresh meals. These are chef-made meals that aren't delivered frozen or vacuum-packed. MACROS' online menu grows fast too, given they are a relatively new service. Standouts that I've tried include the lamb & rosemary shepherd's pie, Thai basil chicken, Moroccan chermoula fish, Malaysian fish satay, and fettuccine with garlic chilli prawns.
---
EveryPlate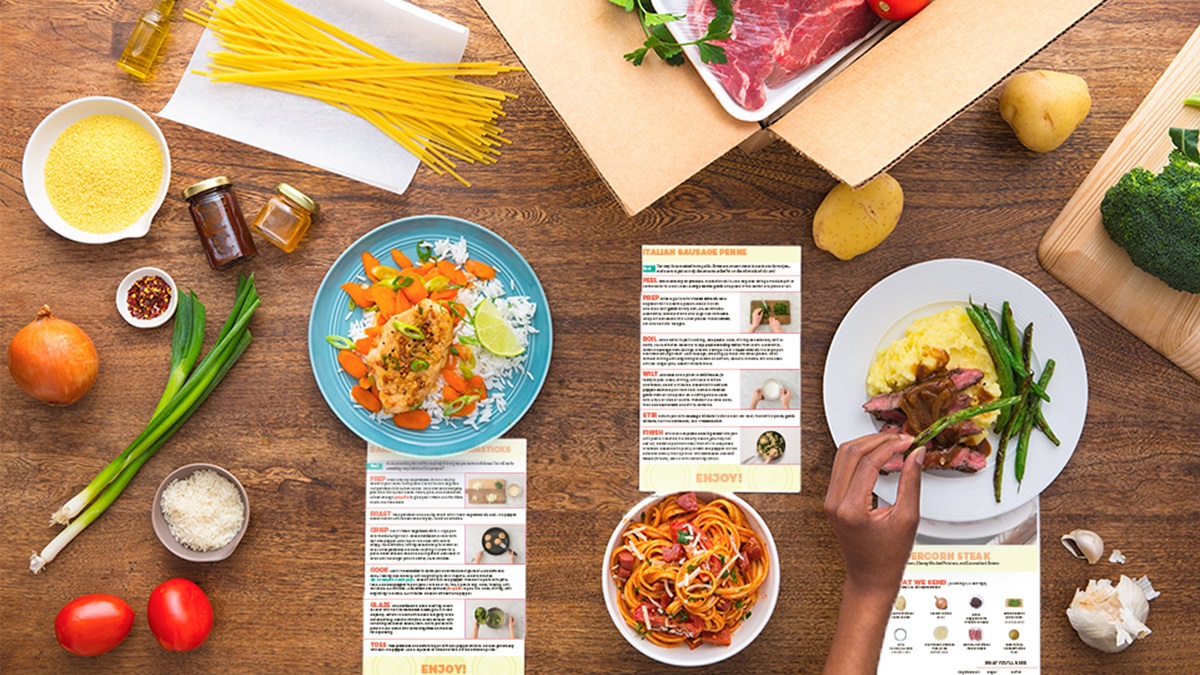 Type: Meal kit / Food box
Delivery areas: NSW, VIC, ACT, QLD
EveryPlate is the least expensive option on this list, a food box that presents no-frills but still manages to offer a heap of value. This isn't because the produce is top-notch – it isn't – or because the recipes bring much variety – they don't – it's simply due to the fact that what you see is exactly what you get, with some great service thrown in for good measure. Even the most useless bloke could cook up these meals.
You get around 11 recipes to choose from per week, as well as 2 higher-end options. There are a few vegetarian recipes to offer a bit of choice, and the website includes details for each recipe regarding allergens and the origin of produce. The key here is keeping it as simple as possible, with all recipes using very few ingredients. The plus side to this is minimal food wastage and prep that couldn't be easier.
Given a box of 3 meals for 2 people sits just under $40, don't go expecting Marley Spoon quality meals. If you're content with that, then EveryPlate is a perfectly acceptable way to take the pain out of after-office cooking.
---
Thr1ve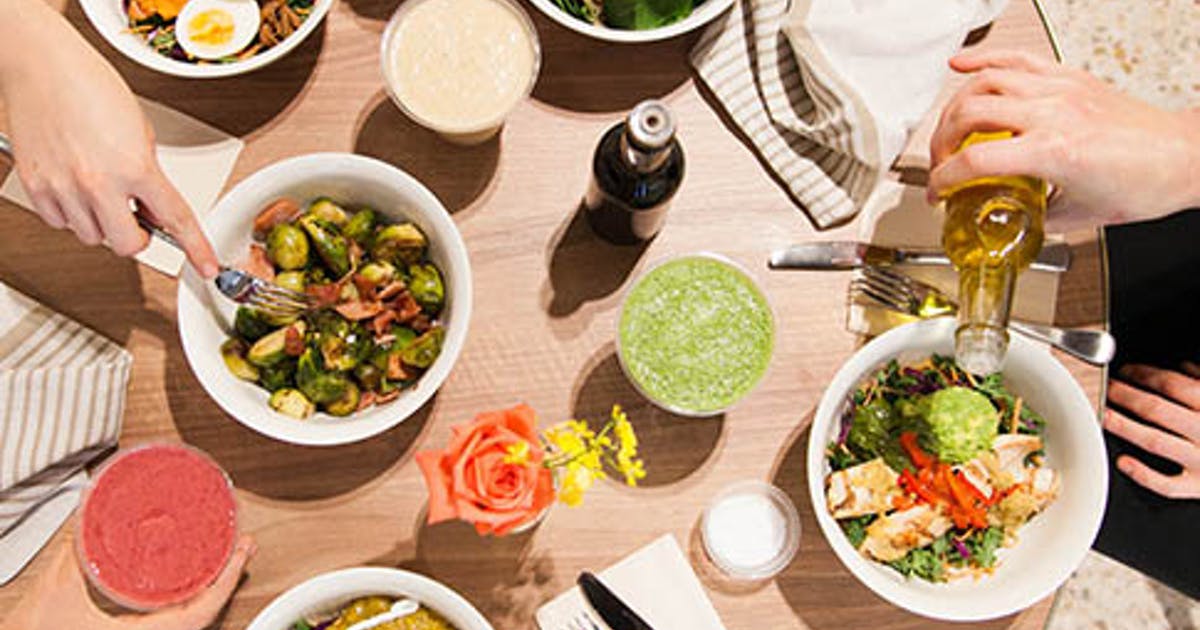 Type: Meal kit / Food box
Delivery areas: QLD, NSW, ACT, VIC, SA
Thr1ve is one of the more expensive meal kit subscription services out there, but easily one of the best. You get 44 meal choices each week, all posted online with just about every detail you could want – including all ingredients so you can make a decision on allergens and what staples you'd need in advance.
The strong points here are a great variety and excellent service, plus packaging which is 100% recyclable. The focus here is on healthy meals so, unlike Hello Fresh and Marley Spoon, you won't really come across more indulgent treat-yourself options. Regardlessly, Thr1ve use quality ingredients that come with excellent heating instructions so you can easily prepare breakfast, lunch, and dinners in very little time. The platform also has a variety of desserts, snacks, and keto friendly options available each week.
Thr1ve's build-a-box option has been recently introduced to add something a bit more simple for those who just want to pack individually picked meals into a box, but typically the way to go here is to select a meal plan and have Thr1ve curate the meals for you. Given the Sumo Salad association, you can expect Thr1ve to skew more on the side of leafy greens.
The cost usually works out to around $80 for 2 people ordering 3 meals a week.
---
ChefPrep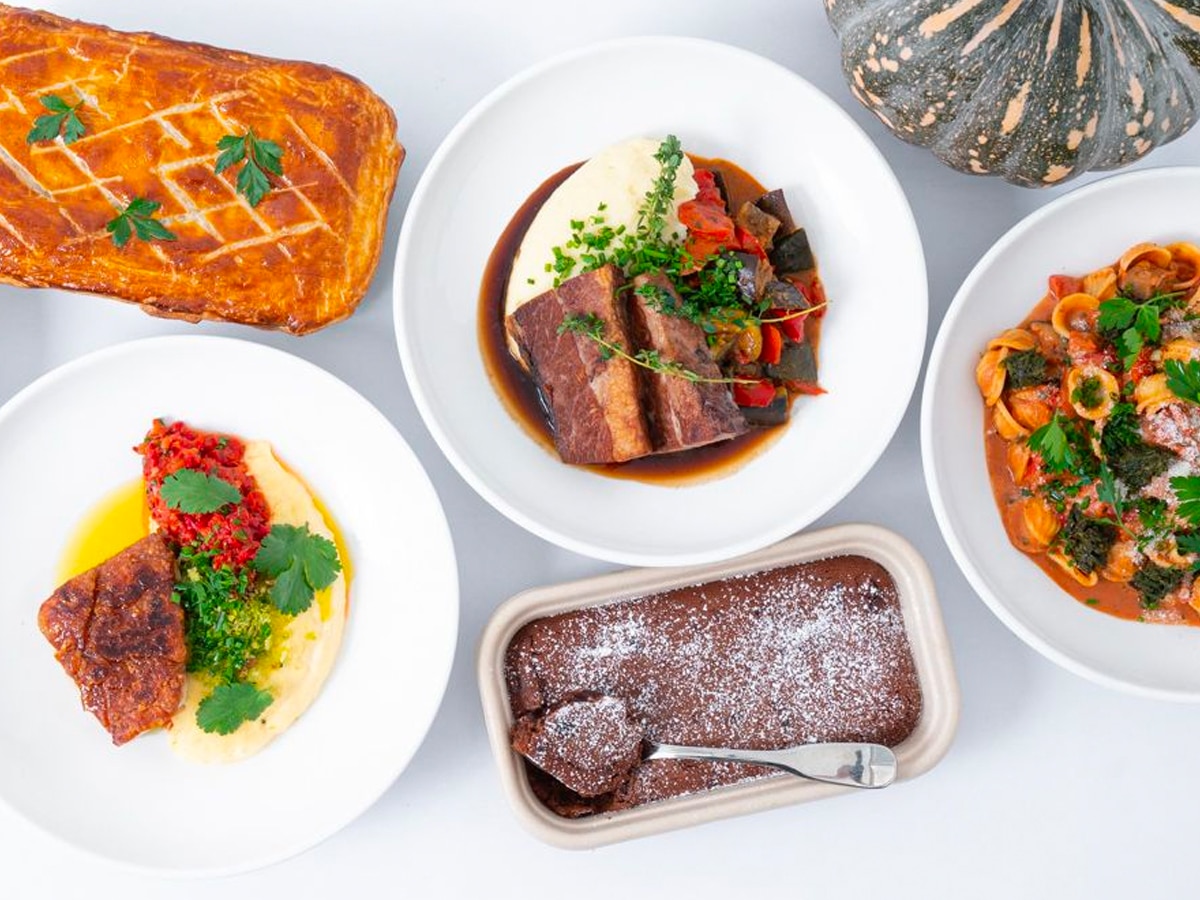 Type: Prepared meal delivery
Delivery areas: NSW
I wasn't going to include a prepared meal delivery service that's, so far, limited to just one state (NSW), but ChefPrep is too good to leave off this list. The concept works similarly to Providoor, except switching out finish-at-home meal kits with no-fuss microwaveable meals created by some of Sydney's finest kitchens.
Given it's a fairly new service on the scene, the restaurant list is small, but already includes favourites like Newtown's Delhi O' Delhi and Woollahra's I Maccheroni. These restaurants create ready-made versions of their signature dishes and ChefPrep ships them all over the state, which is a very simple way to enjoy a restaurant-quality prepared meal from home.
Like Providoor and The Dinner Ladies, this isn't a subscription kind of deal. You'll need to log on to the website and just select your meals whenever you want. The beauty is that you can mix and match across restaurants.
Prices differ greatly since these are all individual restaurants using the same platform.
---
ChefGood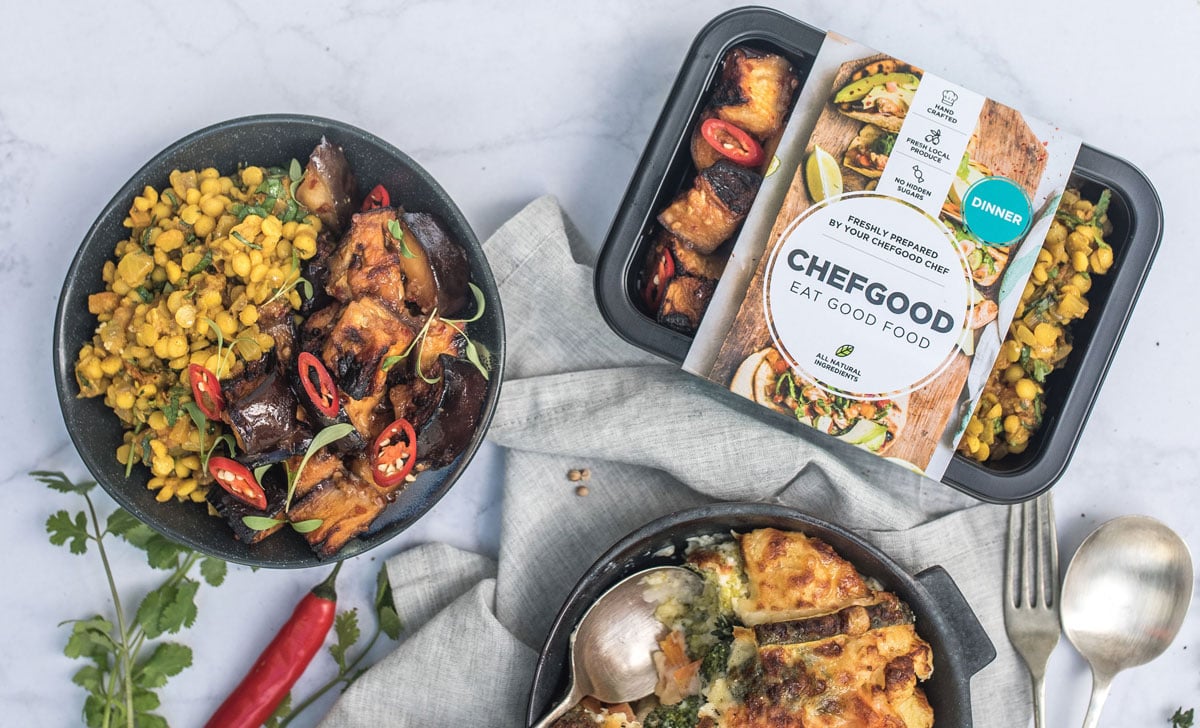 Type: Prepared meal delivery
Delivery areas: NSW, VIC, ACT, SA, QLD
Chefgood is all about high quality, ready made meals that are designed across three meals plans – 'everyday wellness,' 'slim & trim,' or 'vegetarian & vegan.' The Australian owned company focuses on using fresh, local ingredients to put together prepared meal delivery you'd simply need to heat at home.
There's not much that differentiates the service from other prepared meal delivery brands, but Chefgood has consistently rated as one of the best company's for meals that taste good, offer a decent proportion, and are well thought out in terms of nutrition and wellness. Meal prep is as easy as throwing the meal in the microwave, but as with MACROS and Soulara, it's always worth spicing things up on the stove with a few added ingredients.
One great point of distinction is Chefgood's regular guest chef series, where the brand works with some of the country's finest cooks to introduce new menus. Shannon Martinez and Reynold Poernomo are a few of the names that come on board every now and then to offer something new, continually expanding the range.
However, delivery areas aren't as extensive. You've only got NSW, VIC, SA, ACT, and QLD, and most of that is concentrated around the capitals and only a few regional areas. It's best to check online by entering your postcode and seeing if you're eligible for a subscription.
In terms of cost, you're looking at as little as $57 per week for the basic "everyday" option, which will deliver you 5 meals. Given the size and quality, it's a fairly reasonable price.
---
Providoor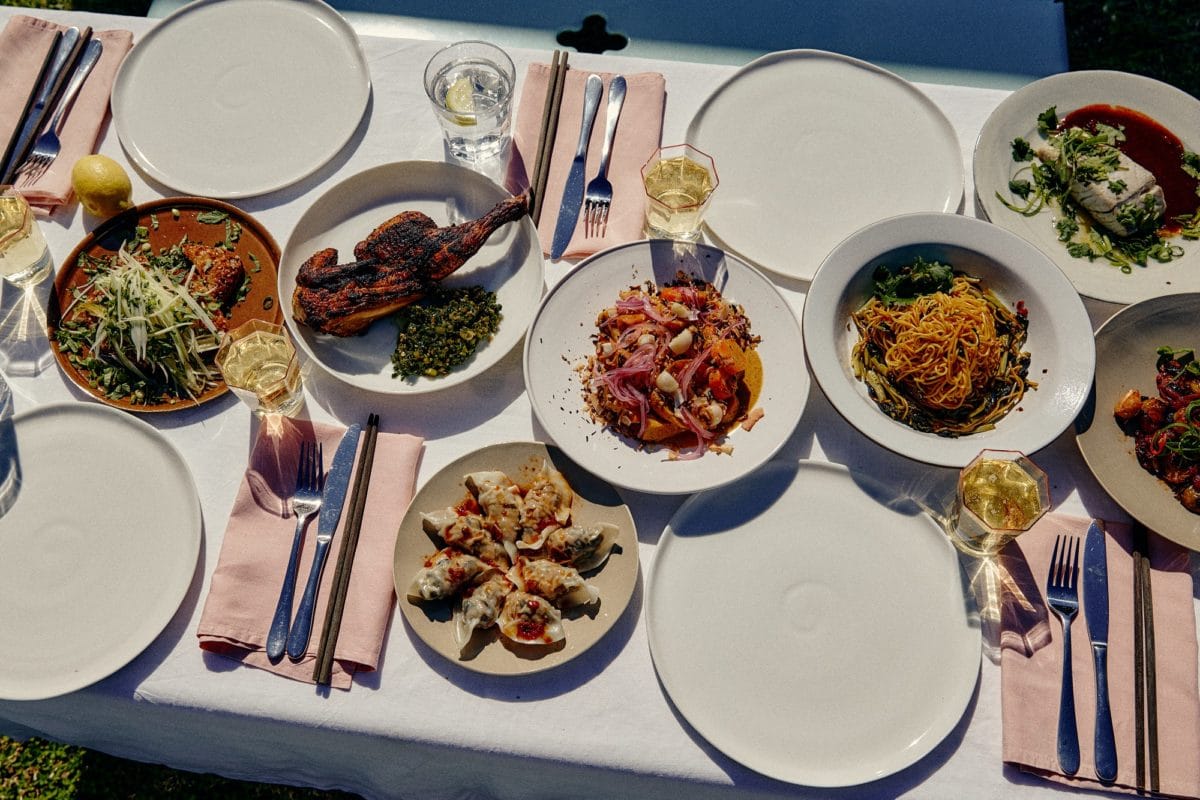 Type: Meal kit
Delivery areas: NSW, VIC
Providoor doesn't fit into any subscription model; the Melbourne-born service takes a very different approach to deliver food boxes straight to your door. That'd be teaming up with the best restaurants around – we're talking top-tier like Supernormal and Rockpool – to help them deliver their signature dishes to homes across, so far, VIC and NSW.
As you're paying restaurant prices, as well as delivery fees, the costs can stack up quite quickly, but this is a great treat-yourself option for when lockdown is getting to you and you need something a bit more sophisticated.
You select the dishes online, and then all the ingredients are delivered straight to you with the meal prep pretty much all done. Your goal is to then finish off the cooking process by following the instructions, using pre-measured ingredients. As far as meal delivery services go, this is the most unique.
As Providoor is just a platform for individual restaurants, prices can vary greatly. You'll be tempted to order across multiple restaurants as well, so the prices will stack up.
---
Best Meal Kit & Prepared Meal Delivery – Frequently Asked Questions
What is the best meal kit delivery service in Australia?
Marley Spoon has consistently been ranked as the best meal kit delivery service in Australia due to quality, service, and range.
What is the best prepared meal delivery service in Australia?
For prepared meals that you can heat up with minimal preparation, The Dinner Ladies is the top choice, alongside more accessible brands like My Muscle Chef and Soulara.
How much does HelloFresh cost in Australia?
Expect to pay as little as $65 per week for a box of 3 meals that'll feed 2 people. You'll be tempted to add on more so the cost can stack up quite fast. Although HelloFresh regularly has discounts and deals, so it's always worth scouting online for ways to save money on a subscription.