Korean BBQ in Sydney may get all the attention but there's an important distinction to make when discussing KBBQ versus Korean restaurants. The most obvious is that you've got more on the menu than just raw meats to cook on a central grill, offering an expansive – often modern – take on Korean cuisine, running the full gamut of flavours from this part of the world from bibimbap to bo ssam (Korean pork belly), all the way to the classic Korean fried chicken.
You'll no longer have to look far when scouting for good Korean food in Sydney. But you will have to look hard. Most of Sydney's best Korean BBQ spots like 678 Kanghodong Baekjeong and KOGI Korean BBQ are so popular that many diners stop there and don't look beyond Korean barbeque to highly regarded restaurants like Soul Dining and Sang by Mabasa.
That's a mistake. A big one, really. Yes, the best Korean BBQs are always well worth a night out, but once you settle on your favourite Korean restaurant in Sydney you'll realise just how much this cuisine has to offer, with a vast range of flavours you wouldn't find anywhere else.
I'd personally go so far as to say some of the best Korean restaurants in Sydney are some of the best restaurants in Sydney full stop. Don't believe me? Book into Soul Dining for a spot of inventive contemporary Korean and it'll be hard to disagree.
So, here we are. Boss Hunting's ultimate guide to help you find your favourite Korean restaurant Sydney has to offer.
RELATED: Best New Restaurants In Sydney
---
What's The Best Korean Restaurant In Sydney?
---
Soul Dining, Surry Hills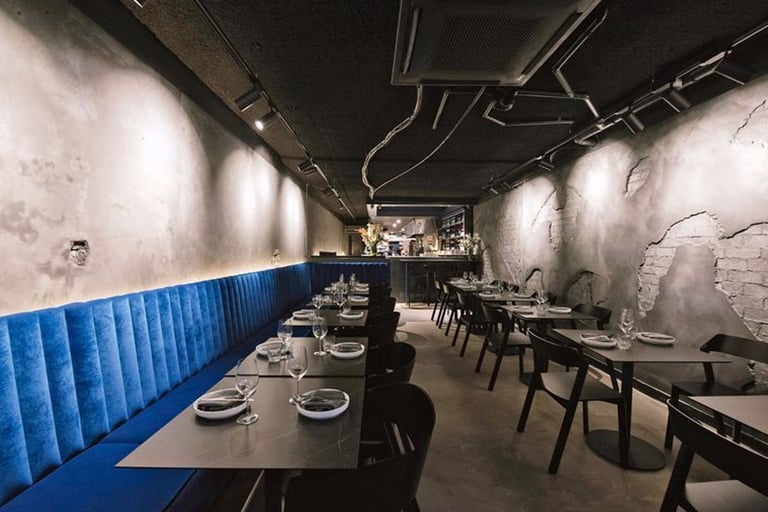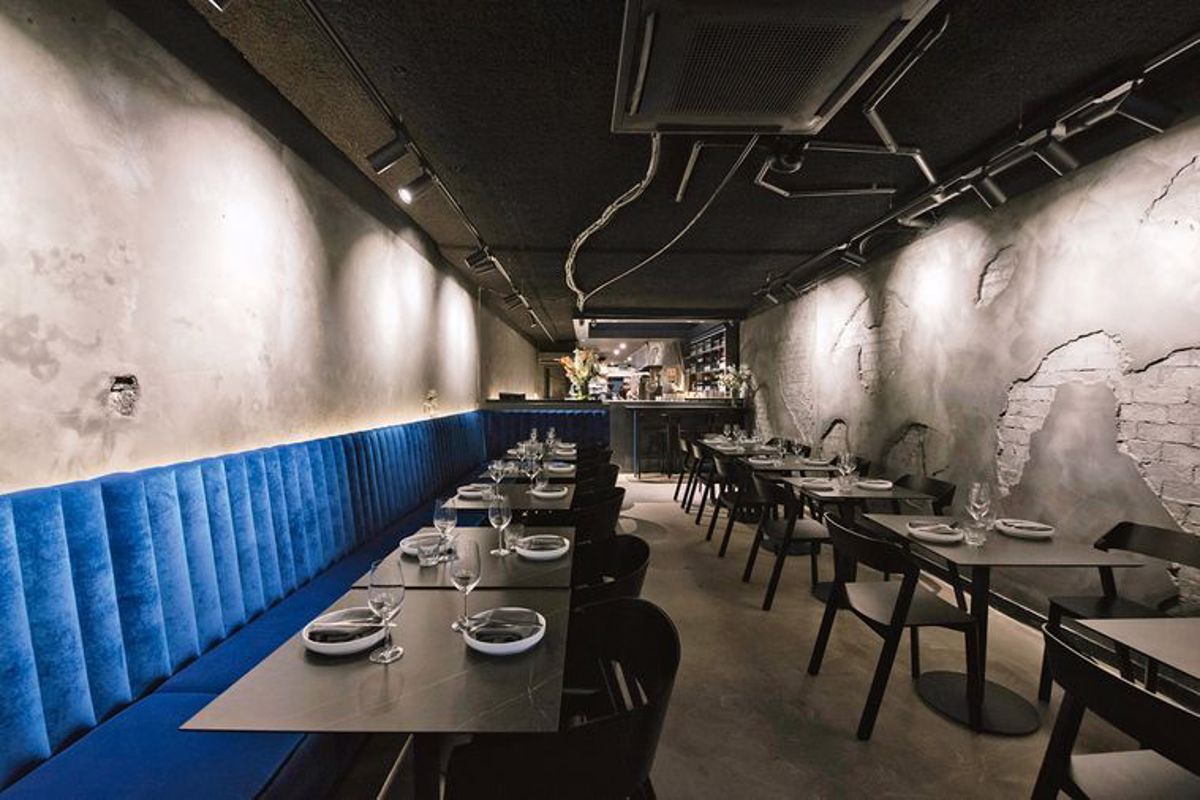 Address: 204 Devonshire St, Surry Hills NSW 2010
Contact: +61 2 8593 4957
Opening Hours: Tuesday – Saturday (5 PM – 10 PM)
Opened In: December 2018
Best Dishes: Fried corn riblets, prawn tteokbokki, beef short rib with glalbi jus.
When people think of upscale Korean dining in Sydney they usually jump straight to Soul Dining. The award-winning restaurant by Illa Kim and Daero Lee has been around since 2018, presenting a decidedly contemporary take on classic Korean flavours worked into inventive dishes that use everything from fresh lobster and even fresher burrata.
Perfect for date night in Sydney, the dimly lit interior is all moody and infectiously relaxing, best enjoyed by browsing the very attractive wine list first before barreling into dishes like kingfish served swimming in kimchi water, Korean escargot with kang doenjang sauce and puffed rice.
What We Think: Having been there several times, I can certainly attest to Soul Dining's consistency. Each time has been excellent with the menu changing regularly but always anchored by a fascinating blend of Korean flavours with inspiration taken from all over the world.
---
Diana, Potts Point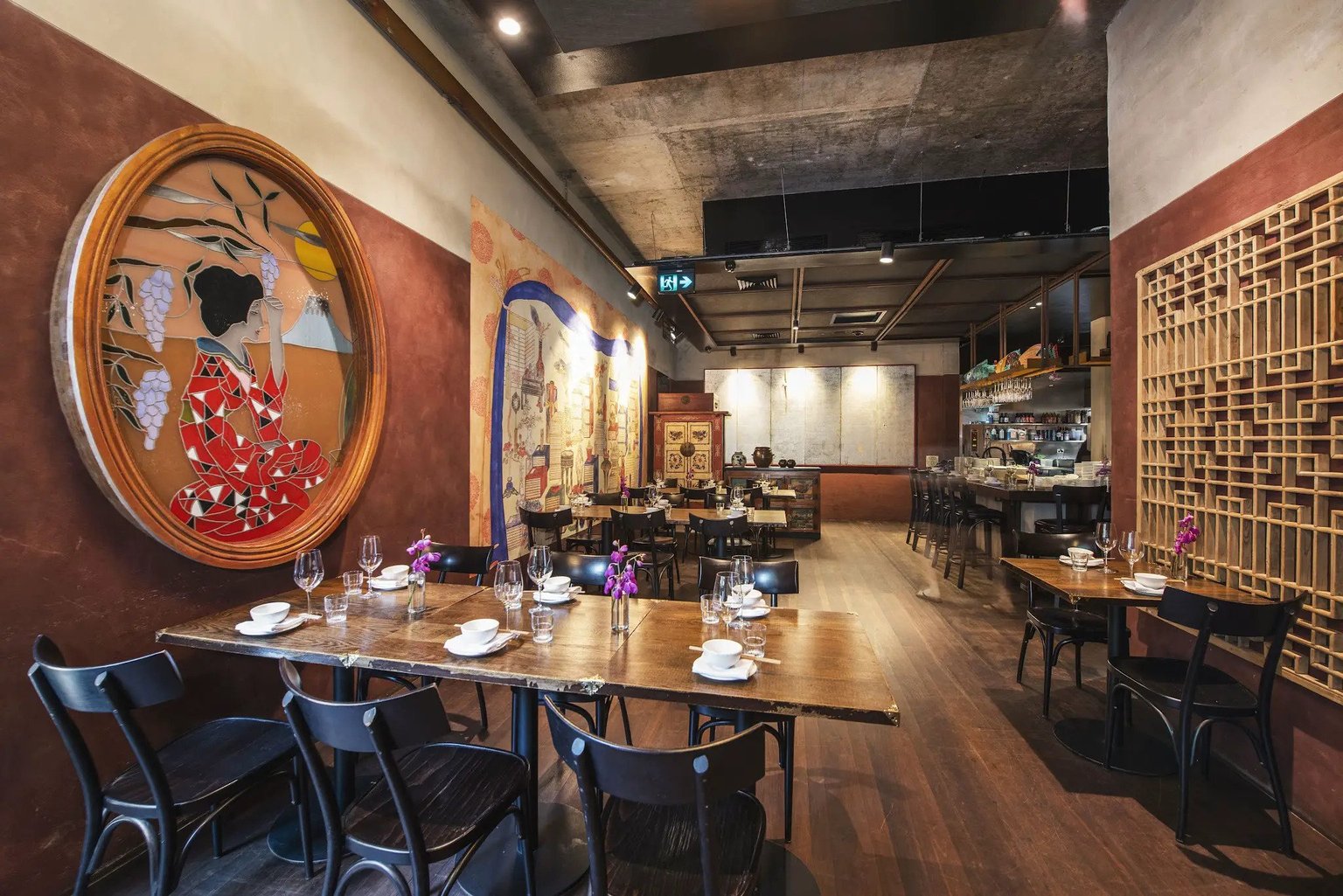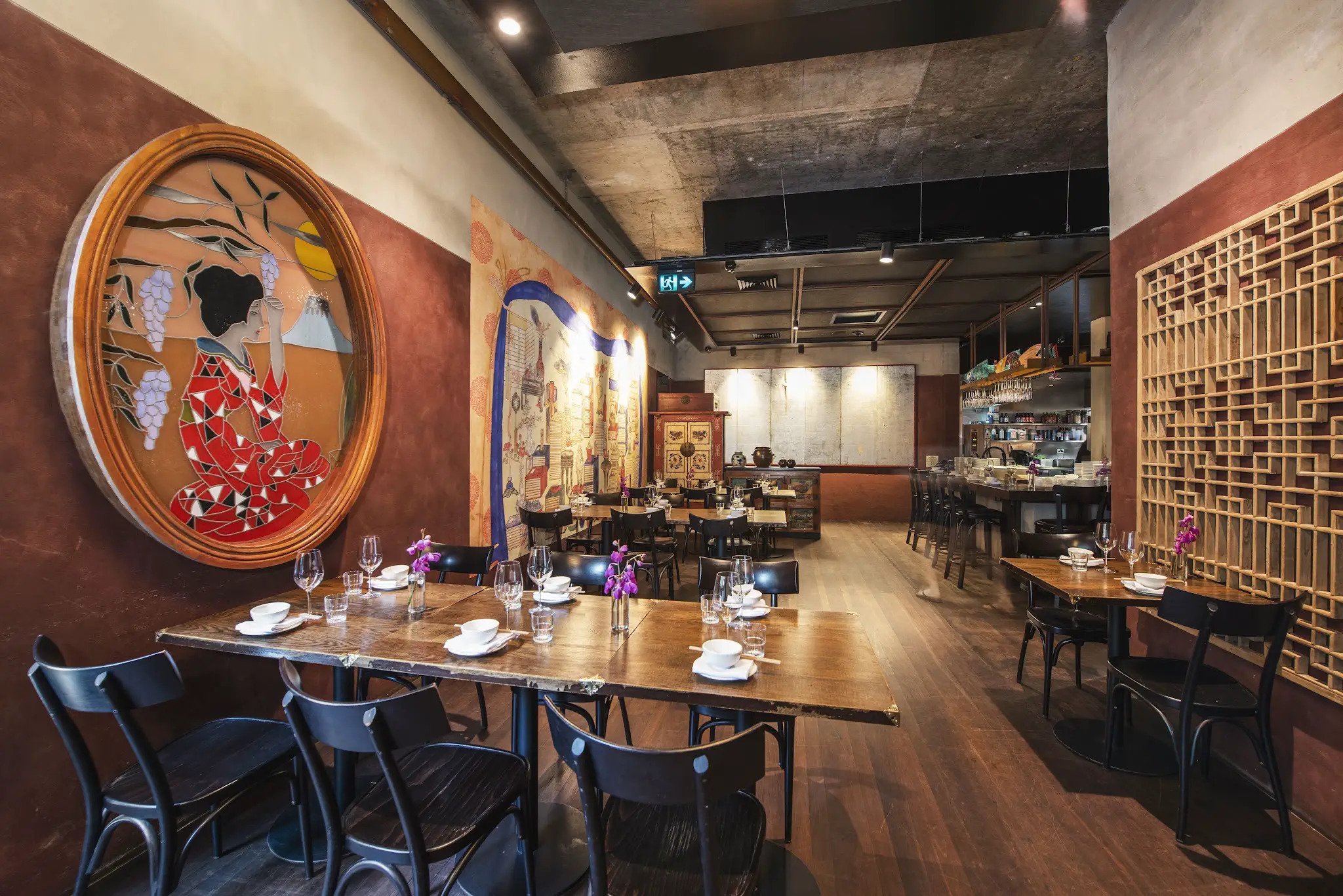 Address: 1/28 Macleay St, Potts Point NSW 2011
Contact: +61 2 8114 9919
Opening Hours: Monday (5:30 PM – 10 PM); Wedneday – Thursday (5:30 PM – 10 PM); Friday – Sunday (12 PM – 3 PM, 5:30 PM – 10 PM)
Opened In: May 2021
Best Dishes: Seasonal banchan, steamed fish, bulgogi
Diana is both fun and sophisticated. Potts Point adores a venue like that, which is why Diana has fast become a local favourite since opening in 2020. Studious owner Sammy Jeon is clearly committed to showcasing very traditional Korean flavours but splicing that gently with some ideas taken from Chinese cuisines.
The place is packed with personality, powered mainly by sightly art pieces and a back room that hosts karaoke on occasion. But it's the food that's the clear winner, paired up with a surprisingly efficient drinks menu that favours New South Wales (Sammy owns Mr Sushi King in Mudgee and Avido in Orange).
What We Think: I've only been once recently but Diana is easily one of the more interesting restaurants in Potts Point for me. The food is invariably delicious and I dined with a Korean who nodded in approval every time the newly introduced set menu would keep presenting those authentic flavours.
Various banchan – which are those smaller Korean side dishes you'd typically expect before a basket of meat at a Korean barbecue – make up the majority of the set menu but you also get bulgogi, steamed fish, boiled egg cooked in soy and a heap of other good food. Whether it's just some steamed egg or a sizzling plate of pork, the flavours are maximised by simplicity.
---
Sang by Mabasa, Surry Hills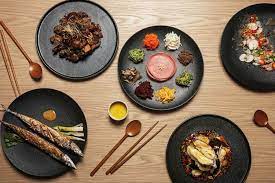 Address: 98 Fitzroy St, Surry Hills NSW 2010
Contact: +61 2 9331 5175
Opening Hours: Thursday – Sunday (11:30 AM – 2:30 PM, 6 PM – 10 PM)
Opened In: 2018
Best Dishes: Bibimbap, jae yuk, Korean fried chicken wings
Many food writers in Sydney swear that Sang by Mabasa is the best Korean they've had in Australia. I'll leave it to you to decide whether or not this is one of the best Korean bbq restaurants in Sydney.
It's hard to argue with that, especially when the diminutive family-run eatery runs through dishes like soy-preserved king prawns with gochugaru and Korean watercress, raw wagyu with Asian pear, and the delicious deep-fried chicken with sweet and spicy glaze, almond and a rice cake – Korean fried chicken lovers will keep wanting to come back to Sang by Mabasa frequently.
---
Kobo, Circular Quay
Address: 4 Loftus St, Sydney NSW 2000
Contact: +61 412 955 430
Opening Hours: Tuesday – Saturday (6 PM – 11 PM)
Opened In: March 2022
Best Dishes: Menu changes regularly
Diners would mostly associate the word 'omakase' with a premium Japanese dining experience and yet the concept, which basically means the menu-less concept in which the chef guides your feast, can also be applied to any cuisine.
Kobo is Sydney's first Korean omakase, helmed by chef Jacob Lee who stands studiously behind a tiny eight-seat counter in the Quay Quarter precinct down at Circular Quay. He takes a modern approach to Korean cuisine here, pulling in all kinds of influences and interesting flavours to elevate traditional dishes.
His multi-course tasting menu changes all the time, as per your typical omakase, but the lush showcase of Korea's great range of flavours has seen Kobo fast become one of the most hard-won bookings in town.
Contrasted with the cheap rounds of soju you'd expect from a rowdy night out at a Korean BBQ, Kobo also has a sommelier milling around the diminutive space, shelling out interesting drinks that'll change your perspective on the oft-misunderstood Korean drink.
---
Seoul-Ria, Haymarket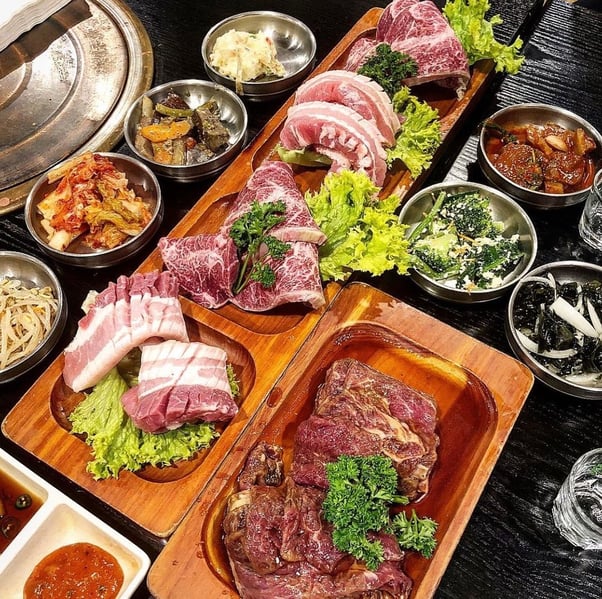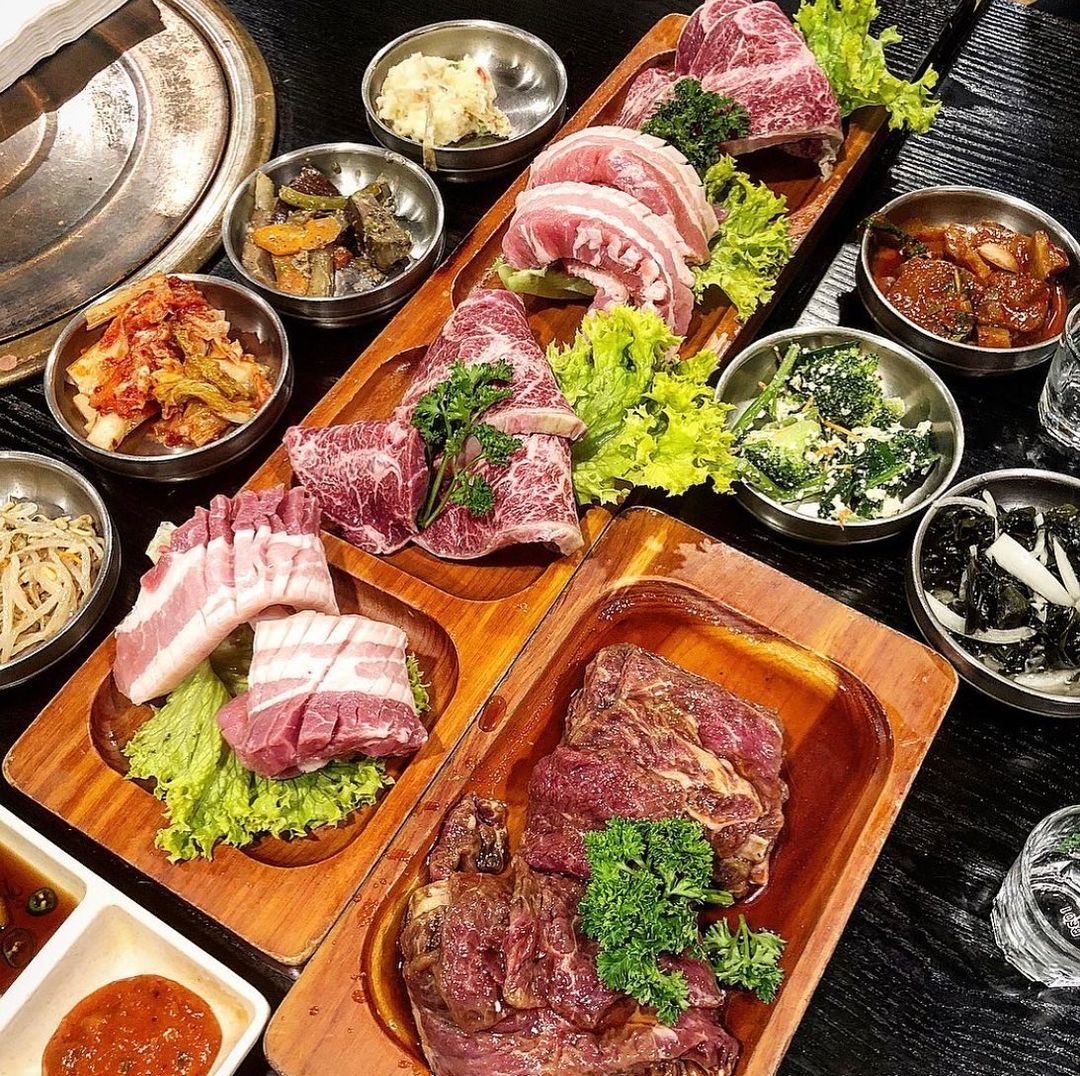 Address: Level 2/605-609 George St, Sydney NSW 2000
Contact: +61 2 9269 0222
Opening Hours: Monday – Sunday (12 PM – 10 PM)
Opened In:
Best Dishes:
I wasn't going to include many Korean BBQ restaurants on this list as I wanted to highlight broader Korean restaurants around Sydney. I feel like KBBQ often overshadows the breadth and depth of Korean cuisine, which is a shame really.
Seoul-Ria is an exception to my rule. The menu is one of the most extensive you'll find in any Korean barbecue in Sydney, not only touting high-quality meats for you to grill at the table yourself but also various other authentic Korean favourites including jokbal, clam noodles with pork katsu and pork bone hot pot.
What We Think: Seoul-Ria is one of my most visited restaurants in Sydney and I'd say the top Korean BBQ that I've tried in the city. The rowdy atmosphere at pretty much any KBBQ isn't that different here but there's a certain energy to the space that's infectious as you're chowing down on the likes of beef brisket with baby octopus and braised pork belly served with cheese dak galbi style.
---
Soul Deli, Surry Hills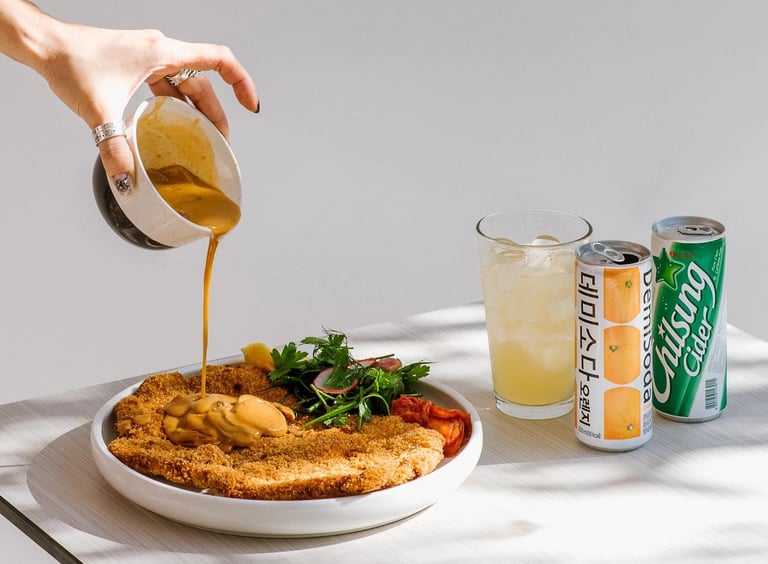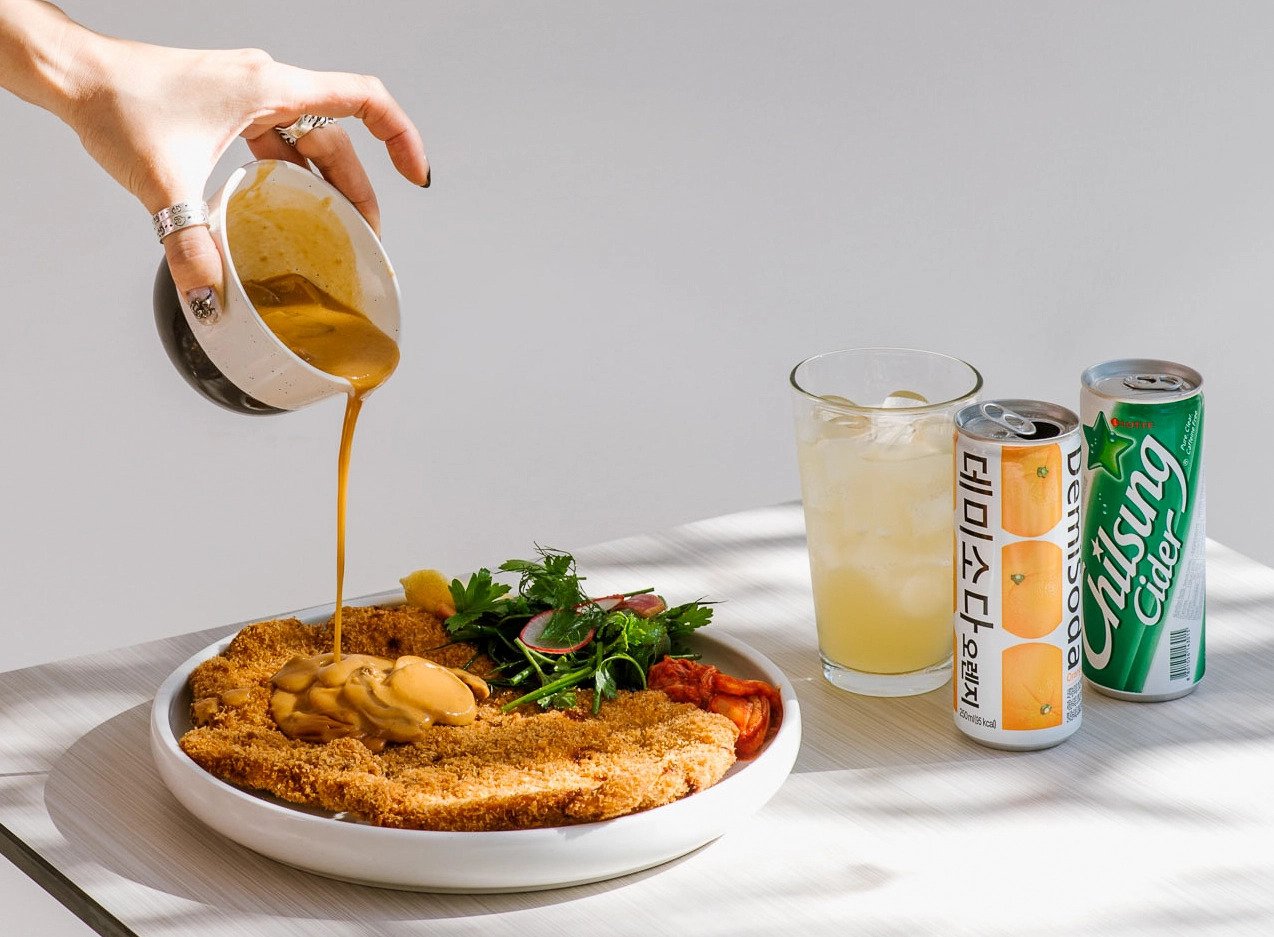 Address: Shop 1/212 Riley St, Surry Hills NSW 2010
Opening Hours: Monday – Sunday (7 AM – 4 PM)
Opened In: February 2021
Best Dishes: KFC hot cakes, umamishroom bowl
The Soul Dining crew opened a more casual by-day offshoot called Soul Deli in 2021, targeting a different kind of market with a unique blend of Australian and Korean flavours for breakfast and brunch.
Everything from mushroom bulgogi sandwiches to buttermilk hot cakes with Korean fried chicken and sweet chilli sauce has helped Soul Deli become just as popular as its more sophisticated sister restaurant.
It's this kind of inventiveness that keeps the menu changing constantly, which is probably why the concept outgrew its initial location on Campbell Street, moving Soul Deli to 212 Riley Street into a bigger space with an expanded menu.
Now the team behind this distinctive cafe has opened another concept in the original Soul Deli space. I haven't been to that one yet but once I do, and it qualifies, I'll be adding it to this list of Sydney's best Korean restaurants.
What We Think: Soul Deli is a personal favourite and aside from Pina, probably my most visited cafe in Sydney.
Those KFC Hot Cakes are all they are hyped up to be and if I wasn't slightly more health-conscious than I used to be, I'd be ordering those bad boys up at least once a week. Instead, I usually get the perfect bacon and egg roll, which is served on a soft, chewy potato roll with American cheese and Korean chilli mayo. Another favourite is the umamishroom bowl with bulgogi sauce and a choice of either garlic butter noodles or a super salad (both are equally delicious).
---
Pu Ji Mi, Eastwood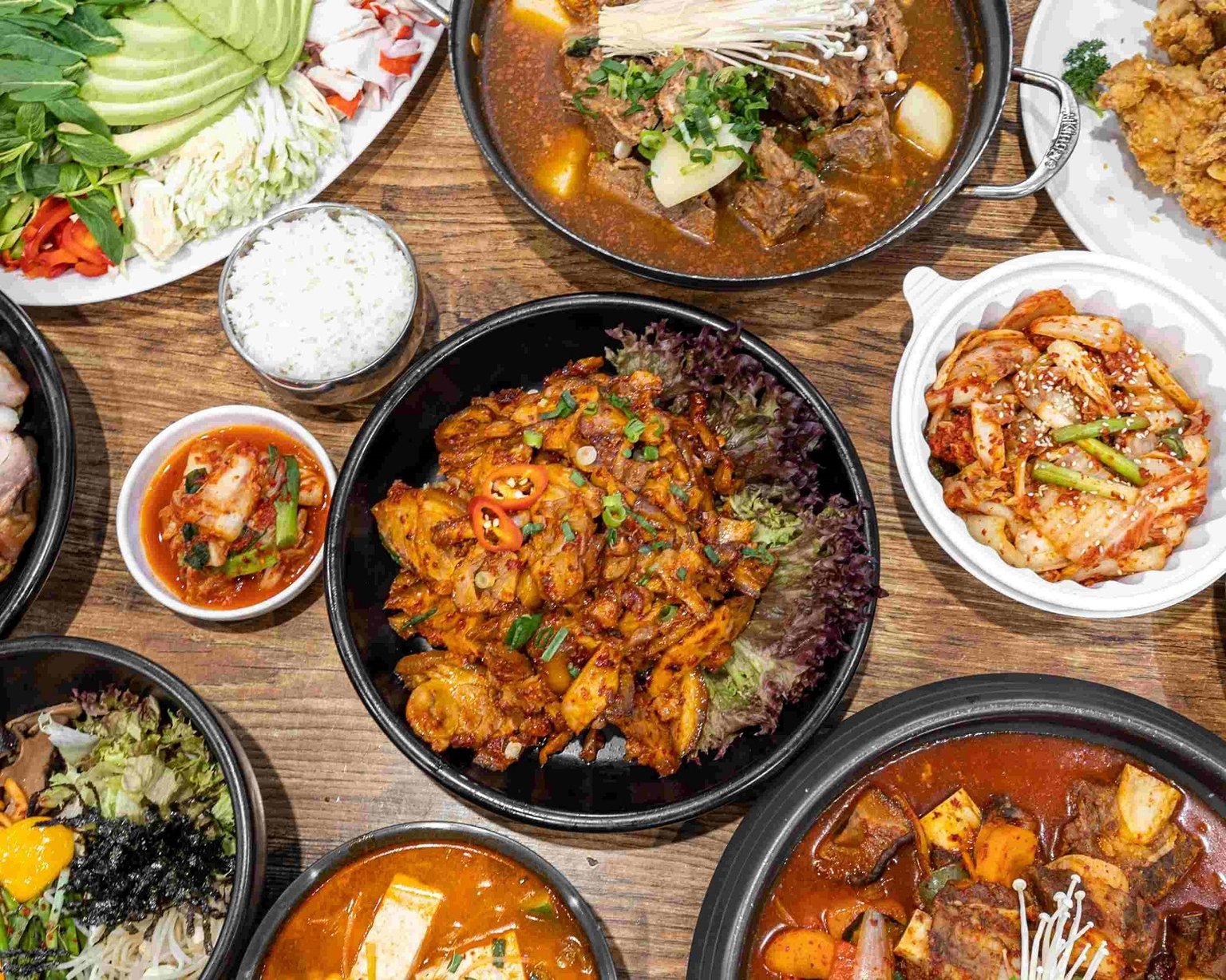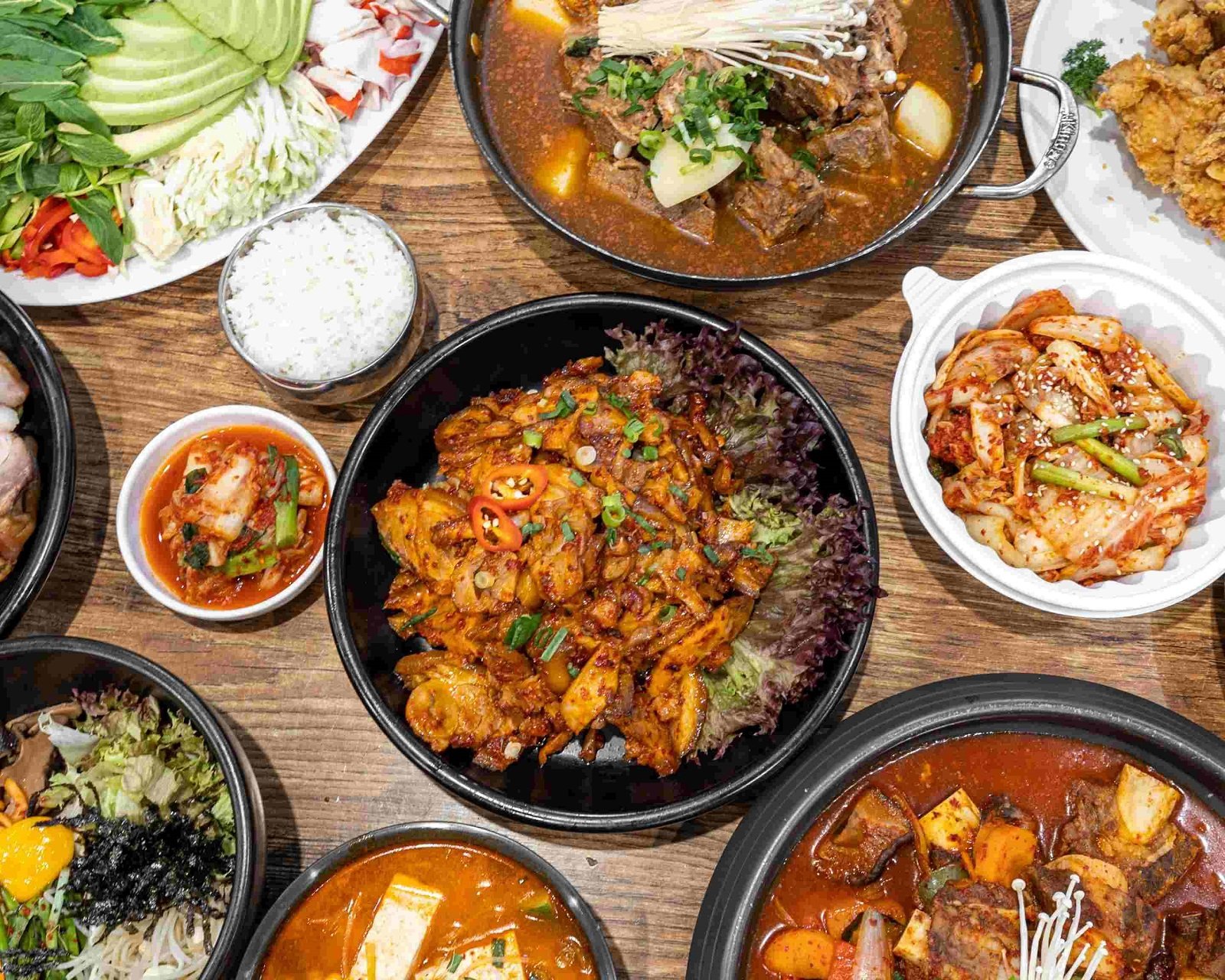 Address: Shop 202/62-80 Rowe St, Eastwood NSW 2122
Contact: +61 2 8958 5715
Opening Hours: Tuesday – Saturday (9:45 AM – 9:15 PM); Sunday (9:45 AM – 9 PM)
Best Dishes: bo ssam, jok bal
Home-style Korean food is the approach for Pu Ji Mi, which has a strong local following out in Eastwood. It's a bit counterintuitive to expect anything more than average results when you stroll into a restaurant – in somewhere as drab as Eastwood mall. And yet, Pi Ju Mi is easily one of the best Korean restaurants in Sydney. One that you've likely never heard of.
This family-owned eatery is highly regarded locally mostly for bo ssam and jok bal but they've got a huge range of authentic Korean dishes on the menu. Everything is made in-house as well, making Pu Ju Mi the very definition of 'labour of love.'
---
Jung Sung, Chippendale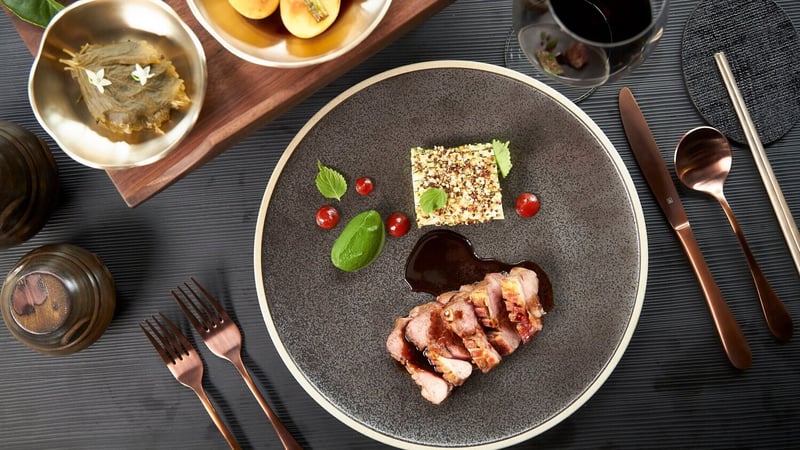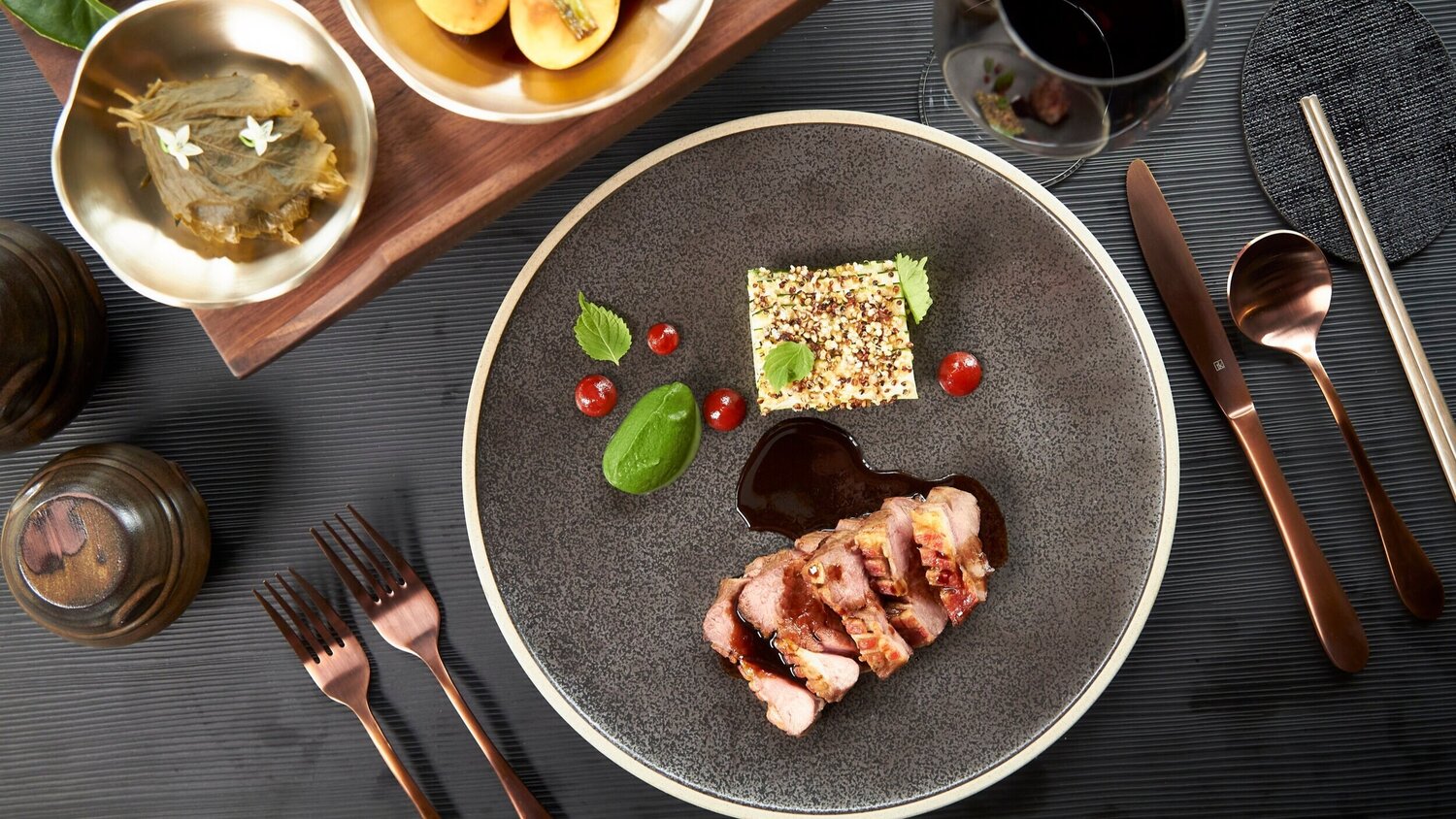 Address: Level 3/2-10 Kensington St, Chippendale NSW 2008,
Contact: +61 400 991 011
Opening Hours: Wednesday – Thursday (5:30 PM – 9:30 PM); Friday (5:30 PM – 10 PM); Saturday (12 PM – 3 PM, 5:30 PM – 10 PM); Sunday (12 PM – 3 PM, 5:30 PM – 9:30 PM)
Opened In: March 2021
Best Dishes: MB9+ wagyu, Red Emperor hwe, sweet corn
Much like Soul Dining, Jung Sung is somewhere you'd go when you want to taste how adaptable Korean food is. The brief here is contemporary Korean with plenty of surprising twists, showcasing some truly fascinating flavours using all sorts of influences from Australia and around the world.
An essential dish is the Moreton Bay bug bibimbap, a rule-breaking take on the Korean tradition that is amongst the most popular menu items at Jung Sung. Although Executive Chef Insup Kim always seems to be coming up with something new, demonstrating an endless creativity to really elevate classic Korean dishes with playful new ideas.
---
Red Pepper Bistro, Strathfield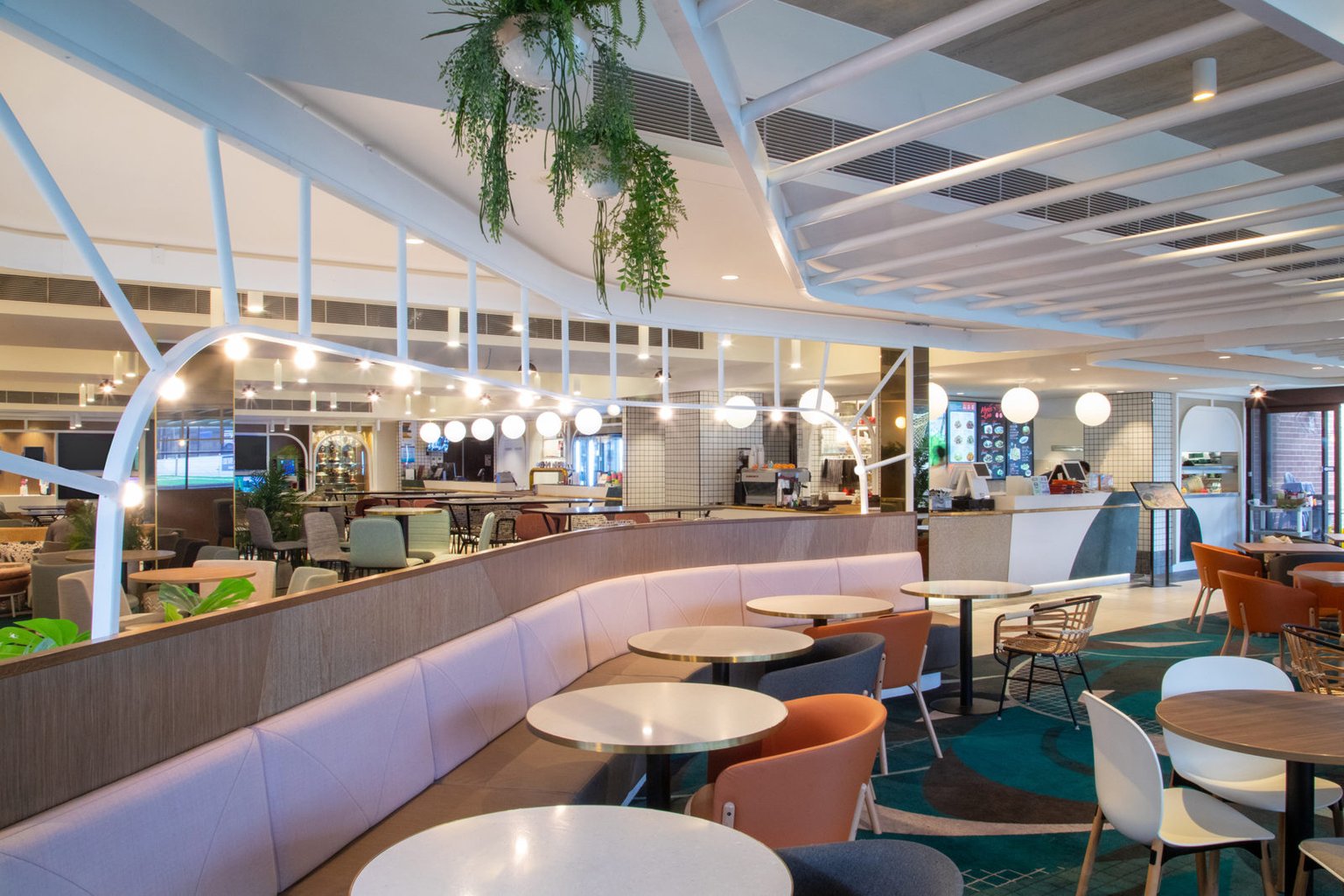 Address: 19 Morwick St, Strathfield NSW 2135
Contact: +61 421 662 263
Opening Hours: Monday – Thursday (11 AM – 10 PM); Friday – Saturday (11 AM – 10:30 PM); Sunday (11 AM – 10 PM)
Best Dishes: Stir-fried octopus in spicy sauce, seafood black bean noodles
Much like Pu Ju Mi, you'd be forgiven for not being familiar with Red Pepper Bistro. Much like some of the best Korean BBQ in Sydney, you'll find this popular eatery out in Strathfield in, surprisingly, Strathfield Sports Club.There's no flash or theatrics. In fact, this look like your any typical RSL kitchen. Yet the food is consistently delicious.
Stir-fried octopus in spicy sauce, pan-fried flatfish with steamed rice and black bean noodles with a seafood medley are some of the more popular dishes at Red Pepper Bistro. Order those alongside several kinds of Korean fried chicken or some hot pot if you want to best experience.
---
How Boss Hunting Chose The Best Korean Restaurants In Sydney
Team BH is lucky enough to be able to dine around Sydney as part of the job. Whether it's for an event, we've been invited to try the food or we eat on our own dime, we regularly experience some of the best restaurants in Sydney.
In the office, we regularly discuss where we've been eating at lately and whether or not we'd recommend them to our readers. Our many lists of where to eat in Sydney (where we are based) come from those discussions and this round-up of the best Korean in Sydney is no exception.
I'm a particularly big fan of Korean cuisine. It's actually one of my favourites alongside Japanese, Italian and Malaysian. As such, I've eaten at many of these restaurants multiple times throughout the years and am confident this is the most discerning round-up of Korean restaurants in Sydney that you'd find online.
Note that I'll be updating this list every few months after I dine at more Korean restaurants in Sydney. And there should be a lot to get through. From the Soul Dining team's new venture, a Korean tapas wine bar called Bar Soul, to a new premium Korean BBQ in Barangaroo called SOOT from the team behind Kogi.
---
Did you find this list helpful? Check out some of our other Sydney dining guides.
---
Frequently Asked Questions
What is the best Korean restaurant in Sydney?
The best Korean restaurant in Sydney would be Soul Dining, but there's also strong competition from Diana, Sang by Mabasa and Jung Sung.
What should I order at a Korean restaurant?
When you're at a Korean restaurant you should definitely get some banchan, which are small Korean side dishes, as well as substantials like bo ssam and beef bulgogi.
Are there good Korean restaurants in Sydney CBD?
The best Korean restaurants in Sydney are outside of the CBD in areas like Potts Point and Surry Hills.