It's taken many years – and many millions of dollars – for The Point Group's chief executive, Brett Robinson, to ready Shell House. Without any doubt, the ambitious four-in-one venue is Sydney's most stylish of 2021 (although Margaret must be considered here), pushing the city from a heartbreaking mid-year into a new era of hospitality designed to make an impact in a way few have managed before.
When Justin Hemmes first opened the ivy over 10 years ago, he firmly established the unsatisfied lust for big-ticket, multi-faceted venues that Sydney had lacked for so long. Shell House doesn't quite plant the seeds of a rolling empire as the indoor-outdoor ivy precinct once did; it falls short of the club-minded enthusiasm of a space like ivy Pool Bar, and the confected exclusivity of ivy Penthouse. But the shortage of mass appeal is replaced by a genuine sense of charisma and authenticity, successfully presenting something Sydney has truly never seen before.
The closest comparison may be Merivale's other great big hope: the sun-bathing, long-gestating Coogee Pavilion. But Shell House isn't quite a stunted patchwork of relatively disconnected food concepts and is much sexier, moodier, and refined than Hemmes' kinetic beachside playground.
---
---
Right now, it's the place to be seen. And while that could easily conjure an air of pretentiousness, Robinson and his unfailing crack-team of designers – most notably Woods Bagot, Architectus, and interior stylist Anna Hewett – has managed to avoid such accusations with expressive, functional design that romanticises the Art Deco building, formerly the historic Menzies Hotel, without overshooting the sentimentality many of these grand adaptive reuse projects often fall victim to.
---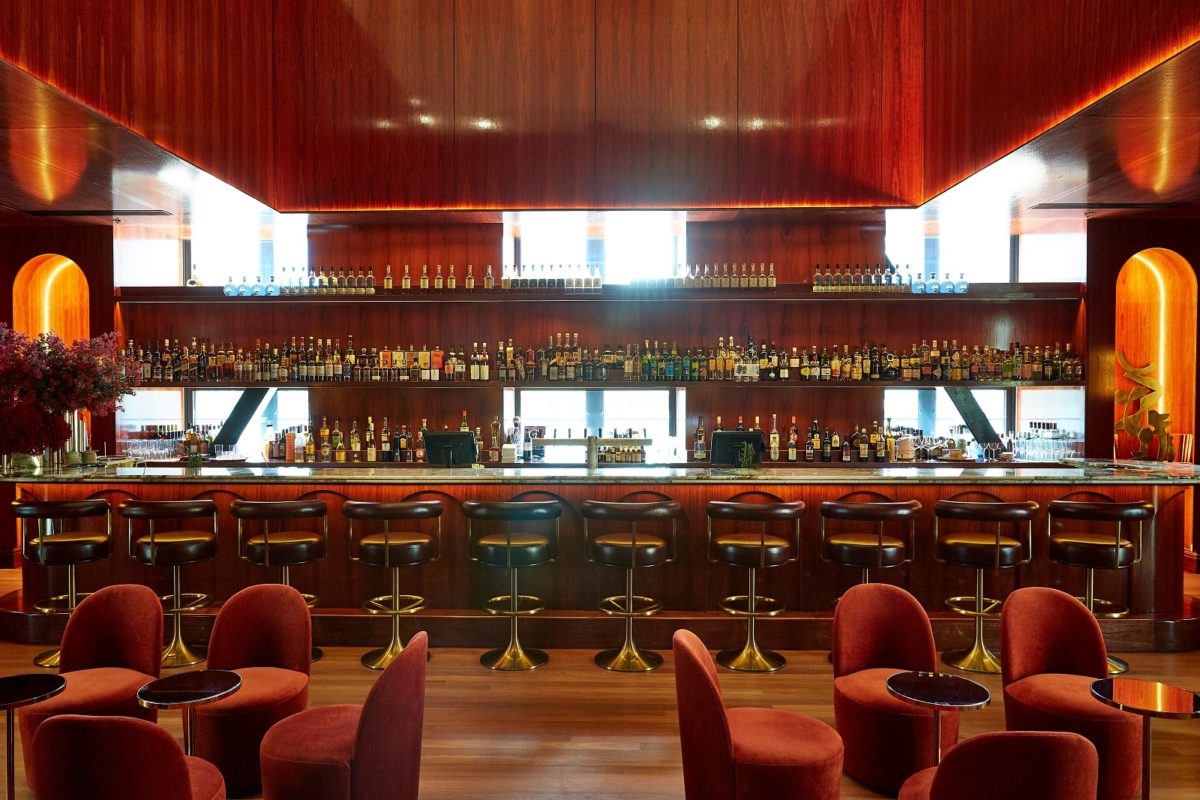 The best way to play at Shell House Sydney is to start in one of the three other spaces for pre-drinks and then end up with a seat in the plush Dining Room & Terrace. My visit started in the Clocktower Bar, easily the most unique of the four with its seductive lighting that spotlights the long, richly-stocked bar and coats the rest of the space in a moody glow, bouncing off the darkened woods. The uniformed neutral palette is a step away from Sydney's love of eclecticism, but the space is supremely comfortable, save for the rounded tables that are a bit too tiny to fit any more than one or two snacks and a cocktail.
Don't forget to look up. The ceiling is the most impressive part, curving into the void of the working clocktower above, polishing the guts of the 400-tonne time-ticker that sits atop the terracotta building and displaying the fully restored and operating mechanisms. It's a great big pop of fantasticism, sipping expertly built classic cocktails inside the historical timepiece.
The shortlist of bar snacks at Clocktower Bar changes regularly, but Food & Beverage Director Alexander Kirkwood has complemented the high-end appeal with premium bops like freshly shucked oysters with W.A scampi roe ($7 each) and toast topped with rich, fatty ossau iraty, fig & fennel, and walnut ($22). Fork out $70 and you've got yourself some luxuriously smooth and buttery Oscietra caviar with creamy spanner crab and light cultured cream, served with 4 fluffy circular pieces of white bread.
Don't think you'll walk away from the Clocktower satisfied if you're particularly hungry, which is why simply walking out that door and wrapping yourself in the charming Dining Room is the quintessential next step for getting the most from Shell House.
RELATED: The Best New Restaurants In Sydney
---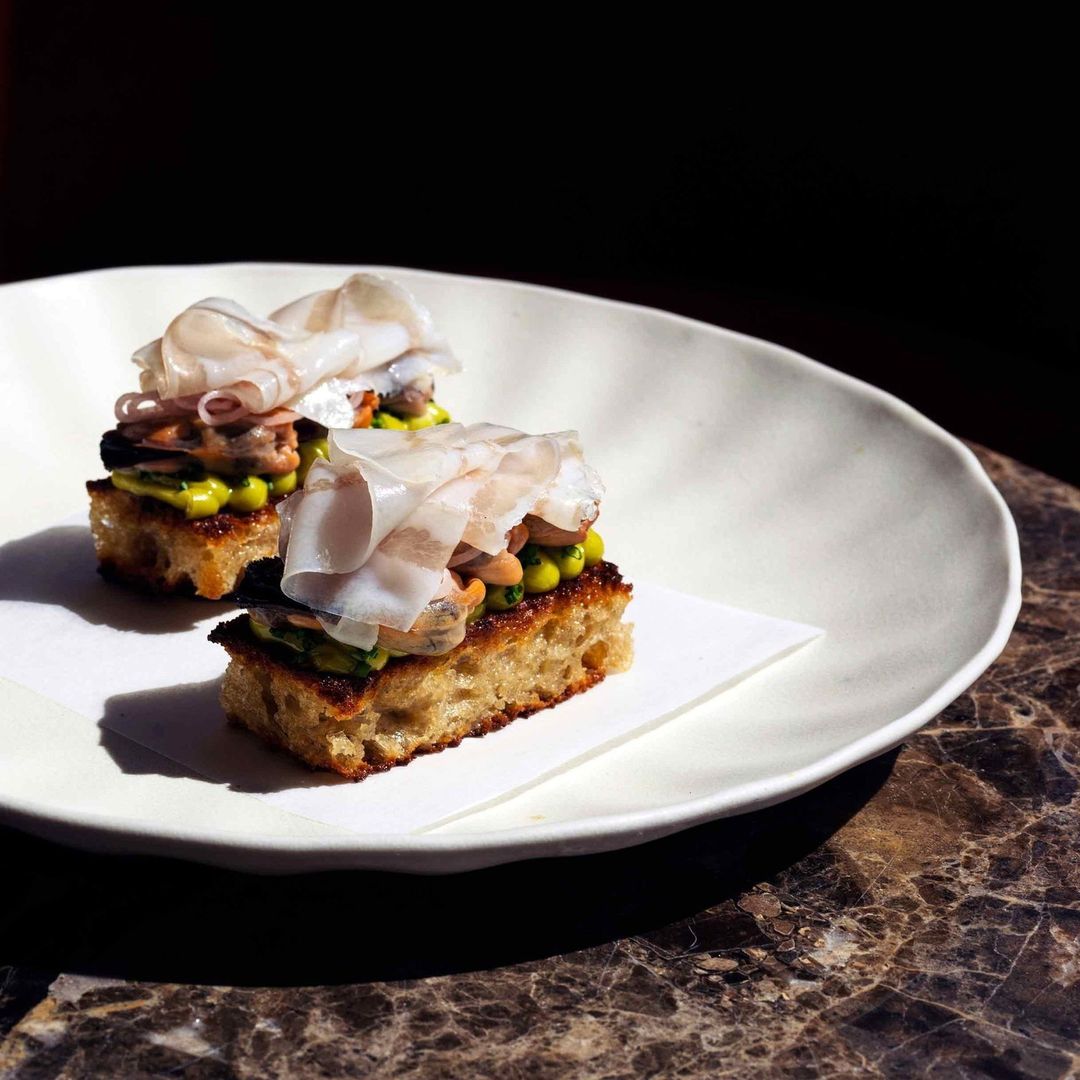 The studied curation from Kirkwood and Wine Director Shun Eto is best showcased in the Dining Room, a glossy, comfortable space that's every bit as energetic as I imagine Sky Bar – above – and Menzies Bar – below – are. I'm yet to visit either of those (a booking at Shell House will be hard to come across well into 2022), but impressions are already solid from experiencing just half of what this mega-venue is offering.
---
---
The wine list? Tight, but Eto – who has guested on our podcast before – knows what he's doing. It's quality over quantity, taking out the choice anxiety and leaving you with outrageously good drops like the 2014 Jean-Lux Jamet Côtes du Rhône Couzou Blanc. A bottle of this is the perfect alternative for those after a big, loud chardonnay with primarily Marsanne serving up a dramatic palate that goes down perfectly with the night's most surprising highlight – pickled mussels with green garlic, pork jowl, and miche on a solid piece of toasted bread ($14).
There's only one amber wine on the menu, but it's a damn good one. The eccentric 2019 Podere Pradarolo Vej Bianco Antico 180 is an instant favourite, swirling with stone fruit yet versatile enough to pair up well with every plate.
While the ambience here is faultless, the opulent menu can vary greatly in quality, despite all dishes presenting a strong showing for the creativity in the kitchen, helmed by Joel Bickford and Head Chef Aaron Ward. Tiny rounded ciambella (a classic Italian cake) oozes a funky filling of whipped ricotta and anchovy which is nice enough, but at $14 each – the same price as the more substantial mussels – hardly feels worth it.
Some perfectly textured octopus restores faith, but the WA spanner crab cocktail with kohlrabi, wild garlic and salted cream ($38) stumbles. Served in a thick-stemmed coupe with dark green wild garlic shaved on top, the obviously well-sourced crab loses much of its natural flavour to the thick salted cream and a big, overwhelming hit of sourness. It's an attractive dish, just not a very good one.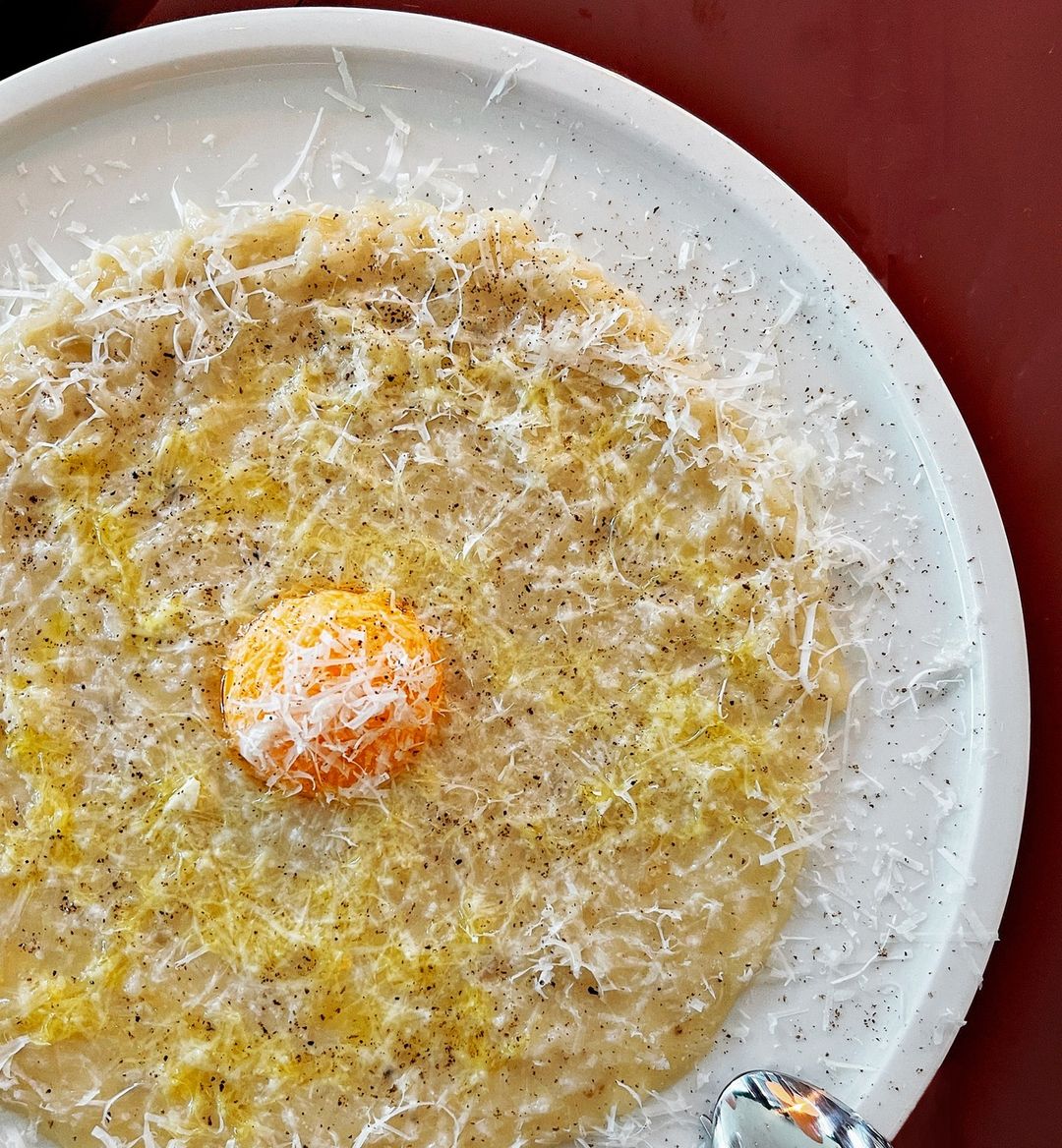 Much more worthy of your attention is the cacio e pepe risotto ($36). The thin, creamy spread of carnaroli rice is rich, served with a confit egg in the centre and supplemented by pecorino, pepper, and – if you've paid a bit extra – truffle. Delicious, but nothing on the market-price lobster, served with two dark pieces of moreish milk bread so you can soak up the lightly spiced juices. It's a brilliant end to the feast, without any need for dessert.
Good Food's Terry Durack has already crowned Shell House's Dining Room with a coveted two hats, and it seems just about everyone in the hospitality industry has their pockets lined with multiple bookings for the coming months. Neither comes as a surprise, but don't rock up expecting to pull any punches when it comes to price. If you want a good experience, you'll need to pay. Fortunately, such is the opulence of Shell House that the atmosphere kind of puts you in that spending mood, and makes the eventual bill seem a bit more worth it than if the vibe was any different.
RELATED: Sydney's Most Epic NYE Events
---
Though it's been in development for a while, Shell House Sydney feels like a sudden cessation to this year's doom and gloom; a deus ex machina that's been dropped to redirect the blueprint of Sydney's ailing hospo scene and restore some glory for the city's more discerning – or just cashed-up – crowd. It's a sour mark against Sydney to think it took so long for a venue like Shell House to arrive, reflecting the idea that the city's hospitality scene isn't nearly as advanced and elegant as that of world-class destinations like New York City, London, and Paris.
---
---
While not everything in Shell House is a pearl, the inimitable, high-impact atmosphere of Sydney's newest mega-venue deserves the praise.
Address: Level 9/37 Margaret Street, Sydney NSW 2000
Contact: (02) 8262 8888